WASHINGTON / OREGON COAST NEWS YOU CAN USE
Covering 362 miles of Oregon coast travel: Astoria, Seaside, Cannon Beach, Manzanita, Nehalem, Wheeler, Rockaway, Garibaldi, Tillamook, Oceanside, Pacific City, Lincoln City, Depoe Bay, Newport, Waldport, Yachats, Florence, Reedsport, Siltcoos, Dunes City, Gardiner, North Bend, Coos Bay, Charleston, Coquille, Bandon, Myrtle Point, Langlois, Port Orford, Ophir, Gold Beach, Brookings. Search Oregon Coast Beach Connection's 8,000 pages
Oregon / Washington Coast News Stories, Articles: Latest Entertainment, Science, Nature, Events News - Travel Alerts
Octopus Stranded, Rescued in Rare N. Oregon Coast Sighting at Cannon Beach - Haystack Rock Awareness Program helped an octopus Thursday
Three Distinctive and Ultra-Cool Oregon Coast Travel Destinations You Don't Know - If you know, you know. And now you do
Depoe Bay Signs Declaration to Help Southern Resident Orcas Along West Coast, Oregon - all killer whale experts say that their situation is critical
Wild and Colorful in Oregon Coast Skies: Lincoln City Summer Kite Fest, June 24 - 25 - Gigantic, fantastic beasts and evne a touch of Pixieland
What's Up with Astoria? And What's Down Below the Oregon Coast Town - An array of startling stats about Astoria
Another Side to Seaside, a Rugged Oregon Coast Surrounded by Civilization - More to Seaside than meets the eye
The Bridge Beneath the Bridge: Unknown Viewpoint 'Beneath' Depoe Bay, Oregon Coast - Wander a bit on Depoe Bay's waterfront and discover a new place
Fee Changes, More Noise Compliance at Oregon Coast's Dunes Rec Area - A different way to pay; safety issues at Oregon Dunes
S. Oregon Coast Baby Seal Incident More Complex, as Someone (Mostly) Did the Right Thing With Driftwood - In this rare circumstance where vehicles are nearby, it was correct - Coos Bay
Cannon Beach Sandcastle Fest This Coming Weekend: N. Oregon Coast Favorite Returns - Saturday, June 10 for more celebratory creations
The Oregon Coast Town Where Even Restaurants Have Explosive Views Like This - Not a bad view in the house at Depoe Bay
The Tiny U.S. Travel Destination with the Gargantuan Oregon Coast Experience
For International Travelers to U.S., South Oregon Coast Provides Bold, Rugged Adventure - The wild outdoors awaits in Coos and Curry counties
Where Were the '20 Miracle Miles?' Quirky to Cool Central Oregon Coast History - A stretch from Otis, Lincoln City to Depoe Bay, sort of
Not THAT South Beach: Newport's South Beach Mix of Oregon Coast Whimsical to Atmospheric - What if there was a lot more to the place
Majority of Central Oregon Coast Back Open to Razor Clamming - Reopened from Florence's Siuslaw River to Seal Rock
Garibaldi on the Water's Edge: Sights and Sites on Oregon Coast's Tillamook Bay - Numerous marvel-filled lookouts, crabbing, clamming and adventure
Oregon Coast By Numbers: List of Every Lincoln City Beach Access Along Its Dreamy 7 Miles - All beach accesses in the central Oregon coast town
Why the Moon is Bigger Right Now on Oregon Coast / Washington Coast - and Connected to Strawberries - Full moon that's coming up is called the Strawberry Moon
Intriguing U.S. Coastal Travel Destination with Ocean Geysers, Mysterious Steps: Yachats, Oregon - Things like to explode, gurgle, sometimes implode, and puzzle
Elder Statesman of the Oregon Coast, Seaside Aquarium Turns 86 - An Intricate History - One of the oldest privately-owned aquariums in the U.S.
Part of Ecologically-Unique Oregon Coast Land at Cape Foulweather Returning to Siletz Tribe - A mix of science and a wrong being corrected
Holiday Weekend Third Busiest on Record: Oregon / Washington Coast Travel - Gas prices down compared to last year this time
Lincoln City's Haunted Taft Tours Swirl Around Oregon Coast Town Starting in June - Regular tours start June 17 every other Saturday
S. Oregon Coast's Azalea Fest Fills Brookings with Song, Food, Airplane Rides, More - 2023 Azalea Festival from May 26 through May 28
Central Oregon Coast Town Hosts Special Beach Wheelchair Excursion June 16 Florence holds the inaugural David's Chair Florence Beach Day Excursion
Personal Side of Capturing Orcas Hunt, Kill Whale Baby in Landmark Oregon Coast Event
Attack of the Beach Beasties! Well, Their 'Shells' Are Washing Up on Oregon Coast, Anyway - Large masses of filament-like material puzzling visitors
One Oregon Coast Town: Two Rugged Attractions Make for Layered U.S. Travel Destination - One sits on another: a lighthouse and its craggy headland
Recording Begs the Question If Mount St. Helens Eruption Heard on Oregon Coast - It was known to have been heard at least 150 miles away
More Lurks Beneath N. Oregon Coast's Hug Point and Around It Than You Know - Some secrets there go back thousands to millions of years ago
Celebrating Oregon Coast State Parks: Free Camping, Parking June 3 - 4 - June 3, OPRD will also waive camping fees
Become a 'Trail Ambassador' on Oregon Coast and Maybe Win Prizes: Volunteers Needed - They are stationed at popular trails around the region
From Funky to Totally Fire: Oregon Coast 'Village' Offers Layers of Old and New - There's more to little Nye Beach than you imagine
New Banners Welcome Visitors to Oregon Coast's Florence - Banners are part of a beautification process of Highway 101
Recreational Crabbing Back Open On South Oregon Coast - All of Coast Now Open A section from Cape Blanco to Winchester Bay is back open
Two Rescues, One Death on Oregon Coast - Beach Arson Investigated - One swimmer missing; man and his dog rescued from cliff
Lincoln City's 'Exploriences' Dig Into Oregon Coast Outdoors In New Ways - Tidepools, crabbing, hiking, bird watching
3 Gray Whales Strand on Oregon Coast: Calf from Orca Attack; Mother and Calf Swim Away - Dead calf from this week's orca attack; pair of grays get stuck in surf
Tourism Dollars on Oregon Coast Reach New Heights, Boosting Local Economies - Most significant figures came from the coast
Oregon / Washington Coast Get Heatwave This Weekend, 80s - 90 Possible - Sweltering in Seattle, Portland, heat advisories
What Happened to the Galaxy? Milky Way Disappears Above Oregon Coast / Washington Coast; Meteor Showers Some awesome meteor showers right now as well
Dozens Watch and Document Orcas Attack, Kill Baby Whale on Oregon Coast: More Videos - Battle between gray whale mother and the pod lasted hours
2nd Sinkhole on Top of Cape Kiwanda Spells Bigger Dangers, Says Oregon Coast Geologist - A larger chunk of this headland may collapse, geologist says
Fun and Adventures with Oregon Coast Octopuses, and One Adorable Friendship - Tales from an Aquarium: the cool and kooky
8 Oregon Parks Get New EV Charging Stations, Including Cape Lookout on the Coast - Rivian Waypoints Level 2 electric vehicle (EV) chargers now installed
Extra Glass Float Drops on Central Oregon Coast: May and June Each See 100 More - Mother's Day, Memorial Weekend, Father's Day, more
7 Striking Things That Distinguish the Oregon Coast from Other U.S. Coasts - Public beaches, exploding whales, record-breakers, dangers
Razor Clamming Reopens on N. Oregon Coast's Clatsop Beach; All Other Beaches Not Allowed - Entire coastline closed due to the biotoxin since September 30
Party with the Puffins on S. Oregon Coast with Event That Helps You See Them, May 13 - At Bandon's Face Rock Wayside, zoom in on them
Oceanside's Greatest and Not-So-Known Attractions: Along N. Oregon Coast's Three Capes - A complete guide to Oceanside, its attractions and deep travel info
Tense But Wonder-Packed Oregon Coast Scenic Drive Between Depoe Bay, Newport - Unforgettable vistas of endless sea pop out
Tidepool Guides Return to Central Oregon Coast for Summer, Yachats Area - Tidepool Ambassador Program at Bob Creek, Heceta Head, Yachats
Wacky Rumors, Misnomers and Downright Misconceptions About the Oregon Coast - Morsels about Goonies, Haystack Rocks, town names, what beaches are made of
Spiky, Bitey-Looking Fish Washing Up on Oregon Coast Lately: Why, What They're Not - The longnose lancetfish is often mistaken for a barracuda
Recreational Crabbing Closed on Part of South Oregon Coast Due to Toxin - Winchester Bay down to Cape Blanco
N. Oregon Coast Excursion Events Include Netarts Bay Tidepools, Mammals, Clamming ---- Clamming, cooking clams, marine mammals, kayaking
Sometimes Those Little Bubbles On Beaches Aren't Bubbles: Funky Oregon Coast Science You may be looking at a thing called the sea gooseberry
One Deceased in Harrowing Fall, Rescue on S. Oregon Coast - Near Brookings Family members fell some 200 feet: 3 survivors
A Curious Contest: Bake a Crab-Looking Cake, Win Stays in S. Oregon Coast's Coos Bay Area North Bend, Coos Bay and Charleston have come up with something unique
Sneaker Wave Alert Sunday for Entire Oregon Coast, South Washington Coast In effect Sunday morning through late in the evening
Oregon Coast Blue Hour Can Be the Most Wowing, Even When It Isn't... Colors happen you can't see, but the camera does
Southern Resident Killer Whales Closer to Local Protected Status Off Oregon Coast ODFW Commission will likely put them under the Oregon Endangered Species Act
Small Coos Bay Vessel Cited for Violating Bar Restrictions - S. Oregon Coast The same vessel had been warned the day before
N. Oregon Coast's Manzanita and Seaside Get New All-Terrain Wheelchairs There are now two beach wheelchairs available in Manzanita, more in Seaside
First Run of South Oregon Coast Tattoo Fest in North Bend This Weekend April 28 to 30) the Mill Casino puts on its first tattoo show
Nice Run of Warm Days: Washington / Oregon Coast Into 70s, Valleys in the 80s Highest temps since Oct late week through weekend
Central Oregon Coast's Emotional Blessing of the Fleet Returns May 7 Boat parade, blessing, BBQ and memorial at Yauina Bay
Fiddling With AI and Oregon Coast Images Can Be a Riot A whole new world of possible art expression or experimentation - hilarious too
Veering Inland to Oregon Coast Charms You Weren't Aware of: Nehalem and Wheeler This triple threat of fun includes Manzanita, Nehalem and Wheeler
One Week Later, Rare Sand Shapes Atop Oregon Coast Cape Are Fading But Evident Geologists had actually discovered something new here, coming up with a name
The Dreamy Oregon Coast: Wandering (and Photographing) at Night A whole new world opens up: suggestions where to go
Lyrid Meteors Peak This Weekend Above Washington / Oregon Coast: 10 - 20 per Hour - Lyrid meteor shower peaks Saturday and Sunday night (April 22 and 23)
Astoria Warrenton Crab, Seafood and Wine Festival 2023 On Its Way to N. Oregon Coast Each April for decades now, one festival brings in the masses: April 28 - 30
Shore Acres Garden Needs Cleanup Volunteers - S. Oregon Coast Friday, May 19 and Friday, June 16 near Coos Bay
New, Rare Sand Feature Atop Cape Kiwanda Wows Oregon Coast Geologists - Video Near the top are these elegant lines, which geologists had never seen
Deeper Into Arch Cape Opens Up Oregon Coast History, Curious Noises and Sights More to Arch Cape's story than meets the eye
Bandon's Circles In The Sand Releases 2023 Schedule - S. Oregon Coast, Video At Bandon's Face Rock area there is inner peace and zen
Cool to Kooky Celebrity Tales from Oregon Coast Heart, King Crimson, MASH, Stargate: Atlantis, Seinfeld / Star Trek, Le Guin, Monty Python, more
The 'Secret Spring' on Oregon / Washington Coast: Orcas, Crowds, Prices, Most Photogenic More killer whales, less crowds, wilder sea foam, lowest tides, better sunset photos
Turning Beach Trash Into Art, Central Oregon Coast's Newport Holds Event Next to Cleanups April 20 and 21 feature just that at the VAC with Earth Day Upcycled Art
Sure They're Adorbs, but Seal Pup Season Comes with Warnings on Washington / Oregon Coast It's always a matter of what not to do
Smokin' Gypsy Jazz Rig Returns to Central Oregon Coast's Newport Due to Demand Encore live concert event on Friday, April 28
Out of the Way on Central Oregon Coast, Even in Bustling Lincoln City At the very northern end of town, along Logan Road
It's International Dark Sky Week Around Oregon, the Coast: Time to Stargaze Like Crazy Oregon tourism officials want you to look up more
S. Oregon Coast: Curious Start / Stop History of Umpqua Lighthouse at Coos Bay Event Rise and Fall (and Rise) of the Umpqua Lighthouse on May 2
Hiking Tillamook Head and Its Discoveries, N. Oregon Coast Icon Between Cannon Beach, Seaside - Over six miles of trails, a hidden bunker and a historical landmark
Discovering Monsters on the Oregon Coast Monsters at Cape Meares, Manzanita and a Seaside fright
April is Stellar Above Oregon Coast / Washington Coast - Three Meteor Showers Lyrids peak soon, and there's more
Lincoln City's History Museum Opens New Exhibit with Event on Apr 15: Birds of Oregon Coast - A presentation called Oregon's Nearshore Habitat Protections
Hiking Cape Lookout Trail on N. Oregon Coast Yields Soaring Views One majestic headland near Oceanside, three engaging trails
Striking Tufted Puffins Returning to Oregon Coast; Cannon Beach Event Welcomes Them - April 22 and 23 is the north coast event - they've already been spotted
Safe and Sane But Surreal Fun on Nocturnal Beaches of Oregon / Washington Coast - At night, the coast takes on a whole new atmosphere" safety tips
What Lurks Beneath Oregon Coast Beaches? Get Ready... Many of these goodies only show in winter, if sand levels get low enough. Others you'll never see at all.
Oregon Coast Beach Near Florence Sends You Back in Time, Drops Heavy Science A striking, wild tale, of immense flows of lava thick and massive
'Safari' Event at Haystack Rock Takes You Deeper Into This Colorful Oregon Coast World - On April 21, Haystack Awareness shows you the kooky nudibranch in details
Different Sides of Seaside and Gearhart: Getting Un-Busy On N. Oregon Coast Off the usual paths at Gearhart and Seaside find you alone
Over Half a Century Old, One Yachats Hotel Still Makes Waves on Oregon Coast, Announces Changes - More changes coming; historical photos surface
It Took 11 Years, But Finally a Freaky Oregon Coast Noise Was Recorded Did you know some tidepool life can talk?
Inside Bedrock at Newport's Moolack Beach: Oregon Coast's Fossil and Mystery Hotbed Fossils and agates, yes, but it's millions of years old
More Orca Sightings on South Oregon Coast, Seen Roving, Hunting Near Brookings Sighting right around the Mack Arch area and northward
Oregon Coast Scientists Discover More About Danger Areas for Whales Whale entanglement is on a sharp rise off the West Coast
Folk Legends Kingston Trio Hit Central Oregon Coast April 12 Newport Performing Arts Center, providing audiences with a nostalgic journey
Cool Sea Caves of the Oregon Coast: a Sampler A variety of intriguing holes at Bandon, Oceanside, near Yachats / Florence, Cannon Beach
Yachats' Adobe Resort: Legacy Oregon Coast Biz, Once a Motel, Shifts Again with New Changes Started in the 1950s, now a big name gets bigger
Off-the-Beaten-Path Adventures on Oregon Coast: Stumble Upon the Rugged, Pristine Fascinating spots near Yachats, Oceanside, Neskowin and Brookings
An 'Artventure' App on Central Oregon Coast Lets You Explore and Maybe Win a Glass Float Lincoln City combines a digital passport to Lincoln City's Art Trail with the opportunities for winning
Oregon Coast Play 'n Stay: Seaside's Prom Walk and Its Legendary Inns Quite a walk through time and scenery, with some stellar places to stay
Washington Coast Gets a Beach Cleanup on April 22, Volunteers Needed - Meet at 9 state park approaches
Snowy Plover Nesting Season Means Restrictions on Some Parts of Oregon Coast Right now through September 15 is snowy plover nesting season
First Big Killer Whale Sightings for Oregon Coast Season Spectacular - Includes Baby - Five orcas including a calf spent last three days at Newport, Depoe Bay
SOLVE Cleanup Registration Now Open for Earth Day on Oregon Coast April 22 is the cleanup all around the state
Minor Undersea Earthquake Off South Oregon Coast: 4.0 Magnitude, No Tsunami Threat Six miles down, too weak to issue a tsunami alert
Striking, Fiery Science of Depoe Bay and Newport: Oregon Coast Lava, Gray Whales, Dead Landmarks What are resident whales, crazed lava flows, what's missing
5-Planet Lineup Above Oregon / Washington Coast: Jupiter, Mars, Uranus, Venus, Mercury Best viewing in NW Mon and Tues, cloudy with few breaks
Small 4.0 Quake Rattles Off S. Oregon Coast Sunday, No Tsunami Threat 130 miles west of Coos Bay, six miles beneath surface
Mermaids on Display at Florence as Central Oregon Coast Gallery Features Encased Mixed Media Florence Visitors Center brings you to a new, whimsical side of the area
From Astoria's Skyline Come Tales, Images of an Oregon Coast and American First The oldest town west of the Rockies, nation's longest bridge, more
Winter Storm Warning (In Spring?) for Oregon Coast Range, Washington Coast; Stormy Seas Storm warning for all mountainous areas of Oregon and Washington; seas 18 feet
Spectacular Green Fireball Lights Up Oregon Valley Through Washington Coast From bright white to a neon green: astronomers weigh in
Newport Events Show How to Eat from the Beaches, Explore Oregon Coast Tidepools April into May come some unique forays into Neptune, Seal Rock
Oregon Coast Whale Watch Week Begins March 28, Maybe Orcas Too 17 sites: March 28 through April 2
Two Fave Oregon Coast Campgrounds Close for Repairs This Fall: Bandon, Newport Bullards Beach and Beverly Beach go under the knife
Oregon Coast Whale Watch Packed with Action, Starting March 28 Through April 2, volunteers help you spot them at 17 sites
Central Oregon Coast Cleanup Needs Help; Event Explains Yaquina Bay Plan Siletz River Cleanup on April 1, Yaquina Bay Management Plan on April 5
Weird, Even Uneasy Science Beneath Two Oregon Coast Spring Break Faves: Cannon Beach, Seaside A fiery origin story, what's underneath, brown waves and little treasures
S. Oregon Coast Landmark Reopens Late: Cape Blanco Lighthouse Season Starts May 1 Hughes House, Port Orford Lifeboat Station Museum and lighthouse
Rare Find: Loggerhead Turtle Body Washes Up on N. Oregon Coast Covered in Marine Life Shell had collected lots of marine life showing it had been at sea a long time
Vernal Equinox Monday is Official Spring for Oregon Coast, Washington Coast: Science Curiosities Astronomy, some tricks of time and the Sun's relation to Earth
Astoria-Based Coast Guard Ship Returns to N. Oregon Coast After Drug Busts US Coast Guard Steadfast engaged in three large anti-narcotics operations
More Released About Central Oregon Coast's Florence Rhododendron Fest in May May 18 - 21 incarnation for 2023 although unofficially it gets started on the 13th
Oregon Coast Singing Sands to Booming, Squeaking Sands: How to and Where to Find They're extremely rare and only at the National Dunes Rec Area
Central Oregon Coast Fave: Hatfield's Marine Science Day Returns April 8 Newport facility with its annual science fair, open house
March is Anniversary for Two Major Tsunamis on Oregon Coast, One Deadly March 27 in 1964 and March 11 in 2011
Central Oregon Coast Spring Break: Extra Glass Floats, Whale Watch, Lighthouses Vacation fun in Lincoln City, Depoe Bay, Newport, Waldport, Yachats, Florence
New 2024 Comet May Be Extremely Bright for Washington / Oregon Coast; S. Coast Eclipse Oct - C/2023 A3 holds great promise; solar eclipse for s. coast this year
Oregon Coast Aquarium Develops Landmark Treatment for Sea Star Wasting Syndrome A slow process but with a high rate of success
Three Dreamlike Spots With More Than Meets the Eye on North, Central, South Oregon Coast - Undiscovered parts of Oceanside, Newport, Coos Bay
Oregon Coast History Then and Now Photos: Perpetua, Waldport, Bandon, Depoe Bay When they blew up a bridge, other surprising sights in time
Neskowin's Newest Vacation Rental Gives Way to Secluded, Slightly Exotic Stretch of Oregon Coast Neskowin North is just killin' it with oceanfront glory and a unique beach
Spring Break on S. Oregon Coast: Whales, Glass Floats, Dinos, Pub Crawl, More Finds in Gold Beach, Reedsport, Coos Bay, North Bend, Ophir, Port Orford, Brookings
New at Neskowin: Vacation Rental a Gateway to Secluded, Even Exotic Stretch of N. Oregon Coast Neskowin North is just killin' it with oceanfront glory and a unique beach
Pacific City's More Shy Sides, Where Oregon Coast Nature Still Rules Just north and south of town lie some exceptional sights
When a 'Gigantic Jellyfish' Found on Oregon Coast Isn't What It Seems It revealed something icky about whale corpses in the area
From Frightening to Tragic: Oregon Coast Harrowing Encounters in Images Some tragedies barely avoided and one horrific moment
Above Bandon in Snow: S. Oregon Coast Photographer Captures Wowing New Views Dressed in white in this way Bandon is a knockout
Florence Indoor Yard Sale a Hotbed of Eclectic, Intriguing Bargains on Central Oregon Coast April 1 comes the gigantic event with over 40 vendors
Three Rescues on Oregon Coast This Weekend End with One Dead, See Video Two surfers rescued at Ecola; California hiker dies at Cape Kiwanda
Harrowing Encounters on the Oregon Coast: Pet Rescue, Wreck, Fallen Tree Some tragedies barely avoided and one horrific moment
Oregon Coast's Octopus Tree Complete: Origin, Rumors, History, Even a Celeb Atop Cape Meares Near Oceanside: how old, is it the tallest, shape, freaky facts, rumors
Right Times and Right Places at Rockaway Beach Tell a Deeper Oregon Coast Tale, Video Always photogenic, it seems, but it has layers
N. Oregon Coast Closures, Delays, Astoria - Including Snow Storm Cleanup Near Neskowin Closures at New Youngs Bay Bridge, delays near Neskowin
Extremely Rare White Dungeness Crab Found, Rescued on N. Oregon Coast - 1 in a Million - Wildlife officials say the odds were astronomical
Washington Coast Again Swells with Ocean Shores Razor Clam / Seafood Fest in March This year also includes the Crab Fest addition
Views to an Oregon Coast Thrill: Lincoln City's Diverse D River and the Rooms Above Whole new layers abound, including stunning hotel
Close Planetary Fun Above Oregon / Washington Coast, Seattle, Portland Tonight and Thurs Venus and Jupiter come within half a degree to each other
One Sea Star Especially Linked to Die Off's of Kelp Forests: Oregon Coast Scientists Sunflower sea stars are greatly endangered, and that's bad news for kelp
Rare White Dungeness Caught off N. Oregon Coast is 1 in Million - See Video The rare crustacean is on display at Seaside Aquarium
Winter Storm Warnings Along Oregon Coast Range, Beaches, S. Washington Coast - Travel Issues 2 to 12 inches of snow in places, metro areas largely clear
One Shortest Day of the Year on Oregon Coast Leads to Shipwreck Missing for 50 Years Adventures around the towns of Seaside, Cannon Beach, Manzanita and Rockaway Beach
Washington Coast / Oregon Coast by Satellites, and Some So-So News About Snow The imagerey and data get pretty engaging when it comes to snow this week
Slow Thaw for Portland, Valley - Various Advisories, Forecasts for Oregon Coast Range, Beaches A lot of wild card variables for Portland Metro, Valley, south Oregon, Washington, coasts
Four Epic, Winter Wows Along the Oregon Coast, and Their Secrets All-purpose, even eye-popping fun at Coos Bay, Florence, Arch Cape, Seaside
Snow / Defrost Forecast for Western Oregon, Coast; Potentially Deadly Wind Chills Today Wind chills as low as 0; slow thaw over weekend but more snow
Beautiful Snow Day on Oregon Coast Not All Fun: Photo Gallery, Roads Closed Closed roads, more possible, but incredible sights south coast to Washington coast
What's Old is New Again on Oregon Coast: Inn of the Four Winds Reopens As New Hotel Some of the biggest ocean views in Seaside, historical charm
What's Up With All Those Orcas on Oregon Coast? Talk in Cannon Beach Explains Transient Killer Whales of the Outer Coast happens 7 pm online and in person
Where Astounding Oregon Coast Views Just Don't Quit: Depoe Bay's Ocean Paradise Whales Rendezvous Lots of very close whales, extravagant comfort and incredible views
Coos Bay-Area's Clambake Jazz Festival Makes Energetic Return to South Oregon Coast March 10 - 12 at the Mill End Casino in North Bend
Entire Oregon / Washington Coast Gets High Surf Advisories, Flooding, Some Snow Issues Waves up to 30 feet some areas; flood advisories, snow advisories south coast
'No Treaties for North Oregon Coast' a Glimpse Into U.S. Betrayal of Local Tribes Decades of confusion and heartache for regional tribes
Razor Clamming Opens on Washington Coast for Brief Period Copalis and Mockrocks are open on and off until Feb 22
Rollicking Week for Washington / Oregon Coast, 25-foot Waves, Chance Snow Waves 30 feet some places, chance of snow or freeze on beaches
Slinking Octopus Filmed in Yaquina Head Tidepool, Central Oregon Coast A giant Pacific octopus shows its colors, then changes them
New Research on Oregon Coast Includes Kelp Beds, Seafloor Near Gold Beach Some of this may help reintroducing the sea otter
Anger and the Beauty on Central Oregon Coast: Yachats Trail Also Wheelchair Accessible A raging maniac to varying degrees
Stuff Living on Other Stuff Sometimes Found on Oregon Coast: Gooseneck Barnacle Surprise There are times storms and tides churn these up
USCG Rescues Three from Treacherous Oregon Coast Waters at Yaquina Head They were stranded in the water and on rocks at Newport
Treasures After Oregon Coast Storms: Old Glass Floats, Living Critters, Bedrock, Fossils, Agates Beaches that look different, ancient finds, ocean burps
Snow Advisories for Oregon Coast / Washington Coast, Dusting on Beaches Happens Monday overnight into Tuesday, then melts
High Surf Along All of Oregon Coast / Washington Coast, Waves 23 Feet Dangerous beaches midday on Monday through Tuesday morning
Tues Snow: Maybe More on Oregon coast than Inland - Coast Range Travel Issues Rather large waves coming in that day as well
Garibaldi on North Oregon Coast: Distractions to Glowing Attractions Where Tillamook Bay meets history, giant landmarks
Lincoln City's Antique Week: Oregon Coast Tradition with 100 Japanese Glass Floats February 11 - 20 comes the annual antique fest with 100 extra floats
In Need of Wave Pyrotechnics? Four Oregon Coast Spots Pack the Punch Famous crashings of Coos Bay, Depoe Bay, Newport, Yachats
Tingly, Spicy Gypsy Jazz Gig Features Debut at Central Oregon Coast's Newport Newport Performing Arts Center on February 17 at 7:30 pm.
'Great Flood of '96' for South Oregon Coast Hit Coos Bay, Bandon in Nov The big one ravaged northern Oregon in Feb; South coast 10 months later
Another Season of Hanging Flower Baskets in Oregon Coast's Florence and More of Them Accentuating Old Town and other parts of the burgh from spring through fall
New Research Into Sneaker Waves On Oregon Coast / Washington Coast Shows How Far Away They Form A few more insights into how these dangerous phenomena get generated
How and Where the Oregon Coast Resembles Yes / Roger Dean Truly 'Close to the Edge' at times, by the 'ocean'
Strange Oregon Coast True Crime: Goonies House Vandal Suspect to Dramatic Coast Guard Rescue From drama to surreal true crime in Astoria
Rumor Check: Suspected Chinese Spy Balloon NEVER Crossed Over Oregon Coast NWS had the definitive answer: it came nowhere near
Nye Beach's Waves Hotel Keeps Making Waves: an Oregon Coast Classic Less expensive than many, an innovative Newport boutique hotel
Lincoln City's Legends: Headless Man, Glowing Cave, Oregon Coast Shipwrecks / Treasure, Skeleton Yet sometimes these have roots in real history
Little Tidepool Creature is the Pokémon of Oregon Coast, Washington Coast - Nudibranchs are the closest thing you'll find in the real world
Florence Wine, Chowder and Glass Float Trail Makes Big Comeback to Central Oregon Coast Town Back on President's Day Weekend - February 17 to 19
6 Ultimate Romantic, Cloistered Finds on Oregon Coast's Northern Half What would your lovey-dovey really like for a surprise trip?
From Oregon Coast Swank to Sweet Beach Abode: Lincoln City Rental with Oceanfront Jetted Tub Moonbreaker sits right on the surf with a private stairway down
Chunk of Oregon Coast's Highway 229 Taken Out by Landslide, Fix Will Take Days Highway 229 at milepost 18 is now closed during the day
Comet ZTF Already Seen from Oregon Coast; Dramatic Video of Tail Hit It's definitely getting brighter; some other cosmic surprises that are very Star Trek
US Coast Guard Rescues Man with Medical Emergency from N. Oregon Coast's Nestucca River
Join Boardman Saturdays and Wednesdays for Clearing South Oregon Coast Trails Trail Keepers of Oregon needs volunteers to help out along Corridor
Rest of South Oregon Coast Opens to Dungeness Crab Boats Two more parts get the green light on Feb 1, Feb 4
Fossil Fest is back at Newport's Hatfield, a serious crowd pleaser on Oregon coast Hatfield Marine Science Center brings back Oregon Sea Grant's Fossil Fest, February 11
Mix of Snow, Sun, Sneaker Waves and Freezing Temps for Inland, Passes, Oregon and Washington Coast Freezing temps and snow for Coast Range, Valley; sneaker wave possibilities, then sun
Oregon Coast Geologist on Cape Kiwanda Sinkhole: Why, How and Its Future A large sinkhole opened up, and that is likely to get bigger
Quirky Oregon Coast History Embedded in Seaside: Mystery Wall, Fishing Pier Two mysteries on the Prom: one hinted at, the other hidden
Hatfield Marine Science Center Brings Famed Fossil Fest Back to Central Oregon Coast February 11 in Newport: learn about fossils or get your own ID'd
Oregon Coast Scenic Railroad Announces Surprises, Including Cab Rides in Engine More ride slots, dinner excursions, a moonlight ride, more
N. Oregon Coast's Cape Kiwanda Develops Dangerous Sinkhole - Video Why the geology here means this could get worse
Fourth Whale Carcass on Oregon Coast in Two Weeks, This Time Cannon Beach, Video It seems unusual - but is it? Experts explain it's not
Oregon Coast Spot That Hisses, Explodes, Drops Away and Launches in the Air - Video Cook's Chasm near Yachats: Plenty of atmosphere and action
New Sneaker Wave Hazards for S. Oregon Coast Through Washington Coast Sun - Tues A new set of sneaker wave dangers begins late Mon for S. Oregon coast
Three Whales Hit Oregon Coast Sands: Causes of Death Released One near Winchester Bay, two at Fort Stevens
S. Oregon Coast Gets Another Pause on Recreational Crabbing - from Charleston to Gold Beach Affecting Charleston, Bandon, Langlois, Nesika and Port Orford
Charleston Crab Feed Unleashes Monster of a Feast on S. Oregon Coast 38th Annual Charleston Crab Feed back in its hometown Feb. 11
Second Deceased Whale Washes Up in Same N. Oregon Coast Spot A baby gray whale 100 yards from the larger sperm whale
King Tides Weekend: Few Surges for Oregon Coast / Washington Coast, But Still Caution No major sea swells coming, but possible flooding
Little Oregon / Washington Coast Critter Looks Like Either Space Alien or Bubble, Video 100 different kinds of comb jellies, sometimes hiding in plain sight
Central Oregon Coast's Big Blue Film Fest Shows 16 Films at Newport's Hatfield January 27 - 28, to raise awareness about marine issues
Cape Lookout's Stunning Colors: One Serious Oregon Coast Treasure in Pics and Pixels Rather small beach access that gives way to much bigger things
Large Sperm Whale Strands on N. Oregon Coast near Iredale Shipwreck; Cause of Death Unknown (Video) It currently sits near the wreck of the Peter Iredale
Last of King Tides This Week: Dates Different on Oregon Coast, Washington Coast Jan 20 - 22 for OR; Jan 21 - 23 for WA coast
South Oregon Coast Highway Segment Near Port Orford Reopens with Temporary Lane Those traveling through the area should expect delays
Florence's Rhody Fest Sets Dates for Oregon Coast Pageantry, Announces Theme A 1920s theme that gets started on May 18
UPDATE: S. Oregon Coast Landslide Part of Highway Partially Back Open Near Port Orford, could be long closure with as yet no estimate
Surf Warnings, Advisories for Washington Coast, Oregon Coast - Waves Up to 35 ft Warnings to advisories, including sneaker waves
Cannon Beach Astronomy: the Sea Above the Oregon Coast Little to no light interference from town brings photographic surprises
Insanely Cool to Violent Rage: Caves, Chasms of South to Central Oregon Coast Sampling of drama from Brookings, Gold Beach, Bandon, Yachats, Seal Rock
Oregon Coast Lost Legends: Gold Mine, Sea Monster to Treasures Debunked, Coos Bay Skyjacker Coos Bay's DB Cooper, Gold Myths, Treasure Ship, Imploding Whale
Washington Coast's Westport Begins Dropping Real Japanese Glass Floats For 2023 1,000 of the real thing are actually landing via tides, too
Moon Halo or Lunar Corona: What You're Seeing on Washington Coast / Oregon Coast Both are the product of refraction and are lovely
Cape Kiwanda's Killer Views and Hues to Strange Sounds Atop Oregon Coast Landmark A rugged, craggly attraction, full of many nooks and crannies
Ethereal in the Deep: Sea Angels of Oregon Coast / Washington Coast Flapping 'wings' and a translucent body
Comet ZTF Growing in Glow, May Become Visible on Washington / Oregon Coast Mid January and mid February it could be visible with the unaided eye
Talk in Cannon Beach Looks Back at Ten Years of Oregon Coast Marine Reserves State wildlife officials and scientists are looking back
S. Oregon Coast Hiking Event Includes Work Party Atop Rugged Humbug Mountain Jan. 20 you can help clean up the loop trail, but not for beginners
20 to 30-Foot Waves on Washington / Oregon Coast: Wind and Surf Advisories Heaviest action south with 80 mph gusts, 30-foot breakers
Intriguing Travel Tips: Three Short Oregon Coast Hikes You Don't Know Stroll these routes to places you've never seen near Pacific City, Cannon Beach, Yachats
Six Historic Inns of the Oregon Coast With a Strong Time Travel Vibe Serious charm in Astoria, Seaside, Cannon Beach, Oceanside, Lincoln City, Newport
Sneaker Wave Dangers Today, 20-Ft Waves Later This Week on Oregon / Washington Coast Seas build again Wed and Thurs, and more coming Sat
Deep Details: Central Oregon Coast's Florence Winter Music Festival 12 top-flight bands January 27, 28 and 29
Four Oregon Coast Finds Filled with Awe: Carnivore Plants, Dead Forests, Puzzling Shapes Forests thousands of years old, plants that catch pray, alien-looking landscapes
Curiosities of Yachats on Central Oregon Coast: Funky Holes to Hissing Noises Plenty of oddball little surprises in this vast stretch of rocky ledges
Biggest Oregon Coast Stories of 2022: History, Landmarks, Explosives, Washington Mermaids Railroad news, wowing history, orcas, nuclear power, Spanish galleon, Star Trek on the coast
Storm Stories, Damage Along Oregon Coast: Deaths, Closures, Misadventures, Images Downed trees, flooded roads, power outages, damage to buildings and three deaths
Still Some Big Wave Action Along Oregon Coast But Gone by Weekend Wave height returning to the 17-foot range briefly
N. Oregon Coast Winter Fun and Frolic, Insider Tips - Part II About winter in what is known as the upper third of the coastline
More of Artful 'Message In A Bottle' Finds on South Oregon Coast in January Message In A Bottle - Bandon Style returns on January 10
Storm Update: Monster Waves and Winds for Oregon / Washington Coast; Many Warnings Waves up 35 feet, wind gusts near 85, flooding, various warnings
Ocean is Close at Classic Rental Above Deserted Oregon Coast Locale A Roads End Beach House at Lincoln City is an eye-popper
That Inimitable Glow: Tour of 362 Miles of Oregon Coast Holiday Lights Like a giant twinkle in a collective eye: Astoria, Seaside, Cannon Beach, Manzanita, Tillamook, Neskowin, Lincoln City, Newport, Florence, Coos Bay, Brookings
UPDATE: Beach Warnings, First Big Waves for Oregon / Washington Coast; Waves Close to 30 Ft Forget King Tides, waves 20 to maybe 30 feet this week
Travel Over Oregon Coast Range / Washington's Willapa Hills Improves, Ice Clears Saturday Temps warm quickly overnight but big storms, massive waves coming this week
Commercial Dungeness Crab Season Delayed Again on Washington Coast, Oregon Coast Crews will have to wait until at least January 15
Winter Fun and Frolic on N. Oregon Coast Part I: a Primer (Video) Always something intriguing to find: Arch Cape, Oceanside, Astoria, Manzanita, Cannon Beach, Seaside, Pacific City
Ice and Snow Cause Travel Hazards on Coast Range, Even Washington / Oregon Coast The Gorge may well shut down; up to half an inch ice in coast passes
Close to 300 Glass Floats Dropped in Oregon Coast Town Over Next Month and Half Lincoln City will be having some special glass float drops
Seaside Event Looks Back at Historic, Groundbreaking Oregon Coast Holiday Moment December 29 brings a glimpse into Lewis 'n Clark's Christmas here
Clifftop Spa Aglow Above Oregon Coast's Nye Beach: Luxury Meets History at Inn Newport's Inn at Nye Beach has numerous sides
Help Needed Picking Up Plastics at N. Oregon Coast's Short Sand / Stranded Platform CoastWatch is hoping more will help out
Caution on Oregon Coast Range, Washington Coast Routes: Snow This Week It will stick around through most of the week adding travel issues
Colorful, Secret Marvels of One Season on Oregon Coast And Why (Video) Spring itself is a bit of a secret: its visual aspects are astounding
Watchdog Group Says Keep Lookout for Birds with Avian Flu on Oregon Coast The signs of highly pathogenic avian influenza (HPAI)
Three Oregon Coast Sort-of-Hotspots with Something Really Different Caves, secret forests, a mysterious black triangle
Spring's Unusual Colors and Why They Happen on Oregon Coast in Images, Video What spring creates is still a secret - best time to photograph the coast
Weird Things Oregon Coast Sands Can Do It sings, reveals surreal treasures, changes shapes and even injures
Oregon Coast Whale Week December Dates Announced; a Preview, Changes Real volunteers should be back, some new aspects
Christmas Eve 'Trinity' Above Washington / Oregon Coast? Holiday Beach Astronomy A rather stunning triangle low in the SW skies
What is This Annoying Domoic Acid Stuff? And Why It's Affecting the Oregon / Washington Coast Domoic acid events are on the rise in our warming oceans
Presentation in Cannon Beach Looks at Snowy Plover Along Oregon Coast Every second Wednesday of the month features a new speaker, topic
Next King Tides Close to 10 ft.: What's New for Oregon Coast, Washington Coast Dates are December 22 - 24 but offset up north
N. Oregon Coast's Hwy 30 Reopens to Daylight Travel Near Astoria: closed or mostly closed for almost two weeks
Variety of Free and Killer New Year Guided Hikes on Oregon Coast, Washington Coast That Sunday, January 1 will be an action-packed one
Recreational Crabbing Reopens on Just About All of Oregon Coast Reopening except for a 60-mile stretch from Cape Blanco to just north of Winchester Bay
New DIY Music Fest Erupts in N. Oregon Coast's Astoria for Holidays Make Music Winter happens around the nation on Dec 21
Dungeness Crab Season Delayed Further on Oregon Coast, Washington Coast Seasons remains closed due to biotoxins and low meat
When Marshfield and Empire Became Coos Bay: Votes That Changed S. Oregon Coast History It started out under the name Marshfield - as well as Empire
Mystery Metal Platform Washes Up on N. Oregon Coast, Volunteers Needed It's enormous and problematic; volunteers needed to help clear the plastics
Oregon's North Coast Food Offers Food Gift Ideas Full of Intrigue and Innovation Some yum-a-licious possibilities putting under the tree
Triple-Decker of Trippy Astronomy Above Washington / Oregon Coast: Moon Eats Mars Moon's occultation of Mars happens this week; highest of year
Photos of Depoe Bay Can Reveal Things About Oregon Coast Sciences, Obscurities Meteorology, the science of light, even hidden spots
Coos Bay Area Discoveries: New South Oregon Coast History, Scientific Finds More to check out: new ghost forests, historic places, shipwreck tale
Manzanita Above and Below - An Oregon Coast Icon With Intriguing Secrets Ancient legends, odd weather facts, soaring sights
U.S. 30 to N. Oregon Coast Reopens to One Lane and Only at Night No estimate when it can reopen in the daytime
Great Coastal Gale of '07 Tore Into Oregon Coast 15 Years Ago - Video The storm changed parts of the regions forever
Highway 30 to North Oregon Coast and Astoria Remains Closed Over Weekend Repairs still being done about 20 miles east of Astoria
How Storms - Even Solar Storms - May Affect Whales on Oregon / Washington Coast Why do they disappear? Does it disturb them at all?
Attending Seaside Aquarium This Month Helps Feed the Hungry on Oregon Coast - Video Patrons pay admission to the aquarium with two cans of food per person
Warm Sunsets to Raucous Oregon Coast Storms: Upclose at Cannon Beach's Schooners Cove Inn - Video One of the major highlights is that beachfront lawn
Snow Advisories for Oregon / Washington Coast Range, Some Wave Drama Astoria may even get some snow; high waves later
Washington Coast Holidays Include Crab Pot Tree, Santa with Pirates, Music, Food Holiday happs from Ilwaco up through Westport
Famed Holiday Show Tradition Back on Oregon Coast, at Newport Performing Arts Center The Christmas Show! is finally back, Dec. 16 and 17
Cyber Monday for Oregon Coast Too: Giving the Beach for Christmas Give a night or two at the coast, or books, hoodies, T's
Orcas Spotted Again on N. Oregon Coast - First Time This Pod Recorded Here A pod of four were photographed on November 23
Three Much-Loved Oregon Coast Landmarks Gone So Long They're Forgotten Now a faint blip in the historical record books, but once extremely popular
All Aboard! Oregon Coast Scenic Railroad Goes All Christmasy Rides take to the rails every Sunday and Saturday until December 18
Different Way of Looking at Lincoln City: Extraordinary Oregon Coast Details So much Lincoln City, so little time
Fiery Scottish / Irish Christmas Show Comes to South Oregon Coast's Coos Bay A sizzling blend of Celtic cultures in music happens Dec 16
Central Oregon Coast's Florence Holiday Festival Expands, with Gnomes, Lighted Parade December 3: new additions to the festival, one starts Black Friday
Spectacular Geminid Meteor Showers Coming to Oregon Coast, Washington Coast Perfect conditions may yield as many as 120 fireballs per hour
Weather, Beach Hazards for Thanksgiving and Oregon / Washington Coast King Tides Sunny, warm for Thanksgiving but hazardous beach conditions. Snow in Coast Range
Look for Traffic Challenges on Thanksgiving Weekend, Oregon Coast, Rest of State ODOT says the roads will be packed, caution urged
South Oregon Coast's Hughes House Christmas Returns to Port Orford Christmas Tea on Dec 17, 18 - Tours Dec 22, 23 and 26
Still Some Vacation Home Holiday Openings in Lincoln City, Pacific City; Winter Deals on Oregon Coast Some cut rates for the holiday and even lower prices next two months
Recreational Crabbing Banned on South Oregon Coast; Commercial Season Delayed The marine toxin domoic acid is high in crab
Small Quake Rattles Off South Oregon Coast, 112 Miles from Bandon It struck off Friday morning, clocking in at a magnitude 4.5.
Get Ready for Wild(ish?) King Tides on Oregon Coast, Washington Coast First round starts November 24 - 26, and it may or not be big
Green Friday Around Oregon Coast Means Free Parking at State Parks, Nov. 25 OPRD is waiving all parking fees in the 24 parks that charge them
Two Little Ghost Towns on S. Oregon Coast Near Bandon: History of Prosper, Randolph At one time, they were bustling ports, filled with workers, ships
Four Wowing Surprises of Winter on Oregon Coast There's some trippy science stuff that comes to light
Weird, Brown Waves Return to N. Oregon Coast - It's a Good Thing and What Else It Means It can look like oil or sludge, but it's not: could be a sign of glowing sand
Mussel Harvesting Back Open Along Entire Oregon Coast After various closure starting in September because of the biotoxin domoic acid
Oregon Coast Aquarium Sees Return of Sea of Lights After Two Years On weekends, happening December 2, 3, 9, 10, 16 and 17
Lincoln City's Looking Glass Inn Has One Serious View to Oregon Coast Wilds and Wildlife Overlooking Siletz Bay, views to some crazy storm action and harbor seals
Intriguing Connection to Clams, Diatoms, Brown Waves and Washington / Oregon Coast Something curious in common that also sets them apart
Unique, One-Woman Play in Astoria Brings Holiday Comedy to N. Oregon Coast Twelve Dates of Christmas by Ginna Hoben, Dec. 9 - 17
South Oregon Coast Will See Greater Risk of Sneaker Waves Sunday Douglas, Coos and Curry counties under a beach hazards statement
Views to a Thrill: One Oregon Coast Spot Soars to New Angles, Dizzy Heights Near Yachats, Cape Perpetua lets you see old things in a new way
Ethereal, Photogenic Things Come Out After Dusk in Seaside, N. Oregon Coast No two days are anything alike; neither are nights
Letting the Wild Find You on Oregon Coast: Bears, Elk, Seals Right Now Black bears are quite active now, eating for as long as 20 hours a day
S. Oregon Coast's Exhilarating Holiday Lights Celebrations at Brookings, Bandon, Charleston Small Towns, Big Lights: dynamic light displays and intense colors
Two Extraordinary Scenic Drives Along a Wild Stretch of Oregon Coast Some of the best views and drives are nestled between Florence and Yachats
N. Oregon Coast Perch with a Monster View of Haystack Rock Grateful Getaway is a luxury vacation rental in Cannon Beach with a view of it all
Marvels and Wonders Above Manzanita, Oregon Coast: Tricks of Clouds and Light, Video Some astounding colors and weather situations erupt here
Three Sea Turtles Rescued on Oregon Coast Beaches in Two Weeks (Video), One Dies They were all cold-stunned when they moved into Oregon waters
Razor Clamming Closed Along All of Washington Coast Domoic acid is finding its way all over
26-Foot Waves Smack Some Areas; Advisories for Oregon Coast, Washington Coast A variety of wind, flood and beach advisories from Brookings to Westport
Florence Winter Music Fest Adds Open Mic to Famed Oregon Coast Gathering This year celebrating its 20th anniversary in Florence
Lincoln City's Coho Oceanfront Lodge Still Pushing Boundaries on Oregon Coast Plenty of perks – a kind of upscale without all of that price tag
UPDATES: Huge Waves, Surf Advisories for Oregon Coast, Washington Coast Seas will built to over 20 feet at times
Researchers Get Grant to Examine Environmental Changes Off Oregon, Washington, California Coasts $4.2 million will go to looking at climate change effects to krill, Dungeness
Haystack Holidays Readies for Big Return to Oregon Coast's Cannon Beach Starting November 25 and going through New Years Eve
Deceptively Simple Oregon Coast Beach Spots: Bandon, Seal Rock, Lane County Beaches aren't always what they seem at first glance
Chasing a Lunar Eclipse Around the N. Oregon Coast Brings a Soggy Travelogue Once upon a time, there was an adventure of sorts around Cannon Beach, Manzanita
Six Highlights of Oregon's Curry Coast That Will Rock You - Literally Twists 'n turns around Blacklock, Cape Blanco, Port Orford, Brookings
First Round of Sneaker Waves, Stormwatching for Oregon / Washington Coast: Warnings Waves as high as 20 – 25 feet in some areas
Mussel Harvesting Reopens on Upper Third of Oregon Coast After Biotoxin Closure From the Washington border to north side of Siletz Bay in Lincoln City
Tales of the End of a South Oregon Coast Lighthouse: Chief's Island and Arago Light Chief's Island had humans on it for more than 1,500 years
Leptospirosis Affecting Many Sea Lions on Oregon Coast: Watch Your Dogs The contagious bacterial infection of the kidneys has returned
A Little Halloween Astronomy for Oregon Coast, Washington Coast There's a bit of science of the skies at work above
Wildly Surreal Structures Found Between Two Oregon Coast Towns Hidden in plain sight between Manzanita and Cannon Beach
Iron Chef Goes N. Oregon Coast in Seaside in Nov Event November 8 brings the return of Iron Chef Goes Coastal to Seaside
10 Essential Oregon Coast Adventures Some deep, multi-layered fun along 360 miles
Oregon Coast Event Promises an Exploding Whale-of-a-Good Time in Nov. On November 12 comes the celebration in Florence
Total Lunar Eclipse on Nov. 8 for Washington Coast, Oregon Coast Total eclipse happens at 2:59 a.m., with a sizable period being copper red
Historical Gravesite's Mystery Focus of N. Oregon Coast Presentation October 27 begins the season for Seaside's History 'n Hops
Where Ghosts of Oregon Coast Meet Odd Legends and True Crime Gold Beach, Coos Bay, Florence, Newport, Lincoln City, Wheeler, Cannon Beach, Seaside, Astoria
Online Event On Dune Plant Life of Oregon Coast Tells of Mixed Results Plant Life of the Oregon Dunes: Past, Present and Future, Tuesday, October 25
Distinctive N. Oregon Coast History Lies Beneath Oceanfront Tolovana Inn - The very beginning of a little town once known as Tolovana
Oregon Coast Scenic Railroad Planning Remodel of Garibaldi Train Station An expansion and upgrade, looking to increase capacity
Netarts Bay Events Include Crabbing, Birding, Tectonic Plates of Oregon Coast Crabbing Netars Bay, drawing its birds and geologic forces on the menu
Names, Wordage Now Incorrect on Oregon Coast, Washington Coast: Haystack to Gulls Seagulls, starfish, exploding whale and Haystack Rocks
'Drastic Shift' in Weather for Oregon Coast / Washington Coast, Hints of Storm Waves Seas will rise to about 15 ft later this weekend
Gobs of Jellyfish on Oregon Coast, Some Ouchy - and One Globster A rather sizable run of interesting creatures have been washing up
The Lil' Cannon Beach Cottage That Could: Whimsical Yet Historic Rental on N. Oregon Coast A little vaction rental called Lil Bird Cottage is antique-like but vibrant, bold
Bandon's Tupper Rock is S. Oregon Coast History Long Gone, Almost Forgotten Originally known as Grandmother Rock it was blown up
NASA Closeup Images of Europa Show More of Frozen Ocean World A new kind of oceanic world completely unlike the Oregon / Washington coast
Washington Coast, South Oregon Coast Under Air Quality Alerts Smoke from the Cedar Creek Fire along with easterly winds
Webinar on Oregon Coast Public Trusts Digs Into Ecology, Conservation Monday, Oct. 17, at 6 p.m. It is free and open to all
Enormous Fireball in Skies of Northwest, Documented on Oregon Coast Video Some actually heard a boom with the bright object
Looking Back: Columbus Day Storm on Oregon Coast, 60 Years Ago Today An historical look at what happened in Gold Beach, Coos Bay, Bandon, Florence, Newport, Lincoln City, Astoria
Cannon Beach's Stormy Weather Arts Festival, N. Oregon Coast Tradition Returns Back on Friday, November 4th through Sunday, November 6th
Why is Oregon Coast / Washington Coast Foggy When It's Hot Inland? Quite a bit comes down to temp and pressure differences
NASA Images Show Wildfire Smoke Over Seattle, Portland, Oregon / Washington Coast Seeing it from space adds a whole new chill to the concept
Smoky Air Advisories for Mid-Valley, Southern I-5, Portland, Small Sliver of Oregon Coast Various are under air quality advisories through Friday
S. Oregon Coast Spooky to Scrumptious: Halloween in Coos Bay Area Charleston, Coos Bay, North Bend all get in on the act
Historic Landmarks of Oceanside: Time Travel the N. Oregon Coast Village Lighthouse, those rocks offshore, the tunnel and a unique natural feature
Researchers Worry About Declining Gray Whales Off West Coast, Including Oregon, Washington Lower newborn rates and a spike in deaths may or may not be a cycle
UPDATE: Foggy Mornings, Oregon Coast / Washington Coast Still Mostly Sunny Through Sunday Abrupt forecast shift: one more day of haze then should be sunny for the week
UPDATE: Glow-in-Dark Glass Floats Dropped in Oregon Coast Town for 3 Days Around Halloween 50 glow floats dropped in Lincoln City on Halloween
Oregon Coast Spanish Galleon Discovery: Meet Those Involved at Nehalem Event November 5 at the North County Recreation District
Lincoln City's Dark & Stormy Night Series Returns to Central Oregon Coast At the library at 4:00 Thursday afternoons in October
Another Week of Clear, Sunny Skies for Oregon Coast / Washington Coast Through Wed: mostly sunny, somewhat warm. Good whale watch conditions
Explosives Wash Up on Central Oregon Coast Beaches Around Newport - If you find one call 911 and do not touch it
Fall Colors Excursions Start on Oregon Coast Scenic Railroad Fall Splendor Excursions run from October 8 through November 13
Scenic Intrigue of Bandon, Where South Oregon Coast Gets Layered - From nature aspects and spots you may not know of to deeper tales
Retro Trailer Rally Takes Over Central Oregon Coast's Florence This Weekend A melding of vintage cool and kitsch, Oct 8
Deeper Into Newport's Yaquina Head: Oregon Coast Details You Missed It's a non-stop wonder. But its background is yet another level
Trick or Treat with Pacific City's Dory Fleet on N. Oregon Coast October 29 at Pacific City's Kiawanda Community Center
Ghost on the Oregon Coast At Dead Center of Cannon Beach Theater Comedy Performs every weekend until October 29
Oregon Coast / Washington Coast Linger in Sunny Skies, Warm Temps This Week - 60s and 70s for much of the coastline all week; Seattle, Portland in 70s, 80s
Biotoxin Closes All Razor Clamming on Oregon Coast The upper third of the coastline was just closed off to the activity as well
Where Primeval Forest Vibes Meet Oregon Coast Sands at Twin Tierra Del Mar Rentals This pet friendly set of dreamy homes exemplifies the teensy burgh's best
Event Opens Up Wowing Mysteries of Sand on Oregon Coast On Thursday, October 6, at 7 p.m., the group presents a webinar on Sand
S. Oregon Coast Kids Event Turns Green Crab Invasion Into Fun Activities Second Saturday event at Coos HIstory Museum on Oct 8
UPDATE: N. Oregon Coast Water Advisories Lifted for Rockaway Beach, Short Sand Public health advisories to stay out of the water
Astoria Visitors Be Prepared for Traffic Headaches During N. Oregon Coast Runnng Event, Oct. 9 Expect significant traffic impacts to and from the Washington coast
Razor Clamming Closed on N. Oregon Coast, Delays Annual Reopening at Seaside Officials shut it down on the entire upper third of the coast
Sperm Whales Have Distinct Languages, Culture, Oregon Coast Researcher Finds They can speak to one another and have a distinct culture
Quirky to Obscure Rumors and History of N. Oregon Coast's Cape Meares Lighthouse Name mix-ups, Meares' boo boo's, becoming automated
That Magical, Intense Scenic Oregon Coast Drive You Don't Know Jam-packed with unforgettable sights and panoramas between Newport and Depoe Bay
More Second Summer on Oregon / Washington Coast: 70s for Beaches In the 70s on Sunday and remain quite sunny through Tuesday
Cox Rock, Near Florence, an Oregon Coast Puzzle in History, Geology, Sightseeing One mysterious rock island, a connection to Sea Lion Caves
Tillamook County Celebrates 100 Years of Swiss Influence on N. Oregon Coast November 5 with the Tillamook Swiss Centennial celebration
Event Dives Into Crabs of N. Oregon Coast's Netarts Bay September 25: called "Deeper Dive: Crabs of Netarts Bay
Hatfield Marine Science Center Features Live Oregon Coast Shark Event Science on Tap series on October 5 a night of sharks
US Coast Guard Snags Video of Humpbacks Off S. Oregon Coast, Provides Insights Some 40 or more humpbacks off Coos Bay; scientist weighs in
Little Waldport is Big on Weird Oregon Coast Legends, History Some striking moments: like a UFO cult, Pat Boone / exploding whale connections, a crazy shipwreck, sea monsters
Wings Over Willapa Fest Brings Birding, Hiking, Art to South Washington Coast Along the Long Beach Peninsula, Sept 22 - 25
Talk on Invasive Green Crab Looks at Its History on S. Oregon Coast, Coos Bay Oct 4 at Coos History Museum
Take CoastWatch Challenge: Do a Bioblitz at an Oregon Coast Beach It needs volunteers from the public from Brookings to Astoria, Sept. 23 - Oct. 2
Fall Equinox, Equal Day and Night for Oregon Coast, Washington Coast; Jupiter Closest Transition to fall and Jupiter closest in 70 years
Perfect Days on Oregon Coast: Second Summer on Display Recently The area has been – mostly – living up to that moniker of Second Summer
Ghost Tours of Oregon Coast's Heceta Head Lighthouse BnB Offered Ghost Story Tours of the Keeper's House on October 30
Oregon Coast Tourism Industry Gathers in Yachats in Oct for Summit People's Coast Summit in Yachats on October 10 through 12
Fall and Winter on Oregon's Curry Coast: Major Event Previews From a mushroom festival to the holidays in Brookings
N. Oregon Coast from a Different Perspective: Aerial Views of Manzanita to Seaside Flying above Seaside, Cannon Beach, Arch Cape, Tillamook Rock Lighthouse, Manzanita
Razor Clamming to Reopen Oct. 1 on N. Oregon Coast, Barring Any Biotoxins Closures allow newly set young clams to establish themselves on these beaches
Talk in Coos Bay Looks Into Local Tribal History Around South Oregon Coast Medicinal herbs and plants utilized by tribes, Sept. 23
Coast Guard Rescues Vessel Stranded in Storm Off S. Oregon Coast, Coos Bay Fishing vessel Lodestar lost propulsion 180 miles from Coos Bay
Exceptionally Cool Stuff at Lincoln City: Remarkable Oregon Coast in Photos, Video More to Lincoln City than meets the eye
Oregon's Smooth Jazz Fave Patrick Lamb Performs Sat at Coaster Theatre, Cannon Beach Coaster Theatre Playhouse on Saturday, September 17
September's Bounty at N. Oregon Coast Farmers Markets: What's New New natural grub at Astoria, Seaside, Cannon Beach, Manzanita, Tillamook, Neskowin
So Much Port Orford, So Little Time: Seriously Multilayered S. Oregon Coast Town History, shipwrecks and gobs of ways to recreate abound here
Popular N. Oregon Coast Spot Closed for Two Weeks: Cannon Beach's Ecola State Park Entrance road closed off from September 11 - 25, hikers can still access
Mussel Harvesting Closed on Most of Oregon Coast Due to Toxin Closed from the Yachats River all the way to the Columbia River
High Temps, Smokey Haze on Oregon Coast This Weekend, Beach Fire Bans In the 80s or higher, air quality alerts, power blackouts, bonfires banned
Red Flag Warnings for Oregon Coast / Washington Coast, Power Shutdowns Power shutdowns in Lincoln City; expect hot, dry winds, increased fire dangers
A Nuclear Power Plant at Cape Kiwanda? Uncomfortable Oregon Coast State Park Start
N. Oregon Coast Crew Deals With Stranded Shark on S. Washington Coast – Alive Briefly / Video It proved to be a bit of a show for some folks
Oregon Coast Travel Tips: Varied Beach Near Yachats With Adventure, Romance, Agates Strawberry Hill Wayside is that it's much bigger than it looks
Get Oregon Coast Famous and Maybe Cash Prize: Florence Hosts Photo Contest Oregon's Coastal Playground is looking for some portraits of itself
One Freak of a Sunset on Oregon Coast (Video): the Science of Why Definitely reminiscent of that Pink Floyd album cover
Somewhat Strange Shipwreck Tale from Central Oregon Coast, near Depoe Bay, Videos Near Depoe Bay, Boiler Bay is a double-edged sword
Cape Kiwanda Almost Had Nuclear Power Plant: Bizarre Oregon Coast State Park History The park got its start after a nuke was proposed on the cape
Lincoln City's D River Access Under Health Advisory, Stay Out of Water - Central Oregon Coast It has tested with unsafe levels of fecal bacteria in ocean waters
Survival Guide to Oregon Coast Labor Day Weekend: Weather, Traffic, Finding a Room There's lots of do's and don'ts for the holiday weekend
Opportunities to Help Clean Up Central Oregon Coast In September Volunteers needed Sept 17 and Sept 24 around Newport
Sharks of Washington Coast / Oregon Coast: Beach Stranding, Research Landmarks Impromptu dissection at Long Beach and a research pact from Cali to Washington
S. Oregon Coast's Bandon Cranberry Festival Kicks Up a Colorful Storm of Taste, Music, Fun 76th Annual Bandon Cranberry Festival on Sept 9 - 11
A Stellar Remake, Remodel Hits Next Phases at Oregon Coast Aquarium Construction is to be completed in spring 2023
Oregon Coast Spots With Wicked Cool Sights - and Rooms to View Them Incredible views with serious pampering at Yachats, Lincoln City, Seaside
Trippy Little Surprise of Oregon / Washington Coast: Summer Weather Gets Better Sept, Oct Summer doesn't just keep going, it actually gets better
Pixieland Event Features New Documentary, Aspects of Oregon Coast Legend Movie, costumes, menus at Lincoln City's Bijou Theatre
BioBlitzing Event: Helping Oregon Coast Science While Discovering More of Newport Explore parts of Newport new to you in September and help science
N. Oregon Coast's Seaside Sees Disheartening 16 Ocean Rescues, One Death Water temps, hidden drop-offs and rip currents are to blame
When Clouds Actually Assist Your Sunset Snap on Oregon Coast (and the Odd Science) Colors, shades and even shapes you've never seen before
Sea Lion Caves' Financial Gift to Another Central Oregon Coast Attraction August 26 is a day of whooping it up in Florence
Tuna Boats are in Port Along All of Oregon Coast, Selling Straight to Consumer Just about every port has someone selling off the boat or right out of a shop
Three Central Oregon Coast Wonders with Scenic Extremes - Video Engaging sites near Yachats, Newport and Lincoln City
Feeding Frenzy in One Oregon Coast Town Could Mean Humpback Whales Coming Pelicans are going bonkers; baitfish could mean big whales
Bus Tour in Sept Digs Into Oregon Coast Black Pioneer History Tour bus on September 18 that examines coastal black pioneer history
Unique Canyon Drive Park Tucked Away at Lincoln City's SW 11th, Central Oregon Coast There's a few things a little different about this place
Weird Lights Above: Starlink Satellites Visible Over Washington, Oregon, Coastlines More chances to catch them roving around over the next three nights
This Week on Oregon Coast: More on Black History, Humpbacks, Feeding Frenzy, New Rides, Buying Tuna the region seems to be picking up steam
Florence Festival of Books Draws 100s of Bibliophiles to Oregon Coast in Septt 11th annual edition on September 24 at the Florence Events Center
Seaside SandFest a New Addition to N. Oregon Coast, Featuring More Than Sandcastles September 7 – 11 right near the Turnaround
Moderate Chances of Aurora / Northern Lights Over Washington / Oregon Coast. But Weather?
Central Oregon Coast's Breast Cancer Walk Set for October Saturday, October 1 is when the fight against breast cancer takes new territory
Where the Cushy and Beachy Collide at N. Oregon Coast's Manzanita: Ocean Inn Amid truly classy surroundings you have exceptional views
Three Die in Crash at Gleneden Beach on Central Oregon Coast Highway The crash involved two vehicles and had tied up traffic all day
Toledo's Wooden Boat Show Rocks Central Oregon Coast This Year with Lots of Live Music Toledo's 17th Annual Wooden Boat Show happens August 20 and 21
Saturn Brightens, Jupiter a Monster, Still Some Meteors Above Oregon Coast, Washington Coast Delights in the night skies are numerous, including Saturn in opposition
Raw Sewage Spill Closes N. Oregon Coast's Netarts Bay to Crabbing, Clamming, Oysters Netarts Bay is near Oceanside and about 15 minutes from Tillamook
Four Fun-tastic Ways to Beat the Heat Along the Oregon Coast Exceptional finds at Bandon, Oceanside, Waldport, Rockaway Beach
More Beach Wheelchairs Available for Oregon's Tillamook Coast Region In Manzanita, Rockaway Beach, near Tillamook, Garibaldi, Pacific City, others
Lewis and Clark Live Re-Enactment Returns to N. Oregon Coast's Seaside Sept 10 and 11 with the Lewis and Clark Saltmakers program
90 Years of Oregon Coast's Sea Lion Caves Celebrated at Florence's History Museum Party in Florence on Aug. 26
When That Spectacular Glow Hits the Oregon Coast: Surprise Colors Between Yachats and Florence The colors that would erupt around here were mind-bending
What's New, Cool, What's In at Outdoor Markets on Oregon's North Coast Food Trail In-season at Astoria, Seaside, Cannon Beach, Manzanita, Tillamook, Neskowin
Pirates of Pacific Festival Invades Brookings on S. Oregon Coast Aug 12 - 14, Video You'll be screaming 'Arrr, avast ye maties' with unrestrained glee
Poaching Offenses Get Oregon Coast Dory Boat Stiff Penalties, Suspensions The law takes poaching in Oregon seriously, even when it comes to fishing
Intricate, Intense Stretch of Oregon Coast With Odd Hollywood Connections A multivaried experience between Yachats and Florence with ties to Norman Bates
Poaching is Serious on Oregon Coast: Dory Captain Loses Right to Fish After Many Offenses Dory boat commercial fisherman convicted for hiding catch, unfair practices
Charleston's Seafood, Beer 'n Wine Fest Makes Big Comeback to S. Oregon Coast August 12 - 14 sees the return of the festival of crab, music and kiddie fun
Unusual Mole Crab Incident Reminder Oregon Coast is Full of the Unexpected The aquarium had bumped into something new they'd never seen
Pollution Cleanup Starts on N. Oregon Coast After Ferry Sinks at Astoria The Tourist No. 2 is a historical landmark and federally recognized as such
Sewage Warning Partially Lifted for Newport's Yaquina Bay on Central Oregon Coast Contact with water should still be avoided on the southern side
Oregon Coast Traffic Delays / Detours at Florence, Warrenton Traffic situations in Florence and at Warrenton this week
Cautions, Advice for Watching Elk on Oregon Coast What to do and what not to do when spotting these great beasts
Meteor Shower Peak Coming to Oregon / Washington Coast (And Maybe Glowing Sands?) Peak of the Perseids on August 9 - 13
Historic Astoria Ferry Abruptly Sinks - Rare Interior Photos of N. Oregon Coast Landmark 100-year-old Tourist No. 2 capsized, officials don't know why
N. Oregon Coast's Cape Meares Lighthouse and Gift Shop Back Open to Public They've been closed since the first pandemic shutdown in 2020
Life Finds Home on Ropes Beneath Oregon Coast, Washington Coast Lifeforms living on and thriving off manmade debris that's normally bad
Shore Acres Holiday Lights is Back After Two-Year Shut Down on S. Oregon Coast November 24 to December 31 at the Coos Bay-area park
Rumors, Odd Facts, Fiery to Tragic History of Oregon Coast Headlands They have tales to tell: Oceanside, Cannon Beach, Coos Bay, Port Orford, Newport, Yachats, Depoe Bay
What Is That Freaky Trilobite Thing in Oregon Coast / Washington Coast Caves? This creepy-crawly looks a lot like a trilobite, but it's a sea slater
What Are the Best Beaches of the Oregon Coast? Seriously Surprising Answer Best beaches? Best beach towns? Hold onto your seats, kids
N. Oregon Coast Science Outdoors: Rockaway Beach Hosts Beachwalk Aug 12 A beachwalk that will talk about the natural history and ecology of the region
Heatwave Impact, Warnings Reach Oregon Coast Range, Washington's Willapa Hills Various heat advisories and even some air quality advisories
Shore Acres Christmas Lights Return, S. Oregon Coast Fest Has New Entry System November 24 to December 31 near Coos Bay, now with a timed entry system
Coos Bay's Blackberry Fest Back on South Oregon Coast After Two Years Of Cancellations The yummy fave is back in full gear on August 27 and 28
Fur Seal Rescued from Central Oregon Coast Beach, Recovering at Aquarium The Guadalupe fur seal was found on Salishan Spit, entangled in debris
Washington / Oregon Coast's Great Columbia Crossing 10K Opens Registration The date is October 9 and now is time to reserve your spot
Vegas Company Creates Biking / Camping Tours Along Oregon Coast Small group tours in August and September starting at $1,599 per person double
Good Chance Tonight of Northern Lights Along Washington Coast, Edges of N. Oregon Coast More likely north Washington coast, but possible as far south as Rockaway Beach
What You Should Be Looking for This Summer on Oregon Coast: Beaches Look Different It's as if the tide is much, much farther out
Story of One Much-Lauded Lincoln City Icon Stretches Over 100 Years of Oregon Coast One of the historical gems that stands out is the Ester Lee Motel
Inland Gets 100-Degree, Extended Heatwave - Oregon / Washington Coast Will Be Refuge Sun through Wed close to 100 for some areas; beaches in 70s or lower
Florence Visitor Centers Features Variety of Oregon Coast Artists All Month This time the spotlight turns to various artists from Backstreet Gallery
Sad Tale of Tradewinds Kingfisher: When a Historic Oregon Coast Ship Had to be Destroyed A major part of tourism in Depoe Bay for decades
Blow Holes and Spouting Horns Along Oregon Coast: When Waves Fire Upwards Places where the wave energy gets compressed into one long, fiery shot
Tiny Garibaldi is Gargantuan on Oregon Coast Distractions and Attractions Garibaldi is deceptively quiet: there's actually quite a bit of bustling
Coast Guard Rescues Man on Ship 57 Miles from Oregon Coast He was suffering from a medical emergency aboard a bulk carrier
Sewage Spill in Newport Brings Warnings About Yaquina Bay from Oregon Coast Officials The city says stay out of the water in Yaquina Bay but no issue on beaches
Discoveries About 'Water' Beneath Oregon / Washington Coast May Help Major Quake Assessments New finds from OSU indicate subsurface fluid has a role in quakes
Oregon Coast Officials Urge Mark Your Crabbing Gear After Baby Whale Entanglement This one, however is a new find. So authorities are issuing warnings
N. Oregon Coast's Lightship Columbia Opens Up Again to Astoria Visitors Lightship Columbia has now opened its top deck to visitors
Shop at the Dock Returns to Newport, Helps You Buy Straight from Oregon Coast Boats Fridays from July 15 to August 19, at 9:30, 10:00 and 10:30 a.m.
Annual Razor Clam Closure on N. Oregon Coast Now Through Sept. 30 From Seaside through Gearhart and Warrenton
Washington Coast's Neah Bay Opens Soon to Salmon Season Fishing rules are about to change along the northern edges of the Washington coast
U.S. Coast Guard Rescues Injured Woman from South Oregon Coast Beach - Video The woman fell from a rock at Bandon's Face Rock area
Deceased N. Oregon Coast Gray Whale Likely Tied to Larger Issue of Unusual Mortality Events Linked to a trend in the gray whale population that is worrying experts
Fighter Jet Maneuvers Along Oregon Coast May Create Sonic Booms, Video Battle exercises in the skies now through July 22
Unique Outdoor Concerts on S. Oregon Coast Connect You to Nature at Coos Bay, Brookings Coos Bay's Shore Acres State Park on August 23, 24 and 25, Brookings on August 27
Painting Sessions and Salt Marsh Walks Offered N. Oregon Coast's Netarts Bay - Painting on the Bay happens July 30; Summer Salt and Marsh Tour takes place on July 31
The Ghosts Near Waldport / Seal Rock Beneath These Oregon Coast Sands - Video Seal Rock's Curtis St. and Lost Creek host something ancient below
Blues Legend Salgado Shakes It Up in Oregon Coast's Florence Friday All of this coincides with the Florence block party
S. Oregon Coast Concerts at Brookings, Coos Bay Let You Roam to Live Music Coos Bay on Aug 23 to 25; Crissey Field on Aug 27
Hidden Summer Dangers at Tideline of Oregon Coast / Washington Coast - Video Some of these sudden drop-offs are five, maybe ten feet down
New Oregon Coast Program Brings Guides to Yachats' Wild Shoreline: Video Marine Reserver Ambassadors will be at Yachats this summer
Oregon Coast Oddities You Almost Know: Gold, Fossils, Weird Plants, Nebulous Claims Some wild finds in nature, sometimes millions of years old
Striking Even Startling Moments Along the Oregon Coast Caught on Camera Pink rainbow, lighthouse in a bubble, wild light effects
Toothy Fish from S. Oregon Coast Is Not What They've Been Telling You, Say Experts Scientists weighed in, and it's a bit of a mystery but narrowed down
Walking and Learning on Oregon Coast: Yachats Hosts Marine Ambassadors This Summer Explaining what you see, answering questions by the surf
Vicious-Looking S. Oregon Coast Fish Find Bit of Mystery as Well as Subject of Rumor Likely not what others have been telling you, it's created a puzzle among scientists
Kooky Tales, Impressions and Confessions from the 4th on Oregon Coast An interesting mixed bag of fun and annoyance
South Oregon Coast Reopens to Razor Clamming This opens up the entire coast to recreational razor clam harvesting
Comet Could Be Among Largest Ever, Visible Now on Oregon, Washington Coast Comet C/2017 K2 (PanSTARRS) is expected to pass closest to Earth July 14
4th of July Weekend Weather for Oregon, Washington Coast: Cloudy, Some Rain but Dries for Fireworks Fair amount of clouds and maybe moisture for much of the weekend
Oregon's Tillamook Coast Goes Bonkers with Fourth of July Happ's More firework shows compacted into a single coastal region than elsewhere
After Two Years, N. Oregon Coast's Beach Discovery Program Back in Seaside These enlightening sessions happen on Saturdays from 10:30 a.m. to 5 p.m.
4th of July Rental Openings on N. Oregon Coast: Lincoln City, Pacific City, Cape Meares Some hope for last-minute plans for the beach
South Oregon Coast's Port Orford Puts on Three Days of Fourth of July Fun A large variety of activities happening over three days, July 2 – 4
Body of Sevengill Shark Washes Up on N. Oregon Coast, Providing Education Opportunity A broadnose sevengill shark, a female, about 120 pounds and 8.7 feet long
Central Oregon Coast Towns Band Together to Clean Up After Fireworks A series of Fifth of July Cleanups for Lincoln City, Otter Rock, Newport, Waldport
Oregon Coast Fun in the Chill: Florence's Winter Music Fest Gets Early Ticket Start They just announced its lineup and is offering early-bird tickets
Hordes of Flying Carpenter Ants Along Oregon Coast They're the breeders of the colonies, getting blown by east winds
Beware of Bears on Oregon Coast Due to Late Berry Crops, Say Officials Spotting a bear on the coast may become uncomfortably easy
Oregon Coast Aquarium Adds Some Attractions, Means for Play Nature Play Area, Outdoor Amphitheater and a new feature called the headwaters
Curtis Salgado, Blues Artist Who Inspired Belushi, Returns to Central Oregon Coast One of the Pacific Northwest's more powerful musical treasures July 15
Cool Coves on Oregon Coast at Brookings, Seaside, Yachats, Coos Bay There's more beneath their surface, and other layers to check out
Reflections on - and in - the Oregon Coast: photo essay of the surreal Most striking is that glassy surface the beach can acquire, creating a magical mirror
Heatwave Warnings; 90s Some Areas, Much of Washington, Oregon Coast Upper 70s From the south Oregon coast up through upper Washington coast
Explore A Distinctive Oregon Coast Ecosystem with July 1 Netarts Spit Hike Event Hike Netarts Spit: Dunes, Birds, and More happens July 1
When the Oregon Coast Becomes Still 'Like A Pond' No major breakers. No large waves crashing in on the sand. It happens
On Edge of Central and South Oregon Coast, Florence's Killer Plants, Aerial Views, Horses Trails, horses, wilderness lakes, campgrounds, some particularly strange creatures
Part II, Manzanita 300-Yr-Old Spanish Galleon Find: Historic Surprises for Oregon Coast Some information not previously released, struggles to retrieve the pieces
Pieces of Legendary Oregon Coast Spanish Galleon Wreck Retrieved Near Manzanita - Part 1 OCBC exclusive: how rare a find, misadventures, setbacks, scientific clues
Encounters with the Science of Sunsets, Spring and Foam on Oregon Coast Knowing the science of what's happening really adds to the experience
Biplane Ride Near Florence a Joyful Thrill Ride Above Central Oregon Coast Tomeny Aero takes you up around Florence, the lighthouse, Yachats or the dunes
A Tale of Two Oregon Coast Blobs and Their Past: One You Know, One You Don't A fiery, jolting geologic history at Cascade Head, Cape Meares
Parade, Food Contests and Explosions for Central Oregon Coast: Florence's Fourth Florence will be lighting up with fun and frivolity for the Fourth of July
Washington Coast Opens Ocean Salmon Season With Good Numbers Sport anglers will soon get their first opportunities to catch wild salmon
Summer Solstice Along Oregon / Washington Coast: Astronomy Parties, Curious Facts The longest day of the year and the beginning of summer on these NW beaches
50 Years of Cannon Beach's Coaster Theater - A Party, A Look at Oregon Coast History June 29 that Cannon Beach's Coaster Theatre puts on a '70s party
1919 Wreck of J.A. Chanslor on South Oregon Coast Left 36 Dead Near Cape Blanco Conditions were shifting on the morning of December 18, 1919
Chasing A Special Moon Up Highway 101: Oregon Coast Astronomy Adventures An actually car chase for a story at Yachats, Waldport, Newport, Depoe Bay
Complete Oregon Coast Independence Day / 4th of July Events, 2022 Full list of Independence Day fun along the beach, which starts at the Washington coast
Seaside to Get Traffic Improvements - Other Oregon Coast Projects Replace the old signals, create more turn lanes and install a transit stop
Coos Bay's Juneteenth Celebration Updates for South Oregon Coast Party Second annual Juneteenth Celebration happening June 18 – 19
Broad Oregon Coast Views and Beachy Vibes at Lincoln City's Seamist Rental A truly engaging oceanfront deck that lets you absorb all the good ocean vibes
The Colorful, Even Psychedelic China Rockfish of Oregon Coast / Washington Coast They're freaky but they're also tasty, as well as gorgeous
When Views Explode on Oregon Coast: that Bend Above Baker Beach, Florence Views are just the beginning here, with loads of beachy revelations
27th Annual Brookings Concert Series Fills S. Oregon Coast with Tunes All Summer Summer Concerts in the Park series starts on June 22 at Azalea Park
Oceanside Tidepool Events: Among Finds Are 'Anenome Clone Wars' Beneath Oregon Coast Tidepool Discovery Days Happen June 15-18 and include 'anemone clone wars'
Goonies Day All Quiet in Astoria, Cannon Beach; Yet Still Ways to Celebrate on Oregon Coast What's the future of the city holiday; fun film facts you didn't know
Fort Stevens Brings New Music Fest to Oregon Coast with Disc Golf, Microbrews First Annual Summer's End Festival Sept 3 and 4
Intricate to Absolutely Deserted on Oregon Coast: Nesika, Bob Creek, Neptune, Hug Point, Oceanside finds near Gold Beach, Florence / Yachats, Oceanside and Cannon Beach
Planetary Conjunction A Nice Touch of Strange New Worlds for Washington - Oregon Coast Mercury, Venus, Mars, Jupiter and Saturn line up through June
Immense Surge in Oregon Coast Orca Sightings Includes Baby Killer Whale Major sightings all over, but especially Newport / Depoe Bay with an orca calf
Members Get Special Honors at Oregon Coast Aquarium Member Appreciation Week goes from June 13 through June 19
Eerie Pre-Histories of Seal Rock, Central Oregon Coast Aflame The beginnings of certain landmarks can be spooky
Wild, Wacky Maker of Monsters in One Oregon Coast Burgh Gargantuan waves that are the cause of constant spectacle
Washington Coast Free State Park Days June 11, 12 and 19 A handful of coast parks require a Discover Pass or a $10 fee
Effervescent Juneteenth Festival Returns to S. Oregon Coast's Coos Bay June 18 - 19 brings food, music, fun, education and history
Cape Kiwanda's Wilder Sides in Images: Killer Oregon Coast Sights Comparatively small headland that is a land loaded with finds, even sounds
Messages In Arty Bottles Dropped on South Oregon Coast Bring Prizes Bandon has its Bottle Faeries who leave decorative, ocean-themed bottles
Free Fishing, Clamming, Crabbing, Parking and Camping Day on Oregon Coast Free camping, parking on June 4; free crabbing, clamming, fishing June 4 and 5
All or Nothing' Meteor Event Possible Tonight, Tues; Oregon, Washington Coast Tau Herculids Mon and Tues may show thousands - or nothing
Surreal Science, Oddities Found Between Florence and Yachats on Central Oregon Coast Mysterious steps embedded in rock, log that pierces a rocky blob, faces and holes in things
Mysterious, Even Mystical at One N. Oregon Coast Spot Near Cannon Beach 200 feet below the cliff, where a whole other world resides
N. Oregon Coast's Tenor Guitar Gathering in Astoria Highlighted by Trolley Sing-Along N. Oregon Coast - Tenor Guitar Gathering settles in again on June 3 - 4
Four Things That Aren't What You Think They Are on Oregon Coast This coastline contains dramatic, even bizarre truths: Depoe Bay, South Coast, Newport
Lincoln City Adds Beach Wheelchairs, Mobi-Mats to Central Oregon Coast Lincoln City's beaches just became a little more accessible
New Surge in Orca Sightings Over Weekend Good Sign for Oregon Coast Holiday Chances really good you'll get to spot some over holiday weekend
Surprisingly, One Man Connects Oregon Coast Lighthouses at Heceta Head, Terrible Tilly One man, Oswald Allik, served on both the Seaside and Florence-area lights until the end
Some of the Most Riveting Oregon Coast Views Are Hardest to Find Outstanding viewpoints along the beaches that you may not know: Depoe Bay, Port Orford, Oceanside, Cannon Beach
2022 Memorial Weekend Travel Advice, Warnings for Oregon Coast Dealing with traffic, hotels, speed traps, weather
South Oregon Coast's Bandon Holds Special Puffin Viewing Day Puffin Party celebration at Bandon's Face Rock Wayside on May 28
Central Oregon Coast Artist Exhibits Surreal, Colorful Works at Florence Visitors Center Mixed media called encaustics created by Jo Beaudreau
Oregon Coast Wildlife Officials: Don't Kidnap Wildlife It's not just baby seals you'll have to watch out for
Oregon Coast Aquarium Celebrates 30 Years This Week Since 1992, the Aquarium in Newport has been showing off countless oceanic wonders to over two generations
Discovering the Unexplainable on the Oregon Coast From a mysterious red glow, the green flash at sunset to new geologic finds
Seeing Mysterious Work in N. Oregon Coast Waters? It's Biologists in Tillamook Bay Researchers from ODFW will be conducting clam surveys
Inside Heceta Head / Cliffs Near Florence: All Come from Oregon Coast Volcano Cape Perpetua was a volcano, and a mighty one
Clamming and Kayak Excursions on N. Oregon Coast Spotlight Netarts Bay May 21 and 22 feature a clamming trip and the rush of kayak runs
One of the True, Rare Historic Motor Lodges Left on Oregon Coast Agate Beach Motel in Newport goes all the way back to 1940
Orca Sightings Along Oregon Coast Through the Roof This Month, Video Major documentation and video from all over the coastline
Did 'Pirate' Sir Francis Drake Land on N. Oregon Coast? New Exhibit Looks at Mystery A new exhibit in Manzanita examines Drake's history and possible connection here
Rough 'n Wild Nature Just Steps Away from Depoe Bay's Downtown, Central Oregon Coast Depoe Bay's waterfront and seawall are a unique combo
Weather for Lunar Eclipse on Sunday: Portland, Seattle, Eugene, WashIngton Coast, Oregon Coast Total eclipse of the moon late on Sunday night. What's the weather for it
Tucked Away Behind Oregon Coast Towns There Are Beachfronts With Some Different Qualities Lurking behind Seaside, Bandon, Depoe Bay, but tucked away
Finding Alone Time in Cannon Beach, Far from the Oregon Coast Crowds Yet there are some parts that are less populated
Three Unforgettable Hangouts on Oregon Coast Off the Usual Path How to find extremely coveted beachy delights like these: Neskowin, Yachats
N. Oregon Coast Big Fave Returns in Person: Cannon Beach Sandcastle Contest June 11 it's back in full form
The Great Arches of the Oregon Coast - And Those You Didn't Know Some are rather hidden, but you have to know where to look
A Week of Glowing Things Above and Below on Oregon Coast Things glowing in the waves and in the skies from Depoe Bay to Arch Cape
Oregon's North Coast Food Trail Celebrates 5th Year, Expansions - Video Farms, fisheries, bakeries, breweries, distilleries, wineries, retailers, cooking schools
Where the Pointy Things Are on Oregon Coast: Famous Spires When some of the most remarkable photographic moments can happen: Bandon, Seal Rock, Cannon Beach
Astoria's Pier 39 Saturday Market Returns to Oregon Coast A second season of the coast's latest addition to its outdoor summer markets
Obvious and the Hidden at Cape Kiwanda: Deep Inside the Oregon Coast Landmark What you don't know about the Pacific City icon may thrill you
Oceanside, Little Oregon Coast Town That's Off the Beaten Track At first glance, there may not seem to be much to it
Florence's Old Town Park and Gazebo Filled with Historic Oregon Coast Atmosphere Old Town Park and its lush greenery keeping the place hidden from view
Video: Shore Acres' Last Show for S. Oregon Coast - Or is it? Never say 'never' says one meteorologist
Scientists Need Help Observing Oregon Coast Sea Stars How to Assist CoastWatch is hosting an online seminar on how to submit a sea star observation
Depoe Bay's Spouting Horn Then and Now: Oregon Coast History Images of the icon in ways you've never seen
Astoria Trolley Back Up and Putt-Putting Around N. Oregon Coast Historic and scenic ride running on a somewhat limited schedule, daily in summer
A Little 'Hideaway' in Rockaway Beach Melds Oregon Coast Rustic with Fancy Near the waters edge of the lake is a vacation rental cabin
Three Curious Weather Phenomena of Oregon Coast: Manzanita, Cape Blanco, Headland 'Hats' Some rather astounding atmospheric elements in the world of beach science
One Magnificent Blob, Myriad Oregon Coast Surprises in One Cove Short Beach near Oceanside is aptly named – there's little of it
Astoria Sunday Market Opens Back Up on N. Oregon Coast on Mother's Day The 22nd season of the Astoria Sunday Market features 150 vendors
Floats to Fireworks at Lincoln City: Action-Packed Summer on Central Oregon Coast
From Rugged to Exquisitely Cool on Oregon Coast: Florence, Yachats, Manzanita Two wowing places you haven't even dreamt of yet at Yachats, Tillamook County
Two Rescues Along Oregon Coast in Two Days Illustrate Need for Caution Rescues at Manzanita and near Depoe Bay
Goofy, Puzzling Names at One Oregon Coast Burgh: 3 Curios of Depoe Bay Occasionally, the town assigns oddball monikers
A Narrator in Your Ear: Immersive Tour of N. Oregon Coast's Astoria Released Learn about the local history and the tales at various stops
South Oregon Coast Museum Looks at Myrtlewood, Immigrant History A new exhibit in Coos Bay and a talk given on May 3
May Space Spectacular: Eclipse, Morning Planets, Meteors for Oregon / Washington Coast Meteor showers, full lunar eclipse, more, from Brookings to La Push
Pink Discovery in Tidepools: the Colorful Sculpins of Washington / Oregon Coast A sampling of sculpins along the Oregon coast and Washington coast
Full and Complete Rundown of Oregon Coast's Florence Rhododendron Fest Rhody Fest returns on May 18 to 22
Two Meteor Showers Overlapping Above Oregon / Washington Coast, Another Peak Coming Right now are the Lyrids and the Eta Aquariids, which peak soon
Seal Rock History and Mysteries on Oregon Coast: Failed Resort to Monsters and Metal Finds Once a promise land of paved streets and heavy tourist traffic
Gigantic Landscape Changes at One Popular Oregon Coast Town Over the Decades There used to be a lot less of Seaside in its early days
New License Plates Benefit Wildlife Around Oregon, the Coast As of May 4 you'll be able to order the set of plates online
Different Surf Warnings for South Oregon Coast, North Coast, Washington Coast Surf advisory for south coast; sneaker waves northward into Washington
Seaside Hotel Mural Gets Large Selfie Fanbase - An Oregon Coast Sensation A virtual explosion of colors at Coast River Inn at Seaside that's gone viral
The Things Rockaway Beach Hides: N. Oregon Coast Curiosities of History, Science A lot more hiding beneath its sands and waters than you know
What They Don't Tell You About Oregon Coast Spring: Orcas, Deserted Beaches, Weird Foam Lodging prices, low tides, free-flying sea foam and the marvels of whales
Otter Rock And Roll Surf Contest Returns to Oregon Coast in June The youth surf contest near Depoe Bay happens June 11
N. Oregon Coast Road Closure Near Wheeler Today, Maybe Thursday Look for a major road closure along Highway 101 between Rockaway Beach and Wheeler
Crews Chase After Fiesty, Elusive Beaver in Rescue Attempt on N. Oregon Coast A wayward and endangered beaver had one crew scrambling around Gearhart
A 'Sea Dream' of a Rental on North Oregon Coast, Beneath Manzanita's Canopy Bringing the woodsy, beachy vibe to a new level in Manzanita
Spring and Summer Preview of Bandon and Some Unique South Oregon Coast Events Classical music, wild bike races, cardboard boats and Circles in the Sand
Help Out on Oregon Coast with Marine Debris Survey, Black Oystercatcher Monitoring Black Oystercatcher Project and the Maine Debris Survey
Waldport's New Addition to Oregon Coast: Beach, Bike and Blues Fest On April 30, something new comes to Waldport
According to Star Trek: 'Astoria. On Earth's Oregon Coast. It's Heaven' It's the 32nd century: what would Astoria even look like?
Virtual Talk on Dolphins from Oregon Coast Scientist, April 21 Science on Tap series continues and features a talk dolphins
What You Can See of Nye Beach's Past - Oregon Coast History Walk Nye Beach has managed to hold onto its historic roots
Puffins Event, 12 Days of Earth Day Back at N. Oregon Coast's Cannon Beach Welcome Home Puffins on April 30 - May 1, cleanups, street fairs, more
Ooey, Gooey Brown Waves Are Back on N. Oregon Coast (Video) They freak out visitors but they're a good thing
More Snow for Oregon Coast Range, Washington Willapa Hills Meanwhile, the south Oregon coast is wet business as usual
Astoria Crab / Wine Fest Returns to North Oregon Coast as Live Event in April April 22 - 24 sees the comeback of the major festival in Astoria
'Tidepool Exploriences' in Lincoln City Give Close Looks at Oregon Coast Lifeforms Lincoln City's Exploriences program starts to shift gears a little
High Wind Warning S. Coast; Snow in Oregon Coast Range, S. Washington Coast, Valley Floor A snowy morning commute, and driving over the coast range passes may not be possible
Tufted Puffin Season Begins on N. Oregon Coast: First Pair Seen Already The first pair have been spotted at Cannon Beach's iconic Haystack Rock
Layers Upon Layers of Oregon Coast: at Brookings, Florence, Rockaway Beach, Astoria The deeper you go, the more layers of marvels you uncover
Historic Adventures of a Lighthouse on South Oregon Coast: Coquille River Light at Bandon For about 150 years now a rusty dignity and a stern resolve
Beach Cleanups on Washington Coast and Oregon Coast, April 23 Both beach cleanups now coincide with Earth Day
From Here You Can See Just About Forever Along the Oregon Coast Near Yachats: dizzying sights and heights make for wowing moments
Odd, Rollercoaster Weather for Oregon Coast, Passes, Valley: Warm Day to Some Snow In the mid 60s on beaches Thursday, then snow in the Coast Range late weekend
Coos Bay-Area Festivals Light Up South Oregon Coast with Food, Music, Arts In come the summer festivals with a bounty of food, music and real outdoor action
Warnings about Seal Pups on Washington / Oregon Coast: Do Not Touch Them Newborn harbor seal season is now in full swing, but keep clear of them
Dangerous High Surf Warnings on Washington Coast, Oregon Coast Breaking waves up to 24 feet or even 38 feet in some areas
Source of N. Oregon Coast Beach Beeswax on Display in Manzanita Mysterious beeswax that dotted the shores of Manzanita for hundreds of years
Big Eclipses Coming to Oregon / Washington Coast Next Month, Next Year Total lunar eclipse in Or/Wa in May, near-full solar eclipse 2023 on S. coast
Barracuda-like Lancetfish Found on S. Oregon Coast Often mistaken for barracudas, they are Longnose Lancetfish (Alepisaurus ferox)
Beachgoers Beware: Sneaker Waves Headed for Oregon Coast / Washington This Weekend Coinciding with clam digs in Washington; south OR coast sunnier, calmer
Astoria Dining Pass Gives Exclusive Menu Items for April on N. Oregon Coast From April 1 through April 30, use your cellphone to check in
Northern Lights / Aurora Possibilities for Oregon / Washington Coast Through Friday A pair of solar flares erupted on March 28 and were heading this way
BBQ, Blues & Brews on the Bay Returns to South Oregon Coast in May The Mill Casino's event in North Bend back in full form on May 28 and 29
Famed, 'Terrible' Tillamook Rock Lighthouse Up for Sale - N. Oregon Coast For a mere $6.5 million, you could own a famous Oregon coast lighthouse
Oregon's South Coast Culture Tour Returns: Food, Outdoor Fun, Creative Adventures Curry County on April 29 - May 1, then Coos County from May 6 to 8
Vacation House in Pacific City a Unique Oregon Coast Experience, Distinctive Shape Heron's Perch is part bucolic barn, part sleek design
South Oregon Cleanup, History Event; Breakfast Returns to Gleneden Beach History and a cleaning in Coos Bay; monthly breakfast is back
1964 Tsunami Part 3: Tearing Up Bridges, Homes on the N. Oregon Coast Damage and destruction in Seaside, Cannon Beach - but it began a beloved tradition
Oregon Coast Discoveries at Hatfield Science Day Event, April 9 Newport's Hatfield Marine Science Center hosts its event virtually
'Skinny Whales' Remain Issue on Washington / Oregon Coast, But May Be Lessening Scientists still don't know what's causing it
Blacklock Point Guided Hike a Wealth of S. Oregon Coast Information Oregon Shores hosts a guided walk to the rocky intertidal area, March 30
1964 Tsunami Part 2: Tragedy, Destruction Hits Central Oregon Coast What happened in Lincoln City, Depoe Bay, Newport, Waldport, Yachats
One Thing the Oregon / Washington Coast Have in Common with Mars The oddest, smallest things can bring much broader questions and answers
Magnificent Views on Oregon Coast Hidden by Time, Distance or Geography Happening briefly only to disappear, or maybe tucked away
1964 Tsunami Part 1: Its Impact on S. Oregon Coast What happened in Brookings, Gold Beach, Bandon, Coos Bay, Reedsport
Yachats' 804 Trail Full of Drama - and a Rousing, Tense History on Oregon Coast About 1.3 miles of ecstatic views, wave drama and quite a history
Limits for Green Crab Increased, Taking Oregon Coast Sea Stars Illegal Changes in harvesting may surprise some
Romantic, Cuddle-Inducing N. Oregon Coast Sizzling Spots You Don't Know A few ideas for beachy romance that you may not have thought of around Cannon Beach, Seaside, Oceanside
Washington Coast Mermaid Festival Makes Grays Harbor Its Epicenter For about a week near Westport it will be all about mermaids
Many Faces of Bandon's Face Rock on Southern Oregon Coast In a kind of photo essay: it's hard to unsee that face after the first time
Kooky, Quirky Rumors of Oregon Coast a Glimpse Into Its History Spirits ghost-busted, a secret facility, bad pranks, sea monsters
When a 'Filament' Mystery Hit the Oregon Coast a Decade Ago Maybe you've seen this mystery stuff on beaches - now you know
Widely Varied Spring Break on N. Oregon Coast at Manzanita, Rockaway Beach, Pacific City Pleasantly action-packed meets convenience at the Tillamook Coast
What Spring Equinox Means on Washington / Oregon Coast Sunday, March 20, with the exact moment of spring at 8:33 a.m.
Spring Break in Oregon Coast's Center: Wild Sands, Rides of Florence Thrill rides, secret beaches, a lighthouse and more
Central Oregon Coast Event Looks at Geologic Hazards and Community Resilience Another in the Hatfield Science on Tap series, March 16 at 6 p.m.
Snowy Plover Restrictions Now on Some Oregon Coast Beaches Some minor restrictions starting March 15 in mostly remote areas
Lincoln City's Spring Break About 200 Glass Floats, Magic, More Oregon Coast Whales Festival of Illusions, whale week, glass floats, beachcombing guides
What Seaside is up to for Spring Break: N. Oregon Coast Kiddie, Grownup Wonders A ghost conference, adventures in the air, laser tag and beaches
Spring Break on S. Oregon Coast: Coos Bay / Charleston's Wilder Sides Here, you can fill a good week of exploration and repose
High Wind Warnings, Surf Danger Warnings Up for Entire Oregon Coast Variety of high wind warnings through Sunday and dangerous surf
N. Oregon Coast's Indian Beach at Cannon Beach, Historical and Film Fame Much in the way of views here, but there's history as well
Wild, Wet Weekend for Oregon Coast, South Coast Wind Watch - Gusts to 60 mph Some heavy seas will be present making for some spectacular storm watching
Views Taken to Dizzying Heights Along Oregon Coast The tall places that can really make an impression: Humbug, Heceta, Foulweather
Washington Coast Opens Up More Razor Clam Dates in March The next round getting the go-ahead March 16 - 22
Rare and Live Snake Eel Found on N. Oregon Coast, Rescue Attempted They are found much farther south in warmer climes
Historic Oregon Coast Motor Inn Retains Classic Vibes With Whimsy: Newport's Moolack Shores One of those throwbacks to the early days of tourism and motor lodges
Eerie Doomsday Connection Between Oregon Coast and Yellowstone That weakspot is still around and some day will erupt again as a super volcano
Astoria's Lightship Columbia Closer to Returning to N. Oregon Coast Moorings It was whisked away this fall to undergo a lot of refurbishing
Bayocean Peninsula Park and Cape Meares Beach: N. Oregon Coast Unknowns Cape Meares and its beach, the Peninsula Park and its history - all on Tillamook Bay
Central Oregon Coast's Heceta Head Light Celebrates 128 Years, March 30 A party with food, music, whale watching and a whole lot of outdoor fun
Wreck of Strathblane on Washington Coast A Deadly, Haunting Yet Forgotten Tale One of the worst shipwrecks of the Washington / Oregon coast in that century
2022's Oregon Coast Whale Watch Season Begins Now With Babies in Tow, Orcas Get ready for lots of whales along the entire length and live streams of them
Arizona Beach on S. Oregon Coast: Cloistered, Sheltered from Wind, Delightfully Mellow Arizona Beach near Port Orford is one of the coastline's more intriguingly mellow hangouts
Timely, Deeper Look at Oregon Coast Orcas in Presentation on March 9 It comes just as killer whales are spotted rather early here
Myriad WTH Moments Lurking at N. Oregon Coast's Manzanita Legends of crashed sailing ships and rumors of hidden treasure mix with murky fir trees and a rugged kind of hipness
Work Begins Removing Birds from Two Oregon Coast Bridges; Traffic Issues Astoria, Newport Starting March 2 with periodic closures at Newport, Astoria
Oregon Coast's Florence Brings Back Hanging Flower Baskets for Season - You Can Be a Part There's a way to become a part of Florence's outstanding beauty
The Great 1936 Fire at Yachats Threatened Two Towns, Oregon Coast History It suddenly grew into an enormous blaze that choked the little town
First Orcas of Season Spotted on South Oregon Coast Near Brookings It's quite early to see them, making this an interesting find
Hazardous Beaches, Wind Warnings, Floods on Oregon / Washington Coast A blustery, wet and somewhat dangerous day and a half
The Rugged, Untamed Twists and Turns of One Part of Central Oregon Coast The road between Yachats and Florence twists and turns tightly, and pops
Waldport's Pat Boone Inn: Oregon Coast Finance Tale That Reached Ocean Shores, Washington An odd bit of history for the Oregon and Washington coast involving a celebrity
An Oregon Coast Inn / Rental With Killer Views, Deep Depoe Bay Vibes Snuggle Inn, a two-story charmer with two vacation rentals inside
Four Things You Didn't Know About Depoe Bay on Central Oregon Coast Depoe Bay is a lot bigger than you think: especially in its science, history
Earn Tasty Treats, Coffee as You Clean Up North Oregon Coast Sands You can get tokens towards coffee and other treats in Seaside
Crazed and the Calm on S. Oregon Coast, Between Coos Bay and Bandon Between them is a few days worth of exploration
Ethereal Nocturnal Glow of Astoria, N. Oregon Coast After the sun goes down and the street lights come up it comes alive
All of Oregon Coast Range Under Winter Advisory Due to Snow Winter weather advisories will be in effect for any elevation above 1500 feet
Hairy 'Globster' Sighting Raises a Stink at N. Oregon Coast's Rockaway Beach The mystery creature really isn't a mystery to science, just at first glance
Abundant Razor Clams on Washington Coast Bode Well for New Dig Dates Washington has tentatively scheduled 25 razor clam digs
Oregon Coast Crews Attend to Giant, Beached Whale on Washington Side The gray whale was 39 feet long, had orca battle scars and was killed by a ship
Chances of Light Snow in Oregon Coast Range Coming Up Some higher elevations may see a bit of snow on Sunday, Monday, Tuesday and maybe Wednesday
How Cape Blanco is a Dividing Line in South Oregon Coast Weather It has an impact but not in ways you'd expect
50 Years Behind the Scenes, Fighting for the Coast: Oregon Shores Conservation Coalition Behind the scenes, Oregon Shores Conservation Coalition has been a major part of many fights
The Terror of Post-War Mines on Beaches: Oregon, Washington Coast History (part two) 1949 and going into 1950, quite a few Japanese mines were found
World War II Mines an Explosive Problem on Oregon / Washington Coast in '50s (part one) In the first two years after the war 117 mines are found in this region
Thousands of Jellies Wind Up on N. Oregon Coast Gearhart, Seaside and Warrenton have received hundreds, even thousands
Nemo the Sea Lion Arrives at Oregon Coast Aquarium Nemo is a bit of a rescue from California but is now an elder
Astoria / Warrenton's Intriguing Inns, Hotels, Lodgings - N. Oregon Coast A little hidden from the surface, here's a few from Astoria, Warrenton, Hammond
Free Fishing, Clamming, Crabbing Weekend On Oregon Coast Feb. 19 - 20 Anyone can fish, clam and crab for no cost and without a license
Looking for Sun on Oregon Coast This Week? Head South Gold Beach and Brookings will stick to sunny and clear conditions
Oodles of Glass Floats This Week in Lincoln City: An Antique Oregon Coast Valentine Antique Week and Valentine's Day coincide with a mass of glass float drops
Best of Romance-Themed Landmarks on Oregon, Washington Coast A Valentine's theme in one way or another
Failed Satellites Burning? Look Up on Oregon Coast, Washington Coast Some 40 satellites have failed and are burning upon reentry
Erosion, Falling Bluffs Sometimes Dramatic on Oregon Coast This Season An interesting mix right now of erosion along the beaches
Art and Movies Added to Central Oregon Coast Festival, Florence Wine & Chowder Trails Florence Wine & Chowder Trails hits town again on February 18 to 20
Running from the Rain at Seaside and Cannon Beach: When N. Oregon Coast Turns Indoor amenities and some kind of cover are all a quick shot from the sands
Washington Coast Clam Digs Get Go Ahead for Feb. 14 - 18 Long Beach, Mocrocks, Copalis and Twin Harbors
Central Oregon Coast Hotspots at a Glance Between Lincoln City and Florence, including Yachats, Waldport, Newport, Otter Rock, Depoe Bay and Gleneden Beach
A Different Look Near Cannon Beach - N. Oregon Coast Beach Changes What a difference a year makes at Hug Point, Silver Point
Warm and Sunny This Week on Oregon / Washington Coast, Some Areas Over 60 Quite the run of sunny, even warm weather, close to 70 in some spots
Weird World of Oregon Coast Ocean Larvae Featured in Newport Event Part of the Science on Tap program: the talk is Tuesday, February 15 at 6 p.m.
UPDATES: Sneaker Wave Threats for Oregon / Washington Coast; Then Sunny, Warm Heightened threat of sneaker waves Sat for S. Washington coast through central Oregon coast
That Thing They Don't Tell You About February Weather on Oregon / Washington Coast It's nicknamed the 'mini spring' of February and it's back
Sublime Pleasures and Secret Sights of Oregon Coast After Dark Beaches can have some distinctive, remarkable qualities
Two Oregon Coast Museum Events Include ID Your Glass Float In Coos Bay and in Lincoln City there are new exhibits and a float event
Will the Real China Creek of Oregon Coast Please Stand Up: Bandon, Near Florence One sits at Bandon, the other near Florence
Lincoln City's Nordic Inn Morphs Into Surfland Hotel - An Oregon Coast Tradition Rebrands Oregon Coast Lodging Changes - Nordic Oceanfront Inn will soon reopen as Surfland Hotel
Wedding Vow Renewal Returns to Yachats on Central Oregon Coast It's back on Feb 14 this year after a year off due to the pandemic
Cannon Beach Event: Meet the Sharks of the Oregon Coast A look at the legendary beasties on February 9
Appearances of Pyrosomes on Oregon Coast Still a Big Puzzle to Scientists Pyrosomes, also sometimes called sea pickles, are actually colonies
Roadwork, Delays Now on Central Oregon Coast at Newport - and in the Future Upcoming road repairs to northern Newport and what's happening now
Dead Whale Moving in Mysterious Ways on N. Oregon Coast: And No, It's Not a Zombie And No, It's Not a Zombie - The deceased cetacean is acting like a zombie: it's moving southward
When the Ocean Burps on Oregon / Washington Coast - It's Beautiful Large patches of brown stuff lying around can actually be a treasure trove
322 Years Ago This Week: Cascadia Tsunami Hits Oregon Coast, Washington Coast A history of coastal geologic history: how scientists uncovered the event
Highway 6 To Oregon Coast Gets New Signage After Fatalities Soar Seven people died in 2021, the same number that died in a five-year period
Playing Hooky On the N. Oregon Coast During This Week's Sun Here's where to hide from your boss in Seaside, Cannon Beach, Nehalem Bay, Manzanita
Warm, Sunny Skies for Washington / Oregon Coast - But Also Sneaker Waves Temps close to 60 in some places, some sneaker waves and stagnant air
Five Unusual Rock Structures of Oregon Coast: Shapes to Weird Steps From faces in the sea to head-scratching shapes, to oddly convenient formations
Chowder and Wine Trail, Glass Floats Return to Oregon Coast's Florence in Feb
Beach Hazards on Oregon Coast Yet Plenty of Sun; Warmest Area of State Sun, temps near 60 but there will be sneaker wave threats
Crabbing Tips for Oregon Coast Right Now It's been hit and miss but there is hope, especially around Bandon
Seal Rock a Blast of Colors, Textures - an Oregon Coast Tidepool Hotspot An array of structures sometimes referred to as Seal Rocks
Baby Elephant Seals May Create A Giant Surprise On South Oregon Coast Northern elephant seals begin pupping season any time now
COVID Shuts Down Oregon Coast's Largest Seafood and Wine Fest Again Now, for the third year in a row, the pandemic has left a mark in Newport
Wacky, Tubular Pyrosomes Found Again on Oregon Coast: Will This Bring More? In the Florence area there's a great number of them
Odd and Crusty at Manzanita: Where the Oregon Coast Soars to 1600 Feet Manzanita, meaning 'little apple' in Spanish, is really more like a little forest park
Inexpensive Yet Upscale Oregon Coast at Lincoln City's Inn at Wecoma All the modern, even stylish visual attributes of a famed coastal inn
Lincoln City's Antique Week Becomes Center of Oregon Coast Treasures This February February 12 through 21 and will include exclusive offers at participating stores
Tsunami Advisory Over for Washington / Oregon Coast - Images, Video Surges coincided with an already-raucous ocean and sneaker waves
UPDATE: Oregon / Washington Coast Tsunami Advisory Expired An undersea volcanic eruption is called an unusual event by officials
Threat of Sneaker Waves But Warmer, Sunny Skies on Oregon / Washington Coast - Video Beautifully sunny weather but sneaker wave threats
Funky Little Fish is a Rare Find Off Oregon Coast: Prowfish The prowfish (Zaprora silenus) doesn't wind up in aquariums
Talk Looks Into S. Oregon Coast / Coos Bay Astronaut and His 'Moon Trees' Feb. 1 the talk takes place both digitally and in-person
Rules for Drones in Oregon Coast State Parks Examined on Jan. 24 Possible new rules regarding drone take-off and landing within a state park
Cape Perpetua's Striking Science: Volcanoes to Bears on Oregon Coast So much more to this central coast landmark than people realize
Increased Sneaker Wave Dangers Along Oregon Coast Through Jan. 12 From Brookings up through the southern Washington coast
Tidepool Experiments Yield Finds About Climate Change on Oregon Coast OSU found ecosystems like tidepools are losing their resiliency
Three Surprises of Oregon Coast History at Oceanside Roosevelt and the refuge, a fallen arch, a goofy structure
Lincoln City's Exploriences Back with Varied Oregon Coast Adventures Reignites its outdoor program Exploriences with crabbing, clamming, hiking, tidepools, agates, fossils
Curious Bits About Sand Dollars on Oregon Coast / Washington Coast You Didn't Know People know little about them: some surprising facts about the little critters
Razor Clam Lovers Will Love This Week on Washington Coast Clam digs for January 14 through 20 will go on as planned
Bandon's Wizards Hat Rock, Komax or Howling Dog? Oregon Coast Landmark Puzzle Surprise, Bandon's Wizards Hat Rock is not the same as Howling Dog Rock
High Wind Warnings for Oregon Coast, South Washington Coast On Top of Flooding In effect from Thursday evening through Friday morning
100 Glass Floats Dropped This Weekend on Central Oregon Coast Beaches / Lincoln City King tides postponed Lincoln City's Finders Keepers
Flooding A Possibility to Likelihood Along Parts of Oregon Coast Flood watch for northern coast and south Washington; flood warning for Coquille
The Decade the Oregon Coast Burned - 1930s The 1930s were an insanely unlucky year for the Tillamook Forest, Depoe Bay, Bandon
Tiny Yet Big On Oregon Coast Surprises: Arch Cape Near Cannon Beach It seems as if all these beaches here are hidden ones
Saying 'Whatever' to the Weather on Oregon Coast, Unique Strategies This time of year hosts its awesome little opportunities
Oregon Coast Scenic Railroad Acquires Numerous New Steam Engines, Train Parts The Garibaldi attraction just purchased 14 steam locomotives
Flooding, High Winds, High Surf Along Washington / Oregon Coast A variety of weather warnings and advisories have been issued for Sun through Tue
Caution Urged: King Tides Bring Flooding, Steep Seas to Oregon / Washington Coast Final round of king tides Saturday through Monday; high wind watch
New Guide Lets You Get To Know Individual Oregon Coast Whales Now, you can get to know individual gray whales that are regulars
Last Blast of Snow for Oregon Coast Range, Washington Coast Hills, Then Drying In the meantime there is a winter weather advisory
Karla Bonoff Headlines Gigantic Oregon Coast Music Fest in January The two-day event will be January 28 and 29 at the Florence Events Center
A Snow Day in Astoria: N. Oregon Coast Photo Adventures Reveling in the wintry experience and snapping plenty of intriguing shots
First Day Hikes on Washington Coast Stretch Your Legs and Your Brain Find them at Ocean City, near Westport and Cape Disappointment
Delicious Little Secrets of Sunset Bay on Southern Oregon Coast Near Coos Bay is one popular spot, and there's a lot going on
Plenty of Freezing Temps, More Snow for Washington / Oregon Coast Road hazards, closures in the Coast Range; temps below freezing, snow on beaches this week
Humbug Mountain and State Park on South Oregon Coast: Varied, Intricate Attractions A treasure trove of wilderness, trails, and cloistered beaches near Port Orford
Memories and (Tall) Tales from Christmas on the Oregon Coast A curious mix of the rugged (i.e. lots of wind) and the cheery
Travel to and from Oregon / Washington Coast May Be Difficult The NWS said to be cautious and expect weather delays while traveling over the holidays.
Quadrantid Meteor Showers Coming Up for Oregon Coast, Washington Coast They will peak just after New Year's Day, on January 2 and 3
Snowy Christmas Good Possibility - Maybe Oregon / Washington Coast Later Snow likely over Christmas in many areas but possible on beaches later in week
Deceased and Decayed Humpback Whale Washes Up on North Oregon Coast A deceased whale in a serious state of decay has quite the bad aroma
Four Fantastic Scenic Corridors of Oregon Coast Scenic stretches and awe at Samuel H. Boardman, Bandon, Depoe Bay and near Yachats
New Wetland Area on N. Oregon Coast Providing More Benefits Than Thought An OSU study has revealed there's more going on along Tillamook Bay that affects humans
Elk Feeding Tours on N. Oregon Coast Canceled Due to Virus Elk feeding tours at Jewell Meadows Wildlife Area will be suspended
Rockaway Beach's Less Obvious Sides Hint at Oregon Coast History, Layers The Tillamook Coast town features fun in ways you can't always see
Emotional Play 'Marjorie Prime' Comes to Central Oregon Coast, Lincoln City A play set in the near future that is more about emotional impact
Occasional Mystery of Red Bulbs Found on Oregon Coast You may have spotted one or two in the last ten years, but chances are you haven't
Winter Solstice Approaches: What It Means for Washington / Oregon Coast Longer days, beach astronomy and more intense sunsets
Two Hotels on Central Oregon Coast Getting New Look, New Life Some big changes have happened to two inns in Lincoln City
No Volunteers But Oregon Coast Whale Watch Show Goes On Late December is an optimal time to look for gray whales
First Day Hikes on Oregon Coast Coming Up, Free State Park Parking Two guided hikes on New Years Day at Florence, Warrenton - free parking
Trippy Finds of Winter: Get Ready for These Along Oregon, Washington Coast After those stormy waves you'll want to be looking down
Winter and Wind Warnings for Washington / Oregon Coast, Coast Range High wind warnings, snow advisory and some high seas
Rugged to Historic to Goofy Around Lincoln City, Depoe Bay: Oregon Coast Adventures A mix of wonder and humor: warm winter days, stellar coffee, exploration
Rhododendron Fest Returns to Oregon Coast in May, 116 Years in Florence A much-beloved tradition on the central Oregon coast will make its way back to Florence
Geminid Meteor Showers Above Oregon / Washington Coast. But Can You See It? At their peak on December 13 and 14 with as many as over 60 per hour
Washington / Oregon Coast Sneaker Wave Dangers; Snow in Passes High surf, sneaker waves and snow advisories
Wind Warnings for Oregon / Washington Coast; Snow, Big Waves Early Week Snow in the Coast Range passes, high wind warnings and maybe dangerous seas
South Oregon Coast Town Offers Big Hotel Discounts for Its Winter Wildness Coos Bay, Charleston, North Bend offer 25 percent off if you stay two nights
Maybe Win Prizes Helping Clean Up Central Oregon Coast Through Surfrider Winter-long event of cleanups from Lincoln City down through Seal Rock
So Far, 74 Quakes Off Oregon Coast In Just Over 24 Hours 49 undersea quakes have hit about 300 miles west of Yachats
How Pearl Harbor Attack Changed Oregon Coast, Washington Coast: Beach Patrols Life during wartime was no day at the beach on these beaches
Brown Waves Return to N. Oregon Coast. Could It Mean Glowing Waves? Lots of diatoms create this oddity, and there's a chance at glowing sands
Candy Cane Express Provides Festive Train Ride on N. Oregon Coast For more two more weekends, you can catch the Candy Cane Express at Garibaldi
Spacecraft Captures Images of Oregon Coast Crabbers Aglow A satellite from National Weather Service captured pattern of glowing dots
Victorian Holiday at Lighthouse BnB Returns to Central Oregon Coast at the little house by the sea December 11, 12 and December 18 and 19
New Comet May Be a December Star for Oregon Coast, Washington Coast In fact, it's already in the vicinity of Earth - in the cosmic sense
Three Oregon Coast Viewpoints From Dazzling to Dizzying Fantastic finds at Bandon, Oceanside and near Depoe Bay that hit all the senses
Injured Sea Otter on Central Oregon Coast May Have Shark Bites Oregon Coast Aquarium is trying to nurse it back to health
Another Round of King Tides This Weekend on Oregon / Washington Coast King Tides happen December 3 - 5, except in Westport a little later
Newport's 'Christmas Show' Returns to Oregon Coast Newport's annual celebration of The Christmas Show on December 17 and 18
Cyber Monday Goes Oregon Coastal: Shop the Beach Online Books about the beach, hoodies, t-shirts, and giving a night stay
Oregon Coast Videos: Sneaker Wave / Storm and Spooky Tunnel Winter brings some gnarly sights to the coast, sometimes even spooky
Rogue Sea Lion Roams Lincoln City Streets - Central Oregon Coast A female sea lion wandered onto a roadway in the Taft district
Three Seasonal Curiosities You Did Not Know on Oregon Coast Oddball wonders that change with the seasons near Yachats, Manzanita, Oceanside
Razor Clamming Closed on Part of South Oregon Coast Razor clamming on the bottom quarter is closed due to biotoxin levels
Sneaker Wave Danger Expanded on Oregon Coast, Washington for Holiday some dangerous conditions on beaches on Thanksgiving
Oregon Crew Tries to Rescue Sea Turtle on Washington Coast. Did Humans Interfere? Officials want you to be aware that injured sea turtles may be washing up
N. Oregon Coast's Ecola State Park Closed for Weeks Due to Road Issue Heavy rains a landslide which opened a hole beneath the road at Cannon Beach
Free Fishing, Crabbing, Clamming, Parking on Oregon Coast Coming Up Free parking on Fri; free crabbing, fishing, clamming Fri and Sat
Astoria Shipwrecks and the Graveyard of the Pacific on N. Oregon Coast Near the mouth of the Columbia is one of the most dangerous stretches of ocean in the world
Behind the Bridge at Depoe Bay: Deeper Oregon Coast History These days it's a kind of forgotten icon, but it's a design achievement by an architectural great
Interstellar Marvels of the Moon Above the Oregon Coast There are times at the beach you should be looking up
Some Oregon Coast State Parks Getting Improvements, Upgrades Getting upgraded or fixed will be Nehalem Bay, Cape Lookout, Fort Stevens and Beverly Beach
Whale Numbers Should Soon Pick Up on Oregon Coast, Into Washington Coast Gray whales will soon be making their migration south from Alaska to Mexico
Oceanside's Enticing But Hard-to-Find Wonders on N. Oregon Coast, Video A small place that's big on wonders
Heaven's Gate Suicide Cult and its Connections to Oregon Coast The group had distinct connections to Gold Beach and Waldport
US Coast Guard Rescues 15 in Two Incidents on Washington, Oregon Coast 5 rescued from a fishing boat, 10 rescued from flood waters
Oceanfront Marvels of Lincoln City's Pelican Shores Inn - Central Oregon Coast Not a lot of attention but one heck of a loyal following
Nye Beach a Bit of Oregon Coast Time Travel - But Which Direction? The 'hood in Newport runs from kooky to futuristic to time trippin'
Oregon Coast Closures, Rescues This Weekend Due to Flooding 12 individuals had to be rescued by US Coast Guard helicopter; two parks closed
Orange Lunar Eclipse, Meteors Above Oregon Coast / Washington Coast This Week A major lunar eclipse will occur this week and the peak of the Leonid meteor showers
Brief Storm for Monday on Washington Coast, Oregon Coast Then Sun The big rains and most of the flooding are primarily over for awhile
Exploding Whale Day: More Each Year Behind the Oregon Coast Legend Never fails to get chuckles, wacky footage seems to echo down the ages
Peak Meteor Showers, Lunar Eclipse Above Washington / Oregon Coast Peak of Leonids, eclipse of the moon that will make it very red
Summer Sands Aglow on Central Oregon Coast: Photo Essay Digital tour of the beach changes of summer at Pacific City, Yachats, Depoe Bay, Florence, Newport
'Atmospheric River' Headed for Oregon Coast Range, Possible Coastal Flooding 3 to 6 inches for the coast range are possible
Federal Money Brings New Hope for Seismic Retrofitting of Oregon Coast Bridges $1 billion is coming to ODOT, and some bridges need quake-proofing
New Song, Animation Pokes Fun at Oregon Coast's Exploding Whale A riotous new entry into the lore released by a cartoon band
Webinars Feature Emerging Researchers, Future of Oregon Coast Science November 10 and November 17 bring a variety of fresh faces to research
The Jagged, Blackened, Dramatic Chaos of Oregon Coast at Yachats
Striking Images of Oregon Coast Lights at Seaside, Bandon, Coos Bay, Newport Some of the most interesting photographic subjects in the region
More Active Tides, Weather on Oregon / Washington Coast: Floods, Winds Flood advsiory, high wind watch, large swells
Flood Advisory for Oregon Coast / Washington Coast Over Weekend Coastal flood advisory for the areas of Lincoln City through to about Raymond, Washington
How Not To Get Yourself Killed Shooting Washington / Oregon Coast King Tides Officials are more concerned than ever about imparting safety
New Rainforest Reserve on N. Oregon Coast Celebrated Nov. 12 A new nature preserve between Manzanita and Cannon Beach
King Tides Safety on Washington / Oregon Coast: Or How Not To Get Killed Larger surges could happen Nov. 5 - 7, some safety tips
Exploding Whale Celebrations Will Abound in Central Oregon Coast Burgh Florence will whoop it up in style on Nov. 13, day after the anniversary
King Tides Along Oregon/Washington Coast May Have Extra Power; Flood Advisory This weekend's surges may be affected by offshore swells - flood advisory issued
High Wind Watch, Warning for Oregon Coast / Washington Coast, Active Weekend Gusts up 60 Wed / Thurs, starting an active few days of weather
Sea Level Rise on Oregon Coast Examined in Live Event - It all comes to us digitally on Wednesday, November 3 at 7 p.m.
S. Oregon Coast's Tacoma Wreck A Tale of Cowardice, Confusion From brand new and cutting-edge in 1883 to a ghost of a wreck near Winchester Bay
The Maker of Monsters: Shore Acres on South Oregon Coast in Video, Photos They tower some 200 feet above the watchers at times
Chances for Northern Lights Rise Along Washington, Oregon Coast 45% chance for Sat and Sun, but clouds come in Sunday
Strong Solar Flare Could Bring Northern Lights to Washington, Oregon Coast Strongest solar flare in recent years just erupted from the sun
Not All Oregon Coast Beaches Recovered from Last Winter's Erosion Normally, sand levels bounce back during the summer - but not everywhere
Two Olive Ridley Sea Turtles Found Barely Alive on Oregon Coast Both Seaside Aquarium and Oregon Coast Aquarium dealt with them
Washington Coast Clam Dig Dates Announced, First Nov. 3 See all the open dates for November
Online Events Center On Cannon Beach, Cape Falcon Areas of N. Oregon Coast Friends of Cape Falcon Marine Reserve is partnering with others for a variety of events
115 Years Ago This Week: Famed Iredale Shipwreck Hits Oregon Coast Monday, October 25 marked exactly 115 years ago that the barque ran aground
Haunted Legends of Oregon Coast - Part II Spine-tingling in Lincoln City, Depoe Bay, Newport, Florence, Bandon and Coos Bay
That Which Haunts the Oregon Coast, Part I The kooky and spooky legends of the coast's upper third
Waves Up to 40 Feet - More Warnings for Oregon / Washington Coast More high surf and flood warnings have been issued
Waterspout / Tornado Chances Added to Oregon / Washington Coast Storm - Video Officials say this is not the time to be on beaches; storm video already coming in
Coming Washington / Oregon Coast King Tides May Be Wilder; Photogs Needed La Nina may cause larger storms, safety is a bigger concern
Surf Warnings, High Wind Warnings, Flooding for Oregon / Washington Coast: UPDATES Deadly surf as high as 35 feet in some areas
King Tides: What's Different on Oregon / Washington Coast, Photos Needed Nov. 5-7: La Nina storms surges, safety concerns and a small controversy
Rainy Week on Oregon / Wash. Coast: Wind Warnings, Bomb Cyclone Effect A bomb cyclone offshore will bring winds, high seas, thunder, lots of rain
Oregon Coast Aquarium Begins Expansion, New Additions Construction has started in Newport on renovations, features
Affecting Oregon Coast Policy Subject of Webinar, Oct. 26 The Future of Coastal and Ocean Policy by ocean and climate policy expert Jean Flemma
First Oregon Coast King Tides Lecture of Season, Oct. 28 King Tides in Your Neighborhood is the first of four events this season
Revelations of Oregon Coast Orcas Are Many - But Puzzles Remain The culmination of much of that work was put out this summer in a massive catalog
Three Highly Atmospheric, Historical Inns of North Oregon Coast Some such historical rarities remain, especially up north
Oregon Coast Fishing Updates from Fish and Wildlife ODFW recently sent out its recreation updates and included some tasty bits and tips
Famed Art Installation Makes Its Way to Central Oregon Coast at Lincoln City Bandon's Washed Ashore project is here through March
That Place That Rumbles on Central Oregon Coast It goes by two names: North Point and Depoe Bay Scenic View Area
Oregon Coast Lessons Learned the Hard But Comical Way, Part II In the '90s and early 2000s, the coast seemed like the wild west
Learning Lessons on Oregon Coast The Hard But Amusing Way, Part I A handful of beach blunders I've made that were rather humorous
Florence's Winter Music Fest Will Bring Karla Bonoff to Central Oregon Coast It has firmed up its schedule for January 28, 29
Spooktacular Fun on Central Oregon Coast in Lincoln City Events A wide array of fun and unique gatherings
First Frost Advisory Tonight for Oregon / Washington Coast Seattle, Portland, Valley - In effect from midnight Monday night through 9 a.m. Tuesday morning
Oregon Coast Town Was Inspiration Behind Herbert's 'Dune:' Celebrations Ensue Herbert's connection to Florence will be celebrated most of October
Oct Is Nurdle Hunt Month on Oregon / Washington Coast And You Didn't Know Little do Pacific Northwest residents know, it is now the Great Nurdle Hunt Month
Manzanita's Mishmash of Oregon Coast Thrills, Dark History, Maybe Shooting Stars Loads of discoveries lurking in its various corners
S. Oregon Coast's Coos County Historical Society Celebrates 130 Years Celebrating this milestone with its annual fundraiser and a mix of events
Oregon Coast Wildlife Officials on Beach Fun Finds From fossils to living critters: The point is to look down while you're out there
The Trippy, Intricate and Intriguing Addition to Central Oregon Coast Beach Haunts Strawberry Hill just south of Yachats has a variety of stuff for everyone
Five South Oregon Coast Landmarks That Make You Think Bandon's Face Rock, Natural Bridges, Battle Rock, Shore Acres, National Dunes Rec Area
Wildlife Center on N. Oregon Coast Celebrates With Founder's Event Fundraiser Wildlife Center of the North Coast (WCNC) will be celebrating its roots on October 17
Winter Weather Forecast Conference Gives Look Into Oregon Coast This Season 29th annual "Winter Weather Forecast Conference" online on Saturday, October 23
Softer Grains of Newport Hide Historic and Science Mysteries of Oregon Coast Wandering this iconic tract makes for discoveries, hosting oddities
Beached Sailboat on N. Oregon Coast: Two Bodies Found A sailboat was found stranded in the sand near Nedonna Beach
Changing Oceans Talk; Help Needed for Marine Debris Survey on Oregon Coast More ways of learning about the beaches and helping them out appear on Oct 13
Sneaker Waves More Common on Oregon / Washington Coast Than Rest of U.S. Sneaker waves occur more often here than most U.S. places, but there's a twist
From Dramatic Cliffs to Soft Sands in Seconds Along One Oregon Coast Chunk Between Yachats and Florence, some 20 miles or so, it's one of the more impressive stretches
Caution Urged on Oregon Coast: Sneaker Wave Dangers This Weekend Slightly dangerous conditions are coming with an increased chance of sneaker waves
Encountering 'Magic Rocks Beaches' on Oregon Coast: Science of Why A rather loud clacking, clicking noise comes from the rocks
Online Talk Looks at Future of Oregon Coast, Examines Dramatic Past Events Kim McCoy will talk on 'The Future of the Shore' on October 6
Secret Beach is Ironically Famous on South Oregon Coast | Video Secret Beach (near Brookings) walks an interesting line
N. Oregon Coast Ocean Health Advisory Includes Cannon Beach, Tolovana Unsafe levels of fecal bacteria in the whole of Cannon Beach's accesses and the Tolovana area
Famed Circles in the Sand Back on Central Oregon Coast - Florence Circles in the Sand beach art event returns on October 16
How Witnessing the Strange on Oregon Coast Can Change You Forever How a set of weird discoveries led to real science finds
Year's Razor Clamming Closure Ends for N. Oregon Coast's Clatsop Beach Nothing but good news for razor clam enthusiasts this week as two areas open back
Stormy Oregon / Washington Coast, Possible Thunderstorms Then Sun Thunderstorms, rain, some high winds and seas, and then warm conditions
Razor Clamming Reopens on Bulk of Oregon Coast From the south coast up through parts of the north coast
Short Beach is Long on Engaging Finds on N. Oregon Coast In a tiny sliver of land between Oceanside and Cape Meares, you'll bump into this
Estimated 2,000 Will Gather to Clean Oregon Coast on Saturday SOLVE's Beach & Riverside Cleanup on Saturday, September 25
Some Oregon Coast RV Sites Will Get More Expensive for Non-Residents Non-residents will pay an extra 25% for fees at state-run campgrounds
Dark 'n Stormy Night Author Series Back at Central Oregon Coast, Albeit Digital Live via Zoom at 4 p.m. each Thursday, starting October 7
Coos Bay's Shore Acres Lights Canceled, Other Oregon Coast Event Dropouts Holiday Lights at Shore Acres was scheduled to return; other cancellations
Fun 'n Funky Science Finds on Oregon Coast: Mola Mola and Salmon Shark Mola mola winding up in the Columbia River and a salmon shark near Cannon Beach
Rattling Oregon Coast History: 2005 Tsunami Scare Failures, Successes The night of June 14, 2005 displayed gaping holes in the tsunami alert procedures
N. Oregon Coast's Coaster Theatre Reopens with 'Dorian Gray' Cannon Beach's Coaster Theatre Playhouse with the drama The Picture of Dorian Gray
What It's Like to Commute Over 100 Miles of Oregon Coast, Part II Years of wild but scenic commutes along some 120 miles
Wild to Magical Moments on 120 Miles of Oregon Coast Commuting, Part I From Manzanita to Newport: filled with a variety of discoveries, sights and sensations
Fall Equinox and Its Interesting, Colorful Aspects on Washington / Oregon Coast Sept. 22 is the fall equinox with interesting astronomy tidbits and different colors
Central Oregon Coast's Florence Wine & Chowder Trail Moved to Feb All this delicious fun is shifting to President's Day weekend
When Oregon Coast Beaches Were the Only Roads: An Historical Twist Pristine state of the beaches here is directly connected to the fact they were once the only roads
Wildlife Officials: Now is Best Season for Crabbing on Oregon Coast Crab tend to be more filled out and the weather's nicer
Three Recent Deaths Around Oregon Coast: Two in Traffic, One in Surf A fatal jump across a famed Oregon coast attraction and two traffic deaths
UPDATE: Health Advisory Lifted for Central Oregon Coast's D River Access Visitors should stay out of the waves and keep clear of any contact with the water
First Major Rain, Cold System for Washington / Oregon Coast This Week Exactly how much rainfall will hit, but possibly two inches near the coastlines
Many Twists, Turns and Oregon Coast Surprises Just South of Cannon Beach Two major state parks, a village and more than a few striking viewpoints
Lost Mysteries of South Oregon Coast: Gold, Meteorite, Ruins Gold, an ancient city and even a chunk of something from space
Above the Beaches: Interstellar Moments of Oregon Coast In the form of interstellar phenomena to that which is meteorological
Tiny Depoe Bay Has More Crammed Inside Than You Think | Central Oregon Coast Depoe Bay contains a dizzying array of features both civilized and untamed
Three Staggeringly Beautiful, Expansive Chunks of Oregon Coast Massive stretches of beachy but intricate repose in Lincoln City, Florence and Warrenton
Cook's Chasm a Gateway to Oregon Coast Curiosities, Things That Explode | Video South of Yachats and Cape Perpetua, and just immediately north of the Lane/Lincoln County line
Clam Dig Dates Announced for Washington Coast WDFW recently put out their tentative dates for razor clam digging
Right Under Your Feet: Glowing Jellyfish Wash Up on Oregon Coast The Crystal jelly (Aequorea victoria) has been piling up on the central coast lately
Limited Wild Coho Season Starts Soon in Four Oregon Coast River Basins Tillamook, Nestucca Siletz and Coos rivers opening up September 15 through mid-October
Florence Sets Date for Winter Music Fest in '22 | Central Oregon Coast More of a "save the date" announcement but there are still high hopes
Eileen Ivers, 'Jim Hendrix of the Fiddle,' Plays Oregon Coast Oct. 3 Ivers shows up at the Lincoln City Cultural Center on October 3, playing at 7 p.m.
Volunteers Needed for Spruce Up Warrenton on N. Oregon Coast Spruce Up Warrenton committee is looking for help | 2nd Annual Fall Festival in late October
S. Oregon Coast Lighthouse Gift Shop and Lifeboat Station Reopen: Cape Blanco Cape Blanco Lighthouse Greeting Center Gift Shop and Port Orford Lifeboat Station Museum have reopened
Videos of Oregon Coast Whales Breaching Videos from Port Orford and Depoe Bay show them airborne
Science Curiosities of Second Summer on Oregon / Washington Coast: Glowing to Flashing So much more going on than the obvious: glowing waves, squeaking / singing sands, meat-eating plants, green flashes
Preparing for a Changing Coastal Ocean: Online Oregon Coast Event, Sept. 8 Addressing the oncoming changes and challenges in the next 50 years
Last Tufted Puffin Event on Oregon Coast Looks at Babies, Sept. 8 Subject will be puffin chicks and what they eat
Tales from an Oregon Coast Lighthouse: Aloof Terrible Tilly A mystery between Seaside and Cannon Beach that loads the imagination with possibilities
Humpback Whale Washes Up on South Washington Coast, Oregon Crew Responds A deceased Humpback washed up at Ocean Park and it's got quite an odor
Second Summer of Oregon Coast / Washington Coast Right Around Corner Typically higher temps, lesser winds, bluer skies on the beaches through Oct
Surreal Constructs of N. Oregon Coast's Neahkahnie Mountain Near Manzanita, a wriggling mountain outline and shoreline with surprises
Art, Oysters and Brews Returns Final Time to Oregon Coast's Toledo September 4 from noon to 5 p.m. on Main Street in Toledo's downtown
Giant Object Washes Ashore; Shark Video Off South Oregon Coast
Quirky Oregon Coast Finds: Great White Video, Chunk of Mystery on Beach Quirky Oregon Coast Finds: Great White Video, Chunk of Dock
Where 'New' Oregon Coast History Meets Old: Charms of Nye Beach Walking through Nye Beach is a walk through a storied past
Florence Gets Into High Gear With Rods 'N Rhodies in Sept. | Central Oregon Coast Rods N Rhodies Invitational Car Show and Benefit and the Community-wide Garage Sale September 10, 11 and 12
Seaside's Salt Makers Allows Time Travel Back to 1806 on N. Oregon Coast Lewis and Clark Salt Makers happens September 11th and 12th
Whiskey Run Beach Near Bandon a Subtle Wild Card on South Oregon Coast Nothing short of breathtaking, Whiskey Run Beach is also kind of strange and steeped in history
Astoria History Timeline: 200 of Years At the Top of Oregon Coast You often don't know what you're really looking at around here: now you might
Scientists Uncover New Aspects of 1700 Tsunami Along Oregon Coast the great inundation slowed tree growth; some previous tsunami modes confirmed
Three Oregon Coast Locales Larger Than They Look at Bandon, Florence, Otter Rock More than meets the eye in these places at Bandon, Depoe Bay and Florence
What Caused Explosive Growth of N. Oregon Coast Beaches Last Century Seaside was 700 feet shorter, and parts of Fort Stevens had nearly a mile added
Run of Recent Oregon Coast Strandings: Whale, Sea Snails, Fishing Boat rush of dead sea snails stranding at Fogarty Beach, fishing boat at Garibaldi, baby octopuses and a gray whale at Yachats
Four Magical Oregon Coast Places: Paradise Point, Shore Acres, Rockaway Beach, Kiwanda These 364 miles of beaches and cliffs provide decades of exploration and scenic magic
Beginnings, Inspirations of the Astoria Column - N. Oregon Coast History City bigwigs over a century ago hoped to create something that would rival the Eiffel Tower
Officials Working on Decreasing Whale Entanglement Off Oregon Coast Looking to decrease the frequency of whale and sea turtle entanglement in crab fishing gear
Pelican Rescue at Ft. Stevens Both Tragic and Comical | Oregon Coast Beach Connection A pair of pelicans were found entangled in some sort of lengthy string or line
One Pelican Rescued, Another Dies at Fort Stevens | Oregon Coast Beach Connection A rescue at Warrenton wound up both tragic and rather happy at the same time
N. Oregon Coast Outdoor Events Include Birds, Salt Marsh Tour, Diving in Netarts Bay Netarts Bays Salt Marsh Tour, Summer Birding on the Bay, and diver training
Thousands of Live Sand Dollars Washing Up on N. Oregon Coast Beach The cause is puzzling, and no you can't throw them back because they just wash in again
Land of Giants, Wild Sands at Ariya's Beach, South Oregon Coast A land of arches, holes, crusty caves, gobs of tidepools, intriguingly shifting sands by Gold Beach
Southern Oregon Coast Under Air Pollution Advisory The advisory is until futher notice for areas like Gold Beach, Florence, Coos Bay, Bandon
Famed Globs and Blobs of Oregon Coast - and Not-So-Famous There are rock stars of the beaches, and yet other fascinating ones go unnoticed: Bandon, Oceanside, Pacific City, Cannon Beach, Neskowin
Art On The Beach Event Among First of Its Kind on Oregon Coast It happens in Lincoln City on August 23 and 24
Into the Untamed Wilds of Nehalem Bay / Manzanita on N. Oregon Coast Hit the waters, hit the beaches, fish the Nehalem river, camp in the netherlands
Red Flag Warning for Oregon Coast Range, Beach Hazard Warnings from NWS Warnings about cold water and ocean dangers
Central Oregon Coast's Rusty Truck Brewing Debuts Event Space Look for Labor Day Weekend Fest to open the area to the public
Bid Farewell to Puffins Event at Cannon Beach, Aug. 22 | N. Oregon Coast Friends of Haystack Rock will be offering one last blast for puffin fans
100-Degree Temps Headed for SW Washington, NW Oregon - Coast Mostly Cool A fair amount of wildfire smoke haze will hit farther south
Filming The Goonies on N. Oregon Coast: at Astoria, Cannon Beach Goonies' early days here are a bit of an adventure as well
Cannon Beach Stormy Weather Arts Festival Gears Up for Return November 5 - 7: music, art, wine and coastal air
Organizers Offer Preview of Oregon Coast Jazz Party in October It returns on October 1 and 2 at various venues around Newport
Beach Fire Bans Official on Most of Oregon Coast, Other Restrictions As of Wednesday, beach fires have been banned everywhere from Lincoln City southward
Another Driftwood Fire Out of Control on Oregon Coast, Threatens Homes A wildfire erupted just north of Oceanside Wednesday night, more bans coming
Aug. 11: What Can Oregon Coast Citizen Science Tell Us About Puffins, Climate Change? Next presentation in this year's Extended World of Haystack Rock Library Lecture Series
Paradoxical Calm and Chaos of Yachats, Central Oregon Coast: What You Must Find Yachats a place of stunning scenic pleasures and wowing sights
Three Fatal Wrecks Along Hwy 6: Oregon Coast Leaders Urge Caution Highway 6 has regional leaders concerned after three accidents in one week
Beach Fires Becoming a Problem on Oregon Coast - Already Banned South Two near-misses with fires on the beach help illustrate that, with both getting somewhat out of control
Lost Parts of Oregon Coast: When They Blasted Rocks at Heceta Head Heceta had a much-loved landmark that disappeared and one that had to be destroyed
Oregon Coast Art Bus Makes Colorful Debut in Newport A mobile arts-learning platform that brings the creative process and learning projects to students
Wowing New Rainforest Reserve on N. Oregon Coast Edges Closer to Reality Proposed Reserve between Nehalem and Arch Cape has some wildly unique evolutionary aspects
Meteor Showers and Bright Planets for Washington / Oregon Coast Two major astronomical sights will be visible along the Washington and Oregon coast in August
Parts of the Oregon Coast That Broke These are changes on a massive scale much of the time, and they can be mind-blowing
From Wartime to Playtime: Two Wildly Different Historic Spots on Oregon Coast Yet two Oregon coast hotspots still resonate with the last century or so at Warrenton and Newport
Oregon Coast Aquarium Gets Fuzzy, Adorable New Sea Otter Pup A new addition to Newport will have many squealing with cuteness aggression
100 Degrees Headed for Inland - Oregon / Washington Coast Near 70 Temps up to around 100 on Thursday and Friday in the inland regions
Curious Moments Oregon Coast Showed Up in TV, Sort Of
Living Paintings, Art, Music, Environment Come Together at New Oregon Coast Festival September 16 - 19 the town celebrates that unique mix at the Earth & Ocean Arts Festival
Highlights of 2021 on Oregon Coast: Happenings, Events, Festivals
Cue the Goofy Song: Baby Sharks Coming to N. Oregon Coast Facility Seaside Aquarium's Swell sharks recently laid eggs
Scenic and Historic Twists and Turns of Arch Cape on N. Oregon Coast Unknown to many, there's more packed into Arch Cape than people realize
New Book Delves Into N. Oregon Coast, History, Images, Inspirations 116 pages that take the reader through Rockaway Beach and then travels from Tillamook to Astoria
Three Intricate and Intriguing Rock Structures of Oregon Coast Fascinating aspects and things you've might've missed at Gold Beach, Pacfic City, Florence
Classical Music Fest Returns to Central Oregon Coast in September
Siletz Bay Music Festival Brings Nine Days of Classical Bliss to Central Oregon Coast Nine days of mostly classical music and some jazz, happening September 4 - 12 in Lincoln City and Newport
S. Oregon Coast Cottoneva Shipwreck a Tense Drama for Port Orford One of the few shipwreck chunks you can see on the Oregon coast sits at Port Orford
Astoria Trolley Back Again This Weekend in Historic Oregon Coast Town Old 300 trolley car was built by the American Car Company back in 1913
Curiosities, Ancient Surprises Near Cannon Beach, N. Oregon Coast Scenic pleasures abound at Hug Point, but that's just part of it
Intricate, Fragile Freaky: Oregon Coast Sea Star is Like Nothing You've Seen
Hordes of Special Glass Float Drops Scheduled for Oregon Coast This Year Upping your chances on occasion as the town's float faeries help celebrate special holidays
Bizarre Sea Star of Oregon Coast / Washington Coast Is Intense, Fragile - And You Won't See It One kind of sea star you'll never get to see outside of an aquarium is in these waters - and it's a weird one
Two Wonders Hiding in Plain Sight on Oregon Coast: Cool Coves Two cove-like features with a variety of astounding finds: near Yachats, Cannon Beach
Drive-In Movies Back on Sat Nights at Oregon Coast's Lincoln City Cultural Center Bijou Theater's Drive Summer Movie series is back in Lincoln City, happening again every Saturday
Three Incredible Viewpoints Along Oregon Coast with Some Twists | Video Cape Lookout, Neahkahnie Mountain and the secrets of Otter Crest Loop: Manzanita, Depoe Bay, Oceanside
Seven Fun and Funky Science Facts of the Oregon Coast Things on the beach that glow, sing, flash, and move in mysterious ways
Oregon Coast Pedal Rail Rides Back in Tillamook County Invigorating ride where you're pedaling bike cars on railroad tracks
Massive Event for Seaside Prom Birthday on Aug. 7, 100 Years of Oregon Coast History The centennial parade and ceremony will happen on Saturday, August 7 to commemorate 100 years
Oddball, Colorful Fish a Rare Find on Oregon Coast Beaches
Strange Opah Fish Found at Sunset Beach Very Rare for Oregon Coast It was an opah (Lampris guttatus), also known as a Moonfish, and the aquarium had never seen it before
Bandon Crab Derby: Win Prizes by Crabbing on S. Oregon Coast Bandon Crab Derby and it happens July and August
More About The Lowly Oregon Coast Rockfish Than You Realize Some species can live as long as 70 years or even 116
July 14 Talk: Tufted Puffin Research Studies of the Oregon Coast Another presentation on the fine feathered friend of the Cannon Beach area
Depoe Bay's Intense Colors During Day and Night: Central Oregon Coast Photo Explorations Depoe Bay has an interesting way of showing this off
Surprise History: There Were Three Cape Arago Lighthouses on S. Oregon Coast Three lighthouses atop Cape Arago – and other names for it as well
Small Quake Rattles Off Southern Oregon Coast A magnitude 4.1 quake shook 100 miles from Port Orford early Saturday afternoon
Beach Water Advisory at Seal Rock Lifted After Only 24 Hours | Central Oregon Coast Seal Rock was put under an advisory to not go in the ocean water on July 8
Group's Anniversary Cause for Celebrations with Tidepools, Oregon Coast Talks 50 years ago a small group of conservation pioneers formed the Oregon Shores Conservation Coalition
Central Oregon Coast's Hatfield Marine Science Center to Reopen Admission to the Newport attraction is by reservable $3 tickets
Shop at the Docks Tours Return to Oregon Coast: Garibaldi, Newport Lead by Oregon Sea Grant experts it helps connect consumers with fishing boats
Online Talk on July 21 About History of Oregon Coast Conservation July 21 will take a look back at conservation efforts on these shores
N. Oregon Coast Razor Clamming to Remain Closed Through September It's been shut down since October of last year because of the biotoxin domoic acid
Glowing Blue Waves Light Up Southern Oregon Coast | Where to Look Bioluminescent phytoplankton hit parts of the southern Oregon coast in full form over the holiday
That Silken Glow that Neptune Beach Gets | Central Oregon Coast Something was different about Neptune State Scenic Viewpoint near Florence, however
Oregon Coast News Week: Murder, Crab Shells, Glass Floats, Fire Dangers The holiday weekend closes out an eventful and not always pleasant week
Fur Seal, Caught in Net, Rescued on N. Oregon Coast, Arch Cape Seaside Aquarium had to rescue a Guadalupe fur seal that was entangled in a net
Campfire, Bonfire Bans on All Washington Coast, Part of S. Oregon Coast Rules and bans are changing fast in Washington and Oregon
A Wowing Fusion of Oregon Coast History and Rugged Chaos at Newport The tallest lighthouse and it sits on a headland that's chock full of distinctive aspects
Radar Bunker at Coos Bay's Cape Arago: Living S. Oregon Coast History This one was called Station B-28, utilizing the SCR-270 radar equipment
Find a Glass Float, Win Three Nights on Central Oregon Coast Now you have an added reason to go look for one of those iconic glass floats
AAA Predicts Second-Highest Holiday Travel Volume in Years for Oregon, Coastline Travel volume is back up to pre-pandemic levels throughout the country
The Marvels of Lunar Moments on Oregon Coast
Great Puffin Watch Takes Over N. Oregon Coast's Cannon Beach This Weekend Great Puffin Watch from July 1 through the 4th
State Sends $5 Million to Oregon Coast Aquarium for Improvements State lottery funds will help with expansions, renovations and more
Murder Investigation and Search Closes N. Oregon Coast Park for a Time Saturday Sand Lake Recreation Area was closed as deputies searched for an armed suspect
Atmospheric Surprises at the Tideline on Oregon and Washington Coast There's a lot going on here with weather when you simply step out on the sands
Romantic Thrills of a Mysterious Section of Central Oregon Coast About 20 miles of delicious amore' between Yachats and Florence
Oregon, SW Washington Forecast Now for 115 - Advice for Coast, Outdoors Upper 80s or 90s will be affecting areas just a few miles from the beaches
N. Oregon Coast, S. Washington Under Excessive Heat Warning for Sunday Warnings for upper Wash from Sat - Mon; N. Oregon / S. Washington warning Sunday
Another Oregon / Washington Coast Oddity: Bundles of Crab Shells on Beaches
Outdoor Concerts Return to Washington Coast's Waikiki Beach / Cape Disappointment Four free outdoor concerts at Cape Disappointment State Park in July and August
110 Temps Likely Reach Into Oregon Coast Range, Beaches in 70s Excessive Heat Warning issued by the National Weather Service
Curious Little Gelatinous Find on Oregon Coast Has Visitors Puzzled A critter that goes by the official name Salpa fusiformis
Shakespeare Plays the Oregon Coast Outdoors at Cannon Beach Summer Shows Cannon Beach's City Park will be filled with Shakespearean sonnets and mysterious plots
Central Oregon Coast Attraction Reopens: Newport's Maritime Museum Pacific Marine Heritage Center reopens to the public on July 1
Mystery of the Tube-like Find You Might Make on Oregon Coast Right Now Scattered reports of odd little clusters of white tubes
Intense History at Oregon Coast's Ecola State Park: Murder, Landslide, Explorers This beautiful blend of forest and ocean has a storied past, a rather unique history
Summer Preview of Wild Nature on Oregon Coast: Whales to New Beaches What happens with Orcas, Humpbacks, pelicans and crazed fish; stark beach changes
Hatcheries on Oregon Coast Reopen Outdoor Areas After Year Shutdown ODFW is reopening the outdoor areas at more than 30 fish hatcheries
Three Oregon Coast Hotspots Packing a Surprise Punch, Hidden Treasure Secret shipwrecks, a unique beach or bizarre rocky structures at Coos Bay, Manzanita, Lincoln City
Art, Oysters and Brews Set for Rest of Summer on Central Oregon Coast Art, Oysters and Brews event series in Toledo first Saturday in July, August
N. Oregon Coast's Tillamook County Now Has 3-D, Interactive Recreation Map Go Tillamook Coast released an online GIS-enabled map that details the area
If You Love Oregon Coast Tidepools You'll Dig the BioBlitz near Manzanita The Friends of Cape Falcon Marine Reserve is holding a BioBlitz in June
Brighter Skies But Dimmer Moon: Summer Official on Oregon, Washington Coast Summer solstice along these beaches and what curious things will happen with the moon
Yachats Brings Summer Solstice Music Party to Central Oregon Coast In Yachats on June 20 for the Summer Solstice Music Party with free live music and popcorn
Hunting Glass Floats Returns to Central Oregon Coast's Lincoln City Finders Keepers has returned; every day more floats are hidden
Coos Bay's Santa Clara Shipwreck Among Deadliest on Oregon Coast November 2, 1915 she was on her way into Coos Bay
Oregon Coast Less Traveled in Cannon Beach An odd rule of thumb occurs when it comes to the Oregon coast, especially the really busy towns
Three Agate Beach Names on Oregon Coast: Gold Beach, Port Orford, Newport That's right, there's actually three spots on the coastline that go by Agate Beach
Great Columbia Crossing is Back in October | N. Oregon Coast's Astoria October 10 is the date when thousands gather to walk or run across
Razor Clamming Reopens on Central Oregon Coast - North Area Still Closed Everything from Cape Lookout down through the southern coast is open
Fourth Of July, 2021 Displays on Oregon Coast: What's On and What's Gone A run down on what Independence Day holds along the beaches. Updates are possible
Oceanside of Old: Tiny Oregon Coast Resort As It Was Long Ago If you want even more aspects to the place, go back in time
Mysteries of N. Oregon Coast's Cannon Beach: Bunker, Lighthouse, Singing Sands An enigmatic but cajoling lighthouse just offshore, to some engaging science and history
Shore Acres Holiday Lights Fest Returns to S. Oregon Coast Tens of thousands of holiday lights create a massive glow near Coos Bay every Decemeber
Fireworks Reinstated at Central Oregon Coast's Florence After Previous Cancellation Florence has worked out a way to whoop it up for the Fourth of July after all
Deep Dive Into a Stretch of Oregon Coast Surprises: Intricate Northern Lane County A bevy of beaches and intricate cliffs along 25 miles of Oregon coast
The Great Depoe Bay Fire of 1936 a Chilling Bit of Oregon Coast History Not a single home sat without blackened stumps or logs almost touching them
Construction Begins on Futuristic Wave Energy Test Facility Off Oregon Coast
New Publication About Oregon Coast Killer Whales Will Be...Well...Killer 150 killer whales are ID'd, helping to spot them; filled with surprises
Tallest and Most Storied on Oregon Coast: Newport's Yaquina Head Lighthouse The Yaquina Head Lighthouse first sparked to life in 1873
'Barnacle Bill' Seal Makes a Splash Around Oregon Coast for Two Weeks One elephant seal had a few public adventures and even got the name Barnacle Bill
Designers Could Win $1,000 for Banners in Central Oregon Coast Town Chamber's call-to-artists to submit design ideas closes June 14
Extra Caution Around N. Oregon Coast's Haystack Rock Due to Nesting | Cannon Beach Officials in Cannon Beach are asking for extra caution around Haystack Rock because of a pair of black oystercatchers
Central Oregon Coast's Historical Teak Lady Boats Put on Parade, Display Teak Ladies of Toledo sail from Toledo downriver to Newport, and then back again
Oregon Coast Aquarium Dives Deep with Fossil Exhibit Starting Soon
4th of July Fireworks Return to Central Oregon Coast's Lincoln City Not just the big fireworks at Taft coming back but also the show over Devil's Lake on July 3
Three Trails on Oregon Coast Closed Through 2023 Due to Damage Three sections of the trail system remain impassable because of downed trees
Warrenton Had an 'Exploding Whale' 30 Years Before Central Oregon Coast Was it as bad as the Florence Exploding Whale we all know and love? Quite likely
N. Oregon Coast's Seaside History Museum to Reopen with New Exhibits Seaside Museum reopens its doors on June 11 at noon
Oregon Coast's Tillie the Whale History a Kooky and Dramatic One The origin story of the old Waldport attraction is dramatic - and hints at another 'exploding whale'
Something About Those Skies at Rockaway Beach | Oregon Coast Photo Expeditions There's simply something different about the open air above Rockaway Beach
Orca and Gray Whale Sightings Still Strong on Oregon Coast - Where to Look, Video Where are the whales being seen? And where are your best chances to spot them?
Washington State Puffins Subject of Talk on N. Oregon Coast The State of the Endangered Tufted Puffins in Washington State happens online, June 9
Sunny, Warm Holiday Weekend for Oregon / Washington Coast; Above 80 South Coast Holiday weekend with great weather; heatwave comes early week
Lincoln City's D River Access Under Bacteria Advisory | Central Oregon Coast OHA today issued a health advisory for D River Beach at the center of town
84 Years of N. Oregon Coast's Seaside Aquarium Filled with Twists, Turns The Seaside Aquarium opened its doors on May 25, 1937
N. Oregon Coast's New Youngs Bay Bridge Will Close at Night for Two Weeks The work at Astoria will result in a two-week night time closure
Juneteenth Celebration on S. Oregon Coast Goes Live With People It happens Saturday, June 19 in Coos Bay, both live and online
Spooky to Kooky Paranormal Tales of Oregon Coast Hands down the best beach bonfire form of entertainment
List of Oregon Coast Beaches to be Monitored for Bacteria is Released The new list includes some of the most frequently visited spots
The Jump-Off Joe No One Knows: Newport, Oregon Coast History Most people don't know there was a structure in Newport with the same name 100 years ago
Orca Sightings Through the Roof on Oregon Coast Whale sightings are skyrocketing along the coastline, but more reports of Orcas are being made
'Horsing' Around At Neskowin and N. Oregon Coast Rocky Surprises Neskowin is a tiny village big on visual and experiential treats
Memorial Weekend Travel Advice for Oregon Coast: 2021 is a Different One Wide range of travel advice for the weekend from various tourism managers
Freaky Fish Often Mistaken for Barracuda on Oregon, Washington Coast Barracudas don't exist here, but something called a Longnose Lancetfish (Alepisaurus ferox) does
Florence 4th of July a No-Go But Possibly Postponed | Central Oregon Coast Celebrations are cancelled but could return to Florence later
New Beach Driving Restrictions, Fencing At Oregon Coast's Cape Kiwanda Driving is no longer allowed on some beaches at Pacific City; new fencing for the cape
Oregon Coast Names Part 2: Central and North Coast History How they got their names: Gleneden Beach, Lincoln City, Pacific City, Tillamook, Arch Cape, Cannon Beach, Seaside, Astoria
Manzanita Is Indeed 'Banana Belt' of N. Oregon Coast - Science Behind It - Curious weather science of how it can actually be a little sunnier in Manzanita than nearby
Oregon Coast Names Part I: South to Central Coast History Gold Beach, Coos Bay, Bandon, Yachats, Depoe Bay, Newport
Craziest, Lowest Minus Tides Coming to Oregon Coast: When, What to Find Biggest minus tides of the year show up in late May, June and July
100 Years Ago, S. Oregon Coast Tourism Was Rough, Wild; Barely-Paved Roads Constructions boom in Bandon; Curry / Coos County history, glimpses
Small, 4.1 Quake Off Southern Oregon Coast / Gold Beach on Sunday The quake was about 110 miles west of Gold Beach, a little closer than usual
Curiosities of Manzanita: What You Haven't Seen on N. Oregon Coast there are chunks of it and nearby Cape Falcon that are chock full of striking finds you probably haven't noticed before
Baby Seals Popping Up Around Washington / Oregon Coast - Caution Advised Time again for Oregon officials to issue the warning; where to watch them safely
South Oregon Coast Shipwrecks At A Glance: There Are Hundreds 115 shipwrecks from Florence to Cali were never salvageable; almost 300 wrecks were
Three Planets in Skies in May Above Pacific Northwest | Oregon, Washington Coast
Murder and Explosions Aboard Depoe Bay Fishing Boats | Oregon Coast History A rageful murder of a boat captain and a boat that exploded, in the '30s
Seasonal Surprises of Rockaway Beach: N. Oregon Coast Storms to Changing Sands
Long, Dark Year of Razor Clam Closures Likely - Status of Washington, Oregon Coast Closures due to biotoxins likely to stay through at least Oct on Clatsop Beach
Aquarium Asks Help Spotting Distressed Porpoise on N. Oregon Coast It may be ill and thus disoriented, but it's also possible the creature has made it safely back into the wild
Two Space Stations and Supermoon Eclipse Above Oregon, Washington, Coastlines Two space stations visible and an impressive total lunar eclipse – along with a supermoon
S. Oregon Coast's Coos History Museum Hosts Writing Contest; Opens Doors On the southern Oregon coast, you've got a shot at becoming an award-winning writer - no matter where you live
N. Oregon Coast Cannery History Comes Alive with New Astoria Outdoor Market The Hanthorn Cannery Market at Pier 39 runs through September
Moon Marvels Above Oregon Coast Are More Than Just a Glow
Rollicking Highlights of Three Capes Route on Oregon Coast: Attractions, Oddities Three capes, a lighthouse and 20-some miles of fun
Yachats, Where the Wild Oregon Coast Waves Are Fiery ocean water antics abound here in Yachats
Milky Way's Disappearing Act from Washington / Oregon Coast May always sees the disk of our Milky Way galaxy lying flat
Cute, Colorful Puffins Subject of Oregon Coast Talk, May 12 Now that they've returned for the spring and summer, puffin love is in the air
Waldport's Driftwood Beach Parking to Close for Oregon Coast Wave Energy Project Work It's unknown for how long the parking lot will be closed
Under an Italian Spell at Oregon Coast's Cannon Beach: Fultano's Pizza Cannon Beach Fultano's is a unique little pizza / pasta joint with a different, delicious approach
Employee Shortage Getting Dire on Oregon Coast It's an issue with no easy fix, and it's much more complex than simply housing
Discover Sharks of the Oregon Coast in Tonight's Tillamook County Presentation
Starlink Satellites Make Striking Appearance Above NW Oregon | Video Today's launch of 60 Starlink satellites resulted in a long, spellbinding streak
Ghost Forest Found at N. Oregon Coast's Happy Camp a Chilling Reminder Not a ghost forest you can normally see, these came from a massive tsunami / quake, unlike beach ghost forests
Oregon / Washington Coast Recreation: Near 80 to Rain to Sun Again 70s and 80s on beaches Wed, moving into a rainy weekend but a sunny week
Weirdest Science: Possible 'Ocean' Beneath the Oregon Coast, North America Section of the Earth's crust where water does not exist in the usual forms
N. Oregon Coast's Seaside Cautious But Hopeful for Huge Centennial Event The cautious message of 'save the date' for Saturday, August 7 was sent out this weekend
Surprise Science About the Lowly But Delish Scallop of Oregon / Washington Coast They may be a tasty treat but they're also kind of trippy
Astoria Sunday Market Returns to N. Oregon Coast May 9 - Astoria Sunday Market which will pop back into existence on May 9 for its 21st year
S. Jetty Tower and Its Beach Closed at Fort Stevens, N. Oregon Coast The viewing tower and its beach are closed because of work being done on the jetty
South Oregon Coast's Loeb State Park Opens to Camping Alfred A. Loeb State Park near Brookings reopens its campground on May 17
Parts of Oregon Coast Close / Reopen to Razor Clamming, Mussels Central coast closed to razor clams because of biotoxins, south coast reopens mussels
Free Nights on Oregon Coast? Lincoln City Hosts Cinco de Mayo Giveaway A nifty new contest held throughout town in conjunction with Cinco de Mayo
Cluster of Seven Quakes Off Oregon Coast, Some Within Minutes Four of them within minutes of each other
Into the Wilds and the Calming / Healing of Newport, Central Oregon Coast Newport is like one big taste tester for beaches, whales, upscale fun, chaotic waves, more
Pacific Halibut Season on Oregon Coast Almost Ready: Openings, Regulations Oregon Fish and Wildlife Commission recently updated the 2021 Pacific halibut sport seasons and regulations
Lovely Little Caspian Tern Returns to Oregon Coast Black-capped white birds found anywhere from Gold Beach, Coos Bay, Florence, Waldport to Warrenton and beyond
Three Awesome Manmade Attractions of S. Oregon Coast: Dinos to Rapids Port Orford's Prehistoric Gardens, Coos Bay's Mingus Park, Gold Beach's Jerry's Rogue Jets
Small Quake Off S. Oregon Coast Monday Afternoon, No Warnings Issued As of 6 p.m., the U.S.G.S. is reporting one person filed a report of having felt the quake
Quirky Details, Discoveries Along Oregon Coast: Seaside to Gold Beach Subtle and kooky at Neskowin, Hug Point, Gold Beach, Coos Bay, Seaside
Treasures of Oregon Coast Hide in Plain Sight Near Yachats, Port Orford, Cannon Beach
Spring is Most Photogenic Time on Oregon Coast - Here's Why Something more dramatic about spring's fat, puffy clouds and its pastels
Four Incredibly Cool Places to Play 'n Stay, Central Oregon Coast Sampling of four outstanding, cool and cajoling places at Lincoln City, Lincoln Beach and Newport
Adventures Between the N. Oregon Coast and the Rest of the Galaxy Discoveries after dark and during a freakishly warm Januaray day
Possible 'Tsunami Debris' Boat on Oregon Coast Presents Mysteries A month after being discovered at Waldport, a wayward boat is a puzzle still
Online Discussion on Oregon Coast Forestry Practices, April 29 Oregon Shores Conservation Coalition presents an online panel discussion on forestry practices in the coastal region
Oregon / Washington Coast Aglow Above and Below: Meteors, Glowing Waves Lyrids peak now and glowing waves and sand discovered Oregon and Washington
North Coast Food Trail Expands to Edge of NW Oregon Some 100 or more miles of foodstuffs, drinks and culinary-themed adventures in Pacific City, Tillamook, Rockaway Beach, Manzanita, Cannon Beach, Seaside, Astoria
Vibrant Signs and Wild Temperament of Spring on Oregon Coast If you're not out on the beaches this time of year, here's a look at what you're missing
Curious Travel Tips from Oregon Coast You Haven't Considered From fossils to the curiosities of spring and summer, untamed wildlife and finding less crowds
Tufted Puffins Return to Oregon Coast - Cannon Beach, Bandon, Coos Bay Eagerly awaited every spring, they are back on the Oregon coast
That Wonderful But Weird Thing That Freaks Out People on Oregon Coast: Brown Waves
Even More Orcas, Grays, Razor Clams, Warm Temps: Remarkable Week on Oregon Coast Temps in the 70s and maybe beyond, Orca sightings, gray whales migrating, and razor clamming
Rockaway Beach Briefly: N. Oregon Coast Icon in Photos
From the Oregon Coast's Tallest Peaks: Perpetua, Humbug, Neahkahnie, Foulweather There are truly soaring places next to the sands that jut up higher than you can imagine
Some Oregon Coast State Park Group Facilities Now Reservable Reservations will be accepted for these starting April 15 for stays beginning May 1
Elevated Fire Dangers on Oregon, Washington Coast This Week Unseasonably dry and warm through this weekend: use caution in forests
Cape Sebastian Near Gold Beach: Towering Thrills, Hikes of S. Oregon Coast Cape Sebastian is pure magic in numerous spots, but it will make you work for it
Sunny and Near 70 for Oregon / Washington Coast | Portland near 80 From Seattle, Portland to Roseburg, and from La Push down through Cannon Beach and Gold Beach
Cannon Beach Spring Unveiling Art Fest Returns to N. Oregon Coast Spring Unveiling Arts Festival is happening April 30 – May 2
Around Undersea Volcano Other Intriguing Oregon Coast Science Happens | Video Robots, a vast array of sensors into Washington coast, strange fiery liquids
Ambling Around Arch Cape - Discoveries on N. Oregon Coast A few of miles south of Cannon Beach you'll encounter this lovely little beach interlude
Sea Otter, Orcas, Possible Space Debris, Unusual Weather: Wild Week on Oregon Coast An eventful one for the Oregon coast, with things not just washing up but falling from the sky
Apparent SpaceX Rocket Debris Found on Oregon Coast Found at Waldport: what appears to be charred debris from the Falcon X rocket
They're Baaack: Finally, Orcas Spotted on Oregon Coast | New Info Emerges Sightings have been dry there recently, until now; more has come to light about this group
N. Oregon Coast / Cannon Beach Lectures Continue With Climate Change Event April 14: a presentation and conversation about climate change and what we can do in Oregon and on the coast to combat it
Why Spring Weather is So Erratic on Oregon / Washington Coast: Meteorologist Explains A mix of unstable air masses, warming land and more convection
Explained: Strangely Colored Tides of Oregon / Washington Coast in Blue, Pink, Brown or Purple Ever walk the beach and discover the waves or the sea foam are a weird color?
The Good, the Rad and The Soaring on N. Oregon Coast: Sunset Vacation Rentals A distinctive set of vacation rentals that create a constant state of wowing
Depleted on Oregon Coast, Live Sea Otter Found | What That Means Found at Manzanita, Sea otters have been extinct in Oregon for over 100
Oregon Coast Aquarium On Controversy: 'Don't Mistake Us for Kentucky Facility' Oregon Coast Aquarium in Oregon is often mistaken for the Newport Aquarium in Newport, Kentucky
Striking Moments in Time on Oregon Coast: Capturing the Unusual, Wowing Right place, right time: angry pink sky at Pacific City, Cape Meares Lighthouse, odd rainbow, monsters at Coos Bay
Rarity on Oregon Coast Beaches, Sevengill Shark Washes Up at Gearhart Broadnose Sevengill shark, about six feet long: only seen on beaches about every ten years
Six Stunning Facts About Oregon Coast Spring: Whales, Best Photos, Lowest Tides, More So much more going on during spring along this coastline than most ever know
When a Baby Orca Visited Central Oregon Coast River | Video Video of baby orcas and two adults wandering Florence's Siuslaw River
That Green Slime or Sea Goo on Oregon / Washington Coast: What Is It? Kind of intriguing, sometimes smelly, and it is truly slippery and fairly dangerous
Video: More Ways to Meander Around Manzanita - N. Oregon Coast Travel Tips Spend days exploring its nooks and crannies and never get bored
A Rundown of Jelly-Like Salps of Oregon, Washington Coasts A salp: it's sort'a see-through, it's blobby, it's gelatinous in a way
Meteor Shower and Rare False Dusk Over Oregon / Washington Coast? Yes, Please Lyrid meteor showers, chance for subtle rarity called the Zodiacal Light
When the Ocean Burps on Oregon / Washington Coast It's Insanely Cool A treasure trove of freaky finds and wowing bits from Gold Beach to Washington's peninsula
Fire Below, Ghosts Above: Oregon Coast Science No One Tells You From Brookings up through Astoria, Oregon's coastline has a lot of mysteries just below it
Useful But Odd Oregon Coast Tips: Daylight, Magic Rocks, Sand Dollars Fun, wacky things to engage in around these beachy parts
Spooky Lava Rivers Created Much of N. Oregon Coast A massive river of lava comes searing its way westward from Idaho, so huge it covers miles at a time
NW Beaches Get Sun Midweek as Inland Near 70 | Oregon, Washington Coast More sun up on the northern Washington coast and the southern Oregon coast
A Tale of Two Otter Rock / Points on Oregon Coast An Otter Rock on the central coast and an Otter Point on the south coast; Depoe Bay and Gold Beach
Two Mesmerizing Oregon Coast Destinations in One Spot in Newport Newport is a wildly varied treasure trove, natural beauty and historic eye-poppers
Now Is Seal Pup Season on Oregon / Washington Coast: Leave Them Alone Give them plenty of space and do not touch, say experts
Fireball Debris Over Oregon Coast, Washington, Canada Was SpaceX Rocket Documented on the Oregon coast, northern California, Idaho, Washington and even in southern Canada
Twists, Turns and Surprises of Fall Weather Phenomena on Oregon Coast Spend 24 hours on the Oregon coast during fall and you may see the entire gamut of weather possibilities
Some Outdoors Events Returning to Oregon Coast Helping to survey snowy plovers and a famed tidepool class is back
Oregon Coast Weather Mystery: Did a Waterspout Drop Fish in Lincoln City? One of the rarest and weirdest of meteorological encounters is a thing called 'animal rain'
Sunny Days Coming for Spring Break Along Washington, Oregon Coast Getting really sunny and pleasant this week although chilly, but warmer down south
Viewpoints on Oregon Coast With Something Strikingly Different: Langlois, Coos Bay, Lincoln City This trio of oceanic wilderness by the roadside at Lincoln City, Blacklock Point and Simpson Reef
Bizarre Rocky Details of Oregon Coast: What's Really Going On Three areas provide some of the wildest structures: Yachats, Coos Bay and Depoe Bay
Cannon Beach Fat Tire Fest Returns to N. Oregon Coast in April Cannon Beach Fat Bike Festival takes participants through various beaches of the area
Depoe Bay / Lincoln City's Keystone Vacation Rentals - Oregon Coast Reviews Does Keystone live up to its reputation? A few typical reviews of the agency and a larger review of the company
Fireball Puts on Rare Show for a Few in Oregon, Washington - But Not Coastline 2:11 AM on Thurs morn a rare fireball hit the atmosphere
Trippy Side of Oceanside: Crazy Things Oregon Coast Sand Levels Do Oceanside can see some truly extraordinary changes when sand levels rise or fall
Oregon Coast Natural Science and Author Events: Coos Bay, Lincoln City, Cape Falcon Manzanita, Coos Bay, Lincoln City: bird monitoring, sea level rise, crabs and an author who specializes in unicorns
Gas Prices Rise in NW to Well Over Three Bucks: Oregon / Washington Coast Travel Oregon's average is $3.13 per gallon, while Washington's higher at $3.28
Carl G. Washburne Campground Reopens on Central Oregon Coast, Now Reservable Florence and Yachats areas: reservations now at Carl G. Washburne State Park
What Does First Day of Spring Mean for Oregon / Washington Coast? Look to Skies First day of spring and of spring break, and lots of intricate astronomy interactions
Restrictions on Some Oregon Coast Beaches Due to Plover Nesting Now through September 15, some beach areas will have some minor restriction to protect the sensitive plover nesting habitat
Cruel and Quirky History Tidbits of Port Orford, South Oregon Coast Port Orford has a particularly high body count at its very beginnings, and some eyebrow-raising curiosities in the mix
Magic-Comedy of Festival of Illusions Returns to Central Oregon Coast Festival of Illusions starts March 19 and runs through March 28, with actual live performances
The Little Tsunami That Couldn't: Oregon Coast History, 2009 The result was a bit of anxiousness along the Oregon coast and some evacuating
Freaky Critters That Brush Past You in Tideline | Oregon, Washington Coast Science They show up in summer on the Oregon or Washington coast, usually late in the season
Lincoln City and Central Oregon Coast: Like Night and Day, Literally Glowing beaches / skies, blue reflections, unique sea life and more in Lincoln City, Depoe Bay
No Actual Whale Watch Week But Plenty Whales on Oregon, Washington Coast Around 25,000 whales are expected in the next three months
Whale Watch Week Nixed But Plenty of Whales on Oregon Coast, Washington Around 25,000 whales are expected to wander past the Oregon coast and Washington coast
Looking Back: 10-Yr Anniversary of Tsunami Scare on Oregon Coast Despite the fear, the evacuations were orderly
March Sky Highlights Include Mysterious Zodiacal Light / False Dusk on Washington / Oregon Coast Skies of Washington / Oregon Coast will see some interesting sights; maybe a rarity
What To Expect For This Oregon Coast Spring Break This vacation time will look markedly different than before in some places and in others less so
SOLVE Cleanup Returns to Oregon Coast, Inland Under New Name What is now called the Oregon Spring Cleanup, April 17
New Ghost Forest on S. Oregon Coast Remains of 1700 Megathrust Quake, Tsunami A new set of stumps is documented at Coos Bay and they're fascinating
Special Presentation Mar. 10 on Oregon / Washington Coast Whale Entanglements how whales get entangled off the Oregon and Washington coast and what might be done to prevent it
Three S. Oregon Coast Historic Sites, Including Lighthouse, On Hold for a Year Hughes House, Cape Blanco Lighthouse and the Port Orford Lifeboat Station Museum will stay shuttered through April of 2022
Oregon Coast / Inland Campgrounds Mostly Open, Some Fee Increases - State Parks is looking towards a more 'normal' season - some slight fee increases
Erosion Continues Damage on Oregon Coast - Homes Threatened, More Finds Major storm action has let up, but there's enough smaller storms kicking up the sands that erosion continues
Video: Four Moments of Oregon Coast Wonders in Two Minutes - And Their Little Secrets Good times at Rockaway Beach, near Florence, Rocky Creek and Cannon Beach
Sneaker Wave, Surf Advisories on Oregon Coast; Caution on Washington Coast S. Coast advisory through Mon. | N. coast sneaker waves | Wash coast caution needed
Three Unique, Even Kooky Bits of Oregon Coast History: Cult, Lighthouse, Pat Boone, Land Changes Rather eye-popping bits of the past of this region: Waldport, Fort Stevens, Seaside, Heceta Head / Florence
Devils Lake Campground Reopens Camping | Lincoln City, Central Oregon Coast Yet another happy camper scene on the central Oregon coast: Lincoln City's Devils Lake State Recreation area will reopen
Yachats Then and Now: The Old and Newer Oregon Coast Frozen in Time Old photographs of Yachats inspire particular delight
S. Oregon Coast Will Get Heavy Waves, Winds Through Friday | Warnings High surf advisory for southern-facing beaches closer to Brookings and a high wind warning for everything south of Florence
N. Oregon Coast's Seaside Promenade Celebrates Centennial With Contests, Experiences Seaside is celebrating throughout the entire year with a host of ways to dig into history
Belt of Venus: the Other Side of Oregon / Washington Coast Sunset From an astronomer, inside look into the floating phenom called the Belt of Venus
How Bandon's Face Rock Was Created A Wild S. Oregon Coast Geologic Tale Somewhere over 201 to 56 million years; reveals other surprises in Bandon rocks
Washington Coast's Grays Harbor Closed to Crabbing, Except Westport Parts of the central Washington coast are closed to recreational Dungeness crabbing due to the presence of marine toxins
Serene and Surreal at Yachats, Where Oregon Coast Drama A Constant | Video Rocky slabs and shelves, surreal and pointy in many spots, with crevices and blowholes
Small Quake Shakes Off Oregon Coast This Weekend As Another Rattles Alaska It took place about 250 miles off the south coast; three people reported feeling it
Weird News: Lamprey Falls from Sky | Oregon Coast Fish Older Than Dinos ODFW releases a brochure about this creature, a lamprey fell from the sky on the north coast
Why Shore Acres Waves Are So Big: Height Measurement, Geology | S. Oregon Coast What is it that makes this place so different? How are waves measured?
Two Stranded Turtles on Oregon Coast - One With 'Miracle' Surprise Found in Lincoln City and Rockaway Beach, one had a strange, 'miraculous' twist but a sad ending
High Surf for All Oregon Coast; Washington Coast High Winds | Snow in Passes Some snow in Coast Range Saturday. High surf S. Oregon coast Friday. High winds in Washington Thursday
Washington Coast: Commission to Examine Whale, Salmon Status Gathering this week to discuss the endangered status of Gray whales and Humpback whales
Camping Returns to S. Oregon Coast's Cape Blanco State Park The campground will reopen on March 2 after being closed last March
Brits on Telly Get Silly with Oregon Coast Exploding Whale Song | Video British comedian Jimmy Carr at the helm, one comedy / game show in Britain featured the new tune
Cue Micheal Jackson: 'Zombie' Whales of Oregon Coast History A rather amusing newspaper article about a whale stranding decades ago
Three Weird to Wacky Facts About Depoe Bay, Central Oregon Coast Kooky park, blobs going back millions of years, and 'little flying men'
Charleston Marina on South Oregon Coast: Where Placid Meets the Raucous A bit more manmade yet somehow truly rugged all at once: crabbing, clamming and rich sunsets
Fossil Bed Hotbed on Oregon Coast Right Now - Where to Look Parts of the Oregon coast are a hotbed of ancient rockbeds, creating not just prime agate hunting possibilities but lots of fossil finds
Two Sizable Earthquakes Off S. Oregon Coast Within Minutes of Each Other The first was a M5.1, which is slightly larger than many in the area
Auto Camps to Motor Lodges and Motels on Oregon Coast | History Part 2 After 1920, auto camps replaced rickety tents, giving way to motor lodges, hotels
From Rugged Tents to Real Rooms: Evolution of Oregon Coast Overnight Stays Part 1 Tent cities, to cabins, auto parks, a unique thing called motor lodges, and then finally to motels
Central Oregon Coast's Florence Cancels Rhody Fest After Initial Go-Ahead
Seven Colorful Places on Oregon Coast Moments and locales captured in the right conditions: Boardman Corridor, Gleneden Beach, Yachats, Astoria, Sand Lake, Coos Bay, and from a microscope
Canceled on Central Oregon Coast: Florence Rhododendron Fest Not Happening After All The event was scheduled for its traditional date, the third weekend of May, May 12 to 16, 2021
Early Quake Warning App Soon Available in Northwest | Oregon, Washington Coast The ShakeAlert app will soon be available to users in Oregon and Washington
Oregon Coast Storms Reveal What's Beneath Cannon Beach at Silver Point 18-million-year-old bedrock that's underneath all of Cannon Beach
Road Work Closes Part of Hwy 101 on Oregon Coast Between Florence, Yachats Closed for up to a week as crews build a retaining wall; an accident there injured a worker
Sneaker Waves Monday for N. Oregon, Washington Coast; Ice Issues Slowing Northern half of the Oregon coast and south Washington coast will be getting sneaker waves on Monday
Oregon Coast Dangers Update: Logs, Dunes, Oceanside Tunnel, More Logs are presenting greater issues, some dune erosion is still happening and causing potential problems
Romantic Thrill of it All: Cool, Tingly Make Out Spots on Oregon Coast Whether you be on a first date or a pair of seasoned warriors from the House of Love
The Unheralded Ghost Forests of South Oregon Coast / Coos Bay in Photos The stumps at Sunset Bay at Coos Bay / Charleston are intricate, and their origin murky
Heavy, Prolonged Snow for Portland, Oregon Coast Range, Washington | Some for Beaches NW corner of Oregon and much of Washington are headed for a prolonged snow event, including the beaches
A New Skate Park on N. Oregon Coast: Pacific City's Will Incorporate a Dory Boat Shooting for phase one to be completed by summer and the skate park then ready for shredding
Seaside Aquarium Reopens | Other Oregon Coast, Portland-Area Counties Lowered More of the Oregon coast and the Portland metro area are opening back up again as state officials ease up COVID restrictions
Sunset Science: Dusk Isn't What It Seems on Oregon, Washington Coast Two major surprises about Oregon and Washington coast sunsets
Oregon Coast Events Look Into 'Breaking up with Plastics' - Fishing Industry How plastics are harming our coastal region and issues facing the fishing industry
Possible Snow Washington / Oregon Coast Range This Week, Maybe Northern Beaches Washington beaches stand a greater chance, while Coast Range passes may get a mix; Portland, valley possible
Storms Take Out Massive Chunks of Oregon Coast Dunes, Some Dangerous Ocean sliced away as much as ten feet vertically and more horizontally in some areas
Rare, Surreal Find Along Oregon, Washington Coast: Red Towers Reddish formations that come in an endless variety of shapes and sizes and not just cylindrical
Eerie, Mind-Bending Ghost Forests Appear Around Oregon Coast 4,000-year-old ghost forests have popped up in numerous sections as sand levels there get scoured out
Quirky Pyrosomes Found Again on Oregon Coast, Mostly South King tides brought in a multitude of debris and small creatures
Tokatee Klootchman State Wayside on Central Oregon Coast: Unobtainable Beauty Weird Hollywood connection and incredible treasures here in the way of basalt slabs; near Florence
Cannon Beach's Silver Point Interpretive Overlook | N. Oregon Coast Stunner - Video Everybody stops there but few know its name
Curious Valentine's Romance on the Oregon Coast In Interesting Times The flame of Valentine's Day along the coastline has taken some interesting, slightly innovative turns
Cannon Beach Sandcastle Fest Sets June Date, N. Oregon Coast Classic Still Virtual June 5 it kicks off, but it will again all virtual
Extraordinary Storm Sites of Oregon Coast on Video Lucky for us humans we now have video to document these wanton, chaotically gorgeous moments: Rockaway Beach, Coos Bay, Bandon, Seaside
Lincoln City's SW 35th St. Access: Oregon Coast History and Tidal Surprises There are layers of history here, wild to curiously odd tidal and sand action, and gobs of space.
Aquariums Reopening: One Washington Coast, One Oregon Coast Westport Aquarium on the Washington coast restarts in February while Newport's Oregon Coast Aquarium has already reopened
Video: Depoe Bay's Boiler Bay Headland A Hypnotizing Chunk of Oregon Coast Depoe Bay, Boiler Bay and its state park, Boiler Bay State Scenic Wayside, sit huddled together
N. Oregon Coast Group Seeks Donations to Aid Distressed Manzanita Business Manzanita is especially hit hard, which has caused two organizations there to go full-bore on helping out
Seaside Cove on N. Oregon Coast: Guide to Beach and Surreal History A hotspot at Seaside and yet still out-of-the-way enough that there are secretive aspects
Grayland Beach State Park on Washington Coast: from Camping to Striking Sights Grayland Beach State Park near Westport is a delightful mix of these elements
Anniversary of 1700 Quake a Spooky Reminder of What's Coming to Oregon, Washington Coast 321-year anniversary of the 1700 Cascadia magnitude 9.0 quake: the tsunami created a wall of water 25 feet high, and will again
Newport's Jump-Off Joe Gets Dangerous, Oregon Coast Landmark Closed Off A landslide caused the concrete remnants of an old condo project broken and it's now unsafe to wander
Kiwanda Coastal Properties Helped Start Oregon Coast Industry, Mixes Old School With New In the '80s Pacific City's rental industry was like the wild west, now this group is enormous there
Snow on Tuesday for Western Oregon, Washington, Coast Range: Portland to Seattle Low level snow will make an appearance in parts of northwestern Oregon up through much of Washington Tuesday
Yachats' Underbelly in Video: Myriad of Holes, Tidal Explosions in Oregon Coast Town There's more to this engaging area than meets the eye
Fat Tire Beach Biking at Bandon A Hot New Thing on S. Oregon Coast A new kind of beach adventure, and one the Bandon Visitors Center recently touted with interesting facets
Still a Chance of Snow This Week for Northwest Oregon, Portland, Valley, Eugene A chance of light snow flakes for valley floor up into southern Washington still possible this week, including coast range
S. Oregon Coast Sneaker Waves Sunday | Snow on Coast Passes Oregon / Washington Snowy passes on Sunday from Washington to south Oregon; sneakers waves south coast
Magical Spot Lurks In a Corner of Depoe Bay: One Dramatic Slice of Oregon Coast An amazing span of puffy, bubble-like basalt cliffs as well as more ouchy spires
Snow for Passes to Washington / Oregon Coast; Possible Valley Flakes This weekend is expected to bring as much as a few inches to the higher elevations of the coast range
The Striking, Brightly-Colored Nudibranchs of Oregon / Washington Coast Tidepools One wild little beastie wears not only a myriad of bright, striking shades but incredible and different forms as well
Cliffs of N. Oregon Coast's Cape Kiwanda Provide Wacky Fun, Strange Sights Wonders never cease on top of the golden, weather-sculpted cliffs of Cape Kiwanda
Neahkahnie Viewpoint Provides Fun History, Unsolved Mystery on N. Oregon Coast Neahkahnie Viewpoint above Manzanita has been around almost 100 years, and there's a mystery
From Dino Bones to New and Moving Land Masses: Startling Oregon Coast Facts The back story of these beaches is a weird one, and the weird stuff keeps happening
Longer Days, Sunsets After 5 Reveal Trippy Little Details for Oregon, Washington, Coastlines Sunsets on the coastlines have been after 5 p.m. for a bit, and there's some odd science there
Will It Snow Near Oregon Coast This Weekend | Some Beach Hazards Snow coming to parts of western Oregon, Washington; high seas
The Other, Lesser-Known Viewpoints of Cape Perpetua on Central Oregon Coast Some of the best views in all of the Yachats area are just a little more down to Earth – or down towards the sea, that is
South Oregon Coast Hotels / Lodges: A Sampling of Spectacular S. coast lodgings have a different character as well: a kind of rugged individualism
Spectacular Yet Scary Images, Video from Oregon / Washington Coast King Tides In stills and video are some excessively unwise behavior but mostly jaw-dropping nature
Beach Dangers This Weekend from Oregon Coast into S. Washington Coast Beach hazard statements from the southern Oregon coast up into the south Washington coast
Looking Back at the Mystery of the Unusual Gooey Beach Balls Along Oregon, Canadian Coast It was weird, it was puzzling and it was kind'a gooey. And it had to do with the clam worm
Roughing It on a Busy Oregon Coast: Seaside's Multiple Layers, Part III The strange secret about this frenetic beach town is that its hidden beaches are really more so
More Massive Tides; Flooding, High Wind Warnings for Washington, Oregon Coastlines A variety of flood, wind warnings / watches for both regions through Wed
Lincoln City Had a Lighthouse. Sort of: Trippy Oregon Coast History The towering structure was a bit more than three stories high; about 40 feet, perhaps
Four Rocky Spots on Oregon Coast With Crazy Stories to Tell Four unique destinations on these beaches that show a rougher side: Coos Bay, Seaside, Neskowin, Winema
Symons State Scenic Viewpoint, N. Oregon Coast: Oceanside's Secret in Plain Sight Minuscule Symons State Scenic Viewpoint at Oceanside just keeps on giving – giving out incredible views
32-Ft Waves Possible | Surf Warnings for Much of Oregon, Washington Coast Waves as high as 32 feet are expected Sunday, and all this action blends a bit with the king tides coming this week
Mind-Bending Subtleties of Ocean Mist on an Oregon Coast Night Night shooting on the coast means no two nights look the same. Cannon Beach, Newport, Manzanita, Gleneden Beach, Lincoln City, Rockaway Beach
Oregon's Tillamook Coast Donates Beach Wheelchairs to Three Towns Pacific City, Manzanita and Rockaway Beach each received new mobility devices
Final, Dramatic Round of King Tides for Oregon / Washington Coast: Photogs Needed January 11 – 13, bringing massive waves to just about every beach and harbor in the region
Surf Dangers Again on Washington, Oregon Coast This Weekend | Waves 26 Feet South coast advisory, hazards for central coast through south Washington beaches
Inching Down the Central Oregon Coast from High Cliffs to Soft Sands - an incredibly layered and varied stretch, usually known as the most popular
Ziolkouski Beach Park and Its Black Triangle: South Oregon Coast Ziolkouski Beach Park, a wide expanse of beach that sits where the sands of the Winchester Bay area and the Umpqua River meet
Three Winter Wowers of the Washington / Oregon Coastline Looking for a cheap show? Winter has the ticket along the area, including Cannon Beach, Yachats, Westport
High Surf Advisories Issued for Oregon / Washington Coast - More Storms Through Weekend Waves up to 27 feet, another one or two similar storm systems are expected to come rambling through into the weekend
Oregon Crew Responds to Dolphin on Washington Coast - north Oregon coast's Seaside Aquarium responding to the scene to retrieve the body
Oswald West State Park, Above Short Sands Beach, N. Oregon Coast
Enjoying Beaches More: Different Oregon Coast Travel Advice Looking for more ways to enjoy the Oregon coast or Washington coast?
More Wind, Surf, Landslide Alerts for Washington / Oregon Coast - More advisories and warnings for dangerous surf and high winds, along with the possibility of landslides
Wind Warnings, High Surf for Washington / Oregon Coast | Gusts Up to 70 Breakers up to 28 feet in some places, sneaker waves, gusts to 75 mph at times
Oregon Coast's Goonies Rock - Movies Made a Blob Famous The big outstanding feature here at Indian Beach is called Goonies Rock: trippy trivia
Two Oregon Coast Attractions Reopen Friday | Online Lectures Resume Since a handful of Oregon coast counties have been upgraded from extreme risk to high risk, some reopenings around the region will happen
Wind, Surf Watches / Advisories for Oregon and Washington Coast A long stretch of heavy winds and big, dangerous surf are coming over the weekend, waves up to 30 ft
Seaside's Different Sides Part II: Where Oregon Coast History Meets Kooky Farther into the history and the fun parts that just get plain funny
Multiple Layers to Seaside, Oregon Coast Go Deep, Beyond Obvious: Part I Seaside is an ancient town by Oregon coast standards, going back over 140 years now. And it has many levels
Five Astounding Stops on Oregon's Coast Spots that are guaranteed to make an impression on your friends and family: Pacific City, Arch Cape, Bandon, Depoe Bay, Manzanita
Wacky Moments of Oregon Coast History Goofy sights and situations at Lincoln City, Bandon, Seaside
Mysterious, Sludgy Bags of Chia Seeds Found on Central Oregon Coast Chia seeds sprout in water, and these created a mess on the beaches of Newport, Florence
Crabbing on Oregon / Washington Coast Mix of Closed, Open Areas A mixed bag of good news and bad news for Dungeness crabbing along the Oregon coast and Washington coast
Dockside and Pier Wonders of the Oregon Coast: Ethereal, Dreamy Finds Where civilization meets the primitive, wild waters and builds structures that hover over them
Striking Changes and Surprises of Lincoln City's D River Access, Central Oregon Coast D River access has more than one face. The seemingly placid place has a few surprises.
Catching Sight of Birds on Oregon's Coos, Curry Coast Good Right Now Winter storms may make birdwatching impossible, but before and afterwards could be great
Oregon Coast During World War II, History With More Lessons to Teach Sampling of history from Brookings, Coos Bay, Bandon, Yachats, Waldport, Lincoln City, Tillamook, Warrenton
Guadalupe Fur Seal Found Thin, Distressed on N. Oregon Coast; Rescued (Video) Now, the plan is to get him back into shape and back to his native waters
Flood Watches for Oregon Coast / Washington; Wave Drama Likely - Flood watches for the Washington coastline and the upper half of the Oregon coast, in effect from Saturday through Sunday
First Day Hikes on Washington / Oregon Coast A Go But Different - And Free New Year's Day 2021, where fees will be waived but no rangers will be guiding anyone
Entire Oregon Coast Under New COVID Restrictions; Hotels, Beaches Unaffected Oregon Coast Aquarium in Newport and Seaside Aquarium are forced to close again
Whales Still Abound on Oregon Coast, Even If No One Watches ODFW says whale watching continues at the moment, it's just a 'DIY adventure'
The Ugliest Little Oregon / Washington Coast Critter You Rarely See The rock louse or northern sea roach is actually called the sea slater (Ligia pallasii)
Surf Advisories for All of Oregon / Washington Coast: 25-foot Waves Extending the beach danger warnings from the previous advisories from Tuesday into Wednesday
Historical Wows Along the Oregon Coast Just S. of Cannon Beach In fact, just by walking around some of these spots you're diving into the past
Public Opinion Sought on Driving Ban on Two N. Oregon Coast Beaches The proposal would end the driving of motor vehicles on two sections of beach around Cape Kiwanda and Tierra Del Mar
Surf Advisories on Washington / Oregon Coast Call for More Safety Precautions Waves 24 feet or more from mid Washington down to southern Oregon coast; flood advisories
Sunflower Sea Stars of Oregon / Washington Coast Listed as Endangered Sunflower sea star has been listed as endangered by one international entity following an Oregon State University study
Wild Wonders of South, Central and North Oregon Coast: Gold, Sand Dollars, Creepy Plants Scary plants, gold on beaches and more whole sand dollars than you've ever seen
King Tides May Bring Monsters This Weekend to Oregon Coast, Washington Coast In Washington and Oregon, the king tides happen December 13 to 15 along the coastlines; a storm may bring larger waves
Astounding Holiday Light Displays on Oregon Coast, Looking Back and Forward A brief look into some of the unique approaches along these beaches from south to north
Funky Finds on Oregon Coast Now: Mystery Eggs, Ouchy Nettles, Salps, Tube Casings A variety of interesting finds were made lately, giving a preview of what you might see while goofing around the beaches
OREGON / WASHINGTON COAST NEWS - RECENT WEEKS
Action-Packed Day for Oregon / Washington Coast, 18 to 35-Ft Waves High surf advisories along the entire length of Washington and Oregon coasts on Monday and Tuesday
Famed Tunnel on Oregon Coast Covered by Rockslide; Some Needed Rescue The rockslide briefly endangered several people who were on the other side, trapping as many as 12 in part of Oceanside.
Two Enthralling, Semi-Secretive Coves of the Oregon Coast Hidden yet popular: one near Arch Cape and another next to Oceanside
Geminid Meteors, Planetary 'Christmas Star,' Solstice Above Oregon / Washington Coast A major meteor shower, two planets forming an unusually bright star, and the winter solstice
Two Aquariums on Oregon Coast Back Open, Washington Not Yet
Two Aquariums on Oregon Coast Re-Open, Washington Not Yet Oregon Coast Aquarium and Seaside Aquarium are back; Westport not until Dec 18
Nye Beach Natatorium a Distinctive Part of Newport / Oregon Coast History Newport's natatorium story is a bit different. It lasted longer than the others
Three Wild, Even Mysterious Spots Near Yachats, Central Oregon Coast There's so much going on in and around Yachats on the central Oregon coast you actually couldn't explore it all in one day
S. Oregon Coast Sneaker Wave Hazards; Coast Range Air Stagnation Dangerous surf from Reedsport southward, sunny skies on Oregon / Washington coast, air issues near the coast
Cannon Beach's Haystack Holidays Return to N. Oregon Coast in Different Form The famed north Oregon coast town of Cannon Beach has figured out a safe but fun way to continue its ages-long tradition
Astronomer Answers Why Are Stars Different Colors Above Washington / Oregon Coast? - What's happening when your night photo captures such different colors out in space. Part weather, mostly astronomy
Devil of a Good Time on Oregon Coast: Heavenly Places with Hellish Names Some of the most beautiful spots along these beaches with fiery names, from south to north
Pet-Friendly Spots and Beach Traveling on the Oregon Coast Traveling to the Oregon Coast with your dog soon? No doubt you'll end up on the beach, but here are some other pet-friendly spots for when you need a break.
Slight and Subtle Lunar Eclipse for Washington / Oregon Coast On Sunday A penumbral lunar eclipse will occur on the night of November 29 through after midnight on the 30th
Astoria's Special Holiday Shopping Event Heats Up N. Oregon Coast The town recently announced its annual holiday shopping offers through Dec
Holiday Celebrations Nixed on Oregon Coast, Silver Falls
State Park Closure / Cancellation on S. Oregon Coast, Silver Falls News on the holidays at Shore Acres and Silver Falls State Park
'Wave Height' Explained Along Oregon, Washington Coast: What It Means What does it mean when the NWS says '30-foot waves' are coming onshore?
Dangerous High Waves / Warnings on Oregon and Washington Coast Tue to Thurs Major sneaker wave action at the very least, if not large waves close to 20 feet high coming onshore
Still Some Thanksgiving Vacation Homes Open Along Oregon, Washington Coast Numerous reports from the Washington coast as well as the Oregon coast
What's Up with Astoria: Dizzying Heights of Oregon Coast Town From sea level to soaring, Astoria is the one place with towering hillsides
Razor Clam Closures on Entire Oregon Coast, Washington Coast complete closure of recreational razor clamming on the entire Oregon coast, while the Washington coast extends its closures to at least December 12
Gleneden Beach an Oregon Coast Jaw-Dropper with Many Faces
Gleneden Beach's Varied, Multi-Layered Looks: Never the Same Bit of Oregon Coast Never yielding the same impressions, the same feelings and even offering different geology and geography
Say 'Whatever' to Oregon Coast Weather: Tips for a Winter Jaunt
S. Oregon Coast Holidays With a Bandon-Area Lighthouse and Florence Florence hosts a holiday contest and shopping; Cape Blanco Lighthouse turns 150
Aquariums on Oregon Coast, Washington Close for 2 to 4 Weeks Aquariums in Oregon shut down for two weeks; Washington four weeks
Weird Science of Tides Along Oregon / Washington Coast: Loosening the Moon All these questions have as much to do with astronomy and space as well as the Earth, its oceans and the beaches
Big Changes / Awards at Oregon Coast Hotels in Florence, Newport Some major life events for three Oregon coast hotel businesses in Newport and Florence
Wind Warnings for Washington, Oregon Coast, Gusts up to 80; Flood Advisory Warnings for Tuesday with the south Or coast getting the worse; flood advisories Mon / Tue for N. Or coast
Meteor Showers Above Oregon / Washington Coast Storms This Week Something of nearly galactic significance is happening above us: the Leonid meteor showers
What New Two-Week COVID Restrictions Mean for Oregon Coast The order goes into effect November 18 and runs at least through December 2
Updates: Washington / Oregon Coast Surf, Winds, Travel Issues Throughout the Oregon coast and Washington coast, officials are urging caution this weekend through Wednesday
215 Years Ago: Lewis 'n Clark This Week on Oregon, Washington Coast About now in 1805 the group was on the coastline but would soon see the waves"
Storm Updates for Oregon, Washington Coast: Warnings, Watches, High Surf Variety of high wind warnings and watches as well as dangerous and high surf conditions Fri and Sat
Washington Coast King Tides This Weekend, Inland Seas Later Major tidal events are in store this weekend for the Washington coast, happening November 15 – 17
Before Exploding Whale, Legend of Oregon Coast's Imploding Whale Also in Florence, if true the man 'was bound to the blubber beyond all bearable boundaries'
Oregon / Washington Coast Storm Could Bring 35-Ft Waves This Weekend high winds and wave height up to around 35 feet in some areas are possible
Oregon Coast from North to South - a Massive Overview It's known as 364 miles of some of the cleanest beaches in the entire world
Razor Clams on Washington Coast Canceled At Least Through Dec Domoic acid has again caused more cancellations of razor clam digs along the Washington coast
Florence Holding Photo, Logo Contests (with Prizes) for Oregon's Coastal Playground Photos that portray its various attractive aspects as well as a logo for its Rhody days
Oregon Coast's First Documented Shipwreck? Sea Otter in 1808 at Reedsport A fur trading vessel left six men alive on the south coast, but that's just the start of the adventure
S. Oregon Coast Surf Advisory Shortened; Sneaker Waves Possible Through Washington Coast Seas along the Oregon and Washington coasts have picked up considerably today and will remain so through Saturday
Olive Ridley Sea Turtles Strand on Central Oregon Coast, Then Die It is once again the season for sea turtles to strand along the Washington and Oregon coast
Oregon Coast's Exploding Whale 50th Celebrated in Florence, Online What is likely Oregon's most notoriously amusing moment in history turns 50 years old next week
Some S. Oregon Coast Towns Offering Substantial Lodging Deals Package Now until the end of November you can get 15 percent off some of the places to stay
Heavy Wave Action for Oregon Saturday: S. Coast Up to 25 Ft., Hazard Advisory High surf advisory for S. Oregon coast Friday through Saturday; big waves up north
Incredible Oregon Coast Sights and Sites for Winter (Or Any Time of Year) different as night and day in most ways, but two coastal towns share a penchant for packing a visual punch
'Tis Season for Ocean Burps on Washington, Oregon Coast; Maybe Even Bones Early October saw a burst of that sight that included a bit of a bone mystery
Razor Clamming Closed on Northern Half of Oregon Coast Through Washington Leaving only the southern beaches of Oregon open to the activity; COVID is part of the issue with Washington
High Sneaker Wave Dangers for South Oregon Coast on Sunday
Halloween Full Moon is an Astronomical Event: Above Oregon, Washington Coast A blue moon, a rare Halloween moon, odd stars; meteors, eclipse coming
South Oregon Coast Gets Dangerous Sneaker Waves Sunday Some hazardous beach conditions on Sunday thanks to a high risk of sneaker waves
Get Your Cameras Ready for Oregon Coast King Tides, November 15 - 17 Oregon Coast's version of the King Tides photo project is coming up on November 15 – 17, and they need you
What You Might Find: 1000s of Jellyfish Crash on Oregon Coast, Including One That Stings - A major rush of various jellyfish on the central Oregon coast may mean some spectacular beachcombing
That Which Stalks Cannon Beach and Bandon: Oregon Coast Halloween Series Any self-respecting dive into the wilds of Oregon coast ghostie tales has to discuss these crusty creepsters
No More Freeze: Oregon / Washington Coasts Warm Up, South Coast in 70s Beaches remain dry most of the week in the 50s or 60s, while the southern Oregon coast will hit the 70s
Wild, Wowing Winter Drives on Oregon Coast In many instances, remaining in your car will seem the best option: Port Orford, Depoe Bay, Manzanita, Pacific City
Ethereal Sea Butterfly of Oregon / Washington Coast: Always There But Never Seen They are stunningly graceful and even angelic in the water, video included
Central Oregon Coast Closes Razor Clamming; South Coast Opens Mussels Entire coast open to mussels; clamming closed from Florence to Lincoln City
Bizarre Star Twinkle Leads to Discovery: Portland, Oregon, Washington Coast Astronomy An oddly flashing sight has a simple explanation, but with a twist
Haunted Lighthouses? Maybe: Oregon Coast Halloween Series Some surprising haunted history from Florence, Newport, Port Orford, Seaside to Ilwaco, Wash
Washington Coast Halts Razor Clams at Last Minute Due to Marine Toxins All beaches in the state are closed to razor clam digging effective immediately
Coastal Travel Intrigue: Four Sandy Wonders of N. Oregon Beaches Those long tracts of soft granules that can go for miles, create a warm glow at sunset: Manzanita, Gearhart, Seaside, Oceanside, Pacific City
Big Freeze Coming for Washington, Oregon - Even on the Coast Inland areas are headed for the 20s while the coastlines will drop to the 30s; except Brookings
N. Oregon Coast Motel A Gateway to Rockaway Beach's Secrets Close to to many of the town's remarkable finds sits Tradewinds Motel
Three Bizarre Quirks of Science on the Oregon Coast: Daylight, Crabs, Lava Sometimes it's a pleasant surprise, other times it's a frightening tale.
Red-Eyed Medusa of Oregon / Washington Coast is Immortal In a Way Real science is always more astounding than science fiction. such as the tiny jellyfish known as the Red-Eyed Medusa
Two Beloved, Original Sea Lions at Oregon Coast Aquarium Pass Away For the second time in about a month, Oregon Coast Aquarium has another death in its family to report
Bit of a 'Bitey' Beach Surprise: Salmon Shark on N. Oregon Coast Often mistaken for Great Whites, the salmon shark is common from Brookings to Cannon Beach
Three Oregon Coast Beach Spots With an Astounding, Marked Difference In every corner of the Oregon coast, you'll find a few out of the ordinary places
Seaside Secrets and Surprise Layers: Oregon Coast (Part 2) Finding an empty spot is a bit of an art. But they exist
Seaside's Gilbert Inn Was There at Start of N. Oregon Coast History It's not often that a town's deep history is so closely tied to a building still standing
Coos Bay, Charleston, North Bend Complete Guide: Southern Oregon Coast Travel Every beach and attraction in the Coos Bay, Charleston, North Bend area
Central Oregon Coast Sandy Wonders - Fascinating Strands of Lincoln, Lane County Intriguing places near Waldport, Florence, Lincoln City
Deep Into Seaside, N. Oregon Coast Details, Secrets (Part I) There is more than meets the eye about Seaside, the ancient and extremely popular resort town
What You Don't Know About Oregon Coast's Newport Will Thrill You Plenty tucked away along its bustling façade that you won't want to miss
Strange But Everyday Science of Washington, Oregon Coast There are whole worlds to discover if you look up or down and pay attention
Florence Chowder Trail and Glass Floats Through October on Central Oregon Coast The two events are combined into one all month-long; future of other holiday happenings
Oregon Coast Headlands: Each One from North to South Promontories at Seaside, Manzanita, Pacific City, Lincoln City, Newport, Yachats, Coos Bay, Gold Beach, Brookings and more
Romantic Vibes and Kiss-Inducing Hiding Places at Oregon Coast's Seaside plenty of ways to get away from the throngs in Seaside and get more than a little starry-eyed together
Seminal, Pivotal Live Music Venues in Oregon Coast History From the Pypo in Seaside to rockers in Newport and Yachats
Mars, Meteors and Moon in Blue for Washington, Oregon Coastlines Mars will continue to be brighter than nearby Jupiter for awhile; Orionid meteor showers have begun
Unique, Rare Oregon Coast Phenomena: When Headlands 'Wear a Hat' And Why It's as if they generate their own weather, and that's not far off
Four Cool, Cozy Inns of Central Oregon Coast You Likely Don't Know Time to slow down on 101 and check out four little gems in Lincoln City, Lincoln Beach and Newport
N. Oregon Coast's Nehalem Adds New Interpretive, Emergency Signs The sights around the Nehalem Bay village of Nehalem are getting a little easier to find and understand
Wolf Eel on Oregon / Washington Coast: It Only LOOKS Like It Doesn't Like You With a wacky, even angry face, the wolf eel is actually known as a kind of kitten of the deep
Rare, Even Weird Finds of Oregon / Washington Coast You'll Be Lucky To See Some of the rarities are downright freaky. Here's a few
Six Remarkable Subtleties of Oregon Coast You Probably Missed Sometimes the best of the Oregon coast isn't the stuff that smacks you over the head
Unknown History: Two Ships That Were Torpedoed by Japanese Off South Oregon Coast The same sub that fired on Fort Stevens torpedoed two tankers off the south coast, a tale that spreads to the Washington coast
Central Oregon Coast History Museum Reopens After Long Quarantine Closure North Lincoln County Historical Museum in Lincoln City opens back up on October 7
Top Eight Most Influential Moments of Oregon Coast History Trains, highways, fires, motels to explorers and wars
Possible Aurora - Oct Meteor Showers, Blue Moon for Oregon, Washington Coast A blue moon, a meteor shower in October, and the possibility of northern lights Sept 28, 29
Central Oregon Coast Enters Phase 2 Soon, Expanding Hours, New Openings Many eateries and bars will get extended hours and capacity, and some places will get to open for the first time
From North to South: Intriguing, Even Obscure Oregon Coast Adventures From Brookings to near Yachats, to the tiny town of Oceanside, sometimes out of the way is the only way
Second Summer Returns to Oregon, Washington Coast with 70s This Week Temps in the 70s to even low 80s from Brookings through Washington
Return of Clamming to N. Oregon Coast, Opening Back Up to Non-Residents Crabbing and clamming open again to non-residents; razor clams back at Clatsop beaches
Trail Closures at Oregon's Tillamook Coast; Corn Maze Opens A number of hiking trails are closed in Tillamook County but a pumpkin patch and haunted corn maze is coming
First Storm of Season Hits Oregon, Washington Coast Wednesday; Surf Advisory Gusts up to 40 - 50 mph on N. coast and Washington coast, some heavy wave action
Gnarly Oregon Coast Find That Can Sting Badly: Lions Mane Jellyfish Only was found, and luckily these ouchy jellyfish don't wash up often
The Most Dangerous Place on Oregon Coast: the Jetties All jetties along the Oregon coast are a big danger
Romantic Thrill Of It All: N. Oregon Coast's Magical Manzanita One spot holds special sway in its ability to woo: Manzanita
Wandering Fort Stevens, N. Oregon Coast's Equivalent to Castle Ruins Fort Stevens sits silent, with great holes where massive guns were once in place. History
Four Possible Major Attractions Now on Washington, Oregon Coast Oh, the myriad of ways the beaches of Oregon and Washington can amuse in late summer, early fall
Digging Into Claims of Oregon Coast Towns: What's Up With Those? - Astoria, Cannon Beach Coos Bay, Yachats, Florence, Lincoln City, Depoe Bay, Newport
What Makes Yachats Waves Turn Dreamy, Ghostly - Central Oregon Coast Where water shoots up into the air like fireworks, and where wave after wave comes slamming in with sizable force
Three Trippy Tricks of the Sky on Oregon / Washington Coast Weather phenomena can be downright unusual and intriguing, presenting sights you just don't understand
'Mermaid' Purses Found on Oregon Coast Lately Could Yield Life Sizable, dark brown purse-like objects have been reported in some areas
South Oregon Coast Officials: Tidepools, Birds, Wildlife Right Now Places teeming with birds, wild feeding frenzies, turtles and tidepools that are unique to Coos and Curry counties
Lincoln City Slowly Reopening as Central Oregon Coast Fire More Contained Firefighters have made some major dents in the Echo Mountain Fire, Hwy 18 open
Washington Coast Resumes Razor Clam Digging, Tentative Schedules Through Dec Meanwhile, those not living in Oregon are still not allowed to dig for clams on its coastline, leaving Washingtonians to their beaches
Scenic Surprises in 15 Miles of Central Oregon Coast Include Watery Explosions One stretch of central Oregon coast presents an especially varied and rugged face
Beginning of Rockaway Beach: N. Oregon Coast History Includes Science Mystery Like superheroes, Oregon coast towns have their origin stories too, but there's a an oddity of sonic science here
S. Oregon Coast Whale Confirmed to be Rare, Last Time Seen 50 Years Ago CoastWatch is reporting the last time a Sei whale was seen on these shores was 50 years ago
Now Begins Best Weather Conditions of Year for Oregon, Washington Coast September and October usually bring the bluest skies, the warmest temps and the least of winds
Best Weather of the Year for Oregon, Washington Coast in Sept., Oct Warmest conditions, bluest skies and least amount of winds than at any other time of year
Rarely Seen Sei Whale Strands on S. Oregon Coast, Then Dies a species of whale that rarely washes up on these shores found its way to an area of Bandon
Four Oregon Coast Obscurities That Will Raise Eyebrows Great places along the Oregon coast sometimes happen because there's a funky surprise awaiting the adventurer
Fire Watch, Red Flag Warning for Oregon, Washington Coast; Some Areas Ban Fires Extremely low humidity and high winds have created some potentially dangerous situations
Historical Rarities Lurk Beneath Rockaway Beach on N. Oregon Coast There are two delicious historical secrets lurking beneath the old town's sands
Ah, the History of the Ester Lee, Central Oregon Coast One of those few places that stands out as an old yet still vital, relevant icon is Lincoln City's Ester Lee Motel
Serious Scorcher for Oregon Coast, Washington Over Holiday, In the 90s Possible 100 degrees in the valley and80s and 90s for beaches
Oregon Coast Labor Weekend Travel Advice 2020: A Bit Darker This Year This time around you have a recipe for a somewhat unpleasant coastal experience
The Twists, Turns of One Nocturnal Oregon Coast Experience As night descends on the Oregon coast, it becomes an entirely different world
Three Oregon Coast History Oddities: 'Secret' Base, Bombing, Pixie Kitchen A futuristic military base in Tillamook County, two famous restaurants that are related and a WWII bombing
An Eyebrow-Raising Natural Litter on Oregon, Washington Coast: Crab Shells Loads of crab 'bodies' have been littering the beaches, as if there's been some sort of mass die-off
Washington / Oregon Coast Marine Science - Updates, News, Reference, Marine Biology a variety of marine science and biology subjects. Archived reference material and the latest news of what's happening with Oregon / Washington coast sea creatures
No Seahorses on Washington / Oregon Coast, Just the Unbelievable, Related Bay Pipefish Related to the seahorse is the bay pipefish, which does thngs you won't believe
N. Oregon Coast's Newest Hotel A Luxury Adventure: Seaside's SaltLine A unique combo of beach vibes and something futuristic
Help Clean Up Oregon Coast With a Variety of Events, Including Holiday Weekend One big cleanup happens in Seaside on Sept. 5 but others around the coast are scheduled
Three Places of Deeper Intrigue on the Oregon Coast Amid all these engaging places that can flood you with new sensations, some have multiple layers
It's 2020, So Let's Have an Asteroid: Creepy Oregon Coast Science A small asteroid will come unusually close the day before Election Day, with a one in 240 chance of hitting
Sunny Skies Return to Washington / Oregon Coast, More 'Glowing' Possible Again chances of seeing the glowing waves at night as well as the glowing sand phenomena
Oregon Coast Aquarium Fully Re-Opens on Monday with New Exhibit Only outdoor exhibits had been available. Now they have something new to show off
N. Oregon Coast Overcrowding, Trash, Parking Cause State Officials Take Action Overwhelming trash, out-of-control parking issues and visitors being surly and not wearing masks
Four Misleading Misnomers and Myths of Oregon Coast - Just Plain Wrong They're the legends, myths and the gaffes of history, geology and sometimes just general misinformation
The Odd Blob That Glows on Oregon / Washington Coast: You May Find It This summer has seen a lot of the Crystal jellies wash up, which glow green in water
Vegas Firm Offers Cycling Tour of Half of Oregon Coast Escape Adventures brings this road cycling tour to life, starting at the northwest edge
That Trippy Time a 'Tsunami Fish' Was on Display at Oregon Coast One living entity that made it to the Washington coast first became a bit of an attraction here
Coos Bay's Mystery Shipwreck of 2008, Forgotten S. Oregon Coast History Amazing things were getting uncovered that winter and this crusty frame was one
Astounding Glowing Waves (and Sand) on Oregon Coast Right Now A rare, consistent run of 'glowing waves' at night from the south coast up through Washington
More Oregon Coast State Parks Reopen, But More Problems As Well More state parks have opened up but there is a campfire ban and other issues
The Wonders, Surprises of Rainy Oregon Coast Days: Not Always What They Seem Late spring definitely produces some mighty wet moments – but these clouds can be different
Like Day and Night on Oregon Coast: Two Different Sides of Depoe Bay, Silver Point The overlooks near Cannon Beach and the little town down south have intriguing, different looks
Heat, Fire Advisories for Oregon / Washington Coast, 100-Degree Heatwave Inland Variety of heat and fire watches even for S. Wash coast through Brookings
Seagulls Don't Exist on Oregon / Washington Coast - Just Gulls (About Western Gull) It's perhaps the biggest misnomer used on the Oregon coast or Washington coast: the term seagull
Lewis & Clark Return to North Oregon Coast, Live on the Beach Seaside's Avenue U and Prom intersection on September 12 and 13
Sami the Sea Lion Returns to Central Oregon Coast's Florence for Hide 'n Seek A way for shoppers to peruse the village while socially-distanced and properly-masked
Amid More Trash: Pack Out Your Garbage, Say Oregon Coast Officials Some concern over the new kinds of trash left along beaches and how it's piling up around dumpsters
Updates on Crabbing, Clamming from Washington, Oregon Coast Part of Wash resumes crabbing; southern Oregon coast resumes razor clamming
The Monster of Manzanita and Other Fright Night Sights on Oregon Coast A few jolts in the night: the frights have turned out to be vastly amusing tales
Coos Bay's Czarina Shipwreck a Heart-wrenching Oregon Coast Tale The Czarina made it through the bar and almost past the jetties when it began to falter
Newport's Oregon Coast Aquarium to Open Up After Five-Month Closure August 10 it will finally open back up with five outdoor exhibits
60 or More Meteors Per Hour Next Week for Oregon, Washington Coast Pacific Northwest will get to see the peak on the mornings of August 11, 12 and 13
Those Tiny Places on Oregon Coast You Might've Missed: Florence, Manzanita, Warrenton The sites and delights you can accidentally drive past far outnumber the stuff you see
From Dramatic Chaos to Labyrinth Beaches: Around Yachats, Oregon Coast; Video It's a little like 20 miles of hidden spots from here to Florence
December 2006: the Massive, Deadly Storm a Year Before the Big One Until that time, the storm of 1995 was the yardstick by which all Oregon coast storms were measured. That changed on December 14, 2006
Tuesday Night Outdoor Markets Liven Up Oregon Coast's Lincoln City A variety of vendors from the Oregon coast including baked goods, soaps, produce, hand-crafted gifts and hot food
Deeper Inside Cape Kiwanda: Ancient Details, Fallen Arches on N. Oregon Coast Cape Kiwanda is the centerpiece but there's more getting revealed
Virtual Workshops Bring Together Art and Science of Oregon Coast Marine Reserves Workshops where participants will learn about special ocean habitats and creatures while creating art
Three Unique, Even Trippy Aspects of Seaside on N. Oregon Coast A Ferris wheel, when the cove fell apart, what's under Seaside
Manzanita in Summer: Wider Beaches, Glowing Things, a Different Face of N. Oregon Coast There's a whole new face to this north Oregon coast treasure, more than you likely know
The Mystery of Purple Waves on Oregon Coast Back in 2015 The whole strange science tale has another twist at its end, too
New Lincoln City Drive-In Brings Classic Experience to Central Oregon Coast Drive-In Series of classic movies on Saturday evenings through August 29th
Summer's Unique Sights at Cannon Beach, a Changing Oregon Coast Distinctive aspects that pop into existence, and Cannon Beach has its own brand of wild surprises
Delights of Depoe Bay: So Much to Explore in Central Oregon Coast Burgh About a dozen little nooks 'n crannies hidden throughout the city limits and just either side of it
Seaside On A Winter's Night, An Ethereal N. Oregon Coast Drama Exploring sometimes means doing so in times of the day or moment that would be considered unusual
Near 100, Heat Advisory for Oregon, Washington - Coast (Mostly) Cooler Temperatures expected in the upper 90s and possibly up to 100 degrees
Pacific City's New Private Adventures Dig Into N. Oregon Coast Outdoors One hotel is now offering up private adventures for outdoor enthusiasts who want a different take on the area
Oregon Coast's Mega-Cool Holiday Beach Near Newport - What You Don't Know Technically, it's called Holiday Beach there's no signage anywhere near it
The Whimbrel of Oregon / Washington Coast Typified by that unique, skinny bill and a patterened brown color scheme
N. Oregon Coast: Haystack Rock Photo Contest, Seaside Beach Cleanup Cleaning Seaside beaches and shutters clicking at Cannon Beach's Haystack Rock
Sand Levels Currently High on Oregon Coast, Broader Beaches, New Access All across the coastline, sand levels are doing some intriguing things at the moment
Baby Seal Swims Up Seaside River, Charms N. Oregon Coast Visitors; Video One adorable critter wandered downtown waterways early Sunday morning and charmed the heck out of visitors
Reopened on Central Oregon Coast: Florence Chamber / Visitors Center The visitors center is open with limited hours and the schedules will vary
A Rugged Time Travel Through Layered Wonders at Fort Stevens, N. Oregon Coast It's hard to find one single area so steeped in Oregon coast history
Major Heatwave Coming, Where to Run to on Oregon / Washington Coasts A run of heatwaves will be hitting the Pacific Northwest, especially Oregon, while parts of the Washington coast and Oregon coast will be heating up
Tiny and See-Through on the Oregon Coast: Adorable but Eerie They go through this stage early in life, becoming eerily transparent but with a dash of blue
Oregon Coast Hotspots That Go Back Farther Than You'd Imagine The past lives of Astoria, Coos Bay and Newport have a few surprises
Constant Killer Views of Three Capes You Don't Know on N. Oregon Coast, Video Yet there's much more to this than Pacific City, Oceanside, Netarts
N. Oregon Coast's Tillamook County Opens Campgrounds to Online Reservations Tillamook County recently announced a limited amount of campsites
UPDATE: Comet NEOWISE Visible on Washington, Oregon Coast, Western Side It could well be visible from Brookings to Seaside all the way up through the Olympic Peninsula
Rarity of Oregon / Washington Coast: the Trippy Mola Mola / Sunfish (Video) Occasionally the kooky, large, semi-round fish wanders north
Adorable Wild Seals Visible Around S. Oregon Coast Now Cape Arago and Shore Acres hold plenty of wildlife sightings
Three Awesome, Unknown Aspects of Oceanside, N. Oregon Coast Video For such a tiny town, the village of Oceanside is crammed full of intriguing details and finds
Razor Clamming Closed in Two Parts of Oregon Coast Razor clamming is closed from Seaside to Astoria; and from Arago southward
Bioluminescent Phytoplankton: What Makes Glowing Sand On Oregon Coast, Washington One of the more treasured, wondrous and surreal experiences you can have is 'glowing sand' at night. See the real science
Tornado, WWII Submarines and Motor Lodge: Oregon Coast Inns With A Past A full dive into living Oregon coast history is a refreshing thing. Yet it's rare.
Wrecking the Peter Iredale: How Oregon Coast History Played Out in 1906 The wee hours of October 25 were wild and stormy, and they were certainly chaotic if you were out to sea
Popular Yet Layered on Oregon Coast Like a treasure hunt, there's more to your favorite spot than meets the eye
Sneaker Wave Threat for South Oregon Coast Over Fourth of July NWS issued a beach hazards statement for south coast beaches from about Reedsport southward
Waves That Go the Wrong Direction: Weird Oregon / Washington Coast Science The foam is heading outward, towards the sea, instead of towards land
Officials: No Fireworks on Oregon Beaches; Washington Coast Rules, Concerns All types are illegal on Oregon beaches, on the Washington coast there is a worry of plastic debris
Tourism In Manzanita In 1914 A Rugged But Enticing N. Oregon Coast Adventure Manzanita and northern Tillamook County were just getting discovered and coming into their own
Unique But Subtle Lunar Eclipse on the 4th for Oregon, Washington Coast It's called a penumbral lunar eclipse, meaning only the edge of the moon will get affected
Video: Two Fun and Weird Facts About Weather and the Sun on Oregon, Washington Coast What happens in fall on the beaches and what the sun does will surprise
Romance of Night and Day at Nye Beach, Central Oregon Coast Over 100 years ago, Newport's Nye Beach was known as the 'honeymoon capitol' of the world
Garibaldi Mystery Answered: Historic Boathouse in N. Oregon Coast's Tillamook Bay Just what is that building practically in the middle of one north Oregon coast bay?
UPDATE: Masks Now Required in Parts of Oregon Coast, All of Washington Face masks are now required in at least one area of the Oregon coast and throughout the Washington coast
Four Wonders of Nehalem Bay - Eye-popping, Even Surreal N. Oregon Coast A lot of people aren't paying attention as they zip through the tiny towns of Wheeler and Nehalem
Three Different Rocks With One Name on Oregon Coast: Bandon, Pacific City, Cannon Beach The truth is there are actually three Haystack Rocks on these shores
Funky, Freaky and Adorable is One Oregon/Washington Coast Fishie Described as being like a ping pong ball in the water, a golf ball or a fat little helicopter
Yachats Life In 1920s: A Rough But Quirky Oregon Coast This was a time when the town was slowly switching gears from being a pioneer settlement to a tourism destination
No Sizzle Now Drizzle for Washington, Oregon Coast on Solstice; S. Coast in 80s Rain for the weekend but a warm week on beaches; south coast in 80s
Soaring Highs of Cape Perpetua: Central Oregon Coast Scares, Sights - Video At 800 feet high, Cape Perpetua literally soars above the central Oregon coast
Where the Land and Road Ends at Lincoln City, Central Oregon Coast At the north end where the real surprises often lie
Gigantic in Garibaldi: Looming Legends of Tiny Oregon Coast Town A visual walk down history of the smokestack, the giant G and something else
Saturday Sizzles for Oregon, Washington, Coastlines - and It's Summer Solstice Where astronomy meets a small heatwave for the longest day of the year
Yes, There Is Now an Exploding Whale Park in Florence, Oregon Coast It was opened up officially last year as Siuslaw River Beach Access Park, and recently acquired the new name
Ghosts of Siletz Bay: Oregon Coast Shipwreck Appeared Sometimes There has long been talk of something paranormal lurking in the waters of Lincoln City
Curious (Even Dopey) Structures in Oregon Coast History Weird finds in Pacific City, Oceanside, Newport and Seaside
Some Surf Bubbles On Oregon / Washington Coast Not What They Seem: Surprising Science A lone bubble sitting a ways from the tideline could be special
Rockaway Beach In A Whole New Light: Oregon Coast After Dark As darkness begins to fall, other visual treats of Rockaway Beach arrive
Think You Know the Oregon Coast Village of Arch Cape? (Video) From its history to its weird geology along with the natural nooks 'n crannies
If You're Wondering About All Those Dead Crabs on Oregon / Washington Coast This happens in the spring and then again late summer, usually with more of them
More Oregon Coast Parks Open, One Area Backtracks Reopening However, the Newport area is holding back on three county parks reopening because of a large-scale surge in COVID-19
Cannon Beach Sandcastle Contest Goes Virtual Instead - Beyond Oregon Coast One of the Oregon coast's largest and most beloved events has been canceled – at least in its usual form
Two Places to Find Real Alone Time on N. Oregon Coast, Tillamook County On that interesting borderline of Lincoln County there are two spots you may want to think about
Robust Clubhook Squid: Freaky Fish of Washington, Oregon Coast Not a lot is certain about their population, except that the robust clubhook squid (Onykia robusta) is found in deeper waters
More N. Oregon Coast State Parks Open Friday More state parks will be opening up on Friday in both Clatsop and Tillamook counties
Video: N. Oregon Coast's Manzanita and Its Deeper Layers, Varied Colors Paradoxically, it was a popular secret. Still steeped in layers of history, attractions
Razor Clamming Resumes on South Central Oregon Coast All areas of the Oregon coast from the Columbia River southward to Cape Arago (near Coos Bay)
Washington / Oregon Coast: Gray Whale Carcass Strands at Long Beach Seaside Aquarium responded to a beached whale on the southern Washington coast, discovering a 37-foot male Gray whale
Oregon Coast Unexplained Part Two - Almost Paranormal Ghost tales and creepy discoveries in Seaside, Cannon Beach, Lincoln City, Depoe Bay, Coos Bay, Pacific City, Manzanita
Don't Kidnap Wildlife, Say Oregon and Coastal Officials Visitors are getting outside just in time to encounter newborn fawns, elk and other kinds of wildlife
More Oregon Coast Cancellations Include July 4th, Shore Acres Lights Some as far out as December already getting the ax
State Parks Begin Opening Limited Camping, Including Oregon Coast Most of these open June 9, but some are available now.
When the Oregon Coast Is Stranger Than Fiction: the Unexplained (Part One) It all started with weird science, veered into ghost stories for awhile, now it's back to more remarkable science
Record Travel Industry Growth on Oregon Coast Halted by COVID Shutdowns
Officials Seek Public Input on N. Oregon Coast Fish Passage Issues Three culverts that failed on the northern half of the Oregon coast have triggered emergency conditions
Pandemic Shutdowns Deal Hardest Blow to Travel Industry, Oregon Coast Oregon had its tenth consecutive year of travel industry growth in 2019
Almost Haunted Oregon Coast: Yaquina Bay Lighthouse Lore and Legends, Part 2 The Oregon coast town with two lighthouses has a rich history, and one of those lighthouses has quite the storied past
Landmarks and Legends of an Oregon Coast Lighthouse, Newport's Yaquina Bay, Part I A meandering history of the public struggles that took it from dilapidated to lauded
Oregon Coast Opens Up Crabbing to Everyone, Clamming Not Yet previously it had been restricted to only Oregonians
Washington Coast Waters Open to Crabbing, Fishing May 26 Waters will reopen for fishing with crabbing on the Washington side of the Columbia River restarting that day as well
Oregon Officials: Stay Home for Holiday and Away from Coast; Camping Announcements Stay close to home is the message, and this means keeping clear of other major attractions far from home such as the Columbia River Gorge
Random Oregon Coast History Photos: The Tales They Tell a sampling of fun little snippets of these beaches, taking you from Seaside down to Bandon
Depoe Bay's Otter Crest Loop in Video, Images: Startlingly Cool Oregon Coast In that wild, almost dizzying stretch of forestland, soaring ocean vistas and twisting, turning roadway
$16 Million in Aid Set for Oregon Coast Marine Fishery Businesses ODFW anticipates some $16 million in federal aid will be available to Oregon's marine-related and coastal fishery sectors
Oregon Officials Say Stay Clear of Seal Pups Found on Coast This Time of Year These little guys need plenty of social distance; already two incidents of interference this month
Fur Seal Pup Rescued on N. Oregon Coast Headed for Happy Ending A young Guadalupe fur seal caused a bit of a stir on the now-empty Oregon coast this week
Cannon Beach Closes Beaches for Weekend; S. Oregon Coast Begins Slow Open Citing scofflaws and an upcoming heatwave, Cannon Beach closes beaches to locals and visitors
Update: Oregon Coast Closures Extended But Opening Plans Underway, Explained There are now officially no dates for opening, but the tone is perhaps a little more hopeful
Inland Washington State Parks Open This Week, Not Coast or Gorge More than 100 inland parks and properties run by the state agency will be resuming operations
Hug Point in Photos, Video: Truly Striking N. Oregon Coast Spot Near Cannon Beach A place full of history, intriguing sights and ancient science, simply overflowing
Seaside During Wartime: N. Oregon Coast WWII History It's the slice of life moments and small pieces from newspapers at the time that tell the most
Five Wowing, Head-Scratching Features of the Oregon Coast Hiding in plain sight or lurking in odd corners: Depoe Bay, Coos Bay, Manzanita, Pacific City, Neskowin, Cannon Beach
Ewww, 'Globsters' of Oregon / Washington Coast and Their Paranormal Past A particularly disgusting form of stranded whale corpse that has actually spawned odd legends
Florence's Rhody Fest: Famed Oregon Coast Event Goes Virtual It's the first time since World War II the event was canceled
What You're Doing Wrong with Birds on the Oregon Coast Didn't you learn anything from Hitchcock? Feeding the birds along the Oregon coast is seriously bad
May's Full Moon? Let's Supersize It: Washington, Oregon, Coastal Astronomy this time with the third and final supermoon of the year happening May 7
Rock Creek to Heceta: Two Miles of Deliriously Clandestine Oregon Coast In that rather secretive region of Lane County that stretches to near Yachats down to Florence
Tillamook County Tourism Businesses Continue Helping N. Oregon Coast Locals Tillamook Coast took note of their sacrifices and hardships recently
Manzanita's Wreck of the Glenesslin: Historical Oregon Coast Controversy It all happened in tiny Manzanita, even before the village had that name
Roads End at Lincoln City is Just the Beginning of Unique Oregon Coast Sights It's here where heaps of surprises lie, like Wizard Rock or the elusive cave
Unhappy News for Goonies Event, Fourth of July on N. Oregon Coast 4th of July in Seaside; Goonies event becomes virtual
Some Washington Coast Beaches Open in May; Oregon Coast Making Plans
Molting Elephant Seal Found on Oregon Coast - Painful Process There and at Washington Coast Every spring, molting season comes around for elephant seals along and it's never pretty
Part Two of Oregon Coast's 'Liger King': Tragic Run Ends Like 'Waco' One of the nation's most notorious and disturbing animal incidents was the climax of something that had begun two decades before on the Oregon coast
Oregon Coast Had Its Own 'Tiger King' in the '80s: Odd Newport History, Part 1 He was actually more of a Liger King – the man bred lions and tigers together to create larger cats
Practically Paranormal: Creepy Tales from N. Oregon Coast's Tillamook Rock Lighthouse in spite of its shining beacon guiding ships safely out at sea it was ripe for ghost stories
California Sea Cucumber Breathes Out of Its Butt: Weird Washington, Oregon Coast Science a truly weird mix of alien movie and punk rock aesthetics
Hiding in Plain Sight: Ocean Beach Picnic Area Near Florence, Oregon Coast
Ocean Beach Picnic Area an Overlooked Wonder on Central Oregon Coast Ocean Beach Picnic Area, about halfway between Yachats and Florence, is rich in diversions
Whale Carcass Buried After Landing on N. Oregon Coast Beach near Pacific City Beach rangers and a local contractor buried the whale on Monday
Lyrid Meteor Showers Peak Tonight: Oregon, Washington, Coast As many as 10 to 15 big darts of light per hour, but the weather doesn't look great
Stinky Whale Washes up on N. Oregon Coast Beach near Pacific City A camp host at the area discovered the corpse of a 39-foot gray whale
Satellite Swarms Create Otherworldly Light Shows Above Oregon, Washington, Coastlines Hordes of satellites are causing a stir around the planet
WHEN MIGHT OREGON COAST / WASHINGTON COAST REOPEN? Keep Checking Back Here for Updates
Last of Oregon Coast Towns Set Reopen Date; Beaches Update Astoria, Gearhart ands Warrenton to resume operations June 5. News on state parks
Oregon Coast State Parks Update: What Won't Open Some major beach parks won't open at all this summer, especially on the south coast
What's Open on Oregon Coast and What Isn't A good look at what has been brought back to life as of May 23, more restarts are inevitable
Lincoln County Opens Lodging Soon; Many Oregon Coast State Parks Now - Many beaches on the central and south coast allowing visitors again and Lincoln County opening up its lodgings starting around June 1
Tillamook County Lodgings, Seaside Beaches: N. Oregon Coast Slow Opening Beaches in Seaside (but logings); lodgings in Tillamook County (but not all beaches)
Celebrating Earth Day With the Oregon Coast - Virtually Mid Coast Watershed Council (MCWC) will go with a digital celebration that everyone can join in on
Bringing the Stars to You At Home: Washington, Oregon, Coastal Astronomy A number of mobile star maps, astronomy aids and other types of apps that bring the wonder of the stars down to Earth
Moon Aligns with Three Planets in Spectacular Show Above Washington, Oregon, Coast Look for the moon to make a wild little show in conjunction with the planets of our solar system
Video: Five Minutes of Oregon Coast Ocean Sound You Need Right Now Showing off a handful of spots along the coast and what they sound like
Seaside's Drastic, Startling Changes: Oregon Coast History, Part Two Seaside and the areas north of there have undergone some remarkable changes
Drastic Changes and Old Looks of Seaside: Oregon Coast History Part 1 All of Clatsop Beach from here northward was actually so dramatically different 150 years ago it's mind-boggling
French Rocker CharlElie Couture is America's Best Kept Secret: Oregon Coast Reviews Charlelie Couture (often going by CharlElie) is an enigmatic musical figure, a sort of Superman of vast genres
Adorable Tufted Puffins: One Visitor's Welcome Return to Oregon Coast, Washington Coast Every April, an adorable black, white and orange creature returns to the Oregon coast and Washington
Gearhart Shuts Down More Beaches During Weekend to Discourage Oregon Coast Sun-Seekers Clatsop County is temporarily closing more areas to help deter what could again be a flood of visitors
Free Days at Washington Coast State Parks Postponed State parks in Washington were set to have to free days in April, but officials in Olympia have postponed those
Oregon Coast Easter Egg Hunt Goes Virtual: Lincoln City Brings It To Locals April 11 at noon the event goes live on the Lincoln City Cultural Center Facebook page
The Other Insane Oregon Coast Storm: One Year Before the Great Gale In 2006, a massive storm was compared to the big one of 1995
Weird from Oregon Coast Archives: When They Found A Mutant Crab It was a crab with three pinchers on one of its arms – a kind of mutant crab no one at the Seaside Aquarium had ever seen
More Closures, Cancellations Along Oregon Coast, Washington Coast More features and events along the Oregon coast and Washington coast are dropping by the wayside
One Gnarly Big Supermoon in April for Oregon, Washington, Coast Oregon, Washington and their coastlines are about to get seriously mooned with an the largest supermoon of the year.
Oregon Coast Places That Don't Always Exist - Part II Two spots around Cannon Beach and another aspect of a Yachats landmark that just isn't the same year-round
Light Snow for Oregon, Washington, Coast Ranges; Frost Advisory No April Fool's joke: snow is in the cards for much of Oregon and Washington on Friday
Oregon Coast Places That Don't Always Exist - Part I Some areas or aspects of the Oregon coast may not exist and then almost rather they pop into being
Like Day and Night on Oregon Coast: Different Faces Just S. of Cannon Beach The changes and ethereal moods that take over a place after dark are startling and stark but always mesmerizing
Comet Y4 Could Be Bright Spot for Washington, Oregon Coasts - Portland to Seattle A comet called Y4 ATLAS could be the brightest thing in the skies in decades
Depoe Bay History: the Story Behind Some Oregon Coast Landmarks The aquarium, spouting horn, famed restaurants: a trip through time
Extremely Rare Find: Pacific Snake Eel on Oregon Coast Only the third time documented in Oregon, south coast; Washington coast last year
Looking Back: March '64 Tsunami That Wrecked Oregon Coast, Photos On March 27, 1964, it was anything but a good Friday when the infamous Good Friday quake hit Alaska
Chillin' in Retrospect: Oregon Coast in the Snow When snow does hit the Oregon coast it's always a grand entrance
BREAKING: No Tsunami Threat for Oregon, Washington Coast, Hawaii An updated special statement about an earthquake offshore from Russia, saying there is no threat
View Oregon Coast Whale Watch Week Online: Updated Daily (Orca Footage) Luckily, you can still watch them as you "shelter at home" and perhaps keep your sanity a little longer
When a Mysterious Shipwreck Popped Up Out of Nowhere: Oregon Coast History Ten years ago, a 100-year-old surprise popped up on the north Oregon coast, essentially forgotten by time
COVID-19 and Overcrowding Shut Down Much of Oregon Coast
Oregon Coast, Washington Slowly Close Down Beaches, Towns: Latest Shutdowns State parks around Oregon are shut down, some towns have closed themselves to tourists, with many beach accesses now closed off
Be at the Oregon Coast from Afar - Living It Vicariously There are indeed ways to check out these lovely beaches from afar – digitally
The Little Critter That Looks Like a Spaceship on Oregon / Washington Coast It's called the longnose skate: a dark, sleek and thin creature
Oregon Coast Closes Camping; Washington Halts Razor Clam Digs Three Oregon agencies temporarily shut down camping; razor clam digs stopped in Washington
Oregon State Park Officials: Latest on Coast, Inland, Trails, Facilities, COVID-19 Some parks will see reduced service to trash, restrooms, and other facilities like visitor centers
Four Unusual Oregon Coast Weather Phenomena Ever heard of a fog tsunami, flying foam or Novaya Zemlya?
Four Unusual Aspects of Seaside on N. Oregon Coast Sometimes it's in the past: others it's right out in the open and even beneath your feet
Cancellations Include Cleanup, Whale Week; Oregon Coast Official Statements Roundup of events cancelled or postponed, attraction closures, statements from visitor centers
Razor Clam Digs Approved on Washington Coast; Oregon Clamming Mostly Open Updates on Washington clamming and along the southern Oregon coast to northern half
Four Unique Thrills of N. Oregon Coast's Tillamook County: Video A mesmerizing mass of forested land and rollicking beaches that are stuffed with surprises. Pacific City, Oceanside, Tierra Dela Mr, Rockaway Beach, Manzanita events
Rarity in the Skies: Sun Pillar on Washington, Oregon Coast - Along With Supermoon
Rare Sun Pillar Wows Oregon, Washington Coast Along with Supermoon All up and down the coastlines, reports came in from as far south as Bandon up to southern Washington.
Rare Fish Encounters and Wacky Sea Lion: Washington, Oregon Coast Strange creatures in Garibaldi, Long Beach and a nutty sea lion in Newport
Depoe Bay Night Curiosities: Wild Sights of Nocturnal Oregon Coast When the night comes, it's something truly different, like an alternate universe version of these cajoling shores
Manzanita / Nehalem Bay: Secret Ways to Dig Into N. Oregon Coast Spring, Video How to look for something different in this unique and mesmerizing section of Oregon coast?
Unique Spring Tips for Oregon Coast's Lincoln City: 300 Extra Floats, Traffic, More A special story time for kids, an extra 300 more floats dropped on the beach, along with other aspects of nature
Supermoon for Washington, Oregon Coast: Major Fireballs Seen Get ready for an extra large moon in March, visible all over the Pacific Northwest, including the Washington coast and the Oregon coast
Freaky, Gooey Brown Waves Again on Washington, Oregon Coast, Video These are usually phytoplankton called diatoms, which are the most common form of these plant-like critters
Janthina / Violet Snails: Tiny, Rare Purple Weirdos of Oregon Coast Janthina janthina, otherwise known as the Violet Snail, Storm Snail or even just the common purple snail
S. Oregon Coast's Gold Beach Glass Float Drops Now 21 Years Old Gold Beach has their glass float give away, called the Beach Treasure Hunt in Gold Beach
Highlights of Spring Break on Oregon Coast: Whales, Magic, Even Ghosts From helping out the environment with the beach cleanup to whales, a magic fest and even ghosts
Sneaker Waves a Possibility Over Weekend on Oregon Coast, Washington Coast Words of caution for the northern half but no issues south
Insanely Cool Highlights of Three Capes Drive on N. Oregon Coast Three Capes, a lighthouse, four (or so) tiny villages, a rollicking set of dunes and more fun secrets and discoveries
WinterFest Warms Up N. Oregon Coast With Three Days of Music The little town of Nehalem gushing forth the entertainment on March 6 - 8
Depoe Bay's Boiler Bay State Scenic Viewpoint and Secrets: Oregon Coast Video Wanderings Boiler Bay isn't just a Mecca for wondrous sights and sites, it's a lot bigger than it looks
Oregon Coast's Influential, Tall Weirdos: Bull Kelp
Wacky Bull Kelp of Oregon Coast are Giant Algae - But What's That? A fascinating and funky gargantuan plant that holds a lot of fun secrets
UPDATE: N. Oregon Coast / Washington Coast High Surf Advisory Extended A high surf advisory for Sunday, bringing large, hazardous waves and dangerous surf conditions to the beaches of the northern half of the Oregon coast and the entire Washington coast.
Video: Seven Fantastic Details Along 130 Miles of Oregon Coastline Seven places with unheralded details to make your next trip an inquisitive and extra rewarding one
Southern Oregon Coast Range Resort Opens Early This Year This time around Loon Lake Lodge and RV Resort opens its doors on April 1
West Wind Tidal Treasures Possible; How Much More Sun on Oregon Coast Warm sun before the weekend storm, then more sun and tidal surprises
4.5 Quake Off Oregon Coast: No Damage or Tsunami Alert Early Wednesday afternoon, taking place almost 200 miles west of Bandon, Oregon
Lincoln City Beach Accesses with Something Different: Cooler, More Wondrous Oregon Coast Where the funky side streets end the coolest of the beach accesses may begin
Scientific Discoveries This Year at Cape Falcon Marine Reserve, N. Oregon Coast Scientific finds about crabs, sharks, birds and more happened near Manzanita
Weird Science of Rockaway Beach's Twin Rocks, N. Oregon Coast: Video Yes, it's lava - originally. But it has an unusual geological distinction
Washington Coast: Tentative Spring Razor Clam Dig Schedule Announced Managers are looking ahead to razor clam digs on ocean beaches for dates through April
Colorful Blobs Again on Oregon Coast, Bringing Some Surprises West winds brought in their predators and maybe Japanese glass floats
Free Crabbing, Clamming, Fishing on Oregon Coast This Weekend Free fishing, clamming or crabbing around the state, valid Saturday and Sunday, February 15 and 16
N. Oregon Coast Museum Talks: Bio Systems, Washington Coast History Two of the north Oregon coast's history museums dig deep into diverse subjects: Cannon Beach, Seaside
Great Romantic Spots, Ideas for Amore on the Oregon Coast Some spots host the power of love a little more than others; some pack an extra punch
N. Oregon Coast Fave Shut Down For Now: Ecola State Park at Cannon Beach Closed until further notice because the only road going into the area has been severely damaged
Oregon Coast Cleanup Date Released: March 28, Needs Volunteers
SOLVE Now Accepting Volunteers for Oregon Coast Cleanup, March 28 364 miles of coastline, with 45 locations needing people to give them a good scrub
Disturbing Newport Beach Find Like 'Breaking Bad' on Oregon Coast An illegal dump on a beach near Newport that was not only disturbingly unsightly but possibly chemically dangerous
High Surf Advisories, Flooding for Oregon Coast; Washington Coast, S. Coast Issues High surf advisories for N. Oregon coast and all of Washington, flooding advisory for N. coast
Washington Coast: Admiralty Head Lighthouse Closed for Renovation The iconic Admiralty Head Lighthouse near the outer Washington coast is going under the knife
N. Coast Culinary Fest Honors Famed Oregon Chef James Beard Cannon Beach plays host to a weekend of culinary arts and foodie wizardry
King Tides Return This Weekend to Oregon, Washington Coast; Warnings Possible Already exceptionally high tides look as if they'll be even larger because of some sizable wave action offshore
S. Oregon Coast Hazards Statement for Tues; King Tides This Weekend Southern Oregon coast under threat of sneaker waves on Tuesday and the entire coastline getting more king tides over the weekend
Lincoln City's Antique Week Uncovers Oregon Coast's Past February 8 through 17: scavenger hunt, history programs and even real Japanese glass floats are dropped
Confessions of an Angry Sea Cave: Colorful Silver Point on N. Oregon Coast A Photo Essay with Contributions from Tiffany Boothe of Seaside Aquarium: wild colors and maybe a small army of green gremlins
Western Hoedown Kicks Up Some Dust on Central Oregon Coast, Feb. 15 Florence Events Center will host the Western Hoedown on February 15, featuring music, dancing and good ol' American barbecue
Variety of Varietals at Savor Cannon Beach Wine & Culinary Fest, N. Oregon Coast Savor Cannon Beach Wine & Culinary Festival brings a unique wine tastings and culinary experiences to town on March 12 – 15
Oregon's Tillamook Coast and State Preservation Office Announce Grants, Criteria Extensive funding grants for tourism-related projects along the north coast; preservation, archaeology funds
S. Oregon Coast Surf Advisory Thursday; More Possible This Week A large helping of big wave action is coming to the Oregon coast over the next few days, with the southern coast under a high surf advisory
Four Hidden Vacation Gems and Finds of Seaside, Gearhart: Oregon Coast Insider's Tips Some of the best goodies get tucked away beneath the surface in Gearhart and Seaside
Bandon Crab Fest Party Adds a Second Day at New Southern Oregon Coast Favorite February 22 and 23 for the second annual Bandon Crab Fest, now extended as a two-day event
Sneaker Wave Dangers Sunday on Oregon, Washington Coast: How to Enjoy Large breakers and the substantial dangers of sneaker waves will be present
Four Unheralded, Wowing Wonders of Depoe Bay: Central Oregon Coast There's so much to this little town you couldn't explore it all in one day: whales, hidden viewpoints, surprises
Central Oregon Coast History Museum Takes It Up a Notch in February Some new features, a new exhibit and a talk are all winter highlights at the North Lincoln County Historical Museum in Lincoln City
King Tides and Oregon Coast Citizen Science Events at Yachats, Florence King tides and other forms of citizen science will be the focus of two events later in January
S. Oregon Coast's Charleston Features Annual Crab Shindig Feb. 8 The little place with the big marina on the southern Oregon coast gets rather crabby about this time of year
Water Spout and Confirmed Tornado Today on Oregon Coast: Some Damage A water spout appeared off Depoe Bay and what is still is now a onfirmed tornado touched down in Manzanita
Storms Deposit Oddities like Sea Cucumber, Velella onto Oregon Coast Unique creatures have popped up, including the famed velella velella and a weird little critter that looks like a worm but isn't
Release the Crab Krackin' on Central Oregon Coast: Feb. 9 in Newport Newport's absolutely fab annual Crab Krack happens on Sunday, February 9
Star Trek / Seinfeld Actor and Orca Talk on N. Oregon Coast Liz Cole appears in a play, and a talk on killer whales
Coming Up: Learn About Haystack Rock or Clean Up an Oregon Coast Beach Kick back and take in a brew while listening to some engaging history about a famous Cannon Beach rock, or get out there and make a difference after the recent wild tides
Washington Coast Opens Up Six-Day Razor Clam Digs Jan. 21 Fans of clams and the Washington coast are in for a treat this week
Keep an Eye Out for Stranded Sea Turtles on Oregon Coast, Washington Beaches
Why Do So Many Ignore Oregon Coast Wave Warnings? Answer is Uneasy Reality When the big waves come, so does a tsunami of viral videos of bad behavior
Oregon Coast Passes Snow Advisories; Frost, Wind Warning on South Coast A winter weather advisory for the coast range pass highways and the southern Oregon coast has a frost advisory and a high wind warning
Getting the Message to Oregon Coast Storm Watchers: Why It's Not Working
Some Snow, Winter Advisories for Portland, S. Washington, Oregon Coast Range The higher elevations of the Oregon Coast Range are already seeing about an inch of accumulation
At Least One Death on Oregon Coast; Astounding Wave Videos Captured
Oregon Coast Road Work, Delays at Astoria, Cannon Beach Road and bridge work on the north Oregon coast will be causing some delays for residents and travelers
Oregon Coast Storm Roundup: Wild Videos, Waves Turn Deadly
Astounding Video of Massive Waves; Child Missing in Surf on Oregon Coast Saturday's storm action produced some astounding video and images, but it also proved possibly deadly for one group
Oregon Coast Surf Warnings Extended: Beach Closures, No Glass Floats
Surf Warnings for Oregon Coast Include 30-foot Waves, Beach Closures, Glass Floats Nixed
New Surf Warnings for Oregon Coast; What's Closed Down, Video 28 to 35-ft waves breaking onshore, some beach closures
Oregon and Washington Coasts: Mix of Surf, Wind, Flood Warnings, Chance of Snow King tides combined with huge swells mean extra danger; flood issues, snow
Snow Possibilities for Portland, Oregon-Washington Coasts; High Wind Watch North There is a chance of snow in lowland Oregon and Washington, including Portland, the valley, the northern Oregon coast and the southern Oregon coast
Warm Currents Fool and Kill Another Sea Turtle on N. Oregon Coast The Loggerhead turtle was found at Sunset Beach with one flippter stuck in netting
30-foot Swells Offshore Spell Troubling Weekend for Oregon Coast, Washington Coast This weekend is three days of King Tides for the Oregon coast, which means some walloping waves and dangerous conditions
Oregon Coast Scenic Railroad: Updates, Schedules, Historic Train Rides Updated constantly: news, updates, schedules of Garibaldi's historic train rides
Three Capes Winter Top Ten: Wild at Oceanside, Pacific City, N. Oregon Coast where Oceanside, Tierra Del Mar, Neskowin and Pacific City meet with the Tillamook Bay and Garibaldi
SOLVE Looks Back at 50 Years of Cleaning Oregon Coast, Inland State 2019 was its 50th year in existence, and the organization said it's looking back with a sense of pride
Oregon Coast Wind Warnings; Warnings, Advisories for Washington Coast The northern half of the Oregon coast and southern third of the Washington coast are both under a high wind warning
Weird Little Fish Found on S. Washington Coast, Near Oregon A fish called finescale triggerfish (Balistes polylepis), which is almost never seen this far north
Astounding Storms Sights of Oregon Coast, Washington Coast Looking for a preview of and hints for insane ocean action? Here are some of the most sensational places
Moon Jellies Over Manzanita: Tides Bring Translucent Finds to Oregon Coast Look for weird beach finds as soon as this run of tidal surges is done on the north / south coast, Washington coast
Massive Waves for Oregon Coast, S. Washington: Advisories Through Jan. 2
Surf Advisories, 24-foot Breakers for Washington, Oregon Coast New Year's Day Dangerous conditions on beaches through New Year's Day and beyond for south coast to Washington coast
Newport Winter Top Ten: Best of the Season, Oregon Coast This one is a metropolis for the coastline, with a mind-bending array of stuff to do in winter
Six Things They Don't Tell You About Oregon Coast Whale Watch Week Whale behaviors, secret ways to spot them, special places
Literary Series Returns to Central Oregon Coast's Lincoln City Oregon Legacy returns to the Lincoln County community on four Sunday afternoons in February 2020
Series of Surf Dangers Along Oregon Coast
Officials Warn of Sneaker Wave Dangers Over Weekend at Washington Coast, Oregon Coast
Sneaker Wave Dangers Likely for All of Oregon, Washington Coasts A warning that dangerous sneaker waves are very possible along Pacific Northwest beaches over the weekend
Oregon Coast Dungeness Crabbing Reopens on New Year's Eve Oregon restaurants and consumers will be happy once more as the tasty coastal delicacy returns to menus and seafood vendors
Top Ten Winter Wonders of N. Oregon Coast's Manzanita, Rockaway Beach, Nehalem Bay Secrets of the towns that flank Nehalem Bay: Manzanita, Wheeler, Nehalem and Rockaway Beach
Cannon Beach Events Look at Future of Oregon Coast and Its Stormy Past A lecture on the future of the coast and one on its past
N. Oregon Coast Preview: Seaside, Cannon Beach, Astoria Winter Events Cannon Beach, Seaside and Astoria events for winter
First Day Hikes on Oregon Coast a Special Event for New Year's Day 37 hikes in 31 parks are part of this year's First Day Hikes, including the south coast and inland state
State Officials Open Up Areas of Washington Coast to Crabbing, Razor Clams Good news is in store for Washington coast clam diggers and crabbers
High Winds, Flooding, High Surf to Rough Up Oregon Coast, Washington Coast A gnarly set of storm conditions are coming to the entire Oregon coast and southern Washington over the next day or two
Top Ten Winter Wonders of Lincoln City: What They Don't Tell You About Oregon Coast Winter on the Oregon coast has its obvious pleasures and its slightly hidden ones
Ramp Repair at Cape Kiwanda Delayed Until Next Oregon Coast Storm The iconic ramp at Cape Kiwanda in Pacific City was closed late last week
Oregon Coast Whale Watch Week Spreads to Two States, Over 360 Miles The peak of it happens at the end of the month with Winter Whale Watch Week, December 27 – 31
Oregon Coast Dunes Rec Area in Trouble, Releases Video Just south of Florence, invasive species planted long ago are slowly, literally choking the dunes to death
Florence and Yachats Winter Events: Central Oregon Coast Preview Yachats rides high with its winter celebration and the holidays, and Florence washes out the blues with music
Oregon Coast Closures: Razor Clamming Shut Down, Cape Kiwanda Ramp Entire region closed to razor clamming, ramp at Cape Kiwanda in Pacific City is closed down indefinitely
Cannon Beach Winter Top Ten: Oregon Coast Insider Tips Winter on these beaches is a singularly intense endeavor where adventure can be found at just about every turn
An Oregon Coast Winter Glow: Seasonal Warmth in Lincoln City Events Lincoln City Cultural Center (LCCC) and the North Lincoln County Historical Museum get especially warm and cozy
New Surf Advisories, Dangers for All Oregon Coast, South Washington Coast - Video Some places may get waves as high as 25 feet onshore
South Oregon Coast Surf Advisory, Big Waves Northern Half Waves as large as 25 feet breaking on the beaches of places like Bandon
S Oregon Coast Park Begins Camping Reservations; Ecola Closes for Two Days Bullards Beach State Park at Bandon on the south coast; Ecola State Park, Cannon Beach
Winter Events in Newport, Depoe Bay: Central Oregon Coast Preview Around Depoe Bay and Newport, it's more than just the holidays this winter on the central Oregon coast
Gemind Meteors Brightest of Year: Will Oregon, Washington Coast See Them? Portland, Pendleton, Seattle and Eugene and along the beaches it will peak on December 13 and 14
New Oregon Coast Tradition Lights Up a Lincoln City Dock The renovated dock at Taft is lit up by a festive display and aglow
Manzanita, Garibaldi, Rockaway Beach, Pacific City: N. Oregon Coast Winter Fun - A lot happens in Manzanita, Nehalem, Wheeler, Rockaway Beach, Tillamook and Pacific City.
Winter Events of Lincoln City: Central Oregon Coast Preview Glass floats, lots of music, food and theater events
Depoe Bay Celebrates Filming of One Flew Over the Cuckoo's Nest on Oregon Coast Oregon Film will commemorate the town's contribution to the quirky flick on December 19
Lincoln City's Whistling Winds - Wacky Oregon Coast History of a Quaint Motel Like all of Whistling Winds, my room is a gloriously all Earth tones, covered in that fine polished wood that makes it feel like a fancy hotel
Cyber Monday Goes to the Oregon Coast: Unique Gifts Online
Oregon Coast Cyber Monday: Unique Beachy Finds Online Gifts of the coast to your loved ones, many possibilities you probably didn't know about
Little Log Museum in Yachats Hosts Benefit Concerts: Central Oregon Coast The concerts to help raise funds toward the rebuilding of the historical and iconic structure
Snow Advisories for Oregon Coast Range Passes, S. Washington Coast Passes From 10 p.m. Saturday to 10 a.m. Sunday caution is urged while driving the passes
Snow, Freezing Rain for Oregon Coast Range, Portland, Salem; Freeze Warning South Coast Valley and Coast Range snow, southern coast freee, chilly north coast, Washington coast
Special Occasion Giant Sand Designs Offered by Oregon Coast Inn, Now Lincoln City Legend They offer them up to guests for special occasions, creating a truly individualistic spotlight for a loved one
Florence Winter Music Fest Lights Up Central Oregon Coast in January The Florence Winter Music Festival takes over the town on January 24 – 26
S. Oregon Coast Hit with Heavy Winds, Waves; Southern Oregon Major Snow Storm Gusts up to 90 mph in some places, 35-foot waves, snow in the passes and on southern I-5
Cannon Beach's Haystack Holidays Lights Up N. Oregon Coast Yuletide celebrations that take you from music to lights to engaging and different ways to shop
Wine Country Thanksgiving: from Oregon Coast Range to Portland to Eugene Nov. 29 through Dec. 1, Oregon Wine Country Thanksgiving is found in Yamhill wine country, Willamette Valley, Portland, the I-5 Corridor, Corvallis, Eugene
Oregon Coast Gets Sneakers Waves; Snow in Passes, Portland, Valley
Sneaker Waves for Oregon Coast; Snow in Passes, Portland, Eugene Snow in the valley, coast range, and sneaker waves for the Oregon coast vague possibility of snow on beaches)
That Weird Meteor Storm Tonight: Seattle, Portland, Oregon and Washington Coast Washington coast, Oregon coast, along with inland areas like Seattle, Yakima, Portland, Medford and Pendleton
Nearly Half a Million Holiday Lights at South Oregon Coast Event Hands down the largest display on the Oregon coast takes place throughout December at Coos Bay's Shore Acres State Park
Holiday Weekends on Central Oregon Coast: Florence Gets Creative, Yummy A tasty new holiday tradition begins on the central Oregon coast with the Cocoa, Cookie and Cider Trail
A Sea of Lights Will Surround Newport's Oregon Coast Aquarium Your fave sea creatures float about you in the form of thousands of colorful points of lights
Four Quirky, Kooky Moments of Oregon Coast History A skeleton, a shipwreck, tornado and a rogue sea lion
Late Fall Fun on Oregon Coast: Tidepools, Birds, Mammal Spotting A bevy of beachy stuff awaits from the south coast to the Washington coast
Holidays at Seaside Aquarium: Feed the Seals, Feed N. Oregon Coast Families Patrons can pay admission to the Seaside Aquarium with two cans of food per person
N. Oregon Coast Holidays: Cannon Beach Museum, Downtown Parties Cannon Beach provides plenty of interesting yuletide distractions
Central Oregon Coast Holidays Kick Off with Lincoln City Tree Lighting family ornament workshop, cookies and hot chocolate, festive choral music, a visit with Santa
Wacky Oregon Coast History: Nov. 12 is Happy Exploding Whale Day, New Facts More tidbits about the incident, the clip and its future
Major Meteor Shower Could Hit West Coast, Oregon, Washington An enormous but short burst of activity of especially bright meteors
Lion's Mane Jellyfish: Something Ouchy on Oregon Coast Lately Seaside Aquarium this week reporting seeing some Lion's Mane Jellyfish on the north coast
Holidays and Book Fair Approach on N. Oregon Coast: Tillamook, Seaside Mook Book Fair in Tillamook, Gingerbread Tea in Seaside
Oregon Coast King Tides Project Kickoff Party, Photogs Needed With the first king tides coming up November 25 - 27
Animal Planet Star of Crikey! It's the Irwins Films at Oregon Coast Aquarium Bindi Irwin of the showed up in Newport in a segment airing Nov. 23
Now You Can Adopt a Beach on Oregon Coast Through SOLVE a new program where individuals or groups can adopt a beach and help take care of it
Portland, Oregon Coast, Washington Get View of Transit of Mercury The transit of Mercury will happen in the Pacific Northwest starting a couple hours before sunrise
Warning: Do Not Pick Up Sea Turtles on Oregon, Washington Coast Just like the spring and summer with baby seals on the Oregon coast, this season is about stranded sea turtles
Digging Deeper Into Rockaway Beach: North Oregon Coast Quirky to Cool The delights are in the details - and the unknowns
Three Incredible Room Views of Lincoln City, Central Oregon Coast Insider's Tips Three gorgeous views to be had and the little surprises you may find
Newport: Oregon Coast Aquarium Honors Vets; Nye Beach Banner Auction Nye Beach art in bold colors; aquarium offers free admission to vets and their families
Park Closure at Cannon Beach, N. Oregon Coast; Central Coast Holidays with History Lincoln City's history museum gets cheery; Ecola State Park shuts down for four days
Special Veteran's Day Performance of Kastalsky's 'Requiem' on Central Oregon Coast This triumphant tribute was never performed during the Soviet era, but it's making its way to Lincoln City
Wild Things Embedded in the Rocks of Oregon Coast: Fossils Ahead and Below All sorts of ancient life forms lurk beneath the beaches, and sometimes in the cliff walls
Bigtime Expansions for Two Central Oregon Coast Lodgings: Lincoln City, Newport Coho Oceanfront Lodge in Lincoln City and the Nye Beach Condos & Cottages vacation rentals biz in Newport
Above the Oregon, Washington Coast: Halloween is in the Stars as Well More to Halloween than just spooks and candy: it's an astronomical event
An Oregon Coast Legend: Depoe Bay's Tidal Raves Makes Further Waves a tsunami of culinary pleasures that it makes waves elsewhere
Explanations of Neskowin Ghost Forest Wrong, Say Oregon Coast Geologists Those inimitable and freaky stumps of mystery are subject of rumor and bad info
Trippiest Sea Caves of the Oregon Coast Weird secrets of Cannon Beach, Oceanside, Yachats, Florence
Cannon Beach's Bandage Man a Spooky, Goofy Oregon Coast Lore for Decades A bandaged and bloodied figure haunting the roads near Cannon Beach and its forests
Oregon Coast Aquarium Provides Home to Marine Life Left Behind, Seeks Update Funds for a remodel; giving a home to creatures left by a closed facility
Washington and Oregon Coast: Warm Temps, Possible Aurora Borealis Lots of sun and warm temps are in store for the Oregon coast, south coast and the Washington coast
Tiny Velella Velella and Intriguing Birds Latest Oregon Coast Finds A variety of injured birds needed help, and those potentially-stinky velella velella showed up as well
N. Oregon Coast's Nehalem Gets Raucous with Theater Production November 1 - 10 at the NCRD Performing Arts Center
Two Irresistible Cannon Beach Finds, Little N. Oregon Coast Lodging Legends Wayside Inn and Schooner's Cove Inn are two Cannon Beach lodging powerhouses
Central Oregon Coast: Florence, Yachats Events Preview A load of music, theater, art, Halloween and even some mind-bending science
N. Oregon Coast's Seaside Prom Turns 100 Soon; Grant Money Awarded The Visitor Bureau was just awarded $14,590 in grant funding
Central Oregon Coast Highlights: Vintage Trailers in Florence, Yachats Celtic Fest
Oregon and Washington Coast Hit by Massive Waves, Some Mishaps; Video 20 to 25-foot waves clawed at the entirety of the Oregon coast and much of Washington
N. Oregon Coast Events Look into Tufted Puffin, Rocky Shores
Wild Breakers Hit Oregon Coast Thursday: Gallery, Video waves up to 25 feet are possible, and a high surf advisory is in effect
Celtic Fest and Vintage Trailers Take Over Central Oregon Coast Vintage Trailer Rally in Florence this weekend and Yachats Celtic Fest in Nov
Oregon, Washington Coast High Surf Advisories Big waves are headed for the Oregon coast but the southern half will get the brunt of it
Cutting Edge Archaeology Subject of N. Oregon Coast Event Each year the Cannon Beach History Center & Museum partners with the Archaeological Institute of America
Central Oregon Coast's Newport, Depoe Bay in Fall
Washington Coast, Oregon Coast: Biggest Waves Since Spring Expected, Video Combined seas of up to 20 feet or more are possible by Wednesday
Two Major Oregon Coast State Parks Undergo Work, Some Closures Sunset Beach State Recreation Site near Seaside, Fort Stevens State Park near Astoria and Ecola State Park at Cannon Beach
Five Amazing Guided Foraging Adventures of South Oregon's Live Culture Coast Outdoors foraging and hiking events, which come in eye-popping varieties and combinations
Halloween Into Holidays: N. Oregon Coast Preview, Astoria, Cannon Beach, Seaside what you shouldn't miss in the next two months, with a sneak preview of sprawling holiday events
Some Serious Swing on Central Oregon Coast: Big Band Dance in Lincoln City Lincoln City Cultural Center hosts a Big Band Dance on Saturday, October 12
Somewhat Rare Mola Molas / Sunfish Spotted Off Oregon Coast - Video Seen in the waters off Cape Falcon (near Manzanita) and off Otter Rock (near Depoe Bay)
Central Oregon Coast Preview: Lincoln City Glass Floats, Halloween, Snoop Dogg Food, theater, Celtic music, plenty of Halloween stuff
Second Summer Weather Returns to Oregon Coast This Week It's been a lackluster September for that famed and coveted phenomenon
Razor Clamming Reopens Along Entire Oregon Coast The annual conservation closure on the N. coast and a problem on the south coast are over
Scores of Dead Birds on Oregon Coast - Why? In fact, it isn't a mass die-off at all
Curiosities of Yachats and Squirty Surprises, Oregon Coast; Video The place has its secrets. There's more to this engaging area than meets the eye
Florence Wine and Chowder Trail Livens Up Central Oregon Coast October 11 to 13 also brings glass floats, wiener dog races
Great Columbia Crossing Readies to Wow N. Oregon Coast, Almost at Capacity The event hits Astoria and closes the bridge on Oct 13
Outdoor Walk Events Spotlight Unique Aspects of N. Oregon Coast's Tillamook County A guided walk near Tillamook, garden talks in Manzanita
Cannon Beach's CBVR: 20 Years an Oregon Coast Rental Hotspot Cannon Beach Vacation Rentals' two decades of wonders and beach trivia
Southern Oregon Coast Latest: Harris Beach Closure, Live Culture Coast A major festival and the closure of a popular beach for almost two weeks
Two Intriguing Events in Oregon Coast's Lincoln City, Including Dia de Muertos special presentation on LGBTQ experience and a bit of Halloween with the Day of the Dead
Ten Days of Jazz, Blues on N. Oregon Coast, Cannon Beach to Manzanita October 3 to October 13 in different venues
Celebrate Glass Floats with a Gala Ball, Central Oregon Coast The 2020 season of Finders Keepers is kicking off in October, this time around featuring a celebration
Neskowin Valley Harvest Festival Brings Music, Food to N. Oregon Coast 37th Annual Neskowin Valley School Harvest Festival on October 5
Whale Sightings Through the Roof on Oregon Coast, Some Orcas A trend that is likely to continue for at least a few days
Fun Approach To Oregon Coast Rentals: Cannon Beach's Beachcomber Vacation Homes Beachcomber Vacation Homes has a come a long way, and it's well, making waves
Newport Features Oregon Coast Confessions, Bioblitz Talk A presentation about the concept of bioblitzing and an evening of wild storytelling
Five Beaches on Oregon Coast Under Health Advisories, Mostly South Newport's Nye Beach, Mill Beach, Hubbard Creek Beach and Sunset Bay State Park
What Fall Equinox Means for Oregon Coast, Portland on Monday The autumnal equinox happens Monday, September 23
Adorable Sea Otters Celebrated at Newport's Oregon Coast Aquarium September 28 is International Sea Otter Awareness Day at Newport's flagship attraction
Dark and Stormy Nights Return to Central Oregon Coast, Lincoln City 16th year for this event that's filled with fascinating personalities and spine-chilling tales
Sleek in Rockaway Beach: Oceanfront Secret of Oregon Coast's Tradewinds Motel Along a back road in the north Oregon coast hamlet of Rockaway Beach sits a motel that's a bit off the beaten track
Autumn Brings Star Parties and N. Oregon Coast History Program Two famed events happen on the Oregon coast and in the Coast Range
Early Storm for Oregon, Washington Coasts, Portland and Valley, Gusts Up to 30 special weather statement for southern Washington, the coastline, and parts of the Cascades down to Lane County
Cape Meares Lighthouse History and Its Future on Oregon Coast An interesting, even dramatic path: one of engineering feats, vandalism, recovery and an odd sight or two
Florence's Rods 'n Rhodies Returns to Oregon Coast Sept 13 - 15 your own personal episode of American Pickers
Most Oregon Coast Health Advisories Lifted: Rockaway, Neskowin, Newport, Seal Rock Five out of the six health advisories for the Oregon coast have been lifted
Depoe Bay's Spouting Horn - A Wild, Watery Oregon Coast Wonder It fires into the air abruptly, sending sea water 20, maybe 40 feet high without warning
The Basics and the Weird About Oregon Coast Sea Foam Sea foam is still a mystery to many people and it somehow creates the wrong impression
New Beach Water Warnings for Central Oregon Coast; Road Work Delays Agate Beach and Beverly Beach in Newport, as well as Seal Rock State Park Beach
Three New Oregon Coast Ocean Health Advisories: Neskowin, Rockaway, Lincoln City Stay out of the water at Rockaway Beach, Neskowin and the D River access
Vacation Rentals in Cannon Beach You've Never Heard Of, Nearby Oregon Coast Hotspots These are a bit hidden below the surface
Unlucky Harvest Moon for Oregon Coast, Portland, Valley on Friday the 13th Harvest Moon is the full moon that comes closest to the first day of fall
Wild Kite Abandon with Central Oregon Coast Festival in Oct October 5 and 6 brings the festival back to Lincoln City
Second Annual Crave the Coast Hits N Oregon Coast's Garibaldi, Sept 28 Dozens of local food and beverage producers, food trucks and demos
New 'Blob' Seems on Track to Affect Oregon Coast, Washington Coast Infamous "Blob" is returning to the West Coast, with a "heatwave" of warmer ocean water
Three Quakes Off Southern Oregon Coast Thursday Morning No injuries were reported and no tsunami alert was issued
Stay Out of Water at Short Sand Beach: N. Oregon Coast Health Advisory Short Sand Beach at Manzanita's Oswald West State Park was issued the warning on Wednesday
Sneaker Wave Warning for Oregon Coast Tuesday From Brookings up to Warrenton a chance of deadly sneaker waves on Tuesday and into Wednesday
Fave N. Oregon Coast Spot at Cannon Beach To Be Closed for Ten Weeks Indian Beach will be closed off due to road construction nearby
S. Washington Coast and Oregon Coast Humpback Sightings Soar The Columbia has been a hotspot for whales. Primarily Humpback whales.
South Oregon Coast Quake at Magnitude 6.3 A shallow quake hit off Bandon at around 8 a.m.
Oregon Coast Lodging Openings for Labor Holiday Scarce: Complete List Out of nearly 200 lodging businesses contacted these are the few and far between responses received
Labor Day Travel Advice for Oregon Coast, 2019 From finding a room to traffic, to weather issues, there's a few things to think about
Best Weather of the Year for Oregon Coast Approaches: Second Summer Best weather of the year on these beaches is always around September and early October
90-Degree Heatwave for Portland, Valley - Even Oregon Coast, Washington Coast Some of the hottest weather of the year is coming to the Portland and valley areas, while the northern half of the coast may approach 90
Four Engaging, Ultra-Cool Aspects of Central Oregon Coast's Waldport Wispy sands, the meandering Alsea Bay, the towering bridge and a host of little details
Nye Beach: Where Historic Oregon Coast Meets Future Sands Where Newport history collides with post-millennia civilized amenities and prime, even primitive beaches
Fed Scientists Capture Incredible Wildlife, Landmark Images on N. Oregon Coast A fantastic voyage that caught sea lions, tufted puffins, elusive rocks at Oceanside, Cannon Beach
Health Alerts Lifted for Both Oregon Coast Beaches: Seal Rock, D River This time it's Seal Rock in southern Lincoln County
Three Wild Beaches With Luxury Hideouts in Central Oregon Coast's Lincoln County Where the chaos of the waves meets the seasonal wonders of Seal Rock, Waldport and Yachats
Ocean Health Alert for Lincoln City's D River Access, Central Oregon Coast OHA issued the alert Tuesday because of high-than-normal levels of bacteria in the ocean waters there
Whale Numbers Soar Along Washington, Oregon Coast - Rarities Too Unusual water conditions bring in huge whale numbers, including a beaked whale, blue whales
Southern Oregon Coast Hosts Unusual Fest in October: 10 Days of Food, Outdoors, Arts October 18 - 27 along 135 miles of trails and shoreline
September Preview of Astoria, Cannon Beach, Seaside - N. Oregon Coast Fun-O-Rama Last embers ofs summer and beginning of fall bring a surge of activity
Razor Clam Ban Expands on Southern Oregon Coast from the south jetty of the Umpqua River down to the California border
On Seaside's Prom: Part Oregon Coast Cottage, Part Upscale Hotel with History The front stares at the ocean's chaotic wonders, originally a mansion built in the early 1900s
UPDATE: Baby Whale on Oregon Coast Did Not Make High Tide, Is Euthanized There is talk it could be euthanized. Found in Waldport's Bayshore area
Newport's Late Summer Bashes: August, September on Oregon Coast Food, fun in the outdoors and plenty of culture come crashing in
Neptune Scenic Viewpoint on Central Oregon Coast Bigger Than You Think Between Yachats and Florence sits surprisingly sprawling Neptune
Central Oregon Coast Features Stellar Jazz Fest and Symphonic Shows Two amazing festivals of a sort hitting the Newport Performing Arts Center
Florence Previews Massive Winter Folk Fest on Central Oregon Coast Three days of smokin' hot music will light up the town on January 24 – 26
August and September in Yachats, Florence: Oregon Coast Summer Preview An incredible array of outdoors, food and fun events
Late Summer in Manzanita, Garibaldi, Netarts, Tillamook County: N. Oregon Coast Preview Tillamook events: Pacific City, Netarts, Oceanside, Manzanita, Nehalem, Garibaldi
N. Oregon Coast's Tolovana Inn History of the Cannon Beach Icon, Part 2 A long and storied history, one that goes way back beyond its construction in the early '70s
New Glamping Resort on Southern Oregon Coast Takes Outdoor Luxury to New Heights This isn't rugged and rustic – it's a whole new layer of glamping
Masses of Dead Crab Parts on Oregon Coast Puzzling Beachgoers Loads of crab shells and their parts are being found and it's leaving more questions than answers for many
ODOT Network Issues Affecting Oregon Coast Road Alert Tweets An automated system feeding TripCheck updates to Twitter is broken down
Teeny, Tiny Oceanside a Multi-Layered Oregon Coast Experience A trippy tunnel, a strange tree, a lighthouse, agates, secret beaches and astounding homes
Lincoln City Shines in August, September: Central Oregon Coast Event Preview It's haunted, it's scandalous, it's full of outdoors activities and there's lots of food and music
N. Oregon Coast's Tillamook County Outdoor Adventures for August Tillamook County practically explodes with outdoor adventures with its Explore Nature Series
Great Summer for Whales, Crabbing, Clamming, Sea Lions: Oregon Coast Officials Lots of possibilities for whale watching, catching sight of seals and sea lions, and crabbing and clamming
This Summer Good Fun for Whales, Sea Lions, Crabbing and Clamming on Oregon Coast A lot to see this summer along the southern and northern halves of the coastline
Found Alive: Rare Thresher Shark on N. Oregon Coast, Manzanita Beach While common off these shores. thresher sharks rarely wash up here.
Thriller Called 'Seaside' Set and Filmed on Oregon Coast - Released Soon Fans of One Life to Live may know lead Ariana DeBose; pre-orders available
Two Oregon Coast Mystery Beaches with Something to Hide Sometimes, beaches on the Oregon coast are not what they seem: at Yachats, Tillamook
Why Lincoln City Gets Such Fierce Devotion: 'Something for Everyone' on Oregon Coast More than a love of some beaches, it's almost like a second home, or another family member
Where Cushy and Quaint Meet on Oregon Coast: Seaside's City Center Motel These days, the main word that comes to mind for the motel is quaint.
The Gleefully Neglected Oregon Coast: Area Between Yachats and Florence A mere 20 miles or so between the two, it's filled with so many wowing sights
Mini Heatwave for Portland, Chilly N. Oregon Coast, Toasty S. Coast The best weather for the upper half happens during the week: time to play hooky
Summer Whale Watch Weekend on Central Oregon Coast This Weekend eighth annual event happening on July 27 and 28 at Depoe Bay
Seaside's The Cove: N. Oregon Coast Place with Old Secrets Old history and wild geology in a spot where you can find yourself alone
Oregon Coast / Washington Coast: Tall Ships Need Help, Museum Makeover, Crabbing A wide variety of changes and proposed changes
Newport's Agate Beach: Complete Accesses, History, Facts of Central Oregon Coast Hotspot Deep history, trails, beach accesses, complete travel tips guide
Free Willy Jump Scene Site on N. Oregon Coast Gets Signage The latest addition highlights the scenic Columbia River views from Free Willy around Warrenton, Hammond
Great Views of ISS for Pacific NW, Portland and Oregon Coast The International Space Station will be extra bright on Saturday
Oregon Coast Motor Lodge Moves Forward: Cannon Beach's Inn at Haystack Rock From old school to new school, this historic inn travels into the future
Two Quakes Off Oregon Coast Wednesday, One Magnitude 5.4 Both quakes were centered about six miles beneath the ocean floor
Shop at the Docks Takes Place at North and Central Oregon Coast This Year A unique program that helps connect consumers with fishing boats and their freshly-caught fish
Oregon Coast Aquarium Goes Live with Three New Web Cams You'll find the Shark Cam, the Seabird Cam and the Otter Cam
Free Outdoor Events Every Day in Summer at Yachats Area of Central Oregon Coast Hikes, kayaking, science presentations and even tours of a famed lighthouse
Saturn, Jupiter and Two Meteor Showers for Washington, Oregon, Coastlines A bevy of heavenly bodies and fireballs for Portland, Seattle, Oregon coast, Washington coast, Southern Oregon coast
Lincoln City's Beach Ave. and Overlook Park: Cloistered Oregon Coast Travel Tips Along Beach Avenue, therein lies a bundle of fun and discoveries
Closure of Razor Clamming on N. Oregon Coast Begins July 15 Clamming is shut down from Seaside to Warrenton for two months
How Lewis and Clark Return to N. Oregon Coast in September The north Oregon coast's most famous early tourists return to the town of Seaside
Three Unforgettable Eats: Down Memory Lane of Oregon Coast Food Faves Sometimes they're seared deep in the memories of your childhood or perhaps just after you turned 21
Seaside Mural on Hotel Makes a Viral Splash on N. Oregon Coast Woodsy and rustic Coast River Inn at Seaside is making a name for itself
Retro Restaurants: Memory Lane of Historic N. Oregon Coast Eats Documentation of some historic eateries and watering holes from the last 20 years
Maxwell Point and Tunnel Beach: Oceanside's Trippy Gift to the Oregon Coast Details, nature and history of Maxwell Point and Tunnel Beach (or Star Trek Beach), at Oceanside
Oceanlake Beach Access, Lincoln City: Oregon Coast's NW 21st St and Crazy Stairway Known as the NW 21st St. access it's actually the Oceanlake Beach Access
Fourth Aftermath: SOLVE Needs Volunteers to Clean a Messy Oregon Coast millions of tiny pieces of plastic and other debris are left behind by beachgoers
Three Small Quakes Off Oregon Coast Wednesday, No Warnings One in the morning and then two others only ten minutes apart
Fourth of July Lodging Availability for Oregon Coast Slim - 2019 Slim pickings for lodgings and hotels. Do not expect to head out and find a place at the last minute.
SOLVE Needs Help Cleaning Up the Oregon Coast After Fourth of July It's called Cleanup the Coast on July 5. Seaside events, Gearhart events, Manzanita events, Lincoln City events
Orcas Seen Marauding Around Oregon Coast, Washington in Exciting Reports: Video Sightings in Port Orford, Newport, Depoe Bay, Nehalem Bay, Tillamook Bay and the southern Washington coast
Sizable Highway Improvements to Oregon Coast Highway at Seaside Look for a smoother and safer ride on one part of the Oregon coast
Three More Beach Health Advisories, This Time on Southern Oregon Coast Hubbard Creek Beach near Port Orford in Curry County, Harris Beach near Brookings and Sunset Bay State Park near Charleston
World Oceans Day Brings Interactive Fun to Oregon Coast Aquarium June 29 brings a big World Oceans Day celebration to the Oregon Coast Aquarium in Newport
Two Central Oregon Coast Beaches Under Health Advisories Stay out of the water at Agate Beach in Newport and Seal Rock State Park
If You Blink You'll Miss These Three Oregon Coast Wonders Some places on the coast are obvious – but not obvious
Unique Family Fun on the Oregon Coast: Sights You Didn't Know Looking for something different on your beach vacay?
North Oregon Coast and The Great Puffin Watch From July 1 through 4, the town and the Friends of Haystack Rock bring The Great Puffin Watch
Eleven Quakes Rattle Off Oregon Coast on Saturday Scientists say these clusters of quakes are not unusual
Newport, Depoe Bay in Summer: Oregon Coast July, August Preview A ton to do during summer in Newport. Even Depoe Bay gets in on the act
Latest Deceased Whale on Oregon Coast: Cause of Death Still Not Conclusive All the test results are not yet in after a week
N. Oregon Coast Summer: July Preview of Astoria, Seaside, Cannon Beach Astoria, Seaside and Cannon Beach kick out the jams when it comes to beachy fun
Oregon Astronomy: Summer Solstice Facts, Parties in Coast Range, Portland Star watching parties in Portland and in the Oregon Coast Range to celebrate
A Summer of Fun at Lincoln City, Oregon Coast: July Preview Music, food, numerous outdoor excursions, theater, movie matinees, and a look at Bigfoot and Pixieland
Water Advisory for One of Oregon Coast's Most Popular Towns - Cannon Beach health advisory, warning against wading in the ocean waters because of fecal matter
Quirky, Mysterious Sides of Depoe Bay Emerge with New Little Oregon Coast Parks Two places with the same name, some odd finds and some somber ones
Fourth of July on 362 Miles of Oregon Coast: North, Central and South Coast, 2019 From Brookings to Astoria, the entire Oregon coast will light up with fireworks and other enticing celebrations
Oregon Coast Fourth of July Celebrations, Shows for 2019 This year, you get a glimpse of the entire Oregon coast on Independence Day
Tillamook County Events in July, June: N. Oregon Coast's Manzanita, Rockaway, Pacific City Manzanita, Rockaway Beach, Nehalem, Garibaldi, Oceanside and Pacific City
Four Irresistible and Unknown Aspects Around Manzanita: N. Oregon Coast Gems Oodles of surprises around every corner: Falcon Cove, Neahkahnie, Wheeler
Oregon Coast Travel: Gas Prices Continue Drop Stockpiles of gasoline have increased each week at nearly 4 million bbl
Now You Can Taste Pixie Kitchen Again on Central Oregon Coast The famed eatery is returning again for one day to Lincoln City
Heatwave for Valley, Portland Even Oregon Coast, Cooling on Weekend A brief but unpleasant heatwave is in store for Portland and the beaches
Seaside Event: Ten Ways to Better Enjoy the Oregon Coast Beaches A host of beachy advice from an Oregon coast author:how to find the different and surprising
Oregon Coast Invasive Species Cleanup at Old Pixieland Area Two important restoration sites: the old Pixieland area and the former site of a trailer park called Tamara Quays
Jupiter Gets Bigger Over Clear Oregon Skies, the Coast; Heatwave Coming Strawberry moon over the region with some unique aspects, and the interior is headed for an unpleasant heatwave
Historic Garibaldi Boathouse Gets New Life as an Oregon Coast Gallery The boathouse has been a bit of a puzzle to many: wondering what it is and what's in there
Yachats' Beulah's Sea View Inn and Landmark Restaurant: Intriguing Oregon Coast History Some kind of eatery or another had been at the spot for about 100 years
Registration Begins for Massive Oregon Coast Race: Astoria's Great Columbia Crossing October 13, runners and walkers trekking from Washington to Oregon across the Astoria-Megler Bridge
Strange Blue Velella Velella Return to Oregon Coast, Some Spots Thicker Than Others They showed up in April already, but in fewer numbers and not very large
Pacific City Vacation Rentals: Oregon Coast Gems You Didn't Know The good, the fab and the awesome: that's what's in store
Cannon Beach Sandcastle Fun on June 8: Oregon Coast Fave Returns Cannon Beach Sandcastle Contest letting loose the sand sculptors to carve their momentary masterpieces at 9:30 a.m.
Summer of Adventures Planned for N. Oregon Coast's Tillamook County A host of wet and wild events in the greens and on the beaches of Tillamook County
Neptune State Scenic Viewpoint: Actually Two Oregon Coast Parks in One Oh, what twin accesses they are, however. There's more to this state park than you know
Three Stunningly Luxurious Rental Homes on the N. Oregon Coast, Three Capes If you love vacation rental homes with soaring amenities of the highest caliber, you're in for a treat
Five Astounding Parts of Depoe Bay to Get Away from Crowds, Central Oregon Coast Depoe Bay, on the central Oregon coast, is an engaging mix of paradoxes
Viking Songwriter Invades Oregon Coast with Americana Sound: Cannon Beach Sweden's Sofia Talvik hits Cannon Beach on June 13
Beware Online Vacation Rental Scams, Say Oregon Coast Officials State tourism and police officials recently issued an advisory on what to look out for
Cannon Beach's Unknown Beaches: Escape Within an Oregon Coast Escape There are a handful of parts that are less populated, where you can get away from the throngs
Memorial Weekend 2019 Room Openings for Oregon Coast Scarce Finding lodging on the coast will be essentially impossible, however here's a few
Oregon Coast, Portland Update: Memorial Weekend Wetter Than Predicted NWS has changed some of the forecasts in the last 24 hours to a more intense mix of showers and then warmer temps
UPDATED: Memorial Weekend for Oregon Coast, Portland: Mix of Sun, Clouds Mostly great weather is in store for the week and the holiday weekend throughout the state
Pacific City's Headlands Lodge A Unique Take on Oregon Coast Pampering Artful, striking architecture and the upscale meet the crazed chaos of nature
Killer Whale Sightings Lead to Revelations About Oregon Coast Transient Orcas The sighting seems to have revealed something significant about this rather mysterious group of killer whales
Small Earthquake Just Inland on Oregon Coast Felt By a Few The Pacific Northwest Seismic Network received some 53 responses to the quake
Pacific City's Two Wonder-Inducing Neighbors: Where the North Oregon Coast Begins One is a tiny town; the other a wowing beach of otherworldly sights
Forest Preserve on N. Oregon Coast Opens, Featuring Tallest Cedar in State A new nature preserve at Rockaway Beach officially opens up its boardwalk on June 15
Weird and Wonderful Above Oregon Coast, Portland: Milky Way Gone, Meteors Astronomy: Tail end of a meteor shower, Milky Way missing
Inn at Cape Kiwanda An Oregon Coast Fave for Decades, And Here's Why A longtime Oregon coast staple has been the Inn at Cape Kiwanda in Pacific City
Steampunk-Influenced Fun in Newport: Jules Verne Meets Oregon Coast Aquarium Where the oceanic meets steampunk: this is the new perspective on tropical marine life
Weather Pendulum: Portland, Valley, Oregon Coast Back to Colder and Wetter This Week Below average temps and rain return, large minus tides on the beaches
Oregon Coast's Heceta Head Lighthouse Changes and Challenges During 125-Year Anniversary One more celebration and some changes at the historical lighthouse
Fiery S. Oregon Coast Shipwreck Under Cleanup Efforts Now On May 2, a 64-foot fishing vessel out of Washington called the Ann Kathleen caught fire off the south coast
That Which is Haunting of An Oregon Coast Lighthouse: Cape Meares and Area There are some morbid and dark histories in the area surrounding the Oceanside landmark
Southern Oregon Coast: Reedsport Old Town Gets Renovation Southern Oregon coast town of Reedsport will be undergoing a makeover soon, all thanks to a grant from the state
Shipwreck Exhibit and Gilnetting History Featured on N. Oregon Coast N. coast shipwrecks are aplenty; local fishing industry history. Cannnon Beach events, Seaside events
Portland, Inland to Roast; Perhaps 80 Degrees for Oregon Coast A heatwave is coming to Portland, the inland valley and the Oregon coast
N. Oregon Coast Preview: Pacific City, Tillamook, Manzanita in Spring Tillamook County hurdles towards Memorial Day
Spoiling Mom with the Beach: Extravagant Mother's Day Packages on Oregon Coast This year, some spots along the shoreline have some stunning package
Cannon Beach Event: Did Francis Drake Land on Central Oregon Coast? There are many questions about Sir Francis Drake and how far north he really came
More Ways to Woo: Jaw-Dropping, Romantic Viewpoints of the Oregon Coast Few things can beat a stunning, nearly aerial view
112 Years of Florence Rhododendron Festival Celebrated This Month on Oregon Coast One of the state's longest-running festivals celebrates a whopping 112 years of flowery fun
Pixiefest Grows and Improves, Celebrating the Oregon Coast Landmark Several new and improved additions that will delight kids and parents alike
Beachy Dating Advice: Three Wowing Central Oregon Coast Make-Out Spots So, what can you do on these beaches that is different and really romantic?
The 'Boatels' of Nehalem: Vacation Rentals on an Oregon Coast River There really is such a thing as a boatel - a vacation rental home that's floating on the water
First Date Aflame: Five Stunning Romantic Forays of the N. Oregon Coast What if you're looking for something not just a little different but truly striking?
Depoe Bay and Newport in May: Spring Preview Central Oregon Coast Newport and Depoe Bay know how to whoop it up
Part 2: Seven Freakiest Things I've Seen on the Oregon Coast Weird pink rainbow, lighthouse in a bubble, ancient cannon, more
Oregon Coast Crews Rescue Endangered Seal from Washington Beach An uncommon sight on the Oregon and Washington coast: a Guadalupe Fur Seal
Seven Weirdest Things I've Ever Seen on the Oregon Coast (Part I) A mysterious glow at Neskowin, glowing sand in Newport and snow going the wrong direction in Yachats
Yachats and Florence in May: Lighting Up the Oregon Coast for Spring What Yachats, Waldport and Florence have in store for you in May
Kooky Purple Creatures Return to Oregon Coast: Velella Velella Reports are just from the north coast so far, but they could well be anywhere
Yachats' Silver Surf Motel, Where 'Oregon Coast You Remember' Sits Just Above Beach One of those constantly-updated stalwarts that brings back memories of family vacations
N. Oregon Coast in April, May: Astoria, Seaside, Cannon Beach Events As spring starts slowly winding up, so do Astoria, Cannon Beach and Seaside
Depoe Bay's Inn at Arch Rock Blends Old, New: Oregon Coast Travel Tips Sleek chic with a touch of maritime themes and post-mod
Oregon Coast Organizations Win Prestigious Awards Lincoln City's visitor center and Newport's Oregon Coast Aquarium made the grade
How Lincoln City Will Rock You in May, April: Oregon Coast Events Preview spring heats up to the climactic opening of the summer season, throughout April and May
Extraordinary Encounters: Shark Off Oregon Coast, Dolphin on Washington Coast A charter boat from Newport got into a bit of a fight with a shark
Debris Art Project Tours Oregon Coast; Free Fishing Day in Hebo Fishing fun near Pacific City; an intriguing way of dealing with marine garbage
Five Extravagant Digs to Watch Whales: Oregon Coast Travel Tips Sometimes, staying the night in some lovely surroundings near the water helps
Weekend Gets Sunny for Oregon Coast; Whale Sightings; Warmest Day for Portland Just in time for Easter, a lot of sun moves in for the weekend, however briefly
Cannon Beach Summer Camps for Kids Liven Up N. Oregon Coast Experience Haystack Rock Awareness Program is touting the return of its popular Summer Exploration Day Camp
The Crazy, Unknown Delights of Oregon Coast in Spring: What They Don't Tell You Some of the most intriguing facets of the beaches take place
Officials Warn of Sneaker Waves This Weekend on Oregon Coast Possibility of sneaker waves along the Oregon coast this weekend as a long period of swells arrives Saturday
Haystack Rock Awareness Program - Updates, News, Schedule: Cannon Beach, Oregon Coast
Tufted Puffins Return to N. Oregon Coast, Cannon Beach, with 'Shock and Awe' They're back at Haystack Rock and wowing already
Manzanita's Spindrift Inn: Subtleties of Oregon Coast History Blend with the Modern Spindrift Inn has become a quiet little hotspot in the tiny town, a delightful mix of the modern and historic
Hints of Alien Life: Scientists Look to Washington and Oregon Coast The discovery is of a microbe more primitive than ever found before
Tsunami 'Go Kits' Now Assist Guests at N. Oregon Coast Hotel Ocean Inn in Manzanita has come up with a special way to take care of their guests
Oregon Coast Tourism Industry Changes, National Award, and Anniversary Seaside lodging, Lincoln City lodging, Newport lodging: remodels, major news
Central Oregon Coast Under Flood Watch, Along with Eugene, Willamette Valley Portions of the Willamette Valley, the Coast Range and most of the Oregon coast are under one kind of flood watch or another.
Spend Time with Sea Otters and Oregon Coast's Black Oystercatchers at Cannon Beach Events Earth Day with sea otters and a lecture on stunning birds
Oregon Coast High Surf Advisory Issued For Saturday
Wet, Windy Weekend for Oregon Coast; South Coast Surf Advisory - A wet and wild weekend with some pretty heavy gusts
The Dreamy and the Woodsy: Inn at Manzanita's Unique Take on the Oregon Coast
Mystic, Ethereal and Yet Woodsy: Inn at Manzanita, N. Oregon Coast One of those unique, dazzling romantic spots that many don't know about in this ruggedly individualistic village
Oregon Coast Travel Tips: Gas Prices Move Upwards Above $3 Drivers are likely getting sticker shock this week
Remarkable Shades of Oceanside: Oregon Coast Photo Essay
Oregon Coast Whale Sightings Stellar, Including Stunning Orca Encounter Up and down the shoreline the reports are many and spectacular
Tall Ships Return to Oregon Coast in May, This Time Only One City Lady Washington and Hawaiian Chieftain, sail into the harbor of Coos Bay starting May 1
Bird Training Sessions in Manzanita, Cannon Beach Get You Close to Oregon Coast Wildlife A series of training sessions held in the Manzanita and Cannon Beach areas
Southern Oregon Coast Under Sneaker Wave Advisory for End of Weekend
Sneaker Wave Warning for Southern Oregon Coast Sunday, Monday a higher risk of sneaker waves from Sunday afternoon through Monday evening
Recreational Crabbing Reopens Along All of Oregon Coast Great news for crabbers but still bad news for razor clams
Lodging Openings for This Spring Break Overlap Weekend on Oregon Coast - Not many openings and they are going fast
Where to Catch the Oregon Coast Whale Watch Week Live Streams
NW 26th St. Access at Lincoln City: a Little Oregon Coast Treasure A few unique features, and it's a bit of a treasure hunt to find
Rest of Oregon Coast Spring Break's Weather a Pleasant but Mixed Bag Alternately raining on your spring vacation parade and then granting you sunbeams
State Officials Urge Safety Tips for Oregon Coast Spring Break With those crowds, revelers and beach explorers comes a new wave of safety tips
Time Again for Baby Seal Warnings on Oregon Coast Visitors are asked to reign in that instinct to help
Strange Egg Casings Found on Oregon Coast - But Some Know What They Are They are called Opalescent squid (Loligo opalescens) and can reach up to 11 inches
N. Oregon Coast Events Take Different Look at History March 28: weather during Lewis 'n Clark's journey; Angkor Wat archaeology
Sunset Vacation Rentals in Manzanita: N. Oregon Coast Success Story That Expanded Into Rockaway Beach Sunset Vacation Rentals, with its cedar shingled office blending in with main street Manzanita
Lots of Whales, Gooey Waves, Glowing Beaches, Glass Floats: Oregon Coast Spring Break 2019 This spring break is chock full of action
Warm, Sunny Portland and Oregon Coast This Week; Spring Break Starts Wet, Large Waves Temps in the 70s, but spring break gets off to a wet and dramatic start; wave perhaps 20 ft
Oregon Coast Whale Watch Week Begins Soon, Includes Live Stream Spring Whale Watch Week festival of cetaceans returns March 23 through 31
First Ever Find on Washington Coast: Oregon Crew Discovers Pacific Snake Eel To date, there are only three recorded incidents of one being found in Oregon
Weird Interactions of Oregon Coast Weather and Tideline How the temperatures can change between the tideline and the vegetation line
Who Has the Price Drops on Oregon Coast for Spring Break? Some Pleasant Travel Surprises Even through spring break, when lodging prices jump substantially, you can find some price drops
Video: Two Tales of Oregon Coast Shipwrecks, from Warrenton and Depoe Bay A pair of small history lessons from the Oregon coast
Festival of Illusions Returns to Wow the Central Oregon Coast Town of Lincoln City Festival of Illusions returns March 24 through April 4
Science Behind the Puffy, Bubbly Pillow Basalts of the Oregon Coast all this happened along the Oregon coast some 14 to 40 million years ago
Oregon Coast Luxury Hotels: the Upscale and the Dreamy High-end amenities, the upscale atmosphere and sophisticated approach
Week-long Food Fest a 'Sea' Change for Mac n Cheese on Oregon Coast Lincoln City explores the culinary pleasures of the macaroni and cheese dish Mar 16 - 23
Orcas Spotted Along Oregon Coast; Gray Whales Kicking Up Numbers Two separate reports came in; probably heading for Columbia River
Sudden Closure of N. Oregon Coast Razor Clamming Just One Week After Reopened State officials will continue to test for shellfish toxins twice per month
When the Shark Bites: Why and How These Attacks Happen on Oregon Coast How often do these occur? Why? And what does it mean?
Depoe Bay Scenic View Area a Stunning, Even Vibrating, Oregon Coast Wild Spot Sometimes the best beaches of the Oregon coast are not beaches at all
Cannon Beach History Event: Buffalo Soldier Connection to Oregon Coast A talk on an early African-American trailblazer and his connections to the north Oregon coast
Less Obvious Pacific City: Sandy Wonders of the N Oregon Coast Town, Unique Hikes The star attraction of the north Oregon town is Cape Kiwanda, but there's much more
Talk Looks at Oregon Coast River Fishing, Status of Species March 19 talk discusses local fish populations following the low returns of fall Chinook
Author Appearance and Kids Story Time at Oregon Coast's Lincoln City Fun at the history museum and serious discussion at the library
Oregon's Sharing the Coast Conference Returns, March 8 - 10 In Newport on March 8 through 10, at the Hatfield Marine Science Center
Razor Clamming Reopens on N. Oregon Coast March 1 After Long Delay Seaside to Warrenton is the region's most prolific area for clams
Oregon Coast Tourism / Lodging Changes: New Hotel Owners, Latest Vacation Rental Acquisition New hotel owner in Newport; new rental in Gleneden Beach
New GOES-17 Satellite a Boost to Oregon Coast Weather Predictions An extensive new array of data can greatly help forecasters
Changes in Central Oregon Coast Lodging Industry: New Owners, New Vacation Rental New home in A1 Beach Rentals in Lincoln City; The Whaler in Newport has a new owner
Light Snow Definite for Portland, Oregon Coast Range Possibly Beaches - Short dusting of snow for the Oregon Coast Range, Portland metro area and beaches
Driving Through Manzanita, Nehalem Bay - An Insanely Cool N Oregon Coast Auto Tour Still much to appreciate via an auto tour of Manzanita, Nehalem, Wheeler
Light Snow for Portland, Oregon Coast Range, Maybe Beaches Again there is a chance of lower elevations seeing some small amounts of snow
Three Intriguing, Mind-Bending Sights of Rockway Beach, N. Oregon Coast Curious little details lurk along these seven miles of sandy repose
Microplastics Still an Issue on Oregon Coast: Groups Ask for Help Cleaning Up Two grassroots efforts to clean up plastics: Newport, Cannon Beach
Weird, Craggy Cliff Shapes of N. Oregon Coast: Manzanita Travel, Hiking Tips not far from the northern Neahkahnie mountain trailhead
180 Miles of Oregon Coast Spring Break: What You Don't Know Will Thrill You There's a lot they won't tell you about
A Tale of Two Oregon Coast Chasms: Bizarre Hidden Spots and Famous Landmarks A bundle of hidden gems and wonders near Yachats, themselves containing other wonders
How Cannon Beach's Haystack Rock Was Created: Fiery Oregon Coast Tale A geologic story of fire and lava flows with strength beyond imagining
N. Oregon Coast History Event; Trail Closure Great news for history buffs in Seaside but bad news for hikers of Fort Stevens
Depoe Bay and Newport Preview: Central Oregon Coast Events of Spring Music, food and even wine pop like flowers blooming with the season
Some Snow Still for Oregon Coast Range; Waves Get Massive Gargantuan waves on their way and some minor to mid-range snow action
Livin' Large on Oregon Coast: Crab Feast and Hotel Anniversary Two parts of the Oregon coast celebrate in grand style this month
Severe Oregon Coast Range Snow Watch; High Winds, Flooding on Coast A sudden change since early Monday, a winter storm watch is now in effect for the Oregon Coast Range
UPDATE: Snow Watch for Oregon Coast Range; Big Waves Coming to Beaches Large waves smack into the coastline on and off this week
Freaky, Funky Sights You Can See in Oregon Coast Skies Green Flash at Sunset, the weird double-headed sunset, moon halos and sun dogs
N. Oregon Coast's Tillamook County Abuzz with Events: Manzanita, Pacific City, Tillamook, Nehalem A bevy of fun and intriguing events throughout February and March
Oregon Coast Beach Cleanup in March Now Registering Volunteers March 23 is the day of SOLVE's Spring Oregon Beach Cleanup
UPDATE: Winter, Snow Advisory for Portland, Oregon Coast Range, Beaches Portland, the inland valley, the Oregon Coast Range and even the beach towns
N. Oregon Coast February, March Preview: Astoria, Cannon Beach, Seaside As the month of romance slowly morphs into the spring break weeks, much keeps appearing
Snow Updates, Ice Warnings for Portland, Oregon Coast, Coast Range What does the snow have in store for northwest Oregon?
Photos: Astounding Snow Day on Oregon Coast Photos and video from Depoe Bay, Waldport, Cannon Beach, Seaside, more
Surprising Unknowns of N. Oregon Coast's Necanicum River - A Wilder Seaside Slinking its way elegantly through Seaside, the Necanicum River is a slightly overlooked attraction
Snow Accumulation for Portland, Oregon Coast Range; Few Flakes on Beaches A few dustings and some sticking snow, depending where you are
Oregon Coast's Yachats, Florence In February, March: Lighthouse History, Music, Food Florence and Yachats combine to create a powerhouse of fun
Haystack Rock Awareness Program Back on N. Oregon Coast Beaches Find them around the famed Cannon Beach structure every day during low tide
Snow Possible on Beaches, Portland; Likely in Oregon Coast Range A slight chance of some snow coming to the lower elevations of the inland valley and even the beach towns
Central Oregon Coast February Preview: Lincoln City's Wild Roster of Events A massive array of things to do explodes throughout the month
New Oregon Coast Travel Book Examines Depoe Bay in Detail; Debuts at #1
Fourth Oregon Coast Travel Book Documents Oddities, Surprises of Depoe Bay The fourth paperback and ebook in the series, with both now available
That Week When Russia Turned Oregon Coast Skies Orange, Red - Extra Intense sunsets, and yet something was slightly off-kilter about these colors
License Plates Honoring Oregon Coast Whales Now Available What are sure to be the most coveted Oregon license plates in years will be available Feb 1
Quirky Oregon Coast History Subject of Talk at Lincoln City's Antique Week It takes place February 16, 3 p.m., at the Driftwood Public Library, covering the unusual and wacky
Stranded Sea Turtle Dies In Spite of Rescue - N. Oregon Coast, Rockaway Beach Strandings of these creatures become more regular this time of year
Microplastics Inundate Oregon Coast - 760 Pounds Taken Off One Beach Some stretches of beach were a few layers high of the teeny, tiny stuff
Experts Search for Fur Seal on N. Oregon Coast with Rope Stuck Around Neck Crews wrestled with him Wednesday morning trying to get a rope off his neck
Oh Happy, Sunny Days: Oregon Coast Warmer Than Portland, Valley A run of blue skies that could last a week
'Zoom' is the Theme of Famed Central Oregon Coast Kite Festival Lincoln City now has a winner of the 2019 Kite Festival Theme Contest
Last Minute Good News for Eclipse: Oregon Coast, Inland, Portland there may be some small, periodic breaks in the clouds
Washington and Oregon Coast: Seal is Famous Again, More Strange Beach Finds A fur seal, a longnose skate, more moon jellies, a skull, and more
More Big Oregon Coast Waves Over the Weekend Ocean waves will remain strong and dangerous
Ben Jones Bridge Viewpoint near Depoe Bay: Central Oregon Coast History and Secrets, Video Along the Otter Crest Loop, mostly and officially known as the Ben Jones Bridge
UPDATE: High Surf Warnings, Winds for Oregon Coast; Rainy Portland, Snow in Gorge High winds and surf for the beaches, clouds dampen the lunar eclipse
Remarkable Number of Moon Jellies Hit N. Oregon Coast Moon jellies go by the scientific name Aurelia aurita
Oregon and Coast Astronomy: Planetary Conjunction, Eclipse Weather A major eclipse of the moon and two planets hanging out close together
Otter Crest Loop, Oregon Coast - Complete Guide, Hiking, History, Sights Perhaps the most dramatic drive along the entire coastline, it's near Depoe Bay
Big Surf and Lots of Sun This Week on Oregon Coast; Sneaker Wave Advisory Sun and sneaker waves. That's the forecast for the next few days
When They Blasted Cannon Beach's Haystack Rock - Odd Oregon Coast History Somewhere late in 1968, Oregon officials blasted away part of the rock
Full Lunar Eclipse To Make Moon Orange for Portland, Oregon Coast, Inland The skies over Oregon and the coast will get a special treat on January 20
Roadwork on Oregon Coast Results in Closures, Delays: Waldport, Astoria, Warrenton, Cannon Beach
Fort Stevens State Park: The Shocker Underneath This Oregon Coast Historical Site Did you know that parts of Fort Stevens didn't exist before 100 years ago
This Week: Park and Road Closures Cannon Beach, Warrenton, Astoria, Waldport - Oregon Coast
Driftwood Beach State Recreation Site - Distinctive Wonder of Waldport, Central Oregon Coast this spot is aptly named, with an enormous sandy beach often quite populated with large chunks of driftwood
Driftwood Beach State Recreation Site - Complete Guide to This Central Oregon Coast Wild One Five miles of hard-packed and soft sands in either direction
Near Pacific City, Tierra Del Mar Hides in Plain Sight - Oregon Coast Travel Tips Some of the most pristine Oregon coast lands in existence
High Winds for Portland, Salem, Valley, Oregon Coast - One Kind of Warning or Watch All of the Oregon coast and the vast majority of the inland portions of the state are under a high wind watch or warning for Saturday evening
Tillamook County's Abundant Bird Numbers Right Now - N. Oregon Coast Sea Lions - Pacific City to Oceanside is especially ripe for spotting amazing moments of nature
More Stormy Fun for Oregon Coast: Large Waves Fairly big waves are about to descend on the region
Central Oregon Coast Beachcombing Clinics Dig Up Lincoln City Surprises Lincoln City's Beachcomber Clinics happening January through February
Newport Event: Orcas Connected to Oregon Coast Watersheds A unique talk given in Newport by Oregon whale expert Colleen Weiler on Jan 10
New Year's Eve Travel Updates, Weather for Portland, Oregon Coast A nice dose of sunshine for the beaches but some freezing fog inland
Beer, Science and Beaches at N. Oregon Coast Events: Cannon Beach, Pacific City The Science Pub series and the Library Lecture series: Pacific City events, Cannon Beach events
Depoe Bay's Insanely Cool Off-The-Beaten-Path Attractions: Oregon Coast Travel Tips So much amazing stuff is crammed into one little area, and it's not always obvious
Ten Incredible Reasons to Not Miss Out on an Oregon Coast Winter As always, there's so much more beneath the surface of the Oregon coast than you will ever realize
Three Unusual Weather Sights of the Oregon Coast Mother Nature here can be downright Dadaist or experimental
Whale Watching Week Takes Over Oregon Coast Starting Thursday annual Whale Watching Week, starting December 27 and going until December 31
Save Your Christmas: Last-Minute Ways to Give the Oregon Coast
Awesome Little Last Minute Ways to Gift the Oregon Coast It's all done from the comfort of your home – or cellphone
Survivors of Shipwreck on Central Oregon Coast: Part 2 of Boiler Bay History (Video) just after the crew made landfall at was then called Big Cove, now known as Fogarty Beach
Yet Another Round of High Waves for Oregon Coast; High Winds Thursday
More Heavy Surf for Oregon Coast, 25-foot Waves Periodically; High Winds More crazed conditions are on their way for the beaches
Oregon Coast Wave Drama: Excellent Places to Watch Storms in Tillamook County
High Wind Warning, Surf Warnings Continue on Oregon Coast; Floods in Portland (Video) Even more big waves are coming again this week
Freaky Finds You Might See After Storm Waves: Ghost Forests, Shipwreck on Oregon Coast Your favorite beach may have a whole new look to it when this is over
UPDATE: High Surf Warning Lowered on Oregon Coast, 20-foot Waves Continue
Oregon Coast Officials: Sea Lion, Whale and Bird Sightings - Your Chances
Oregon Coast Wildlife Now: Looking for Whales, Sea Lions, Birds ODFW has some suggestions for wildlife viewing on the Oregon coast right now
High Surf, Wind Warnings for Oregon Coast, Flooding - Continues Through Wednesday Major weather events through next week for Portland, the coast; some meteors tonight
Boiler Bay and the J. Marhoffer Shipwreck: Oregon Coast History Part one of the story of the J. Marhoffer and Boiler Bay at Depoe Bay
25-Foot Waves Batter Oregon Coast, More to Come Over Weekend, Early Week
High Surf Advisory: 25-foot Breakers on Oregon Coast Possible for Days The bulk of the Oregon coast is currently under a high surf advisory
Meteor Shower, Comet Above Oregon and the Coast - Sort Of The Geminids and comet 46P/Wirtanen are happening but mostly covered up
Oregon Coast Officials Seek Input on Bike Route, Kite Festival Theme Improvements to the bike route on 101, Lincoln City's festival theme contest
First Day Hikes: New Year's Walks Beyond the Oregon Coast They also happen in places like state parks near Portland, the Willamette Valley, eastern Oregon and the Cascades
N. Oregon Coast's Tillamook County Twinkles with Train Rides, Light Festival A bevy of coziness-inducing events and a countywide celebration of lights
King Tides Project Needs Help from Oregon Coast Photo Aficionados King Tides Project is asking for your photographic assistance
Sneaker Wave Advisory for S. Oregon Coast; Northern Half Large Display Increased dangers down south while the upper half will still get a show
Seven Sometimes Uneasy Oregon Coast Historical Facts - Video The jolting surprises of what things around you really mean
Ways to Hide from the Masses at Cannon Beach, N. Oregon Coast Sometimes, you just want to hide from the crazed crowds of certain heavy-hitter towns
The Soft, Sandy and the Intricate: Around Waldport, Central Oregon Coast A long expanse of sandy stretches or the rocky labyrinths of Seal Rock
Alaskan Earthquake Almost Created Small Tidal Surge on Oregon Coast
Sometimes the Tiniest Oregon Coast Details Make for Biggest Discoveries The smallest of places on the Oregon coast can yield the most intense surprises
Alaska Quake Almost Created Slight Surge on Oregon Coast One geologist saw the possibility of a small bump in wave action
Two Oregon Coast Almost-Hotspots With Insanely Cool Details The smallest of places on the Oregon coast can yield the most intense surprises
Quirky Oregon Coast History: How Cannon Beach Got Its Name Really, it's a Tale of Two Cannon Beach's
Lincoln City and Newport: Two Wild Oregon Coast Sands with Exquisite Attractions You can very often get the best of both worlds here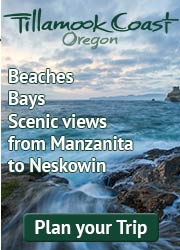 Back to Oregon Coast
Contact Advertise on BeachConnection.net
All Content, unless otherwise attributed, copyright BeachConnection.net Unauthorized use or publication is not permitted