Deep Details: Central Oregon Coast's Florence Winter Music Festival
Published 01/01/23 at 5:45 PM
By Oregon Coast Beach Connection staff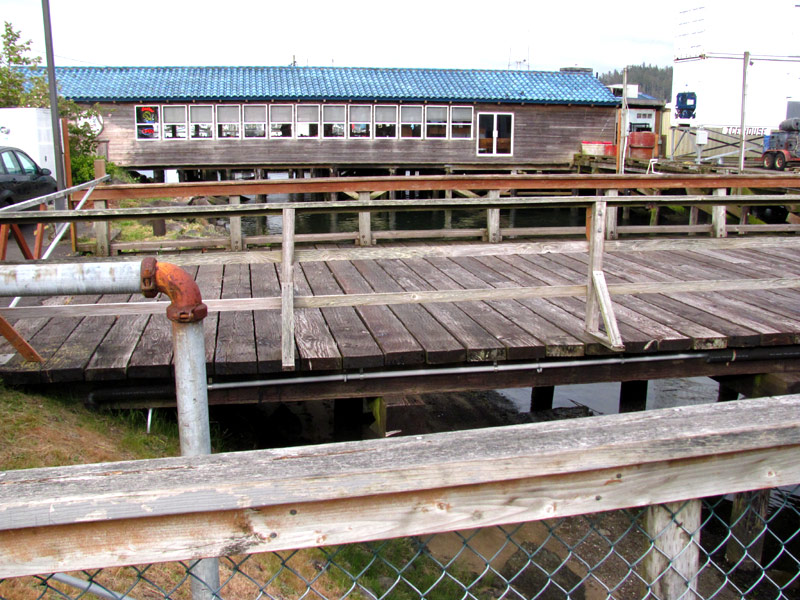 (Florence, Oregon) – Foot-stompin' Americana, smokin' bluegrass, plus traditional folk along with its newer incarnations: three days will be filled with this in the central Oregon coast burgh of Florence. The town is getting ready to heat up the cold season with 12 top-flight bands at the 20th annual Florence Winter Folk Festival, happening January 27, 28 and 29. (Photo of Oregon Coast Beach Connection)
Once a year (with the exception of recent pandemic years), Florence kicks out the jams with a host of high-caliber acts from all over, injecting some real energy into the area and plenty of tourism dollars into the local economy.
Kirk Mlinek is Winter Music Festival chairperson for the event's producer, Florence Arts, Culture & Entertainment (FACE). He said this could well be the best lineup ever.
"Imagine, 12 nationally/internationally-touring high-caliber acts over three days- and many of them are top award winners in their fields," he said. "Plus, a documentary movie about our headliner, 17 excellent workshops by industry professionals and some of the performers, an open mic session, open jam sessions, great food and drink, and more!"
Get your tickets now: it will help guarantee you get the best available seats. Case in point: the three-day pass, good for all performances on Friday, Saturday, and Sunday is $149. Two-day passes for all Friday and Sunday performances are $75. A two-day pass combining Friday and Saturday, or Saturday and Sunday, is $119. Single evening performances for Friday and Saturday nights are $50. Saturday afternoon passes are $45. Sunday afternoon passes are $35.
If you're looking for a deeply-detailed guide to the Florence Winter Festival, it's as follows:
Thursday afternoon headliner documentary
An interesting feature is a documentary about the headliner of the festival. Flamekeeper – The Michael Cleveland Story is a feature-length documentary about the show's biggie. It screens on Thursday afternoon, providing a preview of Saturday night's performer at the expanded Florence Winter Music Festival.
The movie tells the story of a blind boy who grows up overcoming multiple obstacles to become the world's greatest-ever fiddle player. It is in no way presented as a sympathy piece because it is also about his unmitigated joy for music and the kindheartedness of this award-winning multi-instrumentalist. It will be shown January 16, 2023, at 3:30 p.m. at City Lights Cinemas, 1930 Highway 101 (Grocery Outlet Shopping Center) in Florence.
Tickets are available online and at the City Lights Cinema box office for $1. There is a $1 convenience fee added for online purchases, but that can be avoided by going to the City Lights box office. City Lights doesn't pocket the $1 online surcharge, that goes to the ticket processor. 
Thursday evening open mic: "Take The Stage"
The festival begins on Thursday evening, January 26, with a 6:00 to 9:00 p.m. open mic event called "Take the Stage." This event invites all comers to sign up and play up to two songs (acoustic only) in a flat floor room at the FEC. Mlinek explains: "Some folks call that a hootenanny, others call it an open mic. You get the idea. All acoustic, no amplifiers, and a supportive audience. We will add specifics to the website (WinterMusicFestival.org) in the coming weeks. The sweetener for this event is that Linda Leavitt, Oregon Bluegrass Association board member, workshop leader, and Lois and Clark Expedition band member - and her partner, Tom Nechville of Nechville Banjos fame - have agreed to have their instruments strapped on and ready to back up any performers who request it."
Friday Afternoon's Free Community Concert
The Florence Winter Music Festival includes a free Community Concert on Friday, presented from 4:30 to 5:30 p.m. by Oregon Pacific Bank at their Florence office, 1355 Highway 101. The show features Saturday Night performer Jake Blount. This is a first come, first seated, space limited event.
Friday Night -- 7:00 to 8:00 p.m.
Never Come Down
Weaving together modern and traditional styles of bluegrass and Americana, this popular Portland-based band has swept across the country piling up big, well-deserved awards at places like Rockygrass, FreshGrass, and several others.
Friday Night -- 8:30 to 9:45 p.m.
AJ Lee & Blue Summit
Led by singer, songwriter, and mandolinist, AJ Lee, the bluegrass band has performed all over the world. Drawing from country, soul, swing, rock, and jam music this dynamic band uses bluegrass to focus and unite their varied influences.
Saturday Daytime
11:00 a.m. to Noon
Cabin Fever NW
If friendship had a soundtrack, this would be it. The Alternate Root magazine says, "Imagine Simon and Garfunkel singing with the Carter Family's devotion." Vibrant original songs performed with rich vocals and masterful instrumentation, Cabin Fever NW has wide crossover appeal for fans of bluegrass, singer-songwriter, Americana, country, pop, and gospel.
12:30 to 1:30 p.m.
Josh Goforth
Josh, a multi-instrumentalist, has toured extensively with a variety of ensembles and bluegrass bands like Appalachian Trail, the Josh Goforth Trio, the Steep Canyon Rangers, and Open Road. He has performed at the Grand Ole Opry, the Lincoln Center, and Carnegie Hall.
2:00 to 3:00 p.m.
Crary, Evans & Barnick
Dan Crary is a pioneer of flatpicking guitar music, one of the founding fathers of the flatpicking and "newgrass" movements in Americana and bluegrass music. Bill Evans is one of the most exciting and celebrated banjo players of the 21st Century. He a dazzling and entertaining live performer and recording artist. Lead singer and bass man, Wally Barnick, completes the ensemble with soulful, I-remember-long-ago vocals and harmonies, blazing instrumental artistry, and deep-down, powerfully felt musical moments.
3:30 to 4:30 p.m.
The Slocan Ramblers (2020 IBMA Momentum Band of the Year Award Winner & 2019 Juno Award Nominee) are Canada's bluegrass band to watch. Rooted in tradition, fearlessly creative, and possessing a bold, dynamic sound, The Slocans have become a leading light of today's acoustic music scene. With a reputation for energetic live shows, impeccable musicianship, and an uncanny ability to convert anyone within earshot into a lifelong fan.
Saturday Night
7:00 to 8:00 p.m.
Jake Blount is an award-winning musician and scholar based in Providence, RI. He is a 2020 recipient of the Steve Martin Banjo Prize, and a two-time winner of the Appalachian String Band Music Festival. As a specialist in the early folk music of Black Americans, Blount is a skilled performer of spirituals, blues and string band repertoire who has performed at the Kennedy Center, the Newport Folk Festival, and numerous other venues across and beyond the United States.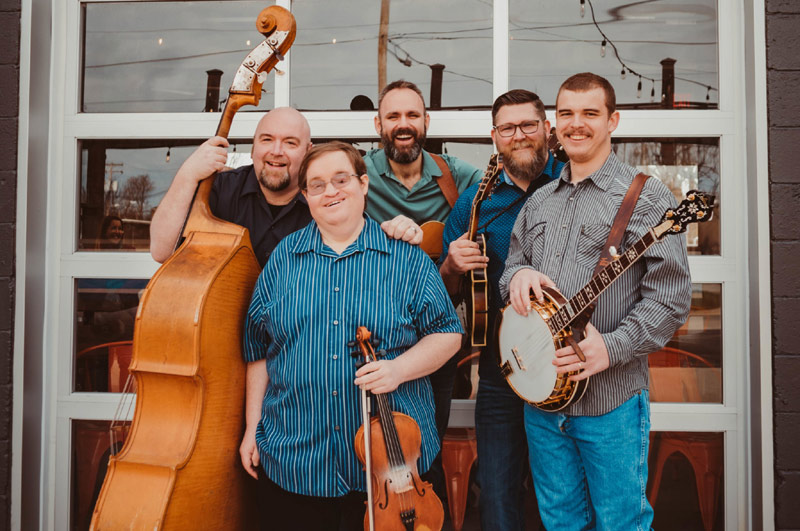 Michael Cleveland & Flamekeeper
Saturday Night Headliner
8:30 to 9:45 p.m.
Michael Cleveland & Flamekeeper
At age 9, Michael Cleveland was invited to sit in with the legendary Bill Monroe at the Bean Blossom Bluegrass Festival. Soon after, he brought his virtuosic style to the Grand Ole Opry as a guest of Alison Krauss, and was handpicked for the International Bluegrass Music Association's (IBMA) Bluegrass Youth Allstars before he was 14. "He plays fearlessly and it's intoxicating to play along with him because he makes you play fearlessly," says Country Music Hall of Famer Vince Gill. Cleveland won the 2019 Grammy for Best Bluegrass Album, and clearly, the IBMA concurs as he's their most awarded Fiddle Player of the Year with 12 wins and is a 2018 Inductee to the National Fiddler Hall of Fame.
Sunday Folk
11:00 a.m. to Noon
Mike & Carleen McCornack
Singer-songwriters Mike & Carleen McCornack have been delighting audiences for nearly fifty years with an engaging musical style that blends clear, expressive, harmonious vocals with sparkling acoustic instrumental accompaniments.
12:30 to 1:30 p.m.
Hank Cramer
Hank Cramer is one of the best-loved folksingers in the American West. He is widely known for his booming bass voice, smooth picking on a vintage flat-top guitar, and his wry sense of humor. He has a repertoire of over a thousand modern and traditional songs, spanning the genres of Celtic, Appalachian, maritime, cowboy, and plain old folk music.

2:00 to 3:00 p.m.
Phoenix
Based in Salem, Oregon, the folk pop duo Phoenix consists of award-winning songwriters Tim and Kathy Crosby, who have been performing together for well over 20 years. Together they have collaborated on several CD's, and are known far and wide for their songwriting abilities and high energy entertainment style. ​    
3:30 to 4:30 p.m.
Three Together
Three Together is loved by audiences for their intricate three-part harmonies on many songs from 60's and 70's era folk, pop, and rock artists we've grown up with such as Crosby, Stills & Nash; Peter, Paul & Mary; The Beatles; the Everly Brothers; and We Five.
A complete festival overview, with artist profiles, workshop offerings and schedules (separate admission for non-concertgoers), jam times/locations, and ticket prices is available at WinterMusicFestival.org.
The Florence Winter Music Festival is produced by the all-volunteer, independent 501 (c) (3) nonprofit Florence Arts, Culture & Entertainment, an organization that helps fund capital improvements and performance grants at the Florence Events Center. To learn more about how to join, support, or volunteer with FACE, call 541-991-8811 or email FACEFlorenceArts@gmail.com.
Oregon Coast Hotels for this event - South Coast Hotels - Where to eat - Maps - Virtual Tours


More About Oregon Coast hotels, lodging.....
More About Oregon Coast Restaurants, Dining.....

LATEST Related Oregon Coast Articles
Back to Oregon Coast
Contact Advertise on Oregon Coast Beach Connection
All Content, unless otherwise attributed, copyright Oregon Coast Beach Connection. Unauthorized use or publication is not permitted