Newport, Oregon Dining Guide: A Look at Newport Restaurants
Updated Monthly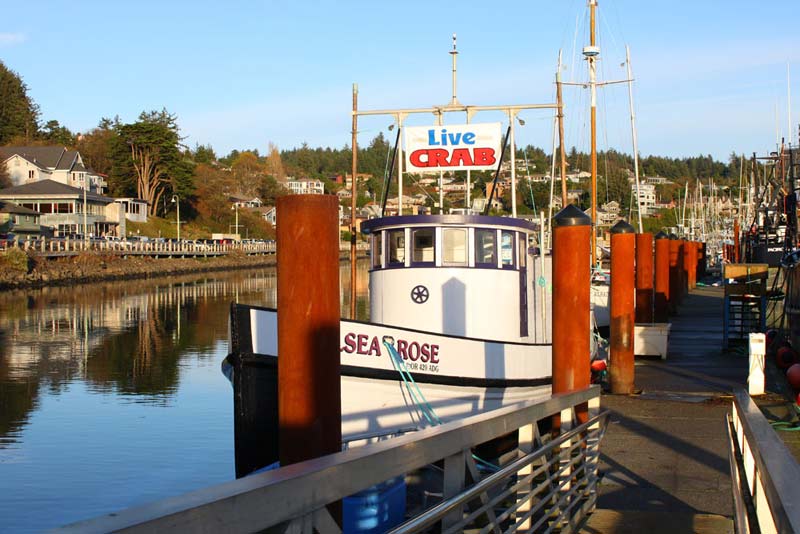 (Newport, Oregon) – Along Oregon's coast, Newport sports something different in the way of eateries. There are more restaurants with outdoor eating areas than anywhere along these shores. And there's a unique mix of places to eat along the bay, with a beachfront view or in especially handsome interiors.
Plus, some major coastal staples got their start here and remain as culinary examples of living history. While other new, cutting edge restaurants around the Newport area blaze stellar paths via your palate. Also: Oregon Coast Seafood Restaurant Guide -
Looking for? Newport, Oregon seafood restaurants, family dining, steaks, upscale, ocean view dining, burgers in Newport, espresso, steaks, pasta, tacos in Newport.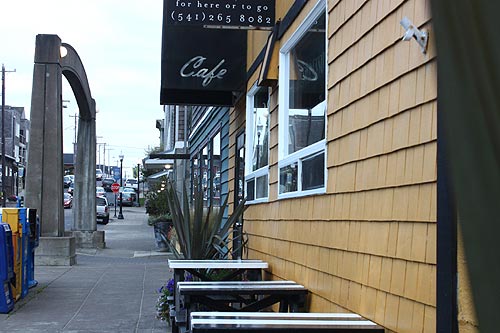 Café Stephanie. This tiny wonder in the Nye Beach district specializes in gourmet, rather legendary, lunches, with hot sandwiches around $7 for a full one and $3.95 for half. There is the French Dip, the BBQ ham, Reuben, Club and a roasted veggie with gobs of greens inside. The Grilled Salmon comes with roma tomatoes, a pesto mayonnaise and pickled red onions. The Tuna Melt arrives with bacon in the mix.
Cold sandwiches ($3.95 & $5.95) include delicacies in the ham, salami, roast beef and veggie categories, often with a variety of lovely additions such as Dijon mustard, herbed cream cheese and premium vegetables. They have an intriguing fish taco recipe, and a turkey wrap that comes with a curried cucumber/mango slaw.
There's a kids' menu including hot dogs, PB&J or a cheese sandwich. Meanwhile, breakfast specials change daily, and they also have espresso and salads. 411 Coast St. Newport, Oregon. (541) 265-8082. (Newport restaurant dining, family, seafood, breakfast, lunch)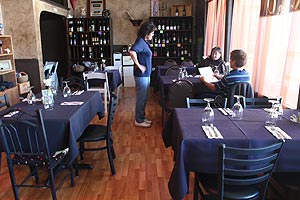 Stone Crest Wine Tasting Room and Italian Bistro. An uplifting little wine bar and shop, located inside a beautiful bistro setting. Located on the corner of Highway 101 and Hurbert, in the historic Deco District of Newport, you'll find an upscale yet woodsy setting in this lovely section of town. A huge selection of international wines are coupled with the tasty delights of a hidden culinary gem. Most dishes are between $10 and $13. Highlights include: steamed mussels with garlic, tomato and cream; Sausage and peppers with polenta; Gnocchi with mozzarella, tomatoes and herbs; or a tube pasta with proscuitto. Seafood includes prawns with gnocchi, a smoked salmon pasta with lemon butter, and more. Try the Chicken Milanese with mozzarella, spinach and angel hair pasta. Also notable is the sauteed pork, sage and proscuitto in an asparagus and tomato glaze. Salads are creative and include dishes with goat cheese or filet of beef. 715 Suite D. Hwy 101 and SW Hurbert St. Newport, Oregon. (541) 867-6621. Website here.
Dining, Restaurants Near Newport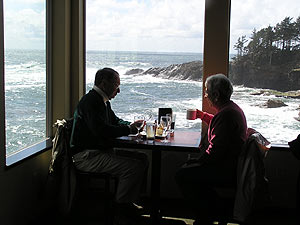 Tidal Raves. Upscale yet casual dining, with massive windows to wowing views. Specializes in seafood and more. Large menu caters to different tastes and budgets. Dinner entrees include seared sea scallops, salmon or rib eye char grilled, crab casserole, Thai-spiced barbecued shrimp or a fancy pasta with various seafood (around $20). Breaded halibut or pacific cod, char grilled top sirloin, panko breaded razor clams. Lunch menu features some of the same but smaller and less cost. Fanciful homemade desserts. 279 NW Hwy 101. Depoe Bay, Oregon. 541-765-2995. www.tidalraves.com (family, upscale, seafood, steaks, lunch, dinner)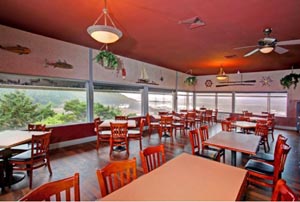 Sirens Oceanfront Restaurant & Bar. Part of the Surfrider Resort, here you get to dine to the sight of waves crashing below at Fogarty Beach. Don't be surprised to spot a whale. An abundance of seafood and American family friendly foods are the backdrop to one of the best restaurant views on the entire coastline. Special event nights such as Prime Rib or Wine Wednesdays feature fun, enticing aspects of Sirens. Breakfasts are bold and savory here, followed by lunches with many seafood options. For lunch and dinner, side dishes include steamer clams, calamari, jalapeno poppers and more for $8 - $15. Burgers come on toasted brioch bun, and lunch features goodies like fish tacos, halibut fish 'n chips, cod fish 'n chips, grilled salmon, more. For dinner, highlights include a cioppino, Surf 'n Turf, crab mac 'n cheese, blacked shrimp fettucine alfredo, ribeye steak, grilled clams and more ($19 - $26). Takeout options. 3115 N.W. Highway 101, Depoe Bay, Oregon. (541)-764-2311. https://www.sirensoceanfrontrestaurant.com/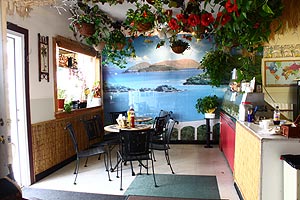 Baywalk Café. Along the bustling bay front and bridge of Depoe Bay, it's a cozy charmer of homemade deliciousness. No dish is over $8. Legendary clam chowder made from scratch daily - and gluten-free. Settle down to a variety of fish n chips to a view of the ocean, including clam strips and shrimp choices (around $7). Chicken nuggets, chicken strips and a fried chicken sandwich also around $7. Burgers include cheeseburger or a massive chili and cheese burger or veggie burger - a la carte $4.50 or around $7 with fries. Six-inch hoagie roll sandwiches come with chips, choice of cheeses: ham, pulled pork, turkey, tuna, roast beef or grilled cheese around $6. Garlic fries, cheese fries, chili cheese fries and beer batter onion rings under $3. Small pizzas, taquitos, nachos, egg rolls, even hot dogs - all under $5. Plenty of coffee and espresso selections. 16 flavors of Tillamook ice cream ($1.75 - $5.50). Milkshakes too. Wi-fi. 16 S Highway 101, Depoe Bay, Oregon. (541) 765-7674.
Also: Oregon Coast Seafood Restaurant Guide -


LATEST Related Oregon Coast Articles
Search over 7,5000 Pages for Oregon coast subjects, articles or lodging...
Back to Oregon Coast
Contact Advertise on BeachConnection.net
All Content, unless otherwise attributed, copyright BeachConnection.net Unauthorized use or publication is not permitted