Oregon Coast Camping Guide - The Complete List (Northern Half)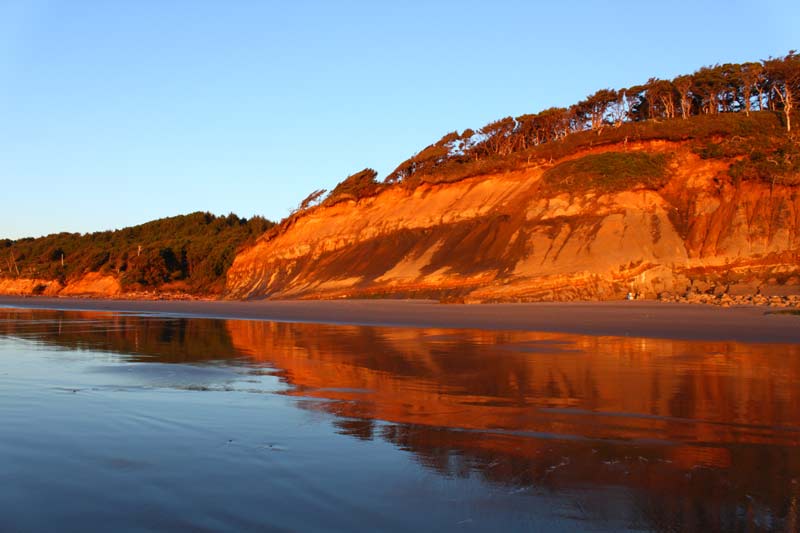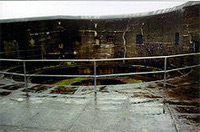 Battery Russell at Fort Stevens
(Oregon Coast) – There's nothing like sleeping beneath the stars, with the sound of the waves lulling you into dreamland just a ways away.
Oregon's coastal campgrounds do nothing short of rock, providing a multitude of pleasures and ways to really rough it – or just slightly rough it. They feature primitive campgrounds, sites with various amenities, yurts that feel like home away from home (in a Genghis Kahn kind of way) or full electrical sites that come with cable TV / wi fi hookups where you can take in the pleasures of the latest streaming shows or the new Dr. Who.
It runs the gamut of prehistoric to plush on Oregon's coast. (If you're thinking of simply sleeping on the beach, click here for a myriad of reasons to not do so).
This guide to Oregon coast campgrounds features all state, county and U.S. Forest Service campsites between Warrenton and Florence – some 180 miles worth.
North Oregon Coast Camping
Astoria to Cannon Beach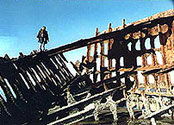 Wreck of the Iredale
Fort Stevens State Park. It's the biggest park west of the Mississippi, featuring camping, old battlements that have seen the Civil War all the way up to a small shelling by a Japanese sub in WWII, and one of the world's most photographed shipwrecks.
There are 174 full hook-up sites, about 302 with water and power, approximately 19 tent sites, various RV sites as well as 15 yurts. Hiker/biker campsites are by request. Hot showers and full restrooms add to the outdoor pleasures here. (503) 861-1671 or (800) 551-6949 (information only).
Enter the park by a six-mile drive after going west off 101 at the signs – approximately a half-mile south of MP 9. More info on Astoria, Warrenton maps, camping areas
Other gunnery areas exist in Fort Stevens as well, including the guided underground tour, which only takes place in the summer. Some of these were commissioned during the Civil War. Some smaller gunneries have been turned into bird nesting areas and wildlife refuges.
It's here where the wreck of the Peter Iredale sits and slowly rusts to pieces – a schooner that crashed about 100 years ago. The park also houses the very northwestern most tip of Oregon: the area where the south jetty juts out into the Columbia River mouth.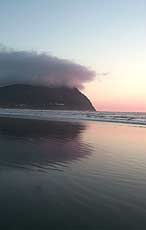 Tillamook Head
Tillamook Head. Six miles of trails snake around the gargantuan headland that separates Seaside from Cannon Beach. You can follow in the footsteps of Lewis and Clark here, as part of the Corps of Discovery trekked along this route to see a beached whale. Indeed, there's a marker along the way commemorating the spot they talked about in their journal, where they witnessed one of a very few glorious days of fine weather. More info on Seaside maps, camping areas
Secrets about here, including the camping possibilities. There are the remnants of an old army bunker in the brush at some point along this magnificent trail.
Starting at the Cannon Beach side, begin your jaunt at Ecola Point in Ecola State Park and hike 1.5 miles to the parking lot at Indian Beach. Continue on another 1.5 miles from there and you'll get to Tillamook Head's point and see the bunker, find a primitive camping spot for hikers as well as enjoy breathtaking views of a rugged beach and the lighthouse.
Round the bend of the point, and it's another four miles to the Seaside trailhead, past more incredible views, including the summit and a point Merewether Lewis wrote about. More info on Cannon Beach, maps, camping areas
Nehalem Bay Area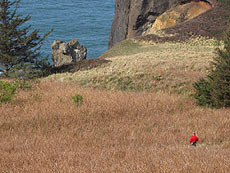 Freaky sights left and right at Oswald
Oswald West State Park. NOTE: THIS CAMPSITE IS SHUT DOWN, BUT INFORMATION HERE REMAINS FOR HISTORICAL, SENTIMENTAL PURPOSES. This sprawling, forested oasis runs along the highway for over five miles, encompassing trails through thick rainforests, headlands, viewpoints, primitive campgrounds and some beautiful beach spots.
There are day-use areas about MP 39 on both sides of the highway. These allow you access to the campgrounds, trails to Short Sand Beach and the 5-mile roundtrip hike to Cape Falcon and its viewpoints.
About a third of a mile into the forest sits the 30 primitive campsites. State authorities will actually provide you with wheelbarrows to haul in your camping gear with, and there are fireplaces and firewood as well. There's flushing toilets and running cold water.
The Cape Falcon hike is part of the Oregon Coast Trail system, and allows you the option an 8-mile-long hike to Arch Cape or the 2.5-mile trek to the top of Cape Falcon and a host of forbidden sights.
There's also Short Sand Beach here, a major favorite with surfers, beach bums and families alike. It's also called Smuggler's Cove, and summer often brings a touch of California: a host of bikini-clad surfer groupies. Please note the campsite was shut down in 2009 due to tree dangers - but the information here remains for historical and sentimental purposes. More on Nehalem Bay - Manzanita, Rockaway, Wheeler, maps, camping areas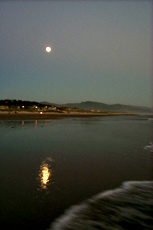 Nehalem Bay State Park. At the north end of Nehalem, this sprawling shoreline of nothing but sand goes on for over two miles. A good two miles down the sand spit you may find spots to watch seals rather closely.
But don't get too close: bothering them in their natural habitat is illegal.
This beautiful state campground contains 284 campsites, full toilet systems and hot showers. Each campground features a picnic table and a fire pit. There's also a horse camp with 17 sites and two corrals. A special feature is the horse ride rental company that does business here in the summer months. More on Nehalem Bay - Manzanita, Rockaway, Wheeler, maps, camping areas
Nehalem Falls Campground. Near Nehalem, up Highway 53, you may find yourself suddenly back in summer weather during those crazy days that the coast is much cooler than the inland heatwave you got away from. The locals are fond of this park and this whole stretch of the river to actually experience summer fun, sun and the cooling water. It's about milepost seven, at Foss Road, about seven miles from the junction at 101. Only open Memorial Day through October 31. Hiking trails and one group site. 503-842-2545. More on Nehalem Bay - Manzanita, Rockaway, Wheeler, maps, camping areas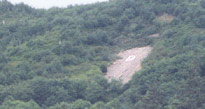 One of the more interesting features of Barview is the "B" painted on a concrete slab above the highway, obviously an attempt at the giant "G" that lights up neighboring Garibaldi
Tillamook Bay and Area
Barview Jetty County Park. Run by Tillamook County, you'll find about 293 campsites sitting on the edge of Tillamook Bay, overlooking both the bay and the ocean. Most of the full amenities pack this little gem in the rough, including restrooms, showers, RV hookups and much more. There are 219 tent sites and 69 RV sites.
But it's the fun that lurks within that's the real attraction - not to mention there's an eerie bit of history surrounding you. More on Tillamook Bay, Barview, Garibaldi, maps
At first view, Barview seems just a small community made of some homes, a couple of businesses and perhaps serving the purpose of being the gateway to either Rockaway (to its north) or to Garibaldi (to its immediate south). But the park reveals a long, slightly alien-looking beach which wraps around the bay mouth and the oceanfront, with a funky old, dilapidated platform sitting on the south end which just begs for climbing and an interesting mix of rock, sand, bay and ocean environments. There's even access to the jetty, which is always a kick in the pants.
Trask River County Campground/Park. 66 sites for your camping pleasure, about 12 miles up Trask River Road. (503) 842-4559. Fees.
Kilchis River Park. 65 campsites sit in a lovely grassy area, northeast of Tillamook. There's a playground and river access. At the end of Kilchis Road. (503) 842.6694 More on Tillamook Bay, Barview, Garibaldi, maps
Three Capes Area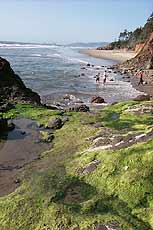 Cape Lookout State Park. You'll find this monster of a campground where Whiskey Creek Road becomes Cape Lookout, hence the milepost that reads MP 0 here (even though you've been traveling several miles from whatever direction you're coming from).
Cape Lookout boasts 191 campsites (two accommodating the disabled), one electrical site, four group camping areas, a reservable picnic area, a meeting hall, four yurts, 54 full RV hookup campsites (maximum 30 feet), full restroom and shower facilities as well as a waste disposal station. Fees. 503-842-4981. More on Three Cape Loop - Oceanside, Pacific City, maps, camping areas
The beach at this popular park is mostly one immense, sandy stretch, going on for nearly five miles to the north into Netarts Spit. Parts of the beach dip steeply into the tide line, causing the waves to crash loudly and abruptly, then quickly running out of steam and altogether creating an intense, natural spectacle.
You can hike the spit for a few miles up towards Netarts (it's not possible to access the spit if the tide is too high). Or take the half-mile walk up a small, inland trail of meadows that allows periodic glimpses of the beach, but no access.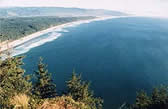 Sand Lake Area, as seen from Cape Lookout
Sand Beach Campground & Dunes. Take Galloway Road (at approximately MP 5) and you'll find a place where ATV enthusiasts abound because of the sprawling dunes - so expansive they are known as the ``Other Dunes on the Oregon Coast.''
Sand Beach is divided into the East Dunes campground, the West Winds campground area and the Fisherman Day-Use area. In between these sections, there are numerous sandy trails meandering throughout the small, brownish pines. Over 100 campsites are here, although some are unofficial camping areas where people bed down in an open sandy area that's cordoned off from the raging ATV's. In this area, there are no reservations or designated spots, but the rest of the official campground requires reservations.
Facilities include tables, vault and flush toilets, fire rings and drinking water. Fees. Three Cape Loop - Oceanside, Pacific City, maps, camping areas
From Sand Beach northward, it's a sandy, grassy, dune-covered stretch of about 4 miles until the secretive cove at the bottom of Cape Lookout - and not much else. But after the first mile it's usually pure solitude as you leave the roaring ATV's far behind. It's run by the Forest Service. 877-444-6777.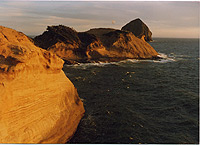 Cape Kiwanda
Cape Kiwanda Area
Whalen Island Park. Run by Tillamook County, 30 campsites sit on a funky little island surrounding by sandy marshes, with secret ruins lurking in the woods. It's still a short drive from the ocean. South of Tillamook, between Sandlake and Pacific City, about four miles north of town. (503) 965.5001. Fees.
Woods Park. Nine campsites inhabit this county site, which is up Brooten Road at a bridge at Woods (just outside Pacific City), and on the Nestucca River. There's a covered picnic area. Fees for tents and RV's. (503) 965.5001. More about Three Cape Loop - Oceanside, Pacific City maps, camping areas
Inland Highway 101 Area
Castle Rock Campground. Another US Forest Service campsite, this primitive one is tucked away deep in the lush, forested canopy of Highway 22, between Highway 18 and Highway 101. 4 miles from Hebo. Allows pets. Free. 503-392-3161.
Hebo Lake Campground. Another community that would simply be a hole-in-the-wall were it not for the kooky Hebo Inn (with the backwards N's) and access to the stunning vistas of Mt. Hebo.
A bit inland, along the section of Highway 101 between Cloverdale and Tillamook, look for the Hebo Lake Campground, run by the Forest Service. It's said that atop this gorgeous, rather hidden spot the stars open up with amazing clarity on cloudless nights, making it famous for being one of the most romantic spots in Oregon. It's five miles from Hebo, up Forest Service Road #14. Allows pets; hiking trails. 503-392-3161.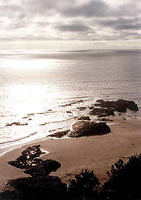 Lincoln City beaches
Central Oregon Coast Camping – Lincoln City Area
Devils Lake State Recreational Area. Coming into Lincoln City from the north, you'll find East Devil's Lake Rd. Take that to reach this favorite camping, fishing and boating spot. There are 55 tent sites, 10 yurt spots, paved parking and a load of other amenities in the campground. There is a northern access to the lake by the big outlet mall: head east at the traffic light at NE 6th St.
Canoe or kayak to your heart's delight on the lake at the only coastal campground located in the middle of a city. Kayak tours of the lake are scheduled in the summer (the state provides the kayak).
You'll find 28 full hookup with cable, five electric ones with cable, and 54 tent sites. 10 yurts, and there's a hiker-biker camp. For information only: (541) 994-2002 or (800) 551-6949. More about Lincoln City camping areas, maps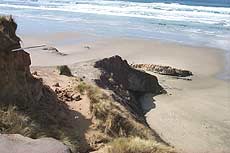 Jump-Off Joe, one of Newport's most interesting rock structures
Central Coast – Newport Area
Jack Morgan Park. This county park is located up State Highway 229, up the Siletz River, there are eleven acres that straddle the road, providing boat ramp access, concrete vault restrooms and a picnic area with tables, along with the plentiful fishing.
The camping areas are private and quite woodsy, each coming with its own picnic table and fireplace/barbeque pit. More about Newport beaches, maps and camping spots
Elk City Park. It's 22 miles upstream from the mouth of the Yaquina River, with twelve campsites, restrooms, wheelchair facilities, flush toilets, dock, concrete boat ramp and barbecues. Fees.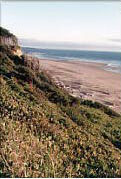 Beverly Beach
Beverly Beach State Park. Access to this popular state park and campground is on the east side of the highway, just south of the southern entrance to the Otter Crest Loop and the Devil's Punchbowl.
Some 273 campsites stuff this popular park, with a beach access via a tunnel underneath Highway 101. From there, you've got a mile and a half of sand to the north before you reach the Devil's Punchbowl. To the south, there's a whole four miles of beach before you're stopped by Yaquina Head.
76 of these sites have water and electricity, 129 are tent sites, and there are 53 RV sites. Some even come with cable TV hookups. It's part of the State Park system. More about Newport beaches, maps and camping spots
South Beach State Park. You enter this enormous area almost a mile after the South Beach business district ends, and then it stretches all the way northward back to the South Beach jetty.
Sand, sand and more sand occupy this beach, while the park itself sprawls for about a mile worth of roads. It's filled with large, green grassy areas, plenty of trees, a host of facilities and 260 campsites.
On the beach, it's almost a mile to the jetty. Hiking south on the beach, it's almost five miles worth of sand until you hit Ona Beach. There are other trails in the park, including the 1.3-mile-long stretch of the Cooper Ridge Trail which treads through the woods. More about Newport beaches, maps and camping spots
South Beach includes: 38 electrical (maximum site 60 feet); 6 primitive; 22 yurts; group tent (3 areas); hiker/biker camp. Volleyball and basketball court. For information only, call (541) 867-4715 or (800) 551-6949. To make reservations, call 1-800-452-5687.
Beachside Recreation Site. South of Waldport, this beautiful little place is so close to the ocean waves that at some times of the year it's prone to flooding and shut down.
Still, 32 campsites (with water and electricity) and 50 tent sites make this one a regular family favorite for many. Hot showers, full restrooms and access to a big, sandy beach help round out the equation.
About a mile south lies the famed Tillicum campground – and just a ways from there lay the wonders of Yachats. More about Waldport / Seal Rock camping beaches, maps
Tillicum Beach Campground. This well-maintained campground is a gem on the coast. Smack dab between Waldport and Yachats, it's a longtime favorite among those in the know.
You can count miles and miles of endless sand as one of the big attractions, accessible by a neatly kept, manmade walkway with metal railings. But the campground's 59 sites, full amenities, RV spots and even a small amphitheater that comes complete with an electrical system and a large outdoor movie screen helps make this one of the coolest Forest Service campgrounds in existence. More about Waldport / Seal Rock camping beaches, maps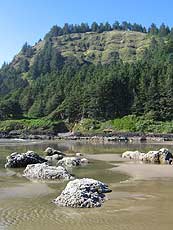 Cape Perpetua from the bottom
Central Oregon Coast - Yachats and Area
Cape Perpetua and Campsites. A few miles south of the village of Yachats, the world becomes a forested canopy and the surf a raging monster along miles of craggy, jagged basalt.
The sign to Cape Perpetua is clearly marked here: take the road on the east side of the highway to get to the Interpretive Center, to go to the top of Cape Perpetua and its trails or to take the 19-mile, 45-minute tour around the mountain and back to Yachats. More about Yachats camping beaches, maps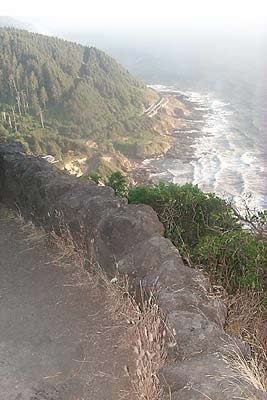 As soon as you get to this road, veer immediately right to go to the Cape Perpetua Campground. 37 sites inhabit this beautiful, wooded spot, with each site accepting RV's as long as 22 feet and coming complete with fireplaces.
The viewpoint at Cape Perpetua is another natural wonder not to be missed. Here, you've risen 803 feet above the sea and the panoramic view is awe-inspiring - augmented by an atmospheric stone wall encircling the viewpoint. There are also numerous trails and an auto tour circling around this mini-mountain, but it's the tiny, twisting ride to the top that provides the biggest reward. More about Yachats camping beaches, maps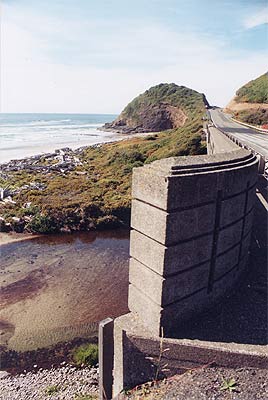 Rock Creek and its hidden wonders
Rock Creek Campground and Roosevelt Beach. The Forest Service operates this one, accessible by turning inland. 16 campsites are nestled in the forest here, about 14 miles north of Florence. Amenities include drinking water, flush toilets, fire rings and tables. Some sites are available by reservation. Fees. 877-444-6777. More about Yachats camping beaches, maps
But the real discovery is the beach. If you're not camping here, you can find this gem by looking for a couple of unmarked dusty patches on the side of the road immediately south of a small bridge – and just the other side from the headland at Ocean Beach. You'll find a long stretch of bluffs which allow you access to Roosevelt Beach at various points.
Carl G. Washburne State Park. It's a ways into the forested area just beyond the Ponsler Wayside (about two miles south), with an entrance almost hidden by the trees if not for the prominent State Park sign pointing it out. It's also a big one on the coast, with 58 full-hookup campsites, yurts, six walk-in tent sites and fireplaces. The campground includes a hiker/biker camp, some wheelchair access and hot showers and full restrooms are also available.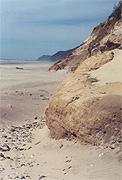 Hidden cove at Washburne
There's an easy trail to the beach, containing miles of sand and some surprises. From the main beach access, head south and for the next mile or so you'll find beautiful little cove-like places, the first of which is only a quarter mile down the beach. Some of these are only maybe 30 feet wide and 20 feet deep - which makes them perfect for letting the rays in but keeping the wind out.
Or for a much longer walk, you can head east from the park and hike a two-mile loop up the hilly forestland to China Creek and a few ponds – including a beaver-dammed lake. More about Upper Lane County camping beaches, maps
Central Oregon Coast – Florence Area
Alder Dune Campground. The U.S. Forest Service-run Alder Dune features 17 campsites and full amenities, plus access to all sorts of dunes and nearby Baker Beach. There are RV sites as well. You'll find picnic tables and three pristine lakes in the middle of the dunes, two of which are primed with trout periodically. The main parking lot and its lake make a beautiful, pastoral respite, with added value given by the viewing platform.
The campgrounds have primitive tent sites and RV sites, and each has a fire pit. Trails to the beach are about 2.5 miles, with the trails to dunes only a quarter mile hike. There's also a boat launch. More about Florence camping beaches, maps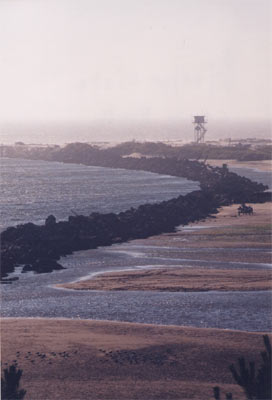 Harbor Vista County Park. Harbor Vista, within Florence, is one of Oregon's lovely little secrets. There are 38 campsites here, spread around an area which overlooks the north jetty of the Siusilaw River. There is a gorgeous little viewpoint looking over that jetty, with a long but wonderfully convenient pathway leading down to the beaches. The pathway even features steps embedded in it most of the way, making it much easier for the climb back up.
Harbor Vista Park offers tent and recreational vehicle camping on a year round basis. It is one of the few campgrounds on the Oregon coast with an ocean view, perched above the North Jetty of the Siuslaw River. Harbor Vista is located 3 miles north of Florence on North Jetty Road. Coin operated showers. RV sites and hookups. Fees. More about Florence camping beaches, maps
Honeyman State Park. Dunes, dunes and more dunes occupy this famous spot just south of Florence. It essentially comprises the southern shore of the Siuslaw River and it's the gateway to the 40-mile-long Oregon Dunes National Recreation Area.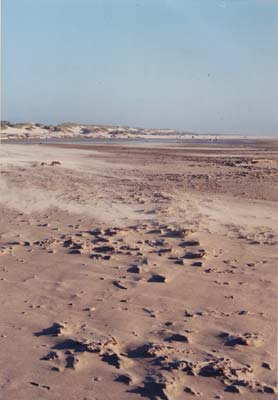 Fluffy, sandy beaches of Florence
Various clear water lakes are found here, sitting in the middle of the enormous, sometimes towering dunes. Campgrounds abound, with 50 sites with full hook-ups, 91 with water and electricity and a whopping 237 primitive tent/RV sites – all with fireplaces and other amenities.
There's also plenty of surfing to be done here, although you have to head through the park access and prove you're heading to the northern area (south jetty) to avoid the state park charges.
Nearby businesses on 101 provide ATV's for your dune amusement. This area has also given birth to the sand boarding craze: a kind of hybrid sport that more or less uses a snowboard to zip down the dunes. More about Florence camping beaches, maps
LATEST Oregon Coast Camping Updates
Search over 7,5000 Pages for Oregon coast subjects, articles or lodging...
Back to Oregon Coast
Contact Advertise on BeachConnection.net
All Content, unless otherwise attributed, copyright BeachConnection.net Unauthorized use or publication is not permitted