Dining In Depoe Bay: Restaurants in Depoe Bay
Updated Monthly
(Depoe Bay, Oregon) – When it comes to food and wine, even tiny Depoe Bay has a distinctive take on dining. Even if a restaurant there isn't overlooking the water directly, on the western side of the road, it's still looking out over the water.
A few stunning upscale examples of cuisine dominate here, but there are eateries for every taste and budget crammed into this diminutive burgh. There is at least one outstanding wine retailer, which augments any dining experience. Nearby, within a 15-minute drive, lay other food and drink standouts whose grub will stick to your ribs on your coastal jaunt – and often stay embedded in your memory.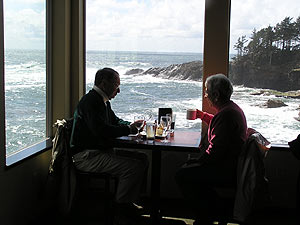 Tidal Raves. Upscale yet casual dining, with massive windows to a raging surf that often provides views of cavorting whales and their young. Tidal Raves specializes in seafood and more. Varied menu caters to different tastes and budgets. Appetizers include much seafood as well as a goat cheese tart; lots of salads. Smaller items: Halibut tacos, green curry halibut, flat iron steak, fish 'n' chips or a hearty cioppino are about $12. Dinner entrees include seared sea scallops, salmon or rib eye char grilled, crab casserole, Thai-spiced barbecued shrimp or a fancy pasta with various seafood (around $20). Breaded halibut or pacific cod, tiger shrimp with grape tomatoes and mushrooms, char grilled top sirloin, panko breaded razor clams or a wild salmon and shrimp with basil salsa – all around $20. Nice details like crab cakes that come with Basmati pilaf; some dishes available Cajun-style or Asian. Lunch menu features some of the same but smaller and less cost. Fanciful homemade desserts. 279 NW Hwy 101. Depoe Bay, Oregon. 541-765-2995. www.tidalraves.com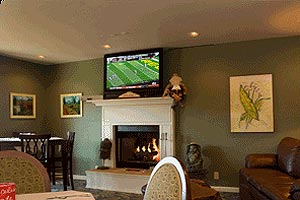 The Bistro at Harbor Lights. An engaging, awesome bay view of inner Depoe Bay gives way to comforting woods and light colors. Limited hours: from 4 – 8 p.m., Monday through Saturday, but worth it. Appetizers range from $2 5o $12 and include a pound of steamer clams, crab raviolit, meatballs, prawns and Italian garlic bread. Main entrees include a Dungeness Crab cocktail, Angus beef steak, 12-ounce Ribeye, top sirloin, a massive shrimp scampi served on linguini or a chicken sauteed with onions in a lemon and white wine sauce. All steaks come with potato and choice of soup or salad. Huge burgers ($9 - $10) are all of certified Angus beef as well, coming in incarnations of avocado cheeseburger, mushroom Swiss burger, a bleu cheeseburger or a pepperjack burger. These come with potato beer battered French Fries. Some interesting pastas. Linguini marinara, a four-layer meat lasagna, a linquini with meat sause and maybe meatballs – all about $10 or so. Pulled pork or meatball sandwiches as well. 235 S.E. Bay View Ave. Depoe Bay, Oregon. 800-228-0448. www.depoebayinn.com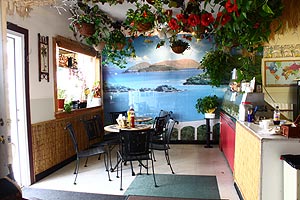 Baywalk Café. Along the bustling bay front and bridge of Depoe Bay, it's a cozy charmer of homemade deliciousness. No dish is over $8. Legendary clam chowder made from scratch daily - and gluten-free. Settle down to a variety of fish n chips to a view of the ocean, including clam strips and shrimp choices (around $7). Chicken nuggets, chicken strips and a fried chicken sandwich also around $7. Burgers include cheeseburger or a massive chili and cheese burger or veggie burger - a la carte $4.50 or around $7 with fries. Six-inch hoagie roll sandwiches come with chips, choice of cheeses: ham, pulled pork, turkey, tuna, roast beef or grilled cheese around $6. Garlic fries, cheese fries, chili cheese fries and beer batter onion rings under $3. Small pizzas, taquitos, nachos, egg rolls, even hot dogs - all under $5. Plenty of coffee and espresso selections. 16 flavors of Tillamook ice cream ($1.75 - $5.50). Milkshakes too. Wi-fi. 16 S Highway 101, Depoe Bay, Oregon. (541) 765-7674.
Dining Near Depoe Bay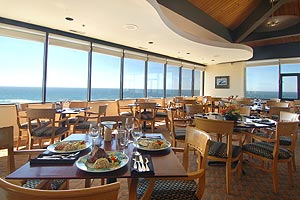 Fathoms Restaurant. Breathtaking views, several stories above the surf. Breakfast: various griddle classics like pancakes, waffles, French toast to pigs in a blanket around $7, along with a large array of omelets around $10 - $13. Plenty of seafood specialties, pastas, salads and sandwiches for lunch. At dinner: steaks, clams, fish, chorizo, pastas and dozens of intricate, gourmet dishes, often in the $20 - $30 range. 4009 SW Highway 101. Lincoln City (just north of Depoe Bay, Oregon). 541-994-1601 or 800-452-8127. www.spanishhead.com/site/restaurant.html (Fine dining, family, lounge)
Also: Oregon Coast Seafood Restaurant Guide -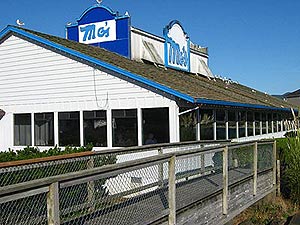 Mo's Lincoln City. On Lincoln City's Siletz Bay, where seals and other marine life play. Appetizers like oyster shooters or in the half shell, skewers, seafood cocktails, fries ($3 - $10). Salads. Sandwiches (around $7): tuna melt, cod, sole, deep fried shrimp, clam fritter, or various hamburgers. Mo's famous clam chowder in various sizes; plus chili and a scrumptious slumgullion (chowder w/ shrimp). BBQ ribs, chicken strips, grilled chicken and country fried steak. Large seafood dinners. 860 SW 51st Street. Lincoln City (20 mins north of Depoe Bay, Oregon). 541-996-2535. www.moschowder.com.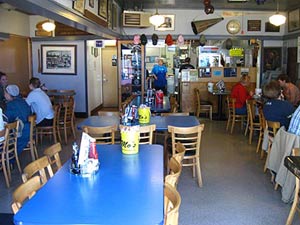 Mo's Newport. The iconic original, with an open wall to the bayfront. Appetizers huge and serve a family, ($5 - $26). Entrees ($10 - $14) w/ signature Mo's clam chowder, salad and other choices. Large dishes of halibut, local oysters, calamari, prawns, cod, clam strips or massive combo plates, cioppino, fish tacos and of course fish 'n' chips. Seafood sandwiches ($7 - $13). Luscious pastas. Burgers, chicken, hot dogs and more for the landlubbers as well. 622 SW Bay Blvd. Newport, Oregon (ten miles from Depoe Bay, Oregon). 541-265-2979. www.moschowder.com.
CONTACT / ADVERTISE ON BEACH CONNECTION
Latest in Depoe Bay Dining, Restaurants