Newport, Oregon Coast Complete Guide: Every Beach Access, Attraction
Updated periodically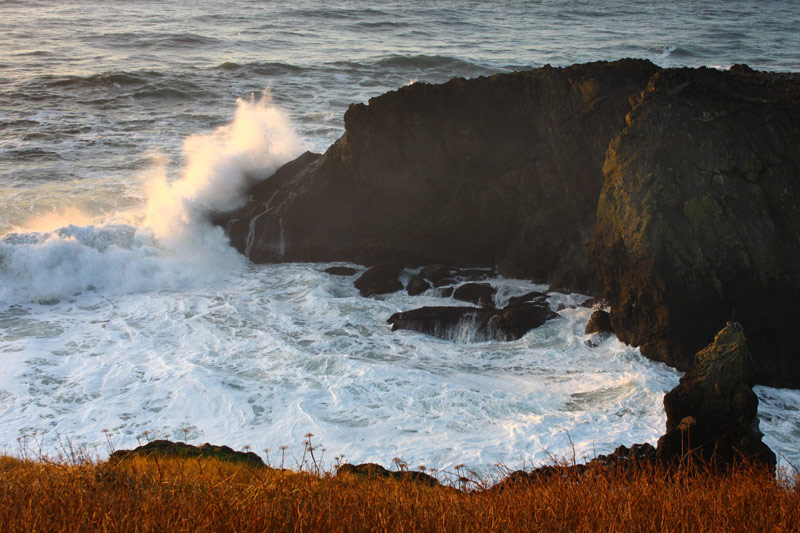 (Newport, Oregon) - Two lighthouses, an historic bayfront occupied by big, wet, barking residents, beaches with their tales to tell and another hotbed of coastal culture.
It's part touristy, part party town, a slightly upscale resort, a sometimes surreal bit of small town Americana and a treasure trove all in one, filled with an enormous array of natural delights and stunning beauty. It's easy to get lost in the crowds and the tourist spots, but it's not too difficult to find solace on a deserted section of beach or pier somewhere.
Newport is rich in history, and it continues to be committed to keeping its past alive as it constantly expands and changes. There are restaurants and attractions for every budget and taste, and an often-freakish nightlife that may leave you laughing until you cry. It's an unusual combination of manmade and natural recreation and of varied, even contradictory means of repose.
Here, you'll find a complete guide to all beach accesses and natural attractions of this central Oregon coast hotspot. Further details at the Newport Virtual Tour, Map.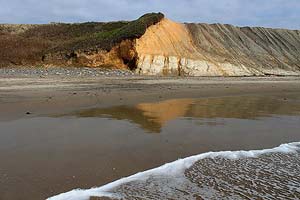 Beverly Beach State Park (pictured above and here).
Access to this popular state park and campground is on the east side of the highway, just south of the southern entrance to the Otter Crest Loop and the Devil's Punchbowl.
Some 200 or so campsites stuff this popular park, with a beach access via a tunnel underneath Highway 101. From there, you've got a mile and a half of sand to the north before you reach the Devil's Punchbowl; to the south, there's a whole four miles of beach before you're stopped by Yaquina Head.
various sites have water and electricity, there are tent sites and RV sites. Some even come with cable TV hookups. 21 yurts are available. Views of Beverly Beach Sands of N. Newport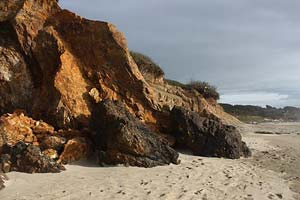 Moolack Beach
Parking is on the west side of the highway, high above the beach, with a couple of beach accesses north of the main lot for Moolack. These have some slightly treacherous trails – especially in muddy conditions – meandering down to the sand. The main lot, a tad south of MP 135, has an easier path.
Here, if sand conditions are right, you can spot 4,000-year-old stumps in the sand. These are extremely rare, however, popping up every few years or so. They look more like rocks at the tide line, but at closer inspection you can tell they're small, almost petrified wood stumps.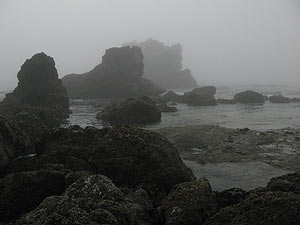 Just south of Moolack you begin to enter Newport proper. Moolack Beach (and Mysteries)
Hidden Beach Access
Just north of the entrance to the Yaquina Head Outstanding Natural Area, you'll find 58th Street tucked away behind some trees on the west side of the highway (it's accessible by taking 56th St.). At the bottom of 58th, you'll find a hidden beach trail wandering down from this residential neighborhood to a stunning cove area on Yaquina Head's north face.
This beach is full of all sorts of wonders, especially the crazy slabs of basalt set at odd angles which protrude from the sand and make for a mesmerizing journey.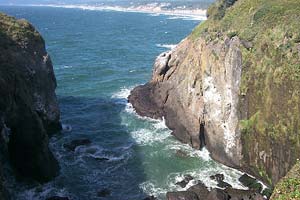 Yaquina Head Outstanding Natural Area
If you can't find anything to do here, you're probably dead and no one told you. A gigantic manmade tide pool experiment, hidden rocks and boulders to climb on, a mysterious hill encircling the headland from overhead, a strange, noisy beach made of polished stones and one major lighthouse provide more than you could do in a day.
These days, one of its more popular features in the intertidal area, carved out of an old rock quarry. These wheelchair-accessible paved paths weave in and out of rocky tide pool areas that were created to see what happens when rocky shelves are left alone to become colonies of marine life.
There's also an interpretive center here, as well as access to the noisy beach via a long staircase. This one's a bear coming back up, but it's worth it. The large cobblestones make quite a rattling noise when attacked by the tide – which tends to hit here with sizable force because the tide line is at a fairly steep incline.
Not far east of the intertidal area's parking lot lay some interesting boulder-filled areas, perfect for climbing on and exploring
Above the lighthouse parking lot lies Salal Hill, which is accessible by a meandering, quarter-mile walk to the top. From there, amazing views burst out (there's a web cam planted here). Another awe-inspiring route can be found near the intertidal parking area, which wanders up on a one-mile roundtrip to more magnificent views atop yet another hill. Yaquina Head Views of Agate Beach -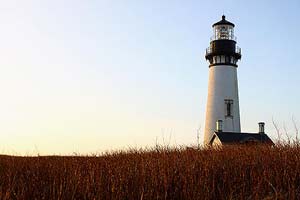 Yaquina Head Lighthouse
At the end of the headland sits the Yaquina Head Lighthouse, one of two in Newport. Standing at 93 feet, the lighthouse has been around since 1873, with its light still showing the way today and visible for miles in any direction. The lighthouse is open year-round.
There have been some ghost stories surrounding this one, although they were in recent decades debunked by the Bureau of Land Management – which runs the Yaquina Head area. They found out the purported ghost, a lighthouse keeper named Higgins, never died in the lighthouse at all, as the tale maintained. Instead, he eventually moved to Portland and died of old age there.
The scariest story involving the lighthouse involves a Hollywood movie crew filming a horror flick there. Apparently, they left it such a mess – smothered in cobwebs and other spooky fixings – that the BLM had to threaten a lawsuit to get them to come and clean it up. Yaquina Head Lighthouse
Unmarked Beach Access
It's unmarked but it's not exactly a secret. In fact, it's far from it, because although it's tucked away behind some businesses – right next to the Yaquina Head access road – you'll find it full of surfers and beachcombers.
Ernest Bloch Memorial (124-126 NW Gilbert Way, Newport) There's a parking lot just south of the road to Yaquina Head, and here sits the memorial plague to composer Ernest Bloch. He lived the last days of his life in a home near this spot. To this day, he is honored every summer by a classical music festival in his name.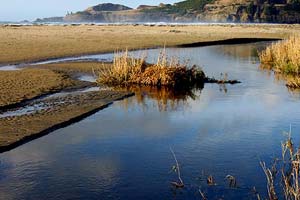 NW Ocean View Dr.
Half a mile south of Yaquina Head, drive down this street to get to Agate Beach. It eventually turns into different streets around the Nye Beach area, after it's given you a small tour of the lovely homes lining the oceanside of Newport's residential neighborhoods. Agate Beach Dunes
Agate Beach
Miles and miles of sand surround you here. To the south, about a mile, is Nye Beach. To the north, it's yet another mile to the southern side of Yaquina Head and the big surfer spot. There are two accesses: a small one on Ocean View Dr., and the other from the main parking lot of Agate Beach State Park; the entrance to that is just a tad north of the smaller one. The state park parking lot features restrooms, a tunnel to the beach and an awesome trail that winds inland through forests and marshes. Agate Beach Day and night views, Newport
Jump-Off Joe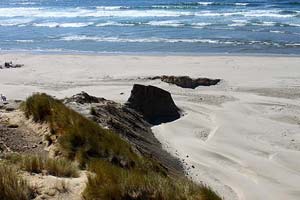 Especially fascinating in this area is the story of a rock structure called Jump-Off Joe, once situated at Nye Beach, south of 11th St. The original Joe crumbled under the weight of the changing tides by the `40s and another subsequent rock structure took on the name. The new Jump-Off Joe – at the bottom of 11th - is quickly crumbling too, and it won't be long before it no longer exists.
NOTE: JUMP-OFF FELL APART
You can no longer access the uppermost ledge of Jump-Off Joe. Until recent years, you could walk about fifty feet above the beach, (which provided a wonderfully romantic spot to cuddle, especially at night.)
UPDATE AS OF JAN 2021: JUMP-OFF IS SELF-DESTRUCTING. It is now closed off and no longer accessible. Newport's Jump-Off Joe Gets Dangerous, Oregon Coast Landmark Closed Off
Nye Beach District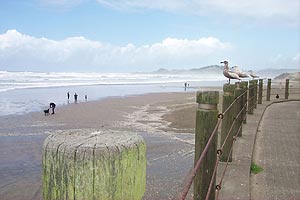 Nye Beach, it seems, was known as the ``honeymoon capitol'' of the world in the teens and `20s. (This is back when Nye Beach was a separate resort town, complete with a natatorium and connected to Newport - what is now the bayfront - by only a primitive road made of planks and mud.)
It still has many romantic qualities today, partly due to the charming turnaround and its decidedly upscale pleasures. The stretch between Jump-Off Joe and Agate Beach is usually fairly deserted, making for some great walking hand-in-hand opportunities.
It's another marvelous step back in time, except here the atmosphere is as much from Old Europe as it is America 100 years ago. Tiny, even minuscule streets snake their way gracefully between the larger roads and over steep hills, giving way to architecture that is reminiscent of old England as well as the time when Nye Beach was its own bustling resort community.
Here, you'll also find the Sylvia Beach Hotel. This is a delightfully surreal little literary freak zone, with rooms decked out in themes according to authors such as Hemingway, Dr. Suess, Agatha Christie and an Edgar Allan Poe room complete with a pendulum hanging over the bed.
An ever-growing array of shops, restaurants, and wine experiences dot the landscape of Nye Beach now.Nye Beach Turnaround, Landmark of Newport
Newport Performing Arts Center
390 seats are just the beginning at Newport Performing Arts Center. It's a beautiful and modern venue which overlooks stunning Nye Beach, and now features a nifty playground for kids. Also, the memorial to composer Ernest Bloch is now here.
Sometimes former "M*A*S*H" star David Ogden Stiers would make appearances here as a guest conductor, and you'll find shows from various genres, opera, rock, readings from famous authors or even a film series or theater production. 777 West Olive, Newport. 541-265-ARTS.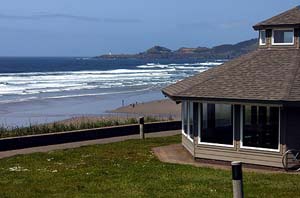 Don Davis Park and Vietnam Memorial
Atop this bluff, across the street from the Performing Arts Center, lies this cozy park, with its quaint, paved path to the beach and the small, indoor viewing room. Some lookout points next to the building have concrete slabs jutting a tiny ways over the barrier, providing nifty spots to lounge in the sun while drinking in the ocean view.
The beach is a short walk to Nye Beach, and features some interesting rock structures. The paved path is lighted at night and boasts some concrete benches, adding to the romantic vibe of this walk. Don Davis Memorial Park
Lincoln County Historical Museums
The Lincoln County Historical Society and its museum are a fascinating trip back in time. You'll get to see Newport's bridge under construction back in the `20s, and you'll witness the changing landscape of Newport's beaches throughout this century. The Burrows house – an 1890's boarding house – offers an interactive glimpse of the past. It's all a tad east of 101, off SW Fall Street. (541) 265-7609.
Historic Bayfront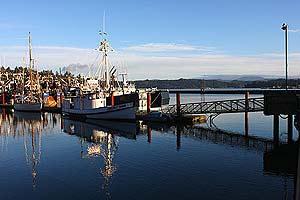 The Bayfront provides some of the most obvious pleasures of Newport, including a variety of touristy attractions along with a large helping of whale watching tours or fishing boat cruises. Shopping is a never-ending voyage as well, with dozens of galleries and specialty shops lining the bay front all over.
The piers are another major source of fun. Walk around these and spot all sorts of wildlife just lounging out in the open, especially massive sea lions barking and carousing.
The variety of eateries on this street is exceptional as well, along with famous to dive bars and more upscale drinking establishments.
Crabbing is huge along the bay. Several spots in town will sell you a license (it's required) as well as rent you crab pots.
Yaquina Bay State Park, Beach Accesses
At the northern end of the bridge you'll find the entrance to this park, which also hosts the lighthouse.
Picnic tables, beautiful views of the bay and ocean, as well as all sorts of other amenities abound here. There's also two accesses to the beach below, via long stairways, making exploration of the north jetty possible.
Take a good look at some of the brushy areas on the edge of the bluff: there's a few secret little alcoves here, just big enough for two, where cuddling and watching the ocean or picnicking is prime. Overlooking Yaquina Bay and Its Park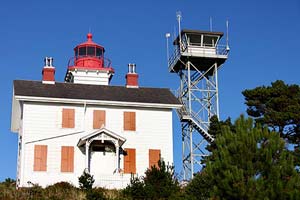 Yaquina Bay Lighthouse
The Yaquina Bay lighthouse is dormant and was actually only used for about three years after it was built in the 1880's. You can tour the inside during most days of the week and check out the legends of hauntings by a young girl, which are the product of a piece of fiction published in the local paper at the turn-of-the-century.
Volunteers augment the experience by dressing up in period garb and giving you tours of the stately old home. Yaquina Bay Lighthouse - about the other lighthouse, history and more
Yaquina Bay and Bridge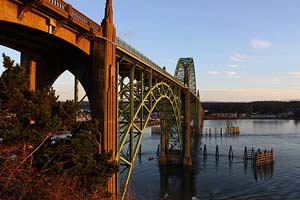 Another Conde B. McCullogh masterpiece, the bridge spans some 3,220 feet across the bay. One highlight, seen from the State Park at its northern end, is the ornamental stairways that spill gently from the bridge, looking a little bit like part of a castle from a spooky film.
During the 4th of July, the bay swells with onlookers as the sound of an enormous firework display booms and bounces off the bay walls, making one heck of a racket. Boaters flood the bay as well, with many shooting off their flare guns into the air, joining in the celebration. There are fewer, more surreal sights than to be driving along this bridge and see a flare hover near your eye level, and then fall away.
South Beach District
Mostly, shopping is the mainstay here, with hordes of shops and eateries inundating this lovely section of Newport. One shopping center features a wacky-colored statue of an aquatic dinosaur nearby, adding to the whimsical charm of the area – if not adding a bit of inadvertent humor as well.
Near the South Beach Marina sits another addition to the Rogue Ales microbrewery. Here, a giant warehouse attached to the restaurant often hosts enormous events, such as the annual Seafood and Wine Fest every February.
At night, one of the most romantic spots on the coast is on Newport's Yaquina Bay. Check out the public crabbing pier, accessible from South Beach, which juts about halfway into the bay. Here, with all the lights reflected on the water and the sound of the surf in the distance, it's an ethereal experience that's sure to light a fire on any cold, coastal night.
Oregon Coast Aquarium
At the ever-famous Aquarium (once the home of Keiko the Killer Whale), you can dig into all sorts of marine life up close and personal, especially with its famed Passages of the Deep. Here, you can wander a giant glass-like tube that contains a 360-degree view of three distinctly different Oregon Coast underwater habitats. Watch all manner of shark and other fishies swim past; it's OK to drop your jaw as you do so. (In South Beach, across the bay from Newport. Call: 541-867-3474.)
Hatfield Marine Science Center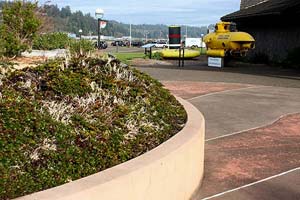 For some seriously scientific and cerebral fun, the nearby Hatfield takes you on a rocket ride of discoveries. Here, you're in the heart of some of the most cutting-edge research being done in the Pacific Ocean: from the restocking of marine habitats, pharmacological applications of various sea goo, and the world-famous whale research work to awe-inspiring research vessels that spend months at a time digging into the underwater volcanoes lurking off our shores. (At right is one research vessels - this one visited here in 1998 from New York University.)
Meeting and greeting you will be the Hatfield's unforgettable octopus, which sits in a tank in the very front of the facility. They've had dozens over the years, but there's always some eight-armed friend to be made when you enter the establishment.
There's a myriad of exhibits here that cover coastal geology, weather, wildlife and marine stuff, as well as other mind-expanding exhibits that are both interactive and mesmerizing. (In South Beach, across the bay from Newport. Call: 541-867-0100.)
Further details at the Newport, Oregon Beaches, Virtual Tour, Map.
More beach accesses for South Beach at the Waldport, Seal Rock, South Beach Complete Guide.