Newport Hotels, Lodgings, Motels - Places to Stay
Updated Weekly
(Newport, Oregon) – Where the famed lighthouse soars high in the air and winks every few seconds, and where the rough Oregon coast waters meet a calming, cajoling bay. Newport is packed full of wonders both natural and manmade, and some of its lodgings reflect that. Hotels, motels and inns here can be a mix of interesting things, while its vacation rental scene is packed full of delights hiding in plain sight.
It's where the old meets the new in intriguing ways when it comes to places to stay. And there are some fascinating amenities and decors involved. Check back here frequently for Newport, Oregon lodging specials, deals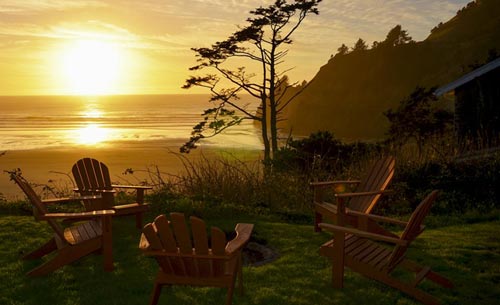 Agate Beach Motel overlooks Yaquina Head with particular style. It's a 1940's vintage motel packed with all the modern amenities, with every room more like a cottage. All adorned in elegant wood walls, it's part rustic and part upscale beauty – yet still cozy and adorable. And affordable. All the rooms come with with full living rooms, dining area, queen sleepers, TV/DVD, full kitchens (with pots, pans, dishes, etc), full size gas range, frig, microwaves and coffee makers. Many pet friendly options on top of it all. Separate bedrooms have queen beds, down comforter quilts and private decks that face the ocean. Plus your own private beach access. Carports come with some units. There's a large grassy area with picnic tables and you'll find a fire pit perfecting for summer roasting and post-beach walk chats. It's all close to Nye Beach or Newport's Bayfront. 175 NW Gilbert Way. Newport, Oregon. 541-265-8746. www.agatebeachmotel.com.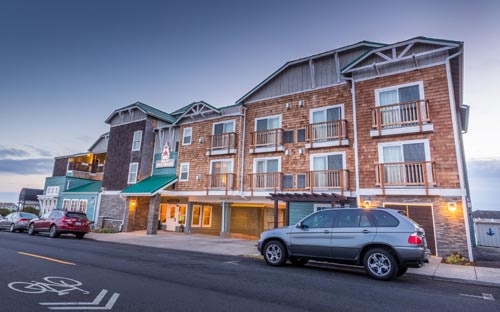 In famed Nye Beach, the arts epicenter of the central Oregon coast, Inn at Nye Beach stands tall and stately, exuding romance and the upscale. It's a boutique hotel with breakfast service to your door, an elevator that's wheelchair friendly, and there are full balconies and spa features. The sundeck – as well as the oceanfront rooms – afford expansive vistas of the Pacific and the flashing of Yaquina Head Lighthouse in the distance. Room options include one and two bedrooms, a two-bedroom kids suite, a fireplace, a honeymoon suite and even a Jacuzzi loft room. Amenities: gourmet teas and coffee, DVD (and rentals), microwave and mini-fridge, high thread count luxury linens, Jacuzzi options, fireplaces. 729 NW Coast St. Newport, Oregon. 541.265.2477. 800.480.2477. www.innatnyebeach.com.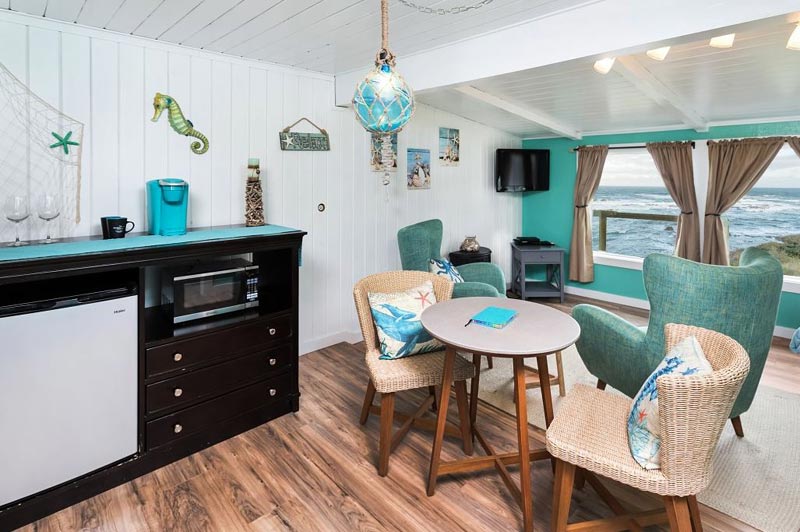 Moolack Shores Inn. Just off Hwy 101 above beautiful Moolack Beach, a few miles north of Newport find this little gem. Guests are treated to private access to Moolack Beach and rooms overlook panoramic ocean vistas from the cliff it sits on. Thirteen individually themed boutique rooms are 100% smoke-free and some include spacious decks for lounging. A new firepit has is a beautiful spot to watch the sun go down over the Pacific Ocean. Amenities include a BBQ area, WIFI, microwaves, refrigerators, TVs, private decks and fireplaces in some rooms. Just a few minutes drive to all Newport has to offer including the Oregon Coast Aquarium, the Newport Bayfront, historic Nye Beach and so much more. 8835 North Coast Highway, Newport, Oregon. (541) 265-2326. Moolack Shores Website here.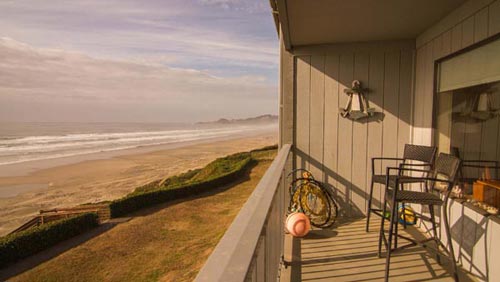 Nye Beach Condos & Cottages. Adorable cottages with a somewhat historic vibe to sleek, modern units – all with ocean views or at least a quick beach access. They offer a variety of rentals, ranging from studio condos with one king bed or two queen beds, while the cottages vary in size and configuration. All rentals include kitchen or kitchenettes, flat screen TVs, and full ocean views. Free wi-fi is available in select rentals. All condos come with two queen size beds or a queen bed, triple sheet bedding, fully equipped kitchen, flat screen TV, and a full patio with unobstructed ocean views. The cottages come with quite the atmosphere and cozy fee, often evoking that Oregon coast of old. All of it in Newport's rich, diverse Nye Beach area and all with 24-hour access to staff at their sister hotel, Inn at Nye Beach. 729 NW Coast St. Newport, Oregon. 541.265.2477. Website here.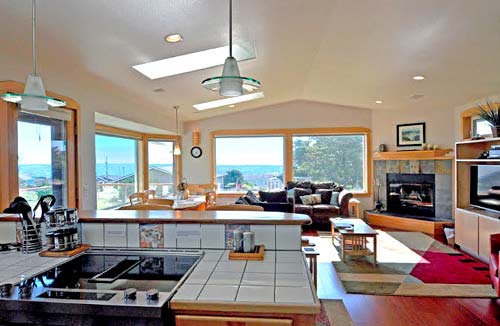 Just a short drive south of Newport, in Waldport, you'll find two stunning vacation rental options: the Pacifica House and the Waves House. These two contemporary stunners sleep up to 8, and they feature enormous windows on the ocean as well as a wood fireplace, cathedral ceilings, and a private hot tub under the stars with an ocean view. There's a pool you get access to in the summer. Waldport. 541-968-0322. Website here.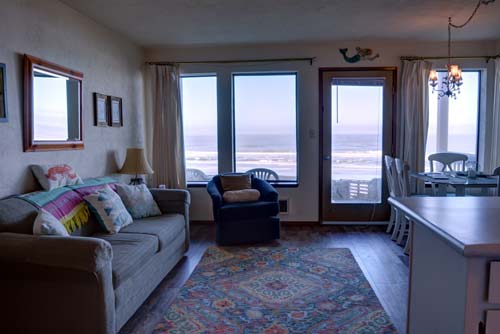 Little Bit O' Heaven is a gorgeous lodging in the historical Nye Beach area. This oceanfront condo sits at the ground level, offering one bedroom and accommodating up to four people. You'll also find a sofa sleeper for a guest, along with access to a pool and hot tub. Amenities: blue-ray player, cable TV/Dish, washer, outdoor furniture and fast wi-fi. Newport, Oregon. 800-723-2383 Website here.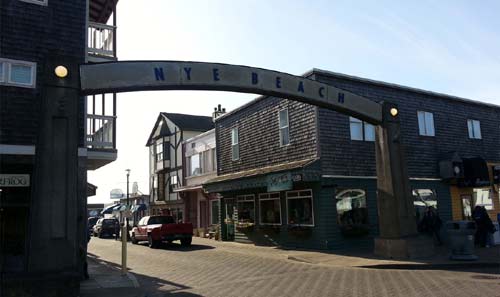 Nye Beach Condos at Pacific Crest feature various units and cottages in a soaring, beautiful condo overlooking this historical section of the Oregon coast. Units are massive and each is just steps away from the sandy beaches and addictive restaurants of the area. Amenities: digital cable, some have balconies or patios, wi-fi, and access to an outdoor pool and spa in summer. Nye Beach, Newport, Oregon. 541-265-2477 ext. 752. Website here.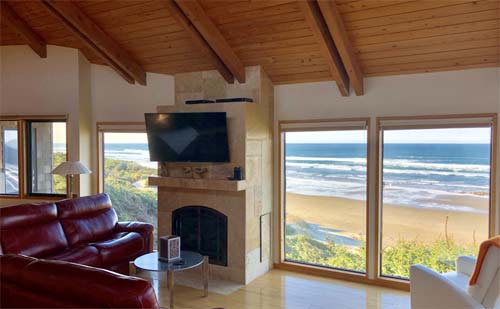 The Mariner on Nye Beach is an upscale two-story home right above the sands of Newport's Nye Beach district, with massive windows providing expansive, panoramic views of the ocean. Two and a half bedrooms and two and a half bathrooms augment the vacation rental experience, sleeping up to four people. A large deck adds even more. From a gargantuan sofa, sit and enjoy the fireplace on those stormy Oregon coast nights, coming with a mounted TV above it.
A sizable kitchen brings out the foodie out in everyone. There's a masterful layout and design to the place, and beautiful furniture graces every corner. The large bedroom suite includes a Jacuzzi bathtub in an engaging stone setting. Both bedrooms include king sized beds. Amenities: Balcony binoculars, blu-ray player, board games, cable TV, washer/dryer, outdoor propane grill. Discounts for seven days or more. Newport, Oregon. 800-723-2383 Website here.
BeachcombersNW in Newport. Dozens of independently owned vacation rentals in the Newport area, many of which are pet friendly. Choose from gigantic homes to cozy charmers around Newport's beaches, including Nye Beach. A variety of interesting amenities and options, oceanfront, close to the sea and even hot tubs. And there's a rental locator map. See BeachcombersNW
Lodgings, Hotels, Motels, Vacation Rentals Near Newport, Oregon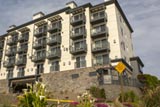 The Shearwater Inn, Hotel - Lodging near Newport. Upscale hotel, wonderful ocean views. Spacious rooms and suites, gas fireplaces, decks, easy beach access, outdoor hot tub, many dog friendly rooms. Many w/ panoramic ocean views. Flat Screen TVs, DVD Players, wireless, and some suites have full kitchens. Some have king beds, hide-a-beds. All w/ coffee maker, refrigerator, microwave and a hair dryer, Complimentary continental breakfast, hosted wine social. Just blocks from the Outlet Center, Cultural Center, and a short five-minute drive to the casino. About three miles from Taft and Siletz Bay. 20 min drive to Newport. 120 NW Inlet Court. Lincoln City, Oregon.(541) 994-4121. 800-869-8069. www.theshearwaterinn.com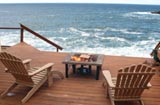 An Ocean Paradise Whales Rendezvous, Depoe Bay - near Newport. Two oceanfront suites for a romantic getaway: Vacation Rental package or a Bed and Breakfast Package, you get to choose. Private deck, private outdoor entrance. Large outdoor deck / garden area, wood fire pit, Adirondack chairs. Suites come with elegant antiques, gas fireplace, fridge, microwave, toaster, coffee maker, WiFi, cozy robes, satellite TV, DVD, and binoculars to watch the whales. 147 N. Highway 101. Depoe Bay (15 mins from Newport, Oregon). 541-765-3455. Website here.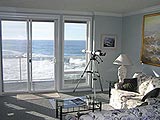 Keystone Vacation Rentals - Close to Newport Luxury oceanfront condos in Depoe Bay and Lincoln City. Beachfront or up high at whale watching vantage points. Often w/ private hot tubs, wi-fi, access to indoor pools and even a theater. Most sleep four. Other highlights include gourmet kitchens, river rock fireplace, plasma TV, washers and dryers, fitness center, pool table, beach patio, BBQ, covered parking, massage chair. Some have access to a conference room. Depoe Bay and Lincoln City (15 - 25 min drive from Newport). (503) 443-1414). www.KeystoneVacationsOregon.com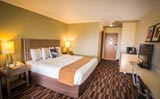 Inn at Wecoma. - 30 mins from Newport. Recent major renovation. Sleek, modern design w some partial ocean views, balconies and fireplaces. Spacious guestrooms w/ microwave, refrigerator, coffeemaker; lavish, free hot breakfast. Large grand suite. Indoor pool and a hot tub. W-fi, fitness room, business center, free wi-fi, 867-sq-foot conference room for business meetings or large social events. Some pet friendly. 945 NW Hwy 101. Lincoln City, Oregon. 800-452-8981. www.innatwecoma.com (20 mins from Newport, Oregon).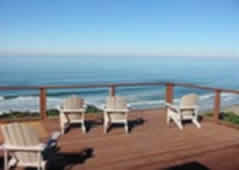 A1 Beach Rentals, 30 mins from Newport . Over 25 vacation rental homes . Craftsman or traditional beachfront. One to seven bedrooms. In various areas of Lincoln City and overlooking the beach, with some in Depoe Bay. Some w/ hot tubs, decks, BBQ, rock fireplaces. Some new, some historic charmers. Lincoln City, Oregon. 1-(503)-232-5984. www.a1beachrentals.com. (30 mins from Newport, Oregon).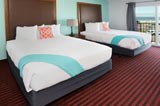 Ocean Breeze Hotel - 35 mins from Newport. Right across the street from the D River access and close to all the action, offers up a wide array of means for a pleasant night's stay. Pet friendly. Ocean views or lake views. Every room comes with coffee makers, snack-sized fridges, microwaves and a small dining / work station. Amenities: complimentary continental breakfast, Free wi-fi, accessible elevator. 070 SE 1st St. Lincoln City, Oregon. (541) 992-0063. Ocean Breeze website.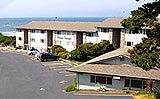 Ocean Terrace Condominiums. - 30 mins from Newport. Luxury condo-style rooms overlook ocean. Some rooms sleep as many as six. Sliding glass doors allow you to step outside. Each suite contains separate bedroom, full kitchen, TV in the living room and each bedroom, DVD player. Each decorated in unique way, you may find: hardwood floors, wi-fi, library ceiling, fine cabinetry, books and games, pillow top beds, massaging shower head, an office area, sleeper sofas, cable TV. 4229 SW Beach Ave. Lincoln City, Oregon. (541) 996-3623. www.oceanterrace.com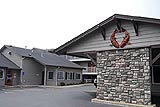 Coho Oceanfront Lodge. - 30 mins from Newport. Overlooking the Pacific; upscale, luxury hotel w/ some pet friendly. Jacuzzi, sauna, indoor heated pool, in-room massage, wifi, fitness room. Studios w/ balcony, deluxe suites for small families, couples. Suites designed for kids; big suites for larger families up to eight; fireplace suites too. Luxury suites available. Free continental breakfast. 1635 Northwest Harbor Ave. Lincoln City (35 mins from Newport). 800 848 7006. www.thecoholodge.com.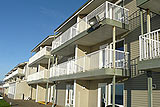 D Sands Condominium Motel. - 30 mins from Newport. Every room is beachfront and comes as a suite or studio-suite and has a full-size kitchen and balcony or patio. Some gas fireplaces, all have DVD Players w/ movies. There's a heated indoor pool, a spa, and this fabulous beach is lit at night. Lots of movies to rents. Rooms sleep anywhere from two, four to six - including deluxe fireplace suites. Close to outlet mall, numerous other attractions, beaches. 171 S.W. Highway 101, Lincoln City (30 mins from Newport, Oregon). 800-527-3925. www.dsandsmotel.com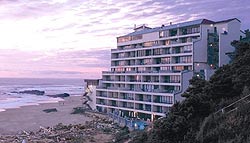 Inn at Spanish Head. - 30 mins from Newport. All oceanfront rooms - nestled against a rugged cliffside. Dine in penthouse restaurant and bar. Studios to suites w/ microwaves and refrigerators to full kitchens. Wi-fi, spa, saunas, exercise room and heated swimming pool. Conference, meeting rooms, wedding planner. 4009 SW Highway 101. Lincoln City, Oregon. 1-800-452-8127 or 541-996-2161. www.spanishhead.com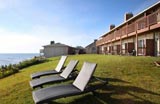 Surfrider Resort. (15 mins north of Newport). A combo of restaurant, luxury resort and oceanfront boutique, the Surfrider sits in that gloriously, slightly hidden section between Depoe Bay and Lincoln City. Overlooking Fogarty Beach, whales are often abundant here. Amenities include decks or balconies in some rooms, some pet friendly, kitchens available, handicapped parking, and plenty of entertainment devices. Free Wi-fi. 3115 NW Highway 101, Depoe Bay, Oregon. (541) 764-2311. Surfrider website here.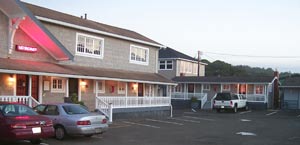 Whistling Winds Motel, Lincoln City. - 30 mins from Newport Restored 1930's Motor Coach Motel w/ hefty dose of historic charm. Some pet friendly. Fireplace suite, or rooms featuring vaulted ceilings, warm rich wood and walls, Jacuzzis, hand built river rock fireplace or full kitchen. 866-384-9346 3264 NW Jetty Ave, Lincoln City, Oregon. www.whistlingwindsmotel.com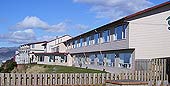 Sea Horse Oceanfront Lodging (and vacation rentals). - 30 mins from Newport. Panoramic views. Spacious family suites, vacation rentals as well: available are fully equipped houses and cottages close to the beach. Heated indoor pool, dramatic oceanfront spa, , free casino shuttle & HBO. Fireplaces, private decks and spas available. Some pet friendly. Kids 12/under stay free in parents' room. Very attractive rates. 1301 NW 21st Street, Lincoln City, Oregon 97367. Toll Free 800-662-2101 or 541-994-2101. www.seahorsemotel.com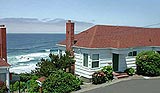 Ester Lee Motel. - 30 mins from Newport. Spectacular oceanfront views, all unique rooms or cottages. Motel units sleep from two to four people; some full kitchens. All motel units w/ gas fireplaces. Some cottages w. full kitchen, or one or two bedrooms. Some cottages pet friendly. Most units free wi-fi, fireplaces; coffee, TV and DVD. Large library of over 300 DVDs, plus books in the lobby. One Jacuzzi cottage. Paved path to beach. 3803 S.W. Hwy. 101, Lincoln City, Oregon. 541-996-3606. www.esterlee.com/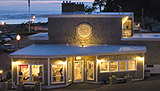 Looking Glass Inn. - 30 mins from Newport. In Taft District, across from Siletz Bay. Cape Cod-style inn, close to shopping, bay and famous restaurants. Whirlpool suites, one bedroom deluxe suites, two-bedroom fireplace suites or a suite w/ living area and two bedrooms. Many w/ beautiful bay and ocean views and spacious layouts. Whirlpool tubs, gas fireplaces, kitchens and some rooms with decks. Complimentary continental breakfast, wi-fi. Some pet friendly. 861 SW 51st Ave. Lincoln City, Oregon. 800-843-4940. www.lookingglass-inn.com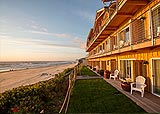 Pelican Shores Inn. - 30 mins from Newport. Every room has a fabulous view. Newly renovated suites - some w/ oceanfront patios or gas fireplaces - feature free Wi-Fi, DVD players, and kitchens. King studios w/ sliding glass doors to oceanfront patios at lawn level. One-bedroom oceanfront suites include a separate bedroom and kitchen. Other suites w/ two bedrooms, living area, two bathrooms and more. Stunning heated indoor pool, complimentary continental breakfast, DVD's for rent, guest laundry, and barbecues. 2645 NW Inlet Ave. 800-705-5505. www.pelicanshores.com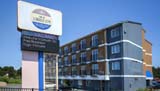 Inn at Lincoln City. Right on the famed D River with ocean views, and just a block from the beach. Elegant guest rooms, some w/ views and whirlpool tubs. Copious complimentary breakfast in morning, free wi-fi, a business center, accessible elevator, a sizable DVD library, pets allowed and a 24-hour lobby. Lakeside fire pit. Plenty of parking, and there's an indoor spa. All rooms come with coffee maker, microwave, refrigerator, flat screen TV, hair dryer, air conditioning. 100 percent smoke free. 1091 SE 1st Street. Lincoln City, Oregon. (541) 996-4400. Website here.

Latest Newport, Oregon Lodging, Hotel, Motel News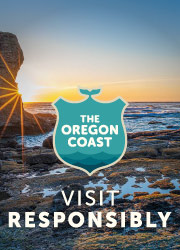 Search over 5,500 Pages for Oregon coast subjects, articles or lodging...
Back to top of Newport Lodging
Back to Oregon Coast
Contact Advertise on BeachConnection.net
All Content, unless otherwise attributed, copyright BeachConnection.net Unauthorized use or publication is not permitted