Pacific City, Oregon Hotels, Lodging: Rentals, Inns, Motels Official Guide
Updated Weekly

(Pacific City, Oregon) – That soaring dune of the north Oregon coast landmark known as Cape Kiwanda and its rugged, jagged features: that's in some ways just the beginning of the striking features of Pacific City. This once sleepy hamlet has exploded in the last two decades to not only become a force of nature (when it comes to the natural features), but a place where cushy, plush and vibrant civilization are just steps away from the wild sands.
Some of the hotels, motels and rentals of Pacific City contain a few serious surprises, with amenities and fun features you can't find anywhere else. Click here for changing Pacific City hotel deals, specials
Among the best of Pacific City: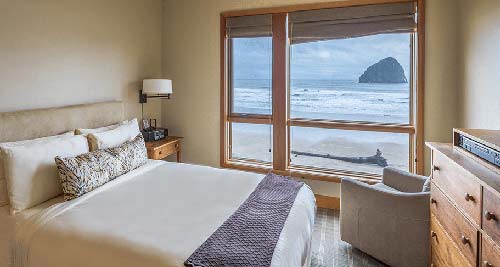 Headlands Coastal Lodge and Spa 33 high-end guest rooms are augmented with 18 luxury cottages, all oceanfront and with stunning views of not just Haystack Rock but the scenic southern end of these pristine beaches. Some pet friendly units. Guest room options are varied, but all come with oceanfront patios or balconies, and numerous basics such as luxury bath items, free wi-fi, upscale coffees/teas, flat screen TVs, custom bike and surfboard racks, and much more. A mix of two to three bedroom vacation rental condo units and upscale hotel rooms - all oceanfront with private balconies. Most rooms come with cast iron soaking tubs, in-room iPads. Gas fireplaces, in-room Bonavita brewing system, large TV's with PPV. High-speed wi-fi. Priority given to guests at Tidepools spa and wellness in the lodge and Meridian Restaurant and Bar. Many pet friendly rooms with numerous amenities for Fido. You'll also find gas fireplaces, pillow top king mattress, air conditioning, and in-room safes. Some guest rooms feature and extra seating area with scenic windows. 33000 Cape Kiwanda Drive, Pacific City, Oregon. 888-965-7000. See link for more photos, features.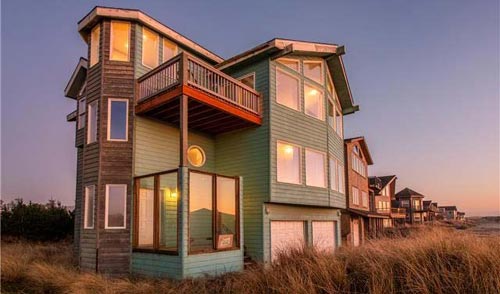 Kiwanda Coastal Properties. From extravagant to elemental, and most are just steps from the beach – you'll find over 50 vacation rentals around Pacific City and as far as Tierra Del Mar. Most have an ocean view of some kind, and even walking distance to soaring Cape Kiwanda. Depending on the home, you may discover barbecues, large decks, high ceilings, cozy fireplaces, a spiral staircase, a romantic beachside cottage, and many more possibilities. These rentals sleep from two to 16 people. All homes have fully equipped kitchens, Wi-Fi, including microwaves. Most have dishwashers, televisions, DVD/VCR players, stereos, wood or gas fireplaces (or woodstoves) and laundry facilities. All your linens and towels are provided. Some allow pets while all non-smoking. Plenty of tempting weekday specials; some homes are clustered together, making them perfect for family reunions or weddings. Pacific City, Oregon. 503-965-7212. Website here.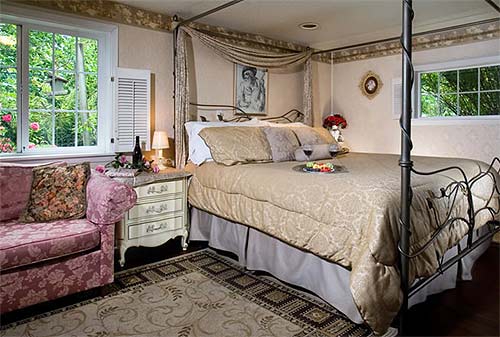 A calming and cozy place, Sandlake Country Inn oozes romance and an ethereal sense of time travel. This 100-year-old home was actually partially constructed from the timbers of a shipwreck. You're about a mile from the ocean here, a quick jaunt to the Sandlake rec area and it's massive dunes. It's the first BnB on the Oregon coast to be certified green. In many ways it's like a small hotel, with a beautifully decorated interior along with Jacuzzi spa tubs, fireplaces and all sort of luxury attractions. Amenities: four-course breakfast served at your door, a array of movies, an extra large suite, a Eurotop canopied bed and more. 8505 Galloway Rd.Cloverdale, Oregon. Click here for further info. 877-726-3525. 503-965-6745.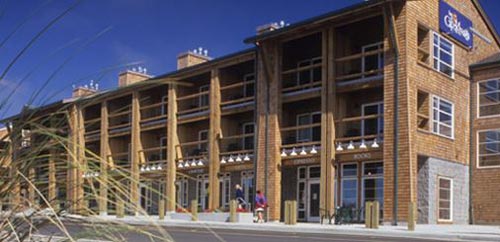 Pacific City's star hotel, the Inn at Cape Kiwanda, started it all a couple decades ago, helping to create the north Oregon coast hotspot we all know and love. Big, deluxe guest rooms look out over the Pacific, coming with gas fireplaces for those cold or raucous stormy beach nights. It's very pet friendly, and some suites come with two bedrooms. That engaging beach is literally across the street, so you can climb that wild, untamed dune you've been eyeing from your lodging. Amenities: free wi-fi, plush pillow top beds, flat-screen TV's, feather pillows, and a gourmet coffee shop directly below. Some of the larger, more elaborate suites accommodate families and have kitchens. These also have Xbox 360s in the kids bunk room along with in-room board games and puzzles. 33105 Cape Kiwanda Dr. Pacific City, Oregon. 888-965-7001. Website for full details.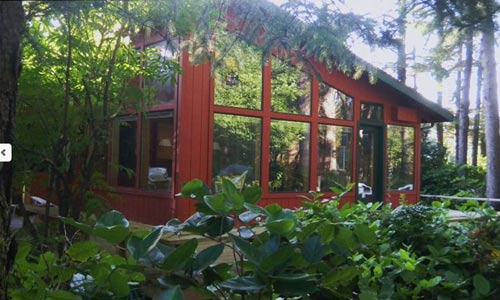 In the tiny, off-the-beaten-track tract of sand known as Tierra Del Mar, Idyllic Beach Houses is home to two engaging, independently-owned vacation rentals. One is the Guardenia House and the other is called the Pier House. Both are located in the lush forest of Hemlock and Sitka Spruce that graces this slightly mysterious section of beach just north of Pacific City, just as the Three Capes Tour really gets going. Hardwood floors, an enormous wrap-around juniper deck, a kids' bunkhouse, and floor-to-ceiling windows are just some of what they bring to the game. You'll also find vaulted ceilings, a second floor balcony, a wood stove and a barbecue. Amenities include fireplaces, major kitchen euphoria and they sleep nine to 10 people.
It's all just five miles north or Pacific City in Tierra Del Mar. 503-662-5420 or see the website. See full article: The Idyllic Beach Houses of Tierra Del Mar, N. Oregon Coast In the midst of all this is an indie vacation rental biz called Idyllic Beach House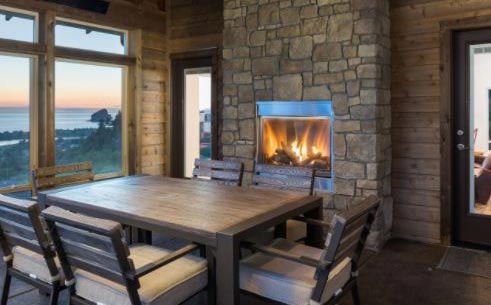 Even better than a hotel room in Pacific City is sometimes your own massive vacation rental. Open Nest Vacation Rentals has dozens of these soaring homes through this Oregon coast burgh of note, accommodating up to 14 people sometimes. So many pet friendly options as well, where you'll find massive custom homes to simple beach houses loaded with memorable charm. Amenities: gas or wood fireplaces, some Jacuzzi tubs, some with access to a clubhouse, full kitchens and wedding or reunion facilities close by. 1-877-549-2632 or 503-965-5776. 3105 Cape Kiwanda Drive, Pacific City, Oregon. Website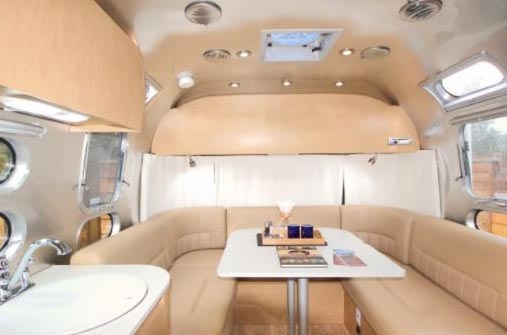 Have you ever wanted to do the camping thing on the Oregon coast – but in a ritzy way? Hart's Camp – part of the Inn at Kiwanda group – allows you to do just that. Here, you get a vintage Airstream that's tricked out to the max with finer amenities. So pet friendly and so inviting, you even get a lovely grassy area complete with an outdoor grill. See the website for the full amenities and glamping features. All just east of the Inn at Cape Kiwanda. Off Brooten Road, Pacific City, Oregon. 503-965-5776. Catch the entire story here.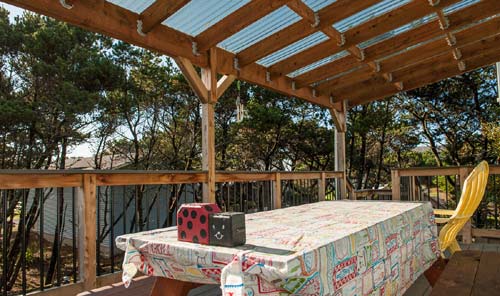 Oregon Beach Vacations in Pacific City. You'll find a few vacation rental homes in Pacific City as well as around Neskowin – some large, even soaring and luxurious beauties with some dazzling amenities. There are a few oceanfront gems, including one Pacific City that's a stunning cabin of modern design. There's quite a few in Neskowin, most of which are close to the ocean. A highlight includes Eagles Crest, a vacation home that sits perched above the ocean on a skyward-bound cliff, where every bedroom has an incredible view. Full kitchens are available, wi-fi, outdoor grills, decks and more. There's even some in wistful, clandestine Tierra Del Mar. Some pet friendly. Office nearby in Lincoln City. 1-800-723-2383. Website for Pacific City Rentals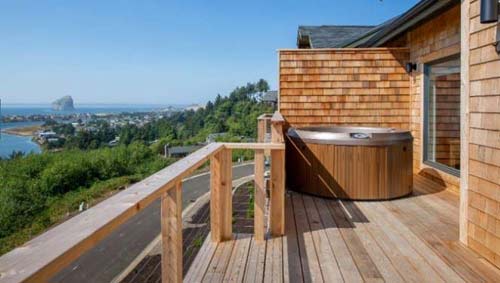 Kingfisher Townhome, Pacific City. Specifically called the Kingfisher Townhome #216, this Pacific City wonder is brand new. Pet friendly. Part of the Pacific Seawatch community, here you're up high with massive vista views of the Pacific, Haystack Rock and Cape Kiwanda – nearly from an aerial point of view. It's two stories of pure luxury, sleeping up to ten people. The deck comes with a hot tub, there are two master bedrooms, and a large bunk room for the kidlets. You also get free video rentals with your flat screen TV, along with games, books, and a full gourmet kitchen that comes with high-end Jenn-Air appliances. There's access to the Pacific Seawatch Clubhouse, a modern laundry room, full size washer/dryer, a covered car port and numerous other amenities. Pacific City, Oregon. See full web details – book now / availability. 877.549.2632
Hotels - Lodgings in Oceanside Near Pacific City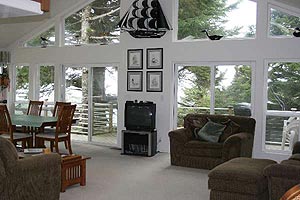 Rental Homes in Cape Meares - Tillamook Bay.Two vacation rental homes in the extremely secluded village of Cape Meares, next to the headland - in the Oceanside area. One has three levels, multiple decks and large picture windows to the ocean. Large enough for family reunions or business retreats, four bedrooms. Gas barbecue and mountain views, plus it's close to a wooden, two-mile hike to the Octopus Tree and the lighthouse. The other home is also large and luxurious with multiple levels and quite close to the ocean. Three bedrooms accommodate 10 people. Features: gas grill and barbecue, a hot tub/Jacuzzi, fireplace and some pets are ok. There is large, overstuffed furniture and a gathering table for eight. Wi-fi and cable TV. Cape Meares, Oregon. See Beach Break Vacation Rentals. Office in Nehalem, on 101. 503-368-3865. 877-655-0623.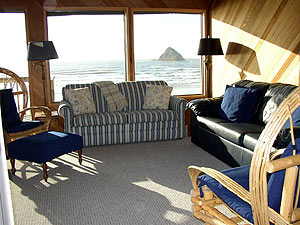 Oceanfront Cottages, Oceanside. These charming rental homes contains various bedrooms, many with a deck with a monster of a view, right on the beach of clandestine Oceanside. Cottages, larges homes and more, also featuring a gas barbecue. Enjoy TV with cable, DVD/VHF and wi-fi. Nicely furnished oceanfront homes - perfect retreats for family vacations or romantic get-away weekends. Oceanside, Oregon. A wide variety of amenties and budgets.
Also homes nearby in Pacific City and Netarts area.
See website and contact info here.
Hotels - Lodgings in Tillamook Bay, Near Pacific City
Sheltered Nook on Tillamook Bay.A very unique set of vacation rentals that is not only extremely eco-friendly but does so with tiny homes (each 385 sq ft). Set in a secluded woodsy area near Tillamook Bay, it's a bit of a natural playground as well, with its own Disc Golf course, other lawn games, fire pit and even a dog bath. Features a complimentary breakfast each morning. Pet friendly. Each home is individually decorated with flair, with vaulted ceilings and plenty of natural light. Amenities include: flat screen TV, DVD player, locally-made furniture, cooking utensils, full-sized shower, private wi-fi, private deck that includes a barbecue, outdoor seating, ceiling fan and more. They come with three queen beds and lots of closet space. The park-like setting has its own private garden. The emphasis is on stopping to smell the roses. 7860 Warren Street. Bay City, Oregon. (503) 805-5526. http://shelterednook.com
Nearby: in Rockaway Beach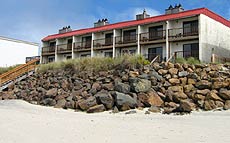 Tradewinds Motel, Rockaway Beach. Expansive ocean views. For families, couples or large groups. Some pet friendly. All rooms immaculate: TV's, VCR's and in-room phones. Wi-fi. Oceanfronts all have queen bed, a double hide-a-bed, kitchen, cozy firelog fireplace and a private deck. Some oceanfront units come w/out kitchens. Lavish rooms, yet some still perfect for those on a budget. Has an elaborate oceanfront Jacuzzi suite w/ two bedrooms. Some rooms connect to create two-room and three-room suites. 523 N. Pacific St., Rockaway Beach, 25 mins from Oceanside). (503) 355-2112 - 1-800-824-0938. www.tradewinds-motel.com
Lodgings Nearby Three Capes Loop and Oceanside, Pacific City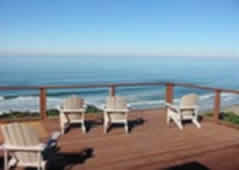 A1 Beach Rentals, Lincoln City. With over 25 vacation rental homes to choose from, They work just grand for large family vacations all the way down to a getaway lodging for two. This one breathtaking collection of craftsman or traditional beachfront homes. There are ocean view houses – from one to seven bedrooms. Almost all are in various areas of Lincoln City and overlooking the beach, with some in Depoe Bay. All kinds of amenities are available, like hot tubs, decks, BBQ, rock fireplaces, beamed ceilings and more. Some are new, some are historic charmers. Lincoln City, Oregon. (30 mins from Pacific City). 1-(503)-232-5984. www.a1beachrentals.com.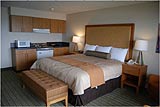 Coho Oceanfront Lodge. 20 mins drive to Pacific City, 45 mins to Oceanside. Overlooking the Pacific; upscale, luxury hotel w/ some pet friendly. Jacuzzi, sauna, indoor heated pool, in-room massage, wifi, fitness room. Studios w/ balcony, deluxe suites for small families, couples. Suites designed for kids; big suites for larger families up to eight; fireplace suites too. Luxury suites available. Free continental breakfast. 1635 Northwest Harbor Ave. Lincoln City (30 mins from Pacific City). 800 848 7006. www.thecoholodge.com.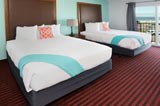 Ocean Breeze Hotel - 25 mins from Pacific City. Right across the street from the D River access and close to all the action, offers up a wide array of means for a pleasant night's stay. Pet friendly. Ocean views or lake views. Every room comes with coffee makers, snack-sized fridges, microwaves and a small dining / work station. Amenities: complimentary continental breakfast, Free wi-fi, accessible elevator. 070 SE 1st St. Lincoln City, Oregon. (541) 992-0063. Ocean Breeze website.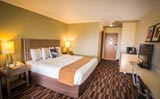 Inn at Wecoma. 20 mins drive to Pacific City, 45 mins to Oceanside. Formerly Farmer's Daughter Hotel. Sleek, modern design w some partial ocean views, balconies and fireplaces. Spacious guestrooms w/ microwave, refrigerator, coffeemaker, free continental breakfast.  Indoor pool and a hot tub. W-fi, fitness room, business center, and located within walking distance to finest restaurants. 867-sq-foot conference room for business meetings or large social events. Some pet friendly. 945 NW Hwy 101. Lincoln City, Oregon. 800-452-8981. www.innatwecoma.com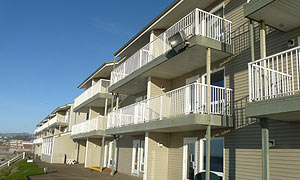 D Sands Condominium Motel, Lincoln City. 20 mins drive to Pacific City. Every room is beachfront and comes as a suite or studio-suite and has a full-size kitchen and balcony or patio. Some gas fireplaces, all have DVD Players w/ movies. There's a heated indoor pool, a spa, and this fabulous beach is lit at night. Rooms sleep anywhere from two, four to six - including deluxe fireplace suites. Close to outlet mall, numerous other attractions, beaches. 171 S.W. Highway 101, Lincoln City, Oregon. 800-527-3925. www.dsandsmotel.com.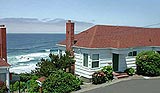 Ester Lee Motel
-
close to Pacific City. Spectacular oceanfront views, all unique rooms or cottages. Motel units sleep from two to four people; some full kitchens. All motel units w/ gas fireplaces. Some cottages w. full kitchen, or one or two bedrooms. Some cottages pet friendly. Most units free wi-fi, fireplaces; coffee, TV and DVD. Large library of over 300 DVDs, plus books in the lobby. One Jacuzzi cottage. Paved path to beach. 3803 S.W. Hwy. 101, Lincoln City (20 mins from Pacific City, Oregon, 35 mins from Oceanside). 541-996-3606. www.esterlee.com/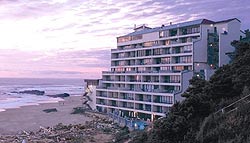 Inn at Spanish Head. 20 mins drive to Pacific City, 45 mins to Oceanside. It is Lincoln City's only resort hotel built right on the beach. The whole glittering place has nothing but oceanfront rooms - nestled against a rugged cliffside overlooking a soft, sandy beach. Accommodations range from bedrooms to studios to one-bedroom suites w/ microwaves and refrigerators to full kitchens. Hotel amenities include wi-fi, spa, saunas, exercise room and a year-round heated swimming pool. Kids will love the game room and easy beach access. It's also perfect for an inspirational retreat, with a full-service conference and meeting rooms. They have an on-site wedding planner, and a variety of packages. Near the south end of Lincoln City at 4009 SW Highway 101. Lincoln City, Oregon. (30 mins from Pacific City). 1-800-452-8127 or 541-996-2161. www.spanishhead.com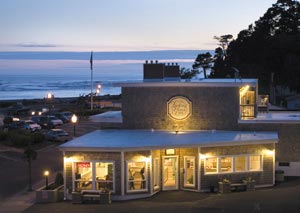 Looking Glass Inn. Cape Cod-style inn, in Taft District, across from Siletz Bay. Whirlpool suites, one bedroom deluxe suites, two-bedroom fireplace suites or a suite w/ living area and two bedrooms. Many w/ beautiful bay and ocean views and spacious layouts. Gas fireplaces, kitchens and some rooms with decks. Complimentary continental breakfast, wi-fi. Some pet friendly. 861 SW 51st Ave. Lincoln City, Oregon. (30 mins from Pacific City, 45 mins to Oceanside). 800-843-4940. www.lookingglass-inn.com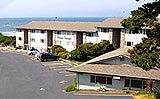 Ocean Terrace Condominiums. 25 mins drive to Pacific City, 45 mins to Oceanside. Luxury condo-style rooms overlook ocean. Some rooms sleep as many as six. Sliding glass doors allow you to step outside. Each suite contains separate bedroom, full kitchen, TV in the living room and each bedroom, DVD player. Each decorated in unique way, you may find: hardwood floors, wi-fi, library ceiling, fine cabinetry, books and games, pillow top beds, massaging shower head, an office area, sleeper sofas, cable TV. 4229 SW Beach Ave. Lincoln City, Oregon. (541) 996-3623. www.oceanterrace.com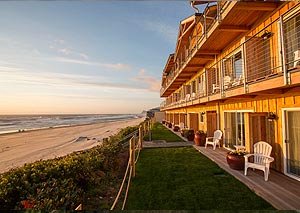 Pelican Shores Inn. 25 mins drive to Pacific City, 45 mins to Oceanside. Every room has a fabulous view. Newly renovated suites - some w/ oceanfront patios or gas fireplaces - feature free Wi-Fi, DVD players, and kitchens. King studios w/ sliding glass doors to oceanfront patios at lawn level. One-bedroom oceanfront suites include a separate bedroom and kitchen. Other suites w/ two bedrooms, living area, two bathrooms and more. Stunning heated indoor pool, complimentary continental breakfast, DVD's for rent, guest laundry, and barbecues. 2645 NW Inlet Ave. Lincoln City, Oregon (30 mins from Pacific City). 800-705-5505. www.pelicanshores.com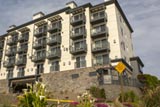 The Shearwater Inn, Hotel -
Lodging near Pacific City. Upscale hotel, wonderful ocean views. Spacious rooms and suites, gas fireplaces, decks, easy beach access, outdoor hot tub, many dog friendly rooms. Many w/ panoramic ocean views. Flat Screen TVs, DVD Players, wireless, and some suites have full kitchens. Some have king beds, hide-a-beds. All w/ coffee maker, refrigerator, microwave and a hair dryer, Complimentary continental breakfast, hosted wine social. Just blocks from the Outlet Center, Cultural Center, and a short five-minute drive to the casino. About 25 miles from Pacific City. 120 NW Inlet Court. Lincoln City, Oregon.(541) 994-4121. 800-869-8069. www.theshearwaterinn.com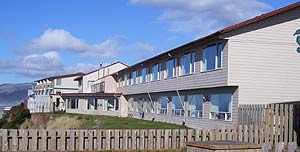 Sea Horse Oceanfront Lodging. 20 mins drive to Pacific City, 45 mins to Oceanside. Dig deep into breathtaking, high panoramic beach views from oceanfront rooms, spacious family suites and fully equipped cottages. Dramatic oceanfront spa, great whale watching, free casino shuttle and HBO. Fireplaces, private decks and spas are available in select rooms.. Pets are welcome in select rooms. Kids 18 and under stay free in their parent's room. Some very attractive rates lurk here.1301 NW 21st Street, Lincoln City, Oregon. 800-662-2101 or 541-994-2101. www.seahorsemotel.com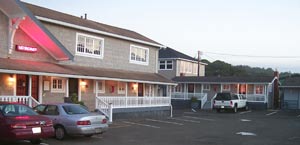 Whistling Winds Motel, Lincoln City. 20 mins drive to Pacific City, 45 mins to Oceanside. Nestled quietly in a Lincoln City residential neighborhood, The Whistling Winds is a restored 1930's Motor Coach Motel with a hefty dose of historic charm and a sense woodsy yet modern chic. Jacuzzis, hand built river rock fireplace or a fully equipped kitchen. It's vintage at its best and most enduring. 866-384-9346 3264 NW Jetty Ave, Lincoln City, Oregon. (30 mins from Pacific City). www.whistlingwindsmotel.com


Latest Pacific City, Oregon Lodging, Hotel, Motel News
Search over 7,500 Pages for Oregon coast subjects, articles or lodging...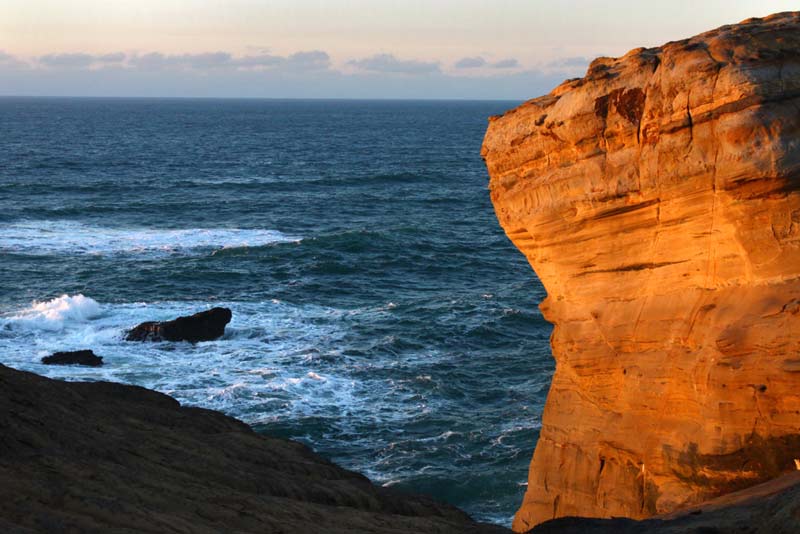 Back to top of Paciic City Lodging
Back to Oregon Coast
Contact Advertise on BeachConnection.net
All Content, unless otherwise attributed, copyright BeachConnection.net Unauthorized use or publication is not permitted