Oregon Coast Geologist on Cape Kiwanda Sinkhole: Why, How and Its Future
Published 01/27/23 at 5:20 PM
By Oregon Coast Beach Connection staff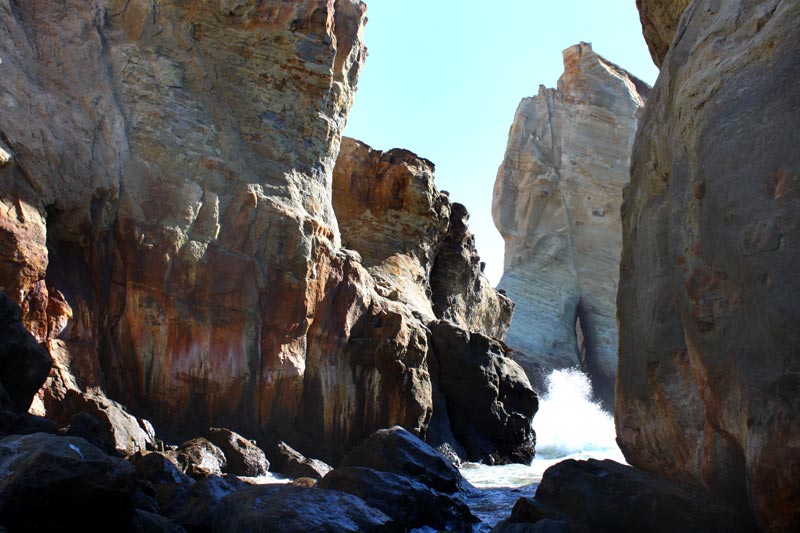 (Pacific City, Oregon) – For some 18 million years or so, Cape Kiwanda has been around in one way or another. It's a geologic oddity along the Oregon coast: certainly this section. Just about all headlands or outcroppings are made of basalt here, frozen lava from some 14 million years ago. But Kiwanda is made of something softer: a form of sandstone that's harder than the sandstone down around Newport (it's actually all part of the same formation), but a lot less resilient than basalt. (Above: a sea cave somewhere here may have been the cause of the sinkhole. Photo Oregon Coast Beach Connection)
So it's no surprise Pacfic City's star attraction is falling apart. This last week a large sinkhole opened up, and that is likely to get bigger. Oregon coast officials may have a handful to deal with here. See N. Oregon Coast's Cape Kiwanda Develops Dangerous Sinkhole - Video
Yet what's causing this? Oregon Coast Beach Connection connected with one prominent geologist.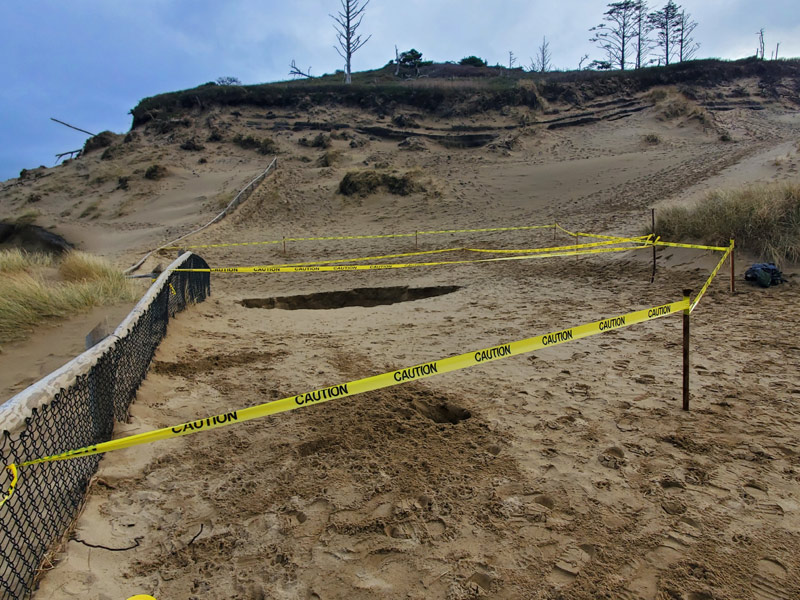 Sinkhole photos courtesy Oregon State Parks
North Oregon coast geologist Tom Horning is a rather famous name in the Pacific Northwest for not just his wide range of knowledge about the coast and his willingness to share it, but he was integral to Seaside's groundbreaking tsunami preparedness programs two decades ago. He's also led tours around the coastline, including geologic looks at Cape Kiwanda.
To be clear, he hasn't examined the hole himself, but Horning knows the area well and a geologist can tell quite a bit by some photos.
He explained there was once another sinkhole in that spot and it was filled up at one point. Now, whatever was holding things together underneath has given away.
"It's an old sinkhole that was filled in with dune sand, and it's been recently undermined by the surf gaining access, either through the sandstone to the northwest of it or farther along the southwest through a fissure of some kind," Horning told Oregon Coast Beach Connection.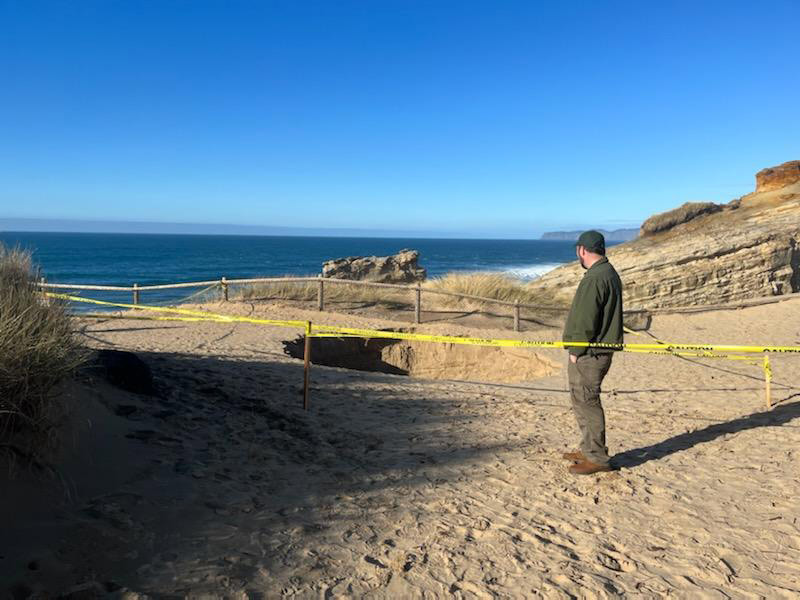 Essentially, some sea cave underneath has given way – perhaps very recently, perhaps it was a while ago. Horning said he could tell by the fine grains of sand in the walls of the hole – just by looking at the photos. That sand is finer because it was under pressure for a long time.
"That means it was a depression area filled in by dunes somewhere in the past," he said. "Don't know if that was a hundred years ago or five thousand years ago."
That sinkhole likely goes deep down, as much as 50 feet, maybe more. Whatever was holding it up was down at sea level.
It doesn't bode well for the future safety of the area. Oregon State Parks and Recreation has cordoned it off and is telling people to stay away. But they may have to try harder with safety sometime down the road.
"The hole will probably get bigger with time, as not that much sand blows through this area as it has in the past," Horning said.
Something down there is washing away, Horning said. It could be a rock that was blocking a sea cave beneath, and it in turn was holding the sand in place.
"Maybe some big waves and a high tide got together and loosened that," he said, noting these ideas are all conjecture at this time. See Cape Kiwanda geology.
Horning does know there are sea caves down there, some in really long configurations, like one that's approximately 150 feet long. The small "spouting horn" at the "mini cove" at the southwestern edge of Cape Kiwanda is proof of that. Horning could tell some channel was underneath everything, feeding water beneath the crack that allows the water to shoot through.
A few parts around the tip of Cape Kiwanda have fallen apart in recent years. A large arch collapsed in 2011, and in the last two years another chunk in that spot fell apart. Complete Guide: Cape Kiwanda State Natural Area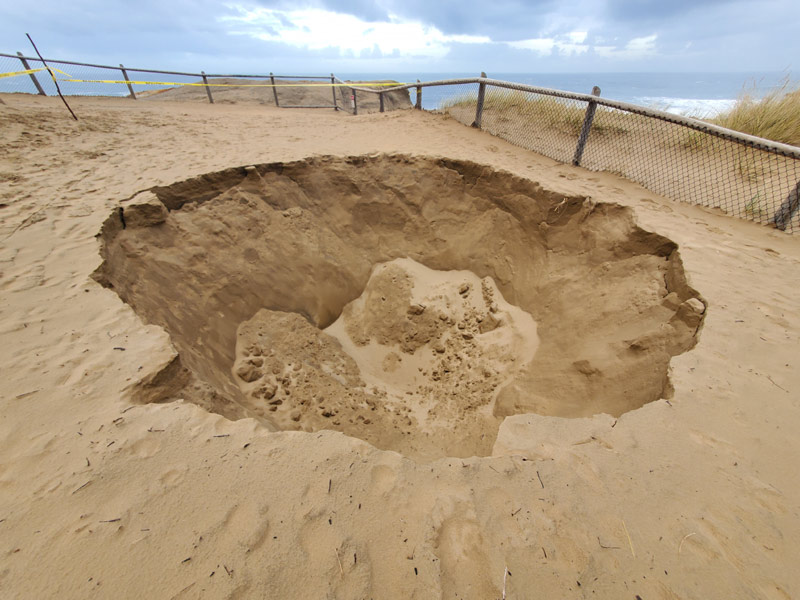 Horning thinks it's a possibility this had something to do with the sinkhole reopening. Events like this can redirect or even increase wave energy hitting the cape.
In any case, that sinkhole is there to stay and probably worsen.
"Whatever allowed sand to wash away has finally accomplished its goal and allowed the hole to be developed," he told Oregon Coast Beach Connection. "There was a hole there already, so there was past erosion. Then it got plugged up with sand. Then only with the recent event that it washed away things to allow water to carry away the dune sand."
Hotels in Pacific City - Where to eat - Pacific City Maps and Virtual Tours

More About Oregon Coast hotels, lodging.....
More About Oregon Coast Restaurants, Dining.....


Andre' GW Hagestedt is editor, owner and primary photographer / videographer of Oregon Coast Beach Connection, an online publication that sees over 1 million pageviews per month. He is also author of several books about the coast.
LATEST Related Oregon Coast Articles
Back to Oregon Coast
Contact Advertise on Oregon Coast Beach Connection
All Content, unless otherwise attributed, copyright Oregon Coast Beach Connection. Unauthorized use or publication is not permitted