Oregon Coast Jobs - Job Listings for Oregon Coast
San Dune Inn Motel - Housekeeper
Head Housekeeper needed - someone that is detail orientated, organized, and dependable. Apply to San Dune Inn, 428 Dorcas Lane - PO Box 427. Manzanita OR. 97130. (503) 368 5163.

Oregon Coast Beach Connection needs ad sales.
As part time or full time as you want. Commission plus bonuses only: 10 – 15 hours of work a week will probably get you around $1100 per month (ballpark). The more you sell, the higher the commissions and bonuses get.
Preferably living on the coast (somewhere between Yachats and Seaside), but it is possible to do work by phone and internet from inland cities. You will do better if you can visit in person, however. Pay is commission only but with a sliding bonus that rises with the amount of ads sold. The ad packages are for the year and run $200 for the year up to $1900 for the year. You would get 30% to 40% of that, plus sliding bonuses.
Duties: Calling on lodgings, attractions and restaurants along our coverage range (almost 180 miles of coast, roughly Yachats to Astoria) and selling ad packages. Much can be done via the net or by calling, but you'll do better if some is done in person. Requires about five hours initial training. Good writing skills, communication skills a must.
This is a great position for a self-starter and / or whiz at ad sales. OCBC has a reach of over 150,000 people per month and does about 300,00 to over half a million hits per month. We have some powerful numbers to back up our sales pitches.
Pay Details:
30% commission on new ads up to $1500 in a given month – after $1500 becomes 40 percent commission in any given month. Plus sliding bonuses over $500 in any month
30% commission on new ads
over $500 sold that month – 30% commission plus $100 bonus
over $1,000 that month - 30% commission $200 bonus
over $1500 that month - $250 bonus (then becomes 40 percent commission)

over $2,000 that month – 40% commission plus $300 bonus
All renewals are 20 to 30 percent - but your totals go towards bonus
(i.e., a $1000 renewal would be $300, plus the over-$1000 bonus of $200) - plus any new ads still 40 percent
How to Apply:
Send resume and intro letter to beachconnection@yahoo.com.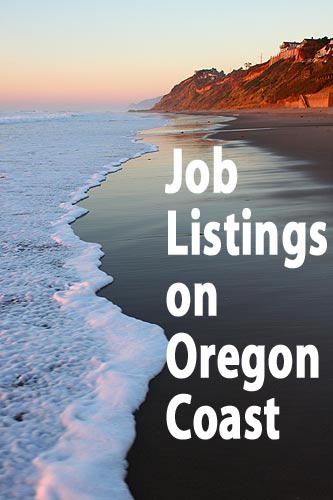 LATEST Related Oregon Coast Articles
Search over 5,500 Pages for Oregon coast subjects, articles or lodging...
Back to Oregon Coast
Contact Advertise on BeachConnection.net
All Content, unless otherwise attributed, copyright BeachConnection.net Unauthorized use or publication is not permitted