Oregon Coast Surprises: Sights and Sounds of Cape Kiwanda

Three Capes Loop Virtual Tour, Oregon Coast: Oceanside, Netarts, Tierra Del Mar, Pacific City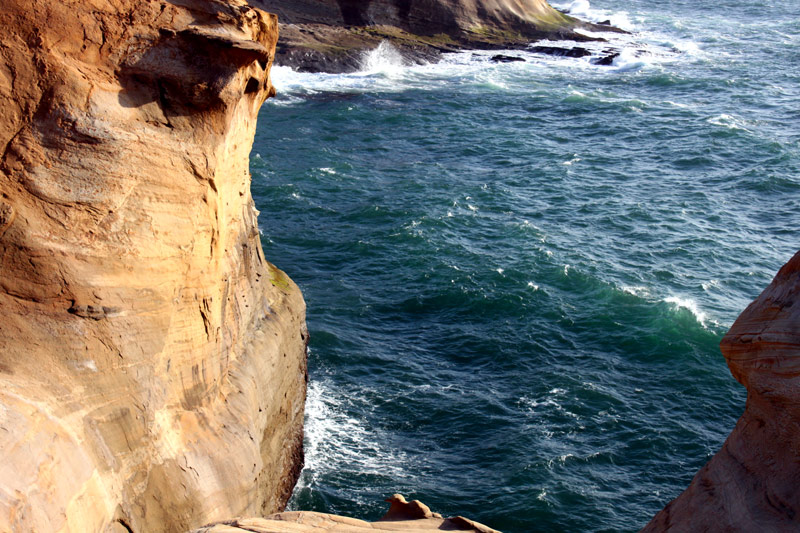 (Pacific City, Oregon) – At around 18 million years old or so, the iconic north Oregon coast formation known as Cape Kiwanda is definitely showing its age. Weathered and sculpted in a myriad of ways, it's now covered in massive grooves, slithering lines and wiggly cracks all over its surface. It's crumbling, too, in various spots – sometimes dramatically.
Still, nothing beats exploring this intricate place, examining its nooks and crannies. But there's more than just looking around here: there's also what you hear.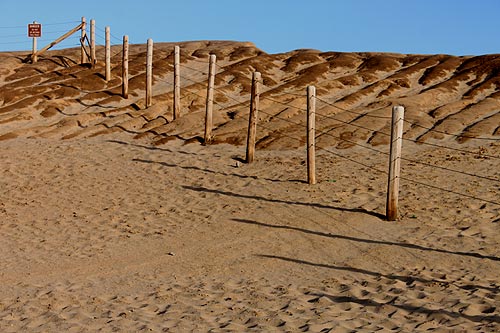 Wind and rain have carved so many funky features in this enormous sandstone monster. Wandering around the top of Cape Kiwanda shows you this. Like the ridge that meanders along one direction, off into a sort of head-like formation, which isn't really accessible. This is why the fence exists here.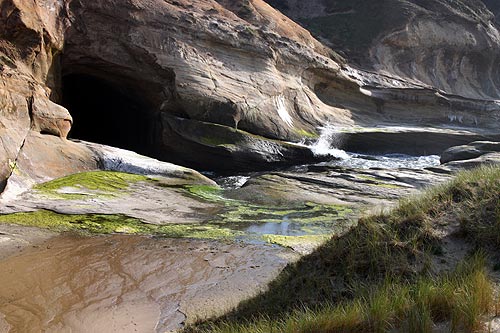 Just below there is a bowl-like structure in the sand and sandstone, a kind of miniature cove. Numerous fascinating features lurk here, like a crack in the rock that can yield wild surprises as it squirts out sea water from somewhere below it. There's a mysterious sea cave, and a long stretch cut through this rocky shelf where tidal melee is a regular sight, not dissimilar to the Devil's Churn near Yachats.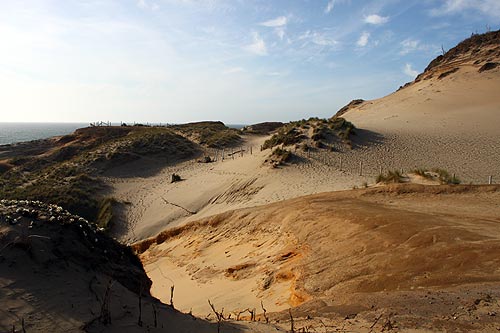 Up top, as you wander along the fencing, you'll notice other man-made bits, more metal pipes that presumably held fencing that was once a few feet farther to the west. Authorities clearly felt the edges were receding farther than was acceptable to keep the public safe.
If the wind is whipping up enough, some of this human-created stuff starts to whistle. You'll hear a variety of whistling noises, likely coming from the pipes, but also quite possibly the wire fencing as well. This is where the interesting sounds begin.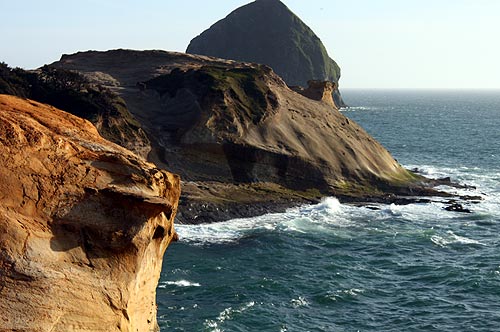 Below, against these wind- and sand-battered cliffs, monstrous waves erupt, sometimes even in calmer weather. It doesn't take much to get them going. You hear these making quite the rattle sometimes.
At other moments, insane and alarming BOOM noises come from that channel/cove area. They can cause you to jump, so loud at times it's as if a small war is raging nearby. The end result is this is awe-inspiring cacophony.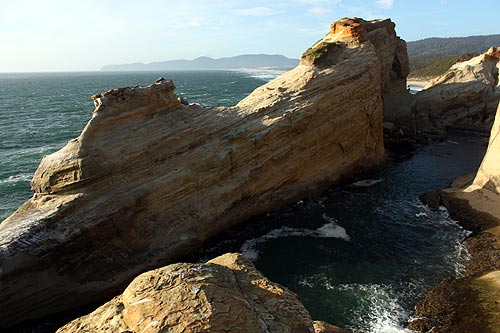 At its very northern edge, you see the chunk of diagonal cliffs that have separated from the main portion of Kiwanda over the millennia. They've created a kind of oceanic canyon, and far below this pockmarked vantage point the sea can rage as well.
It's interesting to note that until 2010 there was still a small arch forming a kind of bridge between this section and Cape Kiwanda. It was the last real connecting piece between the two rock formations. It crumbled early that year.