The Startling Oregon Coast: Manic Moods of Cape Kiwanda

Three Capes Loop Virtual Tour, Oregon Coast: Oceanside, Netarts, Tierra Del Mar, Pacific City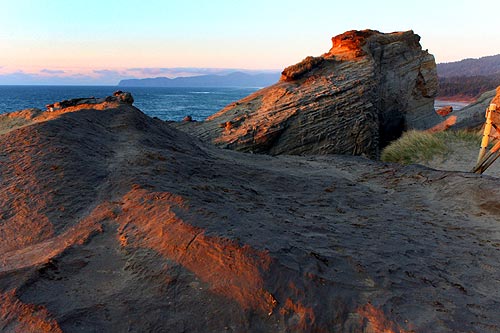 (Pacific City, Oregon) – Jutting out into the ocean at around a half mile in length, Cape Kiwanda is a landmark that's part alien-looking landscape and part stark sand dune with a Mad Max desolation kind of vibe. This Pacific City stalwart provides a variety of recreational, scenic and photographic possibilities: creating cause for pause to simply take in its beauty, snap dozens and dozens of photos of its nearly endless geographic and geological configurations, or take the harder route and climb it and explore – maybe even tumbling down that expansive dune.
On sunnier days, it can become fiery – especially at the end of the day, as seen above.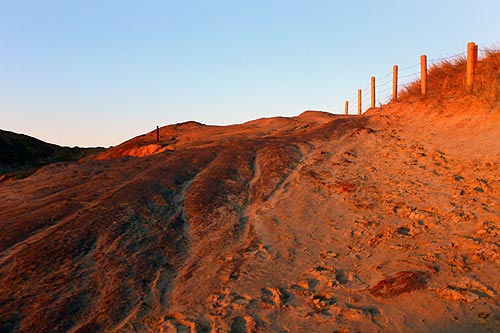 The top of the sandstone section of the headland shows off its more alien-looking side, with ruts and lines worn by weathering and cascading runs of rain.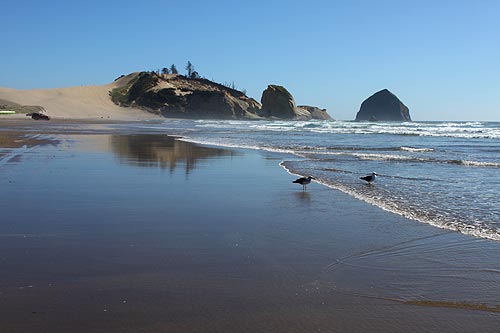 Take a look at it on a summer day, and from the rather secretive northern side, and Cape Kiwanda is a different shape, surrounded by the deep blue of the ocean, a cloudless sky and then that sky is reflected in the wet sand. The dry sands of the dune show off their pristine nature under the sun.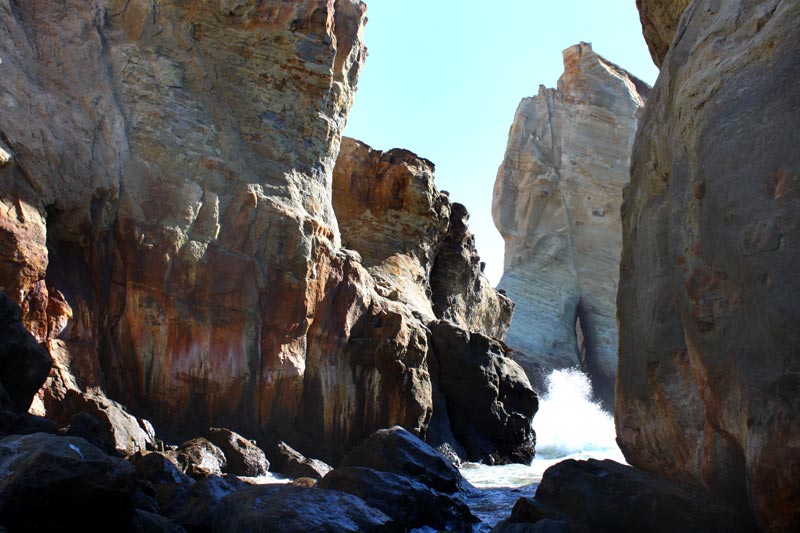 Also from this different angle of looking southward at it, something remarkable and jaw-dropping comes into view if you get close: a kind of secret oceanic canyon inhabits the tip of Kiwanda. Here, where large chunks of the cliff have eroded away from the main headland, a large space exists that allows the ocean to run rampant, further chipping away with this erosional process.
It's sad, and yet awe-inspiring, to think that someday – probably a thousand years from now or so – Cape Kiwanda will have whittled away.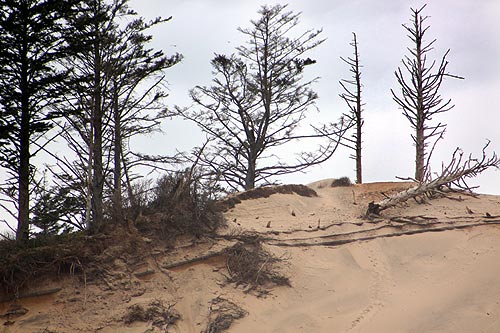 Then there's that top of the dune, a few hundred feet above it all, where the world opens up all around you. A small patch of forest clings to life up here, though chunks of it have died long ago. The topography is in transition up here as well.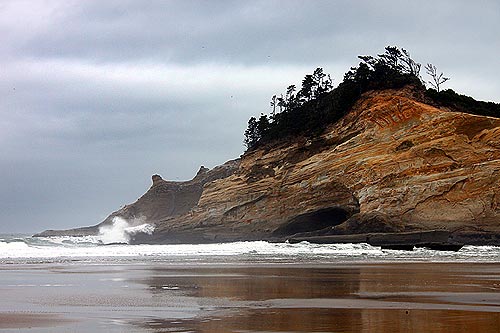 View the place on a stormy day, and the immense power of the waves is clearly evident. Massive monsters from the deep slam this thing and then explode all over the rocks in a kind of fiery end to their life of trudging across the ocean.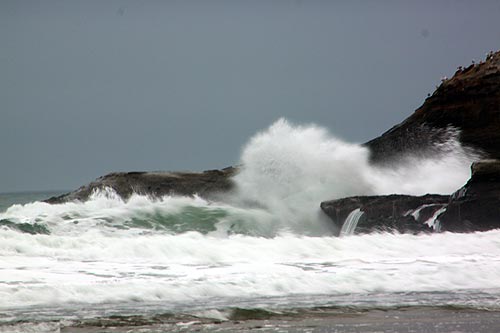 There are moments when some of the waves are perhaps 30 to 40 feet in height, at least on this day that Kiwanda was photographed. This is certainly not the largest storm this area has ever seen, and occasionally you can get waves so large on the other side of the headland that they are visible from this side.