Oregon Coast Virtual Tour: Anderson's Viewpoint near Oceanside (Cape Lookout Viewpoint)

Three Capes Loop Virtual Tour, Oregon Coast: Oceanside, Netarts, Tierra Del Mar, Pacific City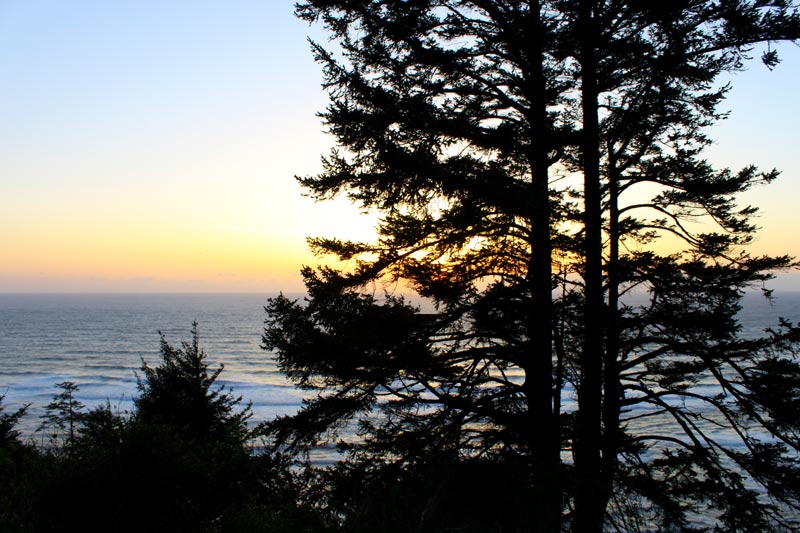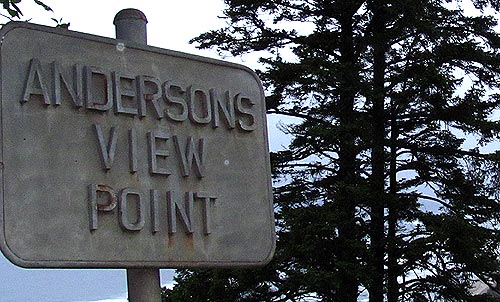 (Oceanside, Oregon) - On a clear day you can, well, almost see forever. You can certainly see out to the edge of the world, where things fall off the edge (if you're one of those holdouts on the flat world theory). Then to the north, you can see those Three Arch Rocks of Oceanside quite clearly. Whatever view of the world you hold, you'll be mesmerized here, without a doubt.
It's called Anderson's Viewpoint, and to simply call it a viewpoint seems an awfully empty word, considering what you get at this stunning spot. Some maps refer to it as Cape Lookout Viewpoint, but it is officially known as Anderson's Viewpoint.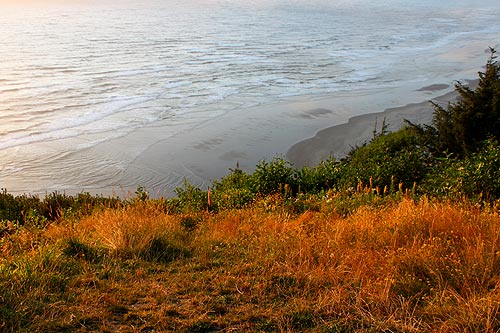 To the south, Cape Kiwanda near Pacific City can come into view, while just below the length of Cape Lookout State Park springs out in front of you. You see the blotchy blob of a rock structure jutting out from the cliff into the sandy expanse. The forested campground of the park is barely visible, and just beyond that there's Netarts Bay in the distance, with its bevy of clamming and crabbing prospects.
Come sunset time, Anderson's Viewpoint can be completely magical with its nearly aerial views of the surf and the sinking disk.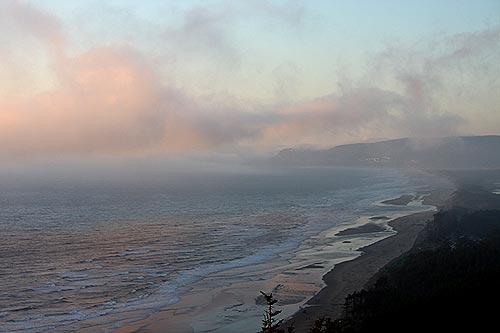 It's all part of the Three Capes Loop,Route, a 25-mile chunk of road that keeps up with the beaches while Highway 101 veers inland and away from the sands and cliffs. It's a rough and winding stretch a lot of the time, but never jammed with many cars and commercial vehicles like those stretches around Seaside, Cannon Beach, Newport or Lincoln City. You'll find yourself alone on the road about half the time.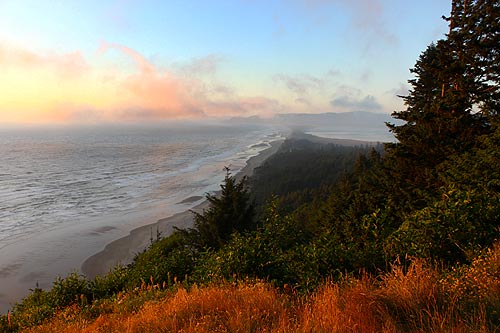 When it comes to Anderson's Viewpoint, however, if you're a hang glider or paraglider, this is your Mecca, your Holy Land and your Nirvana all in one. It's the mother of all gliding spots, as enthusiasts don the almost steam punk-looking gear, strap on the giant wings, and then race themselves off the edge of this cliff into the air streams of the north Oregon coast.
The designated landing spot is somewhere on the beach, and there are multiple suggestions and guidelines that you should follow if you want to send yourself flying around these parts. See the Cascade Paragliding Club for more on these.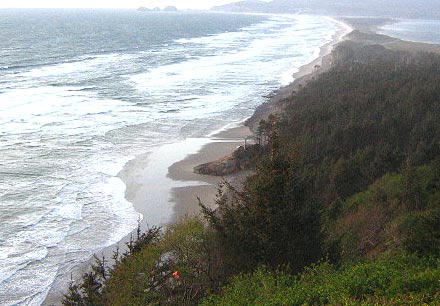 Anderson's Viewpoint is found about one mile south of Cape Lookout State Park. Look for the mile marker of milepost 1. The road comes to an apex here, and a smattering of gravel and paved parking spots come into view, along with the stunning vistas.