Updated Weekly
Every Beach Access: Pacific City, Oceanside, Netarts, Three Capes Route Complete Guide, Oregon Coast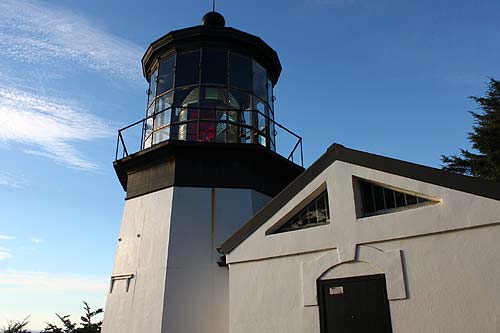 (Oceanside, Oregon) – Four villages, three capes, one lighthouse, numerous oddball attractions and 25 miles of nearly hidden beaches: this is the Three Capes Loop of the north Oregon coast. Pacific City, Tierra Del Mar, Netarts, Oceanside and a tiny community also called Cape Meares all sit along this quiet wilderness of the coast- all just a few miles from Tillamook.
While it seems as if there's a lot of nothing between the more obvious beaches and points of interest, the Three Capes Route is chock full of plenty. Loads of surprises lurk here, but you have to know where to look sometimes. Even more details and photos at the Three Capes Virtual Tour - Find Pacific City, Oceanside, Netarts, Tierra Del Mar Lodging.
Meares Loop Road
Unfortunately, this interesection leading to the Three Capes Route is closed at this time. Three Capes is a route or "tour" and no longer the "Three Capes Loop." This was the northern entrance to the Three Capes Tour, but no longer. However, you can keep going north from Cape Meares State Scenic Viewpoint along the road. This tight, winding and often precarious little drag twists upward and downward, a little like a roller coaster, and brings you to some beautiful viewpoints.
There are a few unmarked viewpoints along here, but some of them are not safe for parking your car because they're extremely prone to landslides.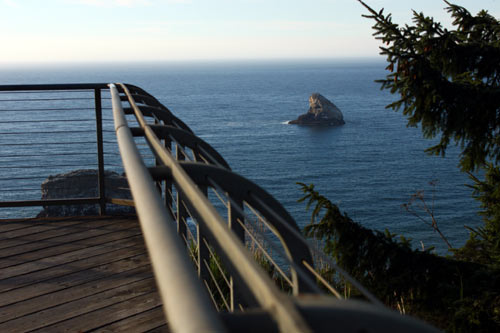 Cape Meares and Cape Meares State Scenic Viewpoint
The famed Octopus Tree now has seven limbs.
A lighthouse, a weird natural anomaly and a few hidden trails all create a whole new world to explore in this relatively small State Park – all a trifle north of MP 4.
Here, you'll find an abundance of incredible, wide open ocean views as seals, whales and other wildlife frolic below you.
Take the paved walkway to the Cape Meares Lighthouse, where the ocean views become panoramic and really explode. This stumpy specimen is probably the smallest lighthouse on the Oregon Coast, standing only 38 feet high. But size isn't important here as it stands on a 200-ft-high cliff, more than making up for its own lack of height.
Inside, this 1890 beauty sports a gift shop and a wrought-iron spiral staircase which leads you to the lens - a kaleidoscopic carnival of colors when the sun hits it just right. It's open during touristy times of the year.
Another short trail brings you to the Octopus Tree, a freaky, huge organism which has grown eight very large limbs (until one was whacked off during a storm in the early `90s). The tree was featured in Ripley's Believe It Or Not for years.
From the Octopus Tree, more trails await. A trail to the highway darts off toward the road, going for about a half mile and passing several viewpoints. There are also long, meandering trails snaking down to the beach and a hidden cove at Cape Meares (the community below the cliffs), as well as one which ends up at Meares itself.
Short Beach
Lurking on the side of Meares Loop Rd. near Radar Rd., just a tiny bit north of MP 4, sits this stunning hidden spot.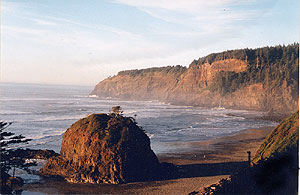 At a glance, Short Beach resembles Neskowin in some ways.
Short Beach (which once boasted an actual radar station) is chock full of scenic yumminess, starting with the large, bulbous rock structure plopped at the tide line, sporting a small patch of trees on top. You can't climb the structure, except perhaps at its base at low tide, but it is a beauty.
On one end of the cove, the weird rock structures near Oceanside poke out from behind the cliff. At the other end sits the Cape Meares lighthouse and another small sea stack. A massive waterfall spills gently into the ocean - just out of reach of the beach, and there's also a rocky cove within this cove.
Access to the beach was once quite precarious, with a steep trail that got very slippery and caused many a broken bone. Now, a massive stairway inhabits that spot, allowing for safe passage down.
Next to the path's entrance sits a large concrete and steel structure jutting out over the beach - a trippy and intriguing monstrosity which allows you to walk out above the sands a little ways and take in the view. This is part of a water run-off system, and after especially hard rains it dumps water onto the beach with the roaring intensity of a large waterfall.
Oceanside
At first glance, Oceanside appears to be just another wayside with a collection of homes clustered around it. But this out of the way spot, nestled up against the hills of the Tillamook Forest, is one hidden gem on the Oregon coast, filled with a myriad of obvious and secret delights. It's an old, rustic hamlet that smacks of another time, dripping with weather-beaten cuteness and charm – and this tiny place with nary a gas station hides one major culinary wonder in the form of an upscale restaurant.
Neighborhood Tour Find Pacific City, Oceanside, Netarts, Tierra Del Mar Lodging.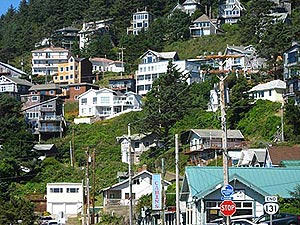 If you've got the time, a leisurely stroll or drive through Oceanside's tiny back streets is highly suggested. The ocean view and the neighborhood tour are nothing short of a visual kick in the head.
The older homes are stunning enough, but some of the more recent additions may drive you mad with jealousy with their opulence and the amazing ocean view they soak in. A few of these have delightfully weird shapes which will astound you and maybe cause you to scratch your head. Many are located high up on the hill overlooking Oceanside and Maxwell Point, where a panoramic view of the ocean nearly wallops you with its immensity.
Above Oceanside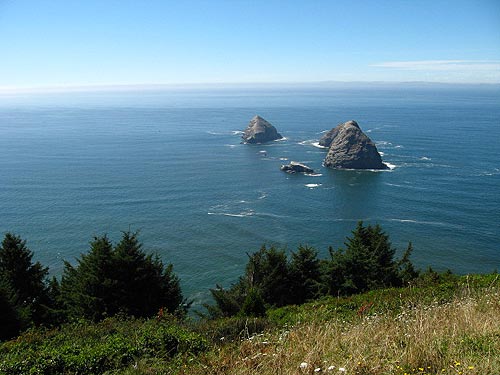 This panoramic perspective of the Pacific is nothing short of hair-raising, where you're essentially atop the highest point in the area. You actually have to look down to see the gargantuan Three Arch Rocks, and it certainly appears as if you're slightly above the mountainous hills to the east, if not neck-to-neck with them.
It's a favorite spot for hang gliders to launch themselves off from - and for good reason. This fairly large, flat gravel area allows plenty of room for taking that big running jump. Although in recent years one landowner has cut off access to the parking area, which has apparently put an end to most recreational possibilities.
This viewing area sits next to a large water container (simply follow the little road all the way up to the top). Along the way, some charitable local soul has built a small bench on the edge of the roadway with the words ``Enjoy'' inscribed on it. Enjoyable indeed, but that word doesn't quite cover what you'll get out of this: the bench is brilliantly placed so you can obtain a stunning view of the Pacific Ocean as well as Short Beach to the southwest.
You can also reach this area by taking one of the gravel roads off Meares Loop Road. See the Oceanside page / virtual tour for more, including videos
Oceanside's Beaches and Secrets Find Pacific City, Oceanside, Netarts, Tierra Del Mar Lodging.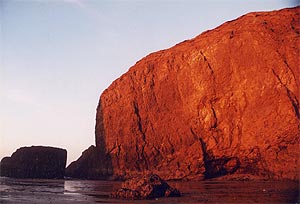 Hatbox Rock once boasted a wooden walkway to a secret beach on the other side - back in the early part of the 20th century.
The beaches here are often shielded from the wind by the headland called Maxwell Point - about 100 yards north of the parking lot - looming above like a tall, dark, watchful god (which also boasts a motel that may be battling receding ground in the future). To the south, it's about three miles of sandy beach leading straight to Netarts Bay, with not much else other than rocks, boulders and driftwood piled up next to the vegetation line. About a mile down, you'll find some minor trails meandering through the brush underneath the Three Capes residential development, and if you're lucky, oddly colored slabs of rock become visible if the tide is low enough.
Because of its relative protection from northwest coastal winds, the beach at Oceanside is often a great spot for sunbathing or for any activity which requires getting away from the cold.
The real fun of Oceanside's beach lies inside Maxwell Point, however. The concrete tunnel here is a gateway to a stunning, secret world. Entrance into the tunnel is somewhat unadvisable during rainy times because of falling rocks from the cliffs.
But if conditions are calm, on the other side sits a stunning beach where enormous boulders and weirdly shaped sea stacks give the entire area a feel like something out of the old ``Star Trek'' series.
The entire area is cluttered with stuff to play on as well as a sense of the serene and the surreal.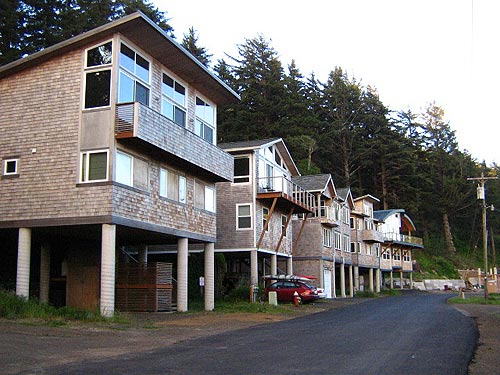 Happy Camp
At about MP 2, the tiny community of Happy Camp pops up, looking more like a driveway than an actual beach access.
It's a pleasant surprise down here, however. What was once a collection of alternating lovely to weather beaten homes has now become host to some stately mini-mansions. There's a bit of surrealism here as the vast majority of these lovelies are built high above the ground, presumably to allow for massive high tide events.
Netarts Bay begins at this place, making Happy Camp a picturesque bit of fun tucked away from the usual coastal routes. There's a parking lot and public restrooms.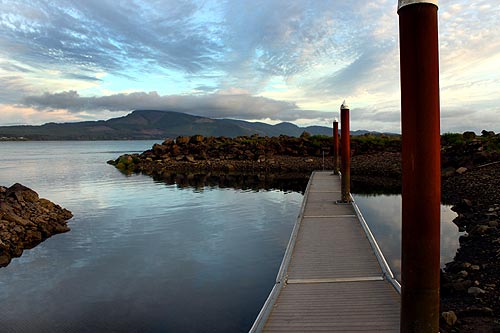 Netarts
The comfy, tiny burgh of Netarts doesn't look like much at first glance, but you'll find an intriguing, weather-beaten charm lurking here. Older, almost Victorian-looking buildings and sometimes ragged and rugged homes are interspersed with nicer, modern ones, spicing up the landscape of this tranquil and probably overlooked little jewel. And there's a great view of Netarts Bay and Happy Camp as well as a beach access at the end of the street, capped by a couple of atmospheric and very cute motels graced with patios custom built for sunset gazing.
A rather secret beach access lurks at the bottom of the hill, where what looks like a metal stairway from an old ship is crammed into the steep slope to allow safe passage to the quaint bay beach below.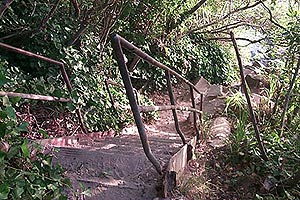 The semi-secret of Netarts: a stairway heading down to the beach.
Around the corner, to the south, there are some docks here. The other bit of Netarts' charm is its amenities - the only such bit of civilization you'll find between Pacific City and Tillamook. There's a few motels, a couple of taverns, restaurants, a coin-op laundry and a couple of grocery stores.
Whiskey Creek Fish Hatchery
Watch the little baby fishies swim around their spawning tank. And for a mere few pennies, you can grab a handful of their grub and feed them too. It's just a tiny bit north of a building that has been a restaurant on and off for years (once occupied by the famed Wee Willies diner).
Wee Willies Building (MP 2)
It is no more, and various businesses have occupied it since its demise in the early 2000's.
For beach history buffs, however, they may remember this summation from an old coastal publication: "By most standards, this out-of-the-way treasure trove is simply a burger joint. But by those same standards, it's at the top of the heap. Its yummy fast food fare boasts much better quality grub than the average burger spot, including excellent homemade pies, shakes and a decent selection of chili dogs, fish burgers, chowder and other goodies."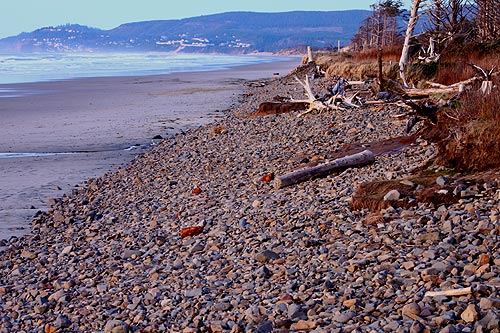 Cape Lookout State Park (MP 0)
At Cape Lookout State Park, the road changes from Whiskey Creek Road to Cape Lookout Road - hence the designation of MP 0.
The beach at this popular park is mostly one immense, sandy stretch, going on for nearly five miles to the north into Netarts Spit. Parts of the beach dip steeply into the tide line, causing the waves to crash loudly and abruptly, then quickly running out of steam and altogether creating an intense, natural spectacle.
Hiking on the Netarts Spit is no small feat, but you'll dig the solitude as much as the opportunity for clam digging. A ways after the two-mile point, look for paths onto higher dunes for more stunning viewpoints. Along much of the way, green, mushy marshland follows you to the end of the spit, where roses, wild strawberries and other plant life delectables lay on the pathways.
If you're hiking this entire sandy wonder and looking to make this journey in a loop, this is sometimes a difficult undertaking. There is no official return route around the spit. However, the bayside is filled with thick vegetation, and if you're really willing to rough it, you could trudge through the brush even without a real trail.
Camping: Cape Lookout boasts about 200 campsites (some accommodating the disabled), one electrical site, several group camping areas, a reservable picnic area, a meeting hall, yurts, dozens of full RV hookup campsites (maximum 30 feet), full restroom and shower facilities as well as a waste disposal station.
Cape Lookout has a $3 day-use fee. Campsite reservations can be made at (503) 842-2545.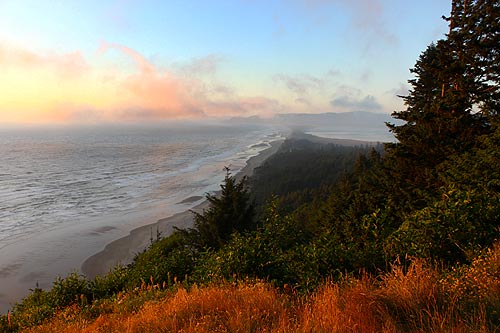 Anderson's Viewpoint
If this doesn't fit your definition of a Kodak moment, nothing will.
At approximately MP 1, look for this favorite spot for hang gliders to launch themselves off of. Vast views of the ocean spread out here, and ample parking is provided by surrounding gravel areas.
Cape Lookout Upper Trailhead & Trails Find Pacific City, Oceanside, Netarts, Tierra Del Mar Lodging.
The Cape Trail makes a five-mile loop around the entire cape, winding up at the tip of this majestic outcropping where, if the weather permits, you can catch sight of Cascade Head and Cape Foulweather - some 40 miles to the south. To the north, you can even see Tillamook Head - about 42 miles to the north. It's primarily an easy trek with very little elevation gain. But there are enough uphill stretches to induce heavy breathing in even the most hardy.
About a half mile down the Cape Trail - at one of the first railed lookout spots - there's the Crash Sight Memorial, where a World War II B-17 bomber slammed into the headland in 1942.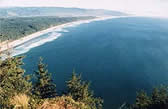 A secret viewpoint along Cape Lookout.
The aircraft was based out of Pendleton, Oregon and was on maneuvers when, due to fog, it crashed into Cape Lookout and cut a swath through the headland 50 ft. wide and 500 ft. long. All but one of the 11-man crew were killed in the crash. He was found two days later and eventually recovered. The plane pretty much disintegrated upon impact, and all its pieces have either been eaten by the forest or been taken by souvenir hunters in the last half century.
The South Trail veers off to the left of the Cape Trail, taking you down to a hidden cove and a secluded, very sandy beach - eventually connecting to the Sand Beach campground area about four miles to the south This is no easy trek, however. It's a zigzagging plod downward through two miles of trail before you hit the beach, so you can assume the hike back up will be a hellish one.

A plaque along the trail commemorates the crash of a WWII plane.
The North Trail leads you down to Cape Lookout State Park and the picnic areas. The trail moves downhill about 2 miles, making it a fairly easy hike. From the state park to the upper trailhead is all uphill, however, and a much more strenuous safari.
Keep in mind, except at the absolute driest times of the year, these paths often contain spots which are extremely muddy and damp. After all, they essentially meander through a rain forest. There's also quite a bit of wind up here on top of this lofty headland, even on a day where it seems like there's little wind on the beaches. So be advised of the weather and wind conditions before you go.
Shortcuts at Lookout and Sand Lake Junction
The Three Capes Tour is twisted and winding north of this point. But if you go east on Sand Lake Rd., you hit a much straighter northbound stretch of the inland part of Highway 101.
So, if you want to make better time and don't mind missing some of the details of the Three Capes Tour, take 101 to Sand Lake Road, then crossover to this junction (about a ten minute drive through beautiful back country) and take the fairly straight stretch past Pacific City to 101 again.
If you're going north, do it in reverse: take the Three Capes Tour off 101, go past Pacific City and Tierra Del Mar, then head over Sand Lake Road to this straight section of 101 going to Tillamook.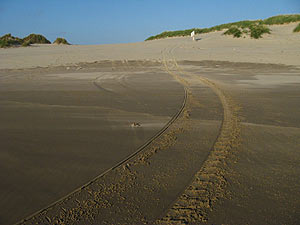 The dunes at Sand Beach.
Sand Beach Campground & Dunes

Take Galloway Road (at approximately MP 5) and you'll find a place where ATV enthusiasts abound because of the sprawling dunes - so expansive they are known as the ``Other Dunes on the Oregon Coast.''
Sand Beach is divided into the East Dunes, the West Winds campground area and the Fisherman Day-Use area. In between these sections, there are numerous sandy trails meandering throughout the small, brownish pines.
From Sand Beach northward, it's a sandy, grassy, dune-covered stretch of about 4 miles until the secretive cove at the bottom of Cape Lookout - and not much else. But after the first mile it's usually pure solitude as you leave the roaring ATV's far behind.
To the south, you quickly bump into a small bay that's a bit clandestine.
Derrick Road & ATV Access
Off Galloway Road, you'll find the densely forested, winding Derrick Road, twisting past the odd horse rental facility here or there and tiny country homes. At its end, about a mile up the hill, there's yet another ATV access and parking lot. This fairly unknown access leads to the dunes just off Lookout Road.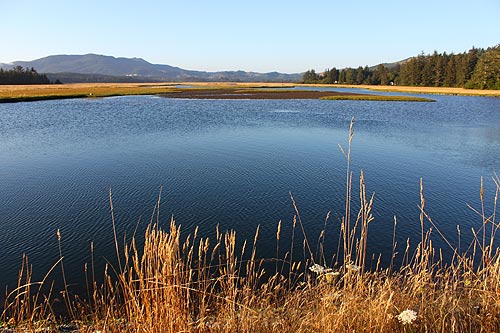 Whalen Island State Park
A small clump of forest lies at the center of this tiny park, lined by picnic tables, campsites and a lovely view of the marshy, mushy Sand Lake. There's no beach access here, but it's a swell spot for boating, fishing, bird watching or just taking in the sights.
The park is located on a slightly steep drop just off the side of the road and you might miss it if you blink. It features a reservable group area and RV hookups as well.
This area is part of the clandestine bay found from Sand Beach.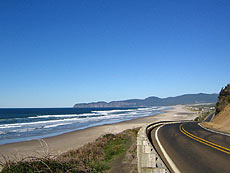 Above Tierra Del Mar
Tierra Del Mar
If you're southbound, near MP 10 you'll wander into a few tight curves and eventually wind up in a small collection of homes known as Tierra Del Mar. Here, the beach abruptly pops into view: a long, nearly endless expanse of sand with golden, sandstone cliffs above it in a few places.
This area allows you beach access with your car as well - as far as one mile south to Cape Kiwanda State Park.
Cape Kiwanda State Park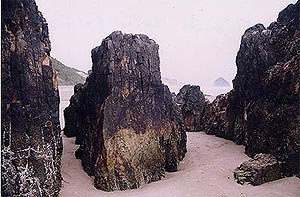 Unusual sights abound at this hidden beach just north of Cape Kiwanda.
Despite being part of Oregon's grand State Park system, this sparkling little gem is pretty much a secret. It's accessible via a one-lane street tucked off to the side the road - about a mile north of Cape Kiwanda's parking in Pacific City.
This frequently solitary spot features a large sandstone and basalt structure which protrudes out from the cliff face right up to the ocean, providing all kinds of opportunities for climbing or for hiding from the wind. There's even a tiny cave. At lower tides, its tip is exposed and large, freaky basalt columns emerge, letting you explore them.
There's parking at the bottom of the driveway off the road here, as well as a small, rough and rocky auto access to the beach.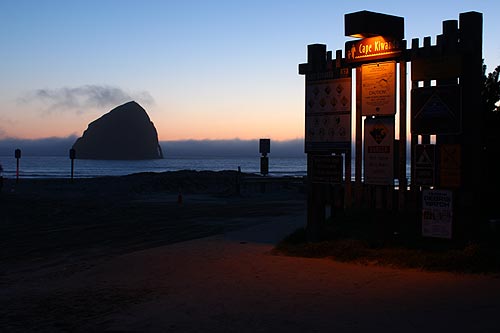 Pacific City Find Pacific City, Oceanside, Netarts, Tierra Del Mar Lodging.
This cute but rustic hamlet is a tiny charmer, yet growing quickly into a decidedly upscale village. It has enough natural and manmade nooks and crannies to make it a captivating bit of rural exploration, however. Numerous restaurants, a famous brew pub, a few choice lodgings, more beach than you might know what to do with and even a small airport inhabit this rugged country town with an occasional upscale touch.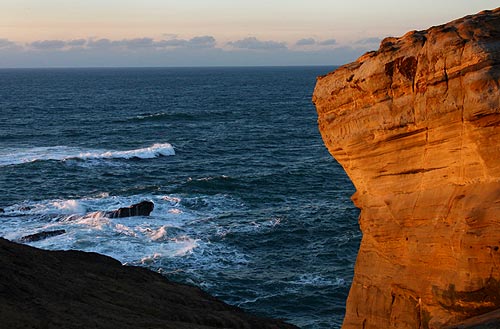 Cape Kiwanda
The sweeping, golden and wind and sea ravaged cliffs of Cape Kiwanda are known as the most photographed chunk of the Oregon Coast - and you need only see them from a distance to understand why.
Just a wee walk from the parking lot, Cape Kiwanda is the gargantuan sandstone structure jutting out into the sea, coming complete with a whopping sand dune towering above it. Sitting a ways offshore like an ancient, silent sentinel is the brooding form of Haystack Rock (not to be confused with the Haystack in Cannon Beach).
The entire area is one remarkable package of natural fun and frolic, rambling on for several hundred feet in different directions and hiding numerous wonders all over.
At its base, a world of mesmerizing little tide pools appear along the rocks at low tide, sometimes opening up sea caves for your inspection.
The dune on top inspires kids of all ages to engage in all sorts of sledding behaviors. You'll see them zipping down on boards of various kinds - sometimes with more than one piled on top - or in some cases, even by intentionally tumbling themselves to the bottom.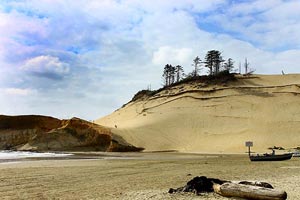 The top of Cape Kiwanda is reached by ascending about 30 feet of annoyingly loose sand. But from there, it's mostly sturdy, solid sandstone: the gateway to a stunning, even sometimes alien landscape, serving up hidden glimpses of parts of the cliff which jut and wriggle their ways out into the ocean. There's a nearly endless parade of incredible viewpoints you can't get anywhere else in the area. And on sunny days, the cape becomes especially entrancing as the sun sets the cliffs on fire and causes the tumultuous water below to turn a deep, dark blue in stark and unforgettable contrast.
Just below the first bluff you encounter there's a small cove where all sorts of oddities spring to life. You can tread fairly close to the waves on a shelf-like area here with little danger in most spots. But as always, keep your eye on the surf.
One very amusing and freaky surprise lurks in these rocks, however. Near the back of the cove, look for a long crack running along the floor, less than an inch wide in some spots but many feet long. If tidal conditions are right, this unassuming little crevice will sometimes abruptly squirt water up at you in small bursts - like a miniature Spouting Horn. It'll surprise and amuse you to discover the sea finds its way underneath the rock and gets released here, and although it usually doesn't shoot more than a few inches high, there are times even the smallest sections of the crack gushes upward a few feet.
Meandering Bunnies of Pacific City
This area of town, near the beach, has a really amusing if not slightly clandestine feature: wild bunny rabbits abound here for some reason, and there are numerous signs telling you not to chase them as well.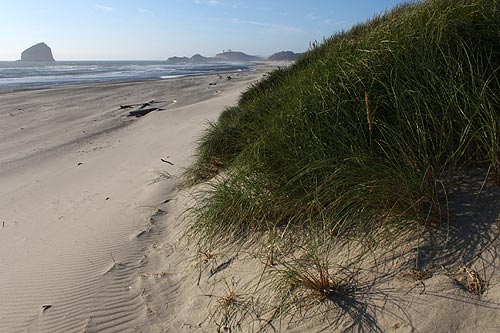 Bob Straub State Park

Near the park, at the end of the road, you can drive your rig down the steep sandy slope and onto the beach. Vehicles are only allowed to the south, however. It's strictly a four-wheel drive or ATV kind of place, and there's no way you can get your family sedan down these steep slopes, although the signs at the entrance don't bother to tell you so.
At Bob Straub State Park itself, a large parking allows plenty of people access to this lovely beach.
The spit goes on for over three miles until it dead ends at the Nestucca River banks, across from Porter Point and the surreal, clandestine fun of Winema Beach.
Brooten Rd.
The main drag through Pacific City cuts through what could be considered its downtown, starting at the Highway 101 junction, past some interesting nautical items on the roadside and the muddy, sandy banks of the Little Nestucca. This, too, is a favorite fishing spot, and there are many places to pull over and park.
The road then takes you back onto Highway 101, going towards Neskowin.