Updated Monthly
Lincoln City, Oregon Complete Guide - Lincoln City Beaches, Attractions in Extreme Detail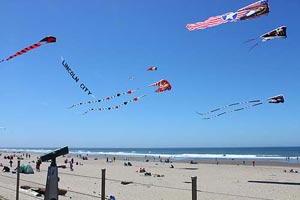 Kite flying on Lincoln City beaches
(Lincoln City, Oregon) – The first thing you may notice about Lincoln City is that it's one elongated, thin town, stretched out over many miles, hugging the coastline and containing names like Taft, Devil's Lake and Nelscott. This is because it's now made up of what were once a host of separate communities, finally coming together under the name of Lincoln City in 1964.
The Siletz Bay (at Taft) caps the southern end of Lincoln City, while Cascade Head caps the northern end. In between, near the vegetation line, usually sits an abundance of driftwood. Because of this, the beaches of Lincoln City have always been popular with folks who like to build some sort of wind-shielding structure before starting a fire.
Cruising down 101 you'll find an endless array of restaurants: from fast food to some of the finest cuisine on the Oregon coast. Seafood, of course, is the reigning king among many of these fine examples of the culinary arts, though luckily there's much more than former ocean dwellers on the menus. There are some fun and funky designs in a few of the eateries, creating a little spice for your dining experience in senses other than your palate. Plenty of fast food places dot the highway, next to at least as many upscale possibilities, and everything in between. Of all the towns on the coast, it boasts the highest number of restaurant possibilities.
It also is home to the most lodging rooms between Seattle and San Francisco, with somewhere around 400 hotels, motels and B&B's. They do get filled during high-density periods like chunks of the summer, spring break or other special weekends throughout the year.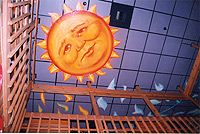 Kooky interior of one Lincoln City bar
One of the big hidden aspects of Lincoln City that never gets talked about is its abundant nightlife. It's one hopping, wacky town. Coastal towns have an interesting propensity for goofiness when the sun goes down, and watering holes get quirky, unusual and even downright David Lynch-like. With Lincoln City's greater number of drinking options and larger population, it's not always as strange and inadvertently humorous as in smaller burghs, but it has its kooky hotspots.
Click here for Lincoln City Lodging, Hotels and Vacation Rentals
Click here for Lincoln City Dining, Restaurants
Highway 18
It technically all begins at Highway 18, some 70 miles away. Along Highway 18, outside Portland, you'll encounter the lush Yamhill wine country and quaint towns like Dundee. There's also charming McMinnville, with Howard Hughes' Spruce Goose in a museum, an interesting arts community, some fine culinary pleasures and a quaint old downtown area.
Along the way, it's wine-tasting heaven, with some of the nation's finest wine makers populating this grandiose and awe-inspiring region. This is a big distraction all its own and could take days to explore if you wanted to really dig in, but you'd still only grasp about half of what Oregon's sultry and sensual wine country has to offer.
At Grande Ronde, near the casino, Highway 22 from Salem meets up with Highway 18 and heads through the lush forestland of the Van Duzer Corridor until it wanders past Otis and enters Lincoln City.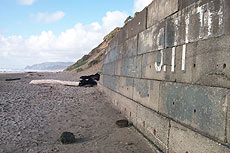 Beach access at SW 11th, Lincoln City
Coming from the North
Neskowin is the next little town, about 20 miles north of Lincoln City. There's also the colossal Cascade Head, with its mind-bending array of hiking possibilities. Just north of all that, sits Pacific City and Cape Kiwanda. The coastline stretches another 100 miles until it dead-ends at the Columbia River and Astoria, hosting towns and features like the Three Capes Tour, Tillamook Bay, Bay City, Garibaldi, Rockaway Beach, the mystical Nehalem Bay, Wheeler, Manzanita, Arch Cape, Cannon Beach, Seaside and Gearhart. See the menu at right for more on these places.
More detailed photos of Lincoln City are available at the Lincoln City Virtual Tour.
Otis
You'll encounter this tiny town just a few miles before reaching Lincoln City. It's famous for the legendary breakfasts of the Otis Café.
Devil's Lake
Head south onto East Devil's Lake Rd. to reach this favorite camping, fishing and boating spot. There are 55 tent sites, 10 yurt spots, paved parking and a load of other amenities in the campground. This is the northern access to the lake.
The lake is so named by local natives because of a purported monster that inhabited it.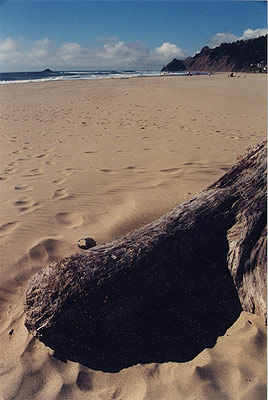 Road's End area
Road's End State Recreational State
It's at the north end of Lincoln City where the real surprises often lie. Land's End Road will lead you to Road's End State Park, and from there you can continue north through a neighborhood of cabins and expensive homes until you come to the last public beach access. This spot allows for perhaps two cars to park there and is approximately half a mile from the looming cliff.
The cliff, across the Siletz River from Cascade Head, possesses the rock structure known as Wizard Rock. At anything but a high tide, this moody, slightly spooky, pointed rock can be seen. But at a low tide, you can go around Wizard Rock and find a rarely touched section of beach, filled with small caves, pristine, glistening sand and inviting, angular rock forms and haystacks to climb and carouse on.
Like the hidden parts of Oceanside to the north, this beach provides quite a Gilligan's Island experience, and it's walked on far less by humans than that spot. Plus, there's something so idyllic and peaceful about this place you can easily convince yourself you're one of the first to ever have set foot.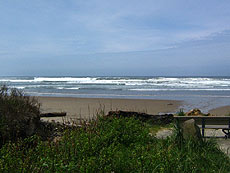 Off Jetty Ave., near Whistling Winds Motel
Beach Accesses off Jetty Ave.
NW Jetty Avenue features a few beach accesses, although the street starts and stops as it runs north and south. But take streets like NW 40th, 39th or 26th westward from 101 and you'll find them. Other streets intersect with Jetty Ave. and take you back to the next section of the road.
At the end of 40th lies a tiny beach access between two sections of the Shilo Inn. It features a small wheelchair ramp as well.
Another prominent access is the Grace Hammond Access, found at the bottom of NW 34th. There's a small parking lot, a little viewpoint with a picnic table, restroom facilities and a wheelchair-accessible ramp down to this broad, sandy beach.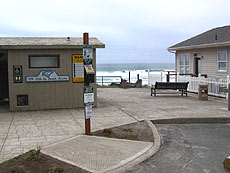 Access at NW 26th
At NW 26th lies a particularly beautiful access. A small, nice parking lot is surrounded by an atmospheric wall, coming complete with bike racks. There are some concrete steps down to the beach, which is mostly a sandy spot with a few interesting rock structures scattered around.
Beach Accesses off NW Harbor and NW Inlet Avenues
Like NW Jetty, Harbor and Inlet start and stop in places as they run parallel to the waves, but along the way they take a break and allow you access to the beach.
One of the more striking accesses is at the bottom of NW 21st (next to the Sea Horse Motel). There's not much parking here as it's squeezed between two businesses. But a long, concrete stairway makes its way down to this beautiful beach. The sheer length of the stairs deters some, so you may find yourself alone around here (although other accesses lurk nearby).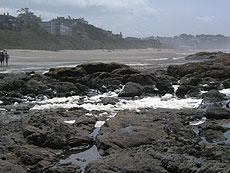 Marine garden by the ramp
NW 15th Access and Ramp
For this one, you can struggle to find parking space on the street – or park on the beach itself. Vehicles are allowed on the beach here, via a slightly steep ramp, and only in a restricted area. But since there's a lot of loose sand here, you run the chance of getting your car stuck if you veer into the wrong place.
Still, it's a pleasant little spot, with some rocky intertidal areas nearby that can provide some marine life surprises.
There's also restrooms above it, as well as viewing benches and a convenient stairway running down the ramp for those pedestrians who are uncomfortable with its incline. You'll find it near the bottom of 15th St., next to the Seagull Motel.
Hidden Beach Access
You'll find this one about two blocks north of the D River and Kyllo's Restaurant, along Inlet Ave.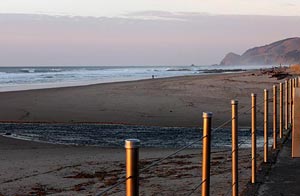 Beach at D River
Devils Lake State Recreational Area
Head east at the traffic light of NE 6th St. to reach this favorite camping, fishing and boating spot. There are 55 tent sites, 10 yurt spots, paved parking and a load of other amenities in the campground.
D River Wayside
A big parking lot with all the facilities, viewing platforms and a sometimes-wild surf greet you here. In between, there's tons of sand and a creek for recreation. Sometimes, the city places volleyball nets on the sand here.
The D River was known as the shortest river in the world until recently. A few years ago, some grade school kids in Montana disputed this and almost won that honor for a river in their town. These days, the Guinness Book of World Records lists both rivers as shortest.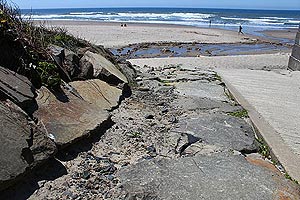 Canyon Drive Beach Access
Take SW 11th to the west until it dead-ends next to Canyon Drive Park. It's the last beach for a while on this southern part of Lincoln City because the cliffs take over and don't allow you access.
However, the drive along the oceanfront streets is quite scenic, and it's stuffed with beautiful vacation rentals: old, new, sprawling and small. (more on Canyon Drive Park)
Factory Outlet Mall
Something like 65 major brands are begging to be visited for hours and hours - and it's a destination spot all its own for Northwesterners. It's massive. You'll find it off 12th and 101, south of the D River.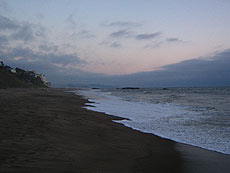 The Nelscott area of Lincoln City
Nelscott District and Beaches
Once upon a time, the area now known as Lincoln City was a long strip of five tiny towns called Nelscott, Delake, Taft, Oceanlake and Cutler City. But in 1964, locals took a vote and combined forces to become this long, meandering town.
The Nelscott area lies just north of the enormous Inn at Spanish Head, including a large bluff that's been turned into a winding street full of beautiful homes. There's also the businesses district here, where you'll find some scrumptious eateries, a year-round Christmas shop and various beautiful lodgings on 101 as well as on the streets skirting the beach.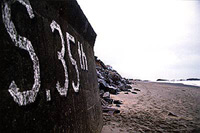 SW 35th access: where things get interesting
Take a turn west on 32nd St. and you'll find one of the more prominent beach accesses of the area. But down at the end of 35th St., there's a tiny parking lot with beach access that's especially delightful. A few hundred feet to the south you'll find some fun rock structures for climbing (at acceptably lower tides, that is) and the beach below the Inn at Spanish Head.
A mile out to sea sits the now famous Nelscott Reef, which creates massive sources of amusement for surfers. It was actually only discovered in recent years. A large surfing contest is held here every year now, taking advantage of that prominent underwater premonitory.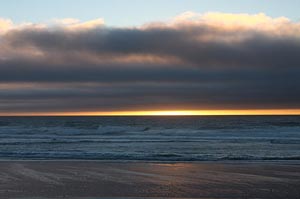 Beaches of Lincoln City close to Siletz Bay
North Lincoln County Historical Museum
Everything you ever wanted to know about Lincoln City's past, including artifacts from local native tribes, pioneers and old photos as well as a collection of glass floats. It also hosts numerous lectures and events that are particularly interesting. (541) 996-6614.
Taft and Siletz Bay
Taft is a charming little place to go wandering – either on the beach or along the business district. A funky-colored surf shop sits nearby, as well as coffee shops, a hamburger stand near the beach that's weathered all sorts of economic weather and managed to remain there seemingly forever, and there's the big famous chowder franchise.
On the beach at the northern end of Siletz Bay, there is a bend just before you enter the bay and the community of Taft (if you're walking on the beach from the north). At this bend, the low tide can yield some intriguing, odd colored rock formations at the tide line.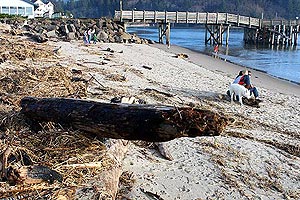 Siletz Bay
Across the bay is a kind of refuge which is often the home of a great number of seals, especially in the winter months. Their barking and carousing is always an occasion for pause and amusement, and aside from the Sea Lion Caves near Florence or the Bayfront in Newport, it's the closest you can get to these boisterous creatures.
All this is accessible by 51st St., just before you leave Lincoln City.
Every 4th of July, Taft is the center of attention on the coast, with an enormous fireworks display going on down the beach a ways. During the day, as everyone stakes out their spot on the beach, this area is a hub of activity. Two nearby bars, The Pines and Snug Harbor, are usually packed with tourists in one heck of a party mood. This is some of the best fun you can have on Independence Day anywhere.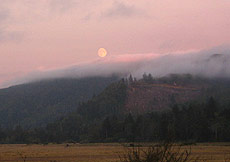 Unusual sights are found at the refuge just south of Taft
Siletz Bay Park
This small parking lot – and another viewing area next to it – both overlook the Siletz Bay. Information kiosks and other facilities are found here, and just a short walk away sits the big pier jutting out into the bay.
Various interesting rock structures dot the bay. There are rumors it's haunted by a ghost ship that periodically appears and then dissipates – given some small credence by the fact there is actually a vessel buried in the mud here, about 100 years old.
Heading South
Some interesting hidden parks inhabit the landscape just south of town, including the plethora of hidden little beach accesses of Gleneden Beach and Lincoln Beach. Heading south, you'll find Depoe Bay, Newport, Seal Rock, Waldport, Yachats, Cape Perpetua and the middle of the entire Oregon coast: Florence.
Click here for more Lincoln City, Oregon Attractions, 100's of Beach Photos
Click here for Lincoln City Lodging, Hotels and Vacation Rentals
More detailed photos of Lincoln City are available at the Virtual Tour, Lincoln City Map
Click here for Lincoln City Dining, Restaurants