Surprising Unknown Rules of the Oregon Coast 
Updated Weekly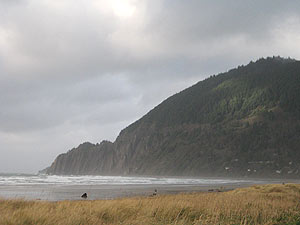 Camping is banned on the beaches of Manzanita
(Oregon Coast) – Secrets are aplenty along this shoreline, and not just in the form of hidden spots. Bundles of factoids exist just under the surface that could really avoid all sorts of problems on your coastal visit.
Many of them are rules or tidbits of common sense you should probably heed, yet coastal visitor agencies haven't imparted these bits of necessary wisdom.
Can You Pitch a Tent Just About Anywhere? Sleep on the Beach?
This is not allowed, especially on most beaches. Towns and villages like Manzanita, Tierra del Mar and all of Clatsop County between Cannon Beach and Astoria completely ban camping on the beach, as do some state parks. It may not be outright stated that it's prohibited to pitch a tent on some beaches, but don't be surprised if authorities come and boot you. Read the signs at the beach access.
Unfortunately, it is not clearly makred in all coastal towns. Most, if not all, have banned sleeping on the beaches or in parking lots, but they have not yet put up signs declaring it illegal.
As tempting as it may seem, any expert on the beaches will tell you not to sleep on any beach for a number of safety reasons.
You cannot park and sleep within city limits of just about all towns. You cannot sleep in your vehicle in the parking lots of waysides and beaches within city limits. In fact, most parking areas have signs designating no parking within certain times at night.
You can sometimes park and sleep in gravel pullouts or viewpoints along Highway 101 that are outside of towns, but make sure you look at the signage as sometimes other civic authorities have declared it as illegal.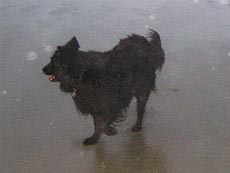 Some beaches will let your pooch run unihibited.
Dogs on the Beach
Numerous beaches do require Fido to be on a leash, especially state parks. Make sure you check the regulations at the access. More obscure beaches and many strands in front of cities don't seem to regulate leashes - but again, you must check the signage, if any. Oregon State Parks strongly urges you to "be a responsible pet owner regarding cleaning up after your pet so our beautiful Oregon coast beaches can be enjoyed by all."
Most beaches now have doggie doo-doo bag dispensers so you can clean up after your pet.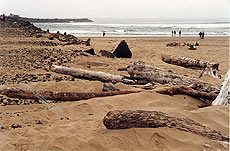 Florence: don't use beach logs for fires.
Beach Fire Rules: Simple but Strict
Oregon State Parks oversees this state's beaches and these rules, but they often differ from access to access. These are posted on most trails or accesses. While most allow fires – some don't. Be sure to check.
The rules are strict, but they're also basic common sense.
Don't use large logs – only small pieces of wood. Obviously, build them AWAY from the vegetation line, quite a ways away. The same with piles of driftwood: stay from them as you could start another, larger fire.
When you're done with your beach fire – do NOT bury it. Put it out with water, but leave the remnants visible so any still-hot embers that may be left aren't lurking beneath the surface, waiting to burn someone walking barefoot over what looks like regular sand. These fires can smolder for hours.

The Nightmare of Running Out of Gas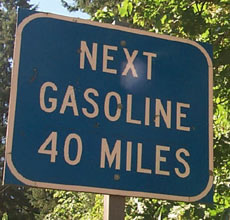 This warning sign is almost halfway between Tillamook and Portland.
Luckily, almost every beach town now has a gas station open late or all night, so running out of gas isn't as big a problem as it used to be a decade or two ago.
The off-seasons see shorter hours for gas stations.
Even in the summer, most stations shut down before 9 p.m., and there are several stretches where there are no gas stations - and the distances between stations are often 20 to 30 miles in lots of places.
Highway 6, between Portland and Tillamook, has a 40-miles stretch where there are no gas stations. The last one until Tillamook is at about the 41-mile marker. Road signs on both directions of the highway warn where this gasless tract begins. Get fueled up in Tillamook, or along Highway 26 before the Highway 6 junction, just to make sure.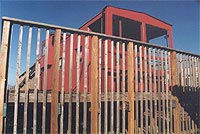 Rockaway Beach has no gas station.
Towns like Yachats, Rockaway or Manzanita could find you stranded after the early evening, or stuck in one of the long stretches near there, between major towns. There are no stations in Rockaway, and those in Garibaldi or Manzanita close in the evening – more than ten miles away in either direction. There is no longer a gas station in Cannon Beach, either.
If you're traveling in the middle of the night, the only all night gas stations are in Tillamook and Seaside, about fifty miles of no gas.
Watch your fuel gauge closely if you're making long trips late at night on the central coast as well. In Florence, Newport and Lincoln City there are usually 24-hour gas stations, but not in other towns. Those stations in Depoe Bay, Yachats and Pacific City close down rather early.
There are no gas stations in that 20-mile stretch between Lincoln City and Pacific City, or that 25-mile frontier between Yachats and Florence. Update/Note: at this time (April 2016) htere is no gas station in Yachats, leaving the only stations nearby in Waldport, 7 miles north of Yachats. This could change in the next year, however.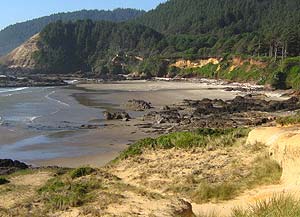 The beaches between Florence and Yachats are stunning, but there are no gas stations in that 25-mile stretch.
An interesting tip that may come in handy: If you are in danger of running out of gas, make it to a city with cab service. Sometimes, you can call on a cab to bring you gas in a can from their own supply. This isn't guaranteed, however, and they don't advertise this at all, because they're technically not allowed to do this. Besides, towns large enough to have cab services usually have a late-night gas station or two.
Are You 25 Years or Younger in Seaside?
You may have a problem. Many lodgings in the north coast town don't allow young folks under the age of (approximately) 25 to rent a room without a parent or guardian. It's a popular hotspot for early twentysomethings, and young partiers have apparently ruined it for the rest in the eyes of many business owners. The age limit differs between lodgings, but it's generally around 23 - 25. It's best to call ahead to your favorite lodging to double-check.
Even More: Oregon Coast Frequently Asked Questions
Find out about Oregon coast whales, find lodging lists for the Oregon coast, places to eat, about swimming on the coast, about crab shells, strange creatures on the beaches, maps for the coast, what is the best of the Oregon coast, and more about nature, beaches, things to do and attractions. Oregon Coast Frequently Asked Questions.
More About Oregon Coast..... Oregon Coast Lodgings for this - Where to eat - Maps and Virtual Tours
More About Oregon Coast hotels, lodging.....
More About Oregon Coast Restaurants, Dining.....
LATEST Related Oregon Coast Articles
Back to Oregon Coast
Contact Advertise on BeachConnection.net
All Content, unless otherwise attributed, copyright BeachConnection.net Unauthorized use or publication is not permitted