It Took 11 Years, But Finally a Freaky Oregon Coast Noise Was Recorded
Published 04/06/23 at 10:42 PM
By Andre' GW Hagestedt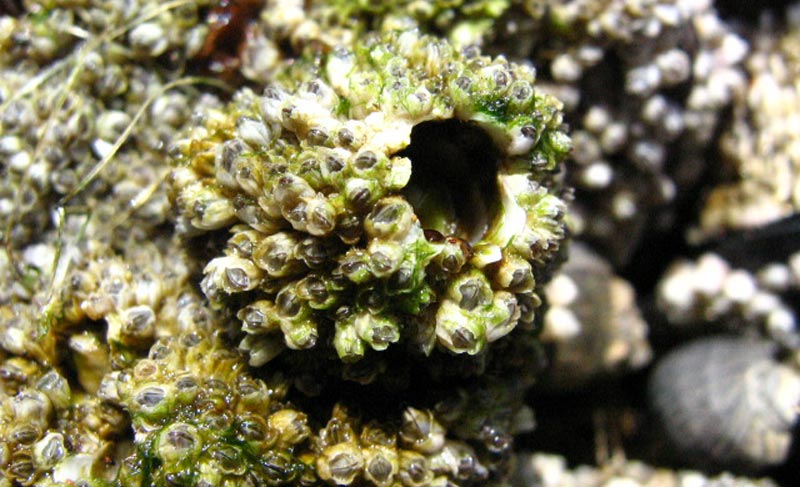 (Oregon Coast) – Back in 2007, this publication, Oregon Coast Beach Connection, was still an infant. I wasn't, however; because, well, babies can't type or do CSS – right? Something like that. (Photo of barnacle up cose - Oregon Coast Beach Connection)
Anyway, I'd been covering the coast for awhile already for other publications, and I was beginning to think I'd seen it all. No way, man. No way. Little did I know getting paid to go to the beach (yes, that's my job) would keep yielding wild surprises, but this incident gave me a clue.
That winter of '06 – '07 was an extraordinary one, where major storms struck and then yanked out record amounts of sand. That meant some things that hadn't see the light of day in decades or more showed up, including rather rarely-seen ghost forests. These included a stand of trees 4,000 years old, and these at Newport were really dramatic.
On that same day, my then-girlfriend and I were later wandering near Yachats, where there were a lot of tidepools. She stops me and says the barnacles are making noises.
I'm like....whaaaa?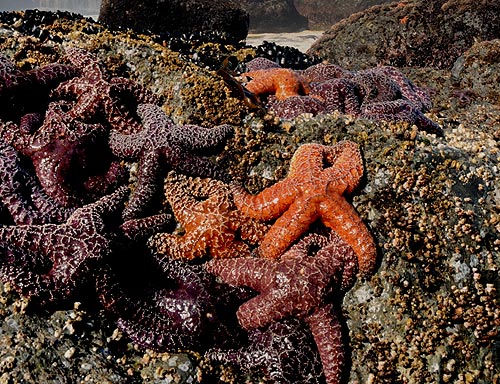 Photo Seaside Aquarium
She kept going: "Do you hear that? Do you hear that?" I had only recently stopped covering the rock music world, and admittedly had blown out a bit of hearing. She showed me to a spot where they were definitely making a noise, and then I heard. Holy Moses, that was weird. There was a kind of chattering sound, as if they were talking to each other, along with hints of squishing or even water squirting.
I was blown away. I had never known this was possible. Quickly, I turned to Keith Chandler at Seaside Aquarium.
"It happens when they move around in their shells," Chandler said. "They have two sets of shells to protect themselves."
It was for me and most of Oregon Coast Beach Connection's audience a big surprise for years down the road. I'd bring the story up now and again, and always there was a huge readership for it. One thing I seriously lacked, however: no recordings of it. I didn't encounter it again, or if I did was in the middle of shooting some other subject on the beach, so I never recorded it myself.
What creates them are known as acorn barnacles. When they encounter something or are touched, they move around inside. A simple shadow spreading over their home causes them to freak out and shift. That meant just a human being peering into the tidepool activated them.
The scientific name for these acorn barnacles is Balanus glandula, and they're extremely common to the Oregon coast, Washington coast, and indeed the entire U.S. and Canadian shorelines. They are crustaceans, which makes them more closely related to the crab and / or lobsters.
So how can you hear this talking barnacle sound yourself?
You have to find them in a specific condition, Chandler told Oregon Coast Beach Connection. First, they must be at least partially in water. If they're fully submerged you won't hear them; if they're completely out of the water they close up.
From 2007 through about 2016, cellphones weren't quite as common as they are now. So there were no major recordings of them being circulated online. Now there's lots of them. But about 2017 or 18, I had a brief IM conversation with the folks at Haystack Rock Awareness Program (HRAP) in Cannon Beach. I half-kiddingly dared them to get a recording of this.
They did. Then this little wonder was born: a true recording of chattering barnacles in 2018. To this day, I can't thank you enough, HRAP.
Another oddball fact about these little guys: Chandler said in there sits a tiny arthopod, basically a tiny invertebrate creature with an exoskeleton. They are positioned inside their shell so that their forehead is stuck up against the shell.
Oregon Coast Hotels for this event - South Coast Hotels - Where to eat - Maps - Virtual Tours

More About Oregon Coast hotels, lodging.....
More About Oregon Coast Restaurants, Dining.....


Andre' GW Hagestedt is editor, owner and primary photographer / videographer of Oregon Coast Beach Connection, an online publication that sees over 1 million pageviews per month. He is also author of several books about the coast.
LATEST Related Oregon Coast Articles
Back to Oregon Coast
Contact Advertise on Oregon Coast Beach Connection
All Content, unless otherwise attributed, copyright Oregon Coast Beach Connection. Unauthorized use or publication is not permitted