Oregon Coast's Octopus Tree Complete: Origin, Rumors, History, Even a Celeb Atop Cape Meares
Published 03/05/23 at 7:53 AM
By Oregon Coast Beach Connection staff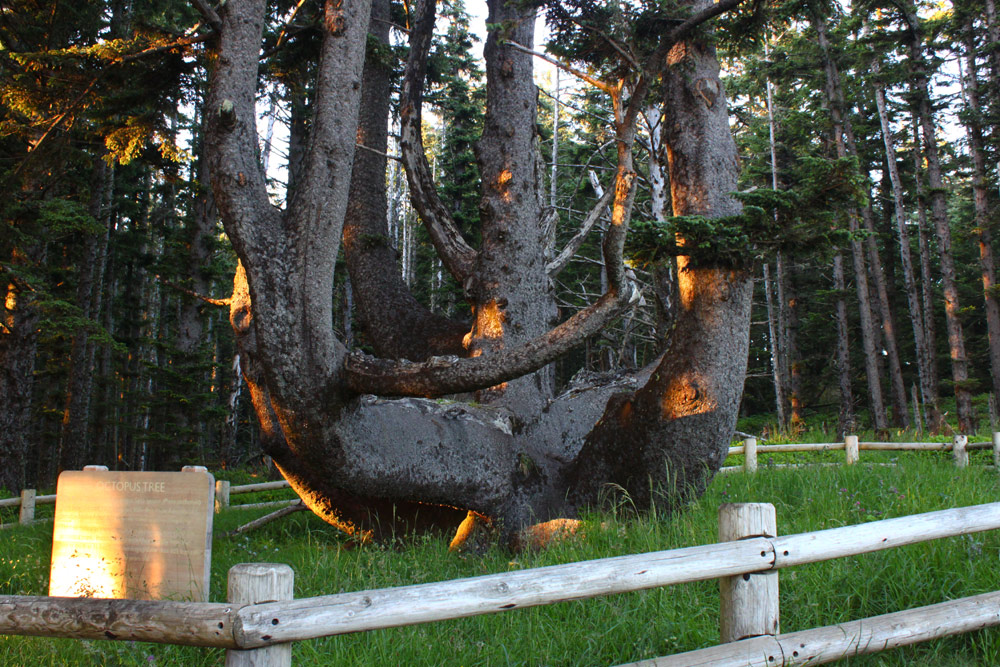 (Oceanside, Oregon) – Whatever the actual status and statistics may spell out, whether it's the tallest or any other title, Oceanside's Octopus Tree on top of Cape Meares is at the top of a lot of people's hearts. Those visiting the Oregon coast have been able to access the multi-limbed forest freak for about 60 years now (before that, not so much), and it's been the source of much amazement. (All photos Oregon Coast Beach Connection)
The Octopus Tree is a massive Sitka spruce that has an odd, candelabra shape, where some six main branches spread out from what appears to be no actual base, but there is something like that there, certainly where they all meet directly underground. If you count the two or three larger offshoots, there's really eight or nine main limbs, depending on how you think of it.
This towering Oregon coast wonder is the source of much mystery, however. No one really knows how it got its shape. There's a few theories, though.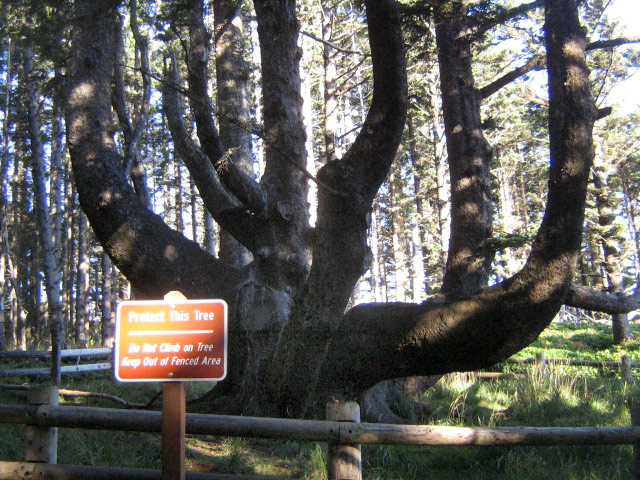 In 2001: look close and you'll see where the missing limb was
And just how old is it? That's a puzzle too. For decades, the Octopus Tree was thought of as 400 years old, but in recent years it's been narrowed down to 200 to 300 years old.
Then there are the rumors one of the limbs was torn off in the '90s during a heavy windstorm. That's true, and it seems to have happened in the '90s. There is a spot where something is clearly missing. There were seven large limbs once, and that was well documented in the 1960s as the tree made it into the Ripley's Believe It Or Not books – which were a hip, cool trivia thing long before the internet. They called it "seven trees in one."
Which brings us to the name – why it's called the Octopus Tree. Who gave it that moniker isn't clear, though it seems it had it long before 1963. It's that year when the first newspaper articles appear that mention the Octopus Tree, shortly after the Three Capes Loop was built (now known as the Three Capes Scenic Route, among other things). Likely, earlier residents gave the tree that name because of the unique candelabra-like shape.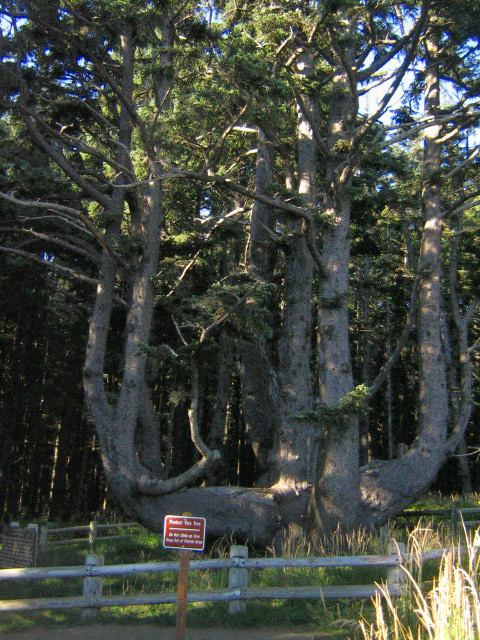 Funny thing, though. Some local news coverage of it in the early days of tourism along the Three Capes Route had writers calling the limbs "grotesque." Yikes.
The Octopus Tree is several hundred feet from the main viewpoint at Cape Meares and the parking lot. From there, you enter a deep and dense forest. Even in '63, travel writers said it was a place where sunlight barely penetrated. That's still the case, as you can see by the photos of the Octopus Tree over some 20 years that Oregon Coast Beach Connection has documented it.
There, it's fenced off, with an informative sign and another asking you not to climb. Sad that's even needed.
Now, internet rumors abound (what else?) that it's the tallest tree in Oregon. Nope. It was being investigated for such a title back in 2008, covered by the Statesman Journal. A soaring monster of a tree near Cannon Beach was the tallest in the state until that decade, when a big Oregon coast blowout knocked it over. Also in the running was a tree near Yachats. However, a tree in central Oregon has that honor at 268.3 feet, while another tree near Brookings is the tallest on the coast.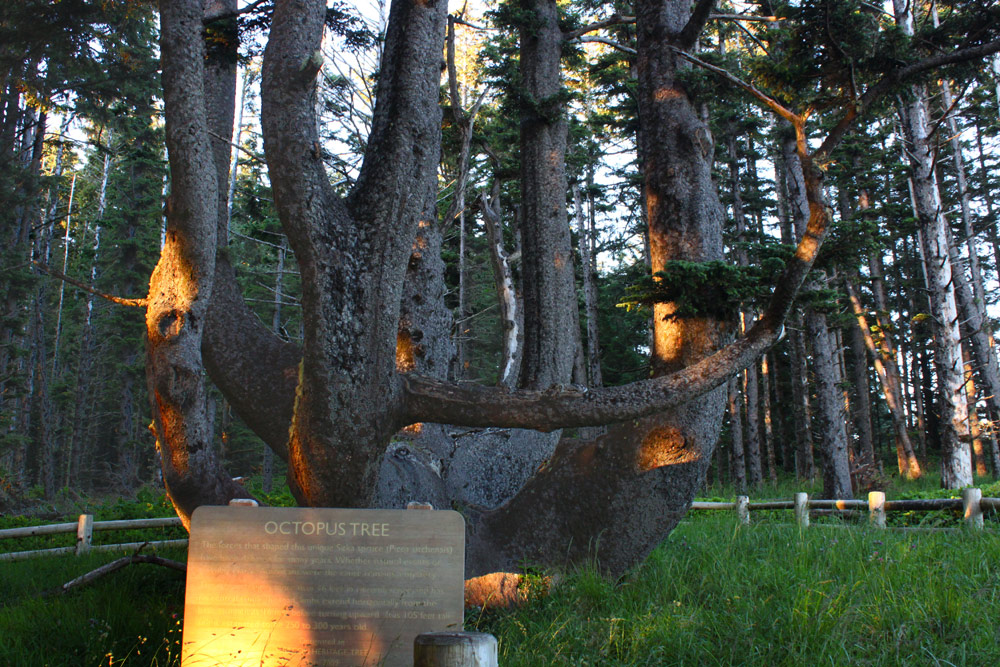 The north Oregon coast's Octopus Tree is a mere 144 feet high. It's 15.5 feet in diameter, and 56 feet in circumference. The crown averages 93 feet across (the very top of the tree).
While Ripley's made it a celeb through the mid century, the tree was long revered by local tribes as a ceremonial site, possibly for hundreds of years. There were numerous such native spiritual trees documented by Sam Boardman in the early century – yes, the same man the big scenic corridor on the south Oregon coast is named for.
This is where the big mystery of the Octopus Tree's origin comes in: how did it get this look? A common practice among tribes was to push sacred tree limbs downward while it was still flexible, and they grew outward until they were allowed to grow normally. Then the branches would grow straight upwards. In this case, the Octopus Tree limbs jut out some 16 and then another good 100 feet skyward.
There was also talk tribes would "bury" some of their dead in canoes in between tree limbs, but that's unsubstantiated.
Oregon coast gale winds have been the other theory. Many scientists think it's the harsh weather conditions that shaped the tree. However, another guess in decades past has been that when the tree was a seedling, it had gotten trampled underfoot now and again, thus getting a different shape.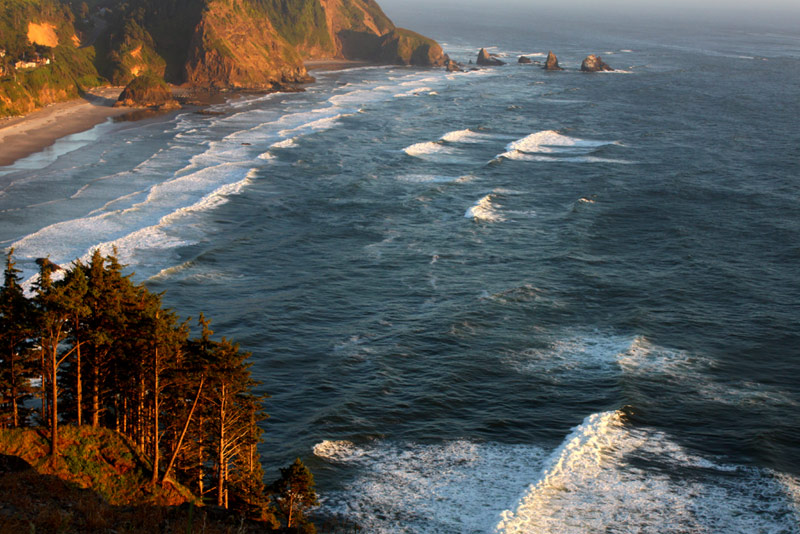 In either case, Cape Meares' Octopus is not to be missed, along with the stunning viewpoint a few steps away. From here you get a nice glimpse into Lost Boy Beach, the absolutely hidden and dangerous beach between Short Beach and Oceanside's Tunnel Beach (often known as Star Trek Beach). Also see Cape Meares Scary Geology
Hotels in Oceanside - Where to eat - Oceanside Maps and Virtual Tours

More About Oregon Coast hotels, lodging.....
More About Oregon Coast Restaurants, Dining.....


Andre' GW Hagestedt is editor, owner and primary photographer / videographer of Oregon Coast Beach Connection, an online publication that sees over 1 million pageviews per month. He is also author of several books about the coast.
LATEST Related Oregon Coast Articles
Back to Oregon Coast
Contact Advertise on Oregon Coast Beach Connection
All Content, unless otherwise attributed, copyright Oregon Coast Beach Connection. Unauthorized use or publication is not permitted