Oregon Itineraries, Day Trips and Tours on the Coast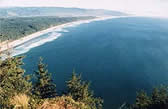 (Oregon Coast) – Sometimes, a day trip to the Oregon coast is all that's needed to get away from it all. With the beaches no more than a tad over an hour away from major inland towns like Portland, Salem, Corvallis and Eugene, it's not hard to do a quick tour of the beachy fun and eateries that lurk along these shores.
Many spots are only close drives from certain towns. Most of the north coast is more than two and a half hours from towns like Corvallis and Salem, so a day trip from these spots to places like Seaside or Manzanita is probably a bit much. But in the case of Lincoln City, this town is only two hours from Portland and slightly more than an hour from Corvallis or Salem, and not much more of a drive than that from Eugene. Even Newport can be attained in about two and a half hours from Portland. And Newport is within a couple hours drive of Eugene, Salem and Corvallis.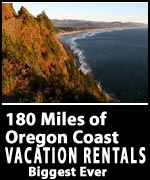 There's a lot that can be done in a day – or even just four or five hours on the coast.
The following is a list of day trips, suggested itineraries and tours for certain areas of the coast. Keep checking back as these will be added to all the time.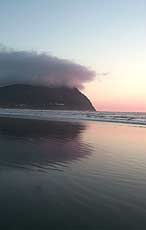 Seaside
Day Trip Time: 1 hour, 20 mins from Portland
Suggested Itinerary: Explore, shop and eat in Seaside, play on beaches south or north of town.
Alternate Itinerary: Cannon Beach and Seaside are only six miles apart.
With its beautiful promenade (built in the 20s), a long stretch of wind-sheltered beach, its charming streets, its somewhat gaudy carnival atmosphere and a lengthy history of being one heck of a party town, Seaside has something for just about anyone.
Portlanders have vacationed here for more than six generations, creating a history that is rich and colorful. The promenade – more than a mile long - is proof of this, as are the visits to this area by explorers Lewis and Clark. Well, sort of, anyway. There is a monument to the pair sitting in the middle of the picturesque and famed turnaround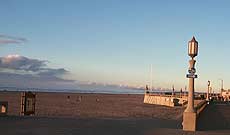 The town has all the amenities you could ask for: scrumptious, sometimes innovative cuisine, major grocery stores, a liquor store, a large movie theater complex and an outlet mall filled to the brim with 60 stores, along with numerous funky gift shops along the other main drag, Broadway.
At the Seaside Turnaround and Promenade, once again, history takes the front seat on your journey through Seaside. The Promenade was built in the 20's, first as a wooden construct, then made of concrete. These days, it stretches a little more than a mile and a half, taking you past beautiful motel fronts and charming beach cottages – many of them quite old.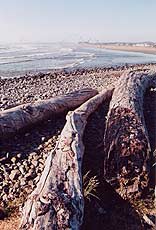 If the Promenade whispers of history, then the Turnaround shouts it. Its centerpiece is the statue of Lewis & Clark (who never actually stopped in this spot, although it gives you that erroneous impression.) More Lewis & Clark history can be found at the replica of the Corps' salt boiling structure, near Ave. U.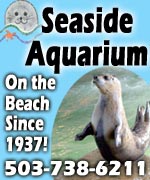 Nearby, the Seaside Aquarium is a famous bit of indoor fun. Located right on the Promenade, it features plenty of fish tanks, a touch tank, and a chance to feed the frolicking family of Harbor seals. Plus the 1937 drawing proclaiming a "hideous octopus" is quite an eye-catcher. Call: (503) 738-6211.
For more aquatic fun, there's Quatat Park, where you can rent little boat jobbies to zip around the river. Crabbing on the bridges on the north end of town is another favorite pastime.
The cove, at the southern end of town, is a surfers paradise, and the gateway to Tillamook Head. It's also a little more deserted than most of the town's beaches. Although even less people can be found in the semi-rocky sand stretches north of Ave. U and south of the Turnaround. For more on this area, see the virtual tour.
New Tour: Oregon Day Trips: Florence, on the Central Coast Just 50 miles from Eugene, the area is rich with attractions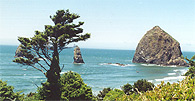 Cannon Beach
Day Trip Time: 1 hour, 20 mins from Portland.
Suggested Itinerary: Explore and eat in Cannon Beach, play on beaches south of town.
Alternate Itinerary: Cannon Beach and Seaside are only six miles apart.
This charmer of a town is home to some of the finest restaurants on the coast, plenty of galleries, frighteningly beautiful hotels and many artists on the coast - it's also purported a few national rock stars have cabins nearby as well. This artiness shows, partially in the city council's rule that most buildings be dressed up in cedar shingles, giving the whole town a sense of the rustic yet refined.
This inventiveness is also apparent in the abundance of quaint businesses around town, from whimsical shops selling kites, clothes and gifts, to its galleries, fine cuisine in a variety of price ranges and the many flower pots hanging everywhere. Some of the restaurants and bars even have outdoor seating – a daring, if not very urban-thinking move on the coast.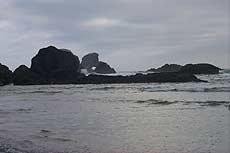 Sure, it's touristy in some ways and certainly packed with tourists most of the time. But there's a coziness and beauty to this place that's hard to resist.
The beaches are a nonstop pristine wonder, capped by the third tallest rocky monolith in the world, the ever-looming Haystack Rock.
There's Ecola State Park at the north end of town, where stunning vistas abound. Next to the park, Tillamook Head is the vast, rugged headland that separates Seaside from Cannon Beach, including a six-mile-long hike either way. But en route, you'll find incredible views of the ocean and Tillamook Head Lighthouse, remnants of an old army bunker and some spots that made history because of Lewis and Clark.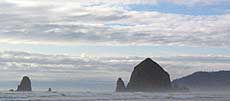 South of town, there's Arcadia Beach with its tide pools, sand and rock structures. At Hug Point, a waterfall, several sea caves and a raised, grotto-like tide pool within another cave are all just a precursor to one of the coast's most fascinating spots.
There is a road carved out of the rocky headland here, which was created in the early part of the century to allow Model T's and horse-drawn carriages around the point at medium tides. Back at that time, there was no Highway 101 (it wasn't built until the 30's), and the beaches were Oregon's coastal highways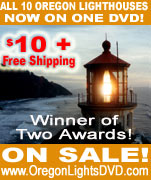 A couple of miles south of Hug Point you'll encounter the lovely little beach interlude known as Arch Cape. It's a tiny community that consists of a few homes and one or two businesses right on 101. But mostly it's a couple of beach accesses hidden behind some neighborhood streets.
Through the tunnel lie Oswald State park, bundles of astounding, jagged cliffs, and the charming burghs of Manzanita, Nehalem and Wheeler. For more on this area see the virtual tour.
Oregon Day Trips and Tours: Newport on the Coast About 70 miles from the central valley lies a wonderland of fun and beach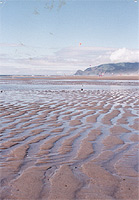 Lincoln City
Day Trip Time: Two hours from Portland; 1 hour, 15 mins from Salem; 1 hour 45 mins from Corvallis
Suggested Itinerary: Explore, shop and eat in Lincoln city, play on beaches in town.
Alternate Itinerary: Explore and play in Depoe Bay just 20 mins south, and/or Neskowin, just 20 mins north.
Lincoln City is one elongated, thin town, stretched out over many miles, hugging the coastline and containing names like Taft, Devil's Lake and Nelscott. This is because it's now made up of what were once a host of separate communities, finally coming together under the name of Lincoln City in 1964.
The Siletz Bay (at Taft) caps the southern end of Lincoln City while Cascade Head caps the northern end. In between, near the vegetation line, usually sits an abundance of driftwood. Because of this, the beaches of Lincoln City have always been popular with folks who like to build some sort of wind-shielding structure or with those with a hankering to start a bonfire.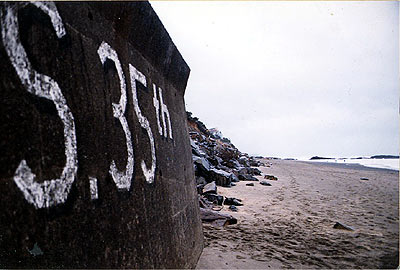 Cruising down 101 you'll find an endless array of restaurants, from fast food to some of the finest cuisine on the Oregon coast.
Road's End State Recreational State, at the north end of town, is where the real surprises often lie. Land's End Road will lead you to Land's End State Park, and from there you can continue north through a neighborhood of cabins and expensive homes until you come to the last public beach access. This spot allows for perhaps two cars to park there and is approximately half a mile from the looming cliff.
To find the Devils Lake State Recreational Area, head east at the traffic light of NE 6th St. to reach this favorite camping, fishing and boating spot. There are 55 tent sites, 10 yurt spots, paved parking and a load of other amenities in the campground.
Not far away, the D River State Recreation Site is a big parking lot with all the facilities, viewing platforms and a sometimes-wild surf greet you here. In between, there's tons of sand and a creek for recreation. Sometimes, the city places volleyball nets on the sand here.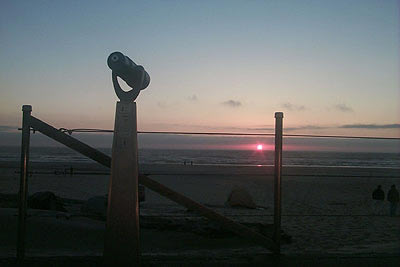 In the middle of town, the 15th Street ramp allows motorists to park on a small stretch of beach.
At the southern end, Siletz Bay is filled with a variety of wonders, including loads of barking sea lions resting on a spit across the bay.
South of town, there are numerous beach spots to explore, like the slightly hidden spots of Gleneden Beach or Lincoln Beach. Fogarty Beach is a popular state park with a massive basalt blob at the tide line, with some climbable areas here and there.
Depoe Bay sits south of here, with its many shops and eateries along 101. It's also the only town on the coast with a spouting horn in its downtown. There are numerous hidden spots in the area as well, which are well worth spending the day exploring.
North of Lincoln City sits the exquisite and ethereal village of Neskowin, which is legendary for its serenity and astonishing unspoiled beauty. For more on this area, see the virtual tour.

More Oregon Day Trips, Itineraries, Tours, Attractions and Things to Do on the Oregon Coast
25 Miles of Mystery and Wilderness on Oregon's Coast Oregon's Three Capes Loop is a collection of wonders
Oregon Travel Tips: Great Driving Tours of the Coast Some of America's most stunning scenery lies on the Oregon coast
A Research Expedition on Oregon Beaches One research trip turned into an intensive journey of discovery
Oregon Travel Secrets: Same Beach, Different Faces The appearance of a beach can change with the seasons or for other reasons
Another Lost Week Traveling NW Oregon Nearly a week of unruly seal pups, surreal nightscapes, gourmet food and nutty traffic
Summer Means Rugged, Outdoor Action on Oregon Beaches Odd hybrid sports as well as hiking and water activities rule the coast
Oregon Coastal Village Wows with Mystic Vibe, Ghost Forest Neskowin is different in many ways, including its geologic features
Sampling Wines and Wine Bars on the Oregon Coast Wine shops and wine bars are a growing part of coastal tourism
Cool Caves of Oregon's Coast Mysterious indentions to larger, cavernous wonders
Astounding Hikes, Insane Views of the Oregon Coast Summer means hiking to many tourists to the region
Seaside: Three Faces of an Oregon Coast Town Seaside is part carnival, natural wonder and living history
Five Astounding Stops on Oregon's Coast Five places guaranteed to get the jaw dropping
Rampant Surrealism on a Nocturnal Oregon Beach Oregon's coast is an entirely different creature at night
An Oregon Adventure On 100 Miles of Wild Coast From TV crews, crazed drunks and big festivals to more discoveries
Touring Oregon's Kooky Coastal Bar Scene From fine to funky, the edge of the continent is full of unique wateringholes
Oregon Beach Spots The Locals Don't Want You To Know About Hidden details, a ghost town and other secrets
Ultimate Shopping for the Oregon Coast Traveler: Newport's Nye Beach It's shopping Nirvana on the coast
Odd Objects on Oregon's Beaches Yield More Wonders Strange creatures washing up on shore show something new
Unusual Travel Articles TravelParanormal.com allows you to submit your own creepy tale or debunk one - or see up-to-the-minute news headlines about travel and the paranormal.
Oregon Coast Bed and Breakfasts / B&B Guide
Search This Site's over 2,000 Pages...