BEACH NEWS YOU CAN USE
Covering 160 miles of Oregon coast travel: Seaside, Cannon Beach, Manzanita, Nehalem, Wheeler, Rockaway, Garibaldi, Tillamook, Oceanside, Pacific City, Lincoln City, Depoe Bay, Newport, Wadport, Yachats & Florence.
Summer Cometh: Are you ready?
Another Lost Week Traveling NW Oregon
By Andre' Hagestedt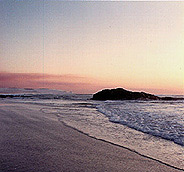 Lincoln City
(Oregon Coast) – Sometimes when you're researching the coast, and it's your job to travel up and down 180 miles of Oregon shoreline, it's full of wild, wild moments. On this particular jaunt, it was five days of uncooperative seal pups, surreal nightscapes on the coast, scrumptious gourmet food, and nutty traffic incidents while shuttling all around the northwest corner of the state.
Sure, the driving can be tedious, but not as often as you think.
For example, heading down I-5 towards Salem, on my way to the Oregon coast, I slam into a giant plastic bag, and it mysteriously disappears. I wonder to myself what happened here, but decide, no, it's not possible this thing was stuck to me.
An hour or so later I'm in Lincoln City, and pull away from my parking spot after a quick business visit. Sure enough, Mr. Giant Bag was stuck to the front of my car, and had fallen off at the parking spot.
On this day, a Thursday, Lincoln City is bright, sunny and crammed with cars. Traffic is like a Portland rush hour in many spots. In their attempt to get away from it all, everyone came out here and brought the world with them.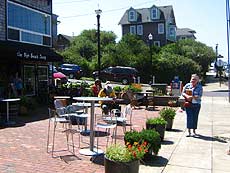 Dining outdoors in Nye Beach
In Newport, dinner is a combo of things. It begins with stunning oriental-style crab puffs at new restaurant Taste of Newport (with an amazing spicy cream cheese an crab so subtle and delicious its delirium-inducing). Then, I down one of those fab chilidogs at Nye Beach Scoop, where bundles of goodies, including tasty black beans, are piled onto each other. I dine outdoors much of the time tonight, in the beautiful little brick patio shared by Nye Beach Scoop and Blu Cork Wine Bar.
When darkness rolls around, I go looking for the famed glowing sands that have made such a splash on the Oregon coast in recent weeks. I head down to Nye Beach, beneath its cliffs, and discover a raging wind pounding at around 45 miles per hour. Even the wet sand is getting kicked up, and it's actually a little painful on my ankles as the sand whips my lower calves. It's all given a further sense of the awe inspiring by the addition of a half full moon, which beams its weak bluish light with starkness and precision, creating hazy shapes that seem two dimensional in these conditions.
All this, of course, means no chance of spotting the glowing critters – if they were indeed even there.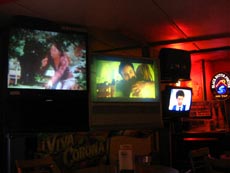 Multitude of TV's at Sand Bar, Newport
So, I drown my sorrows of a lack of scientific discovery in the nearby wateringhole, The Sand Bar. I find myself drawn to the three TV screens at once, all playing something different. I laugh to myself that this reminds me of that crazy scene in "Man Who Fell To Earth" where the alien, played by David Bowie, is watching 20 different TV channels at once.
I met some lovely thing named Gabby, who asked for my number (although I really doubt she'll ever call me).
The next day, a Friday, after spending all day working on the laptop, I eventually get out around 9 p.m., to scarf down one of those remarkable bison burgers at Blu Cork. This is one gem to not miss if you're ever in Newport, where the bison meat is mixed with bleu cheese, augmented by roasted red peppers, spinach and two inventive and tasty mustards that are made in-house.
Then the adventures begin again. I embark for Portland about 10 p.m. Around 10:30, I'm just outside of Lincoln City when I spot what looks like a body by the side of the road. I pull over as soon as I can, where, luckily, there's a phone booth. I call 911, and zip back around to check on this. Sure enough, two cars had pulled over and had grabbed the man and pulled him to safety on the other side of the road.
I asked if he had been hit or if he was just drunk, and they told me he was "sauced out of his mind." Apparently, they told me, he had fallen and cut his face on the gravel, but he decided to just lie there and pass out. As if on cue, he then started bleating loudly and drunkenly into the air, slurring nonsense. Thanks to no real tragedy, this little adventure turned out to be just rather hilarious.
The next day, on Saturday, it was a mixture of laughs and the heart wrenching at a memorial for a friend in Portland who was recently murdered (we'll miss you, Timmy Gripp). And then it was time to zip back to the north coast for my friend Rachel's wedding.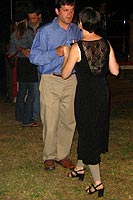 Dancing under the stars at Nehalem Bay Winery
Around 9:30, I'm finally near Cannon Beach, where it's dark and the fog creeps in periodically. As I enter Oswald State Park, just north of Manzanita, Neahkahnie Mountain is unusually dramatic, with murky mists covering the top of the mountain. It's spectacular.
I arrive at the wedding reception around 10 p.m., happening at the Nehalem Bay Winery. This is one place that's infamous for its fun times and wedding opportunities. Playing on stage, outdoors, is the fabulous local favorites Floating Glass Balls, who perform a truly interesting, bluegrass-tinged cover of Bob Marley's "No Woman, No Cry." Truly delightful is the atmosphere here, with the yummy food, plentiful wine and the pleasures of an outdoor reception just a few miles from the beach.
I snap a rather endearing photo of my friends Abby and Dave dancing to the band, with Alison and Trevor cavorting in the foreground.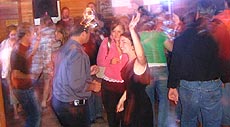 Oyster Shooters and crowd at San Dune
As the reception winds down, Abby, Dave and I head for the fun times at the San Dune Pub, where a local band called Oyster Shooters are indeed doing a lot of straight shooting, musically speaking, that is. I'm not a fan of cover bands, but these guys nailed a Blood, Sweat & Tears song with surgical accuracy and much verve.
The band was one baaad mutha, the crowd was bouncy, and the experience was exceptionally entertaining in a variety of ways. I even ran into an old friend I hadn't really seen in 15 years.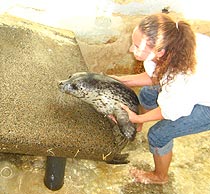 We all wandered back to Dave and Trevor's house up Highway 53, where we laughed at their dog Max as he dug into a jar of peanut butter, getting his tongue tied up in the process of trying to down the sticky stuff.
The following day, a Sunday, I high-tailed it for Seaside to chat with Tiffany at the Seaside Aquarium, where I had the chance to watch her chase the last of the seals back to their nighttime pen. This was more of an escapade than I imagined it would be.
It's also where it gets so cute it's painful.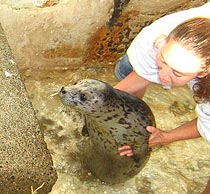 The diminutive baby seals weren't quite big enough to make the ramp with the water drained at this level, as they let all the water out of their public tank for cleaning each night. So Tiffany had to help them up the ramp by picking them up. Except, it seems, she had to coax them to the ramp first.
The little cuties were nothing short of uncooperative. Tiffany spent considerable time trying to wave them in the right direction, but to no avail. Meanwhile, the adult seals would come bounding back towards the day pen, and she'd step up in front of them and bark their names loudly, like "Ivar!!!" Or she would yell, "Hey, we've had this conversation!" She finally took a hose to the little ones, and one by one, they were nudged towards the ramp, where she would hoist them up.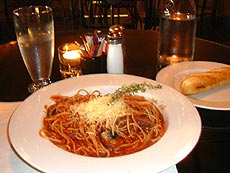 Taste of Tuscany, Seaside
Later, I downed dinner at an intense and new delight for Seaside, Taste of Tuscany. Right on 101, this upscale wonder adds a warm – and much needed - spice to Seaside's culinary landscape. It's a delight all its own in various ways, with Italian grub served with an innovative and personal touch, reminding me of the stunning Italian stuff I had in Europe years ago.
Aside from all these goodies, they're planning more changes and expansions in the coming months, including a wine bar.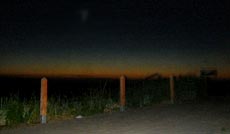 I realize how much I love this time of year when I notice it's just past ten at night and the sky is still illuminated by the remnants of a sunset. There are still layers of colors lurking on the horizon even at this hour.
I'm parked at the Tolovana parking lot in southern Cannon Beach, and the atmosphere of the Oregon coast is insane here. It's beyond ethereal, with this wild glow across the edge of the sky. I catch a picture of it with the sidewalk in the foreground.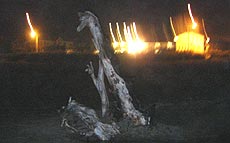 Driftwood creature of Manzanita
After some drinky-poo's and camaraderie at Cannon Beach nightlife hotspot Warren House Pub, I make a quick jaunt to Manzanita's mysterious nocturnal beaches. There, I always seem to encounter something new and wonderful. Indeed, this time there's a freaky structure made from driftwood, which at night, resembles a monster or a giraffe emerging from the sand. Its elongated, knobby body is jutting out of the beach with a curved and pointy tip that could be the face of something demonic, or just a surreal version of some earthly bit of wildlife, perhaps a dinosaur.
It is mesmerizing and sparks the imagination.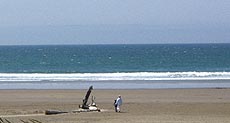 Placid seas of Manzanita, with creature in the foreground
The next day, it's breakfast in Manzanita. I dine in my car by the surf, parked just above the beach.
The ocean is in a remarkable state. It's an unusually deep shade of blue and extremely quiet and calm. The waves are only white near the shore, but further out there are no whitecaps visible. Paradoxically, the wind is rather heavy, and those waves that are evident are frothed up quite a bit. Interesting. Unusual.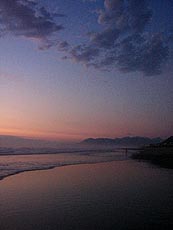 Sunset in Rockaway
That strange, fantastic artistic creature made from driftwood is still watching over the beach, and still looks like something wild and almost alive.
The next few hours are spent wandering between Wheeler, Manzanita, Arch Cape, Cannon Beach and Seaside, running one errand or another and catching incredible views.
The evening ends in Rockaway, with a contemplative walk on the beach, where the sunset is splashing intense colors all over the sky. Neahkahnie lurks in the far distance, a black shadow against the vast array of shades of red and orange. Meanwhile, a giant cloud sits above it all, looking as if it's trying to absorb all the energy.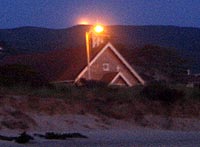 Down the beach, to the south, a nearly full moon is trying to peek over the mountain peaks to the east. It looks especially surreal just above a church and the glow of a street lamp in front of it.