BEACH NEWS YOU CAN USE
Covering 160 miles of Oregon coast travel: Seaside, Cannon Beach, Manzanita, Nehalem, Wheeler, Rockaway, Garibaldi, Tillamook, Oceanside, Pacific City, Lincoln City, Depoe Bay, Newport, Wadport, Yachats & Florence.
Spring is here. Are you ready?
Ultimate Shopping for the Oregon Coast Traveler: Newport's Nye Beach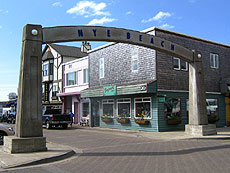 (Newport, Oregon) - There's a lot about Newport's Nye Beach district that's one of a kind. Intriguing architecture and atmosphere that smacks of another time, the rolling waves just a few steps away from the bustling shops and restaurants - and then, oh those restaurants.
But this delightful section of Newport provides something unusual and welcoming for the avid shopper. Sitting snugly between two lighthouses and up against the beach, Nye Beach has a vibe that's a combination of Old World Europe and Turn-of-the-Century Americana. Tiny bricked streets, striking stone arches, old-style streetlamps and that ever-present lullaby of the waves creates a laid-back, unhurried and outdoorsy ambiance that can't be beat.
The end result is a shopping experience that is relaxed, quiet and loads of fun - miles away in feel from the crunch and crush of the metropolitan shopping centers, especially during the holidays. As one local woman said this past year: "I haven't had so much fun Christmas shopping in years."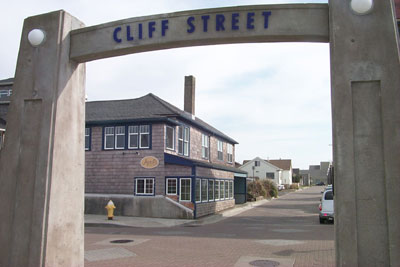 The shops themselves provide something special, inventive and unlike anywhere else in the state, with many having a vibe and interior that would be completely at home in Portland's Pearl District. The new visitor will be stunned; the regulars are addicts.
At Bambini at Nye Beach, find colorful and dazzling clothing for young children - newborn to size 6/7. There are accessories, shoes, furniture, toys and all manner of kids' coverings for babies, toddlers as well as maternity stuff. 232 NW Coast Street. (541) 574-8687. www.bambininewport.com.
Cottage Door at Nye Beach brings what they call "casual living with style" to the area, with apparel, table top decor, unusual books, lamps, distinctive art and wreaths, among other things. 732 NW Beach Dr. (541) 574-7706. www.newportcottagedoor.com.
Illingworth's Gifts offers up gifts, cards, candy, Oregon products, antiques and home decor during the majority of the year. During the holidays, the cozy, dreamy place is stuffed to the ceiling with beautiful and charming holiday items, such as large, ethereal and magical figures of Santas or angels. 735 NW Beach Drive. (541) 265-5094.
At Jovi, you can momentarily leave Oregon and travel around the world with a major shot of charm and whimsy. It's a shop full of rare and unusual objects, with global art, local art, decorative items of distinction and antiques to inspire the imagination. 232 NW Coast Street - Suite B. (541) 265-8220.
Newport Tile Works is an artisan tile studio with handcrafted images inspired from the shore and the garden. These individualistic tiles are perfect as accent pieces or for full bathroom, kitchen, or home installations. Find 30 glaze colors and hundreds of designs. 232 NW Coast Street (541) 265-7989.
In a nearly ancient, somewhat stately home near the top of a hill, Nye Beach Book House is a book browsers delight. The mainstay here is collectible books, primarily used - including rare and first editions of major authors. Books are often the perfect gift for someone for whom you don't know what to get, and children's books are frequently an excellent choice. 727 NW Third Street. (541) 265-6840.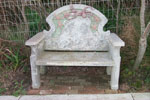 Brusselback's art also lines Nye Beach streets
Wine, gourmet foods and sculptures are on tap at Nye Beach Gallery. Here, you'll find regional and international wine and specialty cheeses and other taste treats, as well as the bronze, copper and concrete sculpture of Lon Brusselback. 715 NW Third Street. (541) 265-3292.
Nye Cottage offers up beads, beading supplies, cards, books, and gifts. Beading classes are offered. Don't miss the Original Bard vintage bead museum. It recently moved just a wee bit up the street to 258 NW Coast Street, # I. 1-866-592-5556. www.nyecottage.com.
Imaginative gifts abound at Peerless Puffin by the Sea Gifts, which is just a few steps away from the seashore. Inside, you'll discover nautical items, bath products, whimsical figures with a time-travel, historical sort of theme and numerous other very unique surprises. 742 NW Beach Drive. (541) 265-3153.
For a little spice, Queen of Hearts provides an elegant collection of lingerie, loungewear, bath and home fragrance. 708 NW Beach Drive. (541) 265-2118. www.queenofheartslingerie.com.
Life is a tea party at The Tea Party - Tea Room and Gift Shop. They'll fire up afternoon tea and conversation for you, and even have dress-up hats and attire to get you in the mood. Browse the gift shop of tea accoutrements. 716 NW Beach Drive. (541) 574-0545. www.theteapartycompany.com.
The Twining Thread is a unique shop that keeps the needle arts alive by offering classes and the finest supplies for a variety of needlework projects. 255 NW Coast Street. (541) 265-2166. www.twiningthread.com.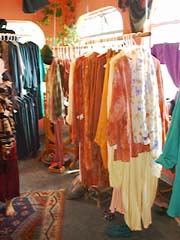 The goods at Toujours
Toujours Boutique is a hub of exotic, eclectic, energizing, exciting natural fiber clothing and accessories for women, often with a global flair and always unique. 704 NW Beach Dr. (541) 574-6404. www.newportnet.com/toujours.
Village Market & Deli specializes in a host of exclusive gourmet food items, perfect for a gift basket for the gourmand who has everything. Imported mustards, special foods and jams from Oregon, chocolate sauces, vinegars from Oregon winery Sokol Blosser and Stonewall kitchen offerings, among other stunners, are found in great abundance. They carry a fruited mustard from Sokol Blosser that you'll have to experience to believe. They also specialize in fine wines. 741 NW Third. (541) 574-9393.
For more information on Nye Beach, see www.nyebeach.org. For more information on Newport, see Beach Connection's virtual tour of the area.