BEACH NEWS YOU CAN USE
Covering 160 miles of Oregon coast travel: Seaside, Cannon Beach, Manzanita, Nehalem, Wheeler, Rockaway, Garibaldi, Tillamook, Oceanside, Pacific City, Lincoln City, Depoe Bay, Newport, Wadport, Yachats & Florence.
Spring is here. Are you ready?
Some Oregon Spots Are Hidden; Some Have Secrets
(Oregon Coast) – There's so much to Oregon's 360 miles of coastline. Hundreds of beach accesses, a multitude of regions and environments and thousands of awe-inspiring details await. There are hidden spots that create a sense of wondrous discovery, and then there are the countless aspects to the regular spots you go to that you may not have previously noticed.
There's something new to find on any beach trip, no matter how many times you visit the same area. This is just a minor sampling.
Oceanside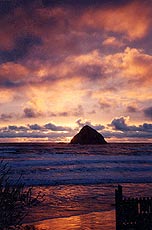 As far as towns go, it's practically a hole in the wall, not looking like much at first glance. You may think Oceanside is just another wayside with a collection of homes clustered around it. But you'd be wrong. This out of the way spot, nestled up against the hills of the Tillamook Forest, is one hidden gem on the Oregon Coast, filled with a myriad of obvious and secret delights. It's an old, rustic hamlet that smacks of another time, dripping with weather-beaten cuteness and charm – and it hides a couple of culinary wonders.
The beach here is a glorious scene, ripe with a myriad of opportunities. Maxwell Point is the stately rock structure jutting into the ocean here, with its secret tunnel to the other side, where a pristine and magnificent beach awaits.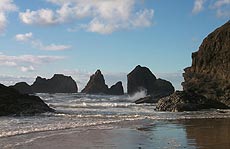 If you've got the time, a leisurely stroll or drive through this town's tiny back streets is highly suggested. The ocean view and the neighborhood tour are nothing short of a visual kick in the head.
Travel these roads to the very top, where the panoramic perspective of the Pacific is nothing short of hair-raising. You're essentially atop the highest point in the area. You actually have to look down to see the gargantuan Three Arch Rocks.
Manzanita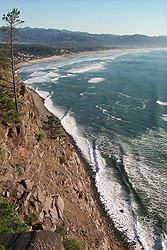 Squished between the ominous Neahkahnie Mountain, one of the most beautiful beaches on all of Oregon's coast and the northern end of the Nehalem Bay, Manzanita is a constant stream of discoveries. There's that large bay full of water sports possibilities, a towering mountain smothered in mystery, miles and miles of immaculate sand and a really long spit, making Manzanita one non-stop tour of natural beauty. Not to mention, the tiny town itself manages to boast a small but consistently glittering helping of culinary, lodging and shopping opportunities. All of these attractive amenities are just a short walk from the beach, should the weather turn on you.
The beach begins at the end of Laneda Ave., but another road runs along side the shore from that elbow until it dead-ends in the tree-smothered neighborhoods beneath Highway 101 and looming Neahkahnie Mountain. On the way, access to the sand is easy, with just a few steps down sandy or slightly rocky passages to this endlessly fascinating beach.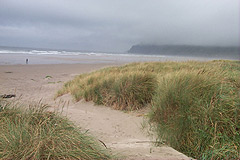 Above, on the highway, there are incredible viewpoints overlooking the ocean, Manzanita and even glimpses of Nehalem Bay. Just around the corner (just north of these viewpoints), you'll find more viewpoints, where mighty breakers slam into the rugged, ancient basalt headlands of Short Sand Beach. If things are a bit on the stormy side, keep an eye on this view into Short Sand (sometimes called Smuggler's Cove).
The Nehalem Bay Spit runs for a couple miles to the south, with entrances at one hidden end of Manzanita, and then the main entrance to the park a mile away - just outside of the tiny town of Nehalem.
If the weather is cooperating, these viewpoints are perfect for taking in the views and the sunsets, and of course, the beaches – well, we don't need to explain that to you, now do we?
Seal Rock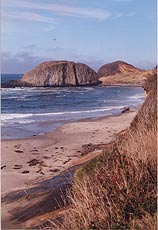 Perhaps a quarter mile of town exists here, but it contains numerous treasures. There's the famous Japanese cuisine of Yuzen, and the kids will love Sea Gulch and its wooden, chainsaw sculptures inside a mythical Old West town.
Seal Rock began its days as a budding resort town back in the last century, but various failed business deals resulted in this tiny town being surrounded by wondrous, unspoiled natural attractions. Seal Rock State Park is one large chunk of fun, with a variety of rock structures, rock-dotted sandy beaches and weird grooves made of basalt (actually geologic oddities and hints of fault lines) to climb around on.
There's one section near the tide line where the basalt rocks form a small channel that creates some unique climbing opportunities at lower tides.
If you're looking for a hidden spot around here: a tad north of the entrance to Seal Rock State Park sits a small path down to the beach. Look for Grebe St. and this access is nearby.
Secret Lincoln City Access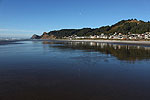 In a town where the beaches are all easily accessed and usually quite populated, there are virtually no hidden spots. But there is one deliciously, extremely clandestine beach access at the northern end of town - even if it doesn't necessarily guarantee you'll find yourself alone on this stretch of sand.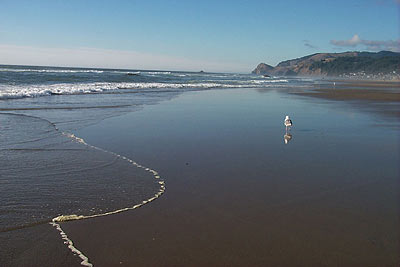 At the very northern end of town, between the casino and Road's End State Park, look for the sign pointing to NW 50th amidst the placid neighborhoods. Follow that to its end, where it meets NW Jetty, and you'll find an abandoned gravel "driveway" which winds its way down to the beach. Along the way, there's another tunnel-like path that looks a little like the famed Hobbit Trail (see this link), although that doesn't seem to lead anywhere.
Down on the beach, it's the only access for about half a mile in either direction. There are some interesting rock features here created by a crumbling cliff, and the sand is pristine and more than a little pleasant.
Secret Spots South of Yachats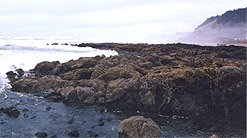 Just stone's throw north of Stonefield Beach and the small bridge over Ten Mile Creek, you'll find a tiny, unmarked beach access lying behind a patch of gravel on the side of the road. Take this to find a small hidden beach featuring all sorts of bubble-like and craggy basalt shapes lying in the water and on the shore.
Within a few feet sits the striking Ziggurat – an unusual bed and breakfast that looks like a Rubik's Cube all twisted up into a strange but wonderful shape.
Just after the bridge you'll find a spot of parking and access to a lovely little beach, populated by stones and lots of logs. Once out there, you'll find a long stretch of sandy strand on what is called Stonefield Beach.
Some goofy bits of roadside Americana lurk nearby in the form of whimsical wood-carved statues of whales and mermaids and such (at about MP 172). Another unmarked path to the beach sits less than an eighth of a mile south, granting you access to a strand of sand and large basalt slabs.