BEACH NEWS YOU CAN USE
Covering 160 miles of Oregon coast travel: Seaside, Cannon Beach, Manzanita, Nehalem, Wheeler, Rockaway, Garibaldi, Tillamook, Oceanside, Pacific City, Lincoln City, Depoe Bay, Newport, Wadport, Yachats & Florence.
Oregon Tourism Alert: Spring Rarities in Newport
(Newport, Oregon) – The Oregon coast resort town of Newport is springing forth with new aspects for the spring season.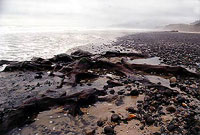 Rare, ancient tree stumps at Moolack
They call it the "value season" still in this rather impressive, atmospheric little city, with spring about to pounce and a whole set of new and fascinating circumstances and natural occurrences accompanying it. This season you'll find less expensive lodging still on the menu, a combination of education and recreation between two of the coast's most high-profile attractions, and a host of freaky and fun new developments in the natural world that will blow your mind.
There's more than just the obvious going on here.
After years of problems with the local population of razor clams, the ban on digging for the delicious tidbits is lifted. The Oregon Department of Fish and Wildlife now allows clamming in the Newport area, from the north jetty northward. All you need is digging tools and a license, which can be purchased from any sporting goods stores in Oregon and many places on the coast.
This winter's ferocious storms have scoured much of the sand from the beaches, revealing some rare wonders. Agates are again found at Agate Beach, on the northern end of Newport. The best time to look for these semi-precious stones is during an outgoing tide, with two hours just before the lowest tide maximizing your chances of finding them, as this is when the sand is being carried out at its highest rate. Gravel bars are the optimum spot.
Even rarer are the emergence of ancient tree stumps some thousands of years old, the result of a massive prehistoric quake which dropped an entire forest into the surf. The result is the occasional spotting of nearly petrified stumps and their root systems, which did not decay in the normal fashion because of their immediate emersion in salt water. They are found at Moolack Beach, just north of Newport.
Add to that, March, April and May have some of the lower low tides of the year, often appearing in convenient daylight hours. This makes for better clam digging, agate hunting and looking for those ancient stumps – sometimes called a "ghost forest." Click here for a virtual tour of Newport
The days are growing longer and the temperatures are rising, but you can still enjoy the best of "value season" rates through April at most Newport area hotels (often down 20 to 30 percent still). For a list of lodging opportunities, contact the Greater Newport Chamber of Commerce, 800-262-7844, or log on to their Web site, www.newportchamber.org.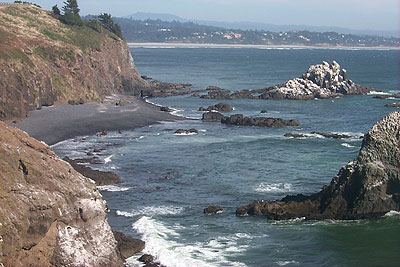 Tidal explorations at Yaquina Head
These rather generous minus tides mean some fantastic opportunities for inter-tidal exploration, discovering the marine species that inhabit coastal tidal flats. It's also a great time to head to Yaquina Head Outstanding Natural Area, at the north end of Newport, for some rock-scrambling exploration at these low tides.
The end of March also brings the migration of gray whales past rows of anticipatory binoculars during the annual Spring Whale Watch Week. Set for March 25 through April 1, volunteers are stationed at waysides and parks to help you spot your own spouting whale (www.whalespoken.org). These migratory wonders are still visible before and after that week, and numerous boat and tour companies are there in the area to help you see more throughout the year.
Other events happen at the Oregon Coast Aquarium, just south of Yaquina Bay Bridge in Newport. These include an octopus encounter on March 18, a sea lion encounter March 22 and a spring break overnight camp for 8-12 year-olds on March 23 and April 1. 541-867-3474. www.aquarium.org.
Just down the street, the Hatfield Marine Science Center offers a variety of exhibits (including "Wet Pets" and "Invasion of the Habitat Snatchers.") (541) 867-0100. http://hmsc.oregonstate.edu/.
For more information on visiting Newport during the "value season," head to www.newportchamber.org, or call 800-262-7844.