BEACH NEWS YOU CAN USE
Covering 160 miles of Oregon coast travel: Seaside, Cannon Beach, Manzanita, Nehalem, Wheeler, Rockaway, Garibaldi, Tillamook, Oceanside, Pacific City, Lincoln City, Depoe Bay, Newport, Wadport, Yachats & Florence.
Summer Cometh: Are you ready?
An Oregon Adventure On 100 Miles of Wild Coast
By Andre' Hagestedt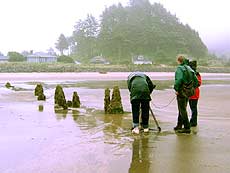 Oregon Coast Show crew films the ancient tree stumps
(Oregon Coast) – Covering tourism on these shores is always an adventure. But sometimes it's more of an escapade than at other times, and Father's Day weekend in 2006 certainly amounted to one whopper of a crazed journey. From Newport to Seaside, it was four days of wine, music, exceptional food, strange natural discoveries, kooky drunkards, astounding sunsets and big festivals of all sorts. And then there was that interesting, rain-soaked adventure where I was interviewed by a TV crew on the beach.
It started on a Thursday night in Newport, with a host of fine wine sucked down at Blu Cork Wine Bar, and some fascinating conversation with two of the cats in Tall Jazz: Dan and Mike. They boast some interesting tales about Chris Botti and running into Sting at a bar in Portland.
There was also a "Nye Beach Moment" here – the central coast version of that semi-paranormal oddity known as the "Wheeler Moment," where serendipitous coincidences happen with freakish regularity. But this is another story…
If it's Friday morning, this must be Neskowin. I'm scheduled to meet the crew from the Oregon Coast Show here, to be interviewed about the 2000-year-old "ghost forest" on these beaches, one very wild and astounding geologic feature. It's pouring down rain – and as usual – I'm the only putz on the beach wearing a suit and tie. There goes the 'do, too.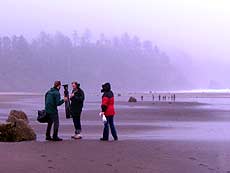 Now that's one waterlogged TV crew
The crew is comprised of Scott Gibson (son of Rick Gibson, a producer of the Oregon Coast Show), talent Cindy Hanson (also the PR gal for Oregon Coast Aquarium and former on-air talent in the Portland area) and Scott's friend from Newport, Brendan Kane. These guys (and gal) are a kick in the pants and loads of fun to work with. Rain be damned, these troopers are armed with massive plastic bags to cover their equipment.
The rain wasn't the worst, however. That infernal creek had to be crossed first. I knew it was going to be a problem. I may have looked like a dork in a suit and tie while barefoot – but I was prepared. These other cats got were waterlogged in their socks. Plus, the current was nasty at the south bank of the creek. I kept joking, "This is all so Lewis & Clark."
On the other side lay this eerie wasteland of the "ghost forest," where an ancient earthquake plunged a chunk of forest some twenty feet into mud and saltwater, causing these trees to remain preserved for around 2000 years. There's a whole weird landscape here of decapitated stumps.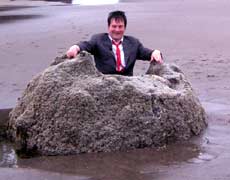 Editor sucked inside giant tree stump - film at 11
Then, I make a mysterious discovery. They're interviewing me while sitting on one of these barnacle-covered stumps, and my feet keep sinking deep into the wet, soft sand surrounding it. Something is poking my ankle, and whatever it is, I flick it off. Still, the sensation continues for something like 10 minutes, but I ignore it.
Luckily, this entire unbelievable tale is on film: I pull my ankle out again to find – sure enough – some sort of leech-looking creature in that spot. And my foot is bleeding, right where it was before I flicked it off a second time.
What on Earth? No one had any clue what this could be. And two days later, when I talked to Keith Chandler at the Seaside Aquarium, he also had no clue what kind of wee beastie could be like a leech on Oregon's coast.
I MAY have made a new discovery. Just my luck, though: if I get named after a scientific find, it's going to be some icky bloodsucker or other unpleasant creature.
Also of particular note: Cindy essentially blew me away during our conversation about the weird and wondrous vibe that Neskowin seems to emit. There is something spiritual or ethereal about this magical place. Not many know what I talk about when I say this, but Cindy actually brought it up first.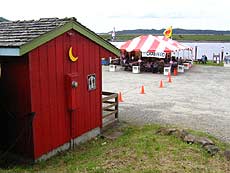 Wheeler CrabFest
Then, I made the nearly 100-mile trek to Manzanita and our north coast office. Along the way, a quick snack of that monstrous cioppino at Pacific Oyster in Bay City did the trick to wake me a little from my mother-of-all-hangovers, limbs that ached from the trudge through the scary creek and my four hours of sleep.
Later in the evening, we had a little "premiere" party at Old Wheeler Hotel with the owners, Winston and Maranne, and local business-folk Peg and Garry. I had a nifty video of all of them on TV, a piece about the mysterious "Wheeler Moments" that the Oregon Coast Show did. We also watched me on PDXposed (on Comcast channel 14 on Friday through Monday nights), where I was interviewed talking about Nye Beach, Village Market & Deli and their pate' (which I claimed on-air to be "better than sex").
The videos were a hit. The impromptu party and champagne were a hit. And I now feel like a local media celeb.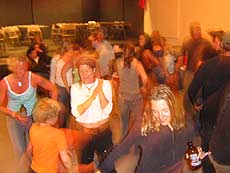 Appreciative crowds at the Reggae Festival
The latter part of the evening was spent with a few drinks with Winston and Maranne, and then a LOT more drinks at the Wateringhole in Nehalem (where my very sober friend Janet watched me descend into silliness).
Saturday, everything interesting in the world was happening on the north coast: Rockaway's Wine, Cheese & Jazz fest, Nehalem Bay Winery's Juneteenth Reggae Festival, Wheeler CrabFest, Sandcastle Day in Cannon Beach…and the list goes on.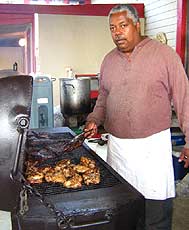 Hollis of Porter's Catering serves up BBQ so good it hurts
I spend most of the evening inhaling large amounts of wine at the winery while shooting the goings-on, digging the reggae, downing big helpings of exquisite Jamaican-style BBQ from Porter's Catering and chatting with Oregonian writer Don Campbell.
I end the evening with a stunning show at the San Dune Pub by Portland's Red Rubber Band, where their light show is positively mind blowing. Not to mention, guitarist Huckster does some amazing tapping stuff (oh I love that King Crimson-esque technique).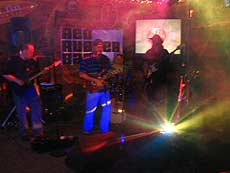 Red Rubber Band at San Dune
Too bad I had a couple elderly drunks annoying me in various ways. One was constantly hitting on me (yup, beer breath makes senior women much more attractive); the other insisted on telling me over and over again about how I was a "rockin' party animal." Whatever that meant.
On Sunday, I latch onto the Seaside Aquarium's Keith Chandler as he goes out to check the giant pipe at the tide line. This oddity, which puzzled me for years, is the pipe which sucks in fresh seawater into the aquarium. They periodically have to go and change its shape and configuration, since sand levels go up and down. This is why it looks different from time to time upon different visits to Seaside's beach.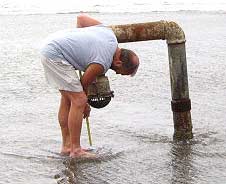 Keith Chandler at the pipe for Seaside Aquarium
A huge sneaker waves comes flying in and chases me up the beach. But in the process, with my feet kicking up water from a depth of perhaps a foot or more, I succeed in soaking my butt. Mmmm, that's comfortable when you're driving for long periods.
In Rockaway, I stop to gobble down more incredible barbecue at D'Max, right on 101. Their goodies are slow cooked for ten hours. It's good enough to kill for.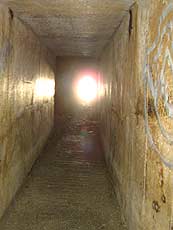 Tunnel through Oceanside
Eventually, I reach Oceanside, where I down a scrumptious salmon dinner at the Anchor Inn & Grill. The pinot noir sauce was a particular delicacy.
The tide is awfully high here today, and it was a little touch and go to get to the tunnel which gets you to the other side of Maxwell Point. As I emerge from the tunnel, the tide is too high on the other side to take advantage of this kooky, hidden beach, which boasts a lot of rock structures that will remind you of the old Star Trek series.
So I turn back, drive down the road to do a little exploring of Netarts, then head to a deliciously secret beach called "Short Beach," just north of Oceanside. This small cove boasts a sea stack that could almost be mistaken for Proposal Rock in Neskowin, although it's much smaller. It's not as secret as it once was, as there were about ten people floating around there.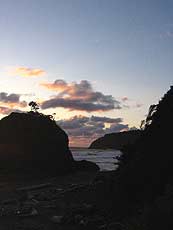 Short Beach at sunset
I had the northern end – where you can see the Cape Meares Lighthouse – to myself. Except for a small flock of birds I kept scaring, and the body of a dead sea lion, I was alone here. The sunset dipped in and out of cloud cover in the distance, causing it to spread out in dramatic shafts of light periodically, while casting the clouds around it with various shades of intense orange. There are waterfalls here too, which add an extra jolt of the seriously serene to this slightly otherworldly beach. There's something primitive about this spot, as if you've stepped back in time thousands of years to the beginnings of mankind, or maybe before. It's not hard to imagine seeing a dinosaur emerge from a smaller cove nearby – one that's slightly tucked away, with its back end not visible from beyond the cliffs here.
This was my goodbye to the beach for now. Sadly, it was time to get back to work in Manzanita and in Portland.