BEACH NEWS YOU CAN USE
Covering 160 miles of Oregon coast travel: Seaside, Cannon Beach, Manzanita, Nehalem, Wheeler, Rockaway, Garibaldi, Tillamook, Oceanside, Pacific City, Lincoln City, Depoe Bay, Newport, Wadport, Yachats & Florence.
Spring is here. Are you ready?
Outdoor Fish Market Starts On N. Oregon Coast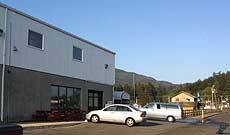 Pacific Oyster
(Bay City, Oregon) – It's the perfect opportunity to take in the atmosphere of a real coastal fish market, complete with the salt air, Pacific breezes and lull of lapping waves, while snagging some of the freshest seafood possible for your enjoyment back home.
Pacific Oyster, the seafood fixture on the north Oregon coast for years, is kicking off its summer season with the yearly tradition of its massive outdoor fresh fish market. The fun begins its run this Memorial Day weekend, running through summer until Labor Day weekend.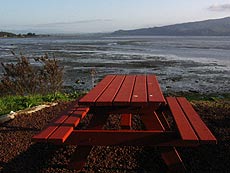 Dining by the Tillamook Bay
The outdoor fish market features dozens of kinds of fish, often even a larger variety than is sold in the facility's year-round indoor store. Whole crabs, tuna, salmon, halibut, rockfish, cod, calamari, oysters and whatever else is possibly obtained in the northwest is found here. Fish is sold whole, filleted or by the pound, coming in daily from around Oregon and Washington.
A thirty-foot long covered area at Pacific Oyster is used for the outdoor fish market, providing shelter from the elements should the rains kick in. On some days, Pacific Oyster may be barbecuing and smoking oysters right there, made available for purchase and consumption on the spot.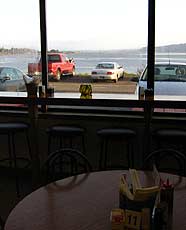 Stunning view while dining
Pacific Oyster sits on a jetty-like structure that juts out into the scenic, pristine Tillamook Bay, with some picnic benches provided for outdoor dining.
Inside, the restaurant and fish market portion of Pacific Oyster has fed locals and tourists alike for years, with insanely fresh seafood that is often served within a day or so of being caught. There's little that isn't seafood on the menu, with burgers made of former ocean dwellers, fish 'n' chips and seafood melts between $5 and $15, while more complete dinners are around $13. They have a cioppino to die for: thick, hearty and so stocked full of a variety of fish it puts a hatchery to shame. It contains a huge variety of fish, from oysters, halibut, cod and shrimp to even a smattering of octopus. The oysters are like tender little chunks of beef: extremely rich and flavorful, quite powerful for their miniscule size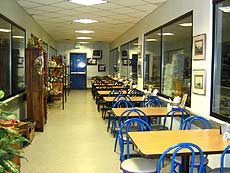 Self-guided tour while dining
The recent addition of homemade pies (created on the premises) gives it a special touch.
The processing plant here employs some 15 shuckers, processing two dump trucks a day full of oysters – about 10,000 pounds. There's a self-guided tour of the oyster shucking process, where diners can watch the professionals in action – perfect for entertaining the kids. Children and kids-at-heart will also love ogling the two shipwrecks which sit lodged near the facility. 5150 Oyster Drive, Bay City. (503) 377-2323.