BEACH NEWS YOU CAN USE
Covering 160 miles of Oregon coast travel: Seaside, Cannon Beach, Manzanita, Nehalem, Wheeler, Rockaway, Garibaldi, Tillamook, Oceanside, Pacific City, Lincoln City, Depoe Bay, Newport, Wadport, Yachats & Florence.
Summer Cometh: Are you ready?
Seaside: Three Faces of an Oregon Coast Town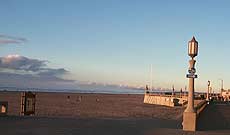 (Seaside, Oregon) – Part carnival, part natural wonder and part living history, Seaside has more than one side. If you take the family-oriented kitsch of your basic state fair and combine it with a beach town where you can walk on – and touch – history, well, you get the idea.
The town is often maligned for its more obvious commercial sides, but the interesting thing to note about such towns on Oregon's coast is that they have their clandestine natural aspects. Sometimes, these are more of a hidden pleasure than other beaches that are less populated.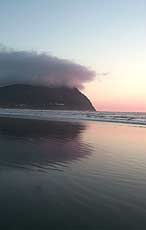 The main drag, Broadway, is filled with a variety of touristy shops and attractions, restaurants of varying degrees of finery and a few bars that are legendary hotspots during any time of the year. At the beachy end of the street is the historical "Turnaround," which sits in the middle of the also ancient Promenade – a mile and a half walk along a charming path that overlooks the strand. You'll find another Lewis & Clark landmark just south of the Turnaround, and the Gilbert District lets you disappear into the past a bit.
Then there's the beach, which includes the deserted northern end, the somewhat deserted cove area at the south of town, and the hiking path that meanders over Tillamook Head some six miles to Cannon Beach.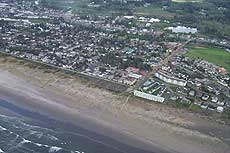 For most people coming into town, things begin at the southern end, where various roadside attractions, shops, coffee shacks and eateries are interspersed with the occasional farmer selling flowers and such. Close to the biggest chunk of Seaside proper, Seaside Helicopters provides flights of fun over the area, starting at $35 per person. You'll spot wildlife cavorting around the top of Tillamook Head, see the ocean and other Cannon Beach and Seaside landmarks from a new and particularly breathtaking point of view, plus you may get an aerial peak at Goonies Rock near Cannon Beach – which was used in the cult film "Goonies" in a couple integral scenes. www.seaside-helicopters.com. (503) 440-4123.
From there, Highway 101 zips through town – or crawls, depending on the time of year – amidst various big stores and eateries. Some of Seaside's best cuisine lies here, such as the stunning, scrumptious fresh seafood and unforgettable tuna melts of Bell Buoy, the award-winning Mexican fare of Mazatlan and the aromatic outdoor cuisine and barbecue of Riverside BBQ & Espresso. There's an outlet mall here that includes a grand wine shop as well.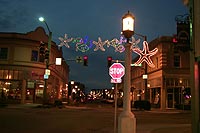 Gilbert District
The Gilbert District is part of a rebirth of Seaside's historical vibe, an area that includes most of downtown east of the Necanicum River. Older buildings are getting refurbished and reoccupied all the time here, with various new businesses springing up often. The area is a true charmer, and remarkably different from the rest of Seaside. The district sometimes gets accused of trying to cop the attitude and feeling of Cannon Beach or Portland's swanky Pearl District, but in fact it has its own attitude. There is a small sense of time travel here; like old Americana with just a touch of swank. If anything, it's equitable to Newport's Nye Beach neighborhood.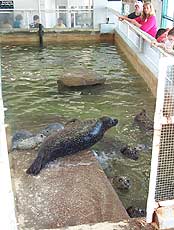 Other historical wonders are the Seaside Aquarium (one of the oldest in the U.S.), strolling the Prom (originally built in the 20's, made out of wood), and the Seaside Historical Museum.
A river runs through it all here, with one gigantic aquatic park hosting a business that rents out funky foot paddleboats. The river divides the Gilbert District from the more commercialized parts of Broadway, which scream kid friendly, sweets and goofy times. From here up to the Turnaround, this is the area that gets the most attention – for better or for worse. Kids and families love it; travel writers pan it for its carnival atmosphere.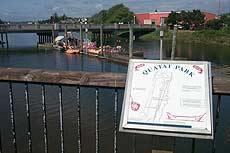 In fact, there is a layer here that's often unseen: the kitsch factor has an enormous inadvertent humor factor. For those whose cultural taste leans a little below the mainstream and slightly askew, this street can be a riot, unbeknownst to itself. You can take this all very seriously, as in your family will love it or you hate the commercialism. Or, you can relax, see the goofiness of it and maybe even poke fun at those aspects.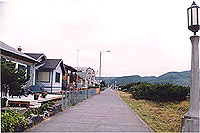 Along the way, there are a few surprises. Of particular note is Zinger's Homemade Ice Cream, which, as the name implies, makes its own frozen goodies. They've got many of the usuals, but plenty of somewhat exotic delights. Some of the highlights here are their fruit selections, all made with the real stuff. The marionberry has quite the powerful taste, using berries from Marion County. Then there's the tangy (and very real) strawberry, and the seriously wowing (but only periodically available) mango. All the fruity ones have chunks of the real thing inside, waiting to wow. Sugar free and diabetic options are available, but mostly Zinger's offers singles that are actually the size of two scoops, and doubles - well, they're twice as large. 210 Broadway. (503) 738-3939. www.zingersicecream.com.
It's no secret that Seaside is likely one of the most crowded towns on this coast during peak seasons, so finding an empty spot is a bit of an art. But they exist – and they host loads of natural wonders. The strange secret about this frenetic beach town is that its hidden beaches are really more so, because so much attention is concentrated in the main area around the Turnaround.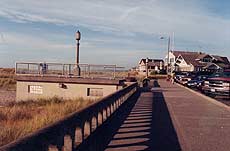 12th Ave. access
At the Prom's northern end, at 12th Ave., things become markedly more deserted. This final access gives way to a host of fluffy dunes, and eventually an estuary and the mouth of the Necanicum and its slightly weird mudflats. For some reason, people tend to migrate south of this rather popular entrance, but leave the northern section alone – which is where the river mouth sits.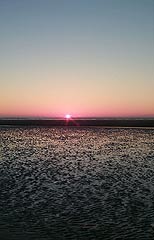 At the end of the beach
Walk this stretch of perhaps a quarter mile or a little more, and you'll discover one of the more unusual spots on Oregon's coast, albeit deceptively so. At any regular glance, it looks completely average, perhaps even slightly boring and featureless. It cloisters a treasure trove of unbroken sand dollars – likely the most you'll ever find on any beach on Oregon's coast. Reasons for this are unknown, as no science official in the area has as yet had any explanation for BeachConnection.net. Part of this has to do with that no one seems to spend much time in this area, so the goodies don't get picked.
All this depends on conditions, but it is easy to find way more of these sand dollars freshly washed up than average.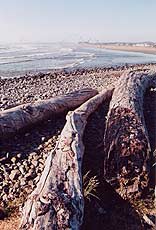 Like Cannon Beach, and many other beach towns, often the extreme southern and northern ends tend to be the least populated, usually because they're farther from beach accesses or the center of activity. With Seaside, the southern end – known as the "cove" - is also a bit more clandestine. It is, however, often a hotspot with surfers. But beachcombers don't find it to easy to stroll on as the large stones are not conducive to such activity, and the sandy stretches there are hidden by the tide half the time.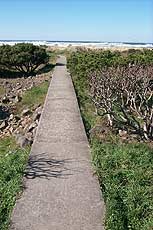 Between the cove and the southernmost end of the Prom, that walkway gives way to a simple concrete path that runs alongside the beach. Here – between Ave. E and Ave. U - the beach slowly changes from the softer sands to rocky and stone-covered, which is much more like the entire beach of Seaside was back in the early part of the century, before the building of the jetties in Astoria. These 15 blocks or so tend to be even more deserted than the southern end, as nothing but summer homes and suburban neighborhoods occupy this part of the beachfront. Tourists tend not to gather here in any great numbers.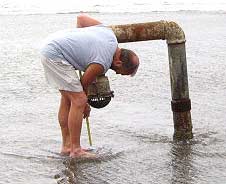 Aquarium employee adjusts the pipe
Another wonder - and oddity – can be found near the Turnaround, at the tide line, directly in front of the Seaside Aquarium. You'll notice a pipe sticking up out of the ocean, visible in varying degrees depending on the tide. This pumps water into the aquarium, lying six to 20 feet under the sand, depending on its location. Regular visitors to the area will notice it occasionally changes shape out on the tide line. This is because sands shift and they need to periodically reconfigure it to keep it from being smothered.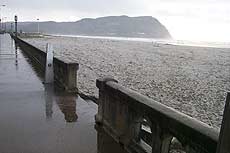 Odd moment in Seaside: the Prom is covered in hail
The pipe also brings the visitors back around to the subject of Seaside history: it originally belonged to the natatorium which occupied the spot where the Seaside Aquarium is now. Natatoriums were hot salt-water baths, which often had entertainment as visitors relaxed in the warm water. These were very popular at the turn of the century.
Weiss' Paradise Suites & Vacation Rentals - Seaside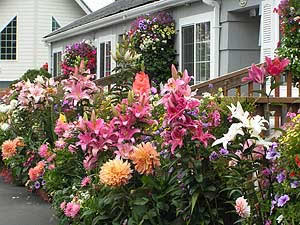 Unique Luxury Accommodations in Seaside. 1BR Suites, 1BR & 2BR Duplex Units and 3BR Houses, units for 2-8 people. Rent our entire property for 20-26. All units close to beach, river and Broadway St.
Suites are designed for two adults; vacation rental units for families. All units have kitchen and many have fireplace, deck and jetted tub. Enjoy comfy robes & slippers, luxury bath amenities, quality linens and more. See us on The Travel Channel's "Great Escapes" show in August 2006. 741 S. Downing St., Seaside. 800-738-6691. www.SeasideSuites.com

Looming above it all is Tillamook Head, where a strenuous hiking trail takes you past amazing viewpoints, a remnant of an old military installation and a primitive campground. There's also a major Lewis & Clark landmark here as well.
If you want to add yet another dimension to your discoveries of Seaside, numerous bars give the place quite a buzzing feel (no pun intended) at night. Here, too, is the goofy, inadvertent humor factor, which is given extra-added spice when you mix wacky locals and silly tourists with alcohol. But you'll find most locals and tourists a convivial bunch.
Seaside is not just the kitschy, commercialized place it's often slapped with for a label. People often forget it's on the beach, and then they don't know what those beaches hold. It is possible to get away from it all, even in this nutty, frenzied beach town.
You simply have to know where to look.
For more on Seaside, see the Virtual Tour or www.seasideor.com.