BEACH NEWS YOU CAN USE
Covering 160 miles of Oregon coast travel: Seaside, Cannon Beach, Manzanita, Nehalem, Wheeler, Rockaway, Garibaldi, Tillamook, Oceanside, Pacific City, Lincoln City, Depoe Bay, Newport, Wadport, Yachats & Florence.
Summer Cometh: Are you ready?
Oregon Travel Secrets: Same Beach, Different Faces
(Oregon Coast) – The atmospheric Pacific shores of Oregon are thick with wonder and pristine places, where untouched sands become shrouded in ocean mists, sculpted by high winds and drenched by heavy rains or by glorious sun. The beaches here are the stuff of unforgettable moments, with a grandiose beauty and savagery that is awe-inspiring.
Part of the marvel here is the changing face of your favorite beaches. They shift in appearance with the undulating sands and constant smacking of the waves. The seasons, too, make a big difference at times. And then there are the wild things that emerge at low tides.
Oceanside's Many Transformations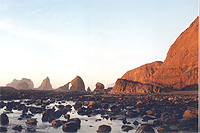 Marine gardens emerging on a day several years ago when the arch still existed
In this place just west of Tillamook, along the Three Cape Loop, the beaches here are often shielded from the wind by the headland called Maxwell Point - about 100 yards north of the parking lot. It looms above like a tall, dark, watchful god.
The real fun of Oceanside's beach lies inside Maxwell Point. The concrete tunnel here is a gateway to a stunning, secret world. Entrance into the tunnel is somewhat unadvisable in wetter moments, because of falling rocks from the cliffs.
But if conditions are calm, on the other side sits a stunning beach where enormous boulders and weirdly shaped sea stacks give the entire area a feel like something out of the old ``Star Trek'' series.
The entire area is cluttered with stuff to play on as well as a sense of the serene and the surreal. At low tides, these elements really emerge. More funky slabs appear, and an enormous rock garden becomes evident, giving way to oodles of tide pools and colonies of amazing oceanic dwellers and living sea goo. Beachcombing is prime here as well, with loads of agates and other rarities to be found at the lower tides.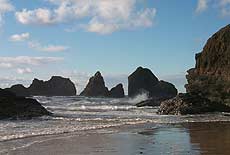 Oceanside now, with the arch crumbled
For perhaps hundreds of years, a small arch sat at the northern end of this beach, looking a bit like that eerie relic in that old "Star Trek" episode that served as a time travel portal. The result of millions of years of pounding at the sturdy basalt, the arch was probably originally a small sea stack – and before that part of a larger rocky body of some sort.
But for as long as anyone could remember in this area, that structure had the shape of an arch. Sometime in the winter of 2004, the storms finally took their toll, and the arch crumbled. Another Oregon coast landmark gone.
Now, in its place are two small sea stacks, no longer connected. It's possible one of them could develop a crack, which then enlarges to an arch again – albeit a much smaller one.
Ten Mile Creek's Hidden Facets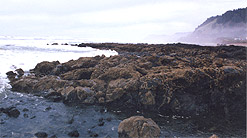 Ragged basalt in winter
Between Yachats and Florence, the beaches are wild and untouched. Even on busy weekends, it's not too hard to find a beach where solitude rules. Somewhere halfway between the two towns, Ten Mile Creek provides two interesting beaches – one of them quite hidden.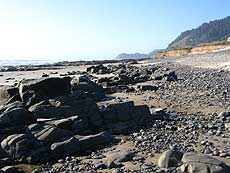 Basalt structures almost ten years later
On the northern side of the creek and the bridge lies a beach that's unreachable except by a small hike through uncomfortable brush, giving way to about a mile of seriously hidden sands and stones that is inaccessible anywhere else along that mile. It takes you on a long, winding path through brush, eventually giving way to a more manicured, grassy walk, snaking past a wild little lodging called The Ziggurat, which looks like a giant Rubik's Cube twisted at odd angles.
Weiss' Paradise Suites & Vacation Rentals - Seaside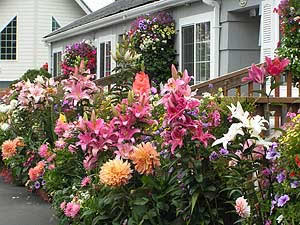 Unique Luxury Accommodations in Seaside. 1BR Suites, 1BR & 2BR Duplex Units and 3BR Houses, units for 2-8 people. Rent our entire property for 20-26. All units close to beach, river and Broadway St.
Suites are designed for two adults; vacation rental units for families. All units have kitchen and many have fireplace, deck and jetted tub. Enjoy comfy robes & slippers, luxury bath amenities, quality linens and more. See us on The Travel Channel's "Great Escapes" show in August 2006. 741 S. Downing St., Seaside. 800-738-6691. www.SeasideSuites.com

Down on the beach, there are bubbly basalt structures dotting the landscape, while the nearby creek gurgles away, deceptively quiet for all the power within it. You can't cross it to reach the southern side, which is Stonefield Beach.
Down on this secret beach, the basalt structures change in height and configuration with the sand levels and the tide, while during more frothy, stormy times of the year, they can appear more craggy and sharp-edged.
Each year is another landscape here, with different amounts of storm-strewn logs changing the look even more drastically than the basalt stones.
Hug Point And Its Varied Aspects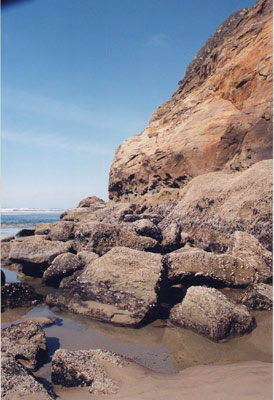 Road around Hug Point at low tide
This gem just south of Cannon Beach never ceases to amaze. There is a waterfall, several sea caves and a raised tide pool within another cave, as well as a fascinating bit of Oregon history here.
There is a road carved out of the rocky headland in this engaging beach, which was created in the early part of the century to allow Model T's and horse-drawn carriages around the point at medium tides. Back at that time, there was no Highway 101 (it wasn't built until the 30's), and the beaches were Oregon's coastal highways.
Most of the road is worn away and barnacle-covered now, but there are bits of the concrete left, as well as a remnant of the old traffic light which kept these ancient vehicles from smacking into each other.
There's also an interesting detail sitting right across from this traffic light, on the north side of the "road" – one that's obviously out of place in such a rugged setting. Look for a small, metallic knob here, apparently quite old and indicating the presence of an electrical line of some sort at one point.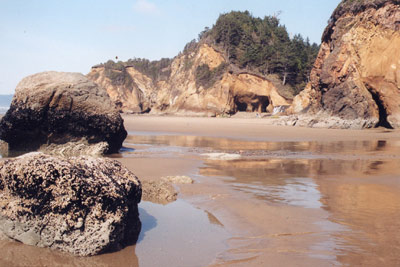 Mushroom-shaped rock at Hug Point
At a low tide, this always-amazing road shows a new side: what could be described as its underside. All of a sudden, the small, once-paved road is taller, revealing that it's about ten feet off the sand, with a grouping of boulders huddled at its base - as if they had gathered in reverence to it.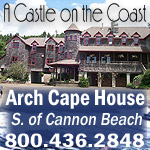 Around its north side, where the water is deeper, sunnier days reveal mysterious looking basalt slabs lying in the water, somehow reminiscent of ancient Greek ruins.
A few hundred feet south of the road, near the entrance to the park, a giant mushroom-shaped boulder pokes out from the sand, covered with barnacles and with a small cluster of tide pools at its base. Depending on sand levels – which change year to year – this can have it at its weird mushroom shape, or just look like a large boulder poking out of the sand.