Oregon Day Trips: Florence, on the Central Coast
Published Sept 2006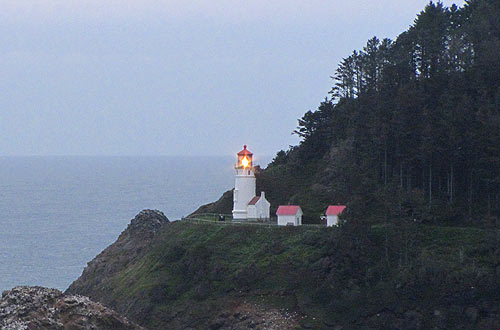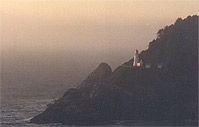 Heceta Head Lighthouse is another landmark north of Florence
(Florence, Oregon) – There's a lot to explore in and around the central Oregon coast town of Florence, with 40 miles of dunes flanking it to the south and 25 miles of pristine, even surreal hidden spots to the north. Meanwhile, it's all less than an hour from Eugene, and less than two hours from Corvallis.
Less than 10 miles north of Florence sits the Sea Lion Caves. Here, you get to descend some 208 feet down a basalt tube into the world's largest sea cave (it's listed as such in the Guinness Book of World Records). It's the home to wild Steller sea lions year-round, although they tend to live on the outside of the cave during spring and summer.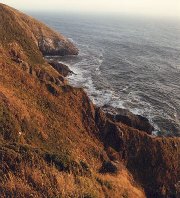 Viewpoints by Sea Lion Caves
It's a massive place (the length of a football field and the height of a 12 story building) formed by lava flows some 25 million years ago, then cut away by the sea throughout the millennia.
Inside, you get to see the giant creatures lounging and making their barking noises – although taking flash pictures of them is forbidden so you don't disturb them. (541) 547.3111.
The viewpoints above the facility are wondrous as well, offering incredible views of the nearby lighthouse and sometimes even migrating whales.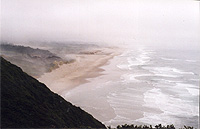 Baker Beach
Watch yourself here, however, as this part of the road is winding and twisty, and rubbernecking at the greats vistas is easy while driving. But plenty of viewpoints lurk along the side of the road, allowing you dramatic views of the ocean – and eventually a great aerial glimpse of the expanse of Baker Beach (look for MP 181).
Just north of true Florence sits the Horse Coast Trail System. The point here is traipsing up to Cape Mountain, which lies some three miles up and to the east of Highway 101. Take Herman Peak Rd. (found right next to C&M Stables) and there's about 14 miles of trails awaiting you – on foot or on your horse. The trailhead lies almost three miles up, then giving way to trails that lead you through lush forests, large meadows, huge ocean vistas, and even a replica of an old Indian shelter.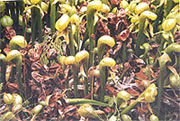 Insect-eating plants
Soon, you enter town and you'll find the freaky Darlingtonia Botanical Wayside, featuring insect-chomping plants that mostly live between there and northern California. These rarities sit around, just waiting to catch bugs with their sticky parts, then slowly digest them. Insects get lured by the colors and smells that attract them, and they soon find themselves confused by clear areas that look like exits, only to get sucked into sticky parts that eventually cause their demise.
Picnic tables abound here, and this rainforest-like park features a wooden walkway which keeps you elevated and away from the protein-hungry plants.
The wayside is free, and you'll find it just off 101, near Mercer Rd.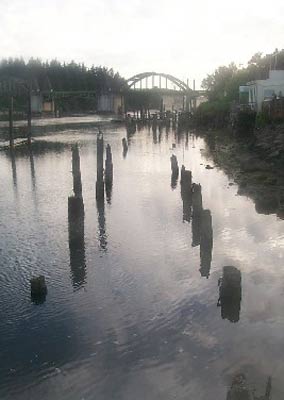 Florence's Old Town
Old Town is one of the biggest attractions in Florence. A myriad of docks, old buildings – often gussied up in funky colors – and a welcome variety of businesses inhabit Florence's Old Town. Eat, shop, go nightclubbing later at night and then take in breakfast and plenty of espresso the morning after. Clothing shops, kite sellers, book stores, art galleries, gift shops and all sorts of goodies fill this atmospheric and somewhat unforgettable old-times vibe area of Florence.
A highlight is Gazebo Park, which features a cozy little gazebo and a small dock on the river behind it – perfect for a romantic moment on nocturnal walk through Old Town.
Plenty of daylight fun can be had wandering the riverfront and its abundance of old pilings, as well as exploring the area beneath the famous Siuslaw River Bridge.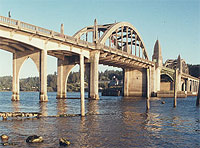 Old Town's famous bridge
The bridge was one of the first created by famed architect Conde McCullogh on the Oregon Coast, opened in 1936. It was the first of five bridges creating Highway 101 as we know it today – the roadway that spans the length of the west coast without interruption.
On the other side of the river sits Honeyman State Park. Dunes, dunes and more dunes occupy this famous spot just south of Florence. It essentially comprises the southern shore of the Siuslaw River and it's the gateway to the 40-mile-long Oregon Dunes National Recreation Area.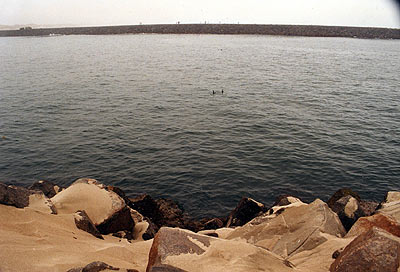 Siuslaw River, looking towards Honeyman State Park
Various clear water lakes are found here, sitting in the middle of the enormous, sometimes towering dunes. Campgrounds abound, with 50 sites with full hook-ups, 91 with water and electricity and 237 primitive tent/RV sites – all with fireplaces and other amenities.
There's also plenty of surfing to be done here, although you have to head through the park access and prove you're heading to the northern area (south jetty) to avoid the state park charges.
Nearby businesses on 101 provide ATV's for your dune amusement.
More About Oregon Coast hotels, lodging.....
More About Florence Restaurants, Dining.....
More Florence, Oregon
Eating the Oregon Coast: Sample Florence Restaurants, Dining - Dining on the river, restaurants in Old Town and near Florence.




Yachats, Florence Celebrate the Holidays, Oregon Coast Style - Holiday events calendar in Florence, Yachats,




Gazebo Park - Virtual Tour of Florence, on the Oregon Coast. Continue the tour to see more of Florence, the sand dunes, Siuslaw Bridge, the Bayfront of Old Town Florence, Darlingtonia Gardens, trails and Heceta Head Lighthouse.
| | | |
| --- | --- | --- |
| | | |