BEACH NEWS YOU CAN USE
Covering 160 miles of Oregon coast travel: Seaside, Cannon Beach, Manzanita, Nehalem, Wheeler, Rockaway, Garibaldi, Tillamook, Oceanside, Pacific City, Lincoln City, Depoe Bay, Newport, Wadport, Yachats & Florence.
Summer Cometh: Are you ready?
SUMMER MEANS RUGGED, OUTDOOR ACTION ON OREGON BEACHES
(Oregon Coast) - Outdoor activities really begin to come to life in Oregon in the early summer – especially on the coast. From hiking and unusual walking opportunities, to water sports of different kinds and a variety other wacky hybrid activities, the coast isn't your average destination for the outdoorsy types.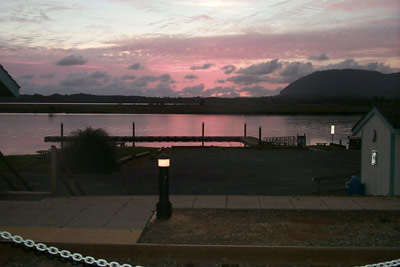 Nehalem Bay
Kayakers and boaters hit the lakes around the National Dunes Recreation Area in great numbers, where 40 miles of enormous dunes are interrupted by pristine, spectacular freshwater lakes. There's Devil's Lake in Lincoln City, where water skiing and other marine sports become de rigueur, while kayaks flood the waters of the Nehalem Bay and its hidden waterways and marshes. There are also the opportunities for kayaking along the sea in some areas and checking out sea caves and monumental cliffs up close.
There are some unusual hybrid sports emerging these days. There's surf kayaking, which is a combination of both those activities. It's an oddball sport, but an interesting one, where a kayak is used a little bit like a surfboard, just hovering in the waves as it bobs in out of the breakers.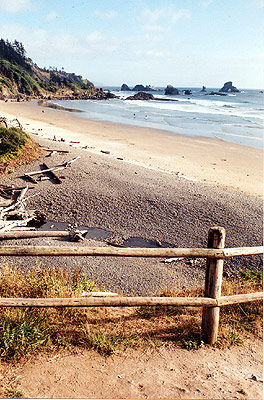 Indian Beach: Surfers paradise in Cannon Beach
Although still in the infant stages, sand boarding is becoming increasingly popular on sand dune areas like the National Dunes Recreation Area near Florence. It's largely a homemade thing still, where snowboards are waxed a certain way and then ridden down the towering dunes for a thrilling ride. The sport has just arrived at the gigantic structure called Cape Kiwanda, in Pacific City, where the towering dune gets turned into a makeshift snowboarding area. At Cape Kiwanda RV Resort and Marketplace, you actually rent these boards – made by a firm in Florence.
Surfing remains the most visible activity at various spots, but it only increases in popularity as the kids get out of school. Seaside's cove area, on the south end of town, is hugely popular. Other hotspots include the crescent-shaped beaches at Oswald West State Park, Crescent Beach in Cannon Beach, the south side of the Devil's Punchbowl at Otter Crest, Oceanside and parts of northern Newport around Agate Beach.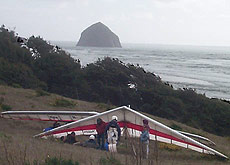 Hang gliding near Cape Kiwanda
Hang gliding is a favorite on the coast, with its many winds zipping around and high places from which to launch. Oceanside, a spot just north of Cape Kiwanda, another just south of Tillamook Bay and some spots around northern Newport are common places to see these great, silent birds of beauty and grace.
Hiking is something you can't miss around here, such as the hike above Manzanita talked about later in this article.
At Heceta Head, just north of Florence, the trails meander in back of the lighthouse on their way to "Hobbit Beach" a mile and a half from here. Along the way are some stunning viewpoints.
Cape Perpetua features several trails zigzagging their way around the 900-foot mini-mountain. There's the easy trail from the visitors center down to Cook's Chasm, the one-mile trek to a 400-year-old giant spruce, and the mile-and-a-half trail that wanders up the mountain to the 700-ft level, to the stone shelter and its insane, panoramic views.
In Newport, there's the mesmerizing half-mile trail above Yaquina Head, with several switchbacks taking you up to Salal Hill and some funky finds awaiting the explorer.
On the North Coast, Cape Lookout features three dizzyingly beautiful hikes. One zips to the end of the cape in a five-mile loop, with astounding viewpoints along the way. Another wiggles its way two miles down to the secret cove, with its wild, weird black sands. From there you can hike another four miles along seriously untouched sands to the Sand Lake Recreation Area, where ATV'ers go bonkers in this place nicknamed "the other Sand Dunes of the Oregon Coast."
Hiking Manzanita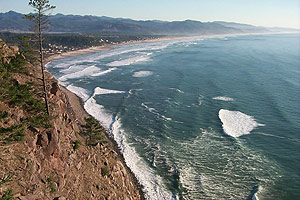 If things are a little on the cool side and you're looking for some exercise, the three-mile roundtrip trail to the 1600-ft. top of Neahkahnie Mountain can't be beat for incredible views. From there, you can see the Pacific, Neahkahnie Bay and Manzanita in all their glory. Not quite halfway up, you find the forest opening up and incredible vistas jump out at you. A little ways further up, you'll find a bench or two in front of these viewing points, allowing you to sit back, relax and become overwhelmed by the beauty, with just a hint of the sound of the surf lulling you from a distance.
The Neahkahnie trailhead lies off a gravel road marked on Highway 101 by hiker signs. The road lies about a mile north of Manzanita, and the trailhead is marked by a gray post.
Or, if things are warm, you may want to play around the pristine beaches of Manzanita, all of which are a short walk from the restaurants and shopping of this charming, still noncommercialized town. You can duck in from the rain if it comes, or if it's hot, spend the day splashing in the waters and exploring the very edge of the rocky headland as the sands dead-end into the sea.
Secret Cliffs South of Depoe Bay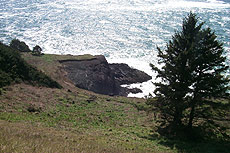 Between Newport and Depoe Bay, around the roads traipsing through Cape Foulweather and Otter Rock, there are the wild and wondrous secret cliffs lying just off Otter Crest Loop (the entrance of which is a ways south of Depoe Bay). You'll have to enter at this southern end, because it's a one-way road going south. Along the way, you'll catch sight of magnificent cliffs and steep, grassy slopes which dump right into the sea.
There are two main entrances to this set of cliffs, both of which are where the road turns into a one-way. The easier gateway, just beneath a gravel parking area, is a fairly steep trail that meanders into a brief, dark forest - where occasionally you'll find freaky mushrooms growing.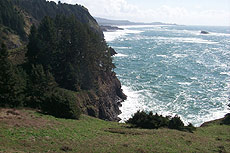 Soon, you emerge onto this whole expansive little world all its own, with incredible vistas of the ocean before you and basalt cliffs that sometimes form natural seats from which to watch the crazed oceanic show.
A trail allows you to walk along one grassy slope to the next cliff.
Be warned about this area, however: there are sometimes patches of poison oak lurking here, which will definitely put a damper on your coast trip memories. Also stay clear of the cliff edges, which are sheer and deadly without mercy.
Still, it is one of the more breathtaking and rugged spots on all of Oregon's coastline.

Walking Winema Beach and Neskowin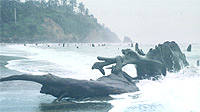 Two magical beaches lay within three miles of each other, both between Lincoln City and Pacific City.
North of Lincoln City, Neskowin is the quiet little resort that's constantly threatening to explode into something much bigger.
Hit the beach and you'll usually find loads of people milling about. But cross the creek, walk towards mysterious Proposal Rock, and the population density gets less. You can actually walk around on top of the rock and check out the views from the top (although be extremely cautious of the tide so as not to get stuck.)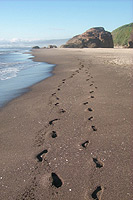 Walk further beyond the rock and you'll definitely be more alone. Along the way, note the stumps at the tideline, 5000-or-so-year-old remnants of something rather ominous. Somewhere in the last few thousand years, an enormous earthquake caused a chunk of forest to abruptly drop some six feet into the surf. The result was the salt water preserved them instead of allowing them to decay in normal ways.
At Winema Beach, it's hard to get more hidden than this. Just a few miles north of Neskowin, a small unassuming sign declares Winema Road. Follow that to the bottom and a tract of sandy beach that nearly no one knows about. There's another blob of a rock structure that looks a bit like Neskowin's Proposal Rock, which features a flat stretch at the top that's perfect for lounging.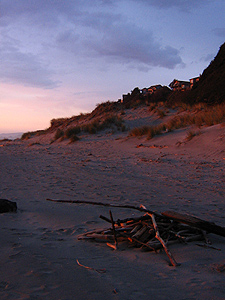 Other interesting shapes and crevices present themselves as you walk northward. Some spots in the cliffs seem to invite climbing and exploring. And there's more than one hole in the rocks to huddle from the wind and cuddle a bit.
The cliffs soar high and become a striking gold, with some awe-inspiring homes up top. After about a mile or so, the beach ends abruptly at the southern end of Nestucca Bay, allowing you an unusual glimpse of the area.