BEACH NEWS YOU CAN USE
Covering 160 miles of Oregon coast travel: Seaside, Cannon Beach, Manzanita, Nehalem, Wheeler, Rockaway, Garibaldi, Tillamook, Oceanside, Pacific City, Lincoln City, Depoe Bay, Newport, Wadport, Yachats & Florence.
Summer Cometh: Are you ready?
Touring Oregon's Kooky Coastal Bar Scene
(Oregon Coast) – From fine to funky; from the dives to the divine and upscale - Oregon's coast is full of some interesting and truly unique bar hopping opportunities.
As summer approaches, and the tourist season begins to hit full throttle, BeachConnection.net provides readers with this roundup of the fun, freaky and the just plain nifty in the bar scene that's on the edge of the continent. Whether you be a college student on summer vacation or a group of twentysomethings looking for a rollicking good time on a coastal jaunt, the really hip part of your beach vacation is about to start.
Cheers!!!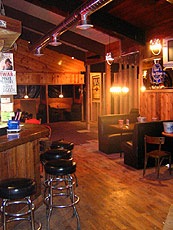 Kodiak in Lincoln City
Probably the biggest party town on the coast is Lincoln City, in spite of Seaside being Oregon's spring break capitol. It's in Lincoln City where you'll find the smokin' live music hotspot of Roadhouse 101. Here, the bar is alive with the sound of blues music, rock 'n' roll and the odd acoustic set of such Oregon artistic gems as Portland alterna-blues-folkie Beth Willis. The giant ceiling and woodsy walls bring the place a wide open feel, and the place has recently been catapulted into a new level of popularity by new owners and a fantastic remodel which has seriously brought new life to this place.
Drinks are decently priced, the service is great and the atmosphere and crowd are loads of fun. It's a nice mix of tourists and locals as well, adding to the pleasures here. 4649 SW Hwy 101. (541) 994-7729.
Just down the street a couple blocks, the wacky dive Snug Harbor is full of strange wonders and freaky delights – usually in the offbeat behavior of the fun-lovin', hard-livin' local regulars. A host of kooky characters often inhabit this place, like the guy who shows up in partial drag or in a long coat with shorts underneath, looking like he might be a flasher until he unbuttons and reveals there are indeed pants underneath. It's obviously been discovered by some of Portland's hipster glitterati, as someone occasionally drops copies of The Portland Mercury there. Yet with all its kookiness, the food is truly fabulous and the bartenders (such as the effervescent all-around-cool-guy Sommerset) are a kick in the pants. 5001 SW Hwy 101. (541) 996-4976.
Up closer to the northern end of Lincoln City, another fun hotspot is Maxwell's, which offers karaoke every night of the week. It too is an interesting mix of friendly locals and tourists, resulting in plenty of off-kilter moments. 1643 NW Highway 101, Lincoln City. (541) 994-8100.
The thing that sets Lincoln City's bar scene apart from the rest of the coast is a decent helping of young Portland expatriates who live there, more so than most villages on the beach. They always add a hip slant of frivolity and social tolerance you don't always get in all the locals.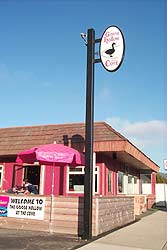 In Seaside, there are quite a number of bars for such a small town. Girtle's has its interesting and inadvertently humorous moments on the dance floor, and it's one of the last bastions of that now mostly extinct genre of the Top 40 cover band. That says a lot, right there. 311 Broadway. (503) 738-8417.
Practically next door, Pudgy's is somewhere between a freaky dive and an upscale lounge, with a delightful kitsch embedded just beneath the surface of the more tailored parts of its décor. It's pretty and yet a little kooky. It was once nicknamed the "Star Trek bar" until a few years ago, when it (unfortunately) softened its more retro edges a bit. 227 Broadway. (503) 738-8330.
There is also the Shilo Inn's bar at the top of Broadway, and Goose Hollow at the Cove (at the southern end of town) is a serious downhome gem – from the family of former Portland mayor Bud Clark, who brought you Portland's legendary Goose Hollow.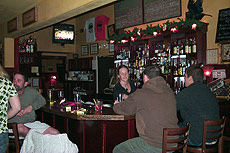 Warren House, Cannon Beach
In Cannon Beach, the Warren House Pub could possibly be the coolest bar on the entire coast, where the town's sizable population of twentysomething Portland expatriates gather nightly. Seriously fun conversation, great service, interesting drinks and fabulous food are always on tap here. 3301 South Hemlock. (503) 436-1130.
Down the road almost 20 miles, in the Nehalem Bay area, you'll find the San Dune Pub in Manzanita. This non-smoking wonder features live music, mostly in the summer months, and copious amounts of friendly and entertaining locals. In fact, this area is known for its pleasant and interesting residents and part time residents, which definitely come out at night throughout the Nehalem Bay. Laneda Ave. (503) 368-5080.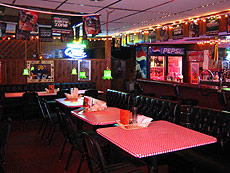 Guido's in Wheeler
In Wheeler, also on the bay, Sea Shack and Guido's Ristorante are two gems as well. Sea Shack, with its gorgeous bay view visible in the daylight hours, is perfect for watching sunsets reflect on the bay. At night, the staff is fun and amusing and drinks are potent. Wheeler. (503) 368-7897.
Guido's is more of a restaurant and usually closes by 9 p.m., but it has by far the most happening retro bar interior in its lounge in the back. If the place was in Portland, it would be enormously popular with its nearly-Mafioso décor and serious old school lounge feel. (Picture Dante's meets Space Room.) This is one bar to keep your eye on. (503) 368-7778.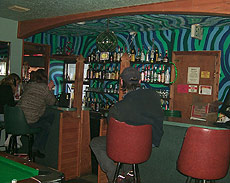 Tide Pool, Depoe Bay
Down in Depoe Bay, the Tide Pool is a major jewel – albeit a somewhat secret one - with excellent drinks, super friendly locals and tourists, and a thoroughly entertaining staff. The front half of the bar is wooded and rustic, but the totally trippy and loungy lounge in the back is the real star. They've got a varied and interesting jukebox that kicks the asses of most jukeboxes in Portland, and the décor is maritime retro – a glorious, slightly oddball mix of "Finding Nemo" and that "Cocktail Nation" icon flick, "Swingers." 502 NE Hwy. 101, Depoe Bay. (541) 765-4346.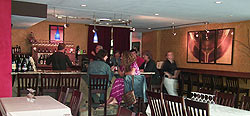 Down in Newport, Blu Cork Wine Bar is a monster on the bar scene on the entire coast – but for markedly different reasons than most bars. A superior and inventive wine selection is augmented by the owners' thorough knowledge of the nectar, and a beautiful interior that is completely classy yet relaxed and beachy. Live music on weekend nights, often in the jazz vein (and also featuring Beth Willis) has made this place rather legendary and packed almost all the time. 613 SW Third Street, Newport. 541-265-2257.
Finally, in Yachats, the Landmark Lounge is a kooky delight that nearly goes beyond words: a dive with a decidedly eclectic décor and some serious live music from around the state, such as John Shipe and Big Island Shindig. Especially around the stage, the decorations from each holiday remain, with St. Patty's Day, Christmas, Halloween and God knows what else piling up on top of each other. It's a little like the set of "Nightmare Before Christmas" at times, and gleefully odd. Their food is phenomenal as well. (541) 547-5459.
For a complete list of coastal bars from Seaside to Florence - some 160 miles - see Beach Connection's Coastal Pubcrawl.