Oregon Day Trips and Tours: Newport on the Coast
Published 2006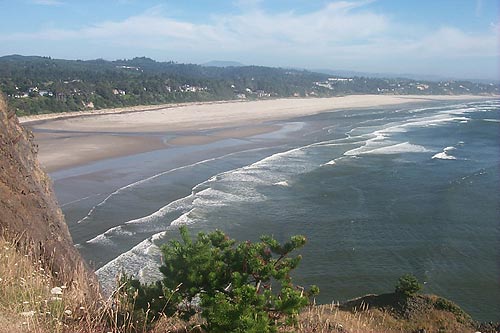 (Newport, Oregon) – Some 80 miles from Salem or 50 miles from Corvallis, it's an easy day's jaunt to play on the sands of the Oregon coast from the mid-Willamette Valley. From Portland, it's about 150 miles, so it's more of an overnight affair from Oregon's biggest city.
Newport is part touristy, part party town, a slightly upscale resort, a sometimes surreal bit of small town Americana and a treasure trove all in one, filled with an enormous array of natural delights and stunning beauty. It's easy to get lost in the crowds and the tourist spots, but it's not too difficult to find solace on a deserted section of beach or pier somewhere.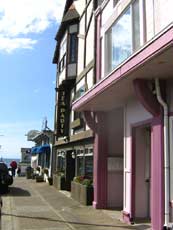 Nye Beach
Newport is rich in history, and it continues to be committed to keeping its past alive as it constantly expands and changes with modern times. Its Nye Beach district is a major testament to that, with its charming, atmospheric streets dressed up to hearken back to another time.
Newport is an unusual combination of manmade and natural recreation and of varied, even contradictory means of repose.
At the north end sits the stunning Yaquina Head Outstanding Natural Area. If you can't find anything to do here, you're probably dead and no one told you. A gigantic manmade tide pool experiment, hidden rocks and boulders to climb on, a mysterious hill encircling the headland from overhead, a strange, noisy beach made of polished stones and one major lighthouse provide more than you could do in a day.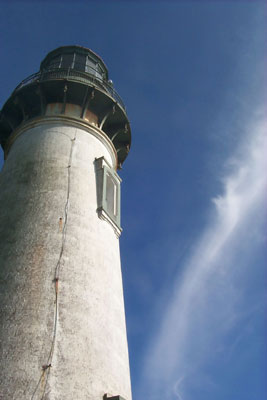 Yaquina Head Lighthouse
The beautiful lighthouse here is around 130 years old, which is accessible and let's you explore its grandeur. Above the lighthouse parking lot lies Salal Hill, which is accessible by a meandering, quarter-mile walk to the top. From there, amazing views burst out (so amazing, there's a web cam planted here). Another awe-inspiring route can be found near the intertidal parking area, which wanders up on a one-mile roundtrip to more magnificent views atop yet another hill.
Then there's an unmarked beach access just south of Yaquina Head, where surfers abound. But aside from that, it's still a bit of a secret.
The main beach accesses lie in and around Nye Beach, with its charming eateries and shops. Indie art shops, retail stores and exceptional food joints abound.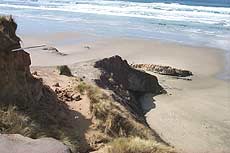 Jump-Off Joe
Especially fascinating in this area is the story of a rock structure called Jump-Off Joe, once situated at Nye Beach, south of 11th St. The original Joe crumbled under the weight of the changing tides by the `40s, and another subsequent rock structure took on the name (at right). The new Jump-Off Joe – at the bottom of 11th - is quickly crumbling too, and it won't be long before it no longer exists.
You can still access the uppermost ledge of Jump-Off Joe and walk about fifty feet above the beach, (which provides a wonderfully romantic spot to cuddle, especially at night.) To access it, take 11th street until it dead ends in the parking lot above Joe. From there, you can walk through the rather ominous-looking remnants of a condominium's foundation to get to the top of Joe.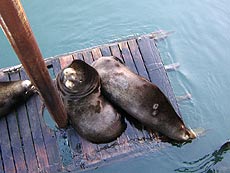 Sea lions on bayfront
The Bayfront provides some of the most obvious pleasures of Newport, including touristy things such as Ripley's Believe It Or Not, the Undersea Gardens, the whale watching tours or fishing boat cruises - which are all loads of fun and full of adventure possibilities in themselves. Shopping is a never-ending voyage as well, with dozens of galleries and specialty shops lining the bay front all over.
The piers are another major source of amusement. Walk around these and spot all sorts of wildlife just lounging out in the open.
Across the bay is South Beach, filled with a variety of whimsical shops and some centers for scientific play. Explore the Hatfield Marine Science Center, where there's a myriad of exhibits that cover coastal geology, weather, wildlife and marine stuff, as well as other mind-expanding displays that are both interactive and mesmerizing. (In South Beach, across the bay from Newport. 541-867-0100.)
At the ever-famous Oregon Coast Aquarium (once the home of Keiko the Killer Whale), you can dig into all sorts of marine life up close and personal, especially with its famed Passages of the Deep. Here, you can wander a giant glass-like tube that contains a 360-degree view of three distinctly different Oregon Coast underwater habitats. Watch all manner of shark and other fishies swim past; it's OK to drop your jaw as you do so. (In South Beach, across the bay from Newport. Call: 541-867-3474.)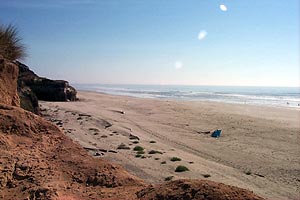 Hidden spot S. of Newport
If playing on the beach is your wish for the day, just north of town and just south present some options for finding unpopulated spots. Just south of South Beach, there are a series of truly hidden crescent-shaped dents in the cliffs, all near a hidden beach access about eight miles south of Newport. Look for MP 146, and less than a quarter mile south of that you'll see an unmarked beach access with a gravel patch by the side of the road.
Once on this unnamed beach, you'll find a pleasant stream and a lot of striking sandstone cliffs. But head maybe a quarter of a mile to the south and there's a couple of these rounded-out areas in the cliffs, one of which has a tiny waterfall. There is a tiny stretch of climbable spots above the cliffs next to the beach access.
To the north of Newport, vast beaches stretch from the north end of Yaquina Head to Otter Rock, about seven miles worth of sand to wander. Or, the cliffs above these beaches yield panoramic ocean vistas and views that make for unforgettable beachy moments, as you park for a time to watch the waves bash against the rocks below, or ogle the sun disappearing beyond the horizon in a blaze of glory and color.
More About Newport Lodging, Hotels, Motels.....
More About Newport Restaurants, Dining.....
| | | |
| --- | --- | --- |
| | | |
Back to Oregon Coast
Contact Advertise on BeachConnection.net