Oregon Coast Singing Sands to Booming, Squeaking Sands: How to and Where to Find
Published 03/17/23 at 7:13 PM
By Oregon Coast Beach Connection staff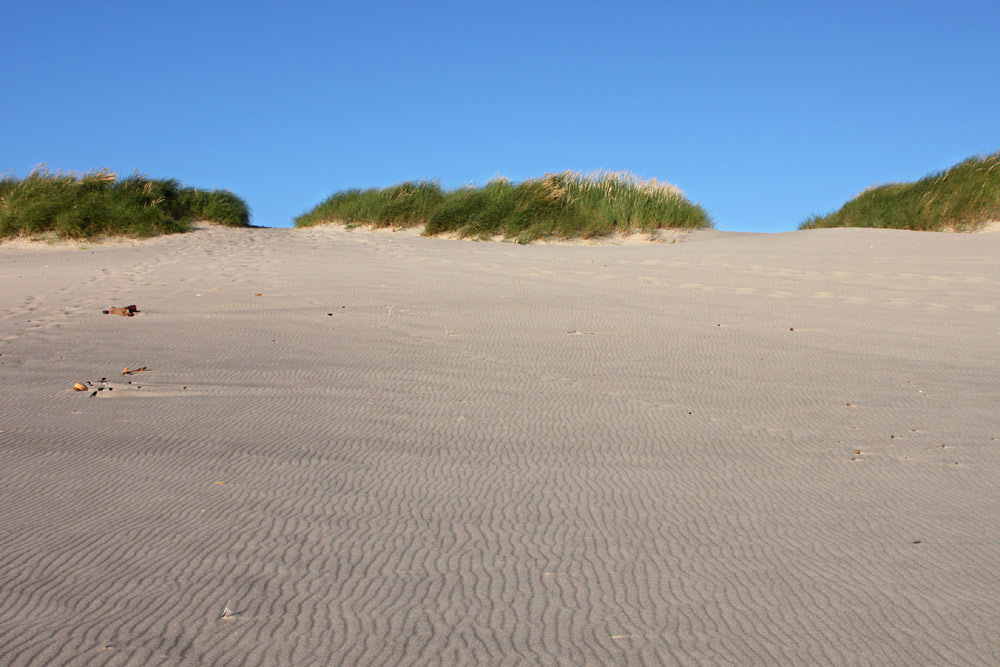 (Oregon Coast) – [UPDATED] -- One of the oddest, even very rare finds along the Oregon coast (and throughout the world) are what is known as singing sands: along with booming sands, humming sands or squeaking sands. Singing and booming sands are such a rarity that scientists usually say only 20 to 27 places around the globe are capable of the unique aural phenomenon. Among that list, the Oregon coast never makes it. (Photo Oregon Coast Beach Connection)
Yet it has been documented here on these beaches, and there are references to it dotted throughout the region's history that seem to hint it had been heard some places, such as the Cannon Beach area and Rockaway Beach. An article in Coos Bay's paper The World in 2003 talks about it being heard in the sands of the south Oregon coast.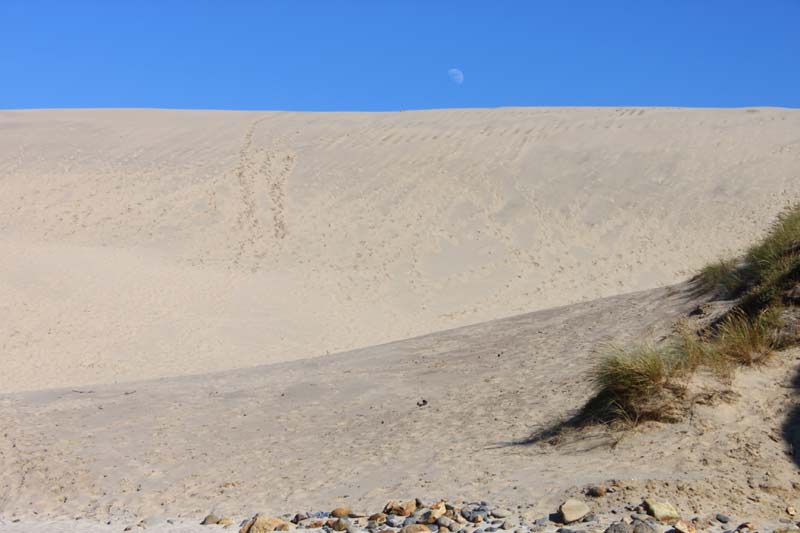 Photo Oregon Coast Beach Connection
What sound do these booming, singing or squeaking sands make?
And how do you find them on the Oregon coast?
Booming sands are more of a low groan, a bit like a cello, while singing sands sound more high-pitched and even more musical. The latter is sometimes equated to human voices, a violin or other sounds, while booming sands can sometimes sound like a propeller-driven airplane.
Squeaking sands aren't as rare, but still very infrequent, and scientists say these can be heard along many beaches of the world. Oregon Coast Beach Connection has heard the wacky little squeak noise at Manzanita, the foredunes of Cannon Beach and even at Lincoln City. There is this video above showing the squeaking sound in Cannon Beach.
The super-rare kinds, booming and singing noises, do happen at the Oregon National Dunes Recreation Area between Florence and Coos Bay. In fact, it's really the only place they've been documented on the Oregon coast. Yet it's rare to extremely rare, enough that one future member of Oregon Coast Beach Connection talked to the US Forest Service (USFS) in the late '90s and discovered only a couple of employees had heard it, but not since the '70s. Calling the same office in recent months, no one at the USFS had even heard of it.
Cue Sand Master Park owner Lon Beale in Florence: he has heard it numerous times in various parts of that 40-mile stretch of dunes, but that's over 20 years of his business residing there. Finding them is a moving target in time and space, Beale told Oregon Coast Beach Connection. They happen only under certain conditions – and that changes.
Defining Singing to Booming Sands
Beale said he heard it for the first time in Death Valley in the '70s, but the first time he heard it on this coast was in 2002. Sandboard riders would cut along the dunes and it would start that small avalanche of the two layers rubbing against each other.
"Each time it would sound like a dinosaur roaring," he said, doing a Jurassic Park-style roar. "Amazing."
He said – as all other scientists say – it's basically two layers of sand against each other: one damper layer underneath and the drier layer at top.
"What needs to be happening is there has to be a layer that's dry, and of course a lot of places on the Oregon coast are damp, so you won't hear anything," Beale said. "Sometimes it sounds like a booming, sometimes a violin. I've also heard it sound like planes flying overhead. Really depends on how much sand is moving over how much sand."
There was one time, Beale recalls, where you could hear the roar for a couple of miles, though that one was in California.
How frequent are these singing sands along the Oregon coast dunes? Beale said it differs wildly. One season they'll hear it maybe ten times, then they may not hear it for years. So it's rare here, to be sure. Other sandy locales he's been to it can be a regular occurrence, but here the moisture is too high.
How to find singing sands or booming sands?
It's only going to happen along the Oregon National Dunes Recreation Area, for one. Then you need an area that's been undisturbed by people, left alone for a good while, Beale said, because people walking or riding those dunes cause the small avalanches to happen and thus expend its noise possibilities. Places like Cleawox Lake or Honeyman State Park are too populated to hear it.
"I haven't heard it in Honeyman for 15 years," he said.
Thus, go deeper into the dunes.
"Get away from the wind," he said. "If you're seeing footprints, that's not the place to do it. But on the backside of the dune might be perfect conditions. We find that after a good windstorm, if it fluffs up the sand so it's holding a lot of air between the grains, and then you walk on it, that could do it. That's probably the best conditions."
He added you don't necessarily have to wait for summer, just keep a look out for four or five days in a row of dry weather. Too much moisture on that top layer will prevent it.
"Most guys who sandboard with us have heard it at one time, just from walking over the sand," Beale said. He imitates the droning noise: "That uhhh...uhhh sound."
What Causes Singing or Booming Sands?
Hear the difference between singing and booming sands.
Finding a science expert on this even in this country was near impossible, and those from other nations didn't respond or were MIA. The actual mechanisms behind the noises are not well understood, but the two groups who understand it the most have formed somewhat angry factions over some details in the physics.
What is known is that the sand grains have to be well-rounded, and the degrees of moisture between the layers has to be within certain ranges in relation to each other.
Andrew Valdez, a park ranger with the National Park Service at Great Sand Dunes (GSD) in Colorado came to the rescue, explaining that it has to be what's called the slipface of a dune, the part that is not exposed to wind.
Sand has to be silicate (and not gypsum, for example), and that top layer has to be dry so it will slide down.
"The slipface develops over a former dune flank and when mass quantities of sand slide down a slipface, air is compressed sending energy through the dune and it gets reflected off surfaces such as the former flank," Valdez told Oregon Coast Beach Connection.
Different sounds are produced by different densities in the sands and varying grain sizes. Valdez points to the research of N.M. Vriend at Cal Tech.
"You also need large slipfaces with density differences in the subsurface," he said. "According to Vriend, those density differences act like a guitar's sound board to amplify the sound."
Oregon Coast Hotels for this event - South Coast Hotels - Where to eat - Maps - Virtual Tours

More About Oregon Coast hotels, lodging.....
More About Oregon Coast Restaurants, Dining.....


Andre' GW Hagestedt is editor, owner and primary photographer / videographer of Oregon Coast Beach Connection, an online publication that sees over 1 million pageviews per month. He is also author of several books about the coast.
LATEST Related Oregon Coast Articles
Back to Oregon Coast
Contact Advertise on Oregon Coast Beach Connection
All Content, unless otherwise attributed, copyright Oregon Coast Beach Connection. Unauthorized use or publication is not permitted