Happy Exploding Whale Day: More to Oregon Coast Legend, Two Similar Whale Incidents
Published 11/12/23 a 5:45 a.m.
By Oregon Coast Beach Connection staff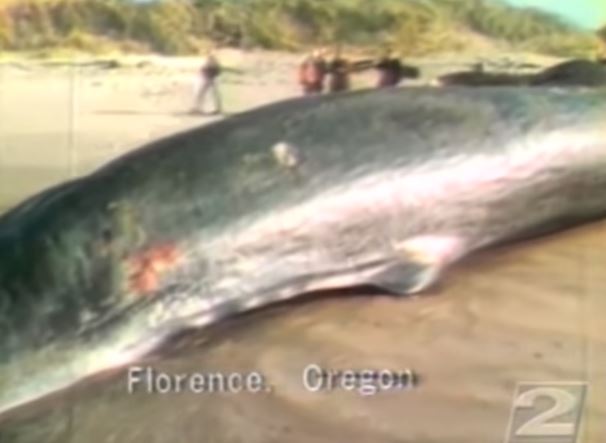 (Florence, Oregon) – While it seems like a typical Sunday in November, there is something special about today. You may not notice it. It likely won't be celebrated in your social circles – but some do. For many around the world, actually – and especially the Oregon coast – you may hear or read the phrase "Happy Exploding Whale Day." (Above: still from KATU video)
For a long time, the whale-that-went-boom video clip was the most watched video on the internet, starting at the beginning of the whole internet. November 12, 1970 was the day that brought the Oregon coast into infamy, as one group of government officials tried to get rid of a stranded whale corpse by dynamiting it. See video at theexplodingwhale.com.
The video, created by two newsmen from Portland, Oregon's KATU channel 2 wound up becoming a megastar all its own, as cameraman Paul Brazil and new reporter Paul Linnman documented this attempt at beach cleaning go horribly awry. Also see Wacky History of Exploding Whale
Yet there's a couple of prequels to this that no one really knows: there is the legend in Florence of the IMPLODING whale, and then there is documentation of Warrenton being the first town to try this approach back in the '30s – with similar results.
While Florence now celebrates this messy mishap each year, it was not the first town in Oregon to try blowing up a whale.
There's a load of interesting little tidbits about the exploding whale video and the two similar events before it.
Starting farther back time, here's what you didn't know about Oregon coast's Exploding Whale:
1: Heceta Head, near Florence, circa 1910. Lighthouse keepers there and the public are quite intrigued by a whale washed up on Devil's Elbow beach below. One keeper purportedly named DeRoy was trying to impress his girlfriend who was visiting from Florence – no easy journey back then. So when he shows her the whale, they get ready to get their picture taken in front of it.
DeRoy thinks he'll look cool by standing on the rotting, mushy corpse for the photo. However, he sinks into it. It's a kind of imploding whale as opposed to exploding.
Yet did it happen? See the Imploding Whale story.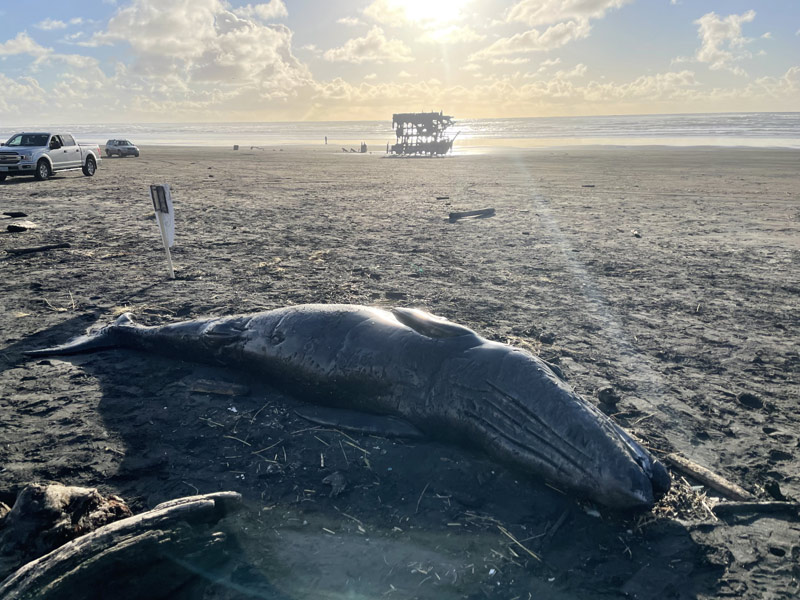 Photo Seaside Aquarium: a baby whale in 2023 lands at Warrenton, near the wreck of the Peter Iredale. That month, three others washed up, another near this one.
2: Warrenton, on the north coast, back in August of 1937. In about five years, shells from a Japanese sub will explode on the beach here, as Warrenton makes World War II history. But on this pre-war day, it's about to make more history. At one point, a deceased whale rolls into the surf, and for a time it's a huge attraction, bringing in hundreds sometimes.
But like the Florence whale 33 years later, it stank really fast. So, suddenly some odd legal wrangling began – and that also helped guide the 1970 event. There was a fight over who was responsible for getting rid of it.
In the end, one agency simply blew it up, and ...guess what? Blubber and guts rained on people and cars. And yet why did Oregon do it again? See the article on the Warrenton Exploding Whale.
3: Exploding Whale video was almost lost before airing. A strange tale of fate lies behind the infamous video made by Linnman and Brazil. In the brouhaha of all that raining blood and guts, the video got misplaced, put inside another man's car.
The KATU newsmen flew back to Portland without it. Somehow, by a last-minute miracle, someone convinced the guy to drive it up to Portland, as the KATU news director then dictated if it didn't arrive that night it would never be aired.
History was almost quite different. see Wacky History of Exploding Whale
4: Humor columnist popularized it before the video. The famed internet vid gets all the attention, but what few remember is that in 1990, humor writer Dave Barry (a humor GOD at the time), wrote about the Oregon pyrotechnical cetacean. The column itself made news around the world, especially in Oregon.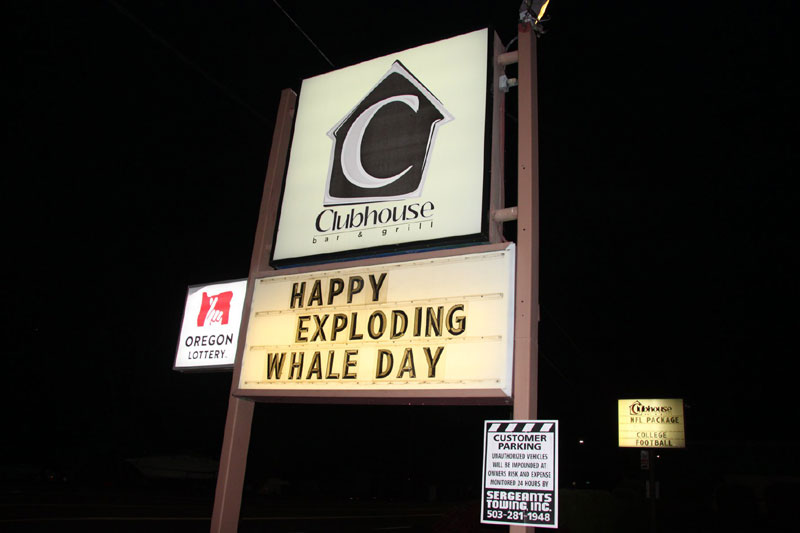 5: theExplodingWhale.com adventures. Eugene's Steve Hackenstadt is one of the unsung heroes in this whole whale tale. He started that website in the early '90s, and is one of the big moving forces behind the "explosive" popularity of the viral vid. Yet creating this has been its own wacky journey.
Hackenstadt has talked about how some reacted badly to his site, with a few even sending death threats. Some believed it was fake, others actually thought he blew up the whale himself.
However, the term "Happy Exploding Whale Day" has become a kooky adjunct to the video's presence, a phrase uttered by true fans, social media and especially by Florence locals in their celebrations. Legend has it Hackenstadt created the phrase, but he told Oregon Coast Beach Connection he doesn't think that's correct.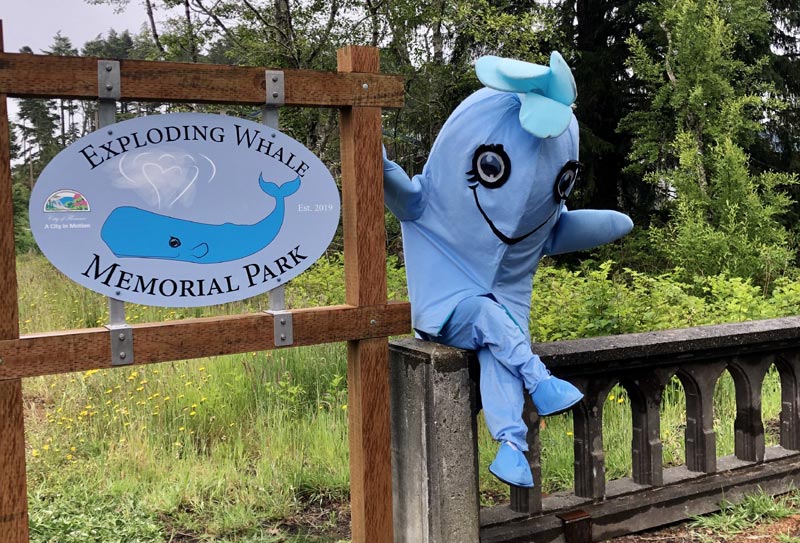 6: Florence celebrates the event and there's a park named after it. For decades, Florence wasn't proud of its wacky heritage. The subject was avoided. But somewhere after 2000 it began to be celebrated, with locals acknowledging it was funny and there was a tourism aspect here.
By the late 2010s there was at least one yearly celebration on November 12, and in 2020 a spot along the Siuslaw River was named Exploding Whale Memorial Park (though it's not the actual spot).
Then there's the numerous songs about the Exploding Whale. Those are too many to go into here.
Oregon Coast Hotels for this event - South Coast Hotels - Where to eat - Maps - Virtual Tours
More About Oregon Coast hotels, lodging.....
More About Oregon Coast Restaurants, Dining.....


Andre' GW Hagestedt is editor, owner and primary photographer / videographer of Oregon Coast Beach Connection, an online publication that sees over 1 million pageviews per month. He is also author of several books about the coast.
LATEST Related Oregon Coast Articles
Back to Oregon Coast
Contact Advertise on Oregon Coast Beach Connection
All Content, unless otherwise attributed, copyright Oregon Coast Beach Connection. Unauthorized use or publication is not permitted