Fourth Whale Carcass on Oregon Coast in Two Weeks, This Time Cannon Beach - Video
Published 01/23/23 at 6:40 PM
By Oregon Coast Beach Connection staff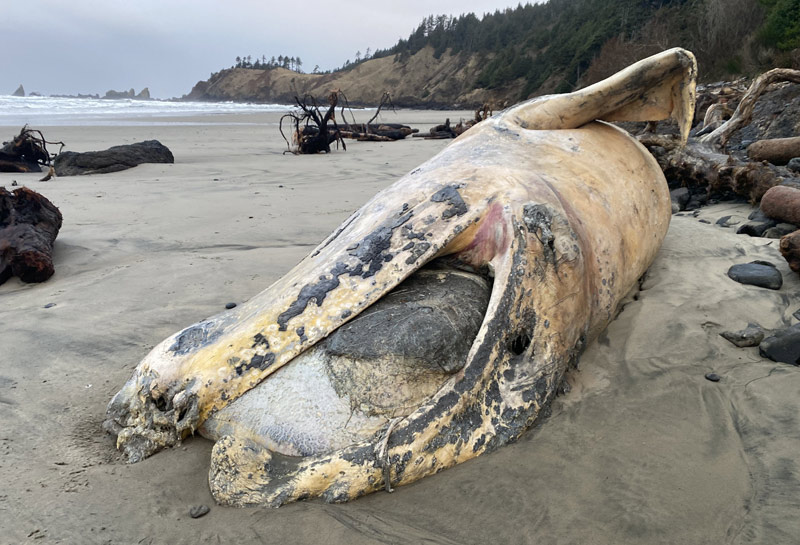 (Cannon Beach, Oregon) – An unusual run of whale corpses washing up on the Oregon coast is a list that just got bigger. The fourth deceased whale since January 11 made its way onshore this weekend, but members of the Marine Mammal Stranding Network could not get down to that beach until today (Monday) because of the extreme high tides of king tides and other ocean conditions. (Photos Seaside Aquarium)
It seems a weird coincidence to have so many whales in one short burst like this, but given unusually intense ocean conditions this month it's not entirely a surprise, say experts like Seaside Aquarium or National Oceanic and Atmospheric Administration's Fisheries department. Each whale died of a different cause, so the deaths are unconnected in any way, and subsequent strandings are only a coincidence. See Three Whales Hit Oregon Coast Sands: Causes of Death Released
In fact, it's not the first time something like this has happened.
Tiffany Boothe of Seaside Aquarium said this last whale had been spotted offshore last week, about a mile from the beaches.
As tidal conditions calmed today, aquarium staff were finally able to make the trek down to Crescent Beach, which requires a mile-long hike to get to. Unfortunately, not a lot could be ascertained – and it will stay that way.
"The most recent whale is a gray whale that has been dead for at least a month, maybe two," she said. "The whale's location is going to make a full necropsy nearly impossible. This morning a crew went down to take a closer look at the whale and take some external measurements. Its state of decomposition makes it difficult to determine the cause of death. We did notice a sizable shark bite which occurred after the whale died."
Boothe said the gray whale was 29 feet in length, and the shark bite was almost two feet across.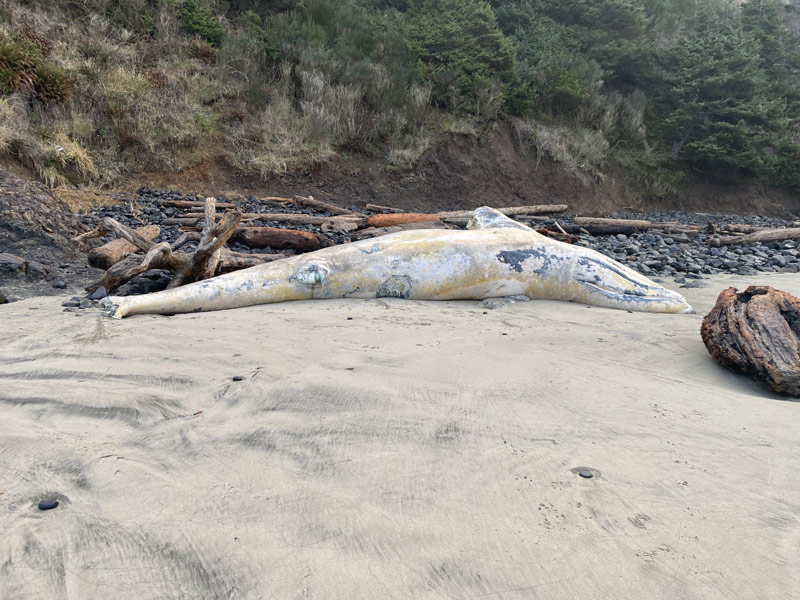 Keith Chandler, manager of Seaside Aquarium,, told Oregon Coast Beach Connection the US Coast Guard had called into the network a day or two ahead of when this whale washed in. A helicopter crew offshore reported seeing it floating out there.
This, said Boothe, was happening just as a PSU scientist and a set of experts from NOAA Fisheries were doing a necropsy on a baby gray whale at Fort Stevens State Park. Three Whales Hit Oregon Coast Sands: Causes of Death Released
Chandler said they knew this was likely coming – they just didn't know where and when it would land.
The first stranding took place January 11 down near Reedsport on the south Oregon coast. Jim Rice is head of the Marine Mammal Stranding Network and headquartered at the Hatfield Marine Science Center in Newport: he attended to that whale and found it had been killed by orcas.
The second stranding happened less than a week later at Fort Stevens State Park when a 40-foot sperm whale hit the beach right near the wreck of the Peter Iredale. This one was unusual: aquarium staff have rarely found sperm whales on the beach. That one died of a ship strike, scientists later determined.
A few days, the newborn baby gray whale washed up not far from the sperm whale, which was a remarkable coincidence. A necropsy determined that one died shortly after birth, a "failure to survive" issue not uncommon in the wild.
This one at Crescent Beach marks the fourth, an unusual number in such a short time – maybe.
Chandler was quick to point out to Oregon Coast Beach Connection this isn't the first time they've encountered a large burst of marine animals washing up so close together. It happens on a fairly regular basis, at least once a winter.
"It has to do with currents and wind," he said. "The conditions were right to bring a lot of things onshore. These bodies float around out there for a real long time."
Conditions often combine out there to bring in many things at once. He said discovering multiple sea lion or sea turtles on the beaches always happens in clumps.
"If we get one sea lion we'll get four or five," he told Oregon Coast Beach Connection. "Or maybe we'll get two or three things in Long Beach but nothing south. Same thing with sea turtles: we get one, we'll get two or three."
Rice notes this many whales in so short a time is somewhat surprising on the surface, but given the fact NOAA declared an Unusual Mortality Event for gray whales back in 2019, it sadly fits in with that. This declaration is still ongoing, he said.
"Meaning there has been an elevated number strandings of these whales along the entire West Coast for several years now," Rice told Oregon Coast Beach Connection. "Also, gray whales are migrating south for the breeding season right now, and it's during their migrations when we typically have strandings."
Boothe wanted to reiterate there is no connection between four different whales that died of four completely different causes, and with all having been floating out there for varying time periods before washing in.
"For those of you wondering if this was the baby gray whale's mom, it is not," Boothe said. "This whale has been dead for far too long."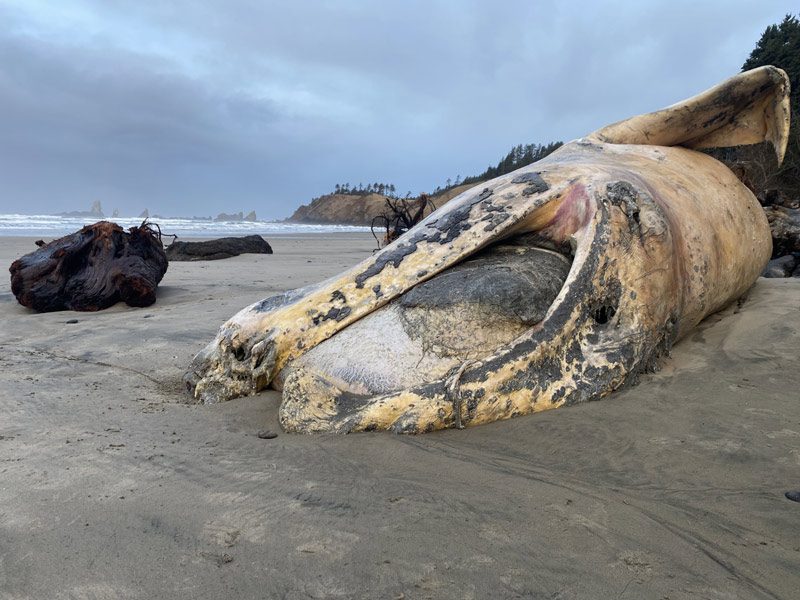 Even so, the social media ether has been going wild with people creating their own theories on what's happening. It's been a sad display of knee-jerk reactions and misinformation. It has regional experts almost exhausted trying to explain the same thing over and over.
"It is purely a coincidence," Boothe said. "When we experience weather patterns like we have in the past few weeks, coupled with strong westerly winds, dead marine mammals that have been floating offshore get pushed onto the beach."
Hotels in Cannon Beach - Where to eat - Cannon Beach Maps and Virtual Tours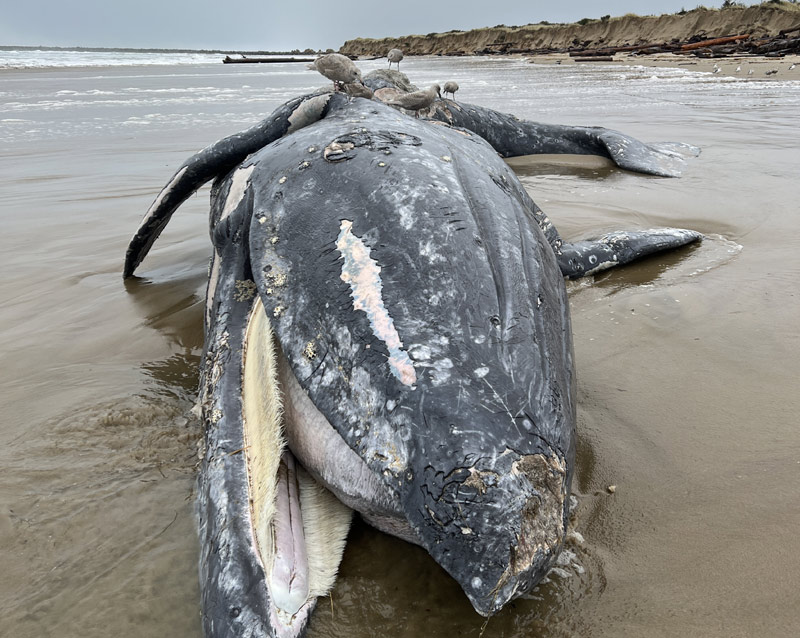 Whale near Reedsport earlier this month, photo Jim Rice
More About Oregon Coast hotels, lodging.....
More About Oregon Coast Restaurants, Dining.....


Andre' GW Hagestedt is editor, owner and primary photographer / videographer of Oregon Coast Beach Connection, an online publication that sees over 1 million pageviews per month. He is also author of several books about the coast.
LATEST Related Oregon Coast Articles
Back to Oregon Coast
Contact Advertise on Oregon Coast Beach Connection
All Content, unless otherwise attributed, copyright Oregon Coast Beach Connection. Unauthorized use or publication is not permitted