Green Nightglow Above Us All the Time, You Just Didn't Know: Washington / Oregon Coast Science
Published 08/20/23 at 5:14 p.m.
By Oregon Coast Beach Connection staff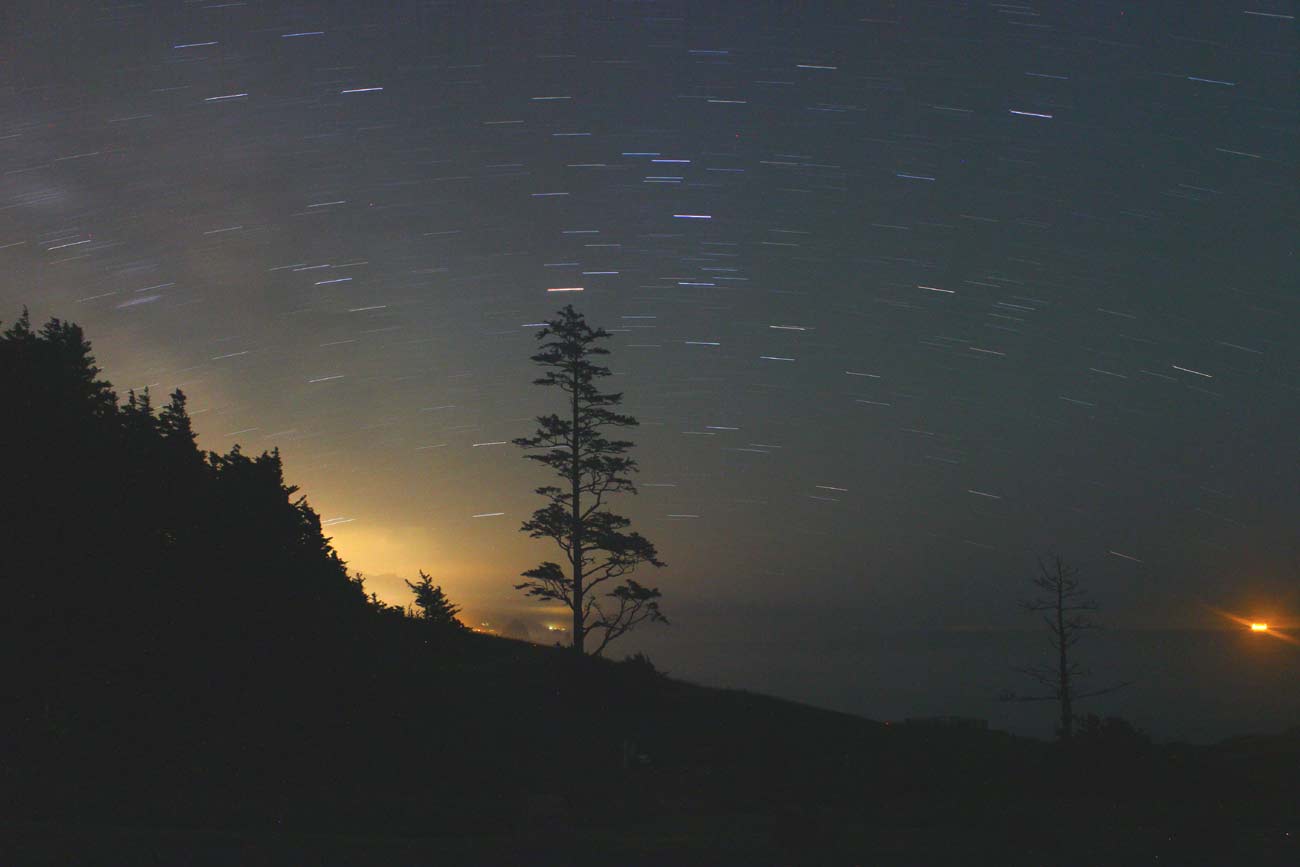 (Manzanita, Oregon) – Beauty, frustration and a mind blown all at once: that's how one phenomenon will leave you. There's something above us all the time – but especially at night – and more so along the Oregon coast and Washington coast than more populated areas. It's something you never realized was there. (Above: Cannon Beach's Ecola State Park. Notice the green tint to much of this photo from Oregon Coast Beach Connection)
When Shakespeare wrote "There are more things in Heaven and Earth....." he was astoundingly spot on. It's called "airglow" (or "nightglow" at night) - a bizarre but extremely faint green glow in the night skies. The reason you don't know about it is because you largely cannot see it with the naked eye, although if you look at most night photographs of the Washington coastline or Oregon coast, it's there. But it takes photographic equipment.
That's why it will blow your mind: who knew? It's also intensely beautiful at times.
However, it's a source of monster frustration, in a way. Once you see it, you can't not see it. Every night photograph from now on that even has a hint of it will be obvious to you.
Indeed, airglow can come in oranges and even yellow, although the latter is rare.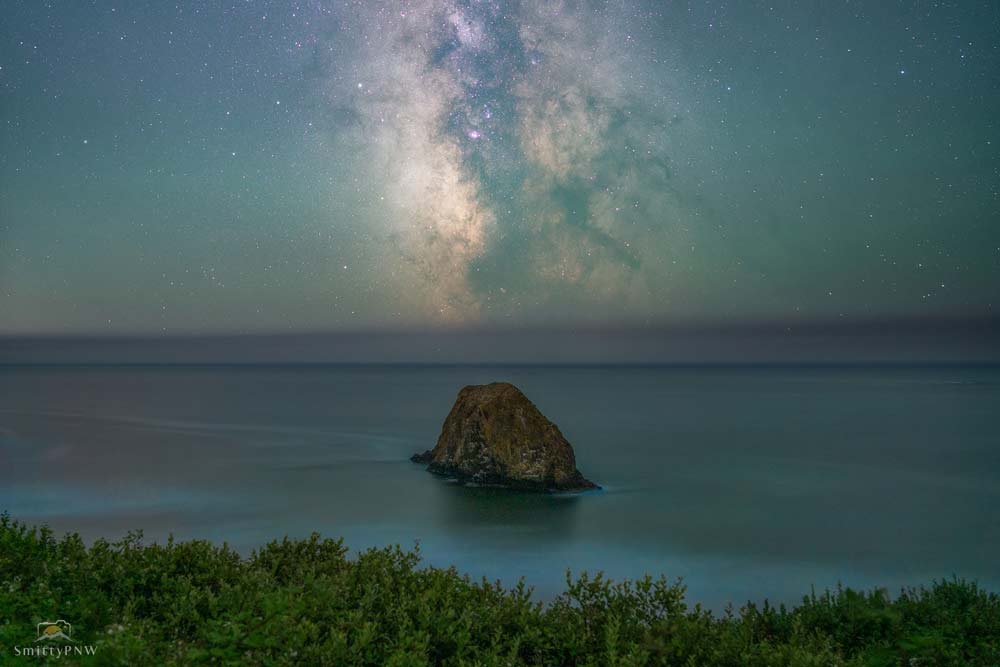 Steven Smith / Solution 7 Media
Recently, Steven Smith of Solution 7 Media captured nightglow in the background of this stunning shot of bioluminescent phytoplankton just south of Cannon Beach.
Strangely, the closest thing to it might be the Northern Lights, but then again not really.
The short answer to what nightglow is, according to Danny Schmiegel with Medford's office of the National Weather Service (NWS): a certain set of molecules are rebuilding in the atmosphere after a day of being broken apart by the sun, and as they do so they give off a glow.
"During the day, the sun beats down on the upper atmosphere which is 60-200 miles above the Earth," Schmiegel told Oregon Coast Beach Connection. "This powerful ultraviolet radiation from the sunlight reacts with molecules containing Nitrogen and Oxygen, the 2 most abundant elements in our atmosphere, and breaks them apart. As the sun sets beyond the horizon, these molecules start to rebuild themselves. As they rebuild themselves they give off light."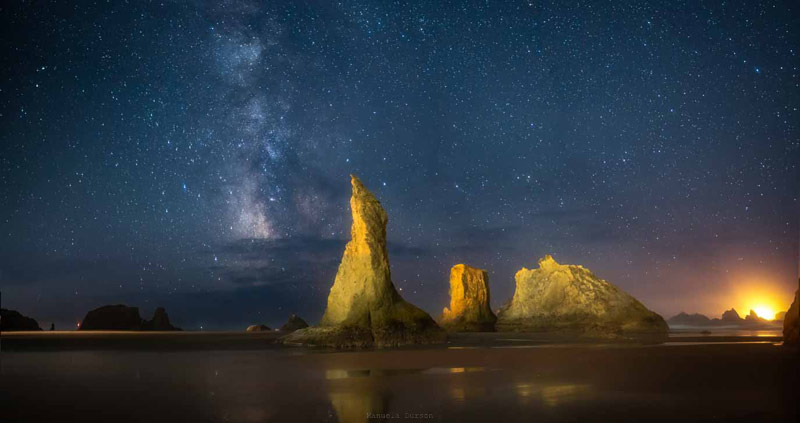 Courtesy Manuela Durson Fine Arts 

Above: Manuela Durson's night photos of Bandon on the south Oregon coast often show hints of the nightglow.
You won't be able to see it without the right camera gear, however. Although, there have been some online discussions that it's possible under some circumstances.
Chemiluminescence is the technical term for this, Schmiegal said. There are two other kinds of airglow: twilightglow and dayglow, but these are caused by very different things, and they can't be seen by humans.
While extremely faint, being overpowered by starlight, it's been said that nightgow is bright enough that if even there were no stars above, it would allow you to see the hand in front of your face. Schmiegal hasn't seen that but does not doubt that this could happen.
He's actually spent some time in Iceland observing the Aurora Borealis, and said "atmospheric lights have the potential to be VERY bright."
Another fascinating aspect of nightglow is that it tends to be thicker on the horizon where there's more atmosphere to see through.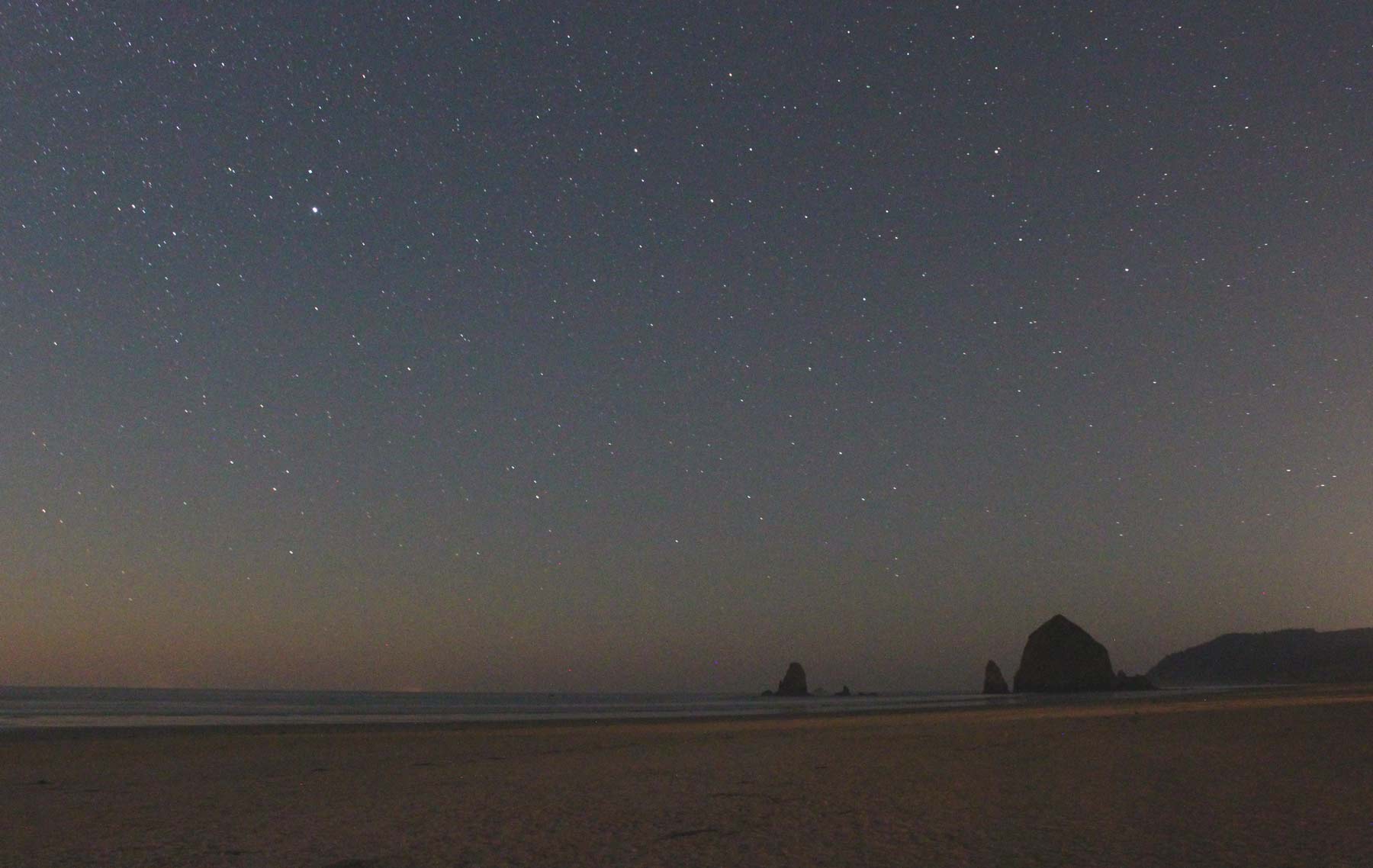 If all this isn't stunning enough, he had another shocker for Oregon Coast Beach Connection, with at least one of the photos we had taken that included this phenomenon. There's a rare form of nightglow in this shot of Cannon Beach: note the faint yellow line just above the horizon.
"Your pictures which show a mix of yellow- and red-ish glows are most likely caused by reactions with Oxygen/Hydroxide (red) and Sodium (yellow)," he said. "These are truly wonderful photos of a hardly seen, ubiquitous atmospheric chemical process."
Some of the orange is from clouds on the horizon, however. There was a bit of moon setting just before this shot, so the green glow is not very prominent. Moonlight definitely drowns this out. The two glowing dots on the horizon are distant fishing boats.
Schmiegel called nightglow a "natural light pollution."
See something else insane you didn't know about above us Interstellar Objects Above Oregon Coast / Washington Coast Only Cameras Can See: Emissions Nebulae
"Another important thing to note is how airglow is different from the Auroras Borealis," he said. "Aurora Borealis is caused by solar wind, creates distinct structures of light and is primarily in the higher latitude regions such as the arctic/ antarctic regions. Airglow is a global phenomena, caused by solar radiation, and is more uniform in its luminosity. Your pictures make me think you have captured airglow due to the fact that the camera is facing west, close to the horizon, and has a relatively uniform brightness."
As for ruining night and astrophotography for you, join the club now.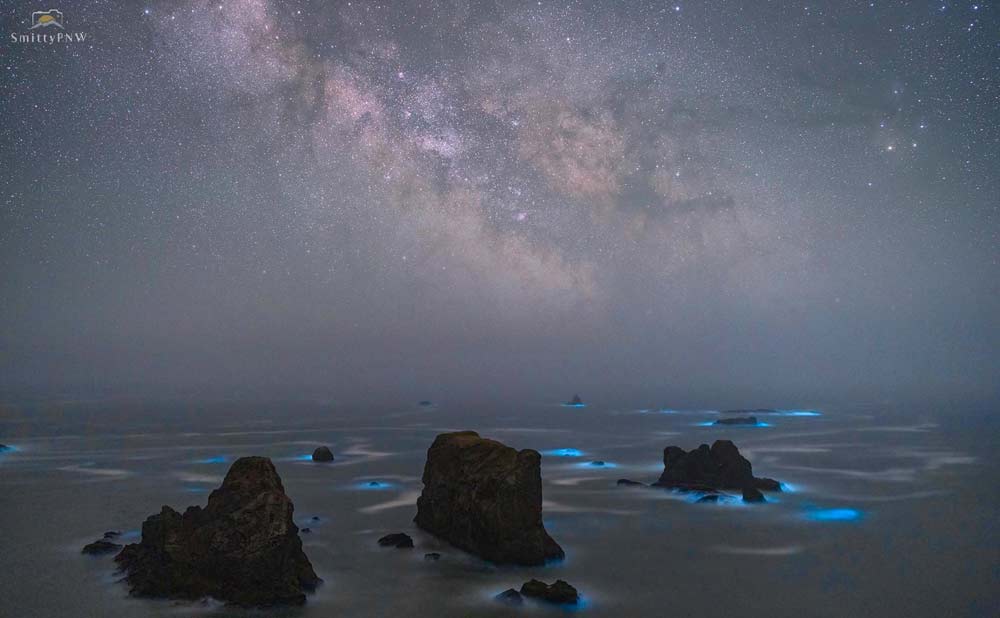 Chemiluminescence on the south Oregon coast as well as bioluminescence: Steven Smith / Solution 7 Media ---- See Bioluminescent Phytoplankton: What Makes Glowing Sand On Oregon Coast, Washington - including how to look for them
On the southern Oregon coast near Brookings, Smith / Solution 7 Media caught this shot of bioluminescence and chemiluminescence. Note the patches of green in the stars at left and far right.
Smith told Oregon Coast Beach Connection he's used to seeing it in photos now – well, most of the time.
See nightglow on the Washington coast: Washington Coast Photog Snags Intense Wave Glow / Perseids at Kalaloch Beach (as well as Oregon)
"I have had airglow dominate photos so much so that almost the whole photo was green," Smith said.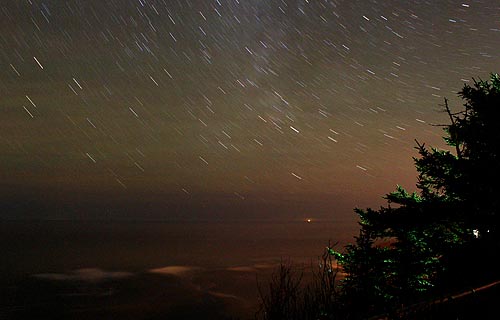 The green glow is clearly evident in this shot of Cape Foulweather near Depoe Bay (Oregon Coast Beach Connection).
Chemiluminescence will be more visible in rural places with no light pollution from cities, such as the Oregon coastline and Washington coastline.
Oregon Coast Hotels for this event - South Coast Hotels - Where to eat - Maps - Virtual Tours
More About Oregon Coast hotels, lodging.....
More About Oregon Coast Restaurants, Dining.....


Andre' GW Hagestedt is editor, owner and primary photographer / videographer of Oregon Coast Beach Connection, an online publication that sees over 1 million pageviews per month. He is also author of several books about the coast.
LATEST Related Oregon Coast Articles
Back to Oregon Coast
Contact Advertise on Oregon Coast Beach Connection
All Content, unless otherwise attributed, copyright Oregon Coast Beach Connection. Unauthorized use or publication is not permitted