Interstellar Objects Above Oregon Coast / Washington Coast Only Cameras Can See: Emissions Nebulae
Published 06/15/23 at 8:31 p.m.
By Oregon Coast Beach Connection staff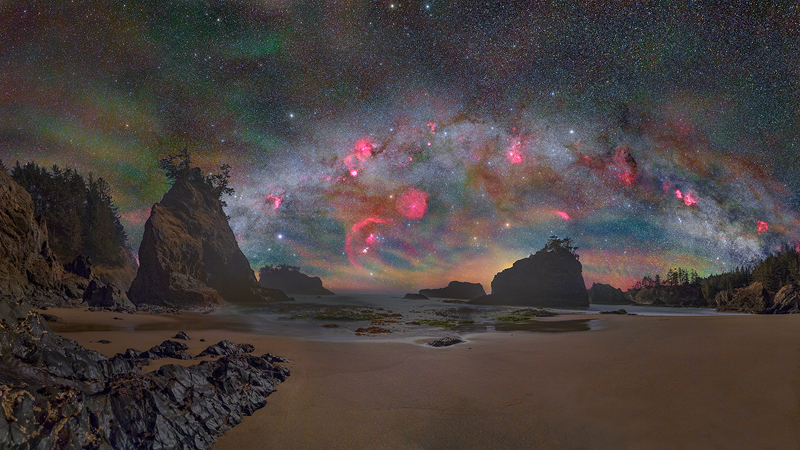 (Oregon Coast) – It turns out, they've been there the whole time, but not many of us knew.
On clear nights above the Oregon coast and Washington coast, there's a lot of things lurking up there we cannot see. But they're very much there. Weird, indistinct blobs; fuzzy splats in the sky; things that look like giant dots with fading edges around them (as if someone had spilled iridescent coffee in the heavens); to the surreal crescent of Barnard's Loop: all in a bizarre, crayon-like pink/red. They are a kind of nebula called emissions nebulae, large enough that if we could see them with the naked eye they would be prominent features. (Above: emissions nebulae at Secret Beach near Brookings. Photo Ralf Rohner https://ralf-rohner.pixels.com and on Instagram/Facebook accounts @skypointer2000)
We humans can't see them, but our cameras – if properly outfitted – can. These days, astrophotography has taken on whole new levels of accessibility, and some of the photos coming out of the Oregon coast and Washington coast are downright flooring. It's opened up a new kind of reality, really: one many of us are seeing from the Earth for the first time.
And thus comes the ridiculous disbelief. [Here is part two: How To Photograph Emissions Nebulae Above Washington Coast / Oregon Coast, Elsewhere]
Sorry deniers: these shots are all real – they're simply capturing something not visible unless you have the right filters. It's like X-rays: they're a completely different wavelength our eyes can't take in.
Oregon Coast Beach Connection talked to two experts on this: Switzerland's Ralf Rohner (whose south Oregon coast shots are featured here), and Darren White (whose name is familiar to readers here).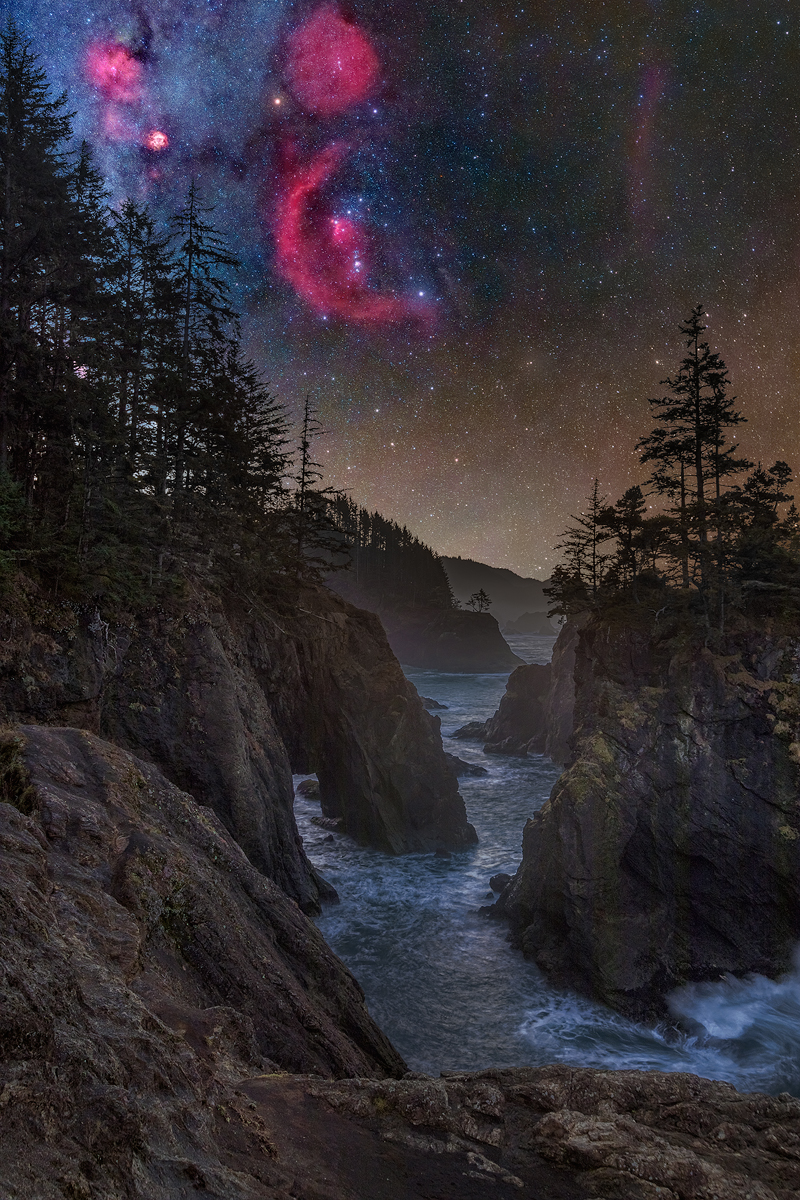 Natural Bridges near Brookings. Photo Ralf Rohner https://ralf-rohner.pixels.com and on Instagram/Facebook accounts @skypointer2000
"[These] are actual real scenes that one would see with their own eyes if they were standing in the same spot as I was when I shot the images," White said. "None are composites or fake images. The biggest difference between what our eyes see and what a camera can capture is the various wavelengths at night. When you add in an astro modified sensor to capture more of that, then things start to look fake when in reality, we are only doing that to capture the true colors of what is in the sky that our eyes can not see. "
Rohner's shots of the Samuel H. Boardman Scenic Corridor take on a strange "curve and bending" effect sometimes because he's shooting panoramas in two photos here, which is where a larger-than-usual view of everything is packed into one wider shot. The above shot from the Natural Bridges, however, is using a zoom lens, which closes in on things and makes some objects bigger.
You see the nebulae set amid the curvature of our galaxy around us in these photos.
Emissions nebulae are also known as hydrogen nebulae because that's what they're full of, but the former is the more common term because, according to NASA, "they emit their own light." They are essentially lit up by the hot temperatures of young stars within them, often mere thousands of years old and more than 10, even 20 times the size of our sun.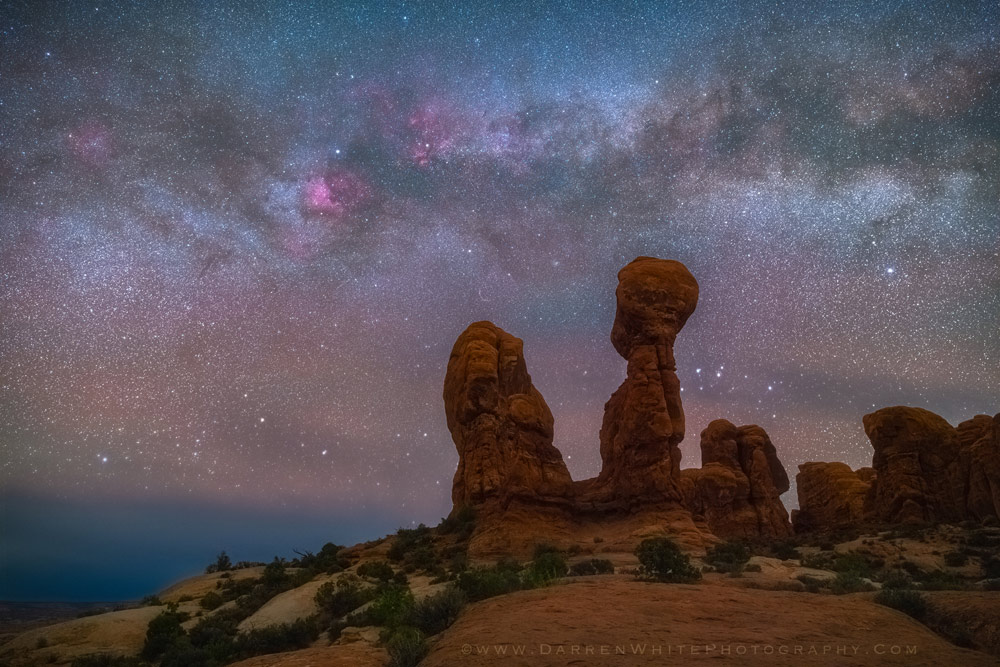 Photo Darren White - https://www.darrenwhitephotography.com 
According to NASA: "This type of nebula forms when the intense radiation of stars within or near the nebula energizes the gas. A star's ultraviolet radiation floods the gas with so much energy that it strips electrons from the nebula's hydrogen atoms, a process called ionization. As the energized electrons revert from their higher-energy state to a lower-energy state by recombining with atoms, they emit energy in the form of light, causing the nebula's gas to glow."
That kind of hydrogen light exists in wavelengths human eyes can't see. What Rohner and White are using to capture them is a special filter as well as gear specially fitted for astrophotgraphy.
There's a whole, intense and rather insane technique behind this – and Oregon Coast Beach Connection will get more into those details in a part two of this subject. Here is part two: How To Photograph Emissions Nebulae Above Washington Coast / Oregon Coast, Elsewhere
The short description on this, according to White and Rohner, is that first you have to get your camera rig modified for astrophotgraphy, which has its scary aspects (requiring you to open your DSLR and switch out some items). Then you have to use a variety of long exposure techniques with a narrowband filter.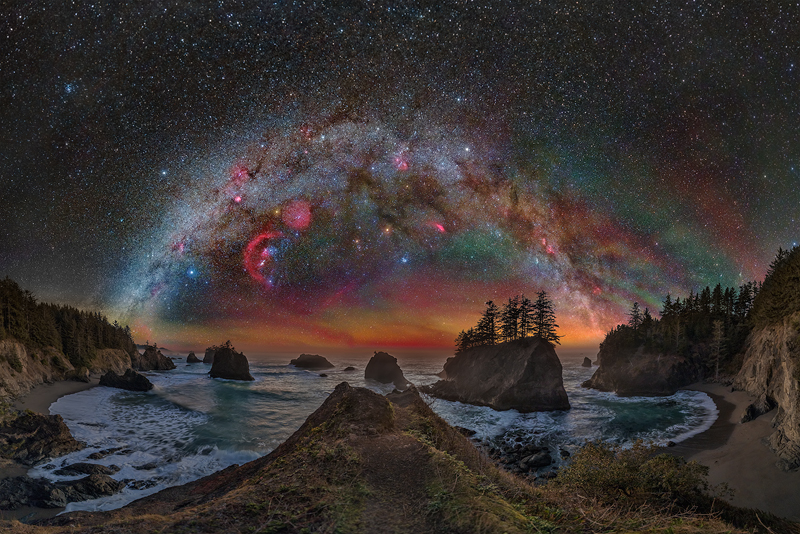 A panorama of Secret Beach (compressing the whole cove into one shot, and thus getting the galactic ring in an exaggerated curve. Photo Ralf Rohner https://ralf-rohner.pixels.com and on Instagram/Facebook accounts @skypointer2000
"It blocks all wavelengths, except the astronomically interesting lines of ionized Hydrogen and Oxygen," Rohner told Oregon Coast Beach Connection. "These emission lines are called H-alpha for Hydrogen, which is a red light, and Oiii for Oxygen, which is Cyan."
Then there's post-processing – a whole other game in itself. You use programs like Photoshop to correct the colors or stack star backgrounds. Both photogs say that the idea of a photograph being finished without some kind of post processing is a myth, especially in the pro world. Even before digital, and likely more so then, fiddling around with a photo print was always done – especially techniques like dodging and burning. Using programs these days is no different.
White didn't have any of these Hydrogen-alpha light shots from the Oregon or Washington coast, but he had some dazzling photos of these from farther east as examples. The nebulae have those ethereal, almost neon colors that are unbelievably striking. They're reminiscent of King Crimson's In the Wake of Poseidon album cover – or (again) those otherworldly Yes albums done by Roger Dean.
However, the most important takeaway is that this is what they'd look like if you could see them. The old, crooked house shot of White's gives it all an incredible sense of scale.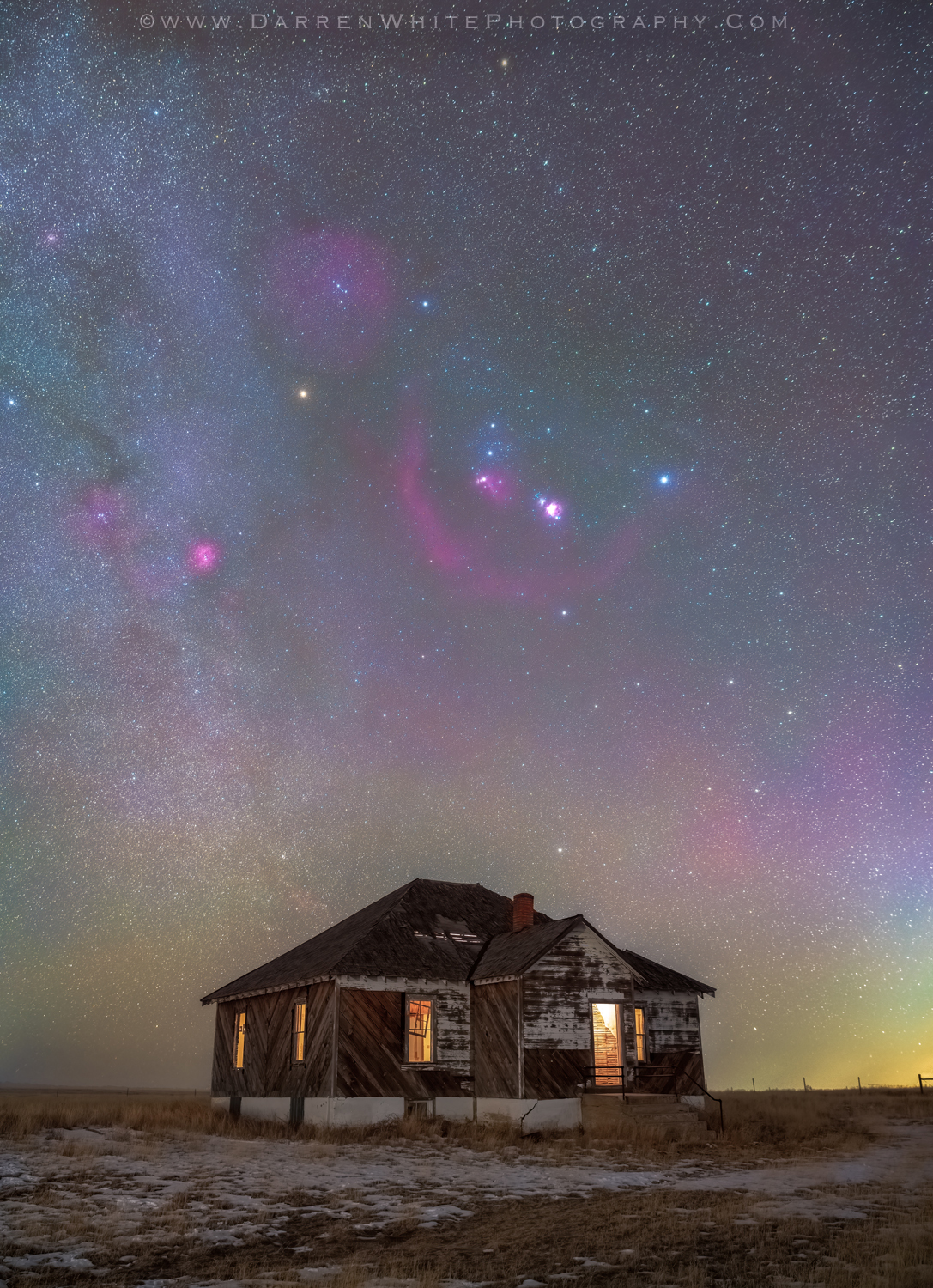 Photo Darren White - https://www.darrenwhitephotography.com 
Barnard's Loop is the most enthralling of all the interstellar shapes here. Knowing that sight is there just beyond our human eyes all the time gives you Star Wars-like chills, like seeing the Death Star hovering above us the first time (but markedly less threatening).
Rohner has an excellent blog with entries on the subject of astrophotography filters and what we see at night with the naked eye.
White has two workshops coming up on the Oregon coast this year: one at Yachats and one in Bandon.
- South Coast Hotels - Where to eat - Maps - Virtual Tours

More About Oregon Coast hotels, lodging.....
More About Oregon Coast Restaurants, Dining.....


Andre' GW Hagestedt is editor, owner and primary photographer / videographer of Oregon Coast Beach Connection, an online publication that sees over 1 million pageviews per month. He is also author of several books about the coast.
LATEST Related Oregon Coast Articles
Back to Oregon Coast
Contact Advertise on Oregon Coast Beach Connection
All Content, unless otherwise attributed, copyright Oregon Coast Beach Connection. Unauthorized use or publication is not permitted
Kewords: Astronomy, emissions nebulae, Oregon coast, Brookings, Washington coast, science