How and Where the Oregon Coast Resembles Yes / Roger Dean
Published 02/05/23 at 6:49 AM
By Andre' GW Hagestedt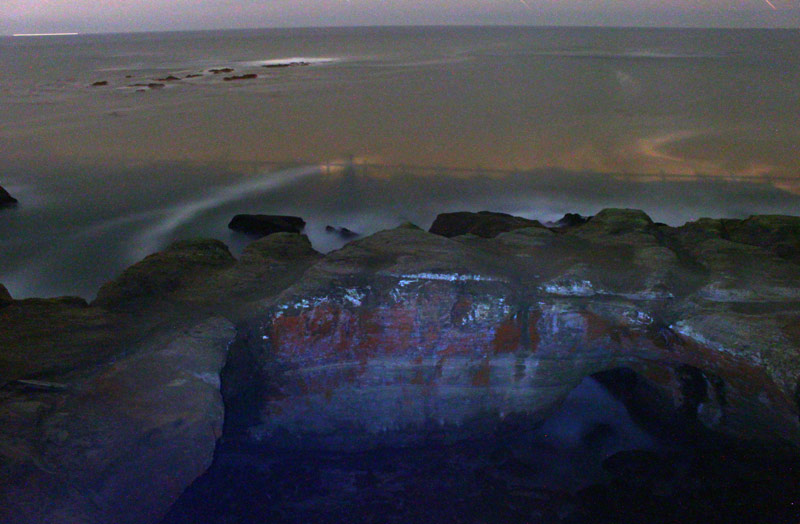 (Oregon Coast) – I am quite clear and open on this: I am an unabashed, fervent fan of Yes. You know, that supergroup of the Prog Rock movement in the '70s? I am, to this day, still quite obsessed. Few things beat that surrealistic intricacy that they achieved (OK, there is King Crimson), and even more so the experimental sides that still sound alien now. (Above: photo Andre' Hagestedt. Photographing at night often brings otherworldly results for me, as if the coast is in an alternate universe. Devil's Punchbowl looks a bit like Dean's sky islands or even the inside of Close to the Edge)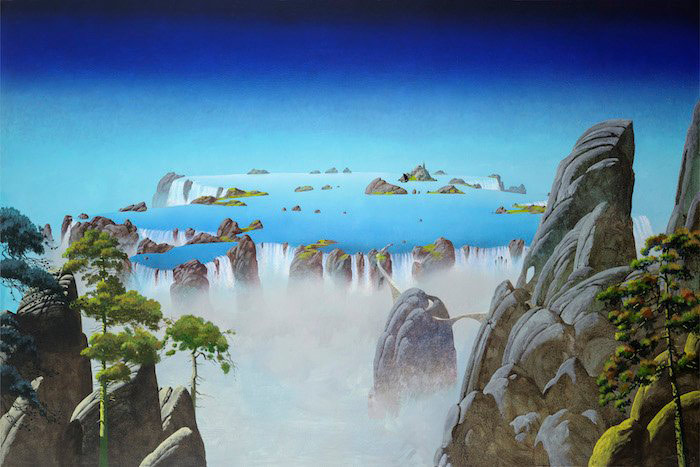 Inside of Close to the Edge, by Dean
And thus, almost by default, really, I am an enormous fan of Roger Dean, the artist who did their best album covers. One o' my prized possessions is his first book "Views," where he positively melted reality with unique imaginings of alien worlds or alternate universes.
Over my years covering and photographing the Oregon coast, I keep bumping into small details (or sometimes even large aspects) of these beaches that definitely remind one of the Yes album covers as well as Dean's other, fantastical and fantastic works. I see it all the time, and not just 'cause I'm gaga over Yes. Lots of sea stacks look like rock structures he's plopped into his paintings.
Mind you, it's not as if he's ever been here – or at least I find no evidence of that. And there aren't an enornous number out here of objects that resemble anything in those works. But there's lots that seem as if they should be in his work. If I didn't know better, it almost seems like some of this shore looks as if Dean designed it, and not vast geologic forces that took millions of years.
Here's a roundup of spots that are Yes-like or Dean-like: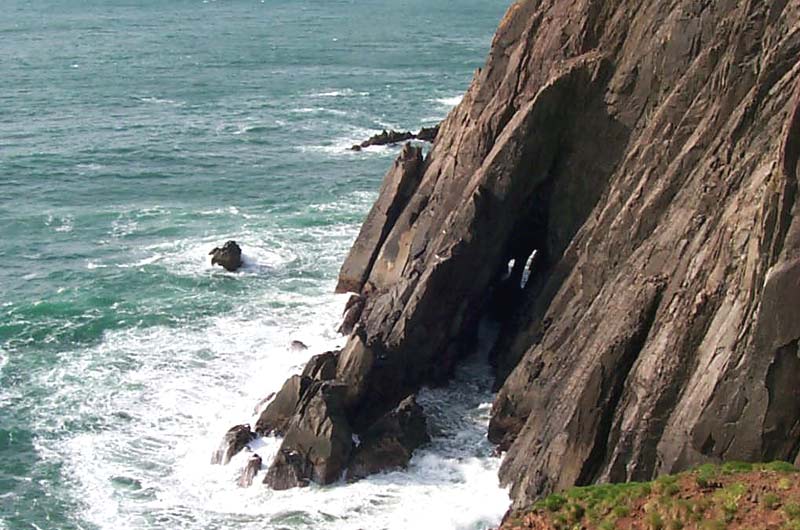 Forbidden Manzanita Arches. A rather scary secret spot near Manzanita has a distinctive look, with two arches (sort of) on either side of this steep, sudden drop. You can actually see the southern one from the beaches of the town, if you've got optics that zoom in. An old Oregon Coast Beach Connection article about it caught the attention of some indie sci-fi movie makers a good decade ago, and they used it for a short film.
There's something fairly eerie about them: in fact we've described them as being almost post-apocalyptic in appearance. However, it could be said these crusty, pointy formations with kind of serrated edges really do look like a Roger Dean work. One of Yes' best, Relayer has one of their spookiest album covers as well, with those haunting, even cold shapes and colors depicting some elaborate cave system.
The 1975 album, which featured Patrick Moraz instead of regular keyboardist Rick Wakeman, shows them at their most experimental and gloriously jarring at times. It was Yes on their own bleeding edge, really, and it still sounds otherworldly today. It's a sophisticated masterpiece.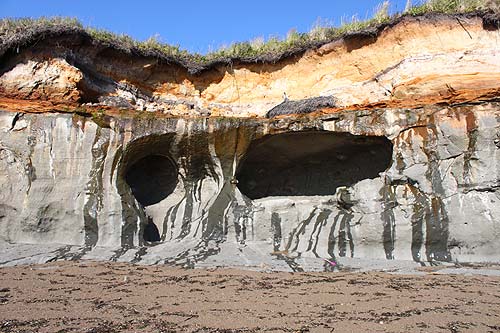 Fogarty Beach near Depoe Bay. Those hollow-eyed caves sitting just out of reach of humans have an unusual quality about them, but if you're a Dean and Yes fan you may spot a similarity. Dean has often used oval-ish, egg-like shapes in his works, including some intense stage sets for Yes and with some more-than-slightly intriguing architecture that was actually built (what I'd give to live in one of those pads).
Those caves almost seem a nod to Dean, but they've been there longer than he's been alive (maybe by hundreds of years).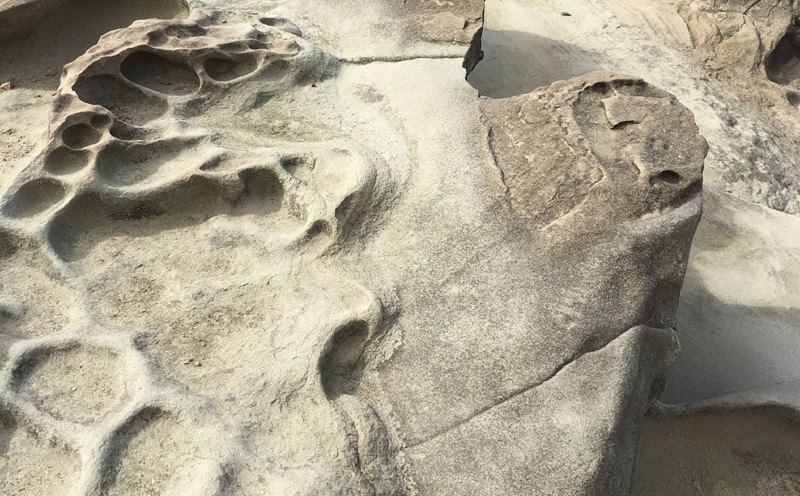 Courtesy Oregon's Adventure Coast

Shore Acres by Coos Bay. Again, those surreal, very 1970s oval shapes of Dean's come into action here, with bundles of pockmarked, alien-looking places, some with almost interwoven holes that evoke the Yes tours or his architecture.
This south Oregon coast monster of a park has about half a dozen different kinds of odd shapes and features, each with their own geologic background that is fascinating on its own. Those wild cliffs where the waves careen high into the air look a bit like the floating islands of Yessongs or Fragile. Then just about all those smaller geologic oddities look like something Dean might've designed – but Mother Nature beat him to it.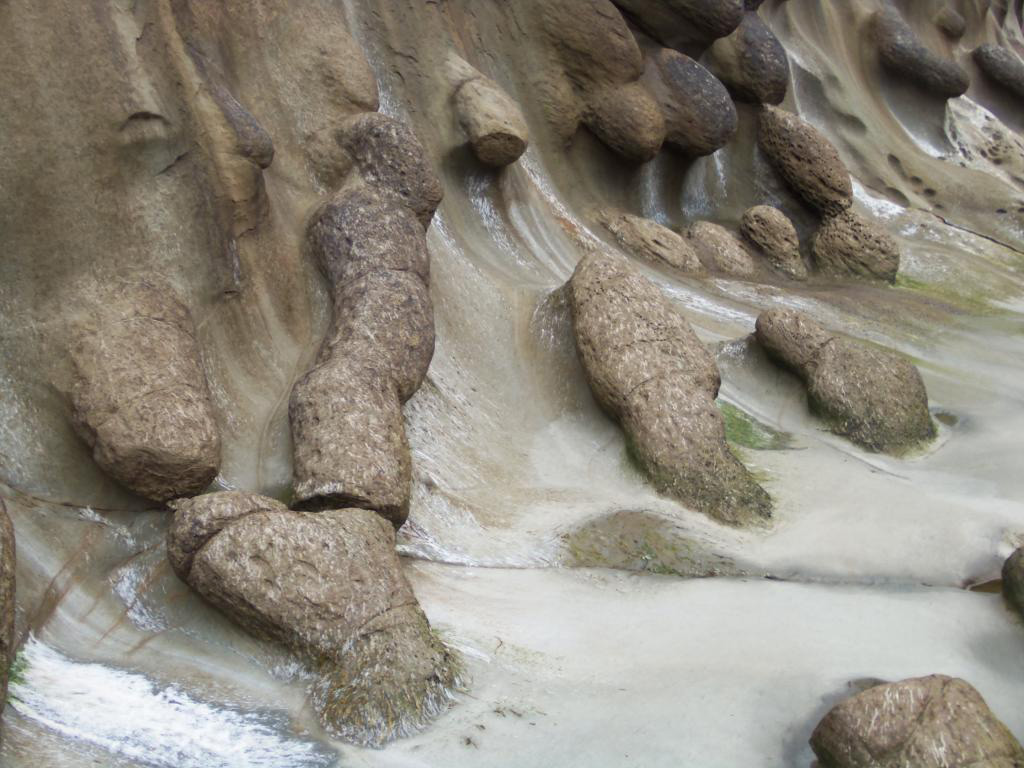 Shore Acres / Sunset Bay oddities, courtesy Brent Lerwill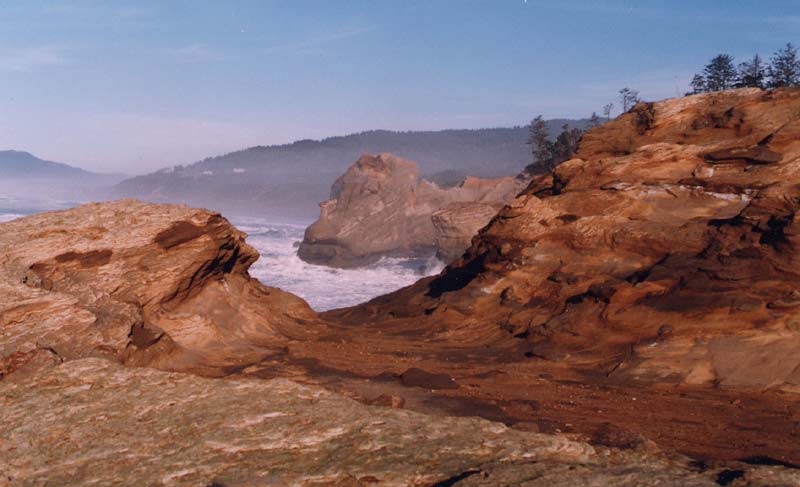 Photo Oregon Coast Beach Connection

Cape Kiwanda, Pacific City. Just like Shore Acres (in fact they look a little alike), there's lots here that seems from another world, and also full of irregular shapes in nature that could at least wind up in Dean's sketchbook. That lower cove with the spouting horn crack in it has, at some moments, made me think of Tales from Topographic Oceans, Yes' brilliant 1974 double album (where each track was 20 minutes long).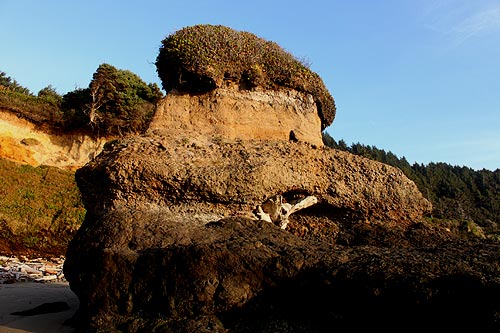 Photo Oregon Coast Beach Connection

Strawberry Hill near Florence. This astoundingly beautiful but oddball little beach on the central Oregon coast goes from weird to Yes-like in a couple hundred feet, when you first find that odd set of natural stairs in the basalt (called cordwood joints) to the pointy blob and face-like cave at the back end. I've never stopped equating that blob to something out of Dean's work – and I never will. Even better, there's a giant log pierced through its entirety. That's how powerful the ocean is.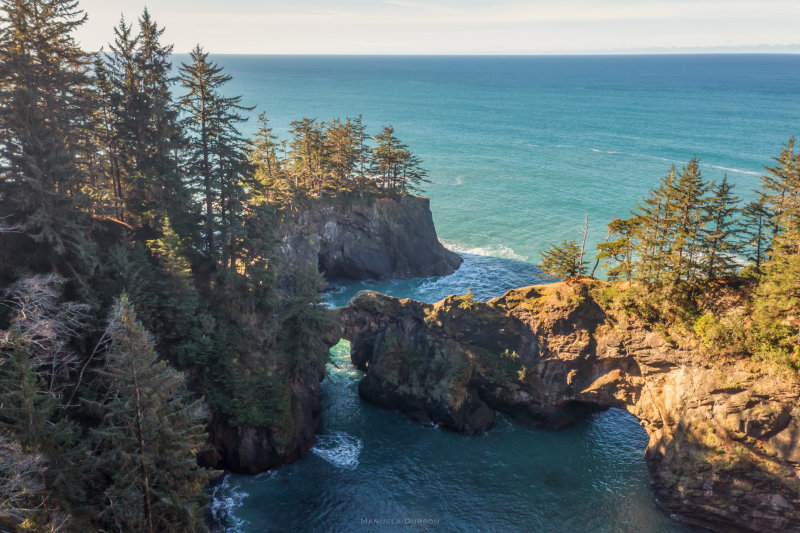 Photo courtesy Manuela Durson - see Manuela Durson Fine Arts for more. Below: Dean's Yessongs' epics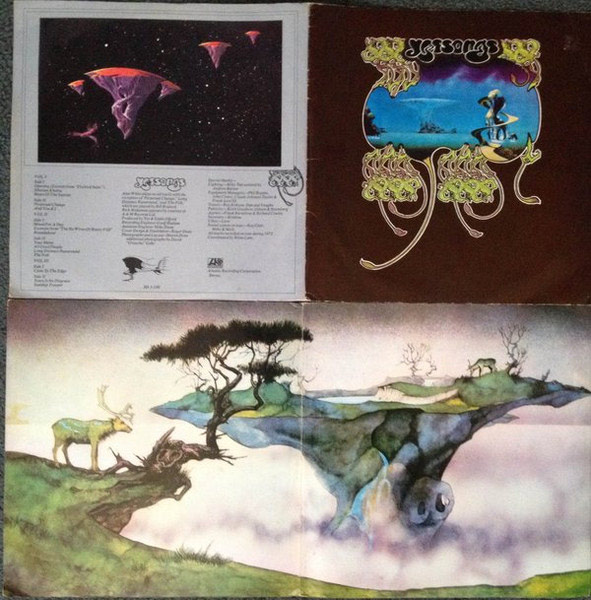 Natural Bridges of Samuel H. Boardman Scenic Corridor. I don't know how anyone that's ever seen a Yes album cover could NOT see Dean in these curious features on the southern Oregon coast. Look at the pathways he's painted on things like Asia's Aria album, the back of Yessongs or that wild fantasy image on the cover of his first book "Views." The geologic tale here makes it all even more amazing (they were once parts of caves that fell apart).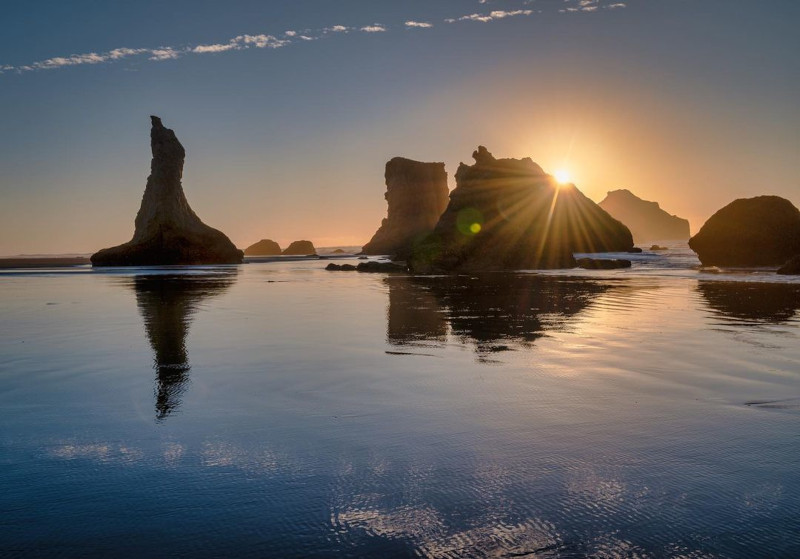 Photo courtesy Manuela Durson - see Manuela Durson Fine Arts for more.

Bandon Spires. Pointy things are a big part of Roger Dean's stuff. Just look closely at the details of Fragile, the back of Close to the Edge and even Topographic Oceans. Rocks that are sea stacks of a sort abound in his works, and Bandon's sea stacks definitely can resemble his work with Yes or other paintings. Where the Pointy Things Are on Oregon Coast: Famous Spires
I've gotta confess, there are times when I look at the works of our fave photog, Bandon's Manuela Durson, and I start humming "Close to the edge, down by a river....." or imitating one of Chris Squire's insane, effects-laden bass lines.

More About Oregon Coast hotels, lodging.....
More About Oregon Coast Restaurants, Dining.....


Andre' GW Hagestedt is editor, owner and primary photographer / videographer of Oregon Coast Beach Connection, an online publication that sees over 1 million pageviews per month. He is also author of several books about the coast.
LATEST Related Oregon Coast Articles
Back to Oregon Coast
Contact Advertise on Oregon Coast Beach Connection
All Content, unless otherwise attributed, copyright Oregon Coast Beach Connection. Unauthorized use or publication is not permitted