Oregon Coast for Kids, Children: Family Beaches, Attractions Guide - Latest Oregon Coast News for Kids Attractions
Updated 09/21/2013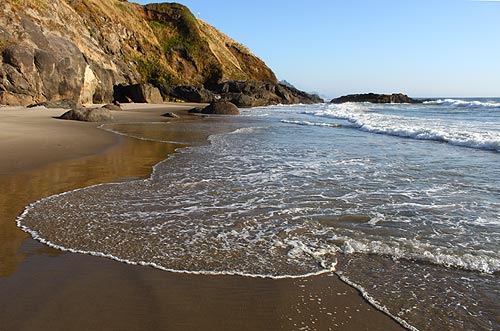 (Oregon Coast) – The upper half of the Oregon coast contains an endless array of things to do and see with the little ones. Lighthouses, attractions, and those fun-filled activities on the beaches like kites, agates, digging in the sand and so on – quite a lot of them obvious. (Above: Bob Creek State Park, near Yachats)
But what of the less obvious? What of beach safety for smaller children? This guide should help, along with the vast array of articles and reference guides for bringing baby to the beach.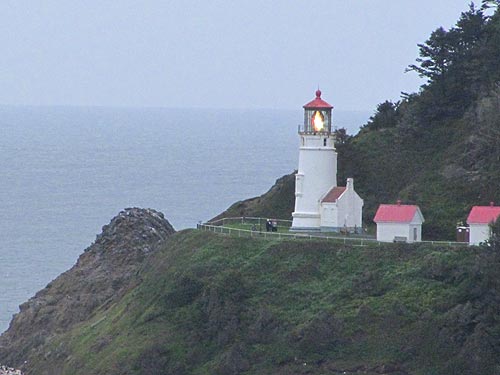 Florence. Plenty of soft sands in this area make for lots of delightful beach activities for kids. The waterfront is colorful and full of interesting sights, though shopping will likely bore them quickly.
Just north of town, there's the quirky park with Darlingtonia plants – called Darlingtonia Gardens. These unique pitcher plants capture bugs and eat them. Also in this area, several attractions will delight the young ones, including some horseback riding companies.
The Heceta Head Lighthouse will make for great memories for the whole family. See the Florence, Oregon Virtual Tour, Map. Attractions for kids: beaches, docks, strange plants, viewpoints, lighthouse.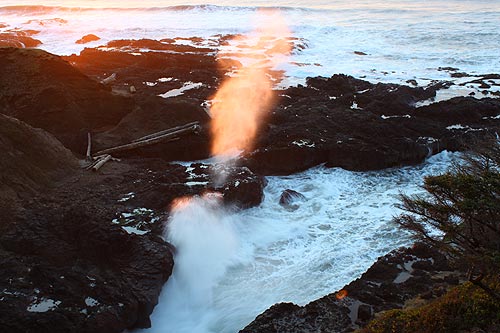 Lane County and Yachats. It's about 20 miles between Florence and Yachats, and this area is full of some amazing pocket beaches and hikes. Most of these beaches have a combination of rocky ledges and sandy areas, so you can at least keep them safe from sheer drop-offs. Lots of these beaches have incredible tide pool sections.
Highlights include the spouting horn at Cook's Chasm, many pullouts looking out over the ocean, a handful of picnic areas, and of course the always-impressive Devil's Churn and towering Cape Perpetua. Taking the children down too close to the Churn is not recommended for some smaller tots.
In Yachats, impressive oceanic drama is a constant here, as waves continuously slam against the rocky ledges. These are not always ideal for taking children onto, but plenty of places exist that allow you to watch at a safe distance. Numerous pocket beaches line this area, however, and often these are covered in agates. More at the Upper Lane County Virtual Tour, Map, and the Yachats Virtual Tour, Map. Attractions for kids: wild, intricate beaches, visitor centers, viewpoints, spouting horns, marine gardens, beachcombing.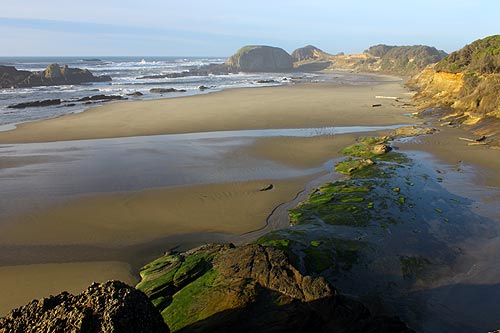 Waldport, Seal Rock. Mostly soft sand beaches exist between the northern limits of Yachats all the way to Newport – about 24 miles. This is interrupted briefly by the rocky labyrinths of Seal Rock, which kidlets will find fascinating. Other highlights include Ona Beach, Alsea Bay, and various campgrounds. More at the Waldport, Seal Rock Virtual Tour, Map. Attractions for kids: agates, intricate beaches, sandy beaches, crabbing, wildlife.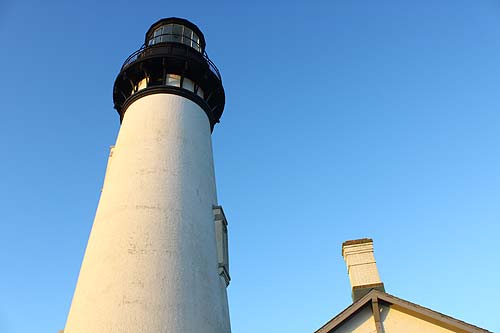 Newport. It's hard to go wrong with children here, with the Hatfield Marine Science Center, Oregon Coast Aquarium and numerous other kid-friendly attractions – most of which are along the Bayfront. Watching sea lions bark and carouse quite close to you is also a major kick in the pants. The broad, sandy beaches are perfect for the usual sandy activities too. More at the Newport, Oregon Virtual Tour, Map. Attractions for kids: aquariums, oddity musuems, candy stores, wildlife, crabbing.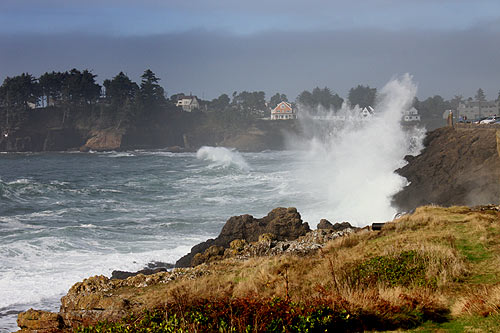 Depoe Bay – Gleneden Beach. Major squeal inducers will be the Devil's Punchbowl, its neighboring marine gardens, views atop Cape Foulweather, and many sweet treats along Depoe Bay's buslting downtown. It's also the only downtown to feature a spouting horn which fires sea water into the air, and there's the always cajoling Whale Watch Center and the Shark and Whale Museum. Lots of whale cruises dock here too.
North of here, the beaches of Gleneden Beach are a seemingly endless and placid stretch of sands. More at the Depoe Bay Virtual Tour, Map. Attractions for kids: whale tours, wildlife musuems, sandy beaches, rocky viewpoints, spouting horn.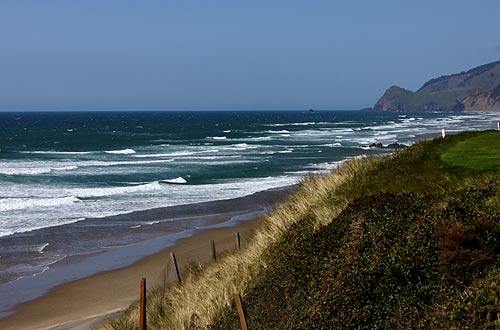 Lincoln City. The seven miles of beach and Siletz Bay provide more than enough fun in the sand than kids may know what to do with. Some local hotels provide oceanfront pools. Various curio shops and ice cream parlors will keep them quite occupied as well.
Just north of town, the tiny village of Neskowin provides beachy fun and esoteric sights for the whole family. See the Lincoln City – Neskowin Virtual Tour, Map. Attractions for kids: museums, shopping, candy shops, sandy beaches, wildlife.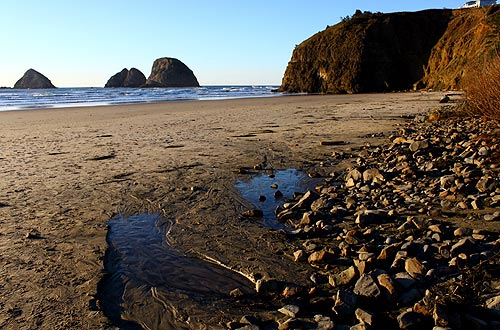 Three Capes Loop: Oceanside, Netarts, Pacific City. Three astounding capes, one lighthouse, an oddity called the Octopus Tree, a number of incredible viewpoints and numerous hidden spots make this area a constant source of amazement for children of all ages. Activities include crabbing, clamming, hiking and all manner of exploration – including some fascinating caves and a tunnel. See the Oceanside, Netarts, Pacific City Virtual Tour, Map. Attractions for kids: viewpoints, whale watching, birds, intricate beaches, sandy beaches, caves, climbing.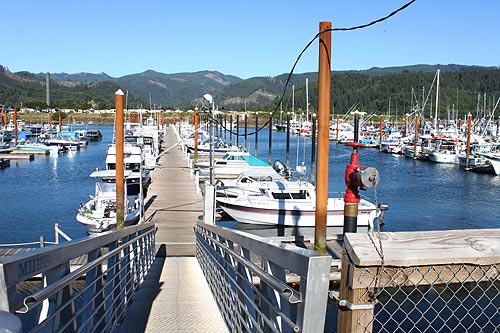 Tillamook Bay, Garibaldi. Tons of fishing and crabbing delights abound here, though it veers inland and away from the beaches. During the summer and on special occasions, the Oregon Coast Explorer antique train rides are sure to make the little ones flip out. On the north face of Cape Meares sits the Bayocean spit – several miles of fluffy sand wilderness that kids will find absorbing, if they're into hiking a bit. The big cheese museum is in Tillamook, as is a petting zoo and the air museum. See the Garibaldi, Tillamook, Bay City Virtual Tour, Map. Attractions for kids: crabbing, clamming, fishing tours, musuems, railroad rides, bay, beaches.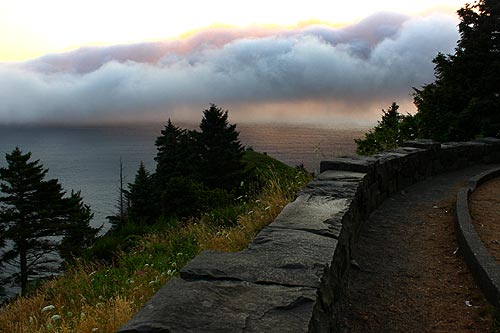 Rockaway Beach, Wheeler, Nehalem Bay, Manzanita. Starting with the seven miles of Rockaway's pristine sands, you have tons of castle-building possibilities. There are some small attractions for kids, including the fishing dock and the video game arcade. The Nehalem Bay boasts kayaking, fishing and crabbing, while Manzanita is simply a charming, quiet beach town with tons to do on its pristine sands. Incredible views lurk just north of here, along with major hiking trails on Neahkahnie Mountain and through forested Oswald West State Park.
Surfing is big in Oswald. See the Rockaway Beach, Wheeler, Nehalem Bay, Manzanita Virtual Tour, Map. Attractions for kids: fishing, crabbing, beaches, viewpoints, docks, game arcade, scenic drive.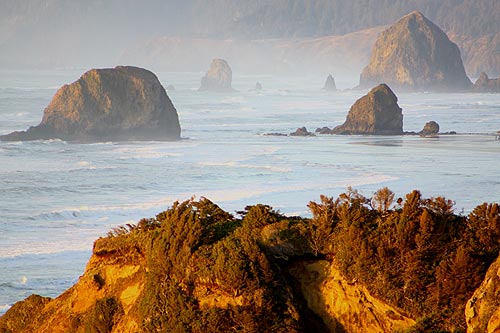 Cannon Beach. The fun begins just south of town at the engaging sands of Arch Cape, and several other state parks with fascinating features, including tide pools and a big cave. Cannon Beach itself is a mecca for bonfires and other kid-friendly activities, along with some lovely little shops and eateries geared towards kids.
At the north end, Ecola State Park has nice views of the distant lighthouse a mile offshore, and you can hike over Tillamook Head from here. See the Cannon Beach Virtual Tour, Map. Attractions for kids: miles of beaches, hiking, candy stores, viewpoints, elk.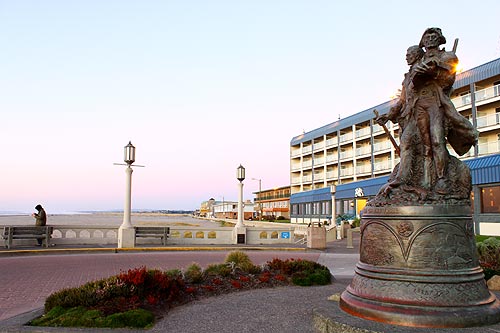 Seaside. The undisputed King of Kid Friendly on the Oregon coast, when they say "families have been coming here for generations" they mean it. Bumper cars, video arcades, seasonal mini-train rides, sweet shops and more abound here. It's also the home of the famed Seaside Aquarium. More details at the Seaside, Oregon Virtual Tour, Map. Attractions for kids: bumper cars, candy stores, Seaside Aquarium, video game arcades, clamming is best on this part of the coast.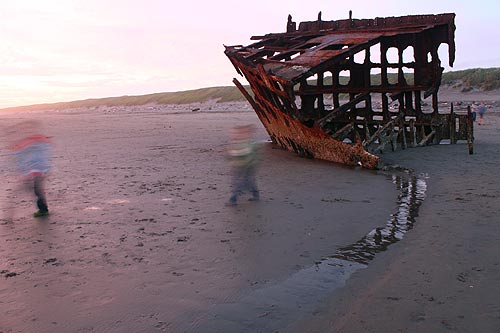 Gearhart, Warrenton, Astoria. Some 25 miles of beautiful beaches abound here, all of it soft, fluffy sands. This part of Clatsop County, including Seaside, is where the most clams are to be found along the entire Oregon coast. Driving on the beach is permitted in a few areas around Gearhart and Fort Stevens.
Fort Stevens hosts some wildly fun military bunkers and battlements at Battery Russell, and the kids will adore the Wreck of the Peter Iredale. Just north of town, historic Astoria will appeal to slightly older kids and teens with its movie locations and ancient, engaging buildings. See the Astoria, Warrenton, Gearhart Virtual Tour. Attractions for kids: history museums, shipwrecks, miles of beaches, old forts.
Latest Oregon Coast News for Kids, Child-Friendly Attractions
CoastWatch Volunteers Catch Run of the Illegal and Extremely Dangerous on Ore...
Kids digging a cliff, refuge violations, bad dogs - but a cool live octopus. Sciences, beach safety, true crime
N. Oregon Coast Pacific City Dory Days Celebrates Dramatic Boat Tradition on ...
July 14 - 15: food, boats, parade, kids activities. Pacific City events, Lincoln City events
Free Concert, Truck Event For Kids at Oregon Coast's Newport This Month
Touch-A-Truck returns, live gig in the park. Newport events, Lincoln City events
Pacific City's More Shy Sides, Where Oregon Coast Nature Still Rules
Just north and south of town lie some exceptional sights. Neskowin, kids, travel tips
Two Extraordinary Scenic Drives Along a Wild Stretch of Oregon Coast
Some of the best views and drives are nestled between Florence and Yachats. Travel tips, kids
S. Oregon Coast Kids Event Turns Green Crab Invasion Into Fun Activities
Second Saturday event at Coos HIstory Museum on Oct 8. South Coast events, Coos Bay
Exceptionally Cool Stuff at Lincoln City: Remarkable Oregon Coast in Photos, ...
More to Lincoln City than meets the eye. Travel tips, kids, Gleneden Beach
What Are the Best Beaches of the Oregon Coast? Seriously Surprising Answer
Best beaches? Best beach towns? Hold onto your seats, kids. Travel tips, sciences
Oregon Coast Aquarium Adds Some Attractions, Means for Play
Nature Play Area, Outdoor Amphitheater and a new feature called the headwaters. Newport, kids
Cool Coves on Oregon Coast at Brookings, Seaside, Yachats, Coos Bay
There's more beneath their surface, and other layers to check out. South Coast, Travel tips, sciences, kids
Obvious and the Hidden at Cape Kiwanda: Deep Inside the Oregon Coast Landmark
What you don't know about the Pacific City icon may thrill you. Travel tips, kids
Oceanside, Little Oregon Coast Town That's Off the Beaten Track
At first glance, there may not seem to be much to it. Kids
Florence's Old Town Park and Gazebo Filled with Historic Oregon Coast Atmosphere
Old Town Park and its lush greenery keeping the place hidden from view. Travel tips, kids
One Magnificent Blob, Myriad Oregon Coast Surprises in One Cove
Short Beach near Oceanside is aptly named ? there's little of it. Kids, travel tips
Floats to Fireworks at Lincoln City: Action-Packed Summer on Central Oregon C...
Summer highlights, Lincoln City events. Kids
From Here You Can See Just About Forever Along the Oregon Coast
Near Yachats: dizzying sights and heights make for wowing moments, Kids
2022's Oregon Coast Whale Watch Season Begins Now With Babies in Tow, Orcas
Get ready for lots of whales along the entire length and live streams of them. Sciences, travel tips, kids
Ethereal Nocturnal Glow of Astoria, N. Oregon Coast
After the sun goes down and the street lights come up it comes alive. Travel tips, kids
Tiny Yet Big On Oregon Coast Surprises: Arch Cape Near Cannon Beach
It seems as if all these beaches here are hidden ones. Travel tips, kids
Humbug Mountain and State Park on South Oregon Coast: Varied, Intricate Attra...
A treasure trove of wilderness, trails, and cloistered beaches near Port Orford. Kids, travel tips
Striking Images of Oregon Coast Lights at Seaside, Bandon, Coos Bay, Newport
Some of the most interesting photographic subjects in the region. Lighthouses, travel tips, kids
Oregon Coast Wildlife Officials on Beach Fun Finds
From fossils to living critters: The point is to look down while you're out there. Sciences, Travel tips, kids
Softer Grains of Newport Hide Historic and Science Mysteries of Oregon Coast
Wandering this iconic tract makes for discoveries, hosting oddities. Travel tips, kids
Whiskey Run Beach Near Bandon a Subtle Wild Card on South Oregon Coast
Breathtaking, Whiskey Run Beach is also kind of strange and steeped in history. Travel tips, kids
Scenic and Historic Twists and Turns of Arch Cape on N. Oregon Coast
There's more packed into Arch Cape than people realize. Cannon Beach, travel tips, kids, history
Two Wonders Hiding in Plain Sight on Oregon Coast: Cool Coves
Two cove-like features with a variety of astounding finds: near Yachats, Cannon Beach. Travel tips, kids
That Silken Glow that Neptune Beach Gets | Central Oregon Coast
Something was different about Neptune State Scenic Viewpoint near Florence, however. Yachats, travel tips, kids, Newport
'Horsing' Around At Neskowin and N. Oregon Coast Rocky Surprises
Neskowin is a tiny village big on visual and experiential treats. Kids, Lincoln City, Pacific City
Three Awesome Manmade Attractions of S. Oregon Coast: Dinos to Rapids
Port Orford's Prehistoric Gardens, Coos Bay's Mingus Park, Gold Beach's Jerry's Rogue Jets. Travel tips, kids
Treasures of Oregon Coast Hide in Plain Sight Near Yachats, Port Orford, Cann...
Into the wilds of Sisters Rock, Crescent Beach, Bob Creek. Travel tips, kids
Striking Moments in Time on Oregon Coast: Capturing the Unusual, Wowing
ight place, right time: angry pink sky at Pacific City, Cape Meares Lighthouse, odd rainbow, monsters at Coos Bay. Weather, kids, travel tips
Six Stunning Facts About Oregon Coast Spring: Whales, Best Photos, Lowest Tid...
So much more going on during spring along this coastline than most ever know. Weather, marine science, kids, travel tips
Video: More Ways to Meander Around Manzanita - N. Oregon Coast Travel Tips
Spend days exploring its nooks and crannies and never get bored. Nehalem, Wheeler, Cannon Beach, Tillamook, kids
When the Ocean Burps on Oregon / Washington Coast It's Insanely Cool
A treasure trove of freaky finds and wowing bits from Gold Beach to Washington's peninsula. Marine Sciences, kids
A Tale of Two Otter Rock / Points on Oregon Coast
An Otter Rock on the central coast and an Otter Point on the south coast; Depoe Bay and Gold Beach. Travel tips, kids
Trippy Side of Oceanside: Crazy Things Oregon Coast Sand Levels Do
Oceanside can see some truly extraordinary changes when sand levels rise or fall. Travel tips, kids, Pacific City, Cape Meares, Tillamook
Two Mesmerizing Oregon Coast Destinations in One Spot in Newport
Newport is a wildly varied treasure trove, natural beauty and historic eye-poppers. Travel tips, kids
Cannon Beach's Silver Point Interpretive Overlook | N. Oregon Coast Stunner -...
Everybody stops there but few know its name. Travel tips, kids, Manzanita, Warrenton
Lincoln City's SW 35th St. Access: Oregon Coast History and Tidal Surprises
There are layers of history here, wild to curiously odd tidal and sand action, and gobs of space. Travel tips, kids
Five Astounding Stops on Oregon's Coast
Spots that are guaranteed to make an impression on your friends and family: Pacific City, Arch Cape, Bandon, Depoe Bay, Manzanita. South coast, Cannon Beach, Lincoln City, Rockaway Beach. Kids, travel tips

Follow us on


OREGON COAST VIRTUAL TOURS
Explore Every Beach Spot
Back to Oregon Coast
Contact Advertise on BeachConnection.net
All Content, unless otherwise attributed, copyright BeachConnection.net Unauthorized use or publication is not permitted