New, Rare Sand Feature Atop Cape Kiwanda Floors Oregon Coast Geologists - Video
Published 04/23/23 at 7:02 AM - Updated 04/30/23
By Oregon Coast Beach Connection staff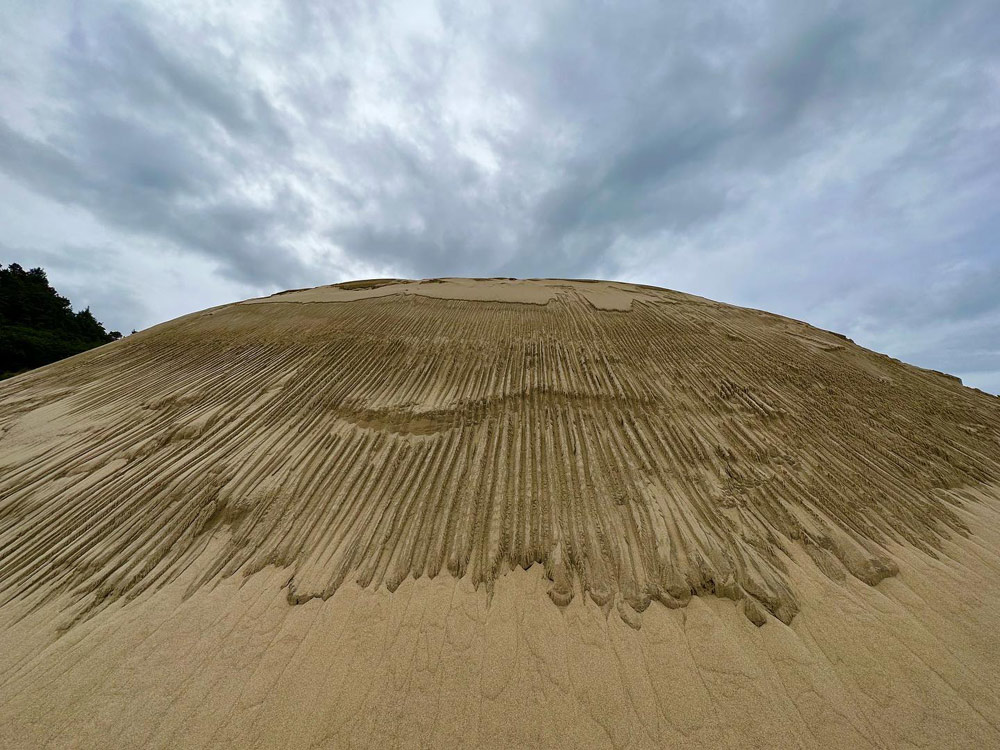 (Pacific City, Oregon) – [Updated with new links to latest on the grooves] --- It's pretty rare when Oregon coast geological experts uncover something new on these shores or that they spot something they have not seen in their profession. Yet just that happened this week when Portland musician Pilar French found something on top of Cape Kiwanda and passed it onto Oregon Coast Beach Connection. (Photos and video courtesy Pilar French)
Showing it to PSU geologist Dr. Scott Burns, he flipped. He's studied Kiwanda's sands quite a bit, and he actually said this made his day as he'd never seen it before. Then later, after showing this to other geologist colleagues, French's images also made their days, Burns told Oregon Coast Beach Connection.
Near the top of Cape Kiwanda, on one dune, are these elegant, intricate lines. While not an Earth-shaking discovery, it is new and rare around here. And no one knew it was happening on Cape Kiwanda.
They even gave it its own name: linear earthflows. And no, it has nothing to do with the sinkhole (Cape Kiwanda Sinkhole: Why, How and Its Future).
What's weird here, Burns said, is a few things. One, it's a sign of rain sculpting these unique shapes down the slope instead of just falling through into the dune. All those lines going down (and they are complex as well) are so thin and close together – which is very unusual. There are also signs this keeps happening over and over.
So what this tells Oregon coast experts is that rain isn't interacting with the dune in normal ways. You can see water flowing down one of these grooves in the video.
"We agree that they are all linear earthflows in the sand caused by the high rainfalls on the sand in recent weeks," Burns told Oregon Coast Beach Connection. "There is probably some silt that has blown into the sand dunes locally therefore giving a little 'binder' to the sand to allow the flows to form."
Silt is a granular substance with grains somewhere in size between clay and sand. It's a common thing in soils. How it got up here isn't a huge surprise, Burns said, as he's studied the sand content at Kiwanda himself. But what it's doing is a new one here.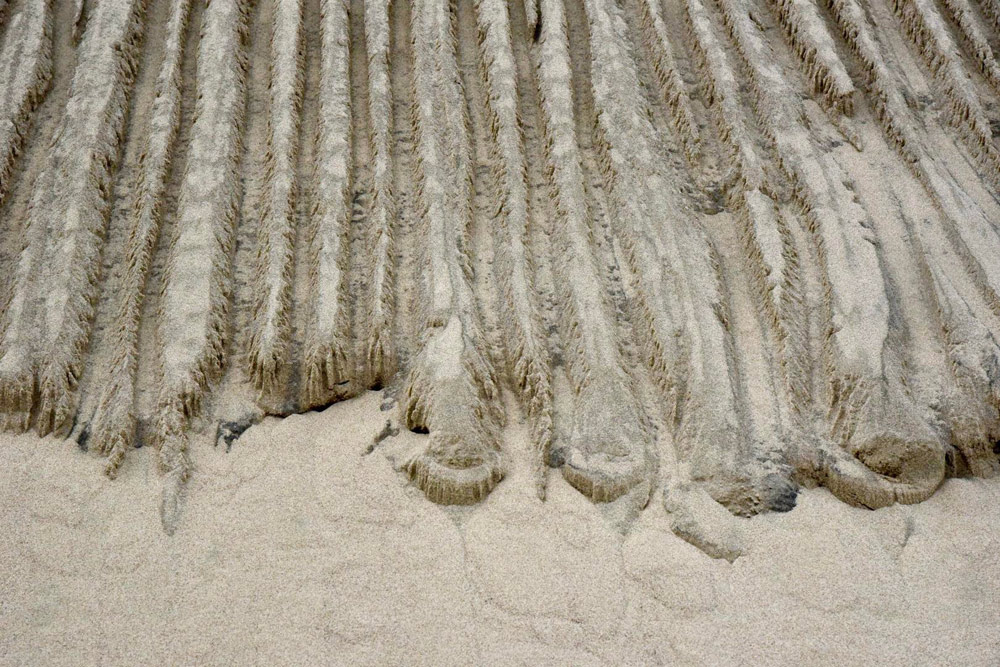 There have been some "dust events" recently out here, Burns said, so that probably kicked up silt into the famed north Oregon coast dune. [Complete Guide: Cape Kiwanda State Natural Area]
"So when it rains, normally what happens is the water just goes right straight into the sand, and it doesn't move the sand," he said. "What's happening here is each of those lineations are moving sand down the slope."
Burns keeps reiterating that he was "blown away" by this find.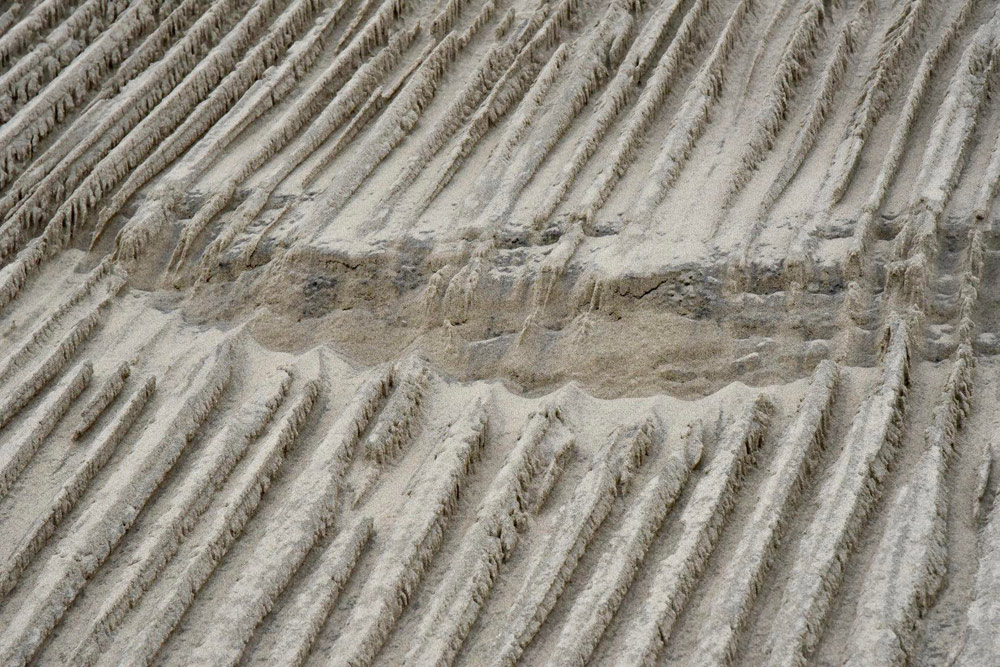 One of the biggest distinctions about these sandforms is that they are small versions of what you normally find. Usually if you see something like this, it's a big ridge or bump in the sand with rounded lobes at the end.
"The thing is that they're so skinny," Burns said. "I've never seen them that skinny. Normally, these things are ten, fifteen feet wide and the whole thing is a big lobe that is coming down. These are very close together. Wow. And so I've never seen anything like that, and I've seen a lot of slopes and what we call slope geomorphy landforms. These are water-generated flows and they have a nice little rounded end at the bottom."
This, in turn, reveals something else about these linear earthflows atop Kiwanda. The lines will dry up and blow away with a bit of dry weather, and so it's entirely possible they're already gone. However, they could be back. Burns said to look carefully just below the lobes: you'll see the outline of others in the past.
"Below the ends of all of the lobes, there you can see where older ones have been before," he said. "But they've eroded away: it's just kind of the imprint of them. They're flat, and you can see they have been forming in the past."
Like that one Sci-Fi show said: All this has happened before and will happen again. Except that this is all science and no fiction: if they've formed right in that spot in the past, you'll eventually see others again.
The bottom line: these are rare in the world, and it turns out they've been happening here periodically. If Cape Kiwanda had a cap, this would be a feather in it.
They won't last long, however. French said she wouldn't walk up that dune just to preserve the cool designs, but of course others won't even consider that idea. [See them a week later One Week Later, Rare Sand Shapes Atop Oregon Coast Cape Are Fading But Evident]
Hotels in Pacific City - Where to eat - Pacific City Maps and Virtual Tours

More About Oregon Coast hotels, lodging.....
More About Oregon Coast Restaurants, Dining.....


Andre' GW Hagestedt is editor, owner and primary photographer / videographer of Oregon Coast Beach Connection, an online publication that sees over 1 million pageviews per month. He is also author of several books about the coast.
LATEST Related Oregon Coast Articles
Back to Oregon Coast
Contact Advertise on Oregon Coast Beach Connection
All Content, unless otherwise attributed, copyright Oregon Coast Beach Connection. Unauthorized use or publication is not permitted