Quirky Oregon Coast History Embedded in Seaside: Mystery Wall, Fishing Pier
Published 01/26/23 at 5:20 AM
By Oregon Coast Beach Connection staff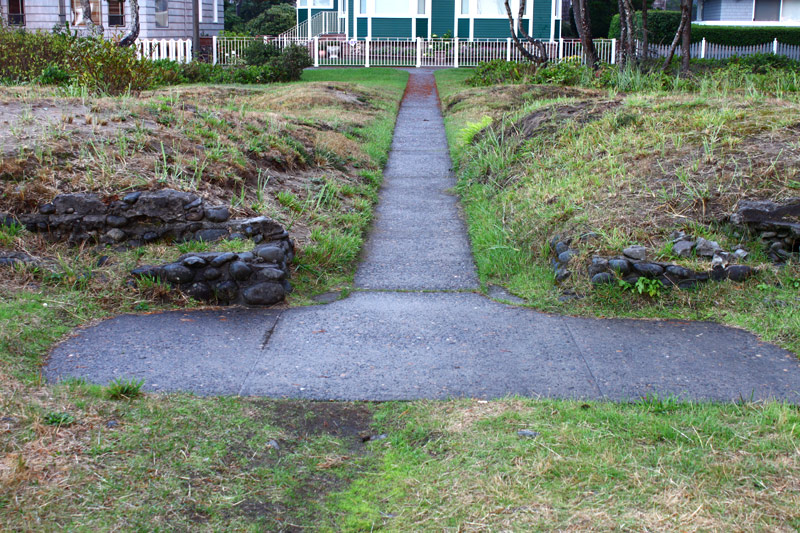 (Seaside, Oregon) – There's much more to history on the Oregon coast than people realize. A lot of times that means landmarks you can no longer see anymore, much of it surprisingly oddball. In other moments, there are small remnants of history just lying around on or near the beaches, sometimes way up in the hills. They're hard to spot in many instances, but once you do you start wondering: just what in the hell was that? (Modern day photos all from Oregon Coast Beach Connection)
Seaside, up near the end of the Oregon coast, is one of those towns with its historical secrets, often in both the aforementioned categories. Here's on example of both.
As you walk along the Promenade, closer to the southern edge of it, you'll encounter Lewis and Clark Way and the Saltworks memorial site. This is resplendent history all its own: it's where some of the Corps of Discovery camped for a couple of months boiling salt the return trip in 1806. As far as historians can tell, this is the actual spot, as told to city founders near the end of the 19th century by local tribal woman who had pretty good knowledge of that spot from her relatives.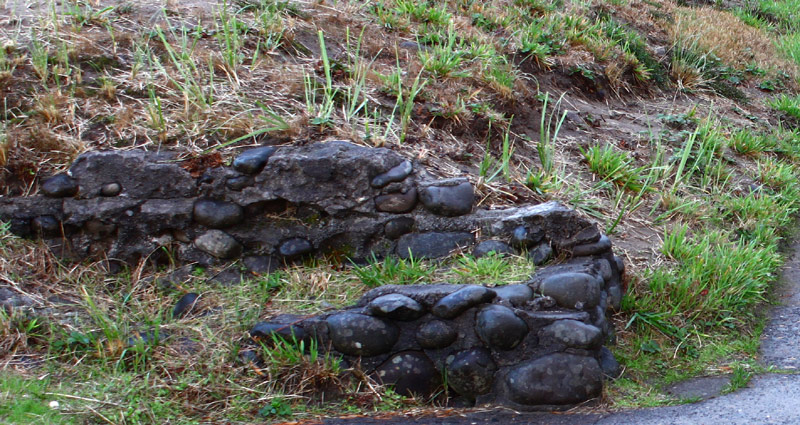 But that's not where this is going. Close to that intersection of the Prom and the memorial, in the grassy land closer to the ocean, there's a bit of a head-scratcher.
The Prom itself has opened up to a pleasant stroll past grassy, shrubbery-filled areas and little groves between the concrete and the dunes, and there are various pathways darting off towards the beach. Some are paved. Some are not.
One of those, right near the Lewis and Clark historical marker, simply dead-ends in an odd way. There's a narrow paved path, a small concrete patch at the end of it, and that's it. Plus, even more eye-catching – if you bother to notice – there are hints of a stone wall here. Something was here. But what was it?
Was it the site of a home? It looks as if this might've been the path to a house beneath these old, twisted trees, and this rectangle of concrete could've been the entrance.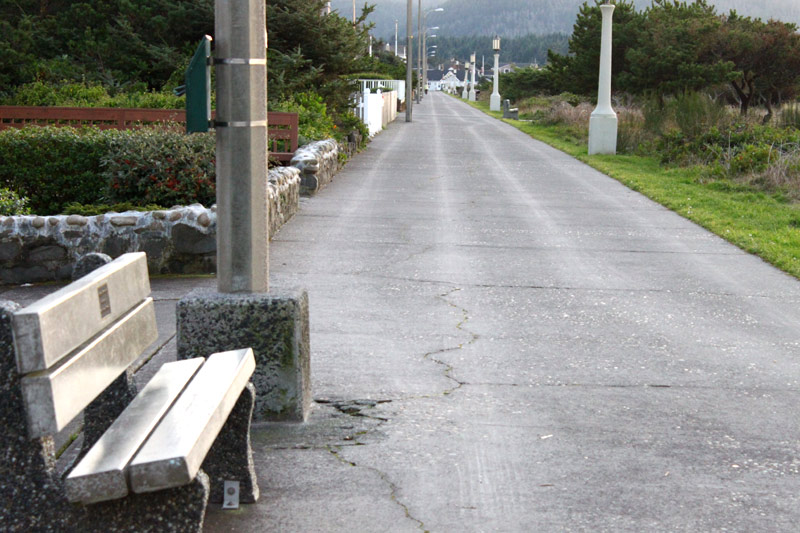 This part of the Prom yields funky historical secrets
When Oregon Coast Beach Connection brought this up years ago, historians were puzzled but delighted. Yet it was the City of Seaside's Dale McDowell that had the answer: it was a bit of land usage overreach on the part of a homeowner decades ago.
"They constructed the sidewalk and retaining wall as a patio area to sit in the sun," McDowell said. "The original property was surrounded by shore pines, giving the house considerable shade. At the time the patio was built, permits were not issued. Currently, this would not be allowed by ordinance."
Basically, someone built something here they weren't supposed to. This was and still is public land, but it was directly in front of someone's home here. The city had no information on specifically when this was built and then taken down, but they did know that home is no longer there. They also knew the home was built in 1928, but what happened to it and when is still a mystery.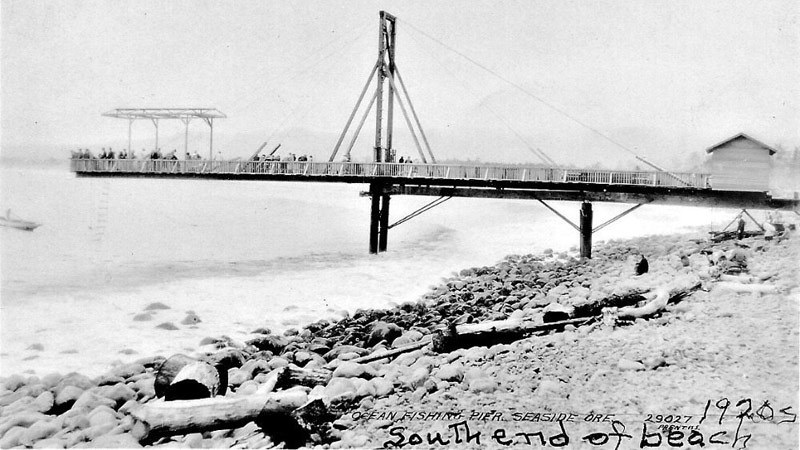 Courtesy Seaside Historical Musuem: note the people at one end of the cantilever pier. Burke said the photo was mislabeled as "1920s," but is in fact around 1930.
Another surprising bit of north Oregon coast history exists around this area as well, although there are no remnants of it.
Over a decade ago, local historian Nate Burke discovered an unusual fact about the old Prom here that wasn't known. Between the Saltworks and the actual Cove area, there was a fishing pier built. Even stranger, it was built after another, even bigger pier was built near the Turnaround in the 1910s, and then was taken out year after year by raging Oregon coast storms. See Seaside Prom History
You'd think locals would've learned their lesson on that. But they didn't. That large pier only lasted a few years, but in the '20s they built another pier farther south, used for fishing. Made of nothing but large wooden beams, it too only lasted a few years.
Still, they didn't learn their lesson.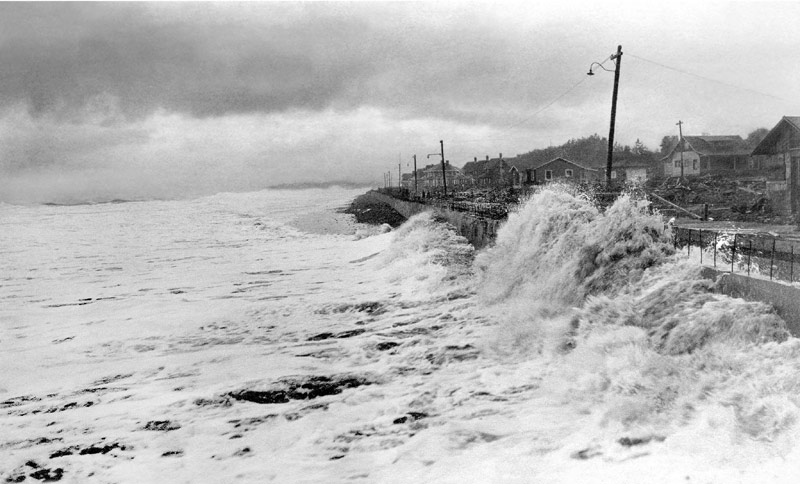 Photo courtesy Seaside Historical Museum. Note how narrow Seaside's beach was then, a good 800 feet shorter than now
"[It] got pounded into sand during the winter," Burke told Oregon Coast Beach Connection. "A short time later, this second attempt was made using this cantilever pier approach – where the majority of the load bearing was on the cables that were affixed to a point on land (thereby avoiding the need for pilings set further out in the larger surf)."
Burke did a bit of research and discovered just how short-lived this wacky contraption was.
"What I found was this cantilever pier didn't even last a full year," Burke said. "It looked like this cantilever pier was constructed in spring of 1930 - and was promptly destroyed by surf in late Winter 1931."
Hotels in Seaside - Where to eat - Seaside Maps and Virtual Tours

More About Oregon Coast hotels, lodging.....
More About Oregon Coast Restaurants, Dining.....


Andre' GW Hagestedt is editor, owner and primary photographer / videographer of Oregon Coast Beach Connection, an online publication that sees over 1 million pageviews per month. He is also author of several books about the coast.
LATEST Related Oregon Coast Articles
Back to Oregon Coast
Contact Advertise on Oregon Coast Beach Connection
All Content, unless otherwise attributed, copyright Oregon Coast Beach Connection. Unauthorized use or publication is not permitted