7 Striking Things That Distinguish the Oregon Coast from Other U.S. Coasts
Published 05/08/23 at 6:24 AM
By Oregon Coast Beach Connection staff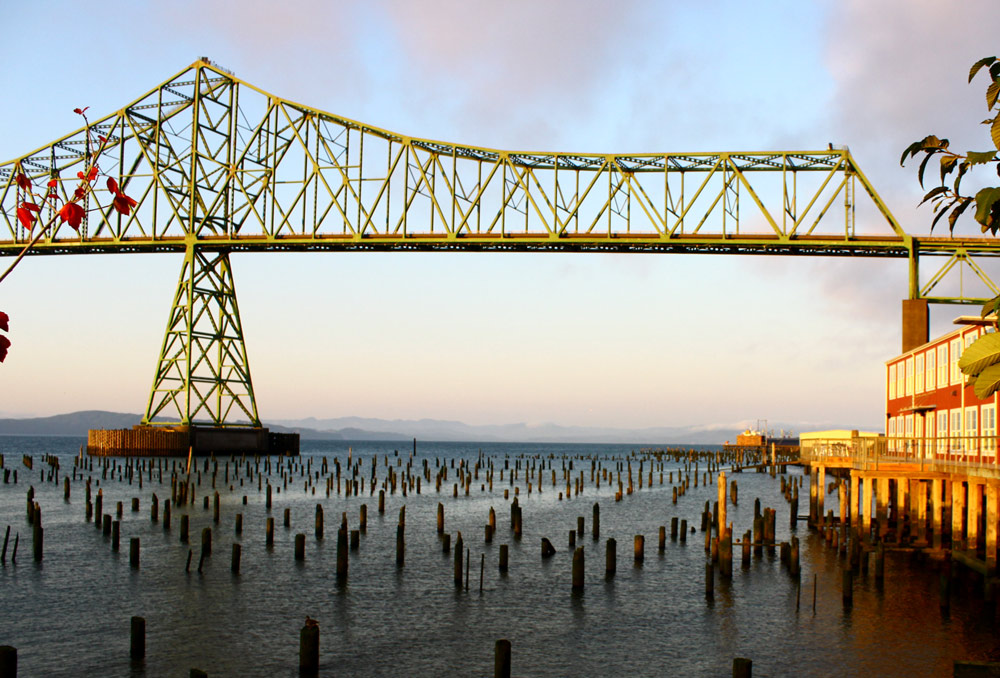 (Oregon Coast) – One thing is for certain, in spite of the often-dreary weather and sometimes cantankerous seas, Oregonians are proud of their coastline. Everyone is in love with its beauty. It's also considered distinct in many ways and a leader in numerous areas of research and environmental concerns. (Photos Oregon Coast Beach Connection)
But it's also starkly different than the rest of the U.S. coastline for some key reasons, which are highlighed by the fact beaches are completely public. This area also stands out in other ways that will turn a few heads, such as a few record-breakers, a gnarly danger that occurs mostly here, and one very goofy incident that is absolutely infamous.
Here's seven reasons this coastline has something truly different going on..
Astoria-Megler Bridge's Record
Astoria's massive and yet elegant, signature sight is a whopping 4.1 miles long, which doesn't make it the longest in the U.S. by a long shot. It is, however, the longest continuous truss bridge in the U.S. Its truss is 1,232 feet long, which surpasses all other continuous trusses in the country. Oregon Coast Virtual Tour: Astoria-Megler Bridge
A truss is defined a single section of a bridge that contains no joints or hinges across three or more supports. It's a nerdy distinction but a feather in the cap.
Sea Lion Caves Record Breaker
Some try to dispute this, but Sea Lion Caves near Florence is indeed the largest sea cave in the world. Guinness Book of World Records confirmed that in the '90s, noting the cave clocked in at 310 feet long, 164 feet wide and about 50 feet high.
Cape Meares Shortest Lighthouse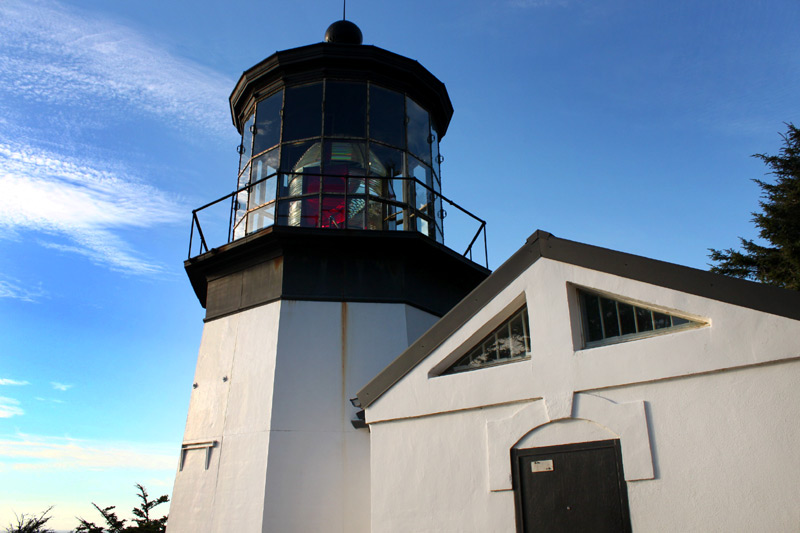 On the entire west coast, Cape Meares Ligthhouse is the shortest one. Sitting about nine miles from Tillamook, clocking in at a stumpy 38 feet high, its closest in height is Bandon's Coquille River light at 40 feet high. Ironically, Cape Meares winds up the absolute tallest in Oregon as it sits on a cliff that's 217 feet high.
Cape Blanco The Second Westernmost Spot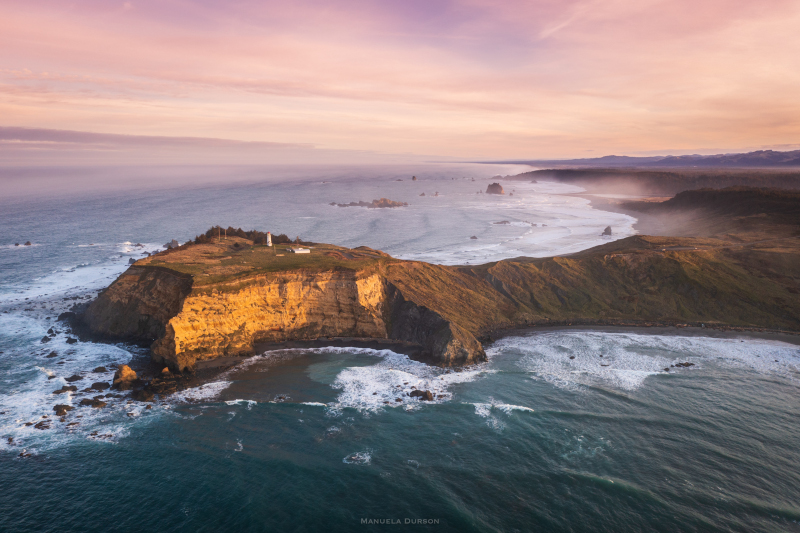 Courtesy Manuela Durson - see Manuela Durson Fine Arts for more
On the south coast, Cape Blanco brings quite a standout stat to this state. It is the second westernmost point in the lower 48 states – aside from a spot on the Washington coast. At 245 feet high, and on a big bump where Oregon itself juts outward, Blanco is special.
Sneaker Waves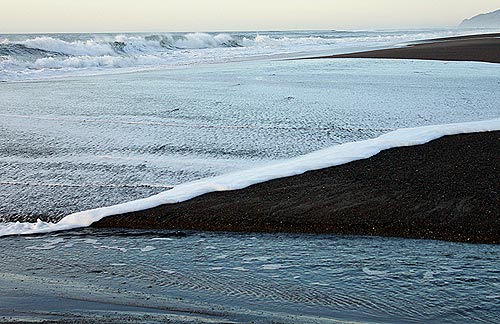 The deadly surprise lurking in Oregon coast waves under some storm conditions is a sore controversy here as locals and officials go out of their way to warn the beach-going public about them, yet almost every year you hear about someone getting hurt or killed. Often, they're out-of-staters, and Oregonians wonder why it still happens.
One reason, it seems, is that people from other coastal states don't have to deal with them, and they don't know or understand what these mean. Sneaker waves are rather unique to Oregon and Washington.
Tyler Kranz with the Portland office of the National Weather Service (NWS) said it comes down to the layout beneath the waves and other factors peculiar to this coastline. Most of California and B.C. don't have them. More: Why Sneaker Waves Are Distinct to Oregon / Washington
All Beaches Free and Public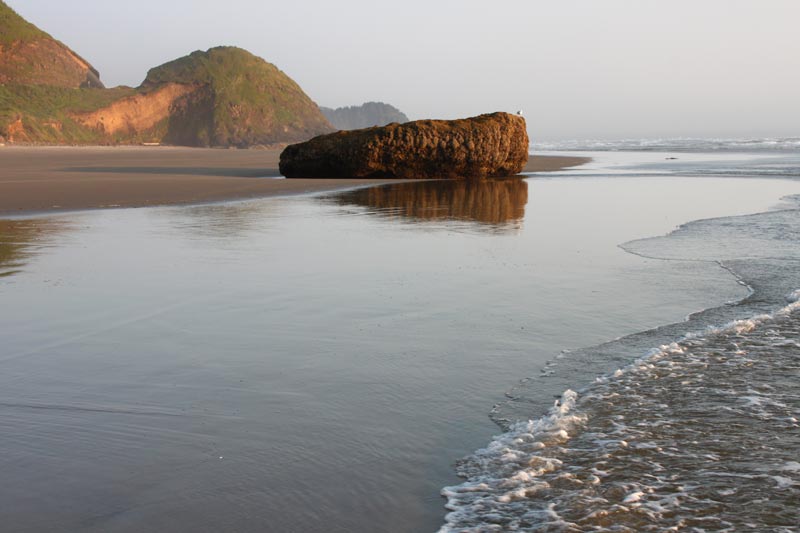 Unlike the majority of the U.S., Oregon's beaches are all free and open to the public. They are, in fact, owned by Oregon Parks and Recreation Department (OPRD). Everything from the vegetation line outward is open and cannot be cut off by a private entity.
This started with something you might not suspect: the entirety of Oregon coast beaches were originally the only highway in the region, a good 100 years ago. Thus, from the earliest days of Oregon's highway department, they were in charge of the beaches. It was understood these were public lands, even when the fully paved Highway 101 was finally built in the '30s. Though this was interpreted rather loosely, no one had bothered to cordon off any section of sand or access.
However, in 1966, this suddenly came to political blows when a Cannon Beach hotel owner decided the parcel of sand in front of his motel belonged only to his guests and had roped it off. So began a big fight to officially make beaches public domain.
It's a much longer story than this, and included some interesting PR stunts, maneuvering and protests. Then something called the Oregon Beach Bill was born. It nearly faltered more than once, but then-Governor Tom McCall knew his way around a good legislative brawl, and the bill was passed in 1967, making Oregon's coast very unique in the U.S. (although the Washington coast shares that same distinction). See When Oregon Coast Beaches Were the Only Roads: An Historical Twist
Exploding Whale
One of the ultimate comic follies ever shown on TV happened right here in Oregon. In November of 1970, way before live news feeds and numerous electronic conveniences, a pair KATU channel 2 newsmen captured what happens when you blow up a beached whale with dynamite. The thought was this would distribute the guts 'n stuff towards the ocean for all the little critters to gobble up at their leisure.
Instead, the unlucky cetacean corpse was blasted sky high, raining down red goo and chunks everywhere, and the footage by the news cameraman shows a terrified and sickened crowd running in all directions. The Exploding Whale was for a time the most watched clip on the internet, and still remains close to that.
The crazy thing that's never talked about is that it turns out this was not the very first time it happened on the Oregon coast. Warrenton had just such a pyrotechnic whale experiment in the '30s – and it apparently ended the same.
Oregon Coast Hotels in this area - South Coast Hotels - Where to eat - Maps - Virtual Tours

More About Oregon Coast hotels, lodging.....
More About Oregon Coast Restaurants, Dining.....


Andre' GW Hagestedt is editor, owner and primary photographer / videographer of Oregon Coast Beach Connection, an online publication that sees over 1 million pageviews per month. He is also author of several books about the coast.
LATEST Related Oregon Coast Articles
Back to Oregon Coast
Contact Advertise on Oregon Coast Beach Connection
All Content, unless otherwise attributed, copyright Oregon Coast Beach Connection. Unauthorized use or publication is not permitted