International Space Station Sightings Abundant Now: Oregon, Washington and Coastlines
Published 07/13/23 at 8:41 p.m.
By Oregon Coast Beach Connection staff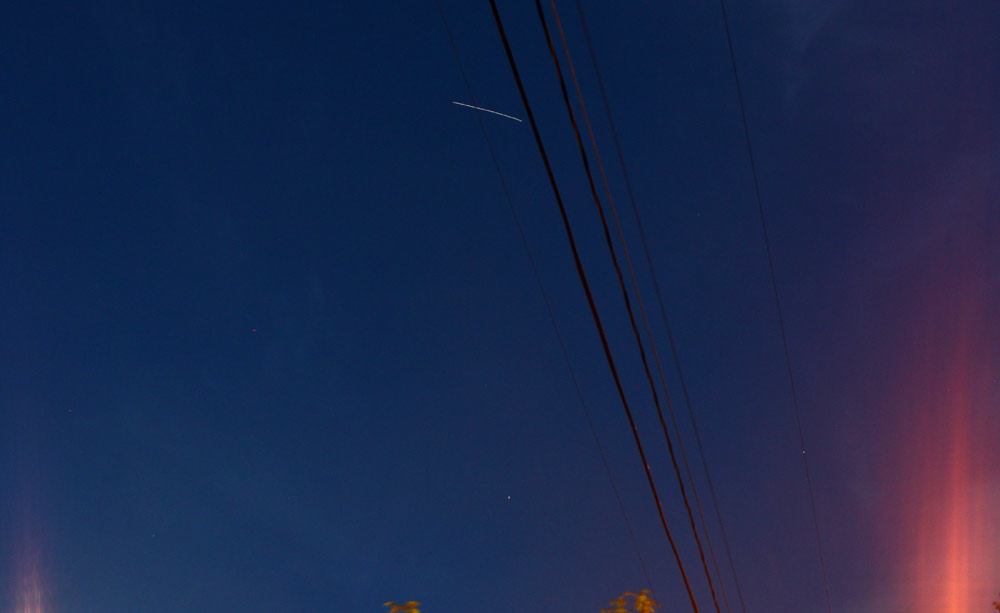 (Astoria, Oregon) – Look for loads of the International Space Station (ISS) along the Oregon coast and Washington coast over the next week and a half, with sometimes three or four viewings possible a night. It's been putting on quite the show in the Pacific Northwest recently, often clearly visible in urban areas such as Portland, Medford or Seattle. (Photo Oregon Coast Beach Connection: ISS makes a streak in the sky in 2013)
You'll be able to see it with the naked eye, no problem.
Part of that is a seasonal thing: this is the time of year the ISS gets seen more because of the summer solstice and the way that positions the sun in relation to the ISS orbit and our viewpoint of it on Terra Firma. There are times it's very bright as well, maybe even winding up the third brightest object in the sky.
Indeed, what Oregon Coast Beach Connection saw this a.m. (2:43 a.m. on July 12 at Portland's Gabriel Park) was as strong as any of the brighter stars in the skies. This was even with partial and thin cloud cover.
Looking at spotthestation.nasa.gov/, and then clicking on various parts of the northwest, you see copious opportunities for the space station to be seen all over. There's quite a geographic stretch as well - especially counting the mileage from Brookings up into Rialto Beach on the Olympic Peninsula of the Washington coast. Yet times of the ISS's appearance are almost identical, varying at the most by a minute or so.
Once you start mapping sightings east of the west coast, you get much larger differences in fly-over times.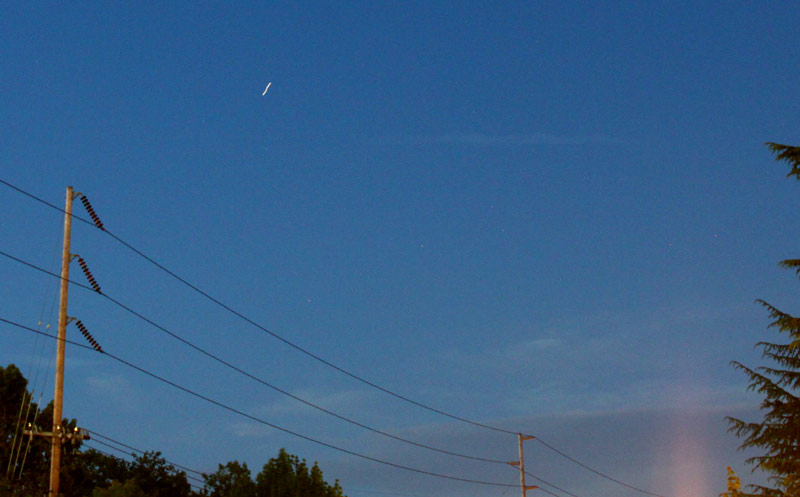 To use the interface and find your own area, you'll notice the Washington coast only has a couple of spots: South Bend and Long Beach. But if you're up around Forks or so, don't worry because the range for sightings is absolutely enormous. As NASA said, if you don't see your area listed, just pick the nearest one on the map.
NASA's ISS site shows listings through July 25 at the moment, and they are abundant.
One thing that's a constant with the ISS is that it's almost always in a kind of west-to-east orbit. Sometimes it begins in the west-by-northwest, others in the west.
The times listed for Portland are about the same as they are for other areas, including Coos Bay / south Oregon coast. For example, on July 14, the ISS pops up at 10:41 p.m., then is around for seven minutes or so. A couple hours later, for Coos Bay at least through South Bend, Washington, it appears at 12:18 a.m. (a minute later down south). However, one tiny difference between the north Washington coast and Oregon's south coast: the latter it comes from the northwest, while up north it begins due west. (See south Washington coast sightings - see Portland / north coast sightings)
All of those listings seem to be 10 degrees above the horizon, as it was last night in Portland. Other, later sightings will be different.
One caveat: you'll certainly be looking northward from Oregon, and you'll want as little blocking you from that view as possible. Oregon Coast Beach Connection has been seeing it in about the same place for the last month or so, heading west to east, (by happenstance, actually) and at ten degrees up it's been close to the treeline.
Also see Aurora Bummer-Alis / Debunked: No Northern Lights for Oregon, Washington, Coastlines, or U.S.
What does the ISS look like?
At first, it looks like a plane or jet in the distance, but it does not flash like aircraft do. Also, it moves faster than any jet (it's going 17,500 miles an hour).
Washington Coast Weather - Oregon Coast Weather
Why is the ISS visible more often for some periods and less often at other stretches of time?
Right now, we're in a really hot period for sightings because between the Earth's orbit and their orbit, conditions are lining up just right. Some of that has to do with the summer solstice period. The ISS is visible when it's dark for us on Earth but the ISS is getting hit just right by the sun to be lit up.
According to Space.com:
"Nights are now the shortest and the time that a satellite in a low-Earth-orbit (like the ISS) can remain illuminated by the Sun can extend throughout the night, a situation that can never be attained during other times of the year."
Oregon Coast Hotels for this event - South Coast Hotels - Where to eat - Maps - Virtual Tours
Photos below Oregon Coast Beach Connection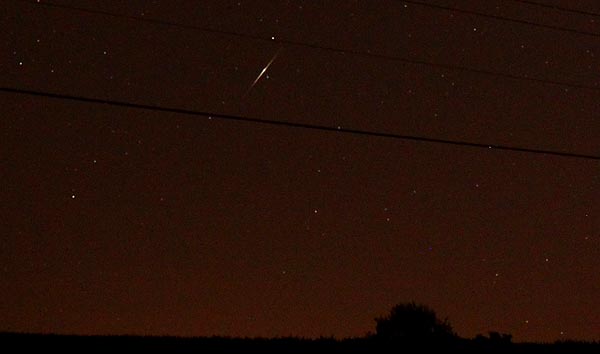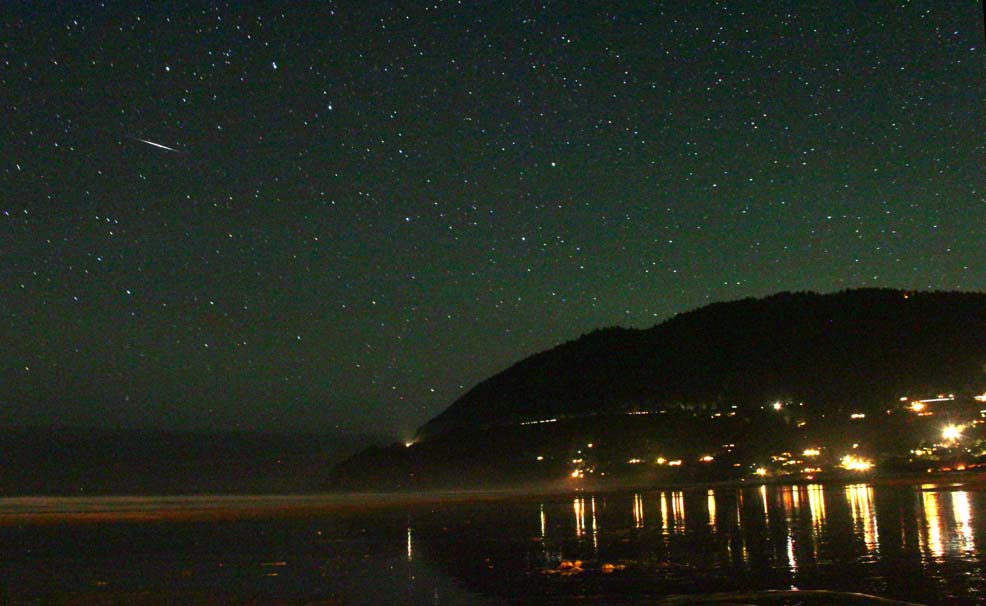 More About Oregon Coast hotels, lodging.....
More About Oregon Coast Restaurants, Dining.....


Andre' GW Hagestedt is editor, owner and primary photographer / videographer of Oregon Coast Beach Connection, an online publication that sees over 1 million pageviews per month. He is also author of several books about the coast.
LATEST Related Oregon Coast Articles
Back to Oregon Coast
Contact Advertise on Oregon Coast Beach Connection
All Content, unless otherwise attributed, copyright Oregon Coast Beach Connection. Unauthorized use or publication is not permitted