Fun and Adventures with Oregon Coast Octopuses, and One Adorable Friendship
Published 05/09/23 at 6:24 AM
By Oregon Coast Beach Connection staff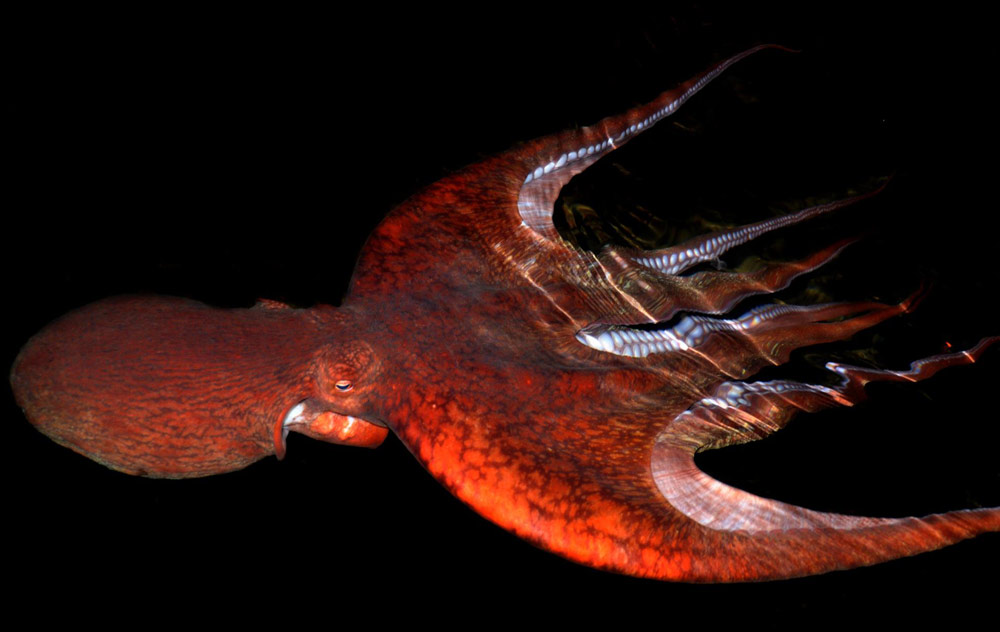 (Seaside, Oregon) - Ever wanted to hang out with an octopus? Maybe feed them, watch them give birth over a long time, and get close to a creature whose DNA is so different than ours some scientists call them almost alien? (All photos Seaside Aquarium. Above: a giant Pacific octopus)
Tiffany Boothe of Seaside Aquarium on the north Oregon coast gets to live that dream almost daily, in her role as a caretaker and educator at the famed facility for over 20 years. To say the least, she gets to do some interesting things. She's also a primo photographer and snags some pretty amazing images from all the tanks in the building, including some memorable portraits of whatever octopus they have at any given time.
Boothe also relays some fascinating tidbits about the graceful creatures, who are known to be almost spooky smart and quite crafty. Those big eyes looking back at you at times: they seem to know something, maybe more than we realize. In those connected moments between species, you're not sure whether to be gleeful or get the chills. Perhaps both are appropriate?
Things get can get unusual there – and sometimes ultra adorable.. Like the period in 2016 where they had a cat named Henry who had developed a bit of a friendship with Hank, an octopus.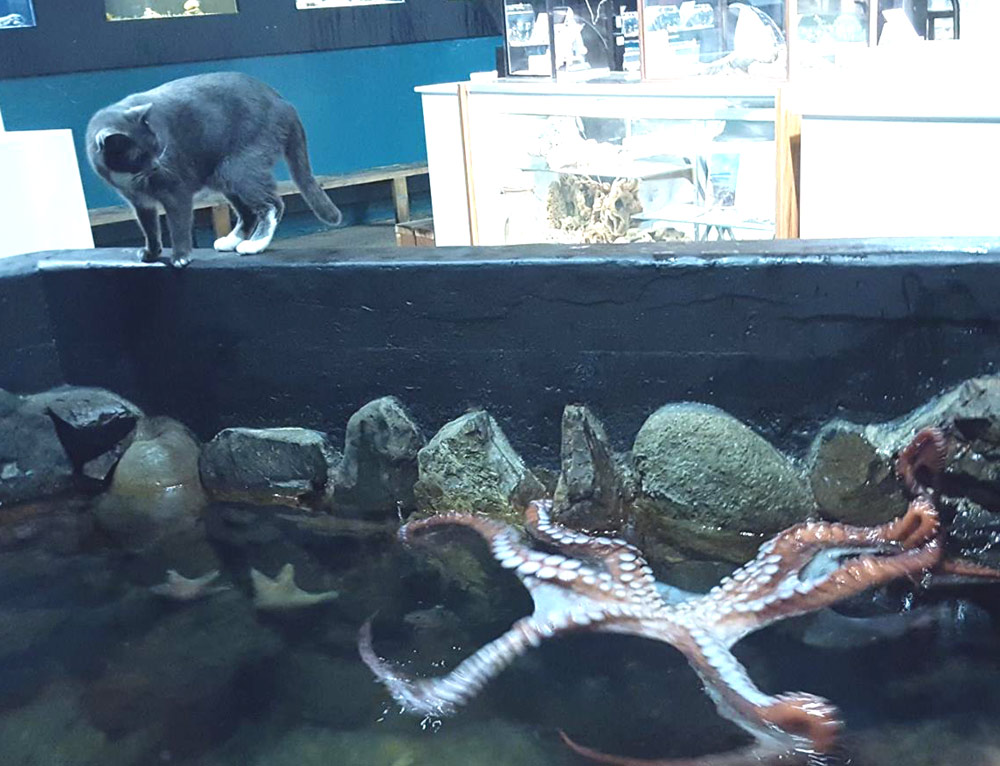 'These two are so funny, they have become the most unusual pair," Boothe said at the time. "Every morning before the Aquarium opens Henry goes inside and sits on the octopus's tank. The octopus is just as interested in Henry and Henry is with him."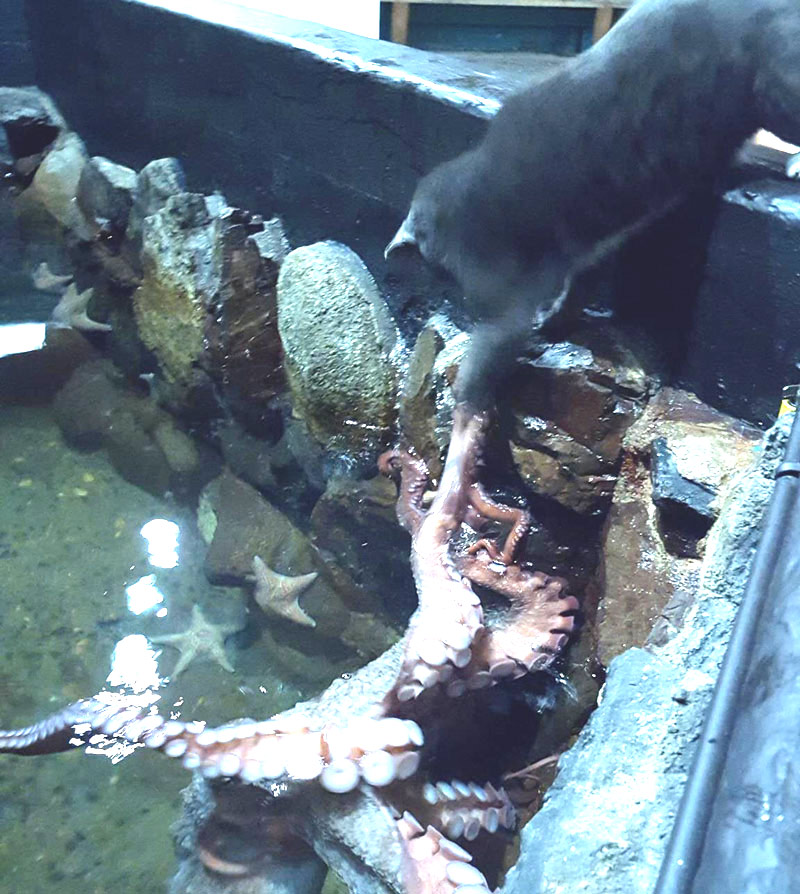 You can see from the photos the octopus wanders over to the kitty, and Henry responds with an extended paw of, well, presumably friendship.

Working with and around an octopus can result in some wacky experiences. Like when Boothe had to siphon the octopus tank in recent weeks, their eight-armed little Oregon coast resident named Earl reacted pretty quickly and engaged in behavior dog owners will definitely recognize. She mused that siphoning the tank is never just that.
"Octopuses are naturally curious, playful and intelligent," she said. "All of our octopus learn pretty fast that if they come up and greet us when we are above / in their tank, we will give them snacks. Earl loves practicing her hunting when we come to clean her humble abode by jetting across and climbing the siphon. She got some tentacle tickles and fish out of today's play date, and I got a photo shoot. It's a win-win."
Indeed, octopuses' intelligence is legendary. They're known for learning quickly that when a handler throws in a closed jar with some morsel in it, the octopus will open the jar.
"We often get asked why our octopuses don't get into mischief," Boothe said. "They're all just big suckers for fish."
They're also known for being quite ravenous. They can gain 2% of their body weight each day, so you could say they "pig out." The octopus they have now has some 240 suckers made of pure muscle, which form a line on each arm and two rows. Each of the suction cups has more taste receptors than any human's tongue, and that helps them come a formidable enemy out there in the wilds of the Oregon coast. This also makes aquarium staff aware of her capabilities here.
"She has very strong, long-reaching appendages, accompanied with an incredible sense of taste and smell," Boothe said. "The fact that Giant Pacific Octopus' slimy-muscular bodies lack any structure, containing only a bird-like beak at the apex of their arms, means they can squeeze through anything that their beak can fit in. So yeah, we keep Earl well fed and she respects her neighbor fish by staying in her own tank."
There are a few different octopus species roaming off the Oregon coast that come to the Seaside Aquarium, usually by means of a fisherman's bycatch. This includes the giant Pacific octopus and the rubescens octopus (giant red octopus) – which is what you'll usually find there.
How they give birth and how long an octopus can stay there are rather interlinked. A female octopus lives for about two years, then dies shortly after giving birth. That's why you'll see aquariums all over the Pacific Northwest talk about releasing their octopus near her mating time or not very long after, to assist them in living a decent life out in the wild.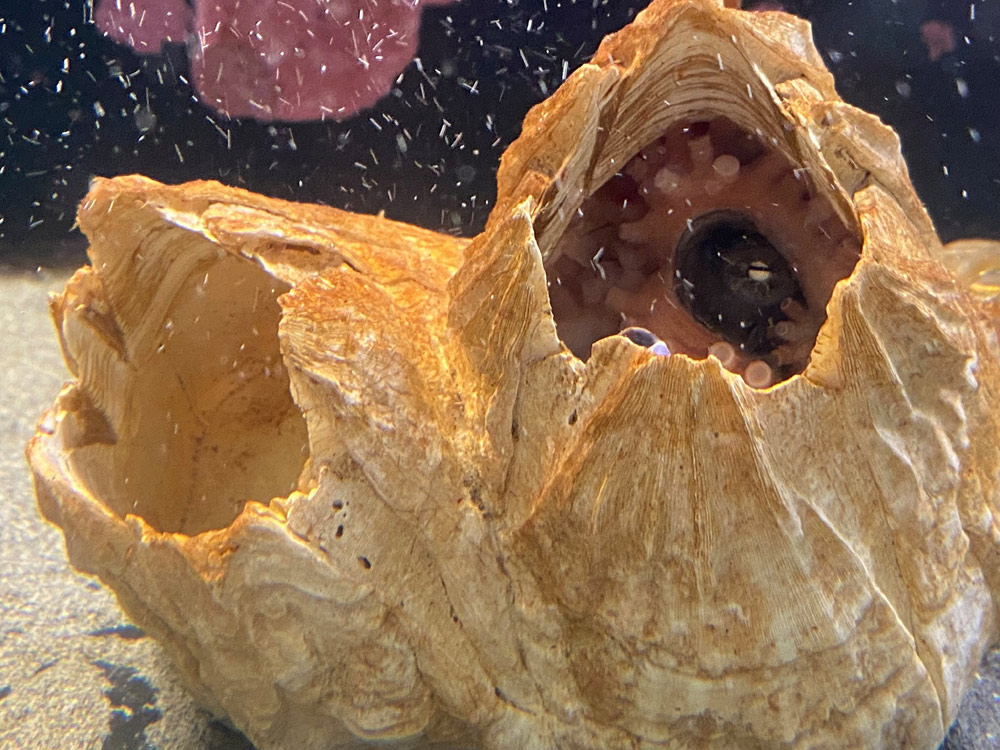 A few times or so, however, the aquarium has seen their little octopus surprise them with a host of eggs. In one instance, the little girl was hiding inside a barnacle after laying eggs. She was not only hiding herself, but her little brood as well. After four to six weeks they will be born, at which point they are let loose into Oregon coast waters.
All aquariums along these two coastlines have octopuses at one point or another: Oregon Coast Aquarium, Westport Aquarium in Washington, Hatfield Marine Science Center (which has an octo-cam), and the Charleston Marine Life Center on the south coast.
Hotels in Seaside - Where to eat - Seaside Maps and Virtual Tours

More About Oregon Coast hotels, lodging.....
More About Oregon Coast Restaurants, Dining.....


Andre' GW Hagestedt is editor, owner and primary photographer / videographer of Oregon Coast Beach Connection, an online publication that sees over 1 million pageviews per month. He is also author of several books about the coast.
LATEST Related Oregon Coast Articles
Back to Oregon Coast
Contact Advertise on Oregon Coast Beach Connection
All Content, unless otherwise attributed, copyright Oregon Coast Beach Connection. Unauthorized use or publication is not permitted