March is Anniversary for Two Major Tsunamis on Oregon Coast, One Deadly
Published 03/15/23 at 4:33 AM
By Oregon Coast Beach Connection staff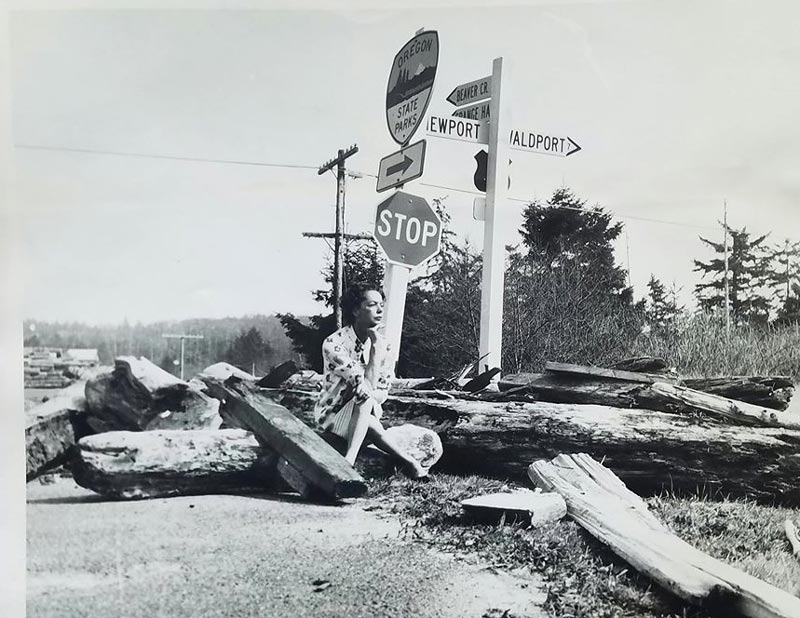 (Oregon Coast) – March has a special place in history along the Oregon coast: it's the month where two serious tsunamis hit this shoreline, one deadly and one just plain expensive. 2011 and 1964 were vintage years for destruction. (Above: destruction at Ona Beach in '64)
We just passed the anniversary of the latest tsunami attack: March 11 of 2011 is when a tsunami crossed the ocean from Japan and barreled into this state's beaches, wrecking millions of dollars worth of structures and boats. It also sent thousands of people away from the coastline for a few hours.
On March 27 of 1964, a tsunami generated by a massive quake in Alaska hit the Oregon coast, smashing boats, docks, bridges, flooding some areas, tossing homes and cars around, and even killing a family of five.
In the decades between the two Oregon coast disasters, residents and officials had achieved a heightened awareness of the deadly possibilities, along with a couple of practice runs, causing the 2011 evacuation to be a fairly well-run operation.
That date in 1964 was a Good Friday, and news began trickling in during the afternoon of a large quake up north. Soon after, officials on the air began talking about a tsunami hitting Oregon, but at the time many did not take that seriously. It was well outside the realm of their experience.
Consequently, almost no one evacuated. After all, the evening was pleasant, a clear sky with the moon shining on the water. How bad could a wave be after it traveled all the way from Alaska?
The first big tsunami wave came crashing in about 11:30 p.m. In Cannon Beach, some watched houses getting torn from their foundations – the north Oregon coast town got much of the worst of it. Power poles came down, some creating big, colorful dancing orbs of electricity interacting with the water.
Some witnesses saw a giant wave careening inward off in the darkness: "flat, curling to shore and rising in height about a foot a second, about ten feet in all," said resident Bridget Snow at the time. Others saw a whole house move and go swirling around a telephone pole, while others watched the only bridge into Cannon Beach get shoved into a nearby field.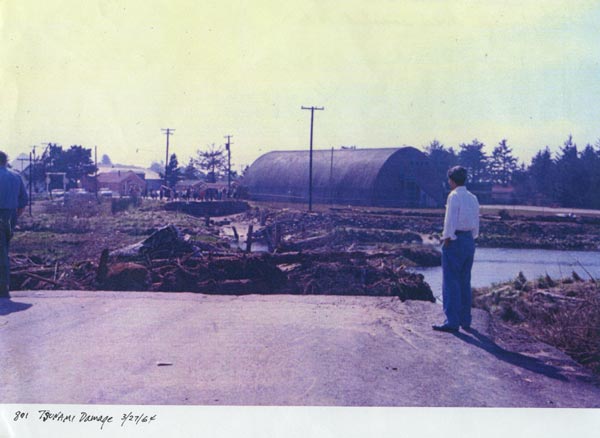 Photo Cannon Beach History Museum: aftermath in Cannon Beach
Seaside also received some of the worst, with dramatic pictures of cars lying in strange places and at impossible angles. Some bridges were also knocked out.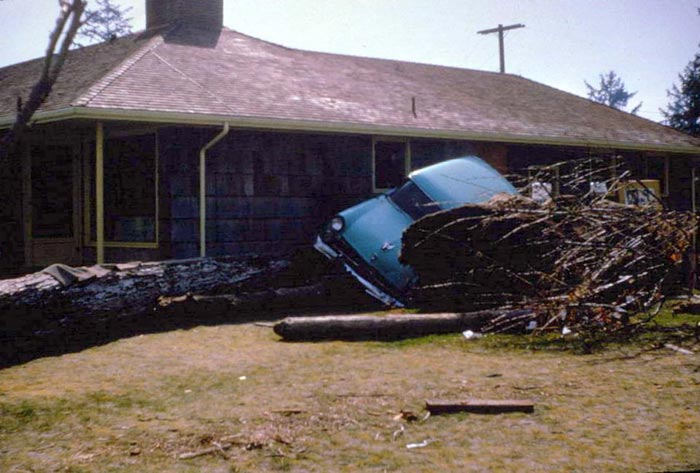 Courtesy Seaside History Museum
On the central Oregon coast, Newport saw the horrible tragedy of four children getting killed by what they then called a "big tidal wave." The McKenzie family from Washington were camping on the beach, when the first wave hit them in their driftwood fort, and all barely getting out alive. Before they could make onto the high ground parking lot, a second, larger wave came in and sucked the four kids out to sea. Not all bodies were recovered, either.
The southern Oregon coast wasn't hit as badly. MORE - Looking Back: March '64 Tsunami That Wrecked Oregon Coast, Photos
[Also see 1964 Tsunami Part 1: Its Impact on S. Oregon Coast
-- 1964 Tsunami Part 2: Tragedy, Destruction Hits Central Oregon Coast
-- 1964 Tsunami Part 3: Tearing Up Bridges, Homes on the N. Oregon Coast ]
Decades later, after a forceful earthquake and tsunami flattened parts of the Japanese coast, March 11 of 2011 proved a nail-biter for Oregon's shores. One of the more remarkable moments was on KGW news in Portland, as they interviewed a geologist who had noticed - live and on the air – that the tsunami watch had just become a warning. Talking about the possibilities of a wall of water perhaps eight feet high hitting the north coast, you could see the newscasters turn sheet white and go into a stunned silence.
The new bulletin came about 1 a.m., sending thousands out of their homes along the coast, instantly creating traffic jams to get to higher ground. Officials expected it to hit about 7 a.m.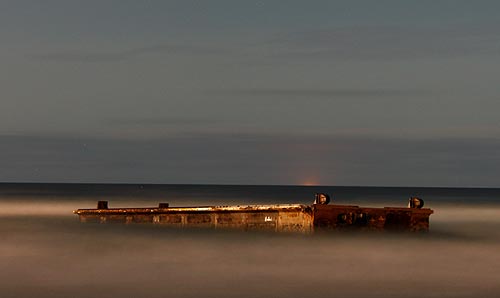 A sad aftermath of the 2011 tsunami: a dock from Japan washes up in Newport (Oregon Coast Beach Connection)
Oregon Coast Beach Connection talked to a dozen people over the course of several hours, some talking while driving out of the area. It was a mess, but it was all going much better than the previous two tsunami scares earlier in the decade.
Some bays and harbors like Brookings, Coos Bay or Depoe Bay got hit rather hard by the large surges, but other than that nothing major materialized. One life was lost in California as an inland dweller dared the incoming surges and lost his life. Several were injured on Oregon beaches thinking they could get a closeup look.
One thing that didn't go right was the differing times for sirens. Seaside and Cannon Beach didn't go off until 5 a.m., about the time the evac warnings were rescinded. Florence didn't sound off until 3 a.m., while Lincoln City warned everyone around 1 a.m. with a bullhorn.
All in all, though there was room for improvement, all those tsunami drills and a few real tsunami warnings over the years that ended up being nothing helped keep the whole thing rather efficient. See Looking Back: 10-Yr Anniversary of Tsunami Scare on Oregon Coast

More About Oregon Coast hotels, lodging.....
More About Oregon Coast Restaurants, Dining.....


Andre' GW Hagestedt is editor, owner and primary photographer / videographer of Oregon Coast Beach Connection, an online publication that sees over 1 million pageviews per month. He is also author of several books about the coast.
LATEST Related Oregon Coast Articles
Back to Oregon Coast
Contact Advertise on Oregon Coast Beach Connection
All Content, unless otherwise attributed, copyright Oregon Coast Beach Connection. Unauthorized use or publication is not permitted