Cool to Kooky Celebrity Tales from Oregon Coast
Published 04/18/23 at 6:22 AM
By Oregon Coast Beach Connection staff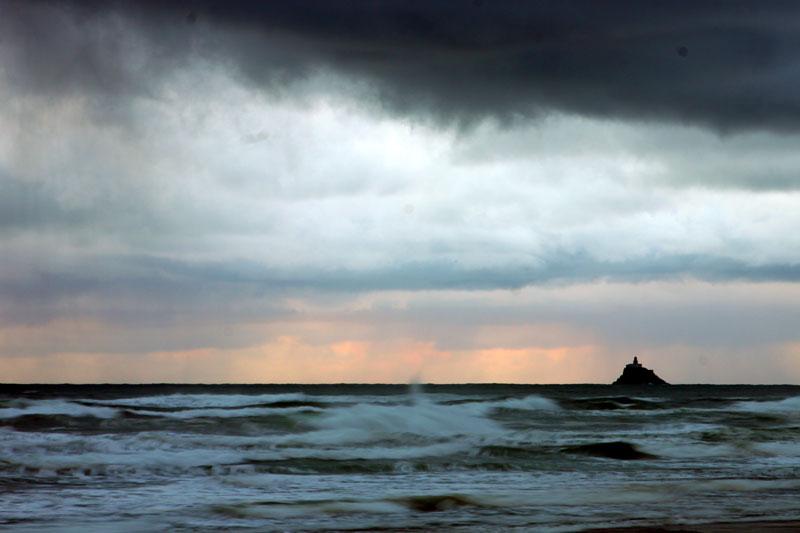 (Oregon Coast) – In many ways, by far and away the biggest celebrity from the Oregon coast is the Exploding Whale. But since he or she is long, long deceased, you could not have had a conversation with it, and you could never have obtained its autograph, ye olde Whale That Went Boom isn't going to be a part of this discussion. (Above: Cannon Beach, photo Oregon Coast Beach Connection. The town was once the part time home for a famous author and two rock star sisters)
There are some minor to even major stars in the world of entertainment that have had connections to the Oregon coast. Here's a few:
David Ogden Stiers Lived in Newport
He was one of the big stars on the legendary, ground-breaking show M*A*S*H back in the '70s, he made appearances on Matlock and the '90s version of The Outer Limits, and he was a much-loved recurring bad guy character on Stargate: Atlantis in the early '00s. Some of his roles have been as orchestra conductors – one which he knows well. He made occasional guest appearances conducting orchestras from the Newport Symphony Orchestra to the Oregon Symphony.
Of course he was also a central Oregon coast resident for about three decades, leaving substantial donations to the area when he passed away in 2018. Stiers wasn't seen very often in Newport, but when he was locals would whisper delightedly among themselves of a "sighting."
Stiers walked the walk and talked the talk, leaving behind a good deal of money to the Oregon Coast Council for the Arts and the Children's Advocacy Center of Lincoln County, along with his wine collection and other treasured things to the symphony. To the local library he left his vast recording and book collection.
King Crimson's Trey Gunn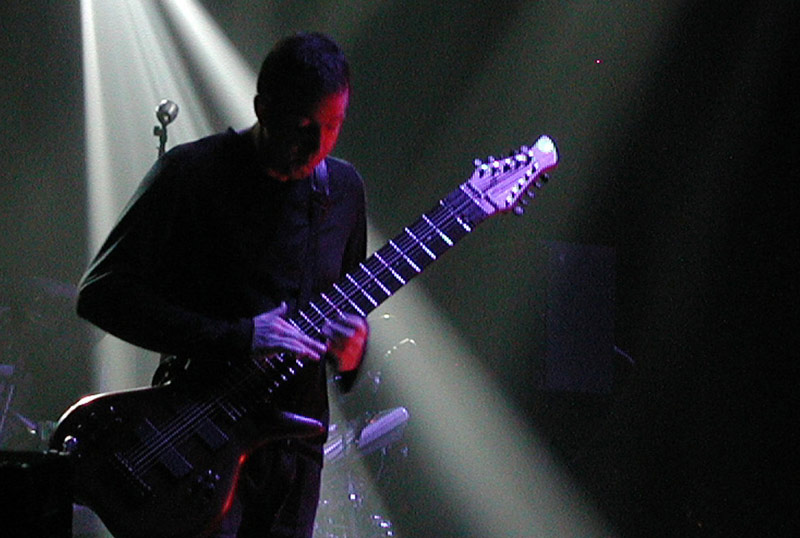 Courtesy Trey Gunn's official website
Bassist/touch guitar player Trey Gunn has played with King Crimson leader Robert Fripp (arguably the most influential guitarist of all time) on and off since the '80s, even a major part of King Crimson for about a decade. All this started not long after he was a student at University of Oregon.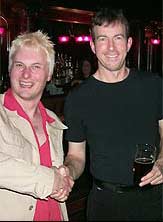 Gunn is partially responsible for some of the most surreal and intriguing music of the last 30 years, between his work with Crimson, collaborations with David Sylvian, his own solo career, and now his own avant garde label 7d. Appropriately enough, his connection to the coast is pretty freaky.(Photo of Gunn at right in 2000, with Oregon Coast Beach Connection's Hagestedt at left)

In an interview in the '90s, talking to future Oregon Coast Beach Connection owner Andre' Hagestedt, Gunn recalled heading from UofO to Florence around '85 to catch sight of a tsunami. He saw one of the rarest events ever on this coast. Gunn described it as a single wave that went all across the horizon, slowly coming in. He said that when it finally hit the beach, it was only about a three-foot wave.
"It was the weirdest thing I've ever seen," he told Hagestedt.
Pat Boone and His Hotel In Waldport
That's right, believe it or not, singer Pat Boone (a friend of Larry Norman's and a former neighbor of Ozzy Osburne) had some ownership in the Waldport hotel called the Pat Boone Inn. Beyond that, he was also involved in the genesis of a town on the Washington coast. See the full story Waldport's Pat Boone Inn: Oregon Coast Finance Tale That Reached Ocean Shores, Washington
Ursula K. Le Guin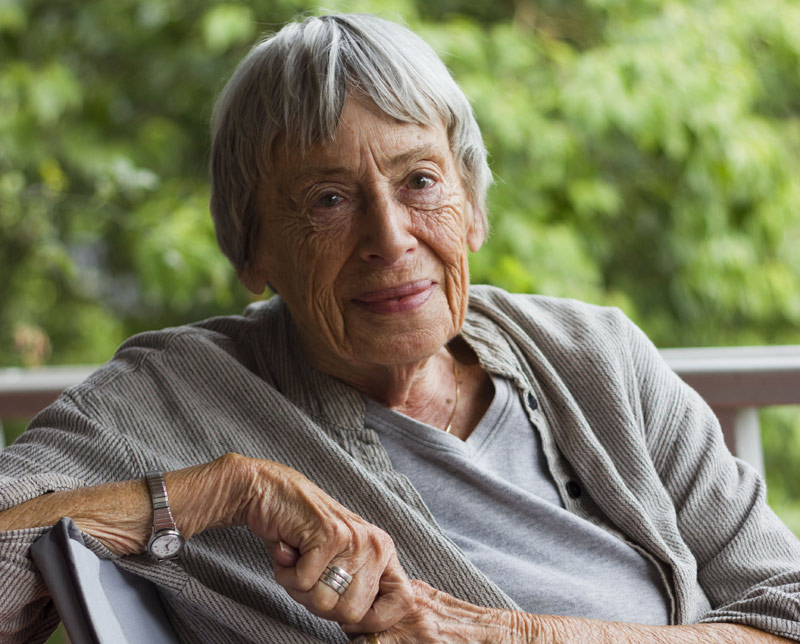 Photo Euan Monaghan / Structo
She's the famous science fiction author who penned "The Lathe of Heaven," which was made into a surreal movie in the '80s. That story was even set in Portland. Ms. Le Guin lived in Portland with her husband Charles Le Guin – also an author. They were part time residents of Cannon Beach, and Ursula periodically showed up at lectures and functions on the coast and in Portland. In later years, she'd become involved in some local issues on the north coast.
Heart's Wilson Sisters
The ladies from the rock band Heart - Ann and Nancy Wilson – had a part time home in Cannon Beach for quite a long time. They were occasional fixtures at Bill's Tavern before its redo in the '00s. One rather delightful tale came from a Salem man back in the '90s who said he was playing pool with a woman he didn't know at a bar in Cannon Beach. After a while realized it was one of the Wilson sisters.
Seinfeld and Star Trek on the Coast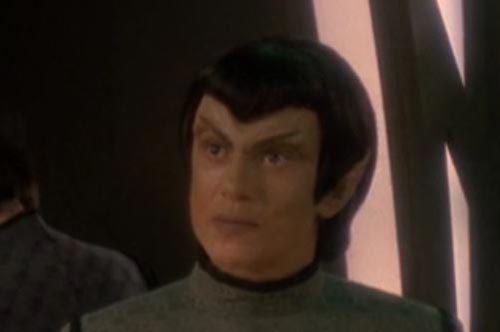 Liz Cole on DS9
One north Oregon coast resident, whom you may still find volunteering or performing in the area, was a part time star on some major TV shows, as well as a live theater performer who has made a mark.
Megan Cole – otherwise known as Liz Cole - played small parts on "Seinfeld," "ER" and two of the Star Trek series. She was on "Next Generation" in a couple roles, and played a ruling Romulan dignitary on two of the final episodes of "Deep Space Nine." She was also a part of a small story arc on "Seinfeld" in the '90s, in the "Suzie" episodes, playing a co-worker of the Elaine character.
Jazz Bassist Glen Moore
Moore wasn't a mega star in popular culture by any means, but among jazz aficionados he was a rock star of innovation on the bass. He was an integral part of the jazz band Oregon: one of the two members (Ralph Towner being the other) who were from this state. He remained cutting edge through the '90s and a bit later, and lived in Lincoln City for about two decades or so. He moved to Portland eventually.
About '99 or so, the owner of record store Driftwood Mac (one place that's sorely missed) told the future owner of Oregon Coast Beach Connection how he had moved into Moore's old house and claimed there was definitely an awe-inspiring "creative vibe" about the place. This would be no surprise.
Larry Norman
He's known as the first Christian rocker ever, essentially considered the grand daddy of the genre back in the early '70s, and he ended up living in Salem. He and his younger brother Charles had a wild tale of a storm while visiting Lincoln City in the early '90s. The storm reportedly resulted in a water spout offshore, which then dumped fish on land in the area. It's something the Norman brothers heard about the day it happened while hanging out in town.
Oregon Coast Beach Connection has – after two decades of searching – found two witnesses to the event. A freaky weather story if there ever was one, there's quite a layer of irony in that it has a biblical feel to it. See Oregon Coast Weather Mystery: Did a Waterspout Drop Fish in Lincoln City?
John Cleese: A Fish Tale from Wanda's?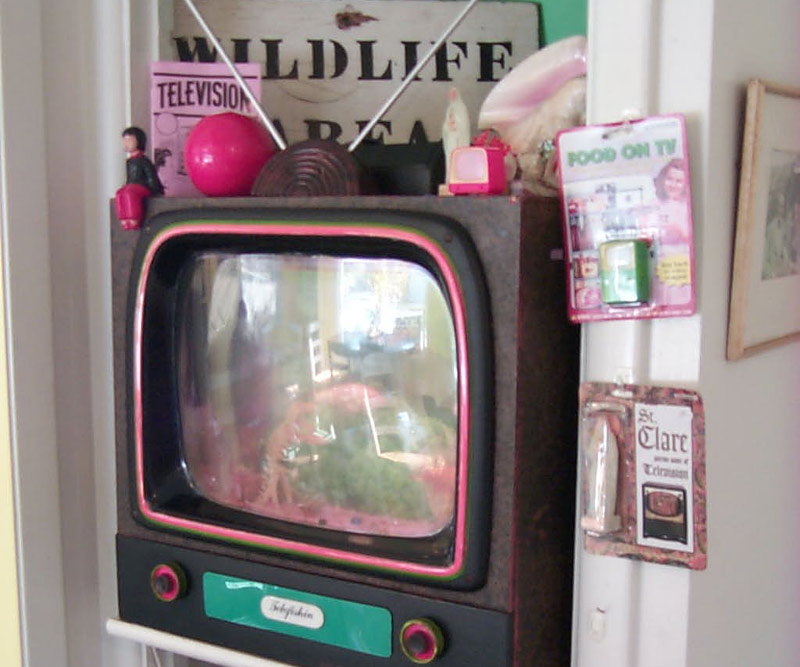 Wanda's Cafe circa 2005: the fish tank with a fish called Wanda inside (Oregon Coast Beach Connection)

As far as we know, this tale is true. According to the original owner of Wanda's Café & Bakery in Nehalem, the Monty Python icon dropped in one day in the spring of 2003.
She – and others that worked there - say he popped in for coffee, and it took a while for someone to recognize him. But it was unmistakably Cleese: tall, very English and well dressed. Purportedly he had to check out the place because of the movie, "A Fish Called Wanda," which he starred in. He was also intrigued by the fact the owner was named Wendy – the name of his wife in the movie. She, in turn, was delighted to tell him there was indeed a fish called "Wanda" in the whimsical fish tank in the restaurant.
The story goes that Cleese left in quite a fancy luxury car, just as a diner noticed a $100 bill lying on the floor where he stood moments before. After trying to chase down the car to give it back, everyone weighed the evidence and decided it was likely he did it on purpose. That night, employees gathered at a local watering hole, bringing along all the Cleese, Python videos and stuff they could find and putting them in a pile on the table, and they drank the night away on "Cleese's tab."
Oregon Coast Hotels in this area - South Coast Hotels - Where to eat - Maps - Virtual Tours

More About Oregon Coast hotels, lodging.....
More About Oregon Coast Restaurants, Dining.....


Andre' GW Hagestedt is editor, owner and primary photographer / videographer of Oregon Coast Beach Connection, an online publication that sees over 1 million pageviews per month. He is also author of several books about the coast.
LATEST Related Oregon Coast Articles
Back to Oregon Coast
Contact Advertise on Oregon Coast Beach Connection
All Content, unless otherwise attributed, copyright Oregon Coast Beach Connection. Unauthorized use or publication is not permitted