Dozens Watch and Document Orcas Attack, Kill Baby Whale on Oregon Coast: More Videos
Published 05/10/23 at 4:24 AM - Updated 05/11/23 at 7:48 PM
By Oregon Coast Beach Connection staff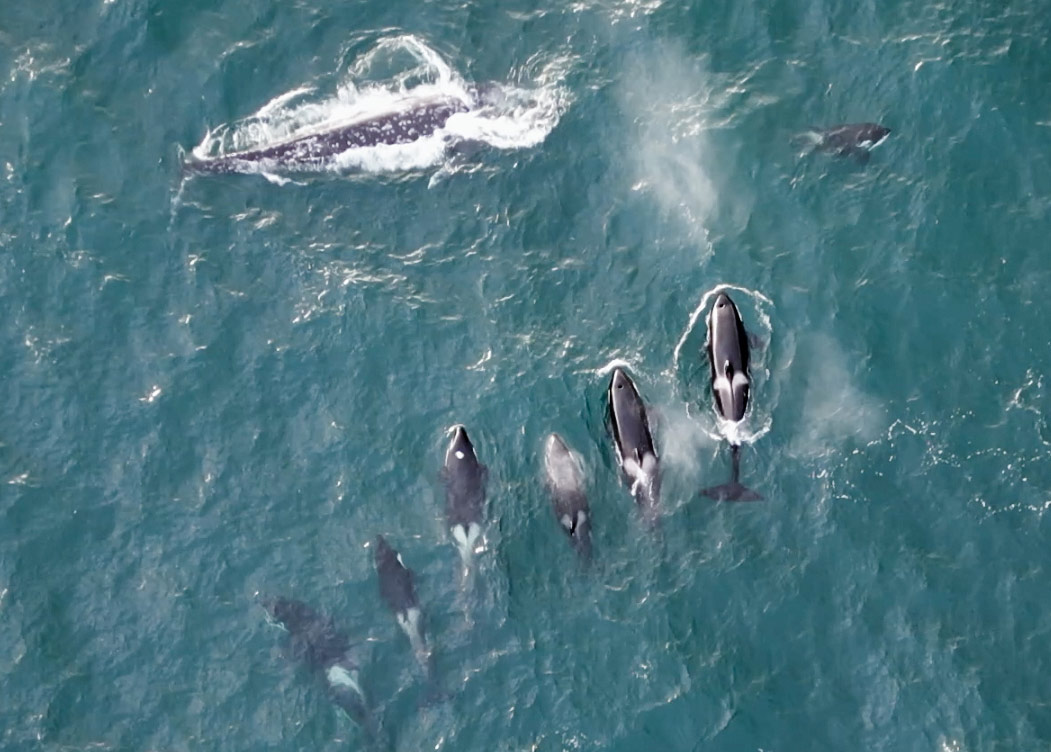 (Depoe Bay, Oregon) – [UPDATES WIITH SCIENCE EXPERTS, MOTHER WHALE'S FATE] --Dozens of people on the central Oregon coast Monday got to witness – and photograph – something extraordinary as a pod of killer whales joined together to attack a gray whale and her baby calf. The group of seven orcas had apparently been tracking them for awhile, and then around 6 p.m. or so a major battle between the hungry and a mother protecting her child began. It all ended with the calf getting killed and the mother still apparently fighting her life as dusk descended, creating both a sense of tragedy and awe for onlookers. (Photos / video courtesy Jaklyn Larsen Photography)
Such incidents have been seen only rarely on the coast, and this appears to be history: the first time it has been documented in images in this region.
Monday was a day that the Oregon Coast Killer Whale Monitoring Program group on Facebook lit up with reports early on with as many as 20 orcas marauding through the waters, starting up around Roads End in Lincoln City. Some witnesses reported seeing a mother and her calf hugging the shorelines around the Depoe Bay area, saying it was obvious they were trying to stay hidden from the orcas.
It seemed everyone and their dog was connecting to either that Facebook group or simply hearing about the sightings, as at least one witness checked in on every possible landmass where you could get a view of them. Thus, everyone was able to track their journey that way. One poster said the whole thing "spread like wildfire," digitally. Indeed, it's the most impressive semi-coordinated effort Oregon Coast Beach Connection has ever seen. With each sighting, dozens down the line were alerted that the gray whales and the orcas were on their way.
Orcas are still here on the Oregon Coast! CW:: While this specific footage is not graphic, the orcas in this video were actively working together in coordinated attacks on two gray whales, an adult (presumably the mother), and a calf. This is a small part of more than twenty minutes of footage I was able to capture with my drone of the killer whales as they demonstrated their predation tactics for those of us who were fortunate enough to witness the events. I will be sharing more footage of the events soon. Filmed between 7-8pm on May 8th, 2023 north of Devil's Punchbowl, on the Oregon coast.

Posted by Jaklyn Larsen Photography on Tuesday, May 9, 2023
There were dozens of witnesses to this. The orcas were sometimes photographed or videoed darting along in a straight line formation – remarkably reminiscent of a military operation.
The battle finally settled in around the Devil's Punchbowl, where the killer whales truly lived up to their names, encircling the mother and baby gray over and over. It was about 6 p.m. or so.
As Jaklyn Larsen and many others put it: it was a sense of awe and awful; brutal and beautiful. The descriptions like that were numerous.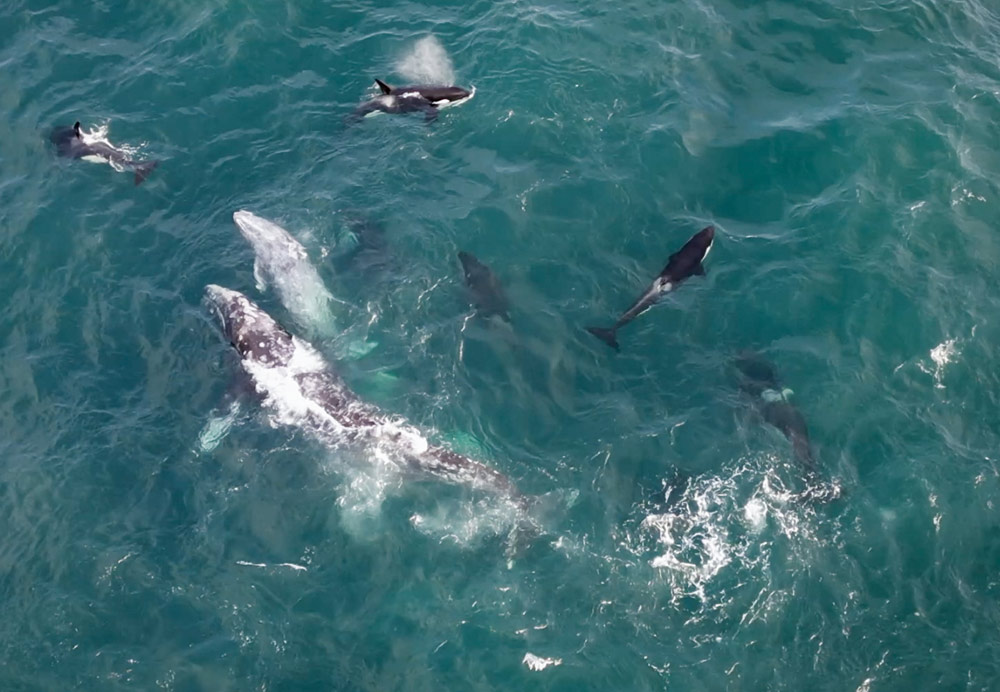 courtesy Jaklyn Larsen Photography
Larsen arrived around 7 p.m. By then, there were at least two dozen people around this Oregon coast lookout.
"The movements of the orcas seemed both chaotic and controlled," Larsen told Oregon Coast Beach Connection. "It was evident they were using a tactic that they'd employed many times before. I heard from others they had been predating on the gray whales for at least an hour by the time I arrived, but it was likely longer than that."
Photos and footage on the killer whale page are dramatic, nerve-wracking and certainly heart-wrenching. In one shot you see an orca spyhopping (jumping out of the water to get a good look around): a phenomenal moment captured in any situation. Here, it meant something more sinister (in a sense) as this time it was the whale's means getting a better look at its prey. Another on the page shows the mother gray whale taking a big bite out of an attacker.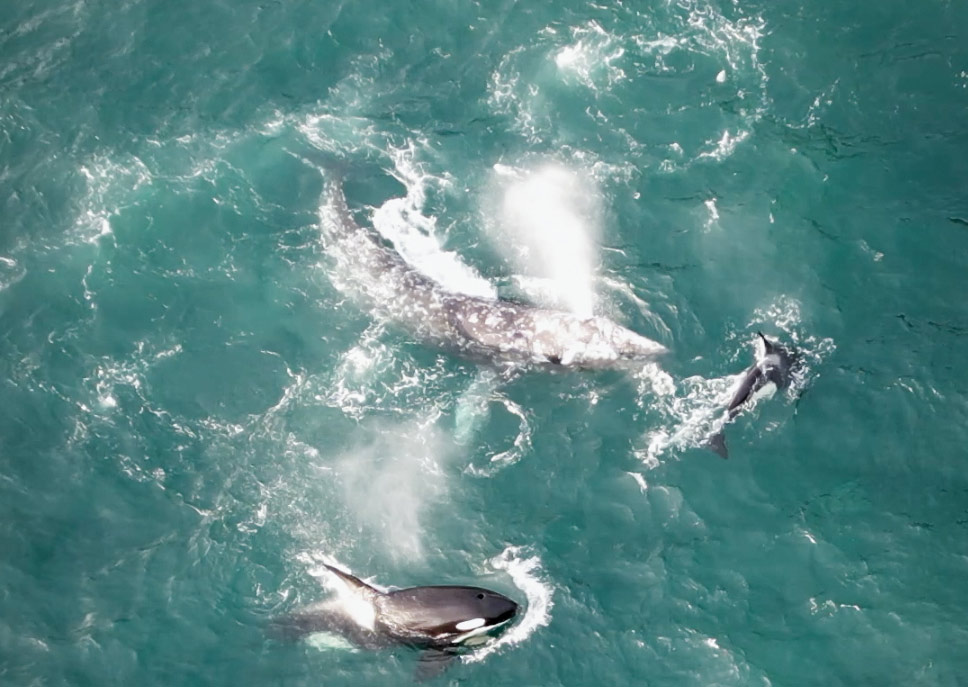 courtesy Jaklyn Larsen Photography
However, Larsen arrived after the baby had been killed. Descriptions of that moment practically rang out on the orca page, marking when it happened.
Another especially wrenching moment is when the mother whale tries to keep her baby afloat, even though it's dead. That one is a punch in the gut for many.
Still, the battle strategies used by the orcas were awe-inspiring. Over and over, the comments showed witnesses just stunned by it all.
"To see the mother gray whale lifting her lifeless calf's body to the surface multiple times in the midst of the predators who had taken its life was absolutely heartbreaking," Larsen said. "And yet, despite the heartache, getting to see the family of killer whales work cooperatively like that was nothing short of incredible."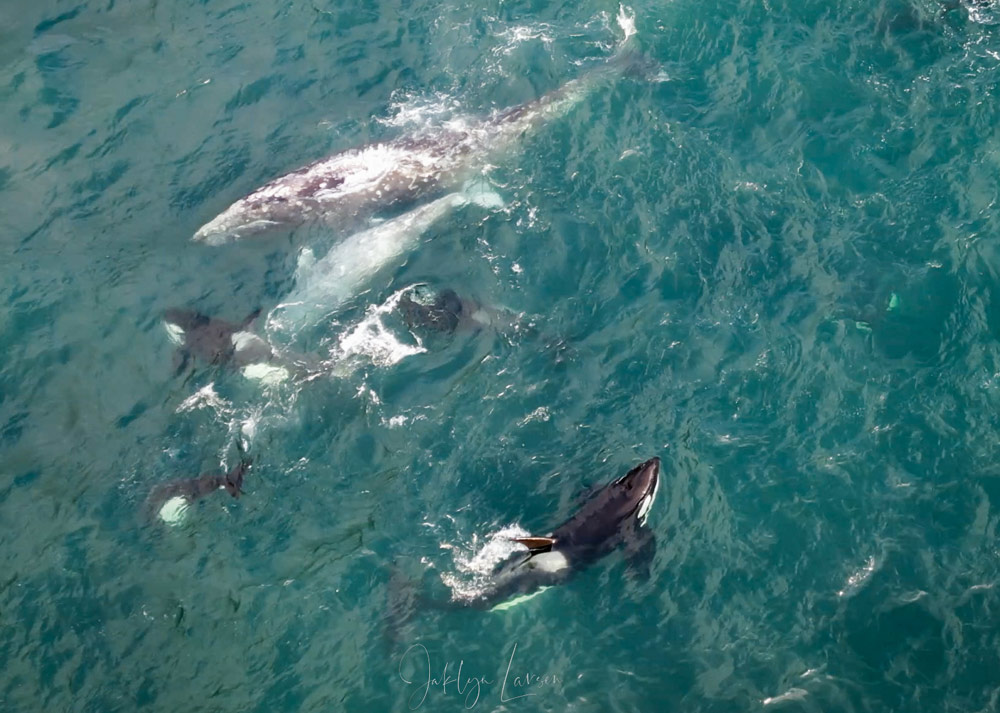 courtesy Jaklyn Larsen Photography
The orcas continued attacking the mother whale. Larsen said at one point you could tell she was tiring out, but she held on.
As night fell, most didn't know how it ended. Although by Tuesday morning everyone began filming and photographing the killer whale pod in the same area, still feeding on their prey from the previous night.
UPDATE: According to several other later reports, the mother gray whale escaped overnight. However, there were no specific sightings of her.
Josh McInnes runs the killer whale page, and he was amazed by how it all played. He agreed this is apparently the first time such a predation event was so well documented on this coastline, but there were other takeaways he and his colleagues can use.
"For one, this is kind of like one of the first times we've witnessed a gray whale predation off the Oregon coast and in-person," he said. "And the fact that these killer whales were actually predating a gray whale. It was just pretty wild. We don't see this very often."
You can see more videos at the Oregon Coast Killer Whale Monitoring Program
The wisdom around Oregon always used to be that the transient orcas arrived here in April to feed on baby gray whales, since at least 2000. McInnes and his colleagues managed to change that thinking a few years ago, noting orcas were actually in search of baby seals. So does maybe pivot their theories a bit?
Not really, McInnes said. It does add a bit more to their knowledge base, however.
"The harbor seals are still the driving force behind their hunts, but that doesn't mean they won't opportunistically target gray whales," he said.
Oregon Coast Hotels in this area - South Coast Hotels - Where to eat - Maps - Virtual Tours

More About Oregon Coast hotels, lodging.....
More About Oregon Coast Restaurants, Dining.....


Andre' GW Hagestedt is editor, owner and primary photographer / videographer of Oregon Coast Beach Connection, an online publication that sees over 1 million pageviews per month. He is also author of several books about the coast.
LATEST Related Oregon Coast Articles
Back to Oregon Coast
Contact Advertise on Oregon Coast Beach Connection
All Content, unless otherwise attributed, copyright Oregon Coast Beach Connection. Unauthorized use or publication is not permitted