Little Tidepool Creature is the Pokémon of Oregon Coast, Washington Coast
Published 02/02/23 at 5:59 AM
By Oregon Coast Beach Connection staff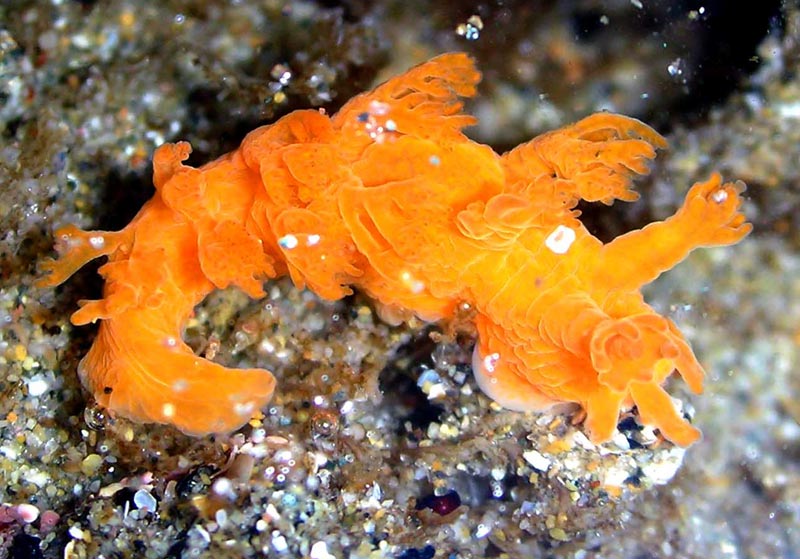 (Oregon Coast) – Remember the old Pokemon craze years ago? How you'd see people wandering the streets in a cellphone-induced haze, looking sternly at their devices (and sometimes running into stuff)? (All photos courtesy Tiffany Boothe, Seaside Aquarium. Above: the dendronotus looks more like a Pikachu than any of the nudibranchs).
It seems there's a new surge in the popularity of the game. And it turns out, you can see (almost) the real thing at aquariums on the Oregon coast or Washington coast and in their tidepools.
Nudibranchs are the closest thing you'll find in the real world that resembles the famed, mythical little digital beasties.
Sometimes they look a little more like Pikachu, and much of the time it's the vibrant colors of a Pokemon and bit of a resemblance (albeit different shapes). Look anywhere in Cannon Beach, Bandon, Port Orford, Oceanside or up at the rocky slabs of the Olympic National Park and you'll find something a bit like them in the tidepools.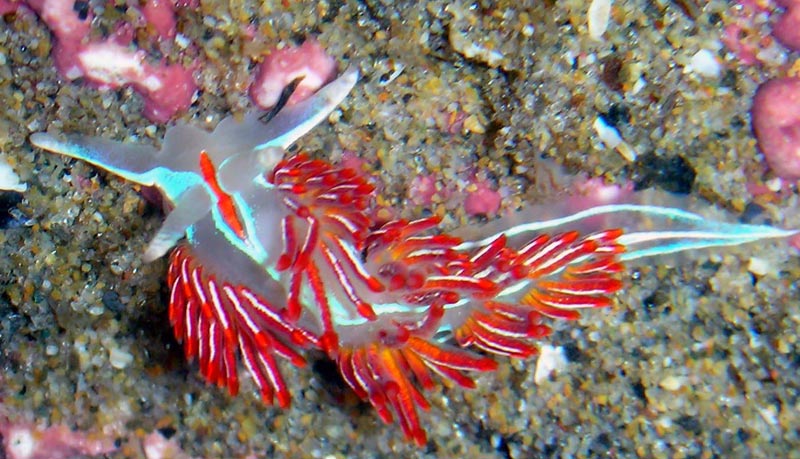 What they actually are is sea slugs – they're even outright related to the slimy, drab-colored slugs in our lawns.
These are wild and wonderfully colorful sea slugs – or nudibranchs (pronounced with a "k" sound at the end, not a ch sound). They come in such diverse shapes, patterns and colors it is impossible to see all the configurations.
Some 3,000 different species inhabit the world's oceans and tidepools, ranging in length from 1/8 inch to 12 inches. They also somewhat resemble the product of that esoteric mixture of art and computer algorithms called the Mandelbrot set (where computers take a fractal exercise and generate elaborate, colorful designs that are infinitely intricate).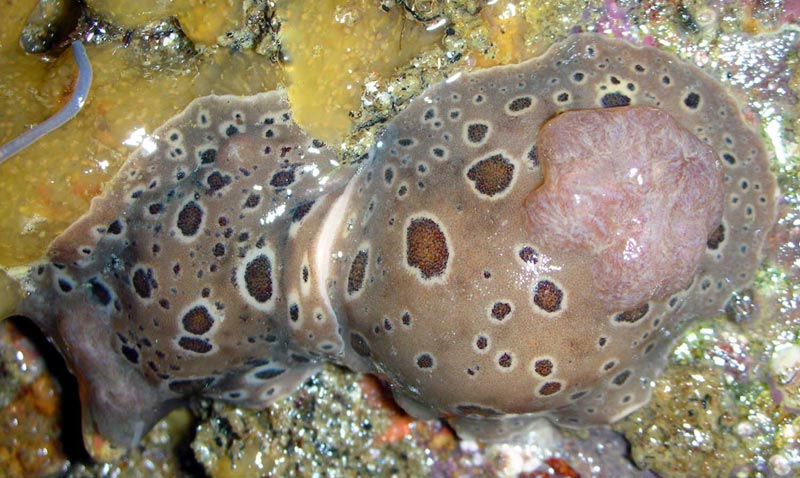 Seaside Aquarium's Tiffany Boothe said Flabellina triophi or dendronotus are two of the wild ones you may find in a tidepool along the Washington or Oregon coast. The latter looks like a Pikachu.
"Nudibranchs are marine snails, relatives of limpets and abalone," Boothe said. "Through evolution they have lost their shell. In fact, the name nudibranch means 'naked gills,' referring to the fact that their gills are on the outside of the body. While most lack shells some species have a reduced or internal shell."
They come in all kinds of shapes and sizes – as well as colors, Boothe said. Some nudibranchs are able to blend in with their environment by means of cryptic coloration, while others brightly boast their presence to everyone.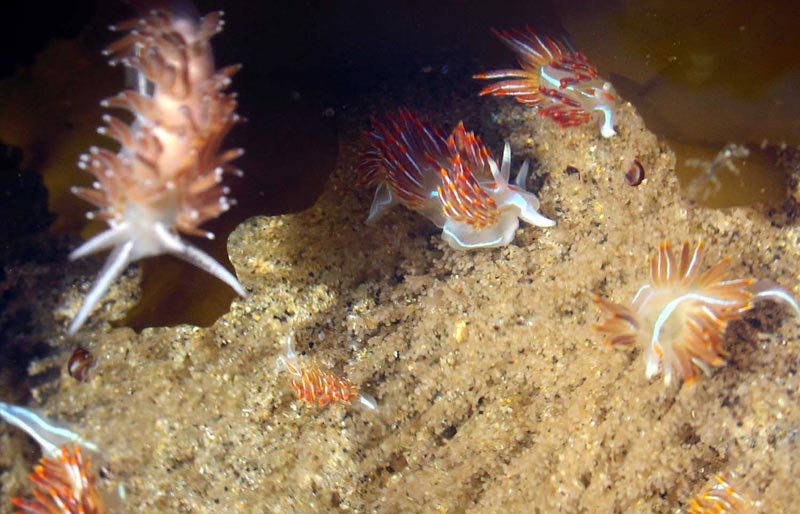 There are about 200 species of these trippy creatures living around the Oregon coast and farther up the Washington coast.
Another strange and striking aspect is how they protect themselves using poisons. Some species grow their own toxins internally, but most apparently utilize toxins, stingers and such that they've eaten from other creatures. Immune to the irritants themselves, they store them in the bodies and use them when someone else tries to eat them.
They do sting, however. So you don't want to touch them. Boothe equated the pain level to that of a bee sting.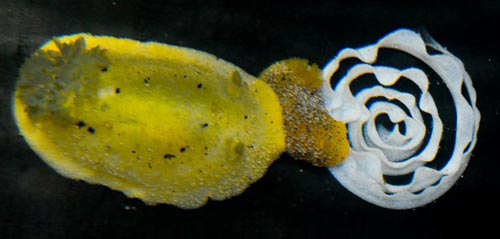 Nudibranch and its eggs
The Oregon State Parks and Recreation Department urges you to not poke, prod or pry off creatures from tide pools. Do not squish them, injure them or collect them. Prying a creature off rocks may tear off their arms and feet or destroy their organs. In the case of mature mussels, not only can they not reattach themselves – and thus die – when they're pulled off a rock, but it can also take years for others to grow back.
Boothe said medical science is taking notice of the nudibranch, however. They are being used in cancer research in hopes of finding a cure. See the Oregon Coast Tide Pool Complete Guide for places to find them.
Oregon Coast Hotels for this event - South Coast Hotels - Where to eat - Maps - Virtual Tours

More About Oregon Coast hotels, lodging.....
More About Oregon Coast Restaurants, Dining.....


Andre' GW Hagestedt is editor, owner and primary photographer / videographer of Oregon Coast Beach Connection, an online publication that sees over 1 million pageviews per month. He is also author of several books about the coast.
LATEST Related Oregon Coast Articles
Back to Oregon Coast
Contact Advertise on Oregon Coast Beach Connection
All Content, unless otherwise attributed, copyright Oregon Coast Beach Connection. Unauthorized use or publication is not permitted