Updated Weekly
Oregon Coast Tide Pools: The Complete Guide - Upper Half (more Oregon Coast here)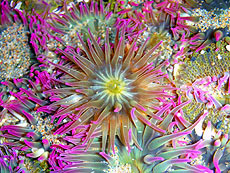 Tide pool at Hug Point (photo by Tiffany Boothe, Seaside Aquarium)
(Oregon Coast) – They are the most colorful and most enticing parts of the Oregon coastline. Yet they're small: often hard to find, although teeming with all sorts of freaky life. They come in weird shapes and configurations, with a stunningly strange biology that is completely alien, compared to us. They do things like lose body parts and regenerate them with regularity, or eat the defenses of their enemies and then use them for their own defense.
Yet they can provide some of the most unforgettable beauty on this entire planet – and we have tons of them here on this coast.
Tide pools are the one of the big reasons people enjoy Oregon's coast, returning again and again to seek out these freaky forms and amaze themselves, or cause the kids to squeal with glee.
One of the questions Oregon Coast Beach Connection gets the most is where to find the tide pools. There are tons in that 180-mile stretch from Florence up to Astoria (which is our coverage range – the upper half of the coast).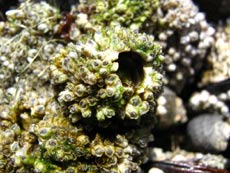 Barnacle at Haystack Rock
But first, Morris Grover, an expert in Oregon coast marine life, provides some tide pool hunting tips.
"The best time to go tidepooling is one to two hours before the low tide," Grover said. "That gives you plenty of time to explore before the tide starts coming back in. The tide doesn't stop at low tide - it immediately starts coming back in for the high tide."
Tiffany Boothe, with the Seaside Aquarium, added more helpful suggestions.
"The best places to send our coastal visitors who are looking for tide pools are the state parks, especially those with kids," Boothe said. "State Parks are easier to access, safer, and visited more frequently. This is a plus not a minus. The more people around the more likely you and your family can get help if needed. And most importantly, they're the most beautiful."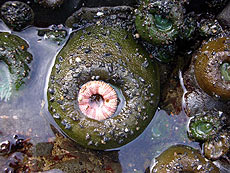 Tide pool at Short Sands Beach (photo Boothe)
Then there are some things to look out for.
"Tide pooling can be very dangerous, especial in areas that you are not familiar with," Boothe said.
Grover warned against taking anything away.
"As a State Park, we would like to remind people that marine life in the pools can be beautiful and fascinating but it is very fragile and will die quickly if moved or removed," Grover said. "It smells so bad that it is quickly thrown away but it also leaves nothing for the next visitor to see.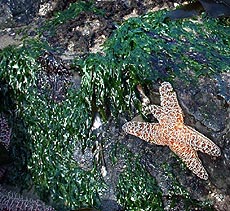 Sea lettuce surrounding starfish (photo: Tiffany Boothe)
"Have a great time, enjoy nature, but remember: take only photos, leave only footprints."
What can you find in these pools of wonder?
One day's exploration left Boothe with a large list of species and creatures.
"Twelve different species that I can identify," she said. "Little Rockweed, Sea Cabbage, Laver, Black Pine, Spongy Cushion, Sea Moss, Split Kelp, Iridescent Seaweed, Scouler's Surfgrass, Winged Kelp, Coral Leaf Algae and Encrusting Coralline Algae. Now, this is just in one tidal area (granted it was quite large) and there were a few more things in there, but I couldn't identify them."
This list covers Seaside to just north of Florence – as no tide pools are found north of Seaside or in the Florence area.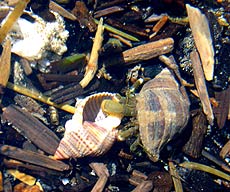 Tide pool at the Cove, Seaside (photo Boothe)
South End of Seaside Beach: The Cove
"During low tide, go explore around the large rocks," Boothe says. "But be careful, this is an unpredictable area known for sneaker waves so use caution and never turn your back to the ocean."
This is a warning you should heed when it comes to all the spots listed here, especially those just south of Yachats.
"You can expect to find sea stars, hermit crabs, anemones, small sculpins, mussels and barnacles," Boothe added.
More about Seaside, Oregon, Maps, Beaches with Tide Pools.
Ecola State Park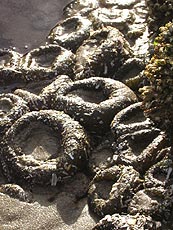 Tide pool fun at Haystack Rock
Boothe said Indian Beach - which has a path down to the beach - has tide pools on the south end. "You can expect to find sea stars, hermit crabs, anemones, small sculpins, mussels, limpets, and barnacles," she said. "Look closer and you may be able to find nudibranchs, sea urchins, and chitons."
More about Cannon Beach and the Arch Cape area, maps, beaches with tide pools.
Haystack Rock
This is perhaps the best place to send people on the entire coast, says Boothe. "Not only are the pools crawling with life, but there are also people there to tell you about the critters you are seeing," she said. "This is also a great place for bird lovers. You can expect to find sea stars, hermit crabs, anemones, purple shore crabs, small sculpins, mussels, limpets, nudibranchs, sea urchins, chitons, sea cucumbers, red rock crabs, porcelain crabs and birds - including puffins."
There are some tide pools found at times at the extreme southern end of Cannon Beach, near Port Orford Street, next to a small sea stack there.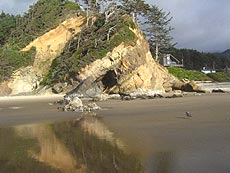 Hug Point
Hug Point State Park
You can expect to find sea stars, hermit crabs, anemones, small sculpins, mussels and limpets. This beach has some incredible features, including sea caves, a waterfall, and that wild, ancient road that was blasted out of the rock to enable Model T's and horses to get over the point back in the early part of the century.
The best tide pooling is at extreme low tides, when the base of that road is visible, with lots of sea life clinging to it.
Arcadia State Park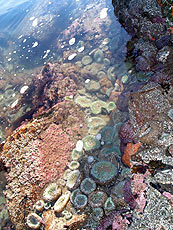 Tide pool at Arcadia (photo Boothe)
You can expect to find sea stars, hermit crabs, anemones, small sculpins, mussels, limpets, nudibranchs, giant acorn barnacles, plume worms, and porcelain crabs, all right at the north end, close to the access.
Boothe says it's not the best tide pool area. "Hard to access and a bit on the dangerous," she said. "You can expect to find sea stars, hermit crabs, anemones, mussels, chiton and limpets."
More about Cannon Beach and the Arch Cape area, maps, beaches with tide pools.
Short Sands Beach
This surfer hotspot has tidal areas on both the north and south side. "North side has a really cool waterfall," Boothe said. "You can expect to find sea stars, hermit crabs, anemones, small sculpins, mussels, and limpets."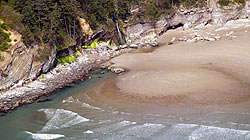 Short Sands Beach, where the tide pools are (photo Tiffany Boothe)
From here, there are no tide pool areas until south of Rockaway, at Barview, some 15 miles away.
You may find some sea stars at the extreme northern end of Manzanita, however.
More about Manzanita, Rockaway Beach and Short Sands, as well as maps, beaches with tide pools.
Barview
This beach access has some rocky areas and a few scattered tide pools. "You'll find barnacles, purple shore crabs, gunnels, snails, limpets and small fish," Boothe said.
More about Barview and Tillamook Bay, maps and tide pool beaches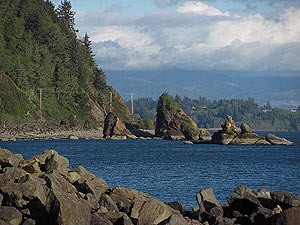 Garibaldi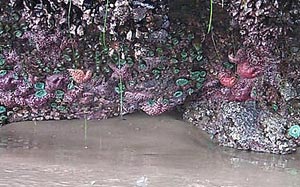 Oceanside
Three Graces/Garibaldi
The massive, stately rocks at Garibaldi signal some great tide pooling on this shoreline just on the inside of Tillamook Bay. You'll have to cross the train tracks and the massive rip rap, and these only show up at fairly low tides.
There are no more tide pools to be found until you get to Oceanside, some 10 miles south of here, on the other side of the bay. Some may be found at Bayocean, at the beginning of the spit going through Tillamook Bay, but only at really low tides.
Oceanside
Wander through the tunnel – conditions permitting – to the secret beach on the other side to see these. Some extreme minus tides show off vast marine gardens on the rocky ledges around here. Even more are found at the extreme northern end of this secret beach, where tons of starfish live on the sea stacks.
More about Oceanside, maps and beaches with tide pools.


Cape Lookout State Park
Head to the extreme southern end of the beach, where a few marine gardens show up. It's only possible to see these during calm conditions. In fact, you shouldn't touch this beach if the tide is even a little unruly.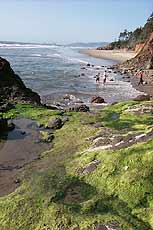 Cape Lookout State Park
No tide pools until about 15 miles south, at Pacific City.
More about Cape Lookout State Park and the Three Cape Loop, maps, beaches with tide pools.
Pacific City
There is a small but spectacular tide pool selection at the foot of Cape Kiwanda, but they're only accessible at extremely calm conditions and fairly low tides.
You will find no tide pools until the middle of Lincoln City, at least 20 miles away.
More about Pacific City, maps, beaches with tide pools


Lincoln City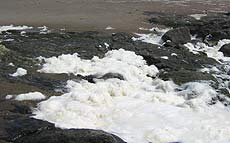 Rocky spots at 15th St. ramp, Lincoln City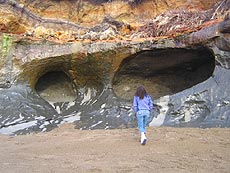 Caves at Fogarty Beach
Probably the only place you'll find any tide pools along this otherwise long, sandy stretch will be the ramp at the NW 15th St. There are some rocky spots there.
Also, sometimes the rocky bundles beneath Inn at Spanish Head will yield some colonies. More about Lincoln City, maps, beaches with tide pools.
Fogarty Beach
This state park is one oddball beach, especially on the northern cove end. Some bizarre caves and striking, ancient skeletons embedded in the rocks abound here. Some tide pools can be found at certain conditions.
Devil's Punch Bowl Marine Gardens
A tad north of the manic structure, there's a small beach that features a variety marine of gardens. At the north end of the parking lot is the trailhead that leads down to the beach. More about the Depoe Bay area, maps and these beaches with tide pools.
Warnings of Depoe Bay
Grover warned the areas around Depoe Bay, Boiler Bay and Rocky Creek are very poor for marine life because of the pounding that it gets from the wave action. "It is also the most dangerous place to be," he said. "All areas are posted not to enter, but we constantly have to ask people to leave because of the danger."
Grover added there have been a fair amount of deaths in that area.
"We hope people will obey the rules and have fun in the safe places."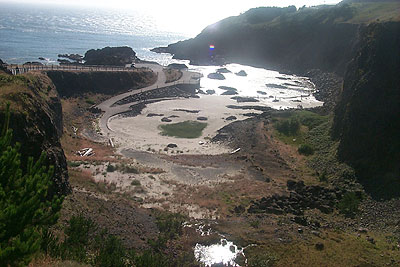 Rock quarry at Yaquina Head
Yaquina Head Outstanding Natural Area
Grover said this area has outstanding tide pools, along with rangers on hand to take folks on tour. The tide pools here are a manmade experiment. In the 90's, state officials turned this abandoned rock quarry into a maze of concrete walkways and rocky areas, allowing the tide to bring in sea creatures to infiltrate it and colonize it with tide pool creatures. It worked - more or less.
This area is often closed off to such exploration in winter, however.
The northern face of Yaquina Head, accessible by a mile or so walk from Moolack Beach, can yield some awesome finds. Moolack Beach, however, has the occasional tide pool surprise, especially during winter's lower sand levels. More about Newport, maps and beaches with tide pools.
Seal Rock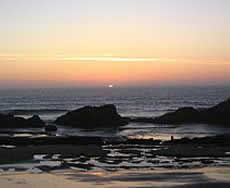 Seal Rock
"Seal Rock is great for unguided tours, but most days the park has a volunteer stationed there to help people find and identify things," said former Whale Watching Spoken Here spokesman Morris Grover. "It is also a very safe place because of the rocks protecting the bay."
The county beach access just north of Seal Rock (recently made famous by the beached whale that had to be moved to be buried) may also occasionally yield some decent tide pools. More about Seal Rock, maps and beaches with tide pools.
Ona Beach
Some rocky areas at the tide line yield these colorful pools. Sand conditions may be too high during some years, however. Complete Guide to Waldport, Seal Rock, Ona Beach area.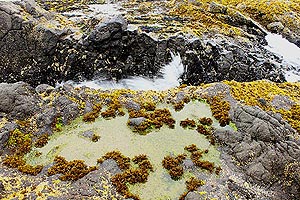 A plethora of pools is provided at Yachats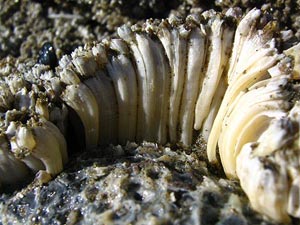 Next to Devil's Churn: a close-up of sea life.
Yachats
The question here should really be "Where in Yachats can you NOT find tide pools?" The town is all rocky ledges, where the ocean often pounds violently. So stay away from the waves. But even twenty, maybe thirty feet from the tide will show off plenty of places to ogle these wonders. There are about two or three miles of rocky ledges to explore in town, and you can't wander these basalt slabs for very long without finding something to peek into.
This marks a 20-mile-long area where tide pools become insanely abundant, greatly outnumbering visitors to these often-empty beaches. Between here and just north of Florence is a veritable inundation of tide pools.
More about Yachats, beaches with tide pools and maps.
Devil's Churn
Wander down the long steps to the rocky ledges (unless the tide is knocking about the rocks) and you'll find hordes of them everywhere. Walk around the point and find a beach where even more of these lurk in between the rocky slabs that form a labyrinth of basalt structures in the sand.
If you hop onto the sand here, you can see the rocky ledge that forms the bottom of Cape Perpetua up close. There, it's like a metropolitan city of interesting sea life clinging to the rocks.
The following beach accesses provide more pools, but there are even more in between these official access points. Sometimes, some of these stretches of beach are only accessible by walking a mile or two, or by staying in one of the hotels on the cliffs above.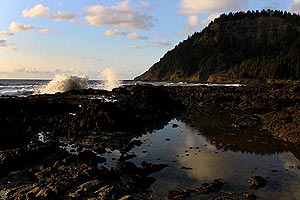 Cook's Chasm area
These accesses are listed going south. (More on this area between Yachats and Florence - maps and more beaches with tide pools)
Cook's Chasm
A huge array of marine gardens occupy the rocks here. Part of this area is handicap accessible from a smooth bridge over the chasm.
Unmarked Beach Access by Neptune State Park
At the county line between Lincoln and Lane counties, you'll find this hidden wonder. And what an access it is. A parking lot gives way to two routes to this varied and rather amazing beach. One part is sandy, with a few basalt structures strewn about. The other is a mass of rocky ledges which also provide tide pooling pleasures.
Neptune State Park
The harder to traverse and more rocky areas to the south are where you're more likely to find them. These aren't accessible at higher tides or stormy weather. (More on this area between Yachats and Florence - maps and more beaches with tide pools)
Strawberry Hill
There's a huge array of colorful colonies dotting this rather lengthy beach. It'll take you a while to find all of them – maybe more than a day.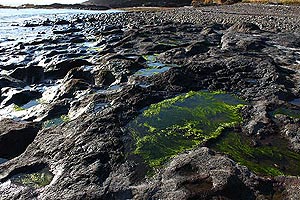 Bob Creek beach area.
Bob Creek Wayside
Anywhere along this kooky, rocky beach is apt to make for great tide pool viewing. Head to the extreme southern end to see weird, mushroom-shaped blobs that emerge at lower tides, with tons of critters clinging to them. There's also an intriguing cave here.
Rock Creek
This rather hidden beach and campground has a few tide pools that can be found under the right conditions.
There are a few more tide pool hotspots between here and where the sandy beaches begin, but not many. And there are no direct accesses to them.
Within a mile or two, the terrain changes to fluffy, sandy beaches, as shoreline slowly turns into the massive dunes of the National Dunes Recreation Area, just south of Florence. (More on this area between Yachats and Florence - maps and more beaches with tide pools)
;