Lincoln City's Legends: Headless Man, Glowing Cave, Oregon Coast Shipwrecks / Treasure, Skeleton
Published 02/02/23 at 5:59 PM
By Oregon Coast Beach Connection staff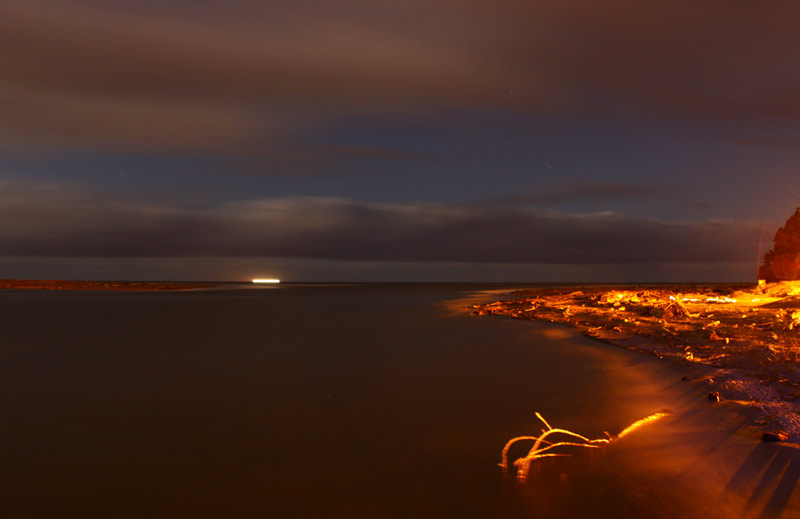 (Lincoln City, Oregon) – One hotspot on the central Oregon coast has been around a lot longer than people think it has, and with that age comes some fun and funky legends. (Photo Oregon Coast Beach Connection: Siletz Bay at night becomes a whole different universe that's kind of eerie, thanks to long exposure times)
Lincoln City as we know it now was founded in 1964, but in fact it was comprised of seven or so little villages combining together – many of which had been around since the late 1800s. Inevitably, wacky legends and even outlandish rumors have come to be, including a shipwreck with a skeleton of a giant, possible buried treasure, another shipwreck with a kind of ectoplasmic existence, a glowing cave and a headless man's ghost.
Stranger still, some of these actually have a basis in fact.
Headless Man In A Tree. This one was just a bit of talk – at least in the '70s and '80s it was. Oregon Coast Beach Connection couldn't find anyone now that had ever heard of this legend. It was repeated to a staff member in the early '90s, a good ten years before this publication existed.
The story goes that sometime before the early '80s a man on a motorcycle was speeding up a dusty rural road, not far from an elementary school. He lost control and was flung at high speed into a tree, which reportedly decapitated him. Purportedly, the head stayed in the tree, jammed between some of its arms.
A lot of children used this route as a short cut to the school, and rumor had it that if you walked past that tree after dark, you might hear the head crying out or moaning.
Oregon Coast Beach Connection could find no newspaper reports talking about such a motorcycle accident in Lincoln City. That doesn't mean such news documentation doesn't exist: we may not have access to the full local archives.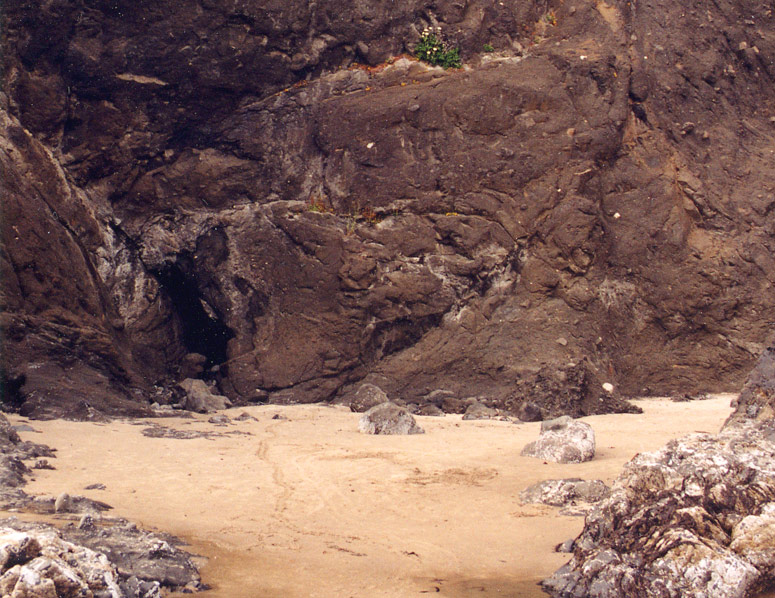 The hidden cave at Roads End. The photo (Oregon Coast Beach Connection) was taken in the '90s. That's how inaccessible this is.
Legend of the Glowing Cave. Way back in the '80s or '90s, some Lincoln City locals would tell visitors about a cave that glows at night – a funny shade of green, the legend goes. This cave was supposedly found at the Roads End area, right around the point that's essentially inaccessible (except when there is an extreme tide).
The tale felt so fantastic no one paid attention to it. Yet it turns to be true: there is indeed a cave around that tiny bend and a really tiny cove of sorts that does include a cave.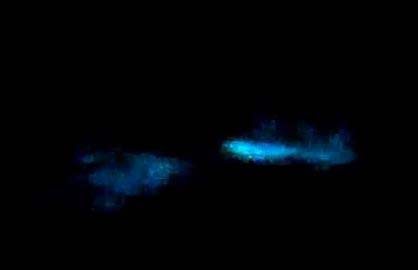 Glowing phytoplankton in the Nehalem Bay

Then, it turns out, there is such a thing as "glowing sand," which does glow a funky green or bluish color. It's called bioluminescent phytoplankton, a form of the microscopic creature that glows when touched or disturbed. So what locals were trying to tell people is that glowing sand sometimes made it into the cave, and with that structure being so pitch black you were bound to see it, likely even if it wasn't all that bright.
Getting to that cave is a big no-no, especially at night. This is an insanely dangerous spot, even more so at night. Even approaching the end of the Roads End area is a bad idea. It is sometimes accessible if you hike down from God's Thumb.
However, walking on this beach during summer is a good thing, as long as you can see the tides with a flashlight or some other means. This area is completely black at night, and if glowing sand is there it'll be easy to spot.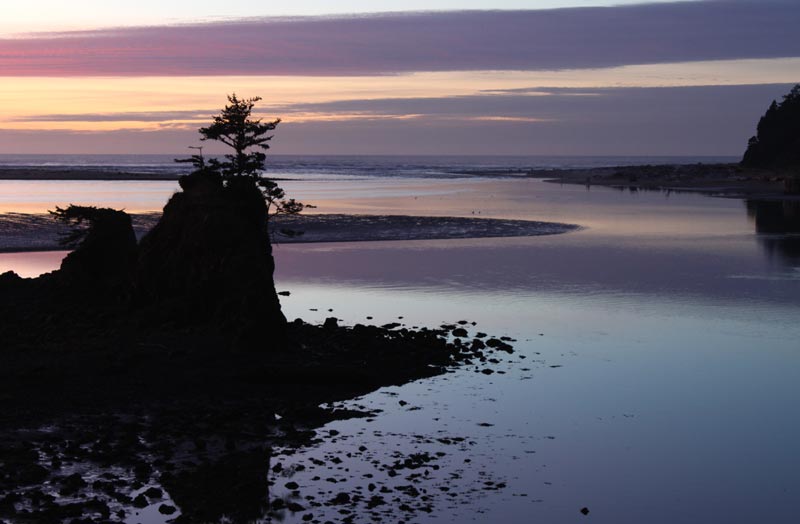 Mystery Ghost Ship of Siletz Bay. This truly intriguing tale has some truth to it, and beyond that there have been several residents over the decades who've been quite outspoken about seeing the ghost ship itself.
The story goes, periodically a ghost ship – one of the big, masted sailing vessels – appears out of a fog. Then shortly after it disappears back into that fog.
The funny thing is there really is a shipwreck in that deep mud of the bay, now having sunken its way even further into the muck. The Albany Journal wrote about such a wreck way back in 1865, with the brig Blanco run ashore near the mouth of the bay. Its bones became less and less each decade, and finally some 100 years later it was gone altogether.
There were attempts in 1951 and then in the early 2000s to try and identify the ship's remains. The latter expedition used high-tech gear to suss out what was below the goop of the bay, and it came up with mixed results. However, in both years something was found and it was about the right mass and size of the Blanco. There's a lot more to this Oregon coast shipwreck tale.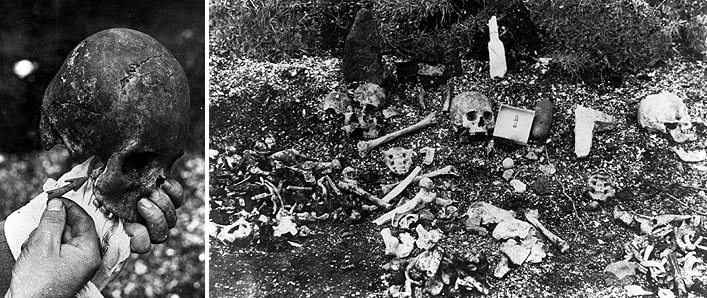 The Skeleton, Shipwreck and Treasure of Cascade Head. Somewhere in the early '30s began a long and winding story, that may or may not go even farther back.
Legend has it there were ancient stories of a mysterious shipwreck in Three Rox Bay (where Three Rocks is now), including talk of a giant who was briefly known as a god by local natives, along with tales about a ship that crashed here as early as the 1700s. In many ways, this all seems mixed up with the story at Manzanita and the Spanish Galleon there (recently discovered by archaeologists), and, well – no spoilers yet.
It's all very complex, with hints of a treasure buried there, skeletal bones found of a man nearly 8 feet high, a period of media sensations about it all in the '20s and again in the '70s, and all sorts of grisly and gnarly details. There was even talk of a pirate ship, and then there were the endless, hapless treasure hunters. It all makes a great story about the skeleton, treasure and pirate ship of Lincoln City.
However, Oregon Coast Beach Connection uncovered something new that puts a whole new big twist to the tale. More will be published soon.
Hotels in Lincoln City - Where to eat - Lincoln City Maps and Virtual Tours

More About Oregon Coast hotels, lodging.....
More About Oregon Coast Restaurants, Dining.....


Andre' GW Hagestedt is editor, owner and primary photographer / videographer of Oregon Coast Beach Connection, an online publication that sees over 1 million pageviews per month. He is also author of several books about the coast.
LATEST Related Oregon Coast Articles
Back to Oregon Coast
Contact Advertise on Oregon Coast Beach Connection
All Content, unless otherwise attributed, copyright Oregon Coast Beach Connection. Unauthorized use or publication is not permitted