What is Tillamook Head Geologically? Deep Inside N. Oregon Coast Headland at Seaside / Cannon Beach
Published 08/09/23 at 6:41 a.m.
By Oregon Coast Beach Connection staff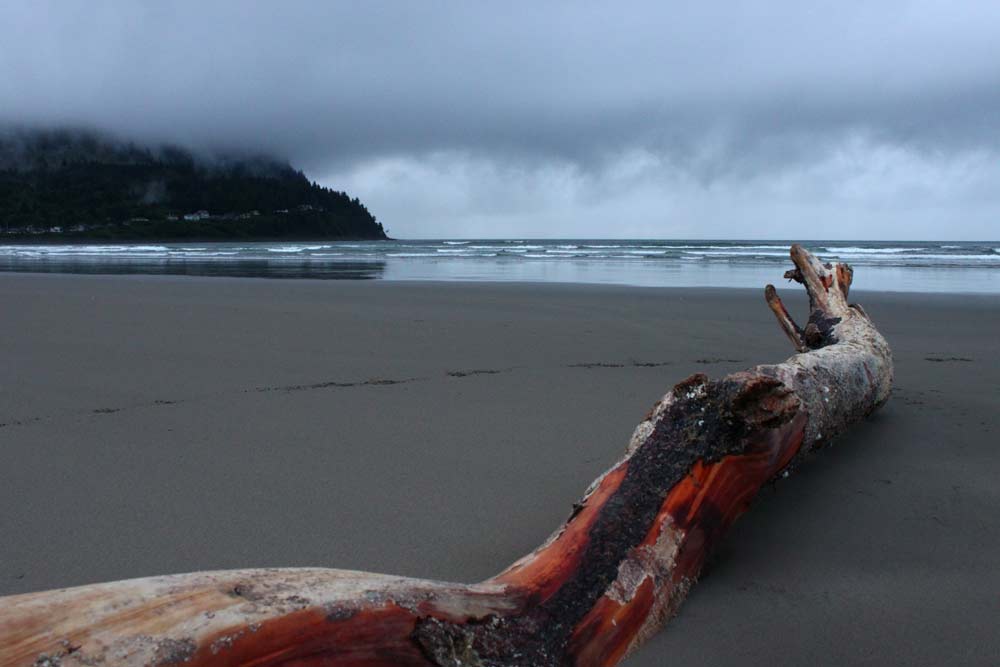 (Seaside, Oregon) – Just what is Tillamook on the north Oregon coast? That craggy headland between Cannon Beach and Seaside, with the slinky, winding shapes that jut out from the land is nothing short of a treasure – and a hiking wonderland. It has an astounding story, however, one that goes back some 15 million years or so, enough millennia to make your brain hurt when you think about it. (Photo Oregon Coast Beach Connection)
However, what would really hurt is if you were there for its beginnings: all that rock you see is a former lava flow (well, a bunch of them). If you were in the path of any of them, you would've been singed out of existence quickly.
According to regional geologists, like Tom Horning out of Seaside:
Geologically, Tillamook Head is the product of a set of massive lava flows that came from what is now eastern Oregon, heading down hundreds of miles until it reached the prehistoric, Miocene ocean. In the simplest of terms, all that lava, over numerous eruptions, filled up an underwater canyon. Basalt being among the hardest of rock substances, stayed there as the canyon around it eroded away over many millions of years.
This was somewhere between 12 and 18 million years ago.
See The Mysterious World War II Bunker Atop Oregon Coast's Tillamook Head
That left Tillamook Head behind eventually, as the continental plates moved westward and this area lifted up with the Coast Range, all of it coming out of the sea.
Horning and area geologists say all but two of the major basalt headlands of the northern half of the Oregon coast are the product of this. The southern half of the coast is a whole set of other things entirely and not really basalt, but up here when you're looking at Seal Rock, Cape Lookout or Tillamook Rock, you're looking at those same sets of lava flows. They are a collection of lava sills and deltas: places where lava piled up.
See Hiking Tillamook Head and Its Discoveries, N. Oregon Coast Icon Between Cannon Beach, Seaside
"Whether it is Yaquina Head or Cape Meares or several other headlands, they are all lava deltas," Horning said.
Those lava flows from eastern Oregon are known as the Columbia River Basalts (sometimes CRBs for short), because they followed an ancient river bed westward and then down the coast and beyond it. Walls of lava, sometimes damming up to 20 feet high, scorched their way across proto-Oregon some 300 miles before diving into the ocean. Some estimates say that took about seven days. What was then at about Lewiston, Idaho, a giant hole in the Earth's crust now powers Yellowstone. Continental plates have moved over the hole.
You can see the result of this firsthand at Silver Falls State Park, inside the main falls. There is a plaque showing prehistoric wood frozen in that basalt.
Horning said all these basalt headlands (except for Cascade Head and Cape Perpetua) come from the CRBs.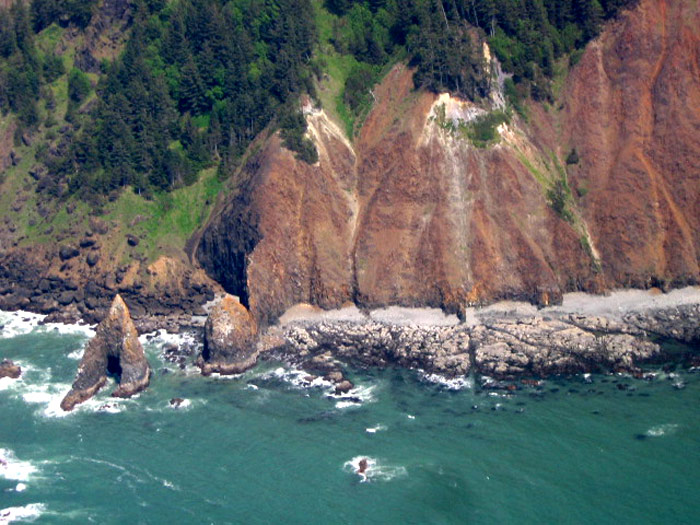 Oregon Coast Beach Connection
"They are all intrusive and extrusive onto the sea floor," he told Oregon Coast Beach Connection. "The Tillamook Head complex is mostly composed of sills and dikes that injected into the wall of the submarine canyon of the Miocene Columbia River. Farther away from the canyon, the basalts are intrusive bodies, rather than piles of submarine breccias and underwater lava deltas."
Tillamook Head is, of course, a lot more intricate than that. There's a whole lot of wild, geologic things that took place, through eruptions they think could've happened as many 300 times over millions of years before shutting down.
"[The] lava deltas of the CRBs [are] where the flows followed coastal rivers to the ocean," Horning said. "In some cases, the lavas burrowed deep into the coastal marine sediments and re-erupted onto the prevailing sea floor to appear as local volcanoes. Actually, some of them are better described as secondary submarine volcanoes whose lavas originated near Lewiston, Idaho, flowed to the Miocene shoreline."
Hold onto that bit about "re-eruptions."
All this was the geologic action that formed Cape Meares, Neahkahnie Mountain, Cape Falcon, Yaquina Head, Cape Foulweather, Cape Lookout and Seal Rock. Some were more "intrusive basalts," however, meaning they were part of that re-eruption process.
Cannon Beach's Haystack Rock and Rockaway Beach's Twin Rocks were also intrusive, and likely so was Haystack Rock at Pacific City.
Around the parts of Tillamook Head you can't see, there are columns of rocks at times, which were "prismatic joints" originally, after lava cooled with that particular look. They were worn down into sharpened edges of the cliffs. Basalt breccias (a mix of stuff), sometimes weathered into giant sphere-like shapes in the cliffs.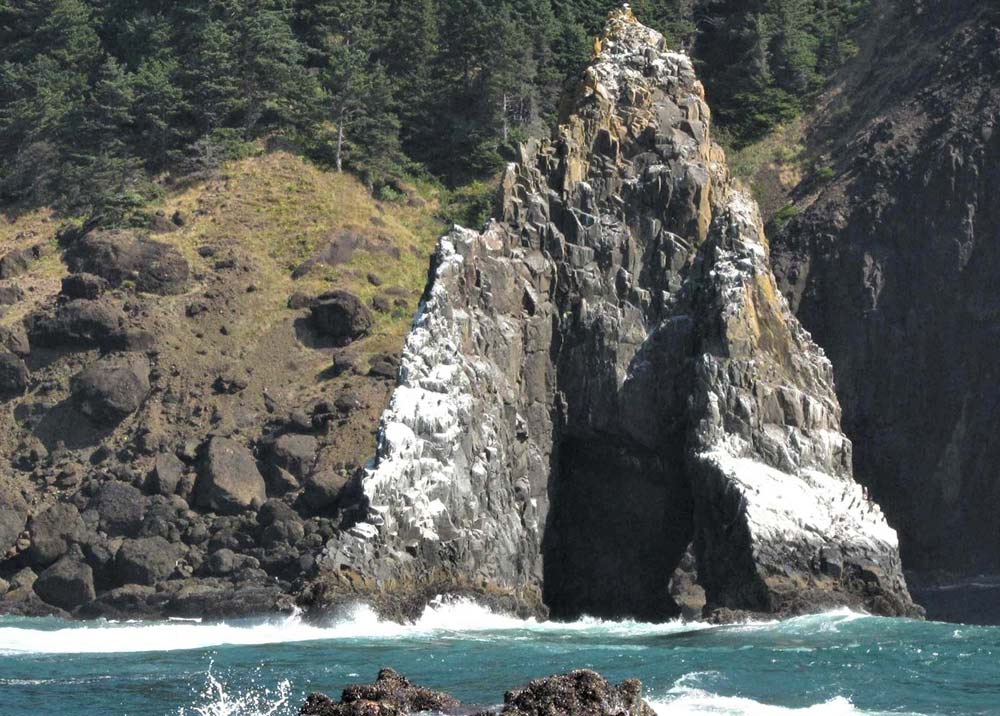 These are displayed at what are "Bird Rocks" on the tip of Tillamook Head, seen in Horning's photograph above.
Those different flows piling on top of each other made for different things going on and different looks. That's a flow unit – the result of one particular eruption. Other flow units came before or after.
Hence, Horning said, there are different phases of what the rocks go through and how they arrive at their look. Geologists will notice these and declare different flows and action, making other categories of what happened there – other units. But for this explanation to a general audience, Horning said referring to Tillamook Head and Ecola State Park as one basalt entity - talking in generalities - won't hurt.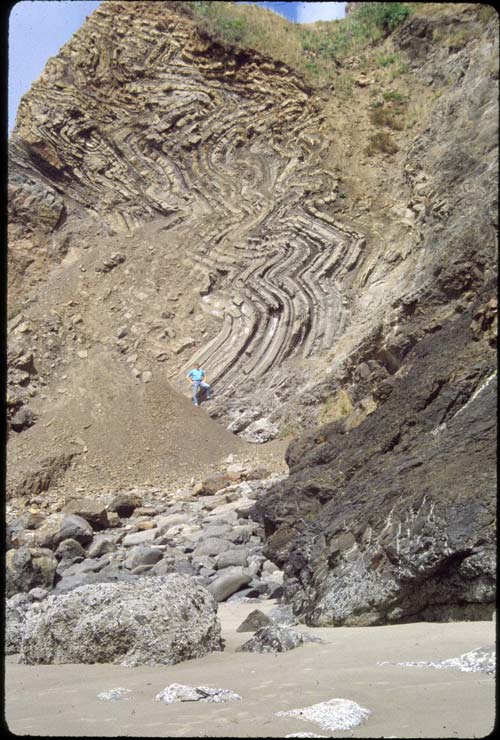 However, one interesting example exists in full sight – at Crescent Beach right below Ecola State Park. He said erosion there has exposed basalt sea stacks and it washes away mudstone that was there before the basalt flows.
You can see the weird, wobbly lines of the southern face of Ecola in this shot from Horning.
"The mudstones have been folded out of the way by the invading lavas," he said.
Oregon coast geology is a trippy thing all on its own. Yet so is the journey of discovery in recent decades of geologists. Horning was among those OSU students in the early '80s who helped uncover this wowing, fiery history, with field trips then led by professor Al Niem.
Others involved in that were Parke Snavely, University of Washington and various USGS scientists. Horning called them all "giants."
Then there's the funding behind a lot of these discoveries: some of it came from an odd source that had to do with something radioactive.
"We should also give credit to the people who were studying the Columbia River Basalt lava field as a place for the storage of nuclear waste. This generated the funding to carry out detailed mapping, laboratory analyses, remnant geomagnetic modeling, and other features that allowed the Coastal Basalts to be declared equivalent to the CRBs."
Hotels in Seaside - Where to eat - Seaside Maps and Virtual Tours
More About Oregon Coast hotels, lodging.....
More About Oregon Coast Restaurants, Dining.....


Andre' GW Hagestedt is editor, owner and primary photographer / videographer of Oregon Coast Beach Connection, an online publication that sees over 1 million pageviews per month. He is also author of several books about the coast.
LATEST Related Oregon Coast Articles
Back to Oregon Coast
Contact Advertise on Oregon Coast Beach Connection
All Content, unless otherwise attributed, copyright Oregon Coast Beach Connection. Unauthorized use or publication is not permitted